Tea Time with a Spectacular View of Shizuoka at Nihondaira Yume Terrace 【Shizuoka city, Shizuoka Prefecture】

Go to Japanese page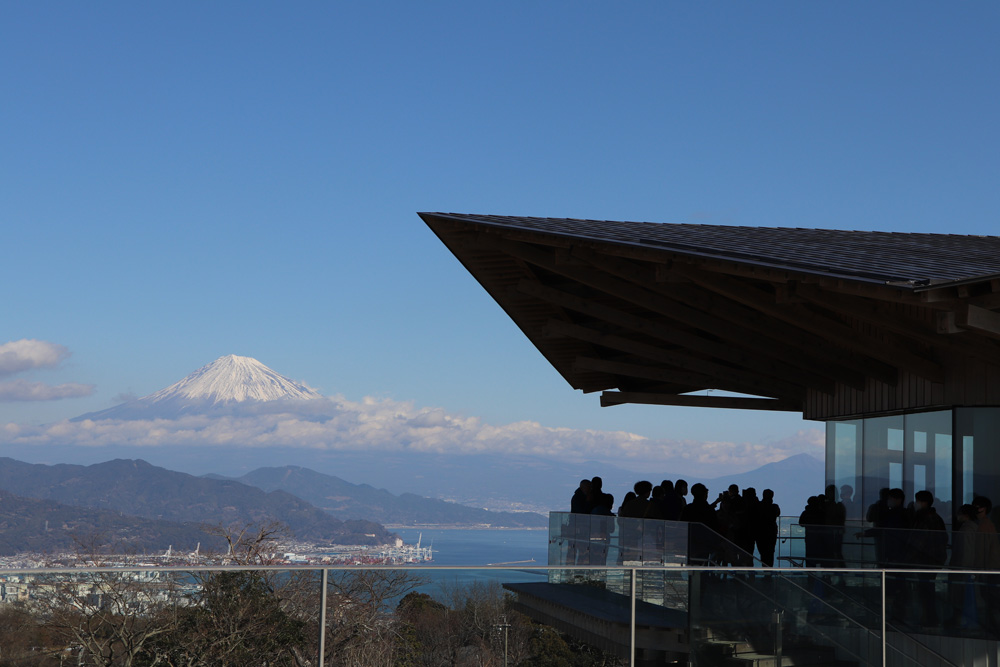 A 30-minute drive through the city center from the station. The Nihondaira Yume Terrace opened in 2018 on Nihondaira, a hilly area 307 meters above sea level. Tourists from all over the world visit this observation terrace, which is equipped with attractive facilities such as an exhibition area of Shizuoka Prefecture's history and culture, a café lounge, and a 360°C panoramic observation corridor. The night view from the outdoor observation deck, which is open at night, has been recognized as a Japan Night View Heritage Site. In the three years since its opening, the number of visitors has exceeded 2 million.
This article will tell you about the attractions of Nihondaira Yume Terrace.
What is Nihondaira Yume Terrace?
Nihondaira Yume Terrace is an observation facility that opened in November 2018 on a hillside at an elevation of 307 meters. It was designed by Kengo Kuma & Associates. Ltd., which is also involved in the design of the New National Stadium, the main venue for the Tokyo Olympics.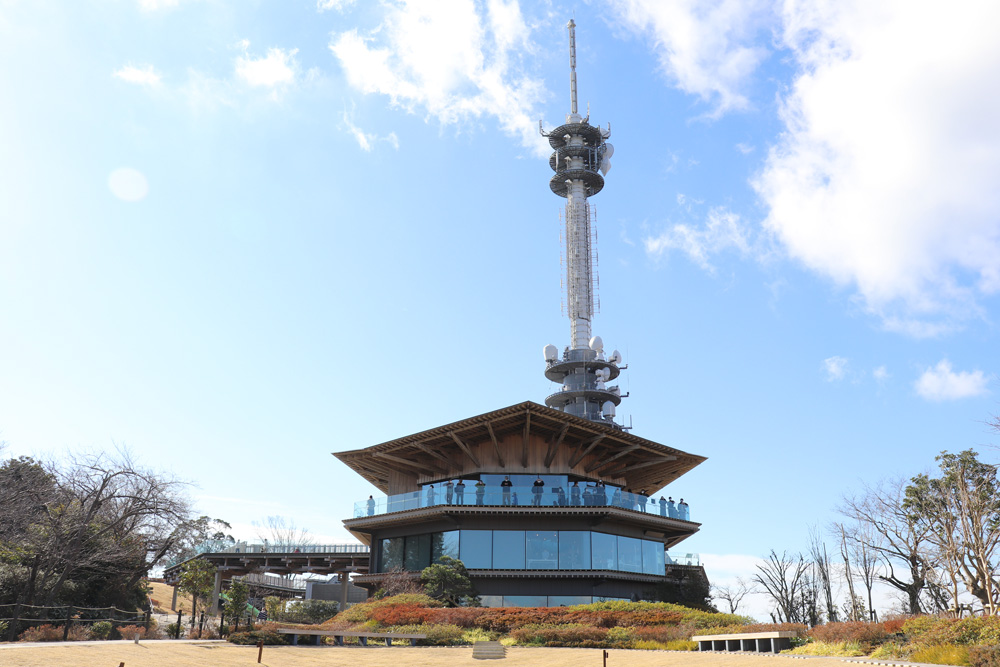 ▲It is reminiscent of the main hall "Yumedono" of the To-in temple of Nara's Horyuji temple, a national treasure. The tower in the rear is the Nihondaira Digital Tower.
Nihondaira is a famous scenic spot with views of Mount Fuji and Suruga Bay. It was awarded first place in the competition of the 100 best sightseeing spots in Japan, and the night view from the summit area has been recognized as a Japan Night View Heritage Site by the Night View Convention Bureau.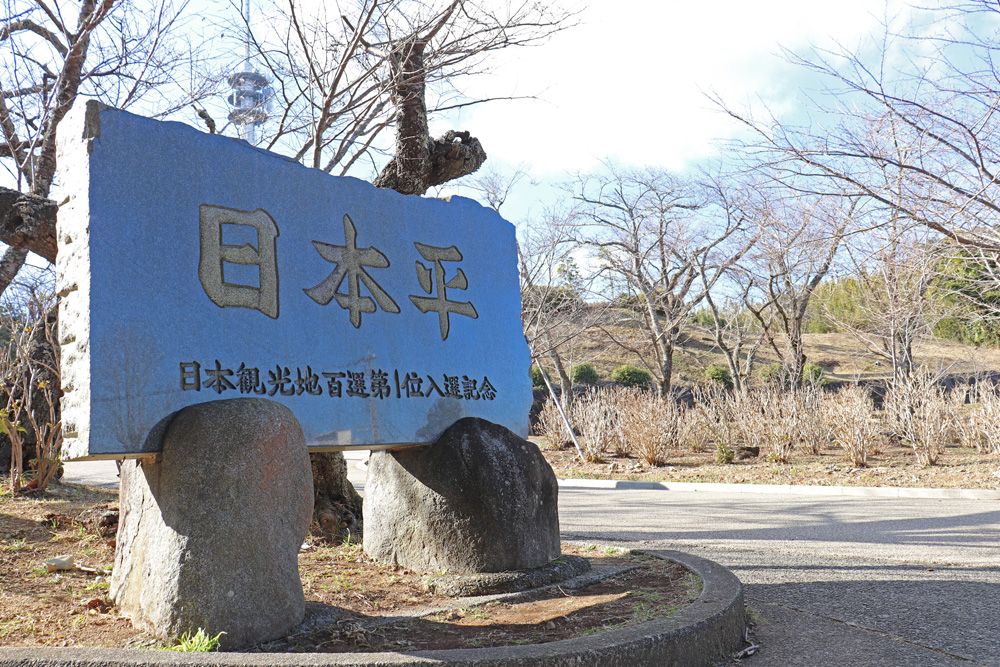 The Nihondaira Yume Terrace, built on the summit of Nihondaira, is made of wood produced in Shizuoka Prefecture that is used in harmony with the front garden decorated with seasonal flowers and the natural landscape overlooking Mount Fuji and Suruga Bay.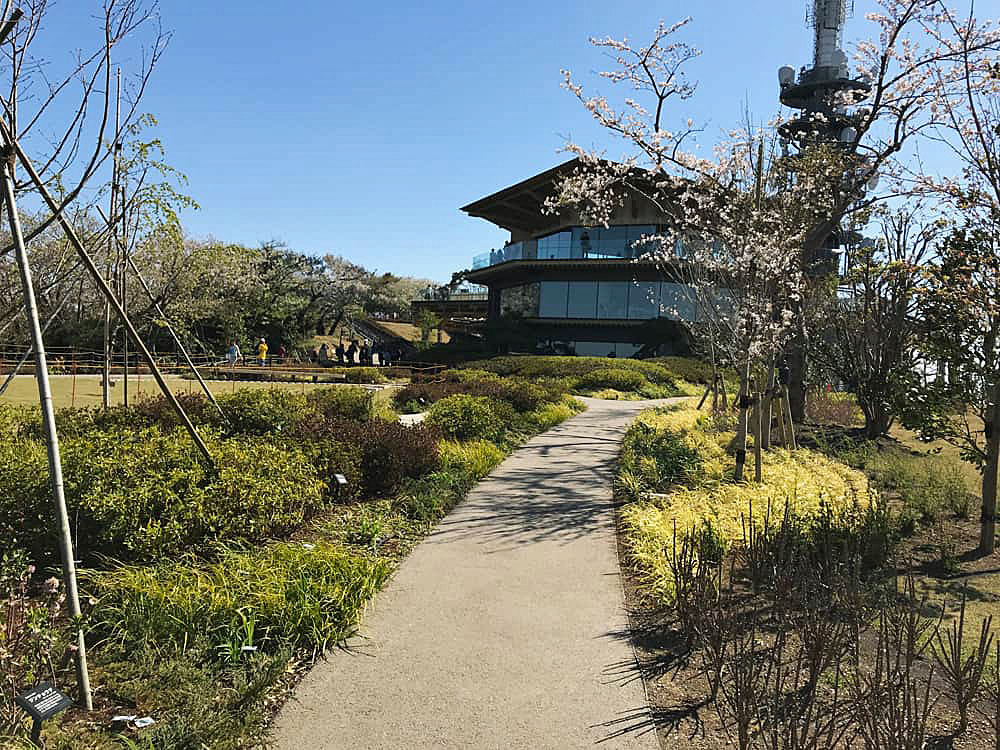 Nihondaira Yume Terrace consists of a three-story glass-walled building of approximately 12.7 meters in height, a 1,200m2 garden decorated with seasonal flowers, an exhibition floor on the first floor, the cafe-lounge Yume Terrace on the second floor, an observation area on the third floor, and a 200m 360 panoramic aerial corridor.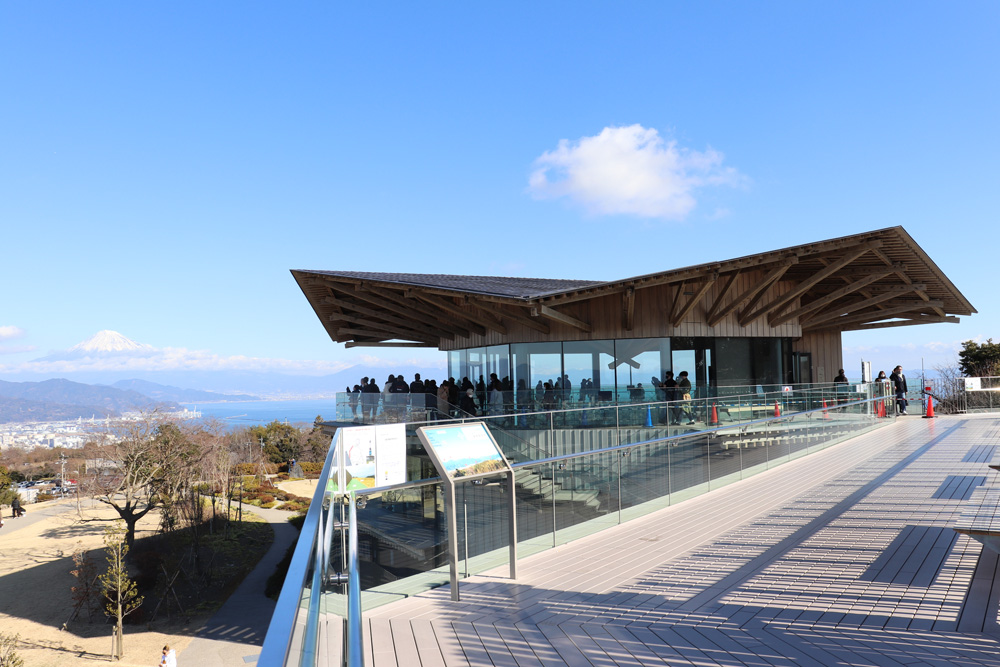 With a 360-degree panoramic view of Mt. Fuji, Miho Matsubara, Suruga Bay, and downtown Shizuoka, Nihondaira Yume Terrace has become a hot new sightseeing spot in Shizuoka, attracting more than 1 million visitors in its first year of operation. In November 2021 it reached the 2 million visitor milestone.
Shizuoka History and Culture Exhibition Area
The exhibition area on the first floor of Nihondaira Yume Terrace introduces the history and culture of Nihondaira, its topography, and nearby tourist attractions using graphic panels and projection mapping.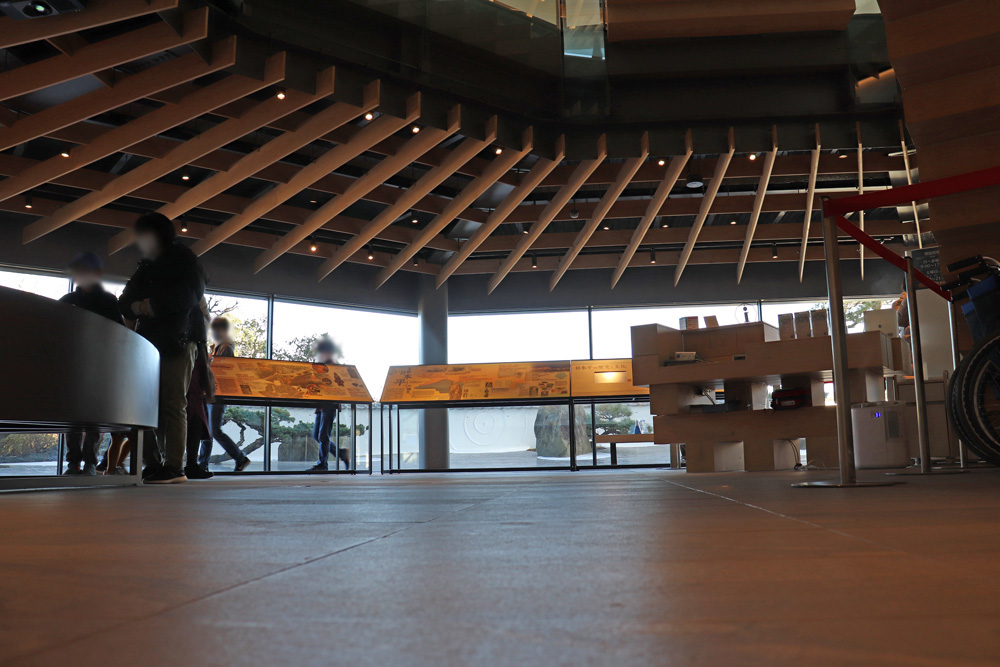 Explore the history of how Nihondaira became one of Japan's most famous scenic spots through the latest graphics. You may find that the present-day Nihondaira looks a whole lot different.
Encounter Shizuoka Specialties at Cafe Lounge Yume Terrace.
On the second floor, Yume Terrace is the Cafe Lounge where you can enjoy seasonal sweets and tea. Visitors can enjoy Shizuoka specialties, especially Shizuoka tea, while looking out the window at the magnificent view of Mt. Fuji, Suruga Bay, and the colorful garden.
Here is a small introduction to the cafe menu at Yume Terrace. (Note that the cafe is open until 5:00 p.m., so you cannot dine while viewing the night view.)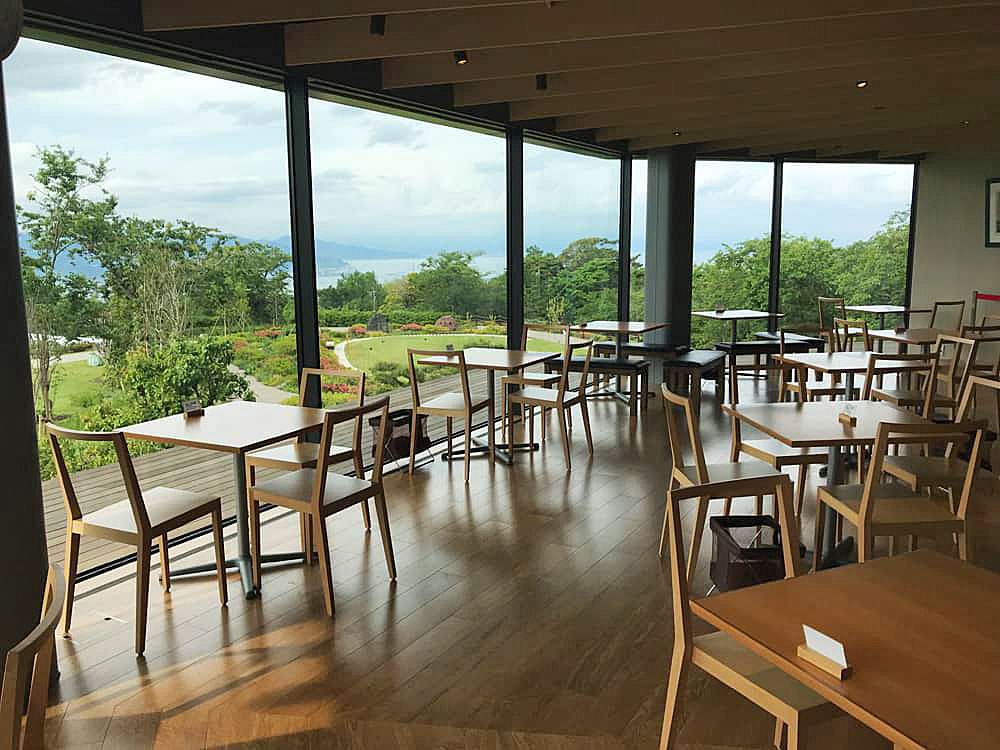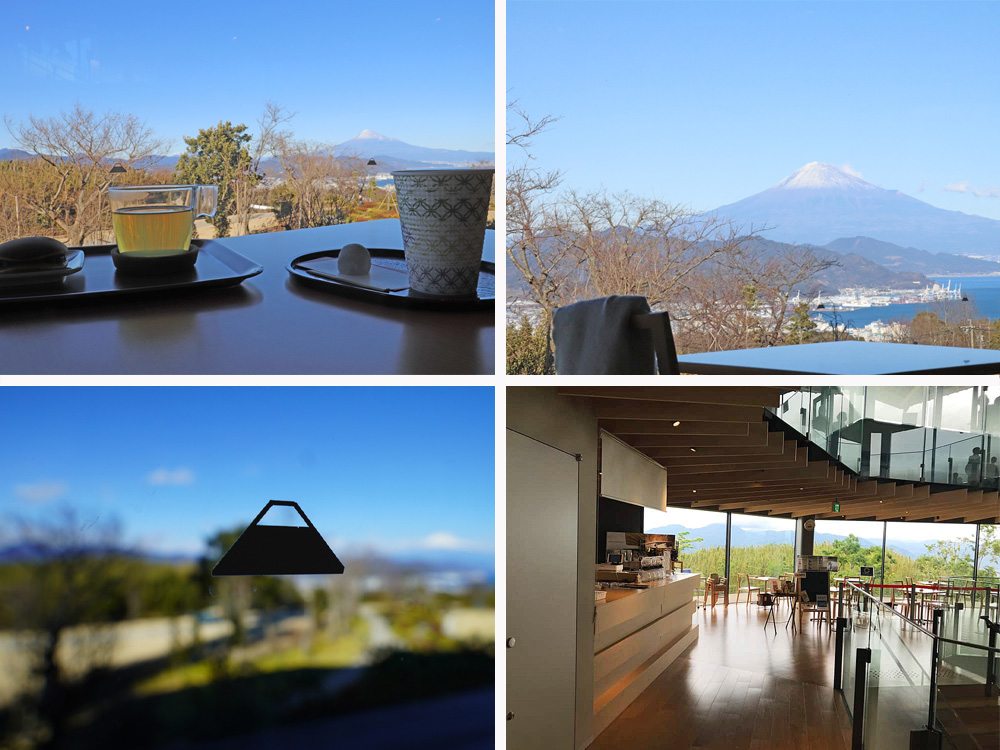 ▲If you look closely, you can see a small Mt. Fuji mark on the windowpane.
Handmade Yuzu tea
Tea made from high-quality, aromatic yuzu grown in Kawanehoncho, Shizuoka Prefecture. It is a warming and relaxing cup of tea rich in vitamin C.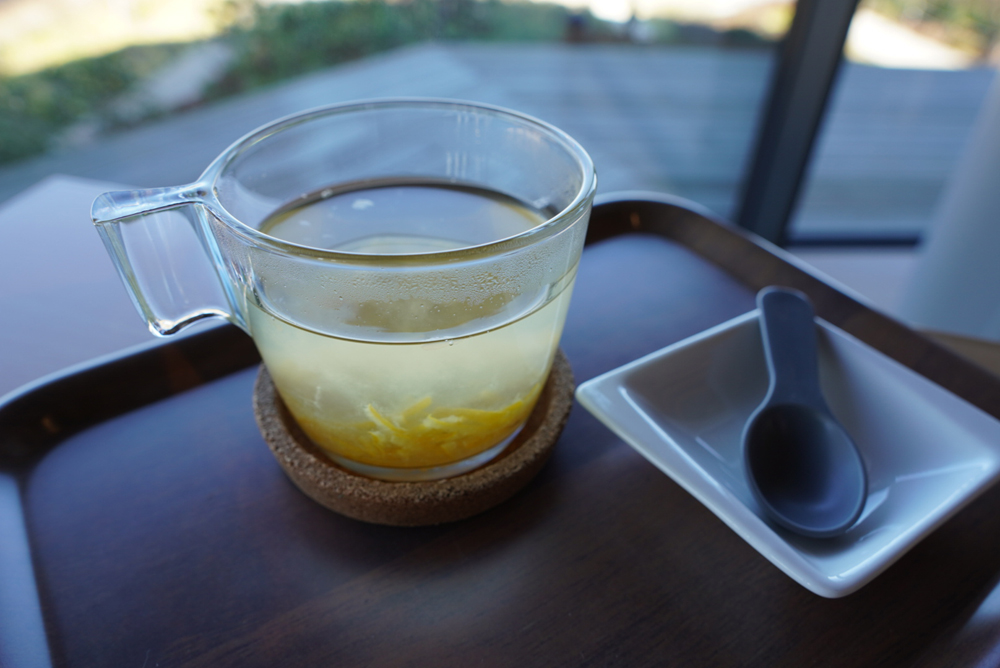 Matcha tea
A set of a cup of Honyama matcha with a gentle yet sharply defined flavor and nerikiri sweets made at a Japanese confectionery in Shimizu.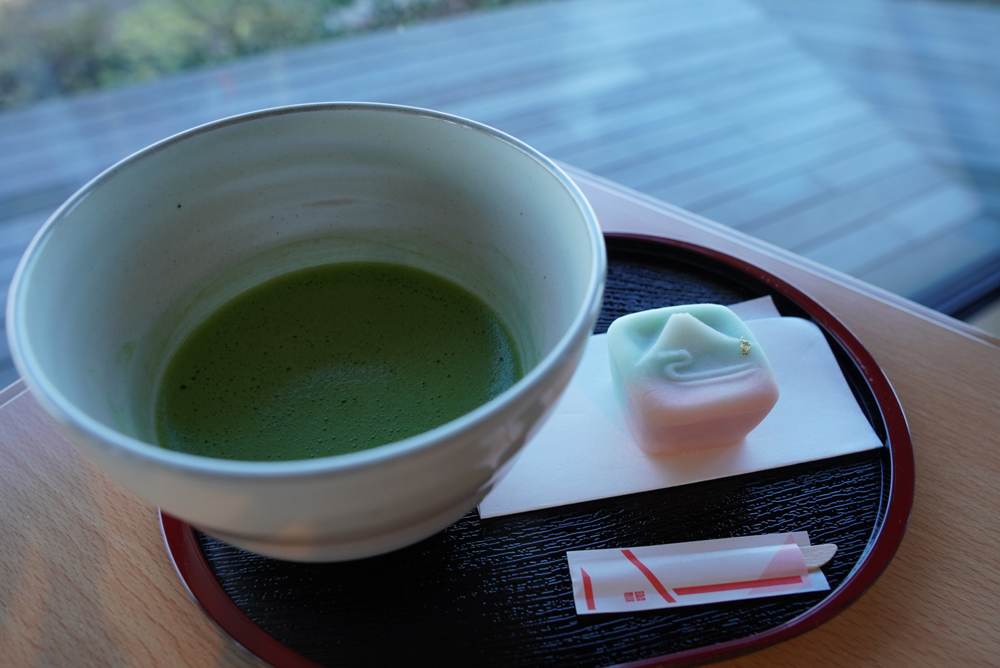 Fuji Dorayaki
Dorayaki with original branding of Mt. Fuji. The thick, fluffy crust is filled with sweetened bean paste. (The photo shows tea ordered separately.)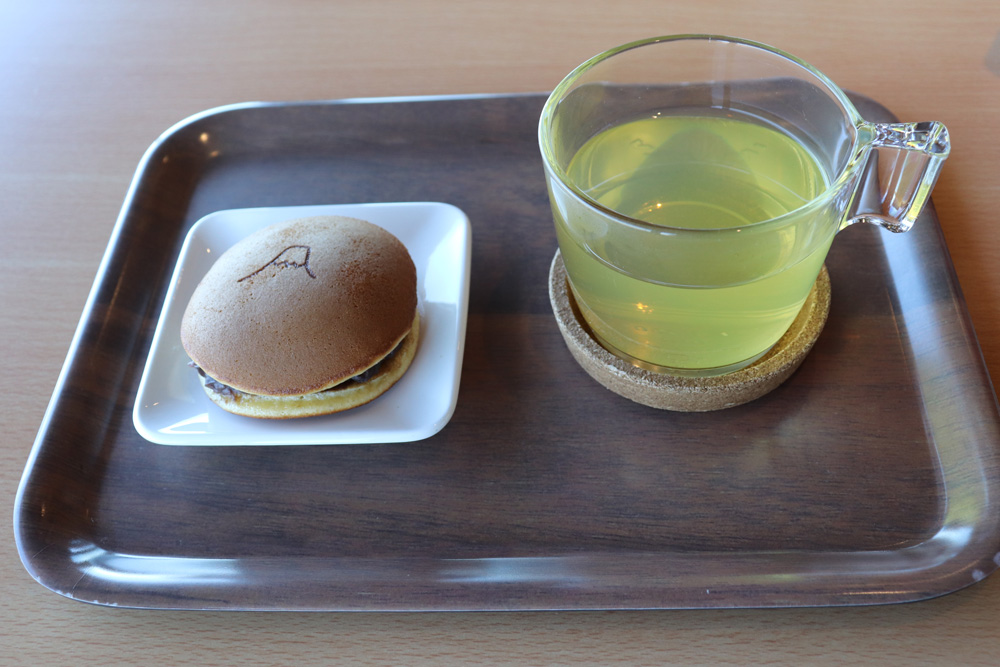 Shizuoka Eel Chazuke
A set of ochazuke with plump and fragrant Shizuoka eel on top, tea-leaf tsukudani, pickled wasabi stems, katsuo namaribushi with onion, pickles, hojicha tea and mandarin orange jelly.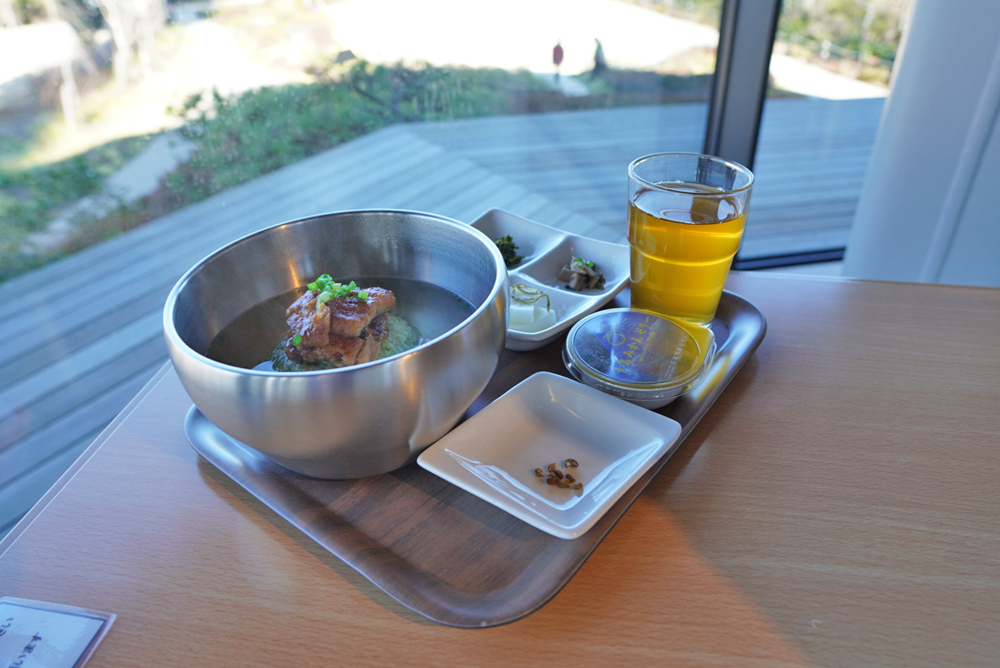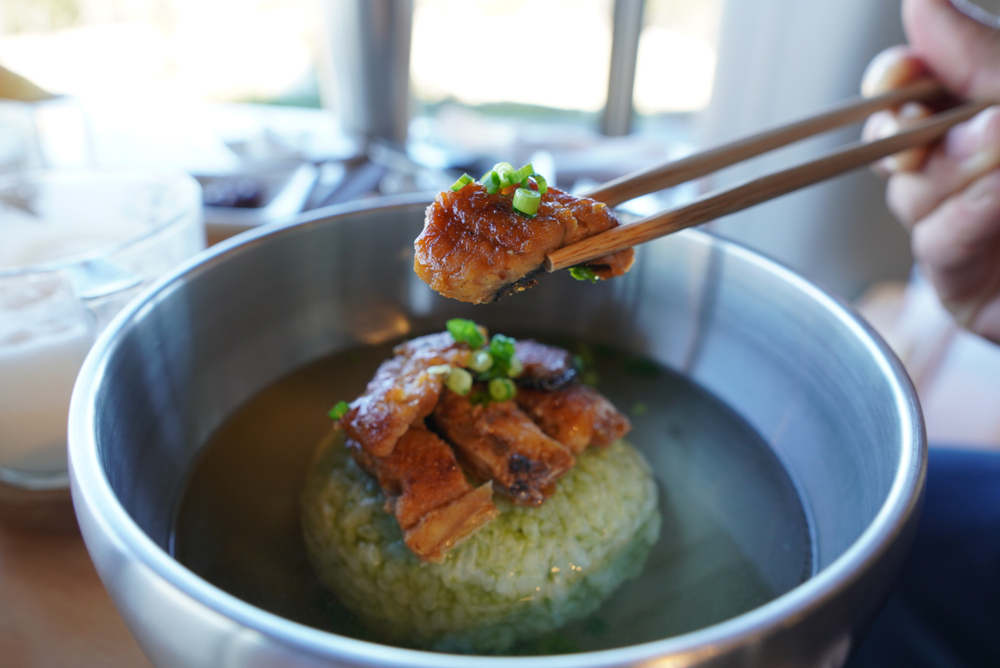 In addition, You can purchase various Shizuoka teas and Shizuoka specialties, such as Yamanashi Shoten's La Kouju, which has been recognized as a world-class product.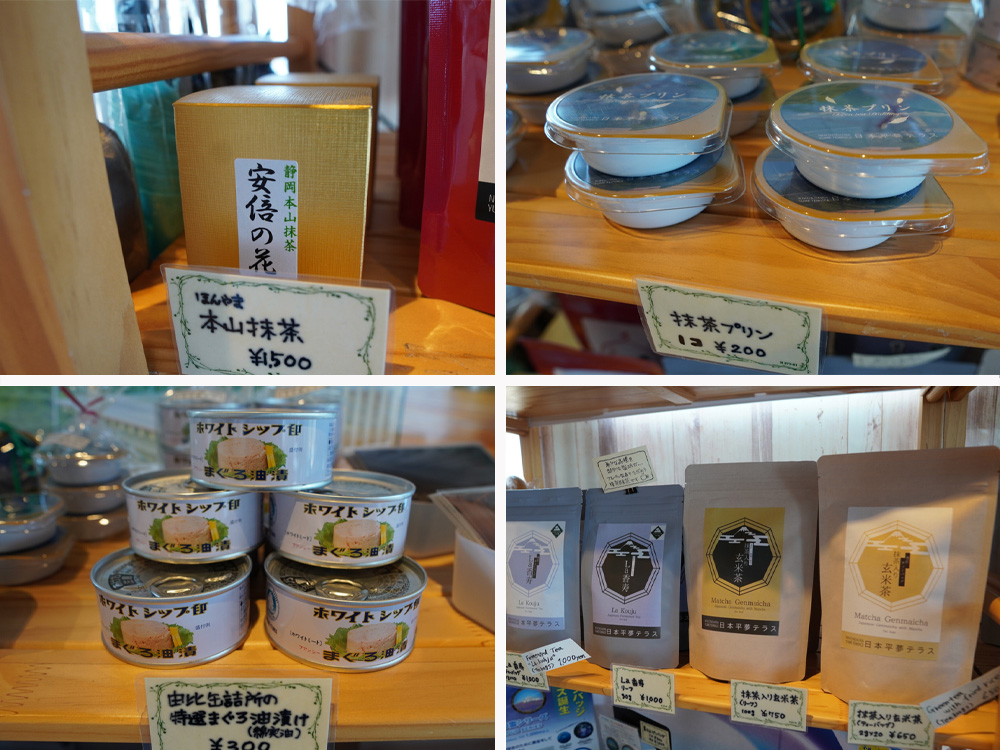 Spectacular panoramic views! From the observation floor to the outdoor observation corridor
The observation floor on the third floor has 360° walls of glass, offering beautiful views in all directions. Even if the weather is bad and there is no view of Mt. Fuji, there is a large monitor showing the mountain. The observation floor is open until 9:00 p.m. on Saturdays only.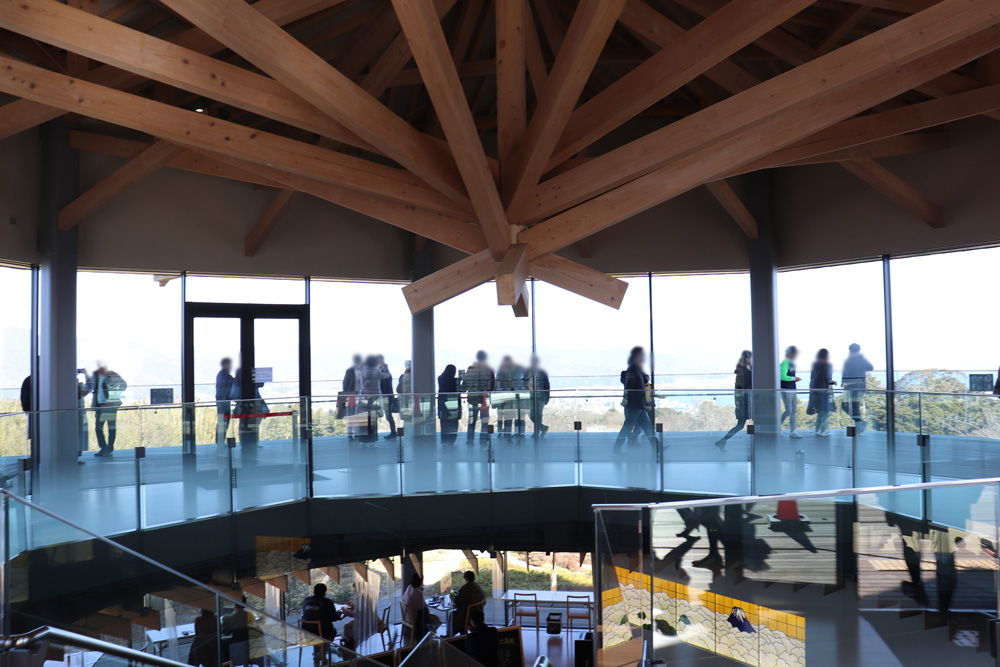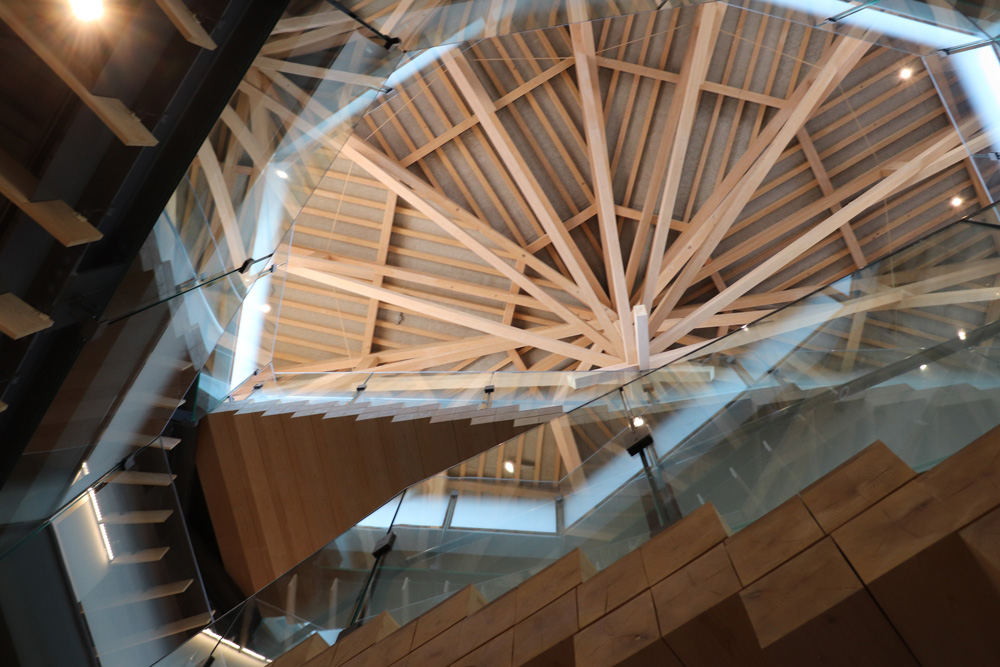 ▲The overwhelmingly well-crafted appearance of the building is more like the interior of a forest than a structure.
The door leading outside leads to an octagonal aerial corridor with a circumference of approximately 200 meters. The corridor offers an unobstructed panoramic view of Mt. Fuji located 50 km away, Miho Matsubara, Izu Peninsula, Suruga Bay, Shimizu Port, and the city of Shizuoka on a clear day.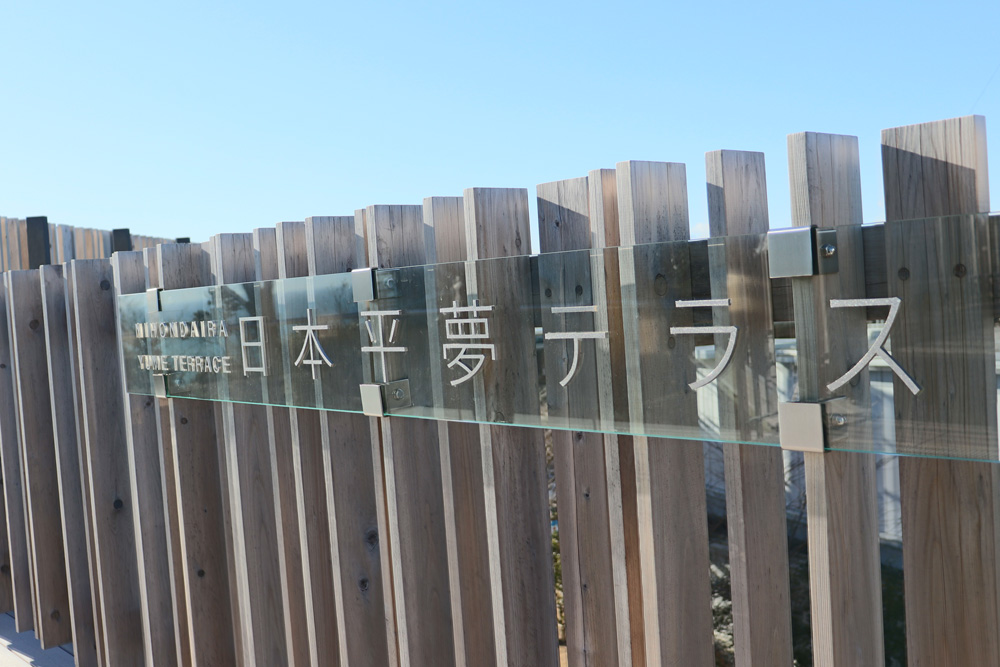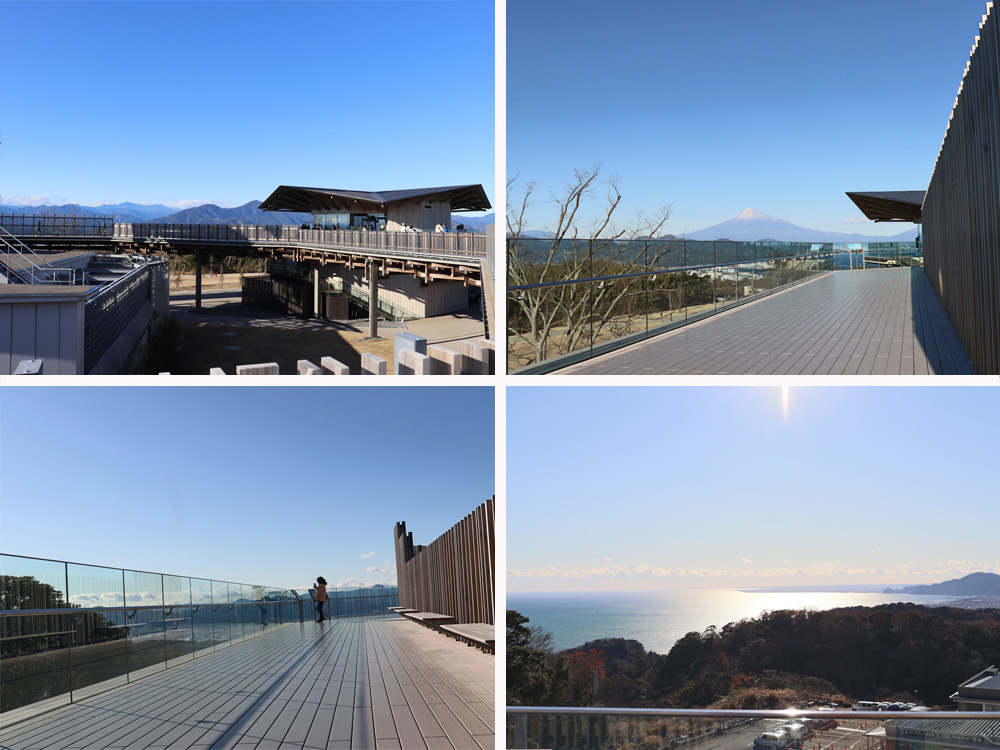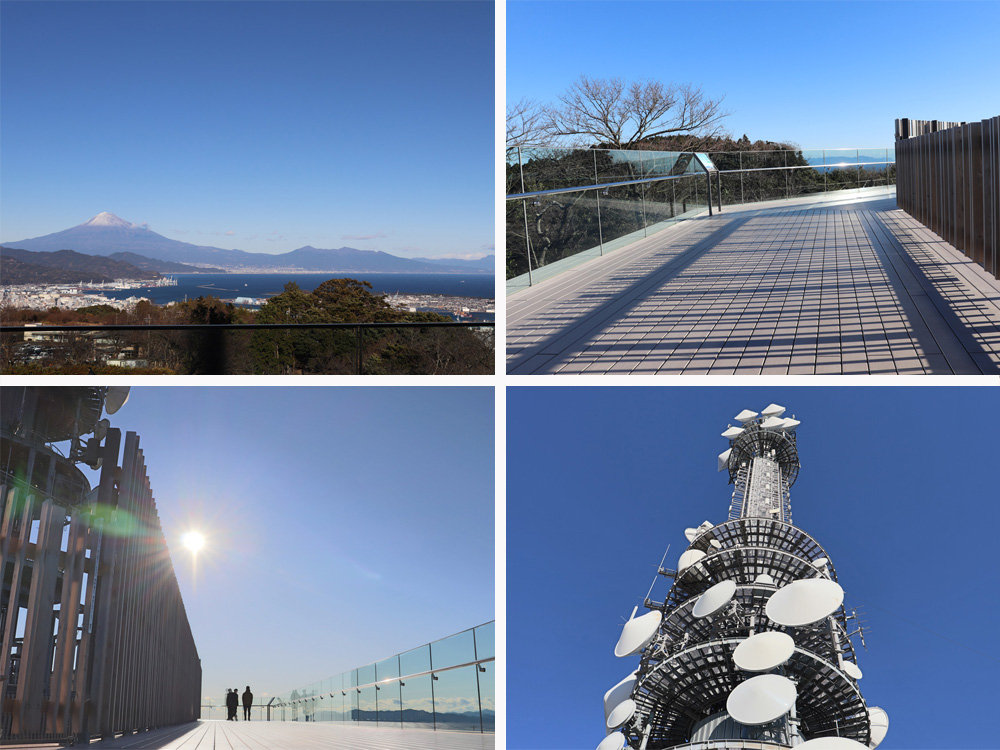 Admission to Nihondaira Yume Terrace is free. The outdoor aerial corridor is open 24 hours a day, so you can enter regardless of when the facility is open or closed. Visitors can enjoy the spectacular view of Shizuoka and the wonderful nightscape, which is registered as a Japan Nightscape Heritage site, anytime they like.
You can also come here in conjunction with Nihondaira Night Market, a nighttime marché held on the fourth Saturday of every month.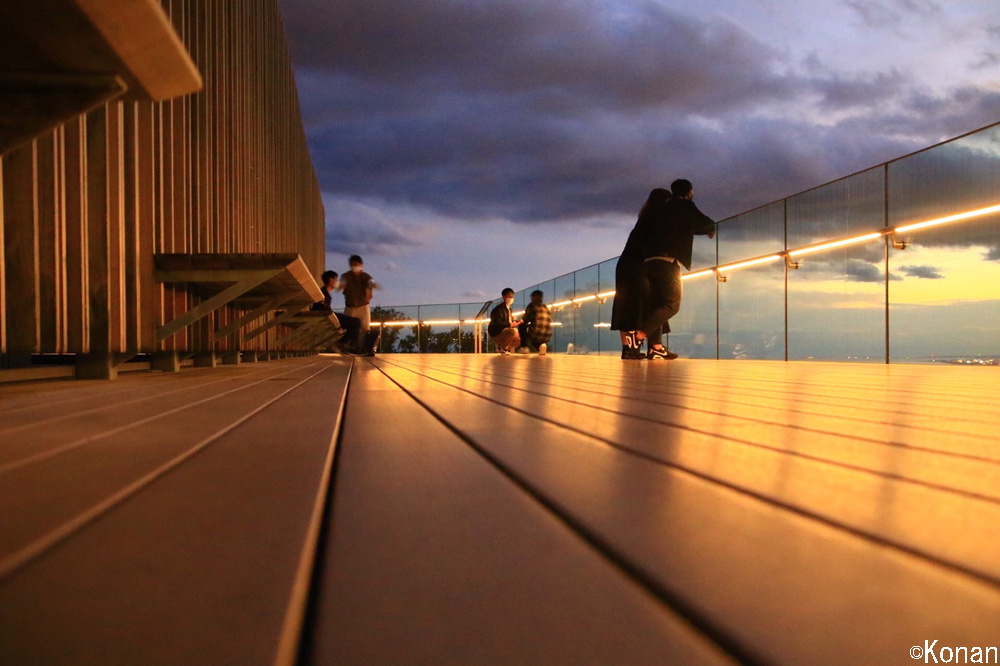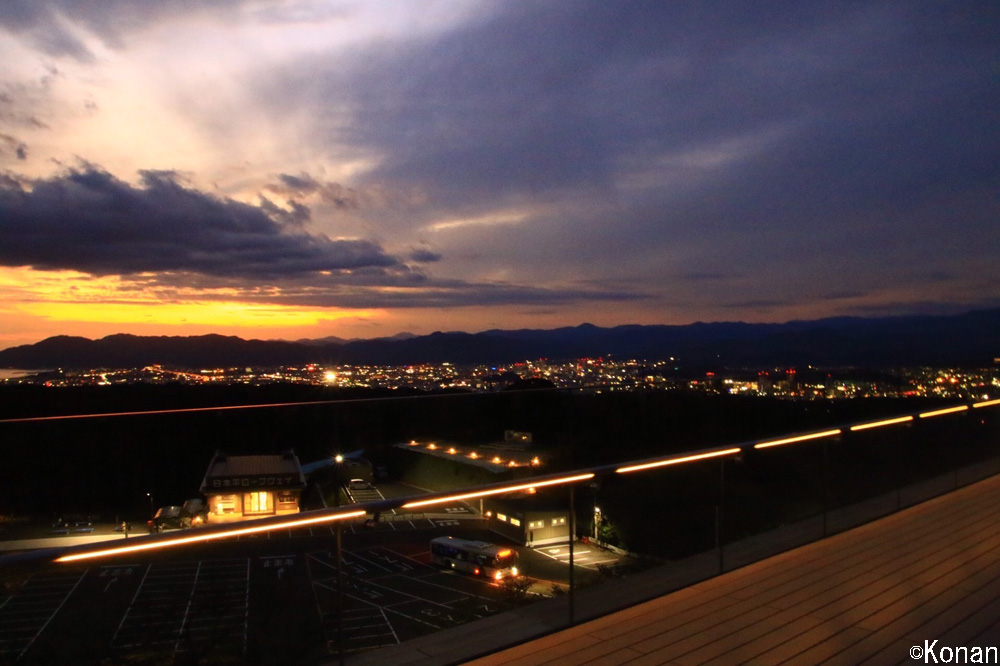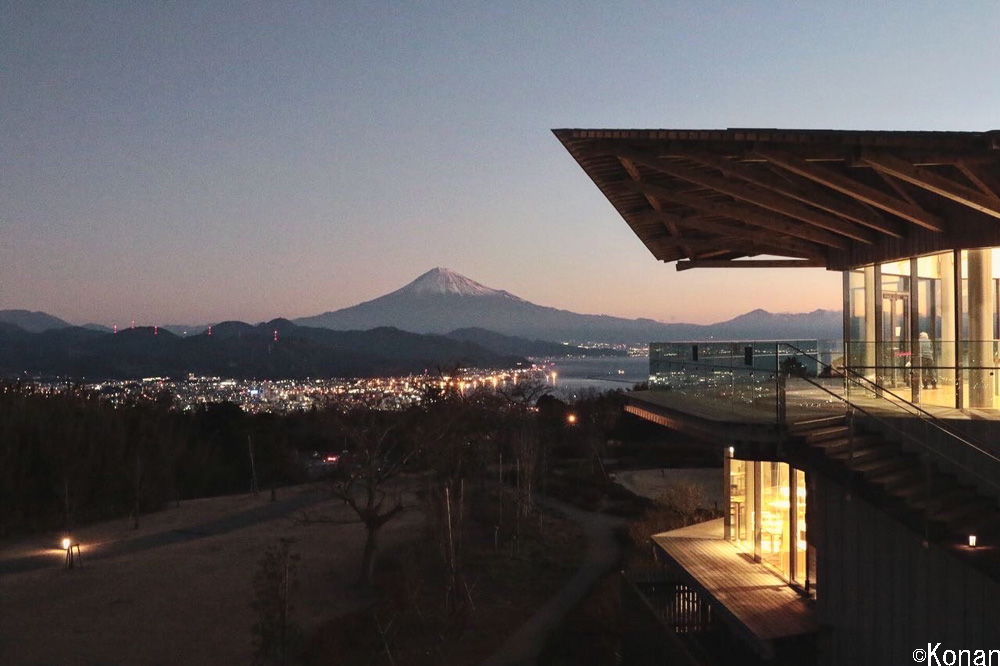 The Nihondaira Ropeway operates from the top of the mountain, connecting Kunōzan-Toshogu Shrine in five minutes, and the spectacular view from inside the car is also recommended. Come and enjoy the spectacular view, history, culture, and food of Shizuoka on the Nihondaira Yume Terrace.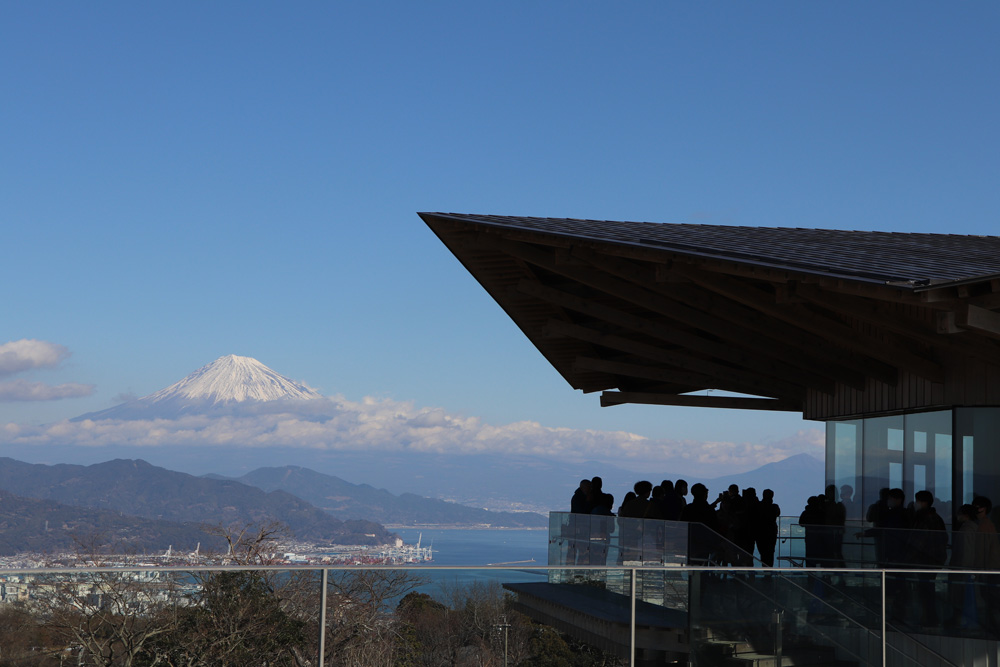 Information Of Nihondaira Yume Terrace
Address
600-1, kusanagi, shimizuku,Shizuoka City, Shizuoka Prefecture, 424-0886, Japan
Website
https://nihondaira-yume-terrace.jp/
Phone number
054-340-1172
E-money and credit cards: Available
QR code payment
Available
Open
Sunday-Friday 9:00-17:00
Saturday 9:00 – 21:00
The observation corridor is open all day.
Closed
Second Tuesday of each month (If the second Tuesday is a holiday, the museum is closed on the following weekday.)
Year-end (12/26 – 12/31)
Parking lot
Available
Access
 40 min. by Shizutetsu Bus from JR Shizuoka Stn.
From JR Shizuoka Station, take the Shizutetsu Bus bound for Nihondaira Ropeway (approx. 40 minutes).
| | |
| --- | --- |
| Writer | Norikazu Iwamoto |
| Career | Ochatimes chief editer.Meeting with Vice Governor of Shizuoka prefecture.Judge of Fuji country 100 tea's award in 2021.Ocha Times link introduced at website of World O-CHA(Tea) Festival 2022 and Tea Science Center. |
| | |
| --- | --- |
| English translator | Calfo Joshua |
| Career | Born and raised in England, living in Japan since 2016. Studying arboriculture in Shizuoka Prefecture whilst operating his landscape business Calfo Forestry. Appreciating the nature of Japan and the culture that places such importance in it. |
Related articles