Gyokuro and Matcha Tasting in a Japanese garden in Gyokuro no sato 【Asahina Gyokuro and Matcha, Shizuoka Prefecture】

Go to Japanese page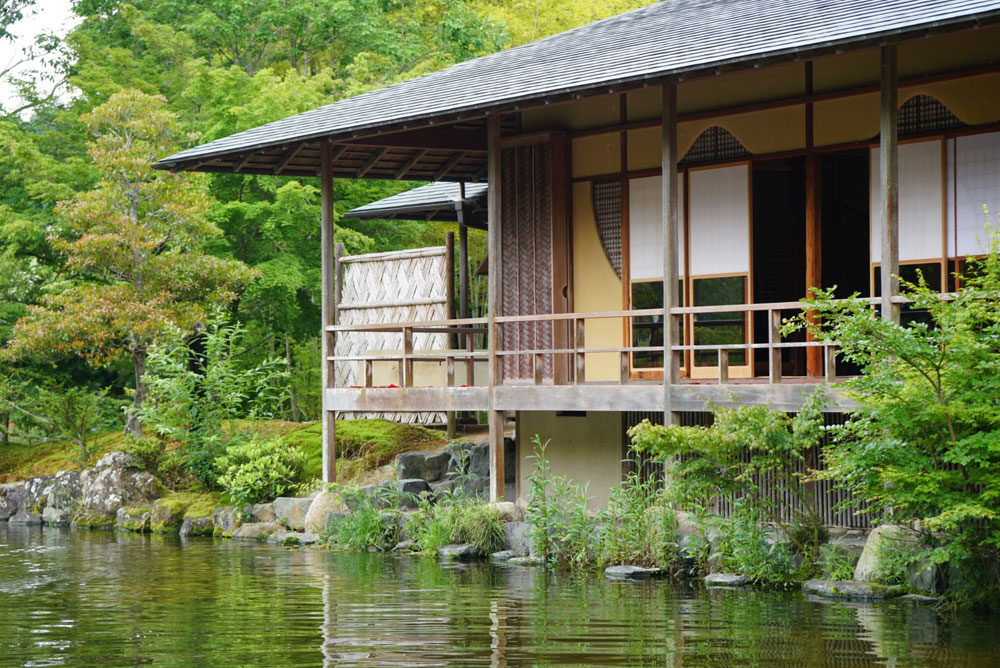 Located about 10 minutes by car from the Fujieda-Okabe IC of the Shin-Tomei Expressway, the Asahina area of Okabe-cho, Shizuoka Prefecture, is home to high-quality gyokuro and matcha teas comparable to those produced in Uji, Kyoto and Yame, Fukuoka. At the "Gyokuro-no-Sato" facility in the Asahina area, visitors enjoy gyokuro and matcha amongst the beautiful scenery of tea fields and mountains. Gyokuro-no-sato is a popular tourist spot with a bus stop for sightseeing buses, and is crowded in the holiday seasons.
This article will tell you all about Gyokuro-no-sato, a place to enjoy authentic Asahina gyokuro and matcha while admiring the beautiful scenery.
About Gyokuro-no-sato
Gyokuro-no-sato is a roadside station opened by the Ministry of Land, Infrastructure, Transport and Tourism, opened in October 1991 with the philosophy of promoting the valuable gyokuro tea, specialty of the Asahina area along with nature, culture, tradition, and history.
There are three major gyokuro production centers in Japan: Uji in Kyoto, Yame in Fukuoka, and Asahina in Shizuoka. Gyokuro-no-Sato in the Asahina region, one of the few places in Japan where gyokuro is produced, attracts many tourists from outside the prefecture as well as from overseas who want to enjoy the real taste of gyokuro.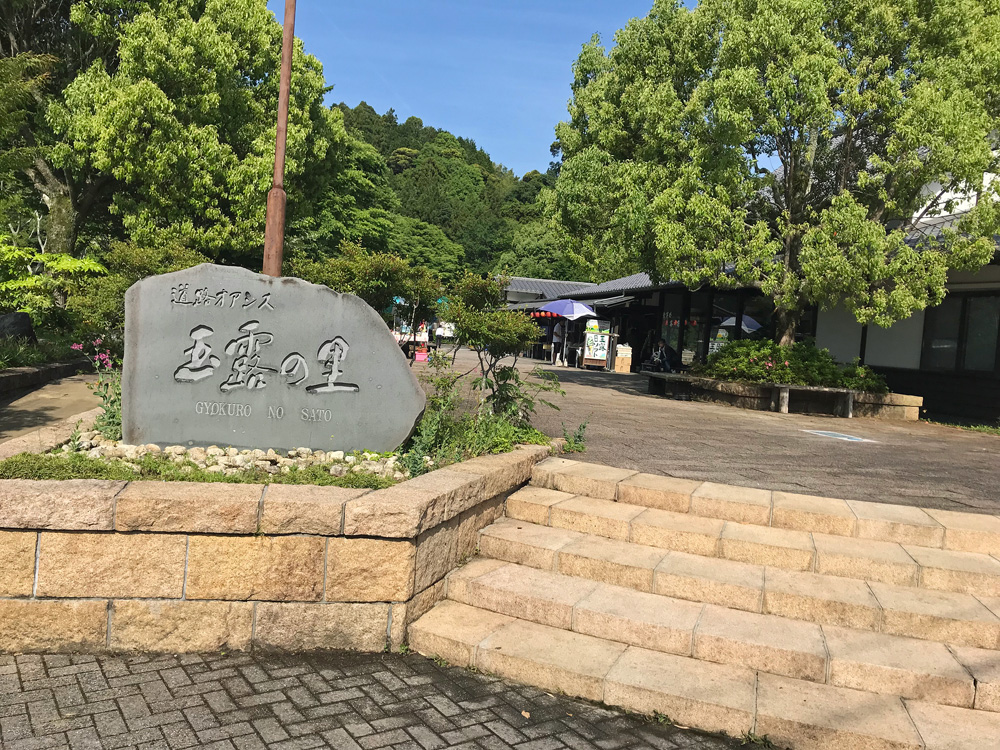 Gyokuro-no-Sato is divided into two areas, east and west, across the Asahinagawa River. On the east side, there is a shop where you can purchase local products, "Chanohanatei" where you can enjoy fresh tea and dishes using local ingredients, and "Insectarium" where butterflies and beetles from around the world are displayed.
On the west side, there are mainly tea utensils and tea product stores, and the "Hyogetsu-tei," a tea house set in a beautiful Japanese garden.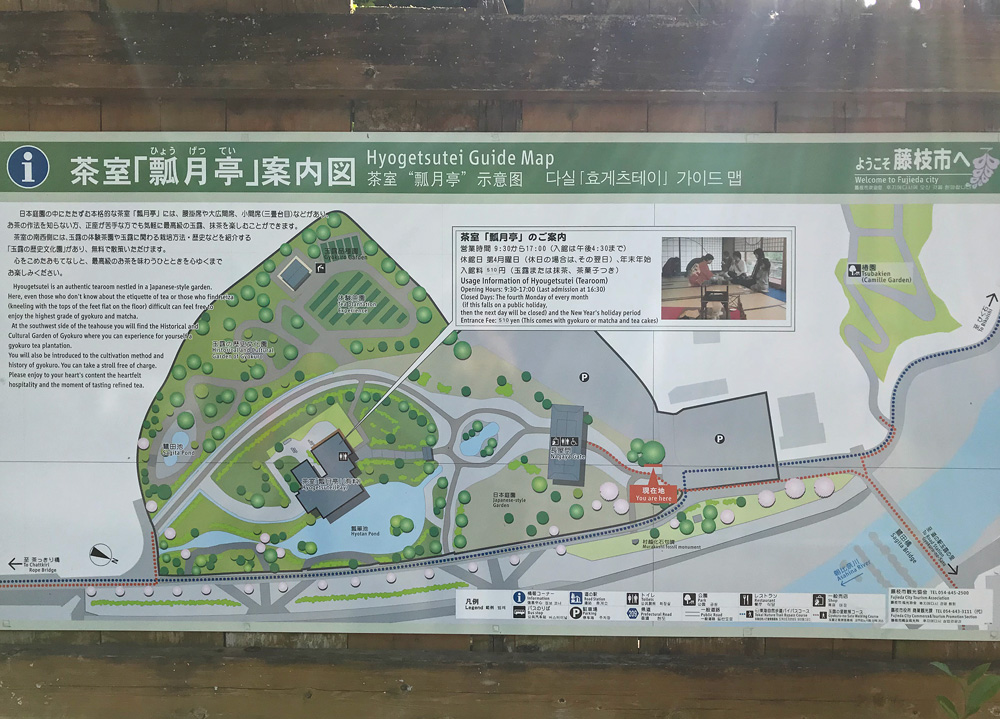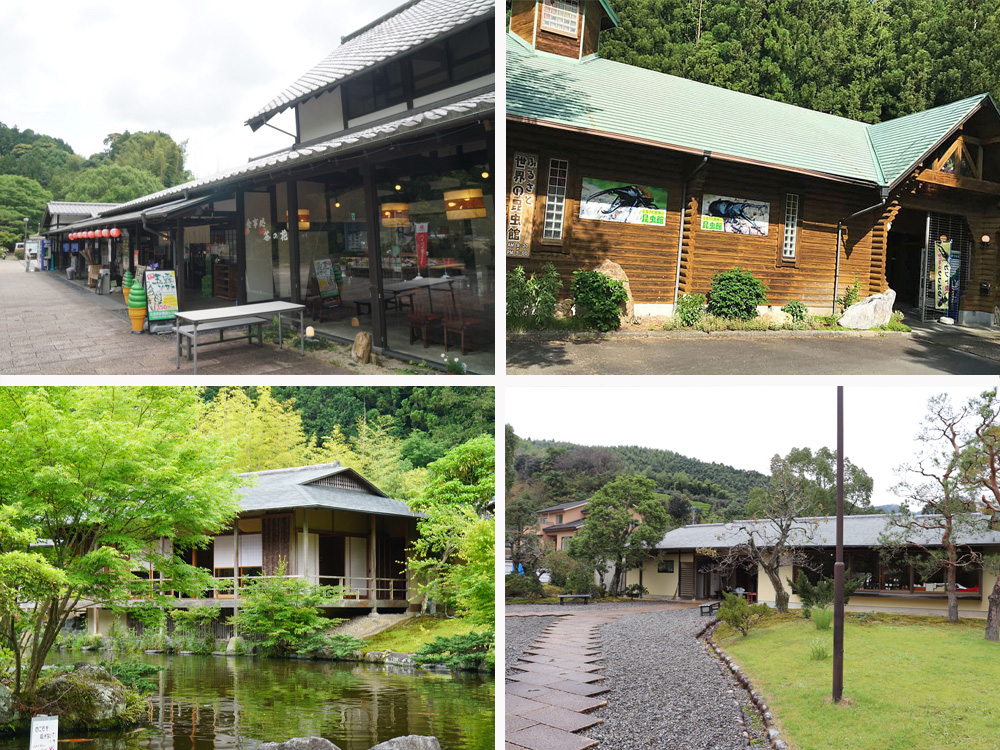 What is Gyokuro?
Gyokuro is a high-grade tea with a mellow flavor and aroma reminiscent of a soup stock.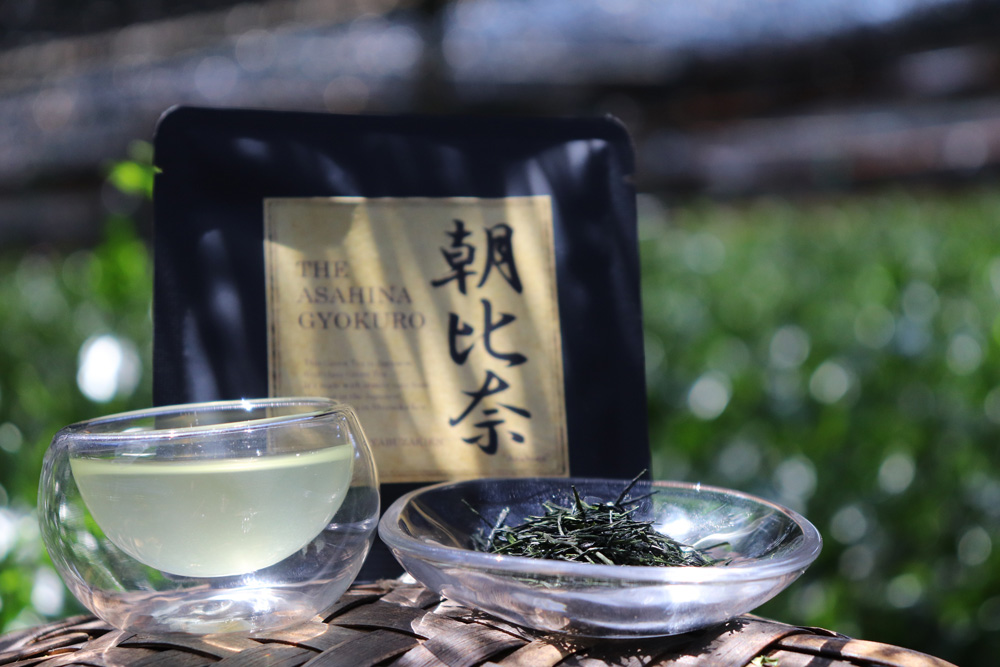 Before plucking, the tea plantation where gyokuro is cultivated is covered for a certain period of time to prevent sunlight from reaching the leaves.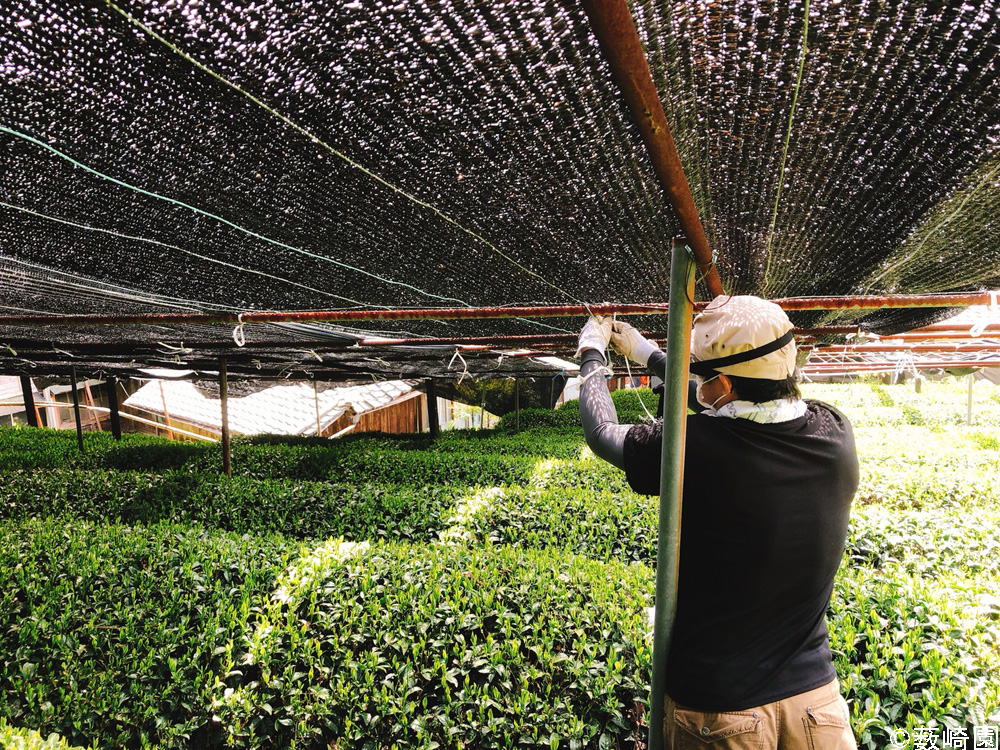 Sunlight increases the amount of tannin, which is the source of bitterness in tea leaves. By covering the tea leaves with a cover to block sunlight, the increase in tannin is suppressed and theanine, which is the source of the flavor component, is increased.
The tea leaves grown in this way are made into a high quality tea called "Gyokuro." (For more information on gyokuro, please refer to the article on Yabuzaki-en.)
Souvenir Shop in Asahina area
At the souvenir store, you can purchase tea leaves, tea utensils, tea soba noodles, gyokuro yokan, and other items using gyokuro and matcha produced in Asahina, as well as locally produced fresh food and locally brewed sake.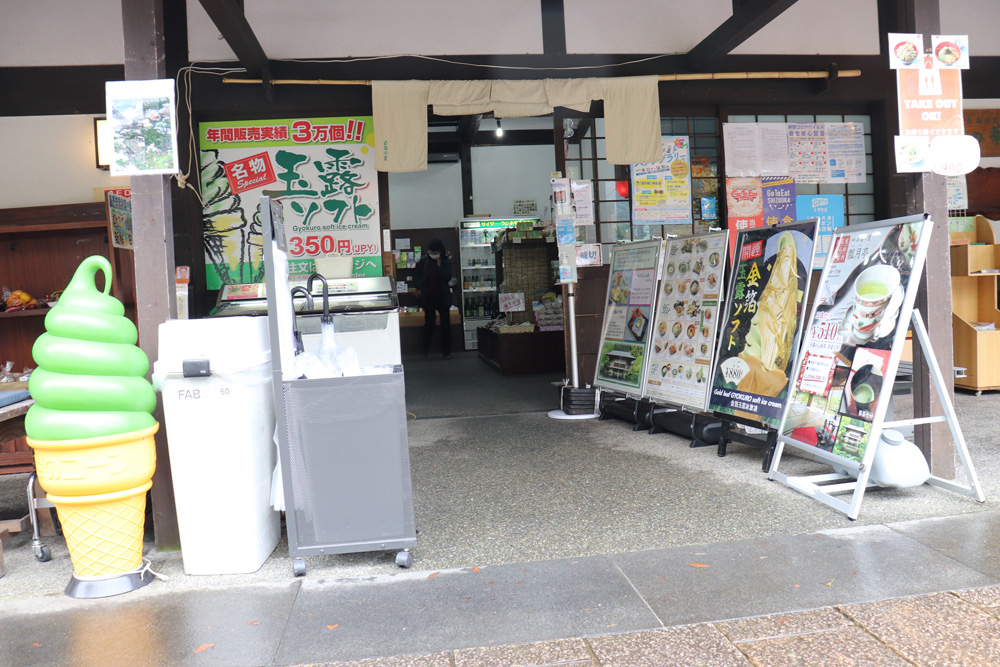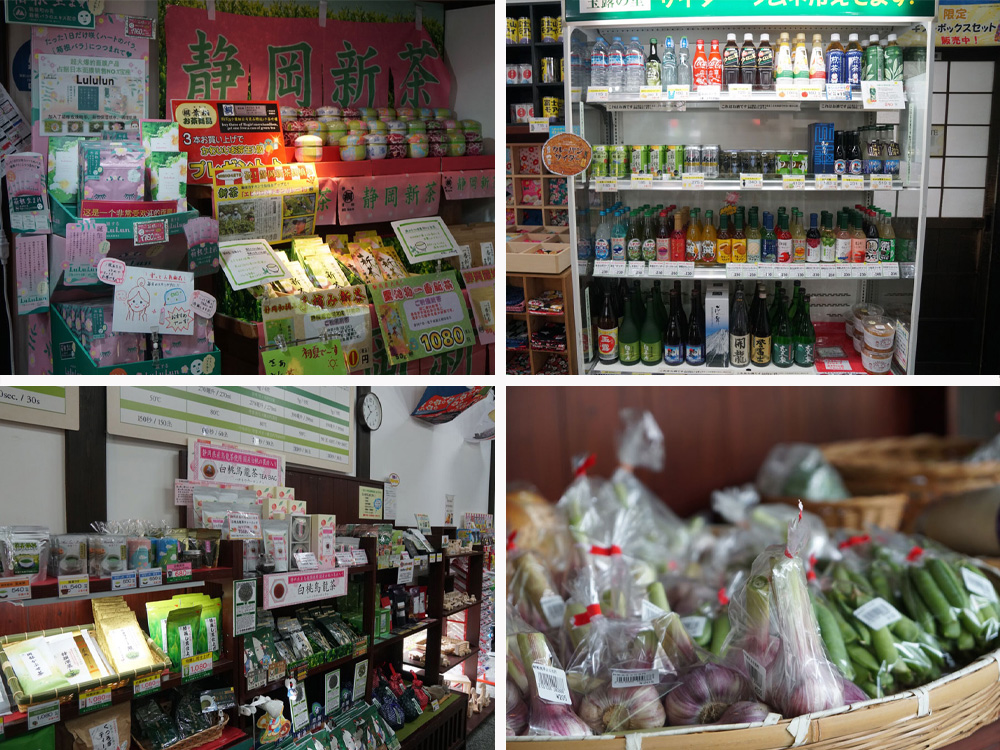 Gyokuro soft serve ice cream, available at the souvenir shop, has the strong presence and aromatic flavor of gyokuro.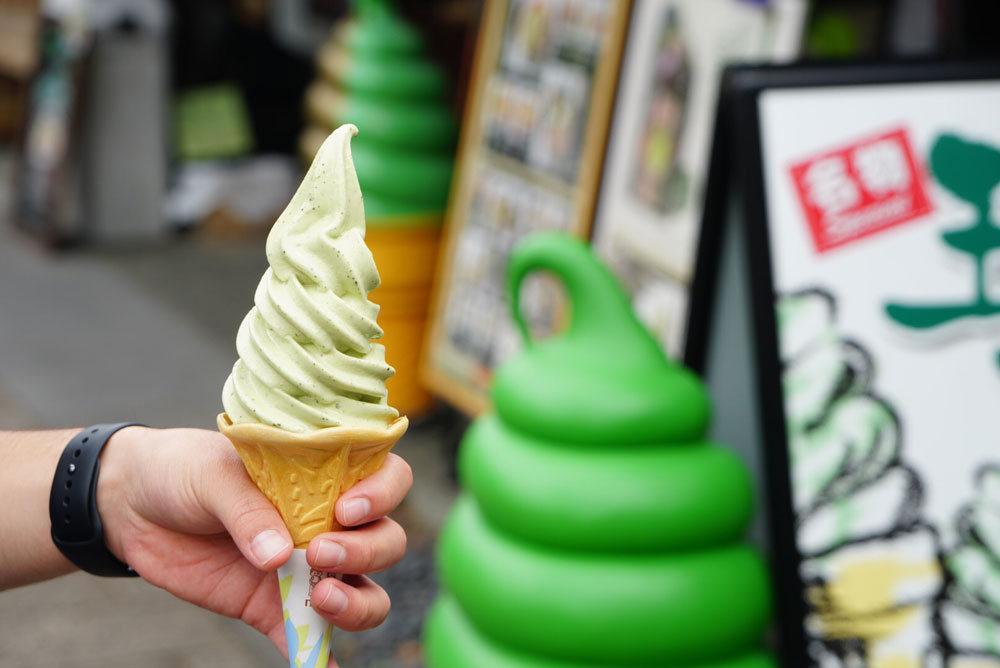 ▲The soft-serve ice cream is packed to the bottom of the cup, making it very satisfying to eat.
Chanohanatei, traditional Japanese restaurant with a variety of tea fusion dishes
At Chanohanatei, you can enjoy Japanese cuisine and sweet dishes made with local ingredients, such as chasoba (green tea buckwheat noodles). Here are just a few of the dishes on the menu.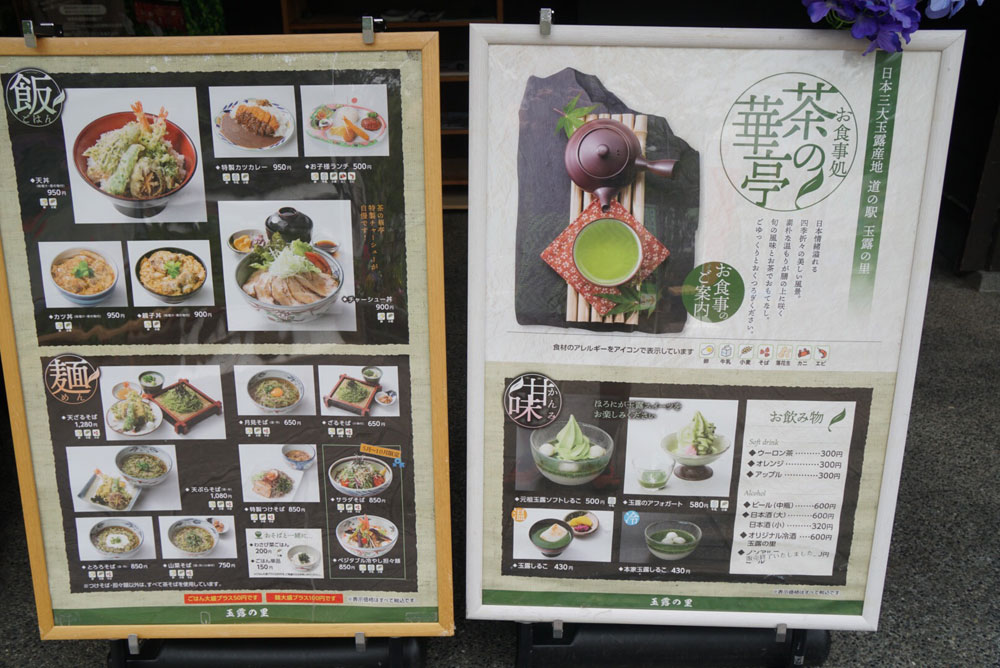 Tenzaru Soba
Tempura of shrimp, squid, shiitake mushrooms, and tea leaves served with chasoba. The tea leaf tempura wrapped in a crispy batter is so savory that it is almost like a candy. The chasoba noodles that have tea leaves kneaded into them are of the high quality that only Gyokuro-no-Sato can offer.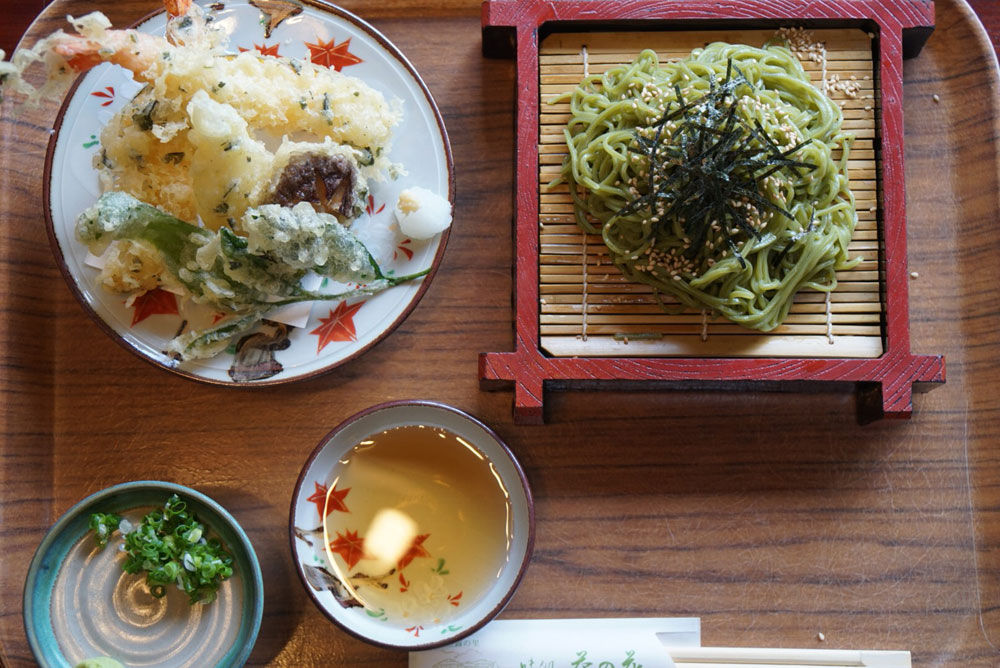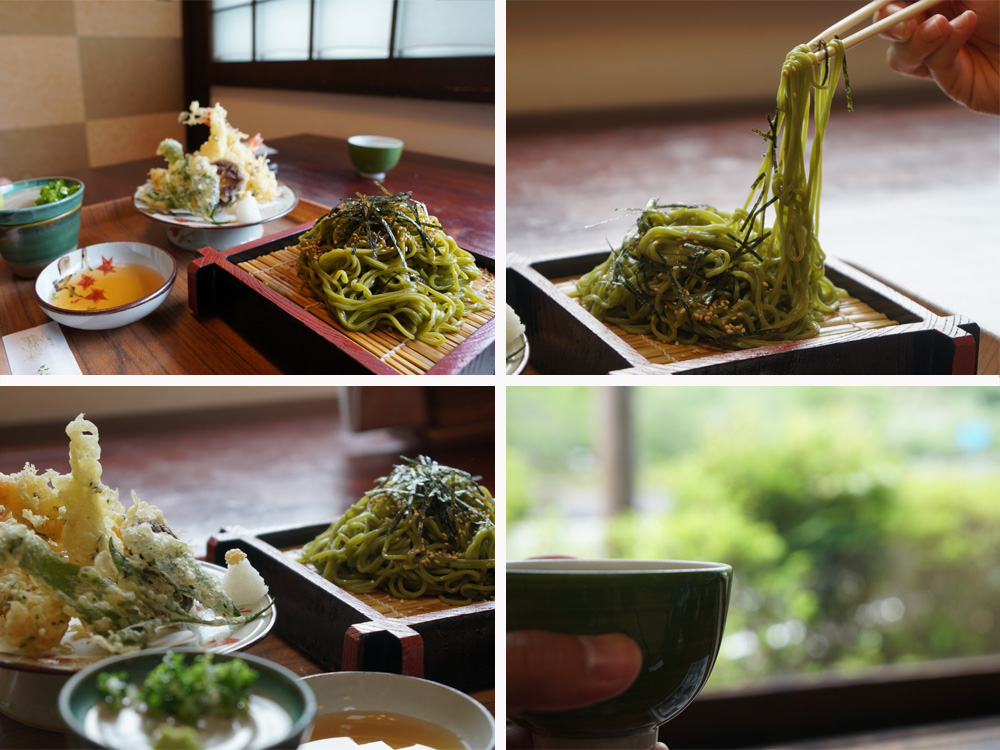 Tempura Soba
In addition to the delicious tempura made with local ingredients, eat as much as you want of chasoba noodles in the delicious broth. Warm and cold noodles available.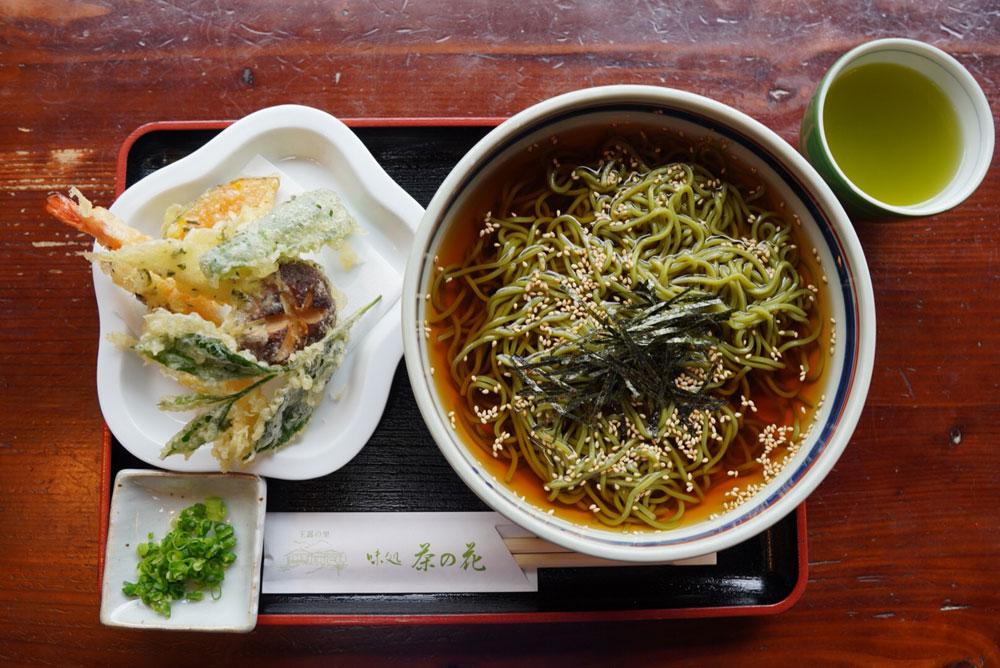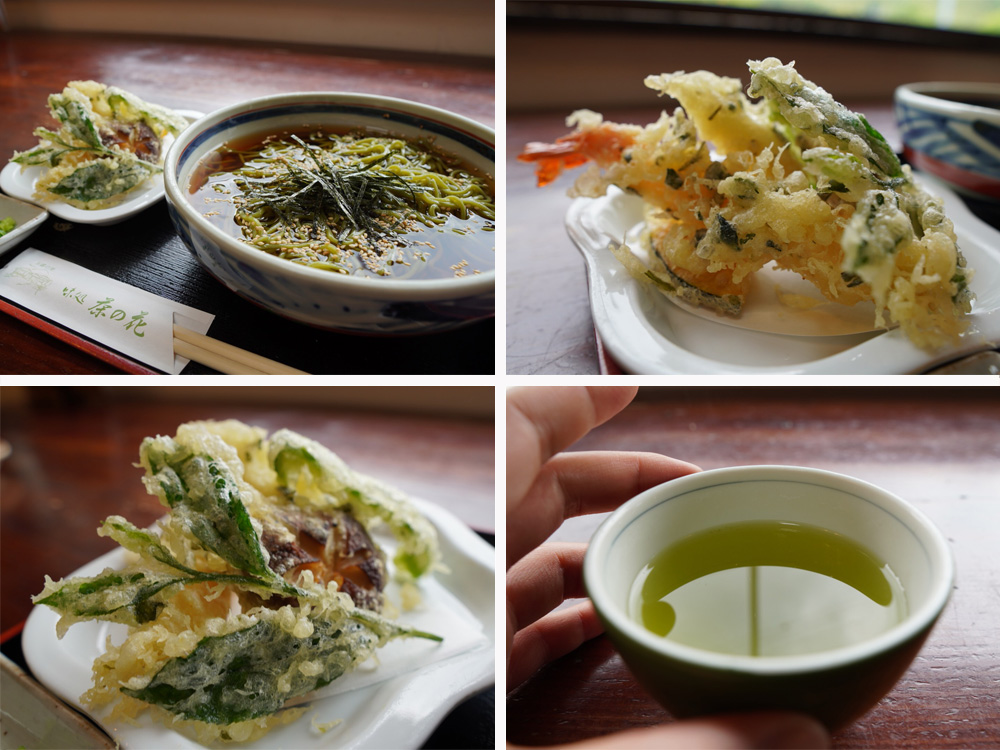 Gyokuro Affogato
Crisp tea soft serve is topped with a thick gyokuro sauce. It is a dish that is only found in authentic Gyokuro production areas.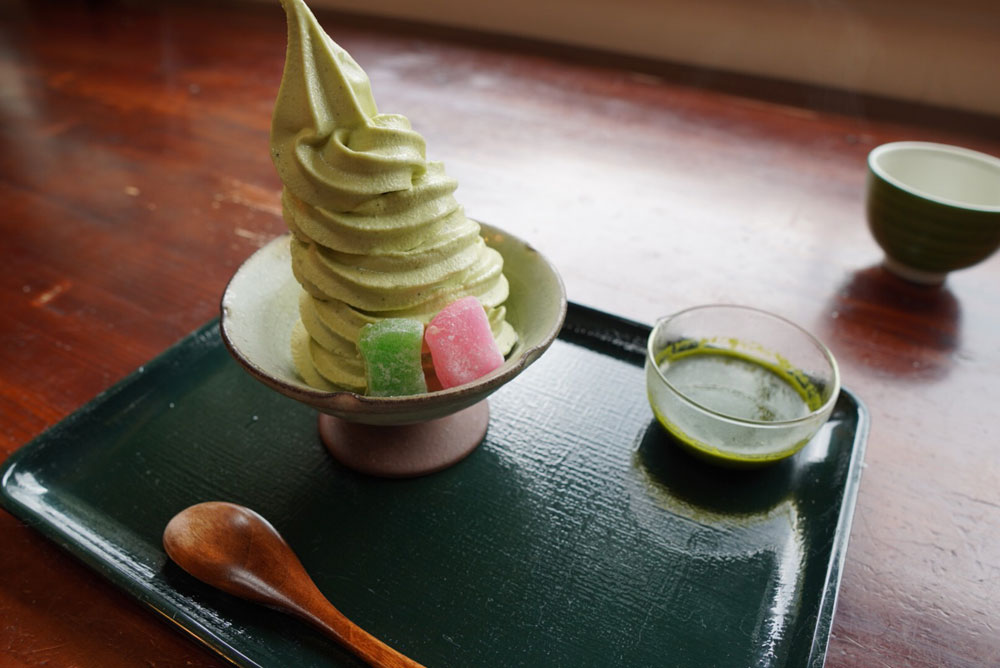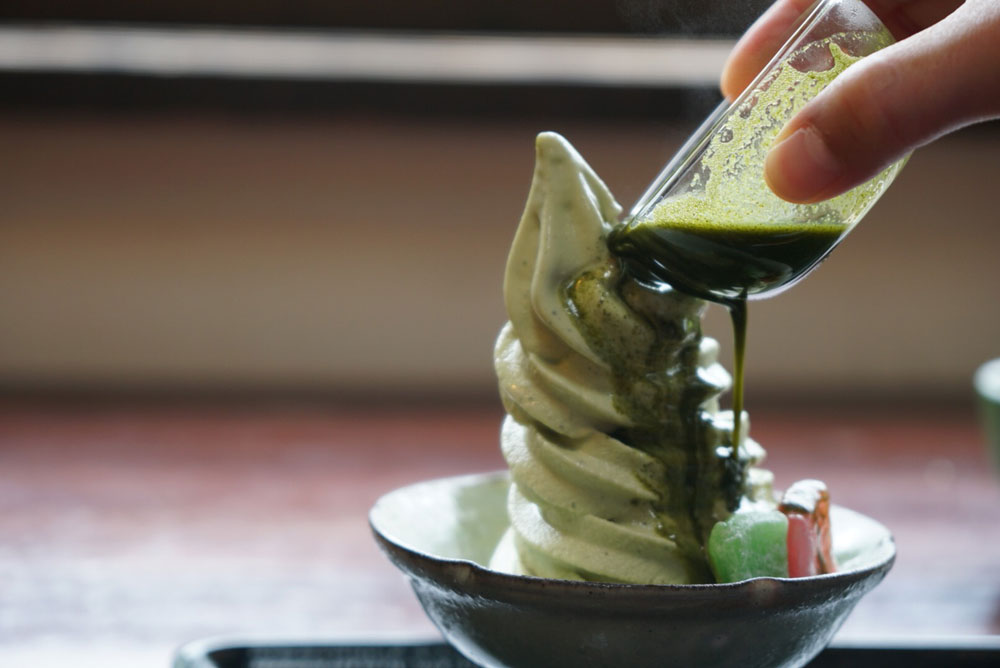 Gyokuro no Shiruko
The refined sweetness of the oshiruko is accompanied by the aroma of gyokuro that wafts through the nose as you eat it. The tea goes well with the sweet aftertaste.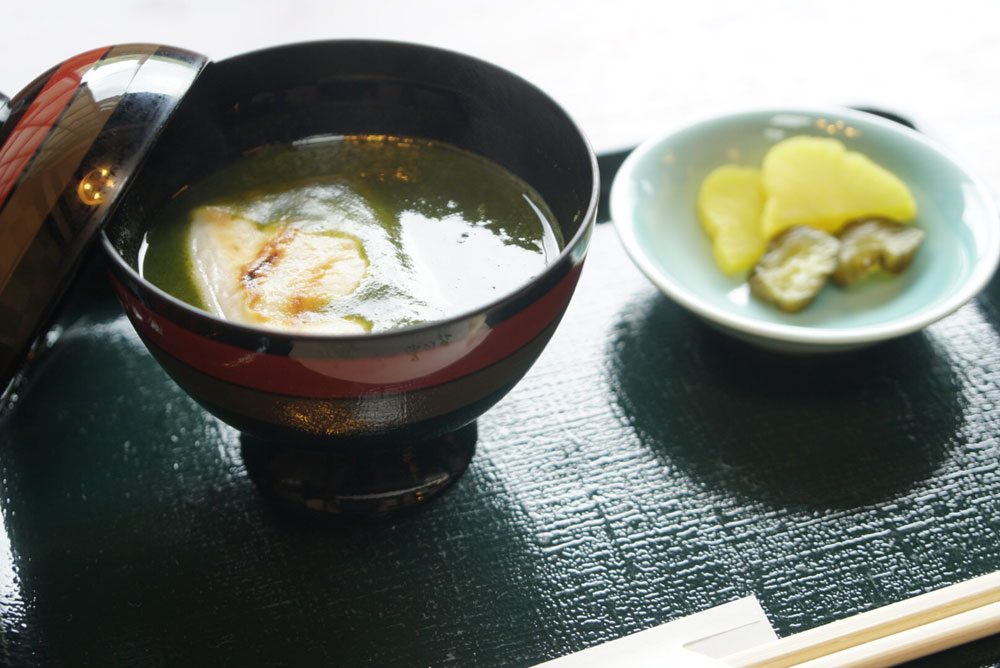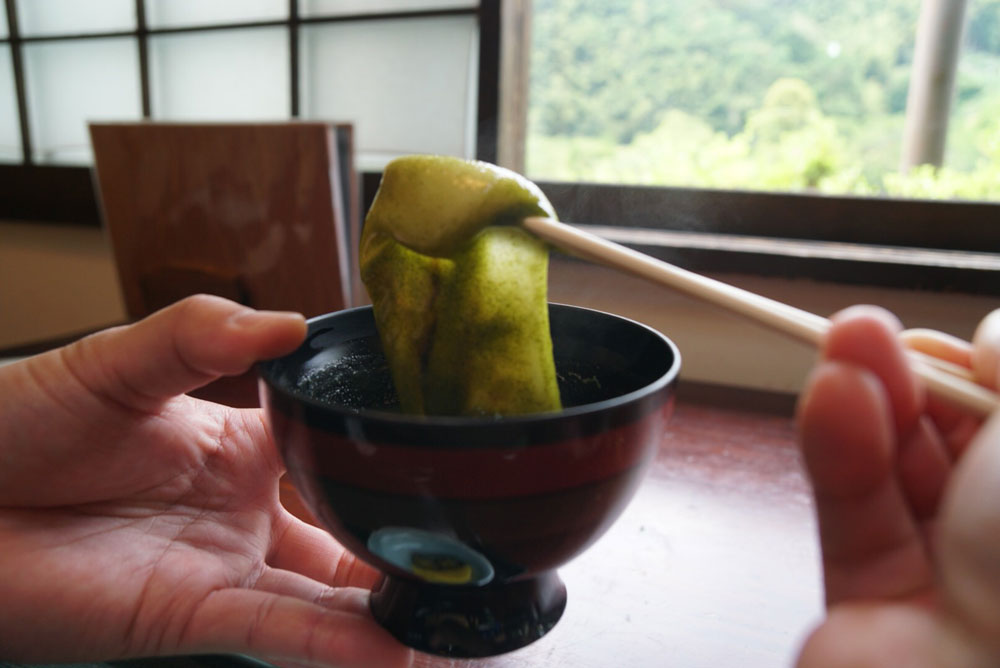 Furusato World Insectarium
At the far end of the east side of Gyokuro-no-sato is the "Furusato World Insectarium," which looks like a log house. Mantis, beetles, stag beetles, and butterflies from all over the world are exhibited, and the number of species is said to be as many as 900 items.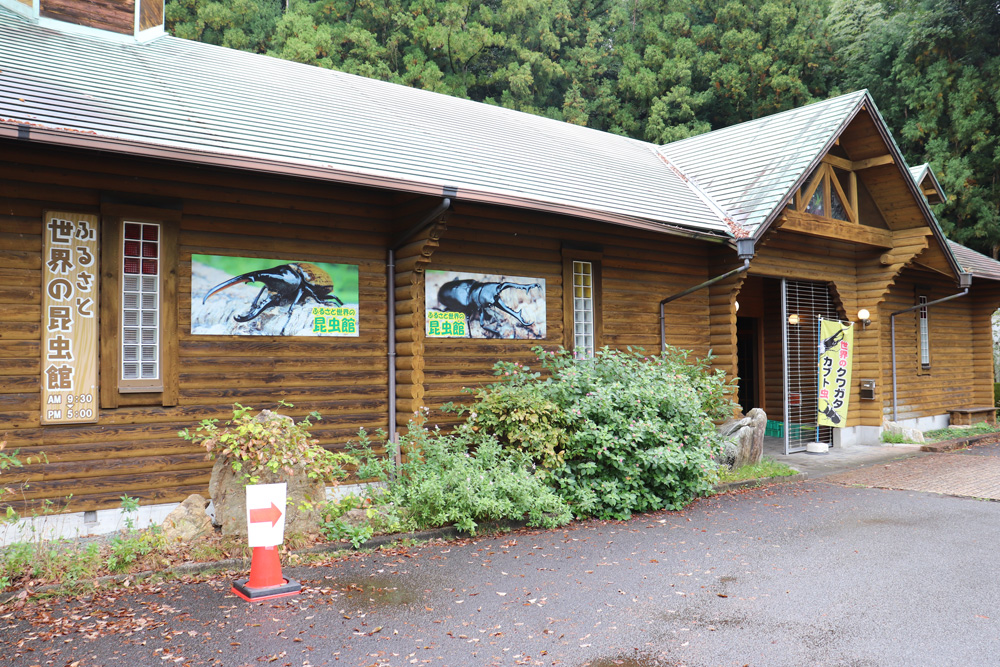 Japanese Garden
Crossing the Asahinagawa River from the east to the west, you will find a beautiful Japanese garden reminiscent of a temple in Kyoto.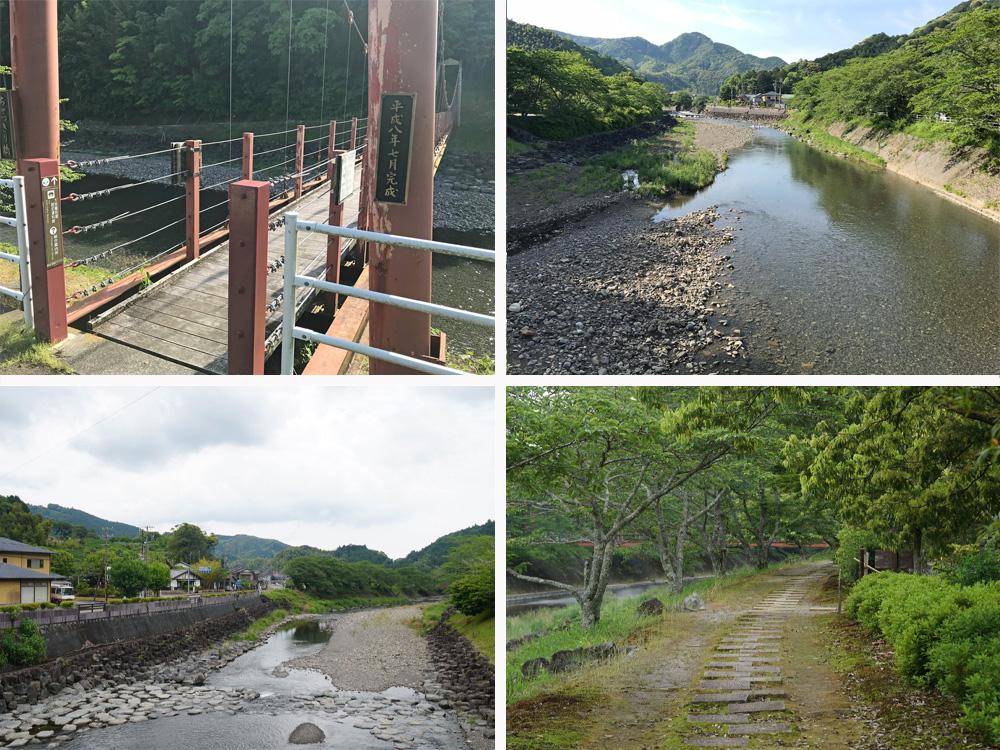 ▲The Asahina River around Gyokuro-no-sato is a very clear shallow stream where children play in the water in summer.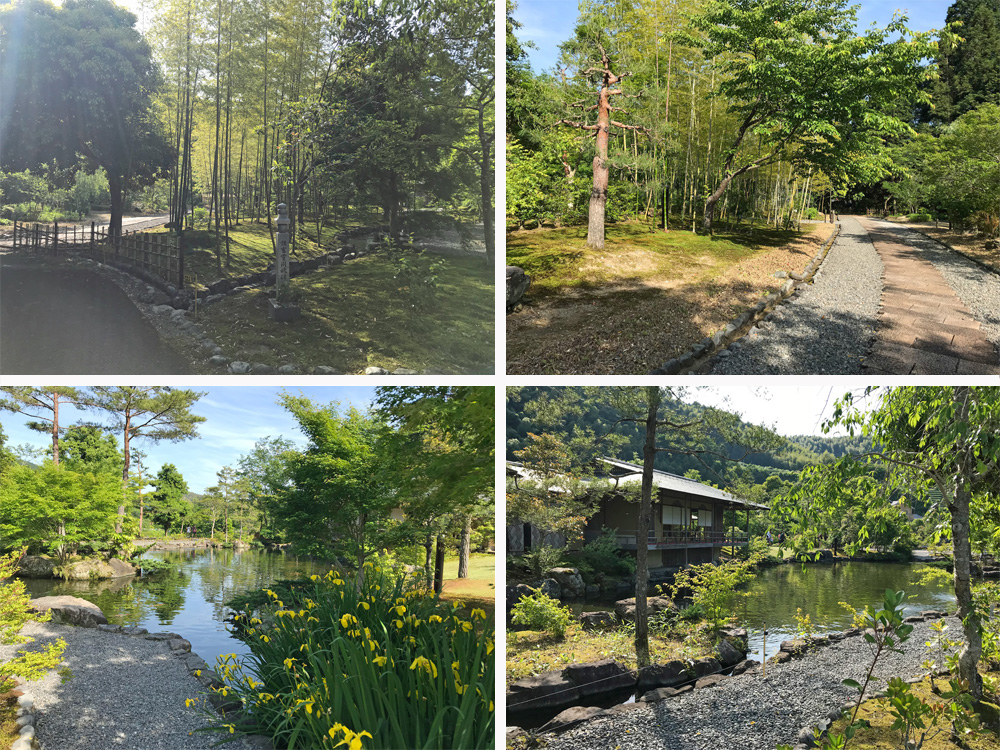 The garden is planted with various varieties of tea flowers, and visitors are encouraged to experience the tea culture of Asahina through the beautiful Japanese garden.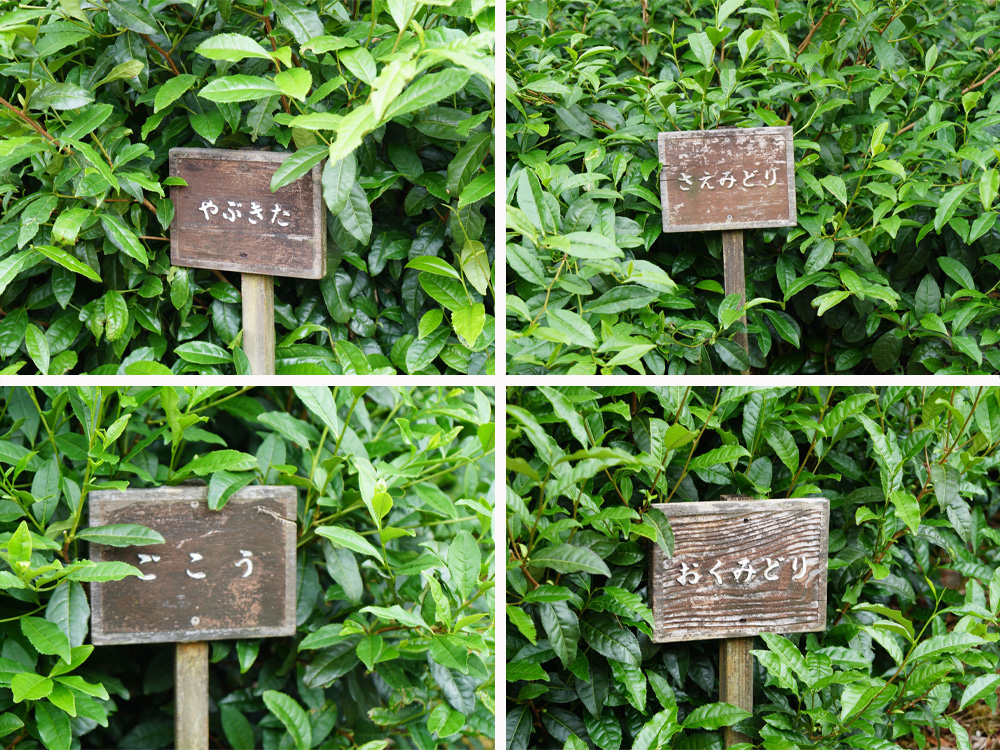 Tea House – Hyogetsu-tei
As you walk through the beautiful Japanese garden, "Hyogetsu-tei" the teahouse comes into view floating in the hyotan-ike (gourd-shaped pond).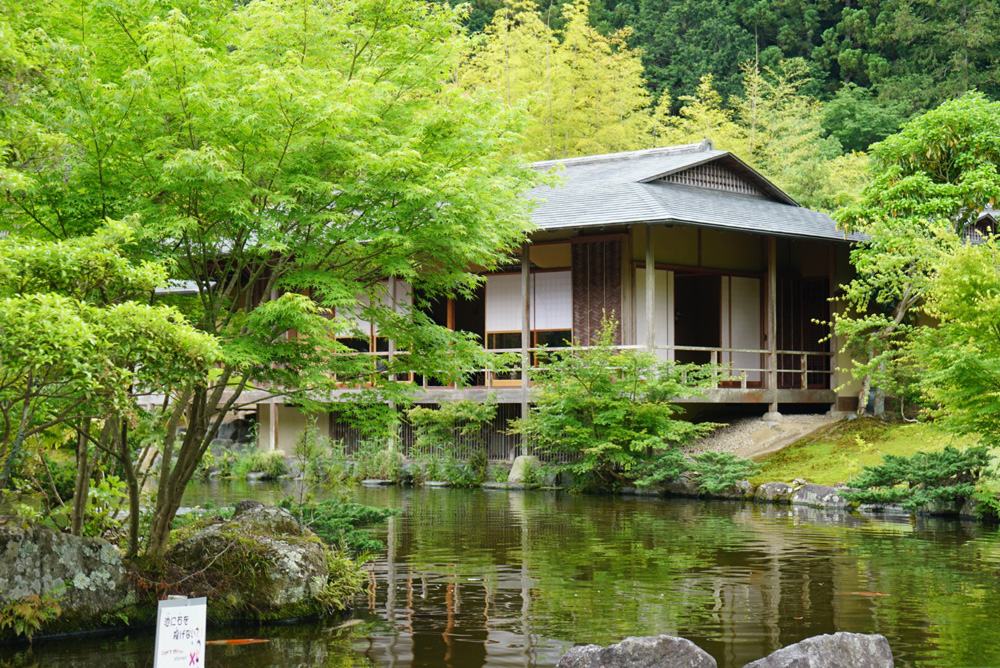 The "Hyogetsu-tei" is a tea house made in the sukiya architectural style, where visitors can savor premium gyokuro tea and matcha while admiring the beautiful Japanese garden. A separate ticket is required to use this room, so please purchase a ticket at the souvenir store on the west side before entering the Hyogetsu-tei.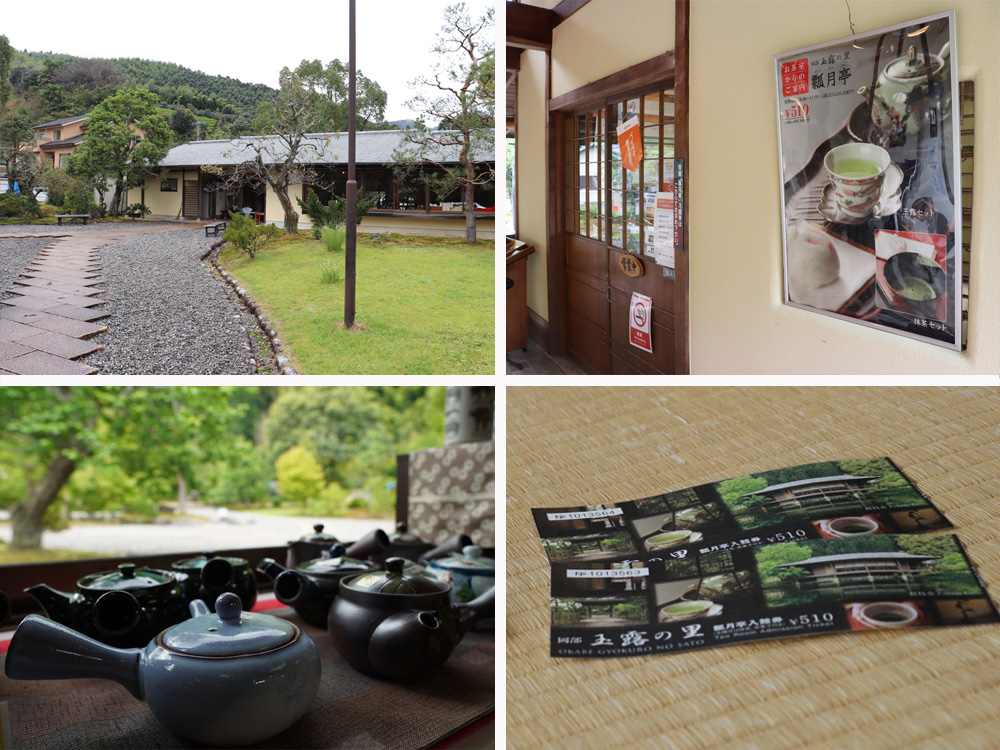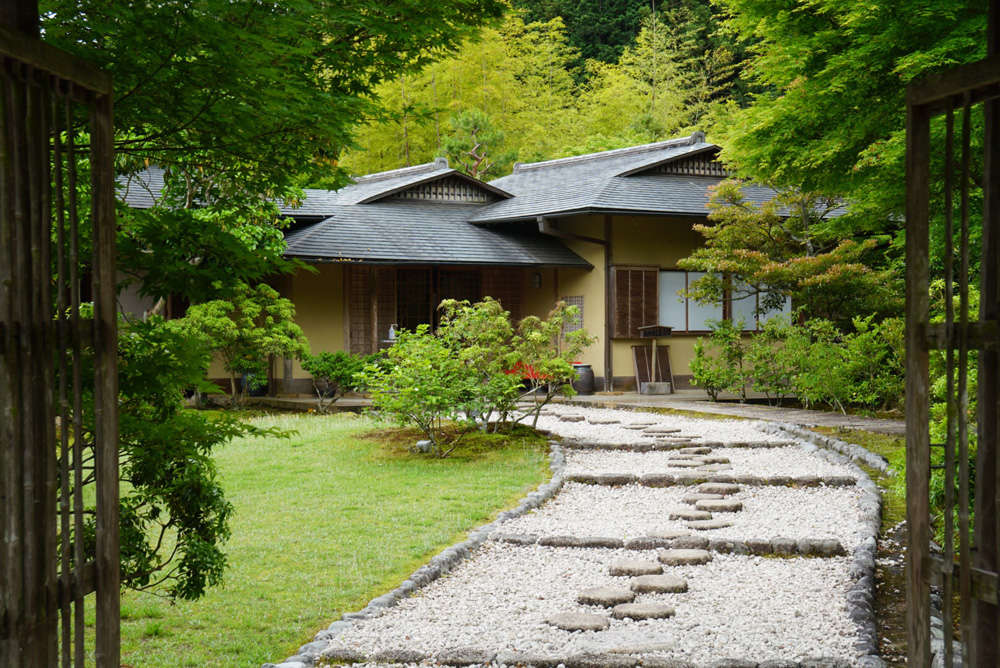 Once inside, you will be greeted by a woman in kimono, and invited to follow her directions into the room.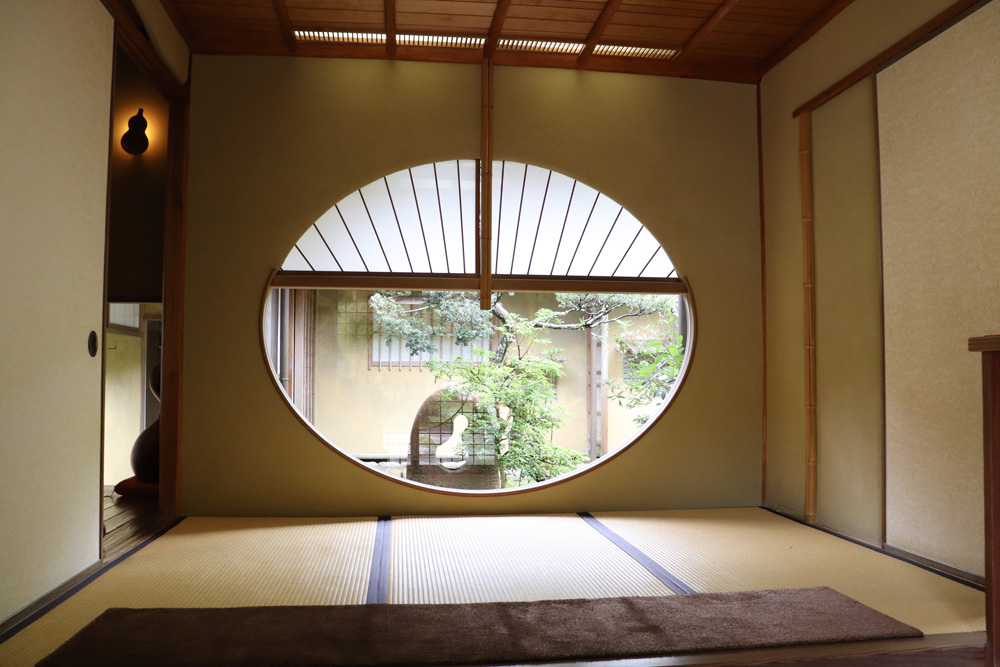 Hyogetsu-tei's design is based on the motifs of the moon and of gourds. As you walk around, enjoy looking for the various figurines and markings hidden throughout the building.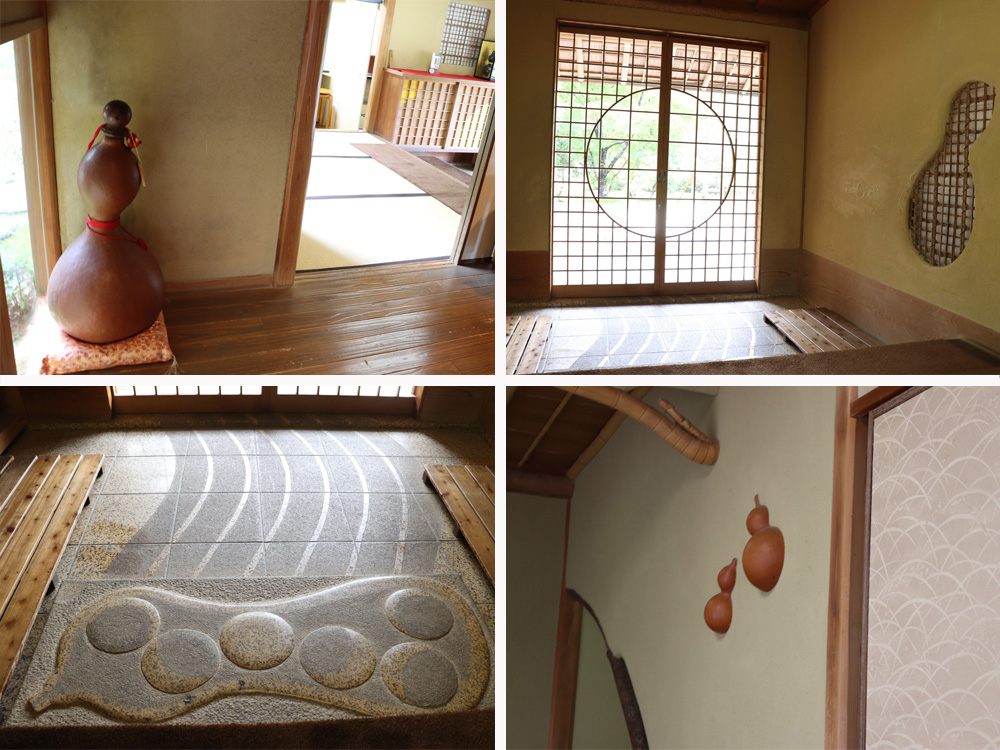 The minute gourd and moon symbols hidden in the door handles are reminiscent of the hidden Mickey symbols at Disneyland.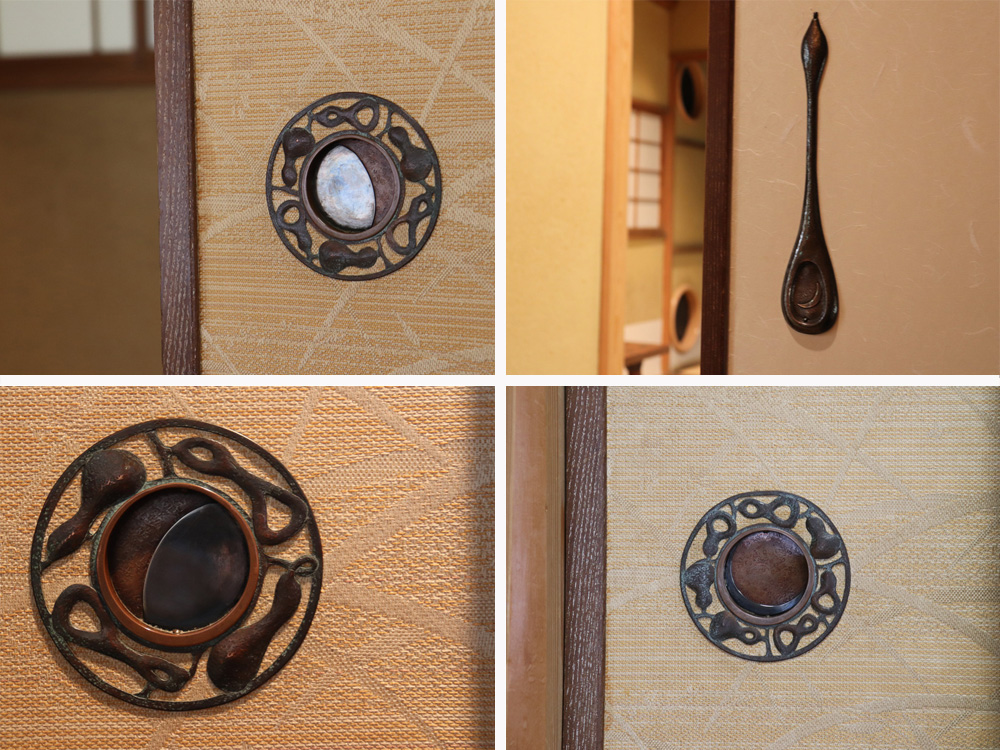 Tea Experience at Hyogetsu-tei
At Hyogetsu-tei, there are a variety of rooms, from the Kougetsu-no-Ma, Oborozuki-no-Ma, and Shogetsu-no-Ma halls to koshikake seats, so that those who do not know tea ceremony etiquette or are not comfortable sitting on the floor can enjoy tea in a casual manner.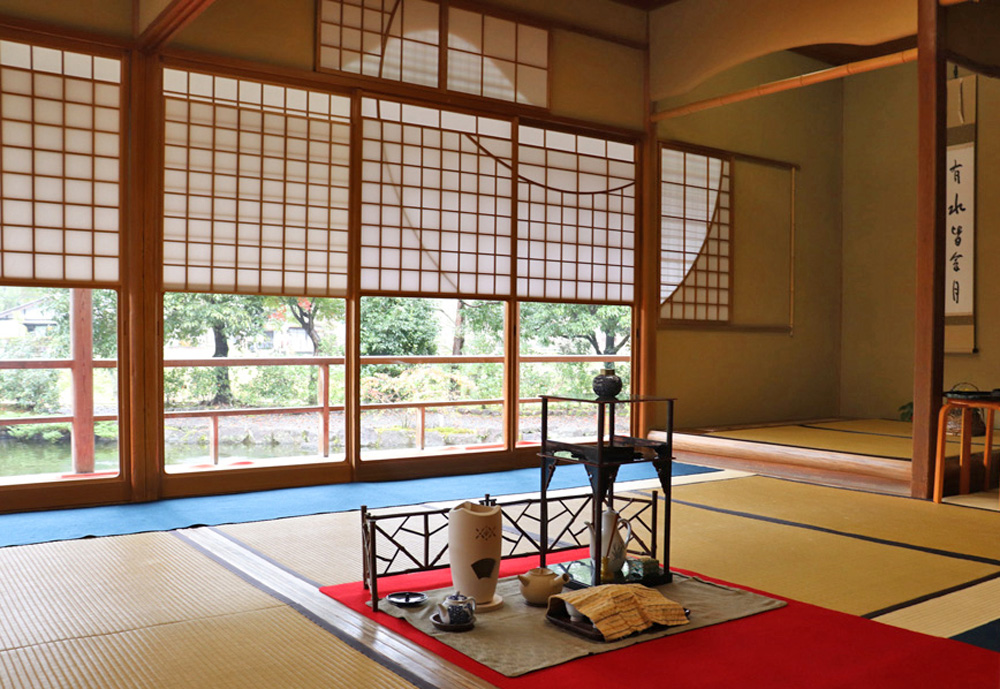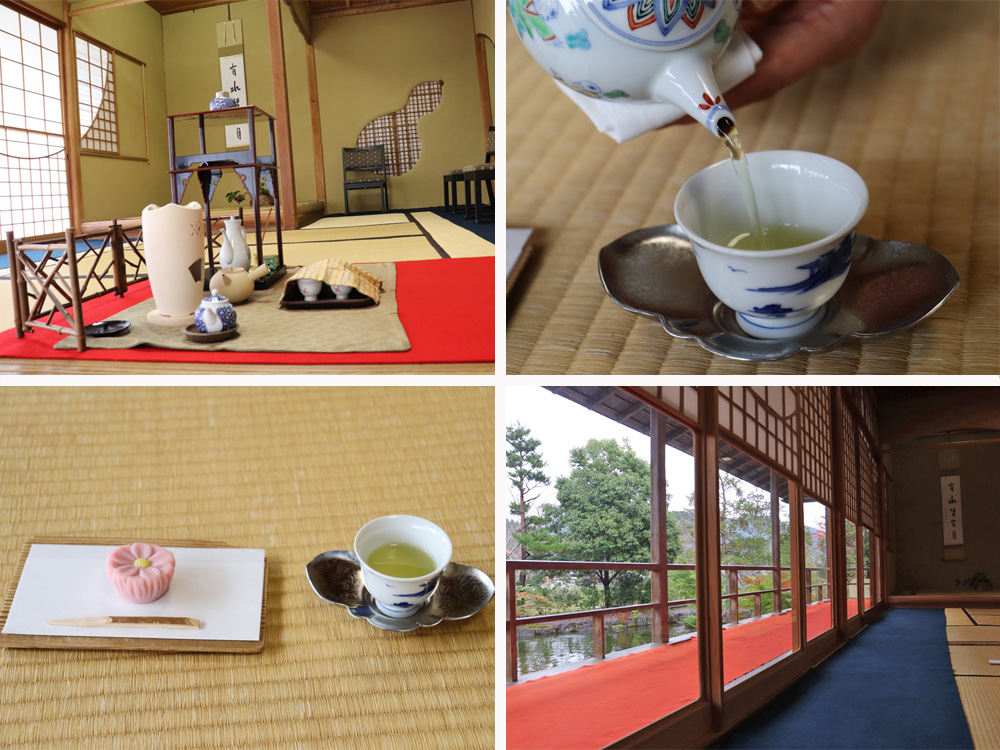 At the far end is the "Hyouan," a full-fledged tea ceremony room with a water closet on a 3-mat platform. The entrance to the tea room is a very narrow "nijiriguchi," which means that one must stoop down to enter.
This indicates that everyone, no matter what their status, is expected to behave equally when entering the tea room. Sen no Rikyu, a famous tea master who lived during the Warring States period, is said to have introduced this "nijiriguchi" style.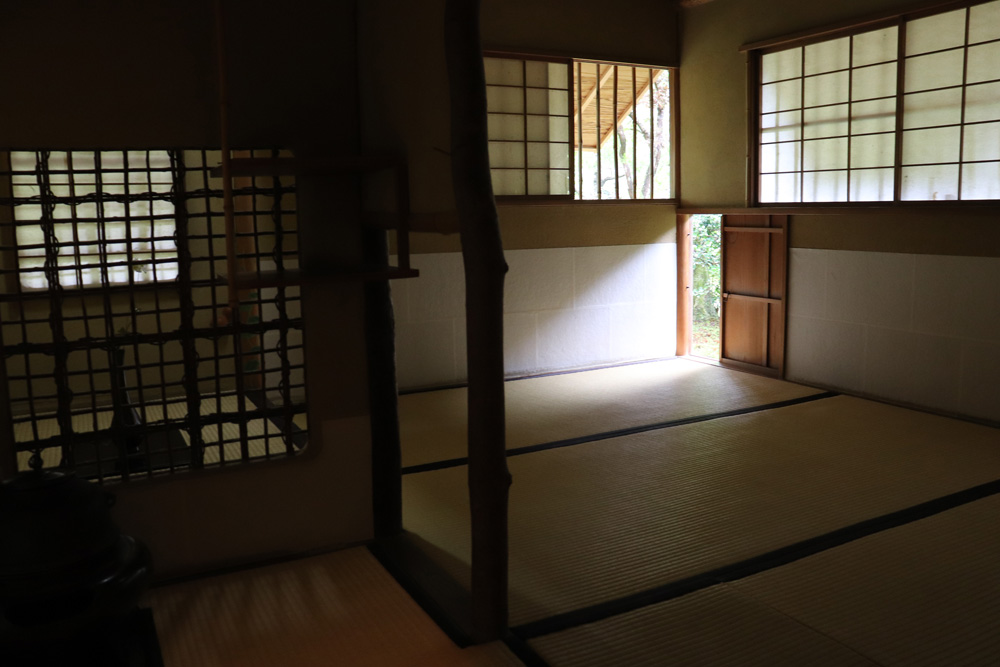 Away from the heart of the city and surrounded by a beautiful Japanese garden in satoyama, enjoy this luxurious time tasting the mellow taste of gyokuro and matcha teas with creative Japanese sweets. Relax and refresh your body and mind.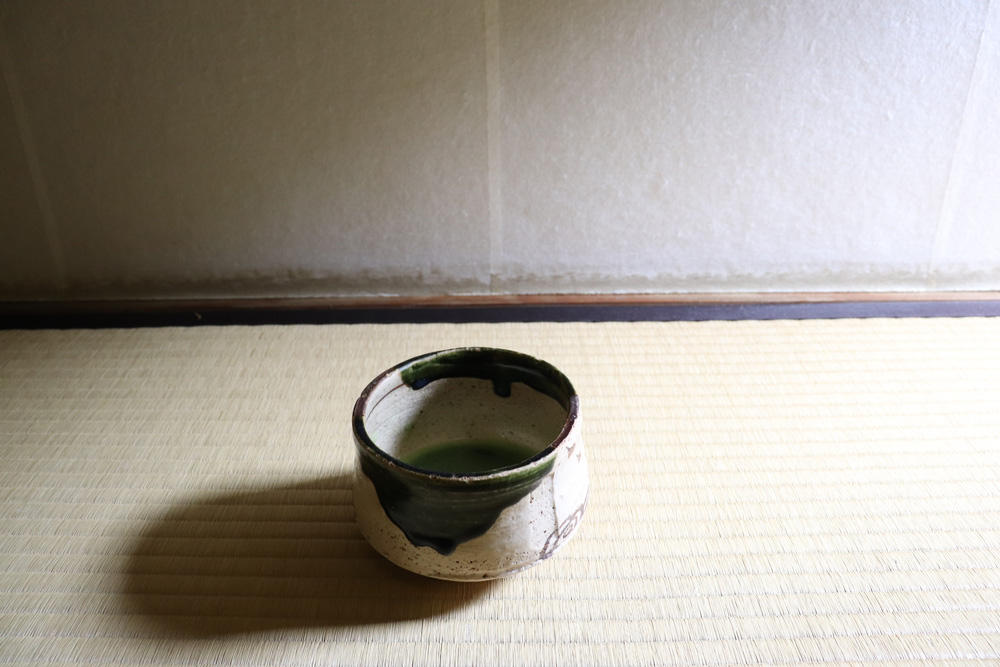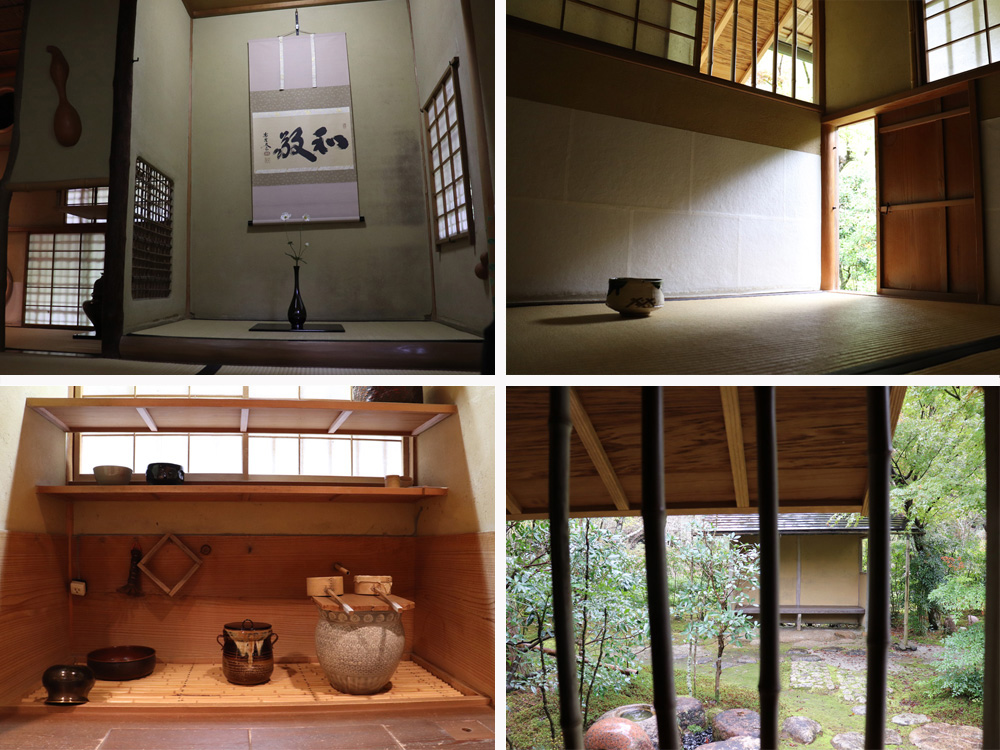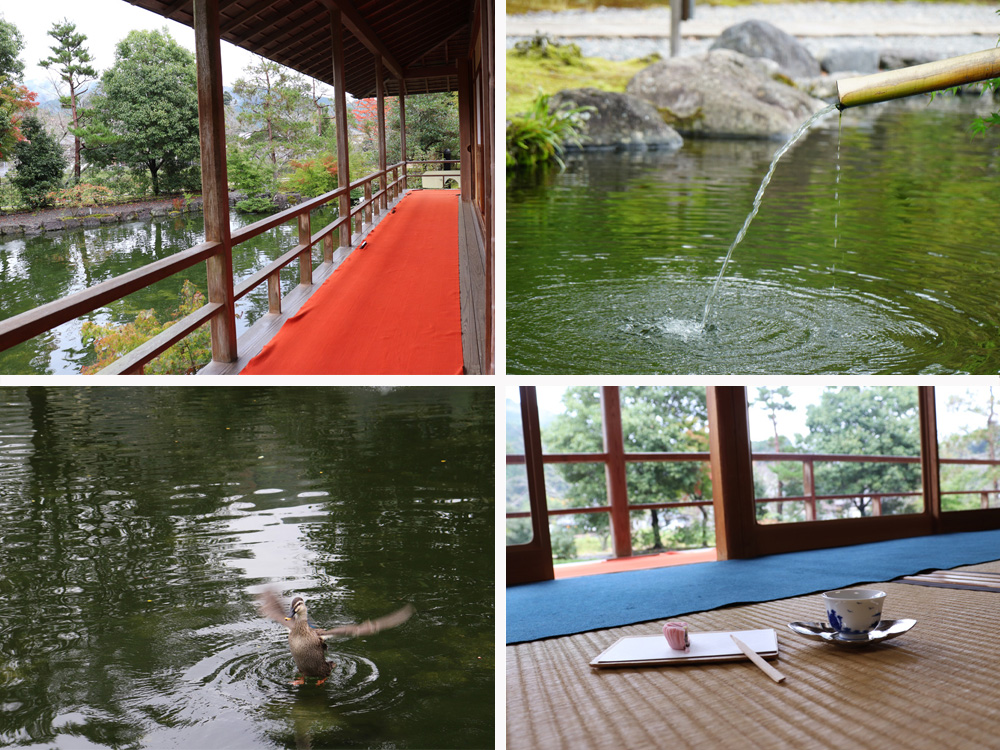 Gyokuro-no-sato is accessible by public transportation and has a bus stop. Why not enjoy the sights and sounds of Shizuoka's premium tea-producing region while soaking up the quiet atmosphere on weekdays?
About Gyokuro-no-Sato/

How to Purchase
Address
1214-3, Okabec-cho Nyufune, Fujieda City, Shizuoka Prefecture, 421-1115, Japan
Website
http://shizutetsu-retailing.com/gyokuronosato/
Telephone
+81-54-668-0019
E-money and credit cards
Available
Open
Hyogetsu-tei (Teahouse) / 9:30 to 17:00 (Last entry is until 16:30)
Note: Opening hours may change in the winter.

Chanohana-tei Store / 9:00 to 17:00  Note: Opening hours may change in the winter.

Chanohana-tei Restaurant / 11:00 to 15:00(Last order is at 14:30)

Closed
End of Year and New Year holidays (December 28th to January 2nd)
Parking
Available(over 10 cars)
Access
By car
About 10-minute drive from Fujieda-Okabe IC of Shin-Tomei Expressway
About 20-minute drive from Yaizu IC of Tomei Expressway
By bus
Take the Shizutetsu Justline Bus Chubu-Kokudo Line from JR Shizuoka Station and get off at "Fujieda City Hall Okabe Branch Office" to transfer to the Fujieda city bus and then get off at Gyokuro-no-Sato.
| | |
| --- | --- |
| Writer | Norikazu Iwamoto |
| Career | Ochatimes chief editer.Meeting with Vice Governor of Shizuoka prefecture.Judge of Fuji country 100 tea's award in 2021.Ocha Times link introduced at website of World O-CHA(Tea) Festival 2022 and Tea Science Center. |
| | |
| --- | --- |
| English translator | Calfo Joshua |
| Career | Born and raised in England, living in Japan since 2016. Studying arboriculture in Shizuoka Prefecture whilst operating his landscape business Calfo Forestry. Appreciating the nature of Japan and the culture that places such importance in it. |
Related articles