Can't go home until you find sake that goes with luxury bottled tea

Go to Japanese page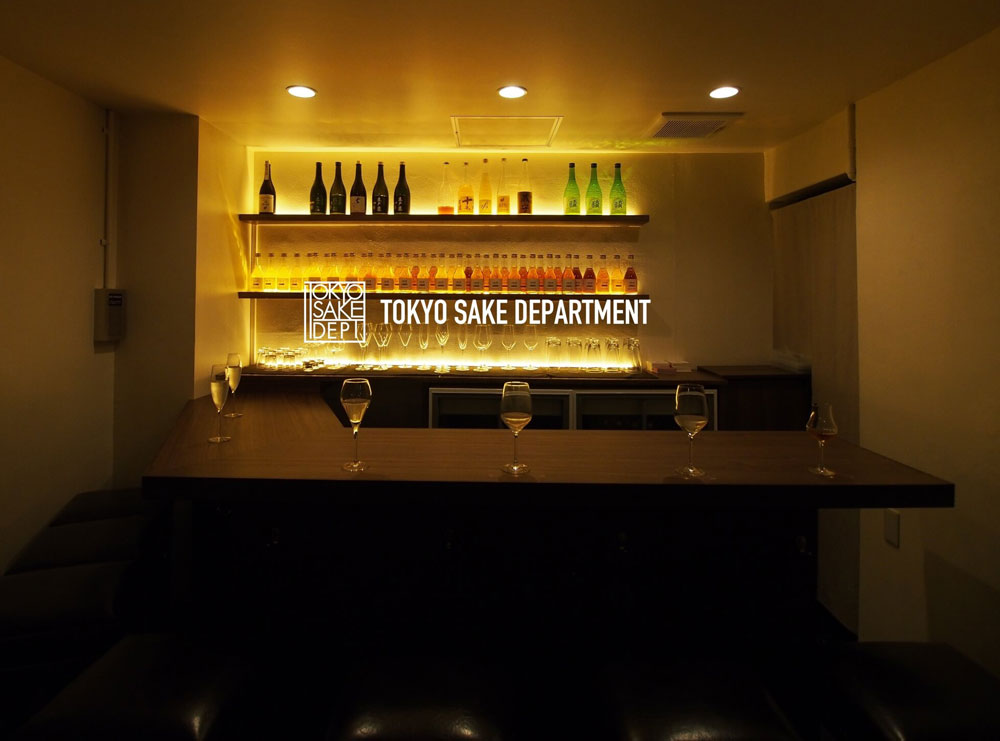 This article has 1512characters.
What is luxury bottled tea?

There are various product forms of Japanese tea.
luxury bottled tea is one of them and several manufacturers are producing such products.
Their luxury bottled tea is valued at over 10,000 yen per bottle.
↓Chatsutei "Hakuyo-Honyama"

↓Takayanagi Seicha "Makinohara-Shizukucha"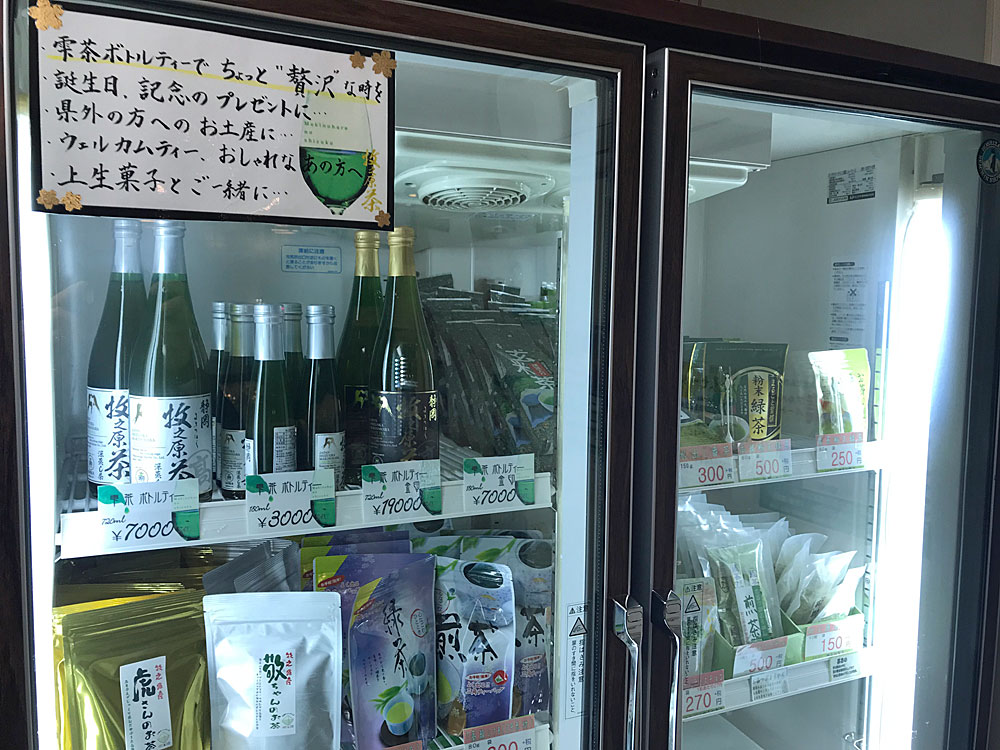 ↓Yabuzaki-en "Gyokuro"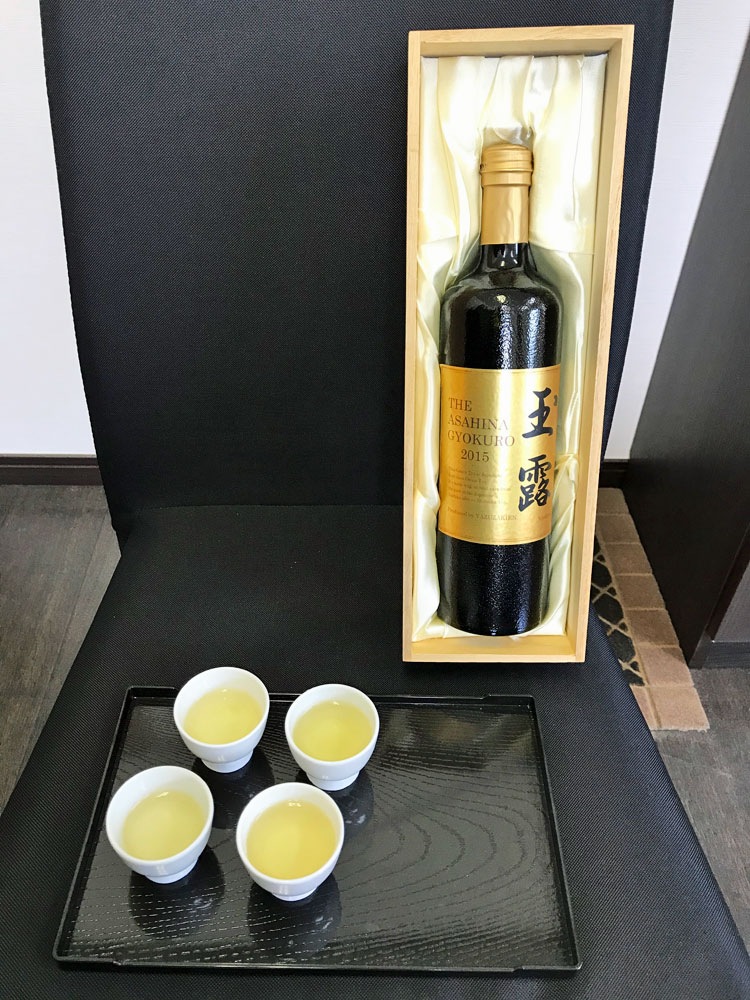 ↓Yamahiraen "Kiwame"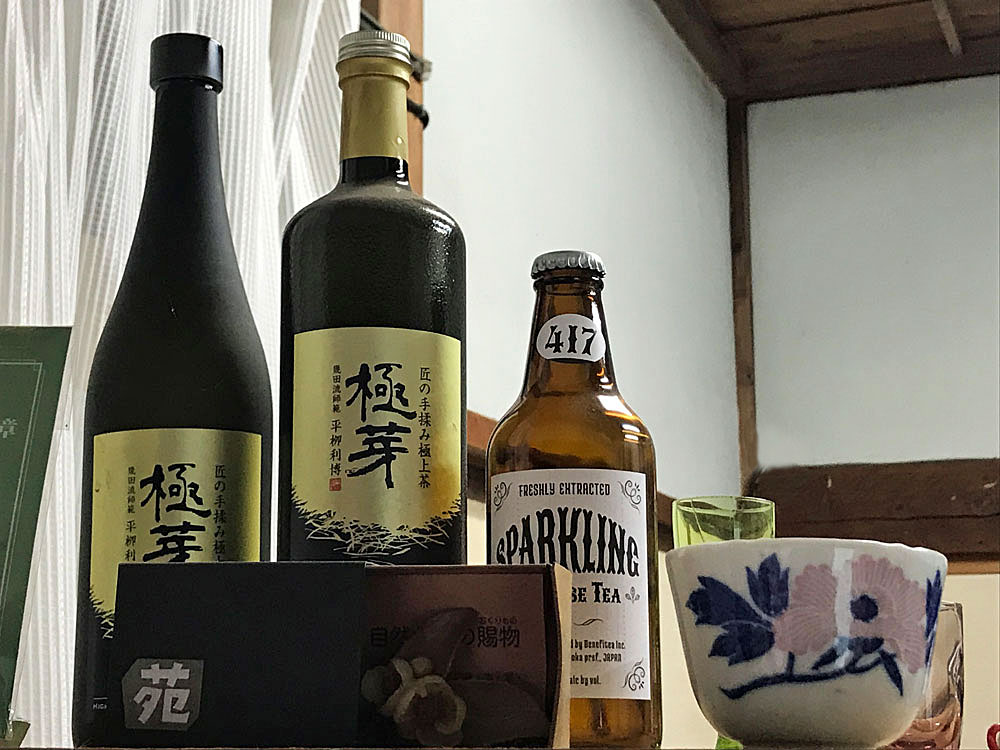 To manufacture just one bottle of luxury tea takes at least one week. So most bottled tea products are made-to-order items.
Luxury bottled tea is one of the various forms in Japanese tea. My first luxury bottled tea was Kawasaki of Matsushima-en.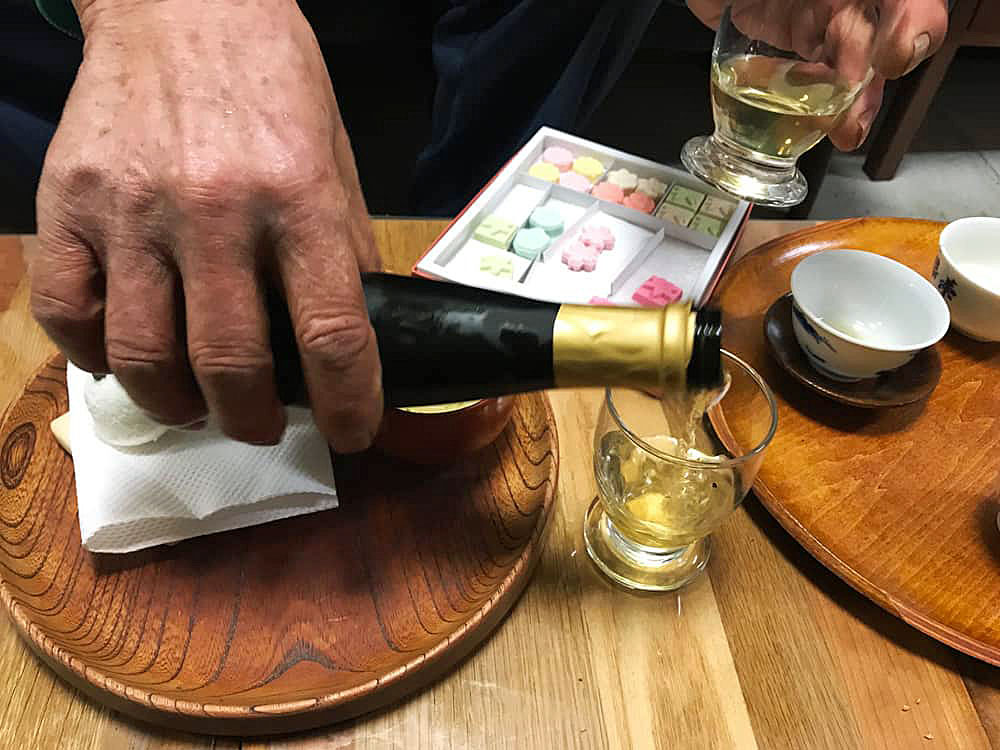 The taste of the bottled tea really amazed me. I felt goosebumps all over my body while drinking it. Its excellent umami filled my mouth.
Is a luxury bottled tea that costs tens of thousands of yen a good "mariage" (combination) with sake?
Since luxury bottled tea products are very expensive, they're not for everybody.
So I searched for a more economical way to share the impact I received from the tea and came up with the idea of a "mariage" of the tea with sake. ("Mariage" means to combine two different foods or drinks to create a new taste.)
Umami and sake go together well.
It seems like an odd combination, but I was so curious to see if such a "mariage" between Sake and luxury tea would work.
I requested help from the bar, "Tokyo Sake Department" in Ginza, Tokyo. This bar specializes in Sake made in the Kanto area.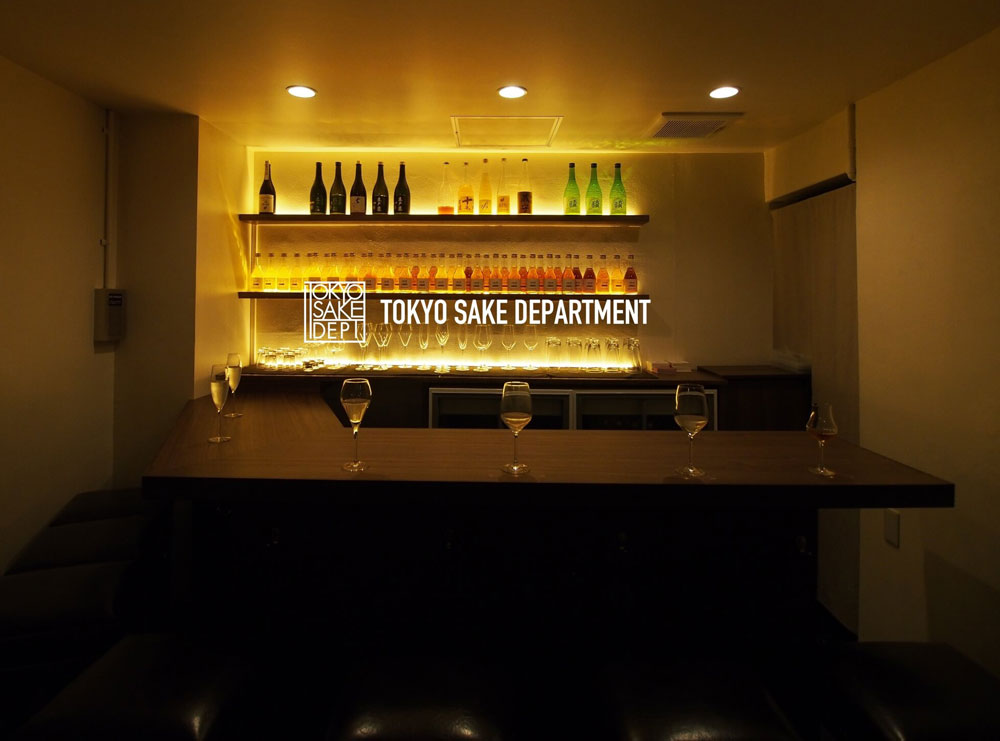 Mr. Tiya runs the company.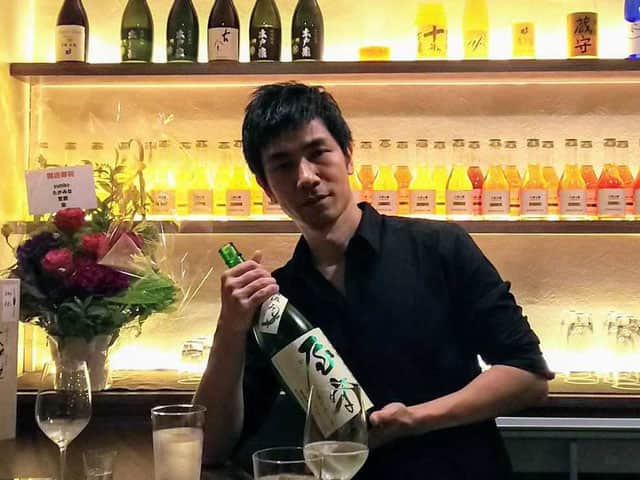 Let me show his profile below.
Tea-ya originally worked in an office. After the encounter of sake in the Kanto region, he was fascinated by sake and decided to make a career move to the world. Once he got qualified as Sake Taster, Sake Studies Lecturer, and Licensed Sake Taster, he opened TOKYO SAKE DEPARTMENT, a special bar for sake of Kanto, in Ginza.
In addition to the sake bar, Tea-ya runs a Tokyo Sake Club where he organizes a variety of events, including Kuroudo Experience, Touji Experience, and Sake School, in collaboration with those in a sake brewery and a sake shop. He also appeared on Tokyo Information Netadori!, an NHK television program. Besides, you can see him in many other web media.
There are lots of sake-related qualifications, of which a licensed sake taster seems the most challenging to get.
The licensed sake taster requires a paper test, but the main part is a tasting test. This advanced qualification is held by about 250 people in Japan. Tea-ya is one of the holders.
Trying dozens of kinds of Sake at Tokyo Sake Department to see if a "mariage" of luxury tea and Sake blends well together.
The following sake was prepared:
Chatsutei "Hakuyo-Honyama", 21,600 yen
Takayanagi Seicha "Makinohara-Shizukucha", 20,000 yen
Kanes Tea Company "Ko-shun", 10,800 yen
Kanes Tea Company"Ibuki", free sample
Total 52,400 yen.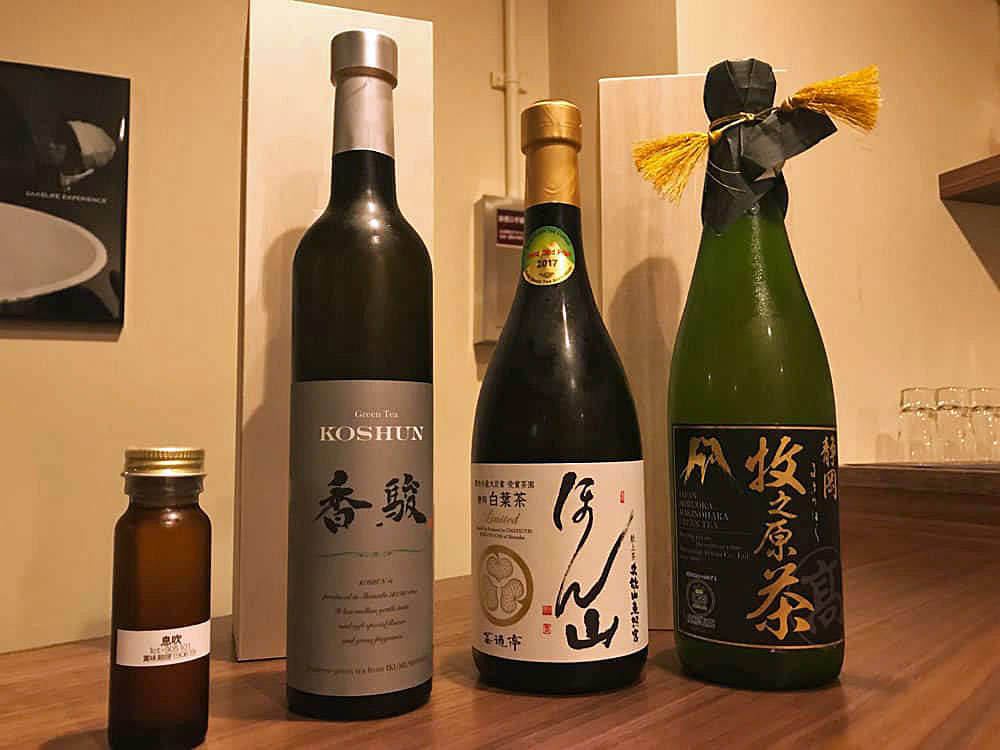 His bar of TOKYO SAKE DEPARTMENT serves dozens of delicious pure sake, sparkling happoshu, and old sake. While making full use of this lineup, I will try the unique marriage of the double drinks with Tea-ya, a sake artisan who does have a keen sense of the best taste.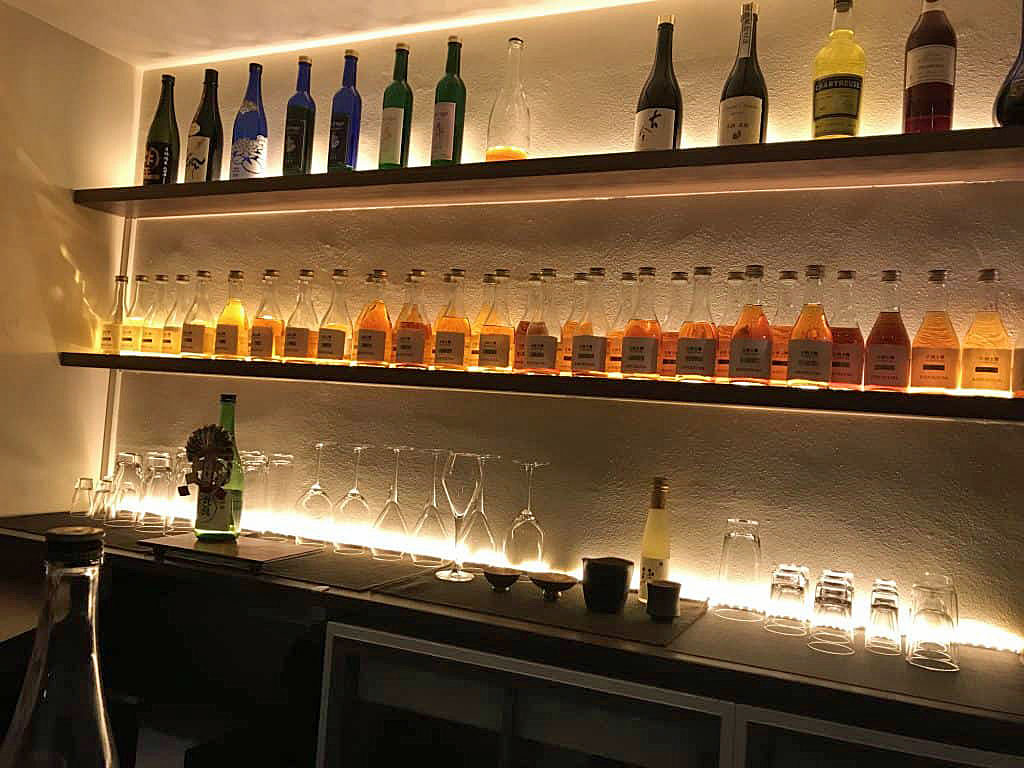 While taking full advantage of the bar's rich lineup and the cooperation of Mr. Tiya who has an experienced professional tongue as a Sake Master, we tried rare combinations of drinks.
↓ The experiment begins.
---
Tea-ya "Chief editor, the price is far beyond my expectation. It's too much responsibility for me. I haven't had luxury bottled tea, but based on this high price, these may only fit the decent class of sake. We should rearrange the details and schedule."
Suddenly, the project was nearly at a standstill.
— "I don't know anyone willing to pay a lot of money for Japanese tea. However, someone can for sake and delicious dish. This luxury bottled tea contains full of umami. It may fit sake. Anyway, I would like to make a lot of trials and get a lot of information. No matter how the results turn out, I don't mind. Please go ahead."
Like this, I told Tea-ya. He gladly accepted my offer.
We poured the tea of all the bottles into wine glasses to assess each taste. Then, the temperature of the tea was measured by a laser thermometer to check the change in taste by temperature.
Tea-ya "Kanes Tea Company "Ko-shun" has a hay aroma. The taste is a strong tannin with umami.
Kanes Tea Company "Ibuki"
Chatsutei "Hakuyo-Honyama" have a pretty color. These smell like corn.
The taste is great! I grasp the full of umami you said. Let's start with Kidoizumi."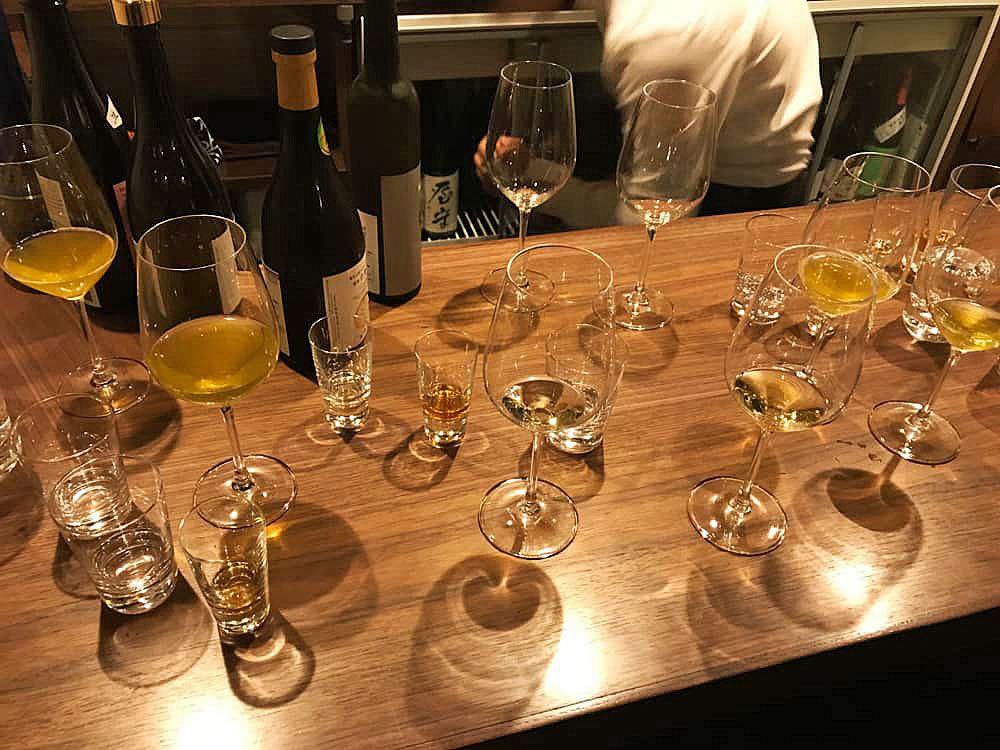 The experiment results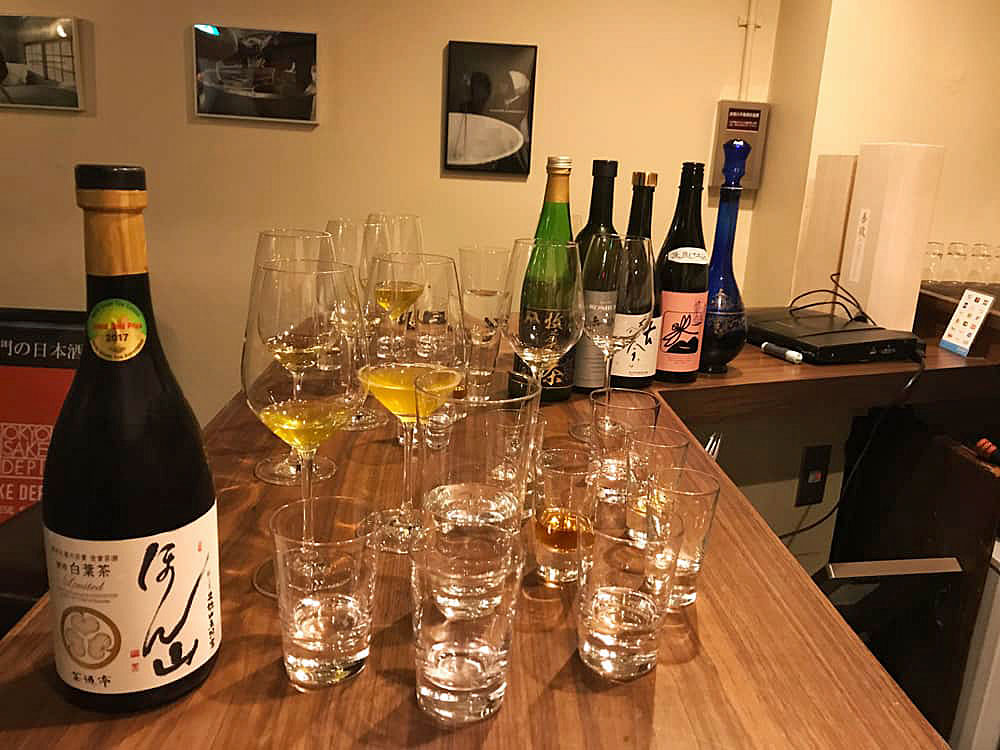 ティーヤ「A marriage of sake and luxury bottled tea is possible」
↓Chatsutei "Hakuyo-Honyama"
Sake:Kidoizumi" Kocon"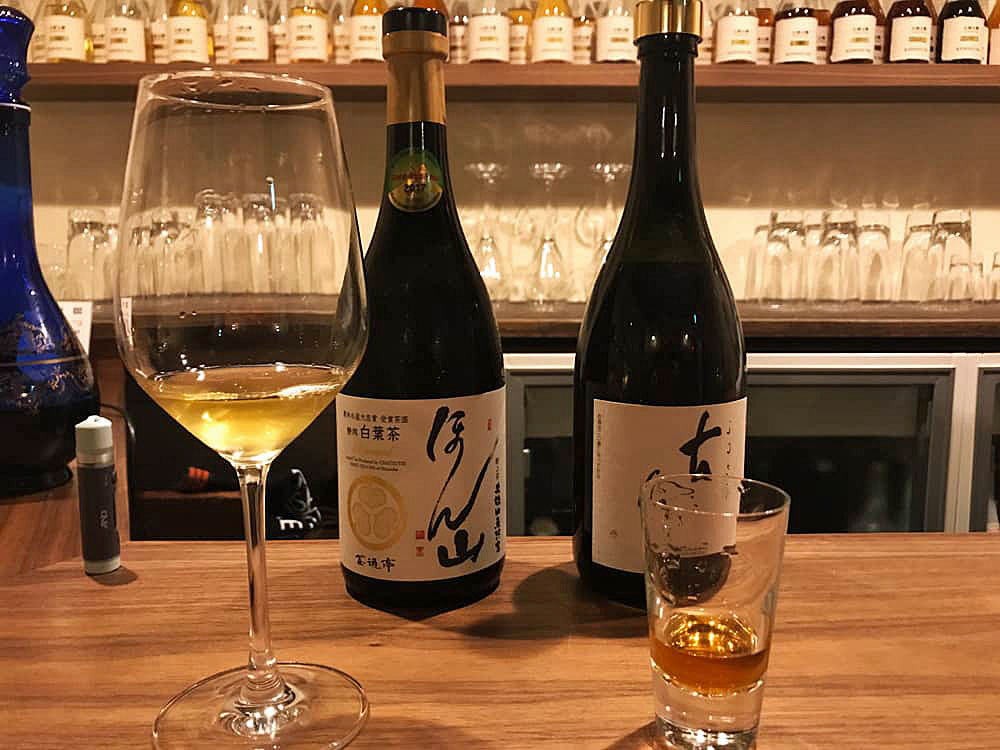 ↓Chatsutei "Hakuyo-Honyama"
Sake:Sake: Izumibashi Kimoto-Jikomi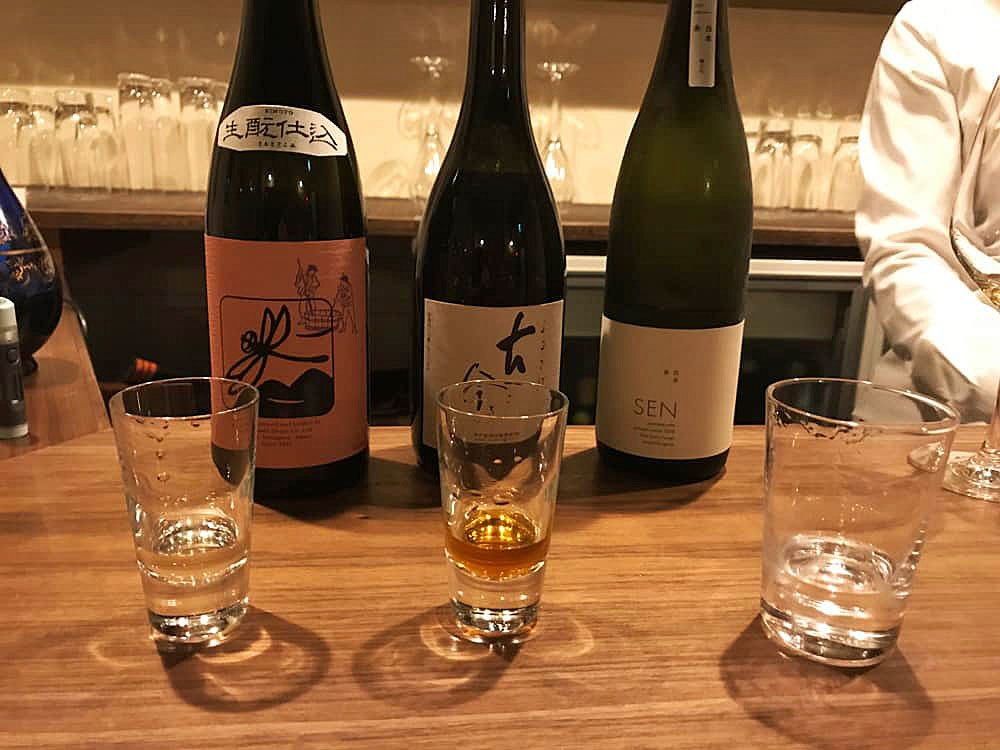 These 2 types of marriages worked well.
Tea-ya "Probably, Ibuki will fit the type of pure sake. Old sake may tend to fit the tea in this trial. Kanes Tea Company "Ko-shun" and Takayanagi Seicha "Makinohara-Shizukucha" can fit strong sake with umami. Our bar doesn't have such sake in stock right now, but we can find the alternatives. I conclude that marriage of sake and luxury bottled tea will work enough. However, keep in mind that you should select easily accessible sake. Even if the sake can fit the tea, it makes no sense to select sake difficult to get.
It may be also good with water or on the locks. It's fun to blend several lineups of small samples. And how about prettier bottle packages with color graduation? Old sake of Kidoizumi can be one of the models. Cocktail has a potential too."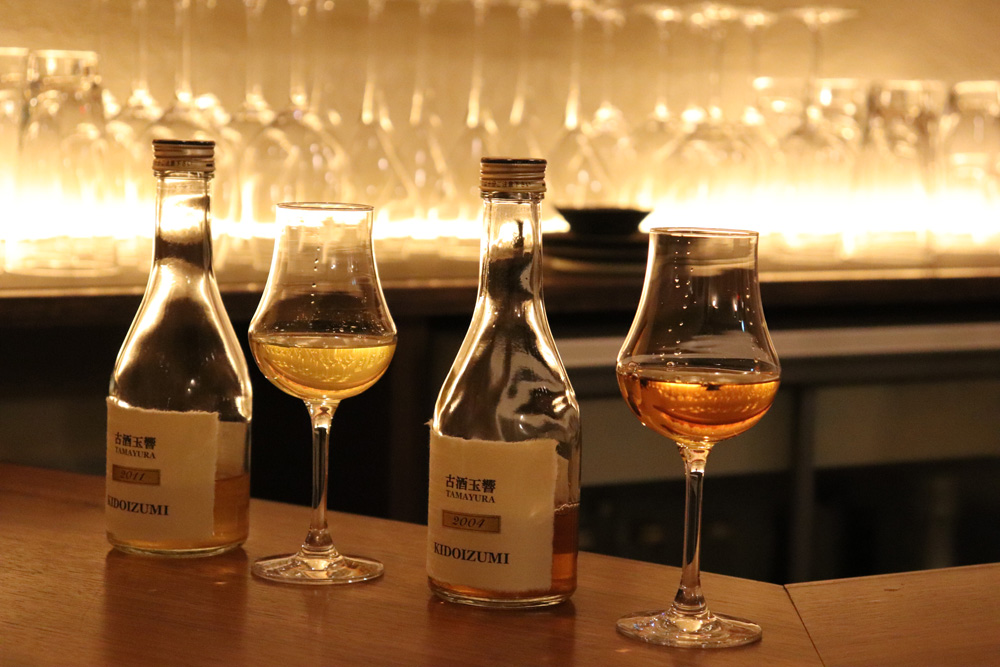 ---
"Sake and cheese go well together" is a proven fact. So, I thought that sake, Japanese tea, and cheese would make a good trio (in other words, a more complicated "mariage").
In cooperation with the Nagashima Sake Shop in Shizuoka, we discovered a very nice combination of sake, Japanese tea, and cheese as follows;
Garyubai Junmai Sake Unfiltered Unpasteurised Undiluted Sake Aizan Kaibinjurinikaoru (Sanwa Syuzou)
Makinohara Shizukucha Gold (Japanese tea from Takayanagi Seicha)
Cheese – Sakura's Affine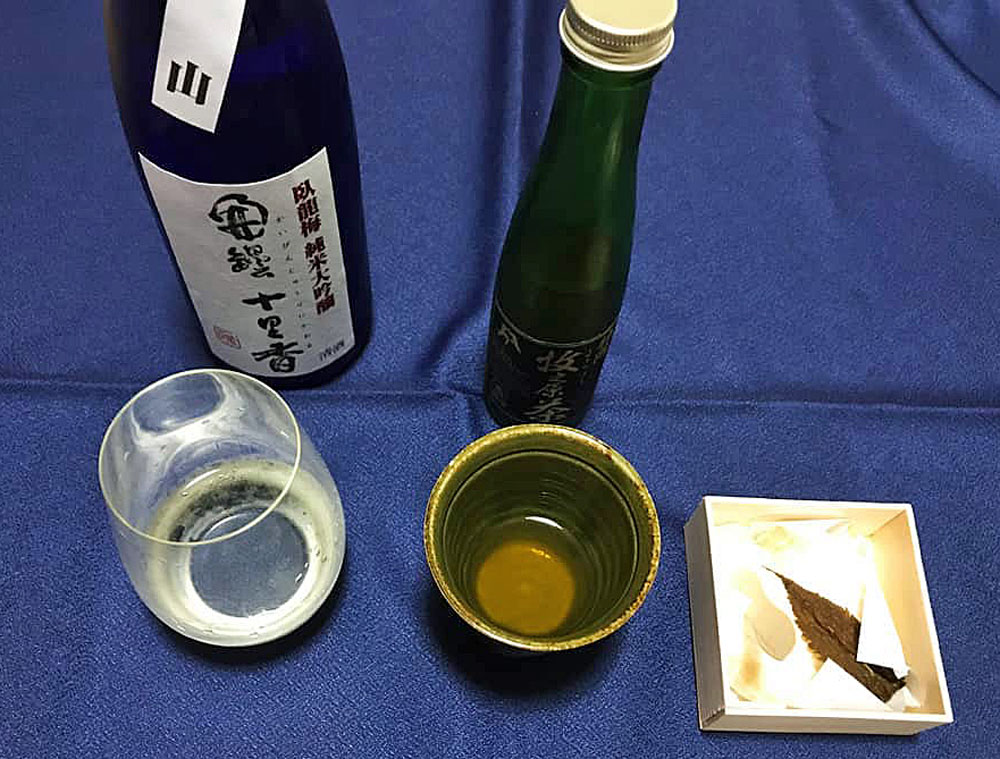 ↓We discovered another nice triple combination!
Ko-shun (Kanes Tea Co,.Ltd)
Kikuyoi (Aoshima Shuzo)
Sugiyama Farm (Wasabi-zuke)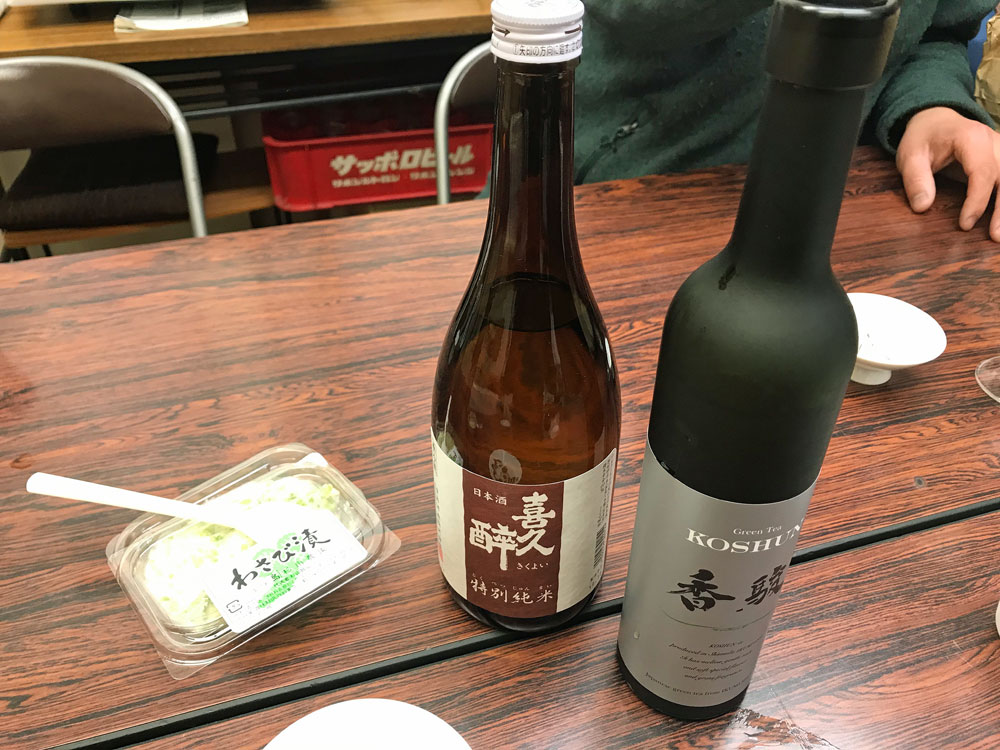 By the way, our chief editor had his first radio interview with this triple combination.
This is a new style of tea with new possibilities: luxury bottled tea.
A "Mariage" of sake and luxury bottled tea is possible, and a triple combination is also possible.
luxury bottled tea is certainly expensive. However, if we make the tea with carefully prepared water at the right temperature, tea leaves of the right amount, and steeping time of the appropriate length, we may be able to enjoy a taste close to the luxury bottled tea at a lower cost. So we could promote teapots and tea leaves using this approach.
is also interesting to serve tea as a non-alcoholic chaser that goes well with sake, specifically cold tea for cold sake and warm tea for warm sake. If we adjust the thickness of the tea, we can enjoy tea over a wider range of applications. Used tea leaves can be seasoned with yuzu-miso or shichimi-pepper to make a nice side snack with sake. Foreigners would be good sales targets, in that case, the sale of organic tea leaves should be considered.
Tea Farm cannot produce the same Japanese tea every year. Therefore, the marriage should be produced by those who have a fine sense of taste and broad knowledge of sake. Besides, note that we couldn't offer sake difficult to get stably even if it fits the tea.
Japanese tea is the best with water of the same tea farm.
Maybe, the combination should follow the idea. That is, Japanese tea of Tokai with sake of Tokai, the tea of Kanto with sake of Kanto.
I think that tea farmers might like to sell Sencha to make more profit. If they don't mind different forms of tea products, they could make bottled Sencha to sell at a more reasonable and profitable price.
I believe that luxury bottled tea has great potential.
TOKYO SAKE DEPARTMENT
Address

Tsukamoto Fudo-san Building B1, 5-5-11 Ginza, Chuo-ku, Tokyo, Japan

Website

https://www.tokyosake.net/tokyosakedept/

Phone number
+81 50-5328-5136
E-money and credit cards
No cash available. Cards and e-money only.
Open
18:00 to 23:00 (Last order: 22:30) Non smoking
Closed
Sundays (See the website)
Parking lot
Not available
Access
[JR] 5-minute walk from Yurakucho Station
[Subway] 2-minute walk from the exit B5 in Ginza Station (Ginza Line, Hibiya Line, and Marunouchi Line)
Nagashima Sake Store
Address

1-12-7 Ryunan, Aoi-ku, Shizuoka City, Shizuoka Prefecture, 420-0804, Japan

Website
http://nagashimasaketen.com/
Phone number
054-245-9260
E-money and credit cards
Available
Open
10:00 to 20:00
Closed
Tuesday.
Parking lot
6台
Access
Access
By bus
[Shizutetsu Justline] 1-minute walk from the Bus Stop, Ryunan 1-chomeBy car
A 15-minute drive from the JR Shizuoka Station
Related articles