The Past and Present of Japanese tea in the Making of Hojicha at Yamanashi Shoten.【Shizuoka city, Shizuoka Prefecture】

Go to Japanese page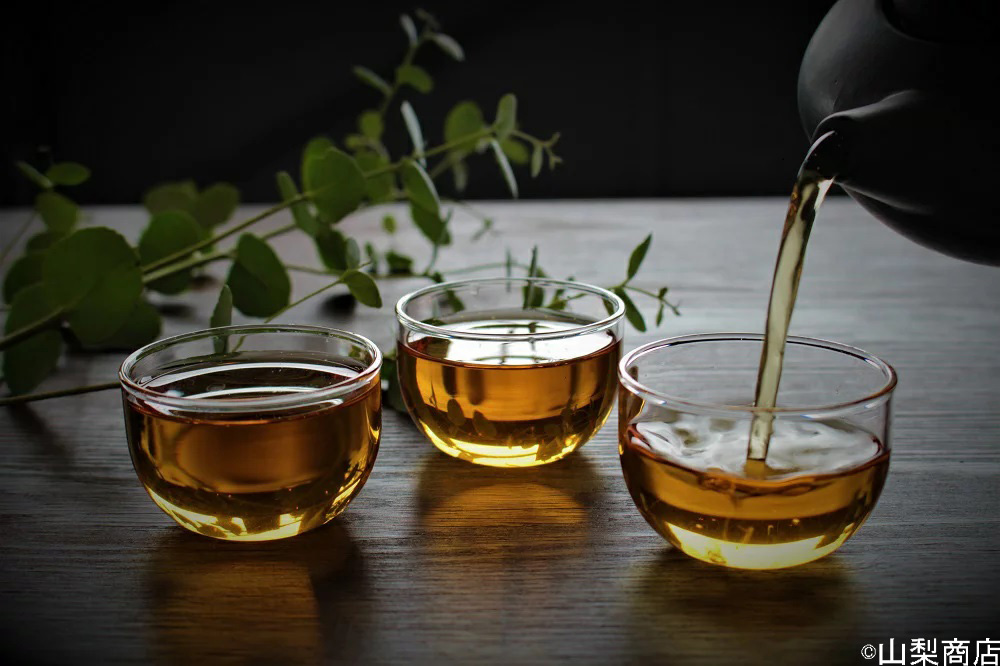 Shizuoka being a famous tea producing region, it has also become a place for tea from all over Japan to collect and be available. Yamanashi Shouten is a wholesaler based in Shizuoka city specialising in finishing and roasting tea. They are known for producing the richly aromatic Hoji and fermented teas. Yamanashi Shoten's unique fermented tea "La Kouju won a gold medal in the World Green Tea Contest and is globally recognized as a masterpiece in tea.
In this article we will delve deeper into the charms of hojicha(Roasted japanese green tea) and fermented teas, the state of the market that all high quality tea producers face currently and also an interview with the director of Yamanashi Shoten, Yamanashi Hiroyuki.
An Introduction to Yamanashi Shoten
Yamanashi Shoten is a tea processing wholesaler specialising in high temperature production of sencha and hojicha.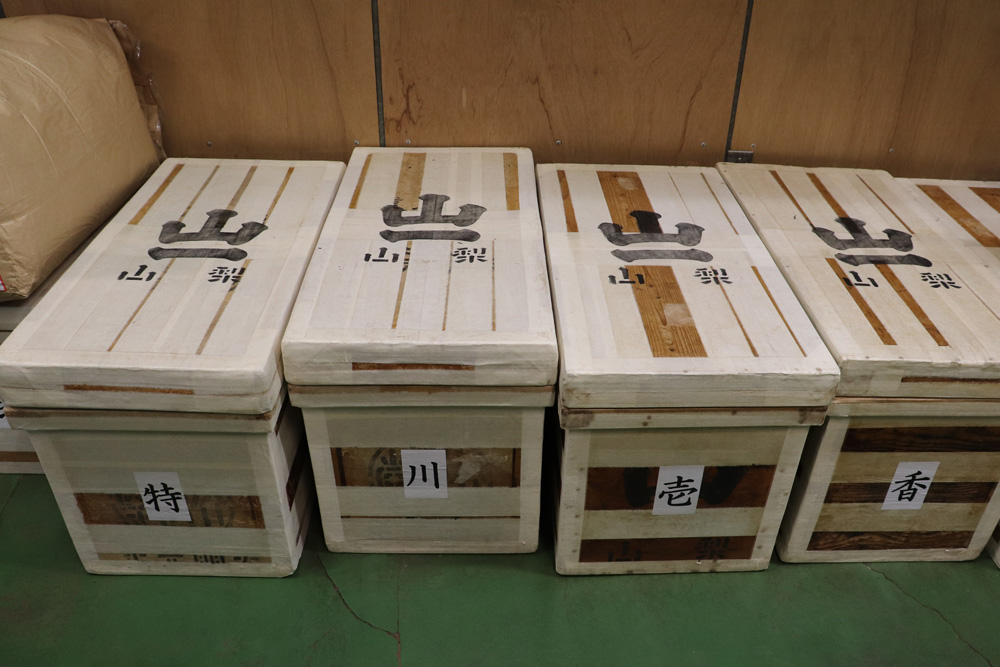 The production of hojicha is an exceedingly unique technique during which leaves are roasted at temperatures of hundreds of degrees. For this reason manufacturers of hojicha are few and far between. In Shizuoka Prefecture there are roughly 500 tea manufacturers with hojicha producers numbering just 15. In Shizuoka city alone there are around 120 tea producers with hojicha manufacturers making up just 5 stores. In the whole of Japan there are probably only 50 companies making hojicha.
The production rate is high for each hojicha factory, with Yamanashi Shoten producing 1000kg a day. An average person drinks an average of 2 grams means that 500,000 people's daily intake is produced in a day. With such a high productive capacity matched with a number of 5 producers within Shizuoka city, one can be sure to rely on their power to fulfil demand.
Currently there are a collection of 5 stores in Shizuoka city dedicated to the production of hojicha. Incidentally the famed gyokuro tea producers also number just 5.
What is Fermented Tea "La Kouju"
Yamanashi Shoten's 'La Kouju' is Japan's first enzyme fermented tea.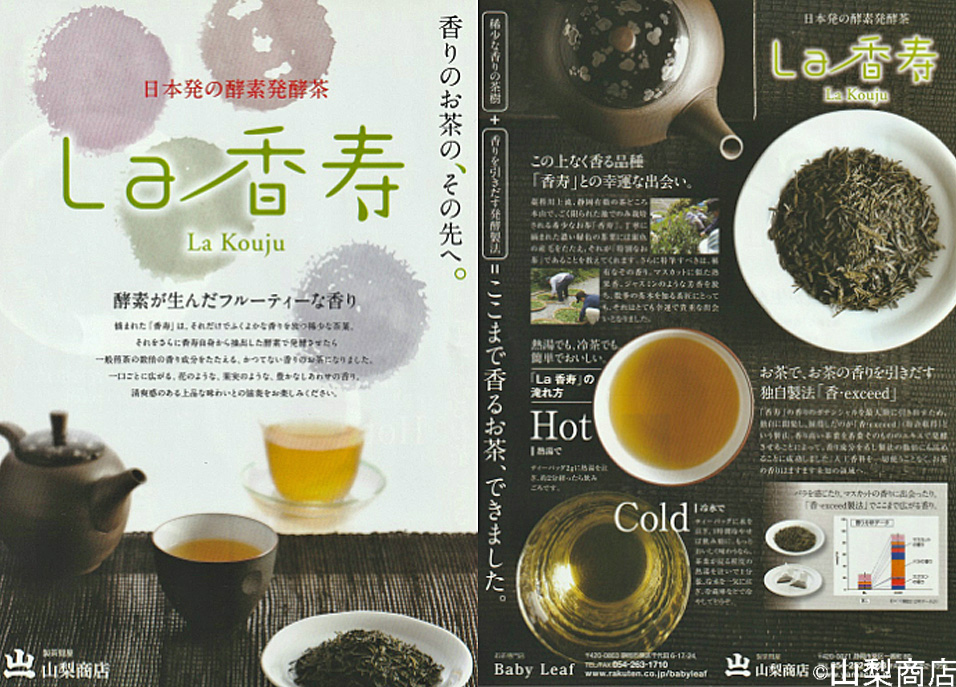 Purely by the fermentation process and without any artificial flavourings we were able to bring forth a truly fruity flavour. A testament to the unique excellence of this product it won first prize in the World Green Tea Contest and is recognized globally as a masterpiece in tea.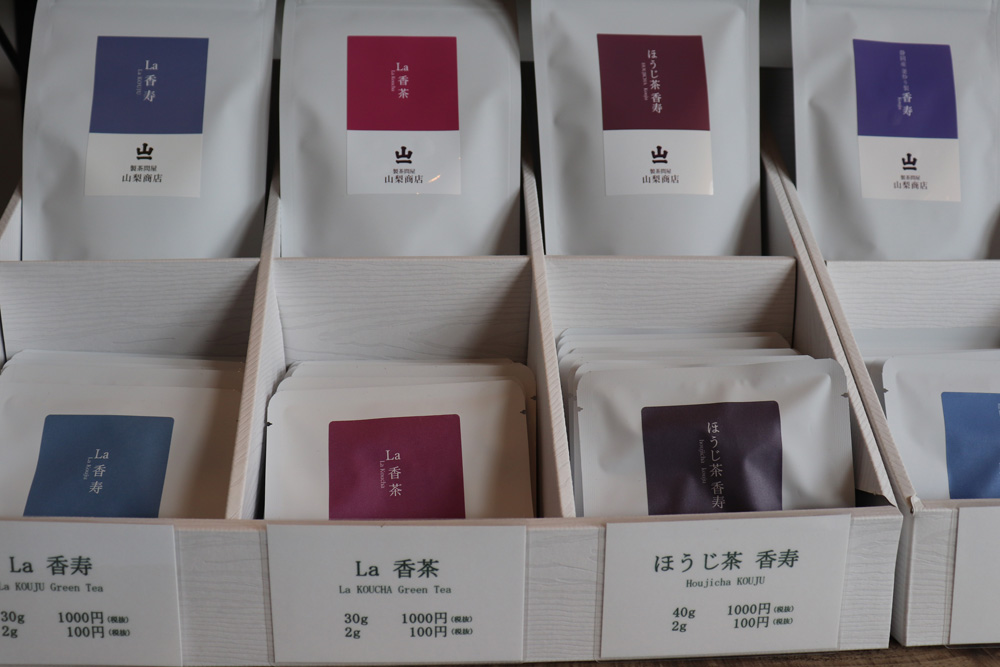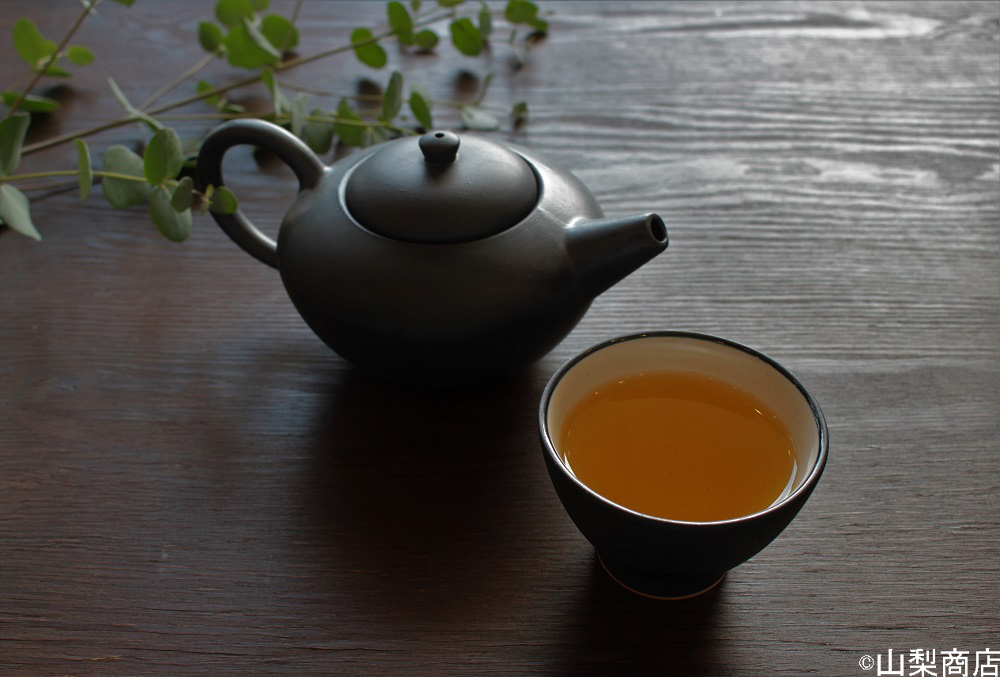 'La' being the definite article for feminine nouns in French, through 'La Kouju' name we have embedded a wish to have produced a tea that 'young women will enjoy.' Furthermore we have come to learn that in a tea producing region of South-west China they use 'La' to express the word tea also.
So proud are Yamanashi Shoten of their product that their production process for 'La Kouju' is patented. However the process has been patented not for the monopolization of production, but out of the apprehension that others may patent it and cause their own activity to be restricted. The production method is open to the public.
'La Kouju' and all other teas by Yamanashi Shoten are available for purchase online and also via their retail store Baby Leaf.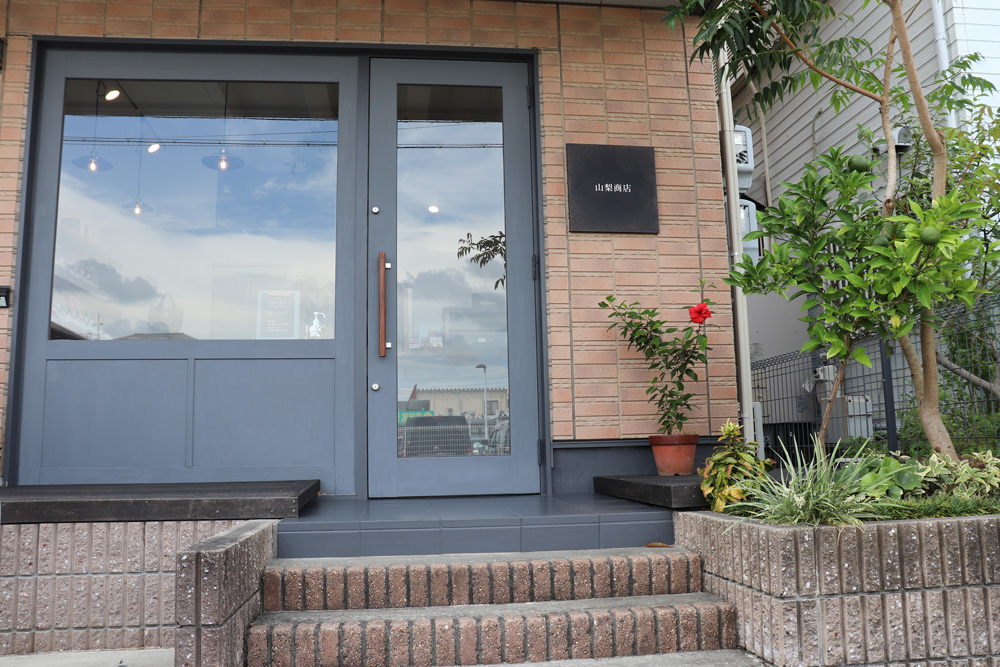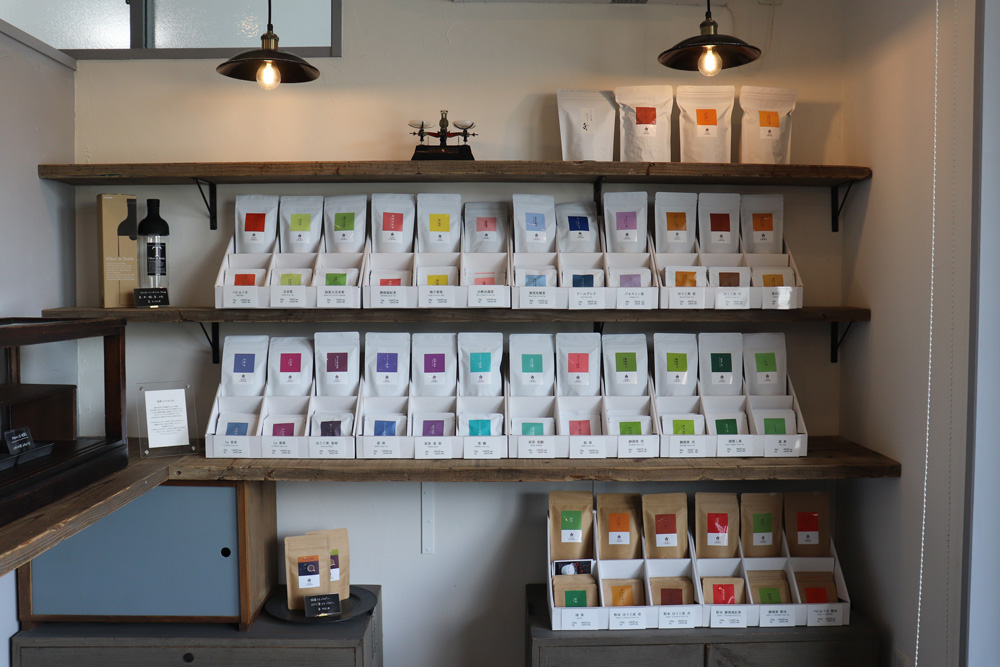 An Introduction to Tea Wholesale
Tea wholesalers heat, produce and finish tea.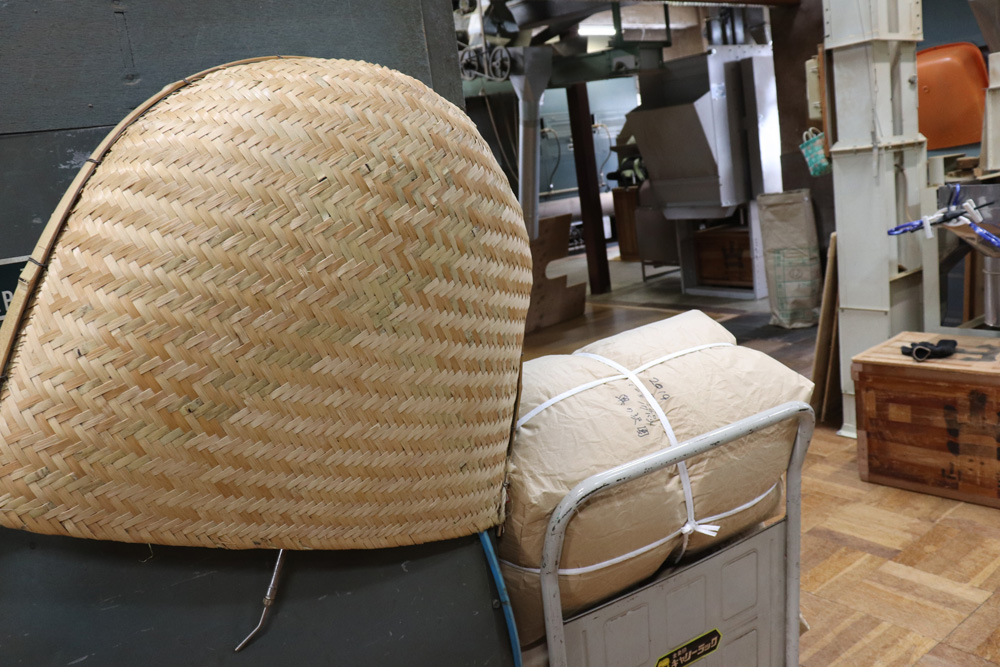 From a leaf on a tea bush, tea undergoes a variety of processes before it ever reaches our teacups. Firstly, tea farmers harvest raw tea leaves from tea fields. The farmers then process the raw leaves until they reach a moisture level of 5%. This storable product is called 'aracha' literally 'rough tea.'
This is where the farmers work ends and the wholesalers' work begins. From here on, all the processing, heating and finishing are all done by the wholesalers. If farmers of tea were to take on this process they would likely be unable to harvest the majority of their tea crop.
Essentially this process is a relay between the farmers and wholesalers.
The process behind Yamanashi Shoten's hojicha.
During the process of making hojicha, the craftsmen at Yamanashi Shoten mix ceramic beads with the leaves and roast the mixture at a high temperature.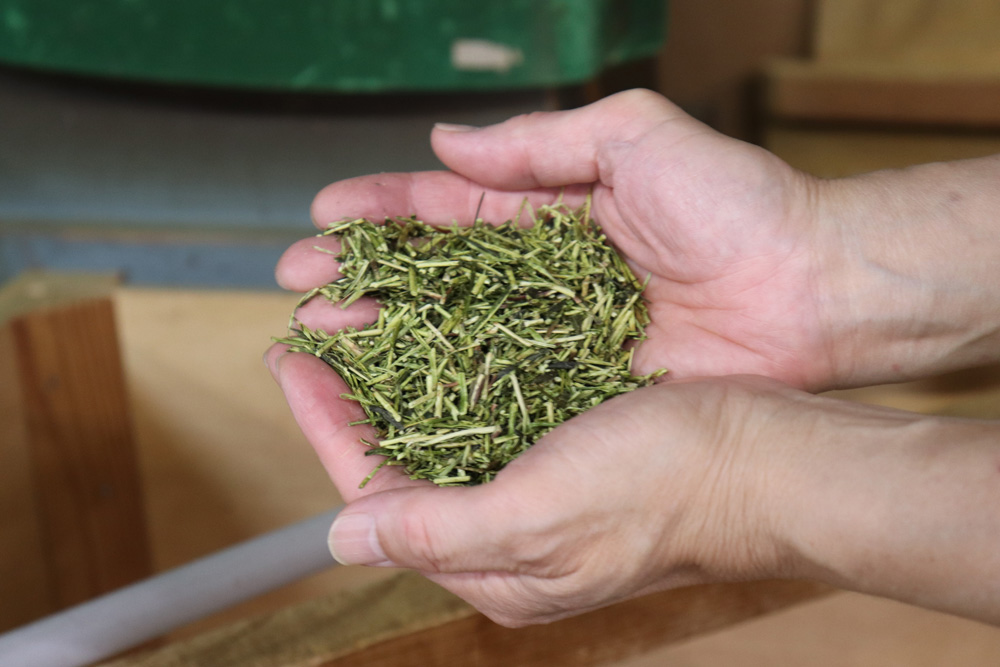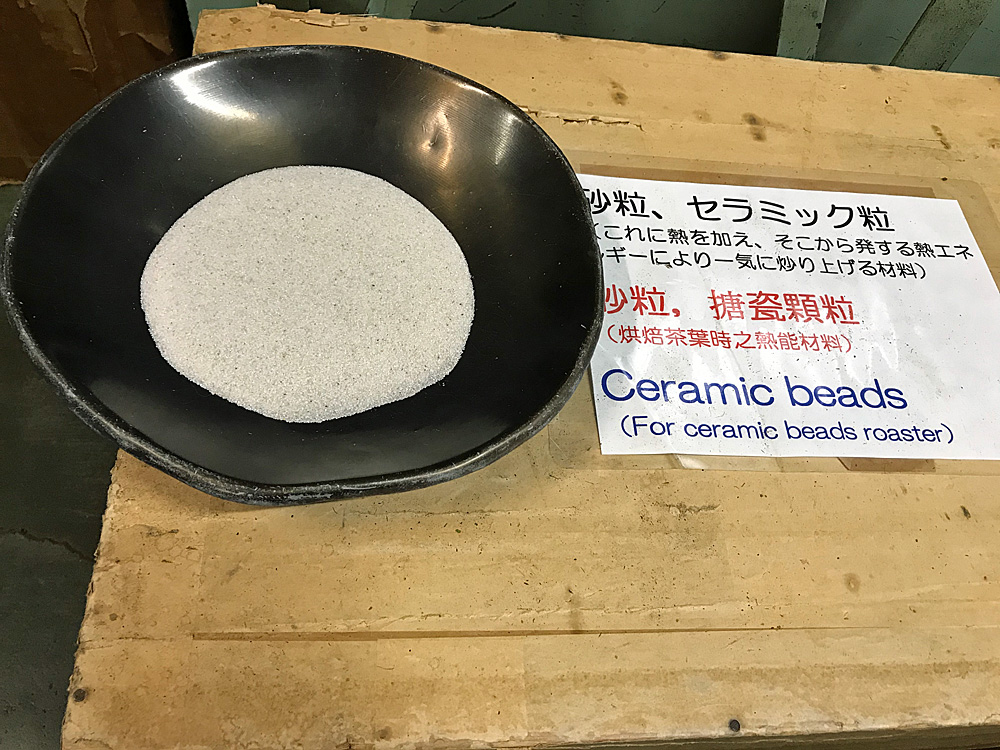 Utilizing the high thermal conductivity of ceramics, the leaves are roasted from the inside reducing moisture content to 0%. The theory is similar to that of stone roasted potatoes or roasted chestnuts in that the cellular walls are exploded in an instant, releasing sugar. The ceramic beads are then removed in a later process.
The process is very similar to making popcorn. At such a high temperature the tea leaves swell up to 3 to 4 times in size, splitting the cellular membrane and releasing 'amami' or sweetness.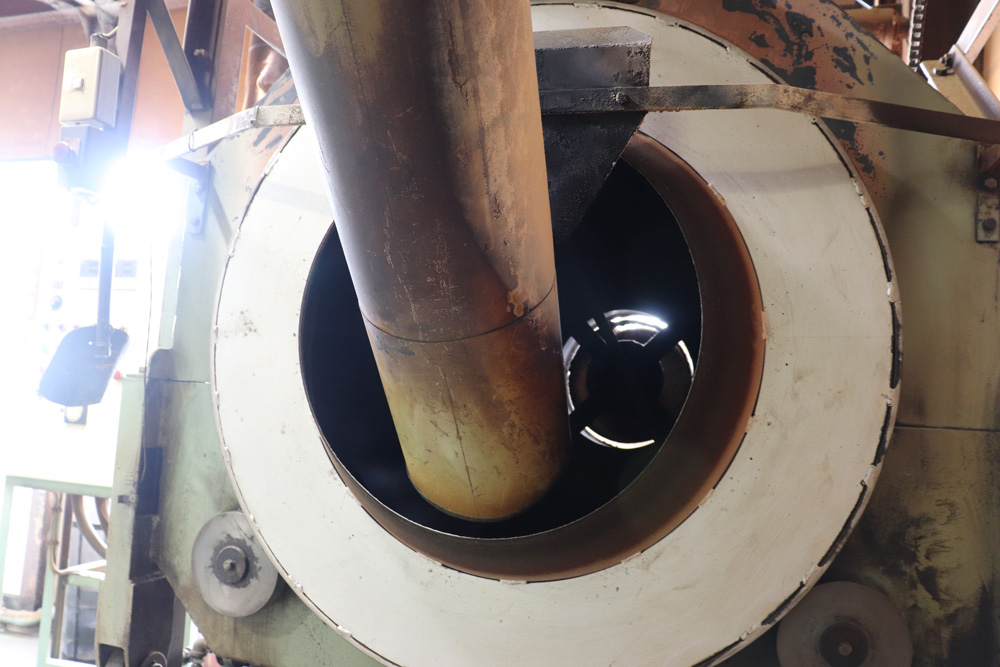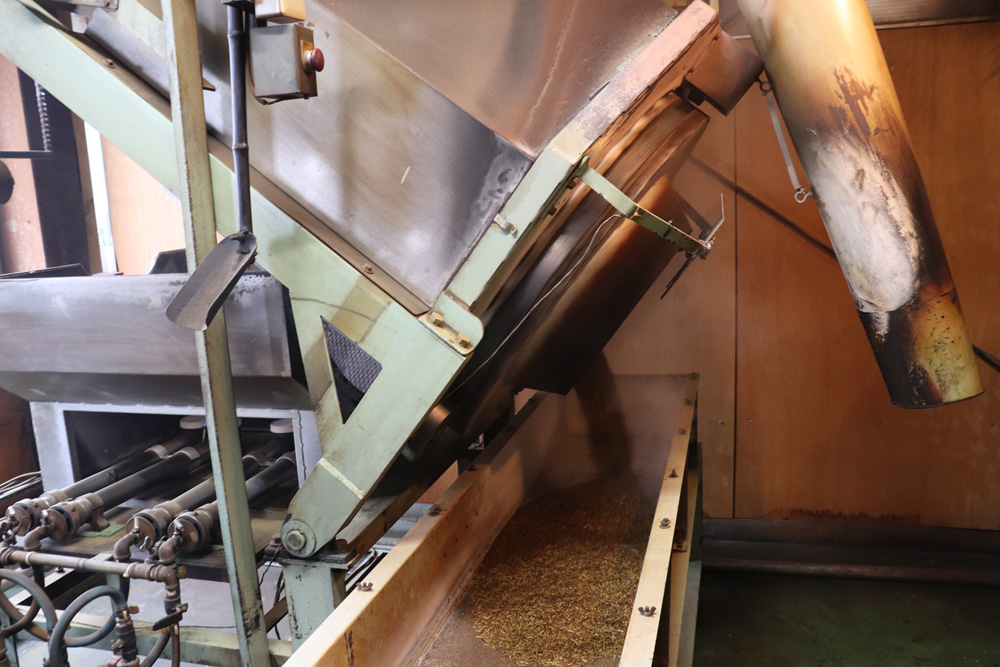 The smoke rising from the chimney of the hojicha factory is collected in a tank, where it is showered with water and then strained through a mesh to collect the residue. This by-product is a fermented product which is then recycled to use as fertilizer. The production of hojicha produces almost no waste.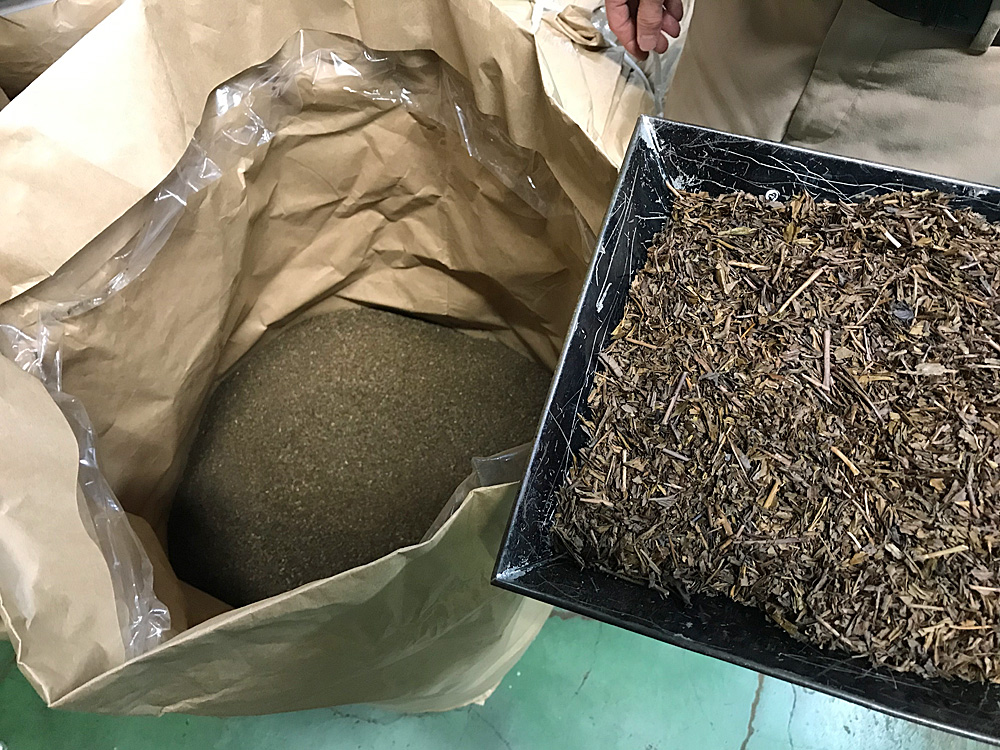 ▲RIght: FInished hojicha. Left: The by product collected.
Interview: The charms of hojicha and why the price of tea declines.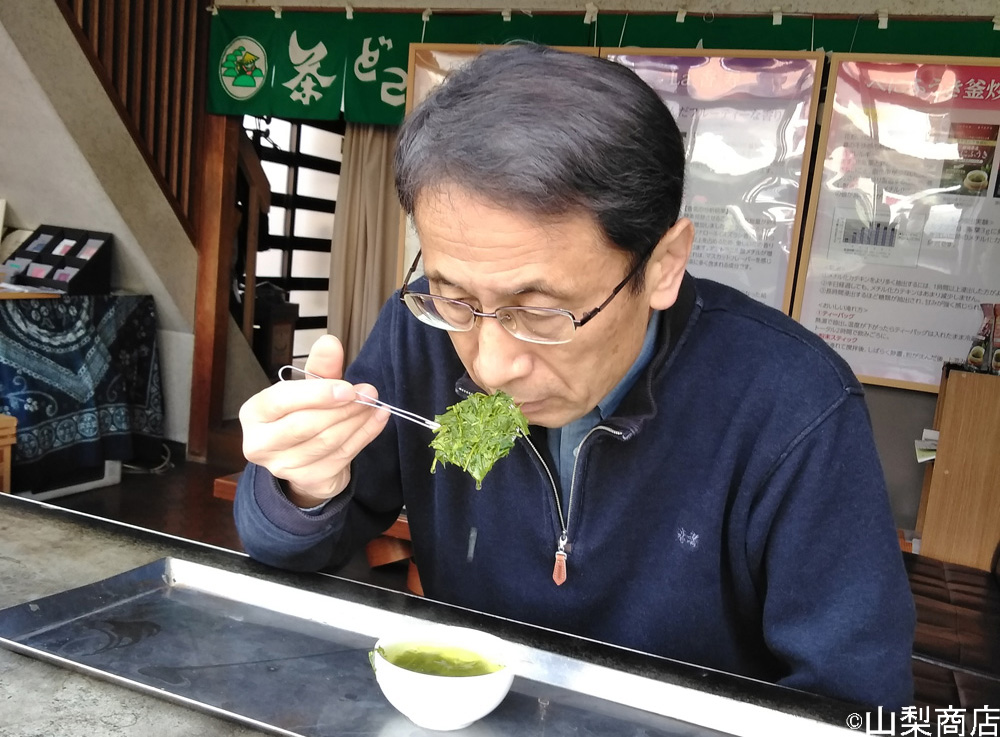 I was pleased to be able to talk with the director of Yamanashi Shoten, Yamanashi Hiroyuki.
---
An introduction to hojicha.
–Please tell me a little bit about hojicha.
Hojicha contains a chemical called pyrazine that also present in coffee and barley tea improves circulation. Hojicha is favoured especially by women with high sensitivity to cold temperatures and people living in cold regions like Hokkaido. Due to its low caffeine content it is suitable for drinking before bed and also young toddlers are able to enjoy it too.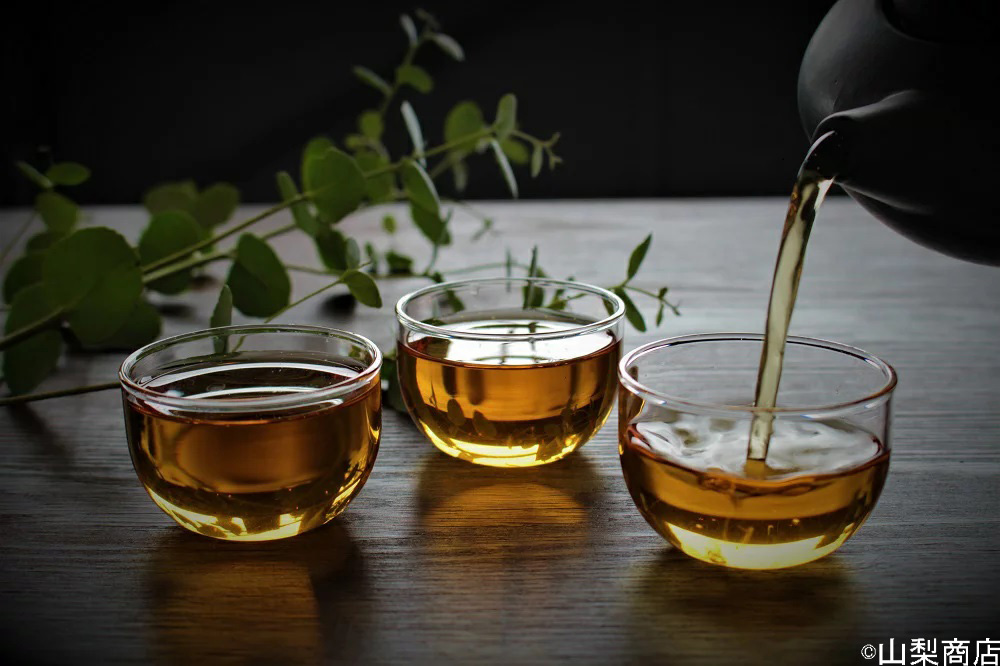 The flavour of hojicha changes a lot depending on the ingredients used. I'll explain this while we hand roast some for ourselves.
A hands on experience making hojicha
The top left is ichibancha. Ichibancha is the first tea of the season, harvested in April or May. It is most often categorized into the highest quality product. Soft leaves and also harder leaves are mixed during the process. Soft, young leaves contain the most umami flavour and thus provide an index for the grade of the tea. These young leaves swell up a lot when roasted.
The picture on the bottom right is akibancha. Akibancha is as the name suggests, tea leaves that have been harvested during the autumn. The tea bush as a preparation for winter has stored up sugar in its leaves and they are therefore hardened. Generally this tea is processed into cheaper tea. When roasted the leaves do not swell up very much.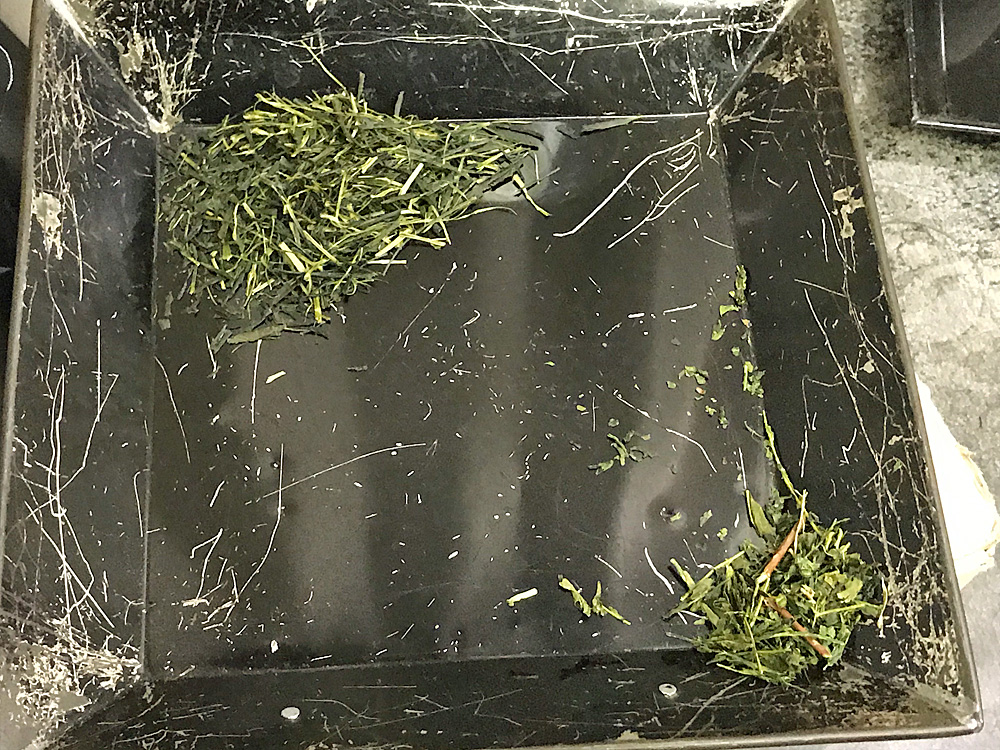 ▲Top left is ichibancha。Bottom right is akibancha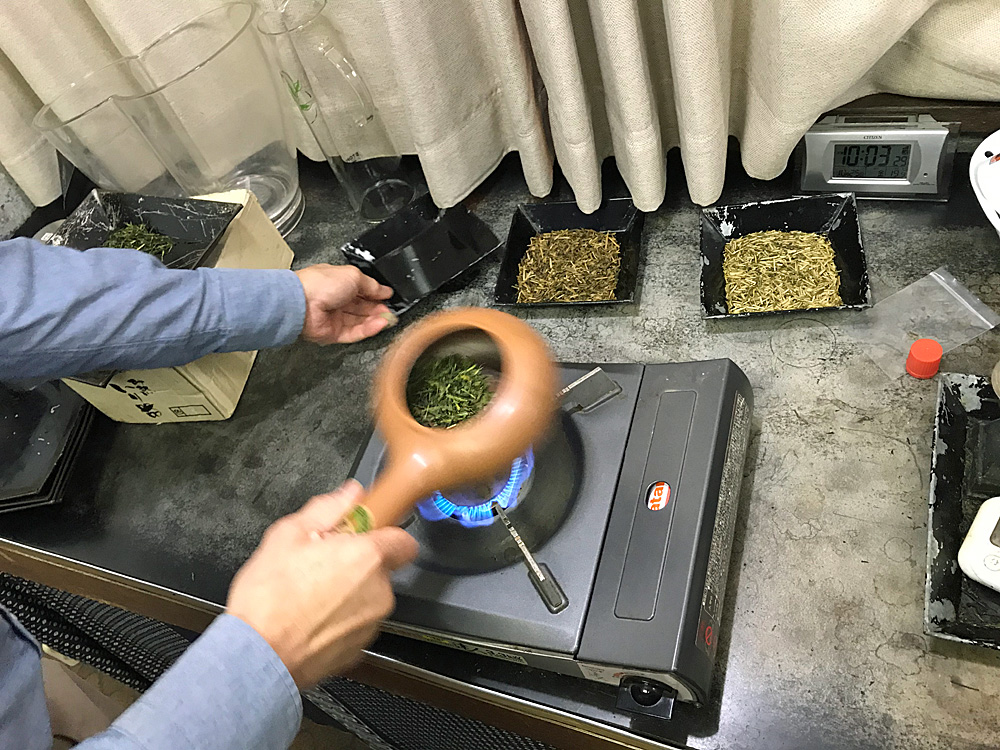 ▲After taking 3 grams, the leaves are heated
The left is ichibancha before being roasted. The right is ichibancha after being roasted.As a result of being roasted, the stem of the tea leaves swells up and increases greatly in size.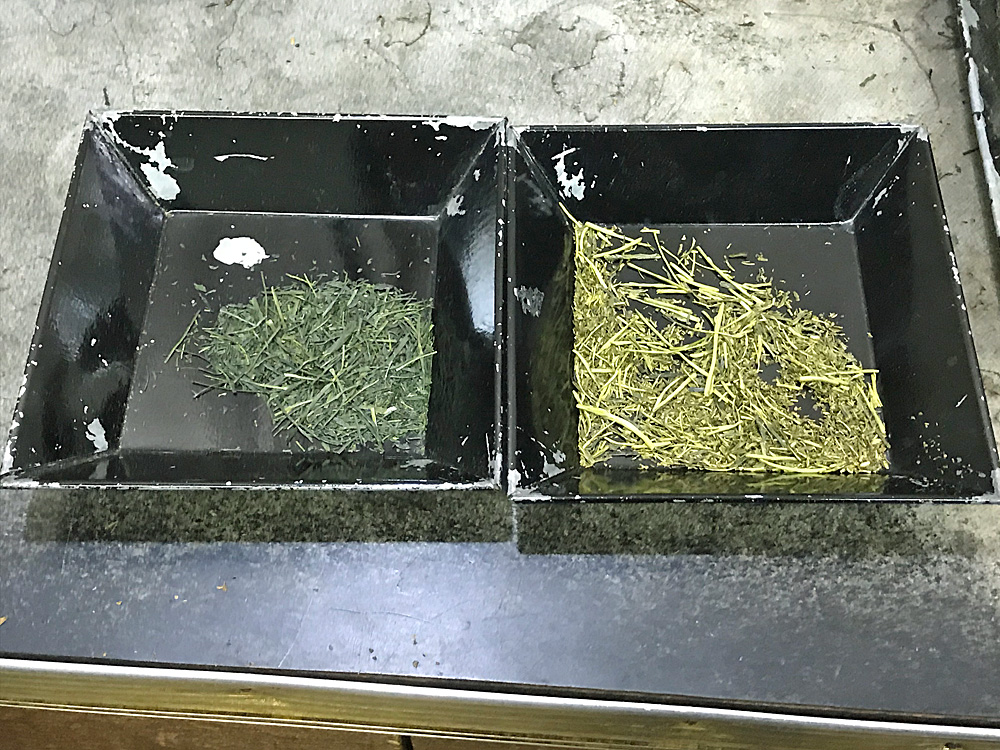 The left is akibancha before roasting. The right is akibancha after being roasted. The hard parts of the leaves stay the same size after roasting.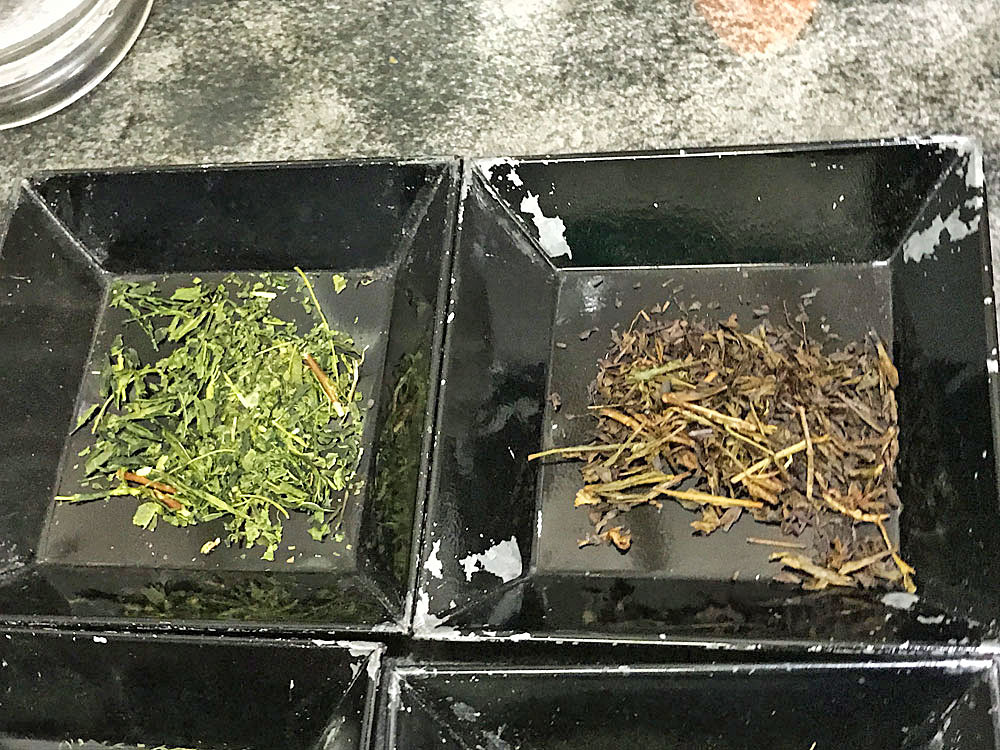 When one compares the flavours in this way, it's very easy to taste the change made to the tea leaves achieved by different roasting techniques. Let's give it a taste!
On the top left hand side we have ichibancha sencha.On the bottom left we have ichibancha hojicha.On the top right we have akibancha sencha. One the bottom right is akibancha hojicha.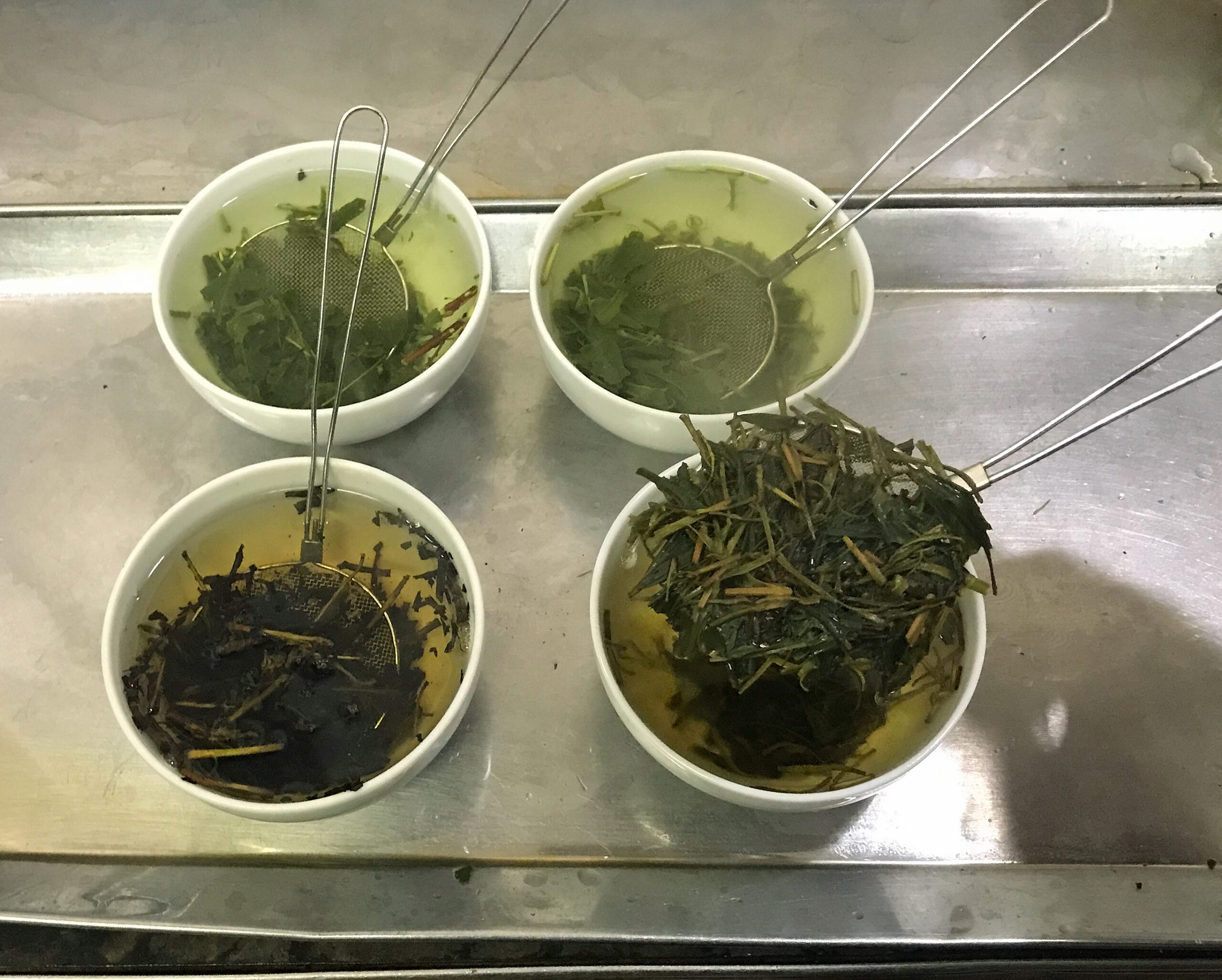 –The ichibancha hojicha has an aromatic taste with lots of umami. The akibancha hojicha is sweet and has a strong flavour to it.
The young leaves that are so common in ichibancha contain lots of protein that when roasted converts into amino acids that bring out the umami flavour. The hard leaves used to make akibancha create sugar when roasted at a high temperature. That's why hojicha made from ichibancha is umami, and hojicha made from akibancha is sweet. By the way, the reason that fukamushicha is sweet is because the tea leaves are roasted over a long period of time releasing higher contents of sugar.
OK, let's taste 3 different types of hoijcha. On the left we have a hojicha costing ¥200 for 100 grams. In the middle we have one priced at ¥500 per 100 grams. Lastly, on the right we have one going at ¥1000 per 100 grams.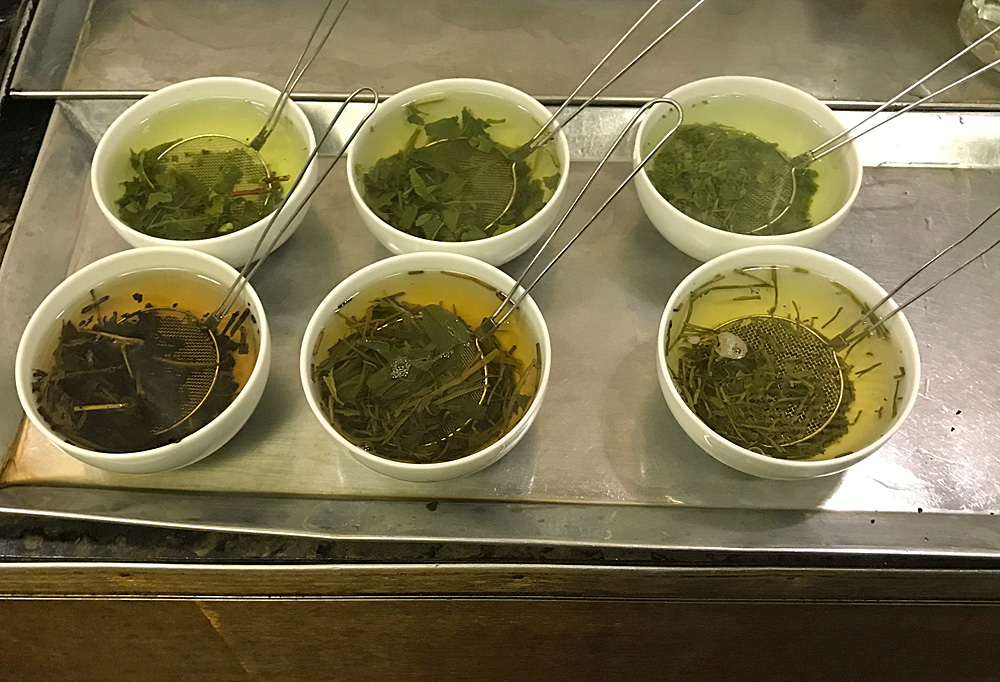 –The one on the left hand side is very sweet. The one on the right is not so sweet yet has a strong umami taste. The middle one has a balance of both.
The tea on the left is ¥200 per 100g. It has a lot of sugar filled harder leaves enhancing the sweetness. The tea on the right costs ¥1000 per 100g. It is made with younger leaves thus increasing the intensity of the umami flavour. The tea in the middle is ¥500 per 100g and is a blend of both young, soft leaves and the harder ones.
Hojicha is made using a blend of harder and softer leaves thus creating a rich flavour with a good balance of umami and sweetness. The essence of tea is won or lost in the roasting. In order to exhibit the highest flavour potential of the leaves in front of us, we change our roasting technique.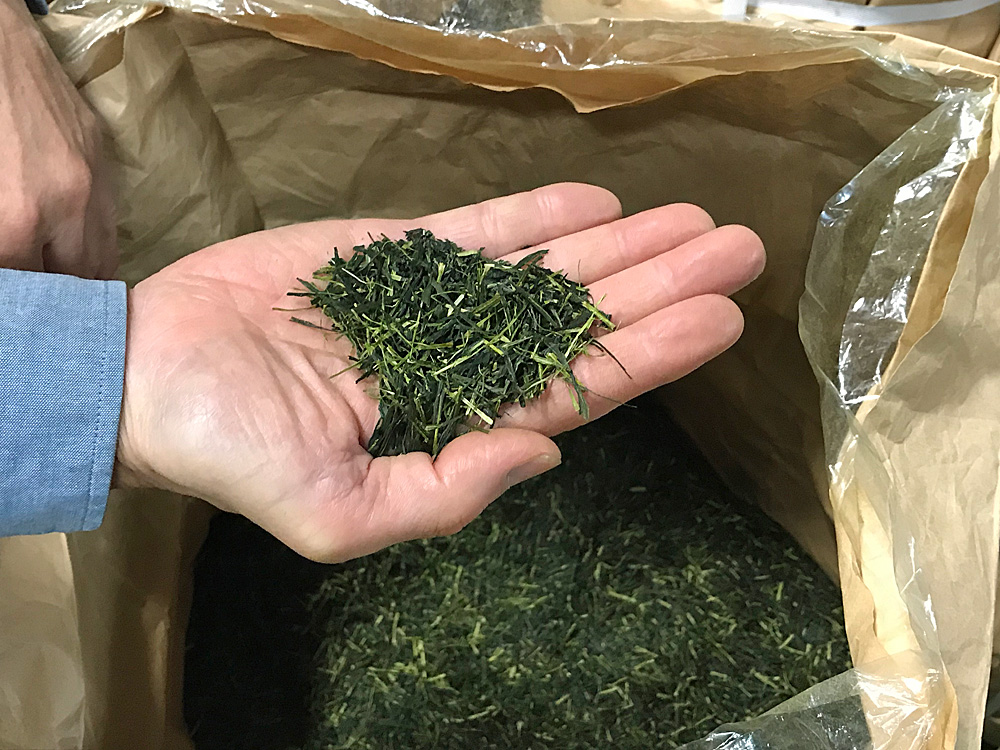 Why is the price of tea declining?
–Japanese tea prices have been falling since 2004. Please tell me why the price of tea is declining?
The world's production output of tea is 7,000,000 tonnes and 60-70% of that is black tea. Japanese tea production is 80,000 tonnes and half of that is made up of loose leaf tea. The rest is made up into bottled tea, teabags and matcha powder. The demand for hojicha is split up into the same four categories.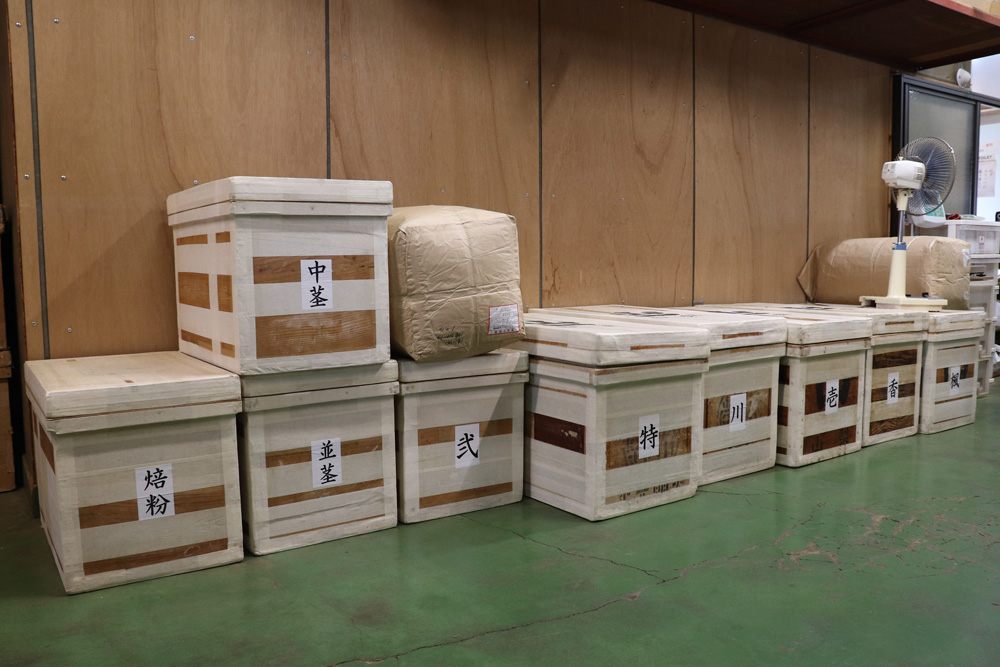 According to a certain manufacturer, the tea powder market is dominated by a high demand for hojicha powder due to its use as a drink and also as an air freshener for air conditioners. The next in demand is genmaicha powder, third is the green tea powder that one finds in conveyor sushi chains.
Tea powder is the same as used tea leaves. It is physically impossible to ingest the same amount of tea that one would find in a normal cup. At best one might absorb about 0.5 grams. It's not possible to drink 2 grams. Just because chicken broth is tasty doesn't mean people would go as far to eat chicken bones would they?
When one makes tea in a kyusu (Japanese teapot) we use roughly 3 grams of loose leaf tea. Tea powder uses less than one quarter the amount of tea leaves for this.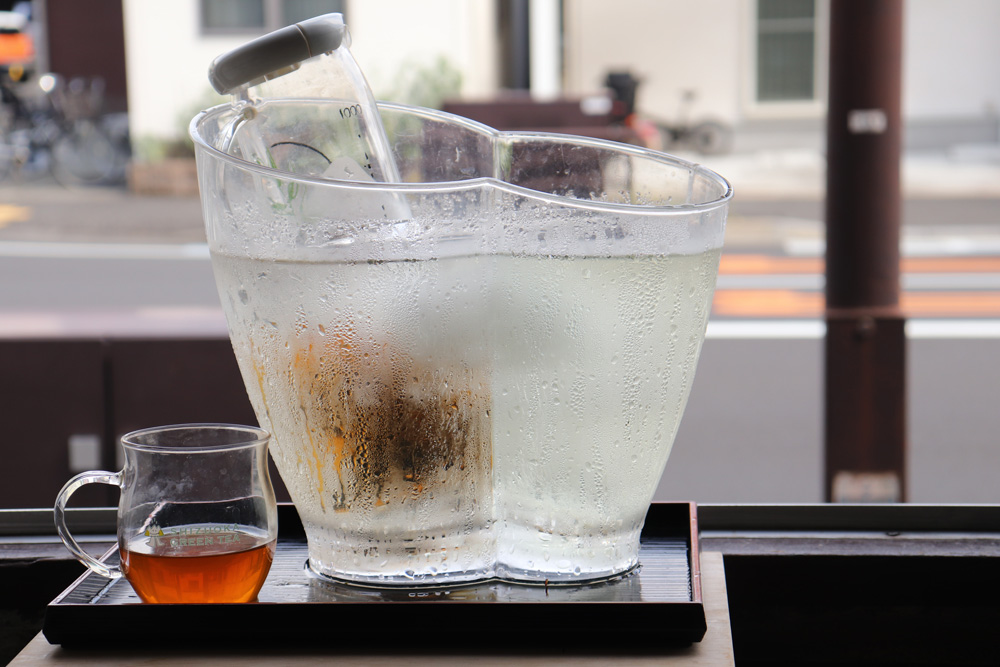 Innovations are also occurring in tea extraction methods. Today, there is a well-established technique for extracting tea for PET bottles that allows the tea to be extracted over 5-6 roasts. The extraction method has been manualized and is capable of producing tea of uniform quality wherever it is brewed.
In a teapot, one can infuse tea 2-3 times at best.The reason for the lowering of tea prices comes down to the revolution in manufacturing techniques of tea powder and bottled tea. Even with just small quantities of leaves, the manufacturers are able to extract the tea so efficiently. These days to produce Japan's 80,000 tons of tea, only 60,000 tons are needed. The market is flooded with supply and therefore the price drops.
Why have high grade teas stopped selling?
–Please explain why high grade teas have suffered a loss in demand?
Around 40 years ago bottled tea was born. In the beginning bottled tea was made from a mix of sencha and hojicha. Roasting hojicha is a very difficult process and so the bottled tea manufacturers were not able to produce hojicha in house. That's why they worked in partnership with companies like us. After that the demand continued to rise and so our work rate also increased.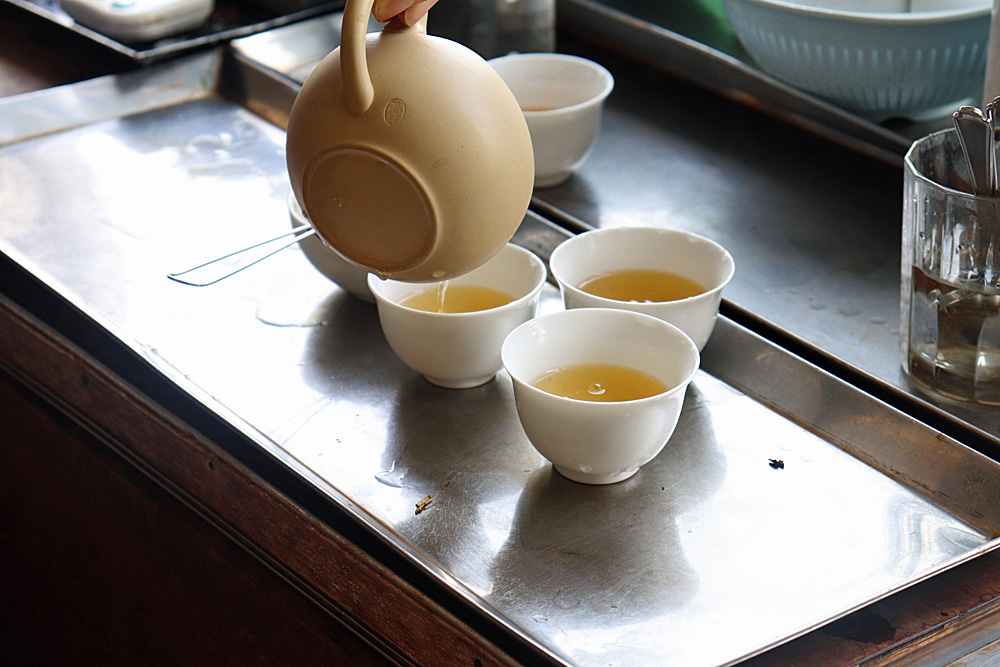 Nowadays there are companies who specialise in producing bottled tea. They use cheap bancha and roast it with a strong heat. Due to its popularity the people of Japan have become accustomed to a strong roasted taste of tea, in other words, the taste of hojicha.In reality, this has had a huge effect on us. Without realising it, the people have gotten used to the taste of hojicha.
There must be a link to the development of such a palate. As of recent years the trend is in favour of bottled, teabag and powdered tea over loose leaf brewed in a teapot. High grade tea is not selling as it used to.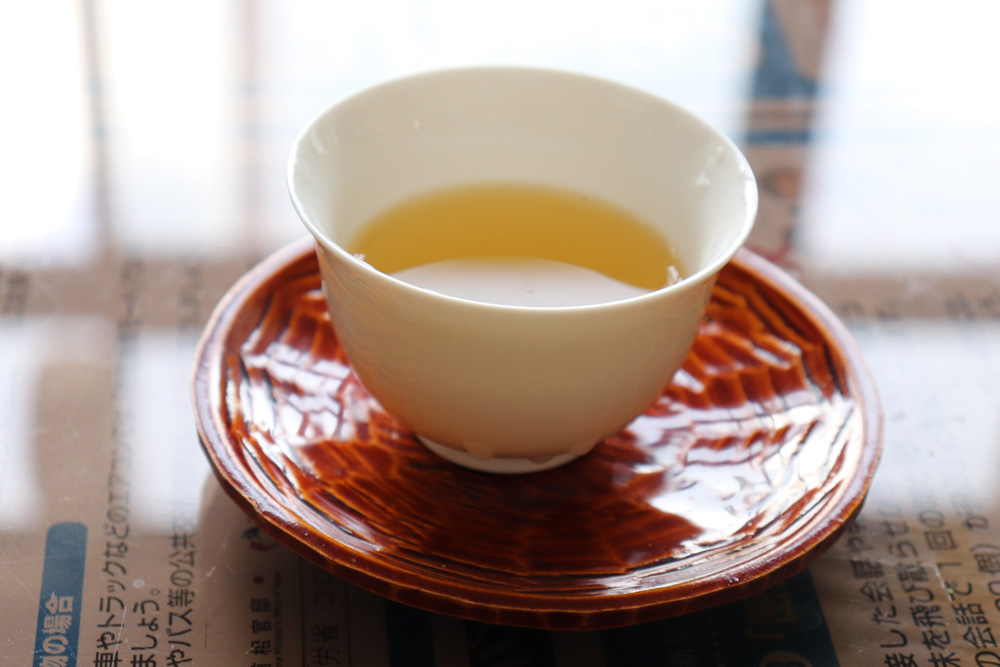 It really is a sad reality but if one makes high grade tea and it doesn't sell, the only other option is to make cheap tea. High grade tea makers are decreasing. Hereafter tea manufacturers will either be 'high grade' or 'cheap' and there will unlikely be anything in between. It will be difficult for producers of a middle range product to survive.
Tea manufacturing techniques will continue to improve and nowadays approved sencha will continue to decrease. Manufacturers endeavouring to make wonderful tea make it at a loss. Unfortunately that is the market at the moment.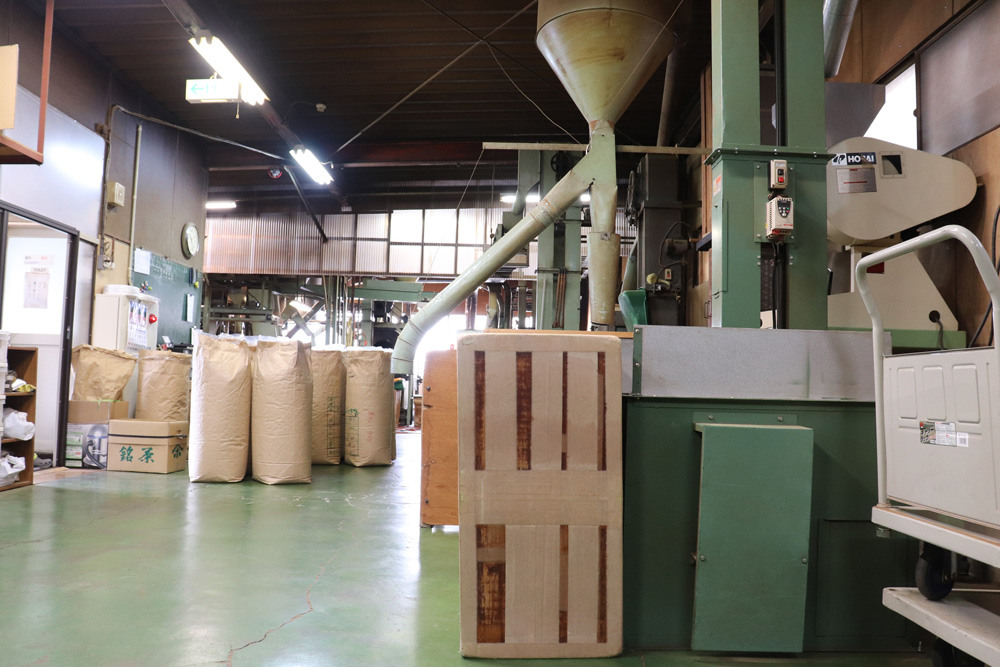 800 years ago hojicha was a thing
The first evidence of tea was found dating back to the Kamakura period (1185-1333CE.) That means tea has been drunk in Japan for 800 years. This confirms the fact that Shoichi Kokushi and his companions brought tea into Japan. Until 1837 when Nagatani Souen invented the technique of steaming leaves to make tea, bancha was the majority of what people drank.
In short, hojicha has been around for 800 years.When I was working in a mountain village, I often would make tea with tea leaves that I toasted in the kettle. Even then, I was making hojicha.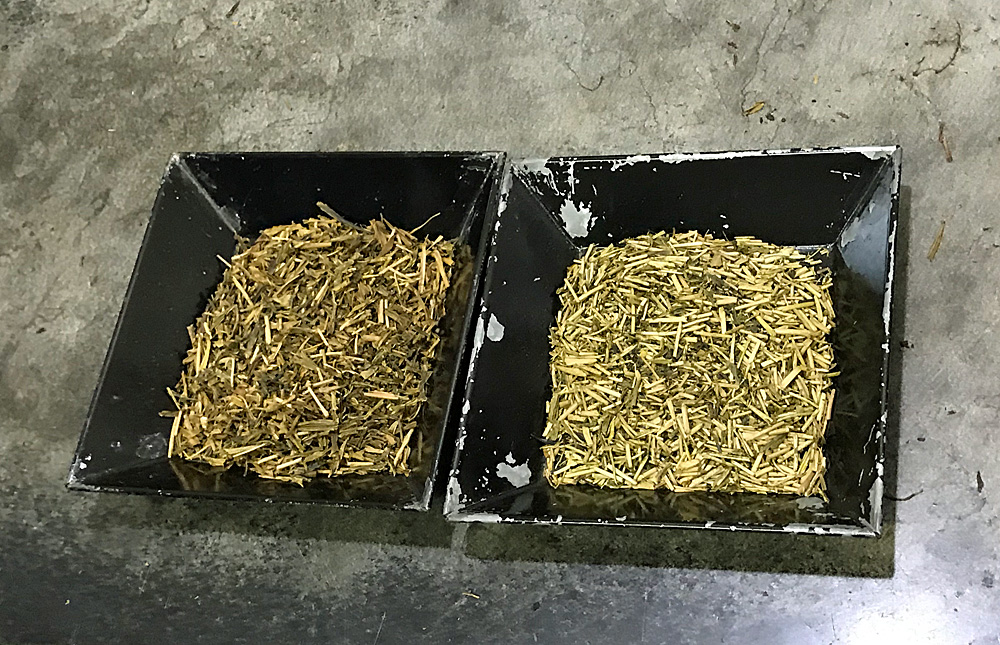 Tea really is a marvelous plant. It has enough vitality that it will even survive in PH3 soils. It seems like a waste to drink one or two infusions of tea and throw it away, but I really love the luxurious culture of it. I won't say that it's right but I think that it would be a real shame to lose that culture.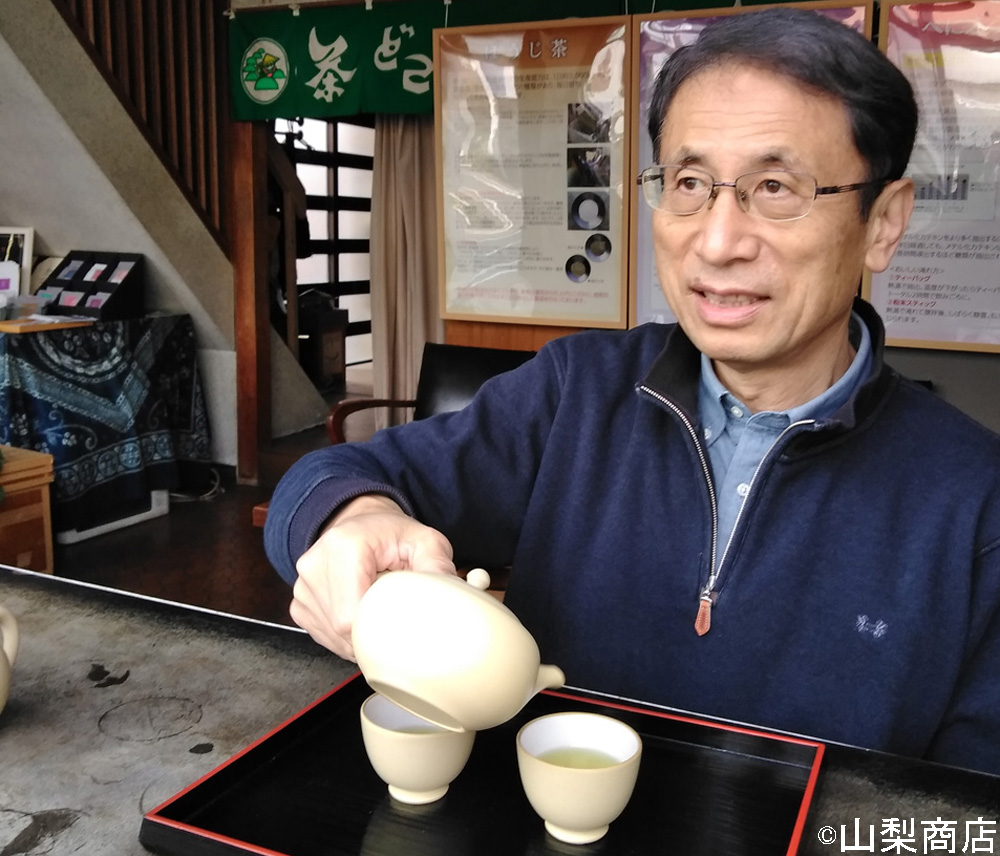 People living in the Showa period (1926-1989) were certainly drinking a higher grade of tea than we are now. To think that mankind cultivated these techniques over hundreds of years and nowadays culturally we find it retrogressive.Truly ironic isn't it.
Information of Yamanashi Shoten
Address
Ichibancho 80, Aoi-ku, Shizuoka City, Shizuoka Prefecture, 420-0071, Japan
Website
http://yamacha.jp/

Phone number
+81 54-252-0503
E-money and credit cards
Open
8:00 to 17:00
Closed
 Saturdays and Sundays
Parking lot
Available
Access
By bus,

take Warashina line for Yatsu terminal (Hinata) and get off at Anzai Yoncho-me.
By car,

15-minute drive via Tomei Expressway Shizuoka Interchange.
Baby Leaf
Address
6-17-24 Chiyoda, Aoi-ku, Shizuoka City, Shizuoka Prefecture, 420-0803, Japan
Website
https://www.rakuten.co.jp/babyleaf/

Phone number
+81 54-263-1710
E-money and credit cards
Open
10:00 to 17:00
Closed
Saturdays and Sundays
Parking lot
Access
By bus
Take Shizutetsu Express from Kodomo-Byoin (Shizuoka Children's Hospital) Line after JR Shizuoka Station and get off at the stop of Chiyoda Nanacho-me To-bu Taiikukan Iriguchi, with about 10-minute walk.
By car
About 5-minute drive via Ryutsu Center Street from Chiyoda Interchange or about 10-minute drive via Shin-Shizuoka Interchange.
| | |
| --- | --- |
| Writer | Norikazu Iwamoto |
| Career | Ochatimes chief editer.Meeting with Vice Governor of Shizuoka prefecture.Judge of Fuji country 100 tea's award in 2021.Ocha Times link introduced at website of World O-CHA(Tea) Festival 2022 and Tea Science Center. |
| | |
| --- | --- |
| English translator | Calfo Joshua |
| Career | Born and raised in England, living in Japan since 2016. Studying arboriculture in Shizuoka Prefecture whilst operating his landscape business Calfo Forestry. Appreciating the nature of Japan and the culture that places such importance in it. |
Related articles