Nanaya's matcha gelato: the bridge to the future of Japanese green tea【Shizuoka, Tokyo, Kyoto】

Go to Japanese page
When one speaks of matcha, Kyoto's famous Uji matcha is likely to come to mind. However, it's no secret that you can enjoy delicious matcha in Shizuoka as well. This time we visited Nanaya's headquarters in Fujieda City, Shizuoka Prefecture, which offers delicious tea and sweets centred around its 'World's Richest Matcha Gelato'. Marushichi Seicha, which operates Nanaya, is a pioneer of Shizuoka matcha, having started matcha production in the mountainous area of Fujieda in 1988 and succeeded in producing the first high-quality Shizuoka matcha after a long process of trial and error. Today, the company has six branches in Fujieda, Shizuoka, Makinohara, Fujinokuni Tea Museum, Tokyo and Kyoto and is actively involved in promoting the power of tea.
This article tells the story of how Nanaya started making matcha in Shizuoka and Nanaya's ideas on how to promote tea, including an interview with Mr. Suzuki, Retail Operations Manager at the Nanaya Head Office.
An introduction to Nanaya
Nanaya is a tea house run by Marushichi Tea, which was founded in 1907. The 'World's Richest Matcha Gelato', made from premium quality Shizuoka matcha, has been featured in numerous media reports and captivated many tea and sweets lovers' hearts alike.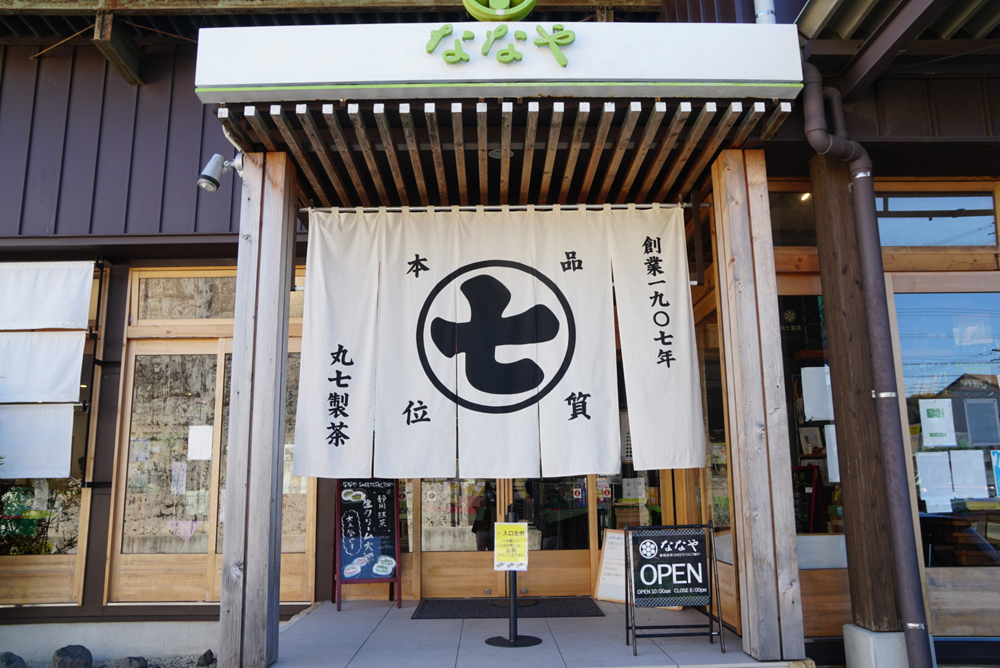 ▲Nanaya Flagship Store in Fujieda, Shizuoka Prefecture.
In 2010, the Nanaya Fujieda flagship store was opened in part of what was then a tea factory.
Nanaya Aoba Park Store was opened in autumn 2011.
Nanaya Tokyo Aoyama Store was opened in the summer of 2016
Nanaya Kyoto Sanjo branch opened in 2018.
In 2020, Nanaya Aoba Koen shop will be relocated to Nanaya Shizuoka Gofukucho shop.
Nanaya currently has four shops in Shizuoka, one in Aoyama, Tokyo, and one in Sanjo, Kyoto.
Nanaya Fujieda flagship store
[Address] Shizuoka Prefecture, Fujieda City, Uchiseto 141-1
[Access] 10 minutes by car from JR Fujieda station.
[Telephone] 054-646-7783
[Opening hours] 10:00~18:00
[Holidays] Wednesdays (Open on Bank holidays)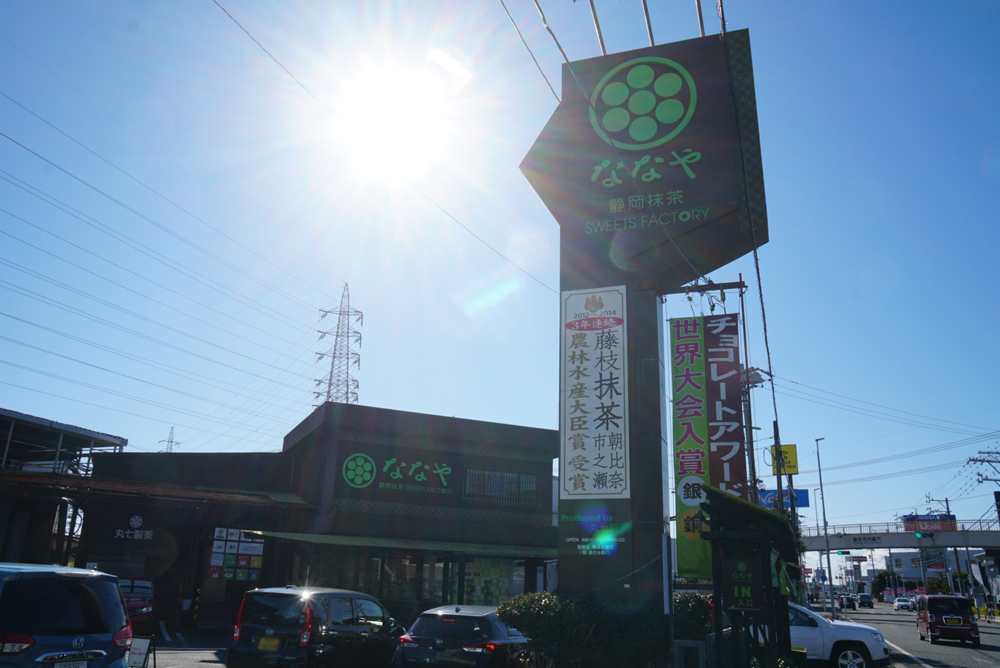 The open-plan shop, with its Japanese theme, has a popular gelato, tea, chocolates and other sweet corner, as well as a corner for tea utensils. There are also many other unique features.
Sieves hang from the ceiling of the corner displaying tea bags and loose leaf tea. These used sieves are interior decorations.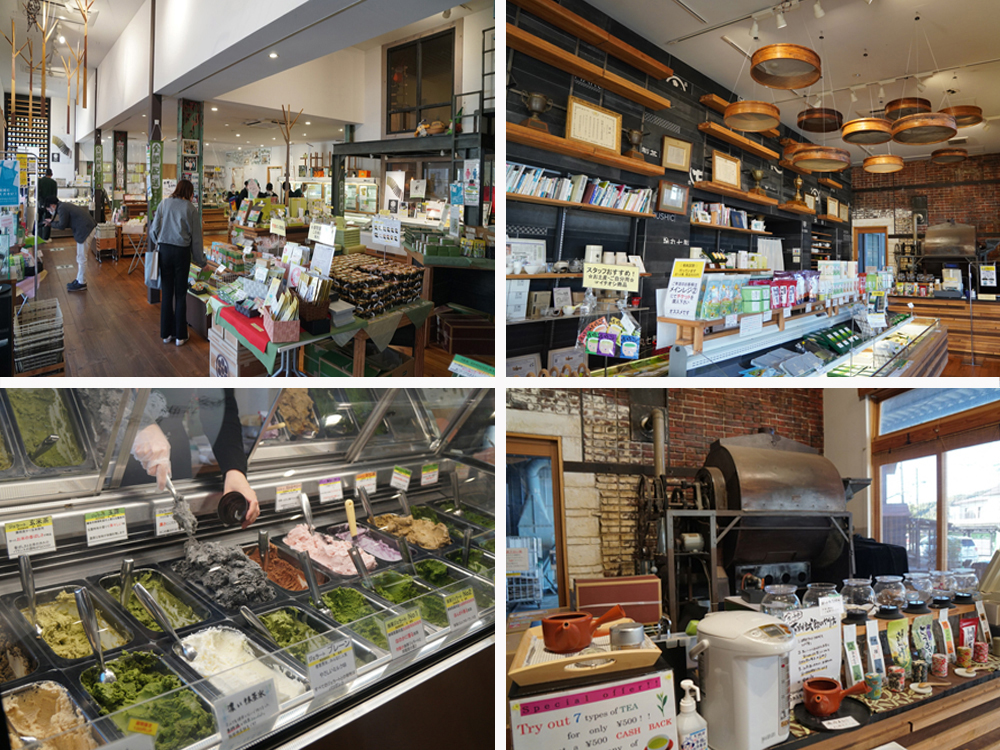 Depending on the time of year, a dedicated craftsman roasting hojicha in a roasting machine may be set up in the shop. Customers are drawn in by the fragrant aroma and are intrigued by the process of roasting tea, which is a sight to be seen. If the timing is right, you can even have freshly roasted hojicha packed and served in front of you.
Nanaya Shizuoka Gofukucho Store
[Address] Shizuoka Prefecture, Shizuoka City, Aoi-ku, Gofukucho 2-5-12
[Access] 10 minutes walk from JR Shizuoka station.
[Telephone] 054-251-7783
[Opening hours] 11:00~19:00
[Holidays] Wednesdays (Open on Bank holidays)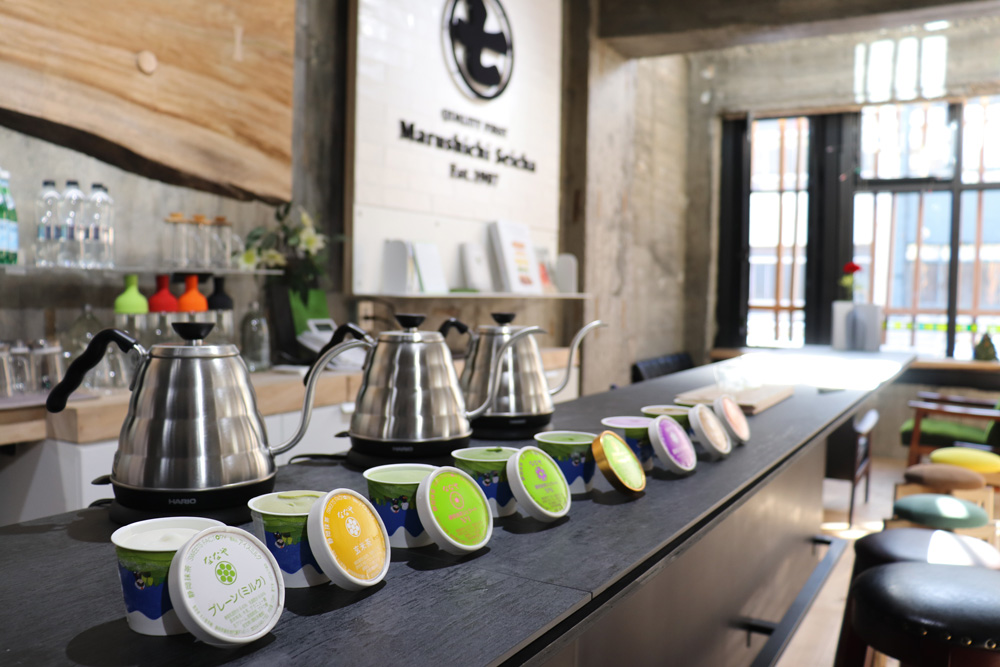 Opened in November 2020, the Shizuoka Gofukucho shop has a bright and stylish atmosphere with a Japanese theme. The popular gelato corner is right in front of you as soon as you step into the shop. On holidays, the queue of people queuing down the road has become a familiar sight. Tea and other sweets are also available for purchase.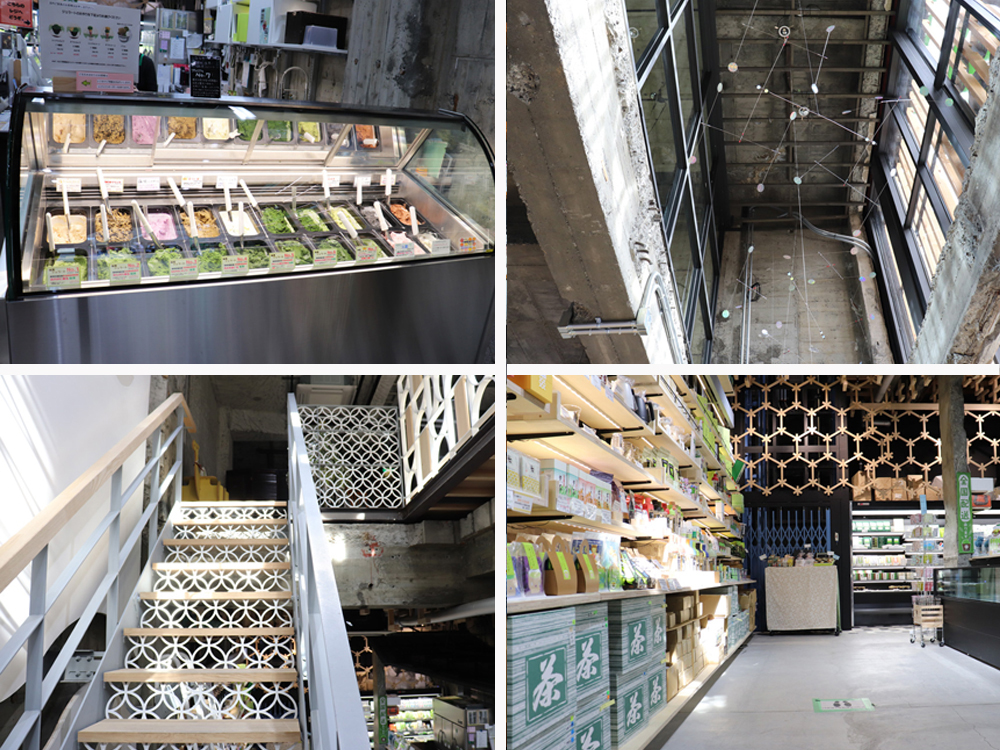 Various events are organised regularly on the second floor: in January 2021, there was an event where visitors compared how the taste of tea changes depending on the water from which it is extracted.
For this event, Nanaya staff tasted more than 20 different types of water from all over the world and narrowed it down to 16 different types beforehand. Participants compare teas brewed with three types of water from this selection.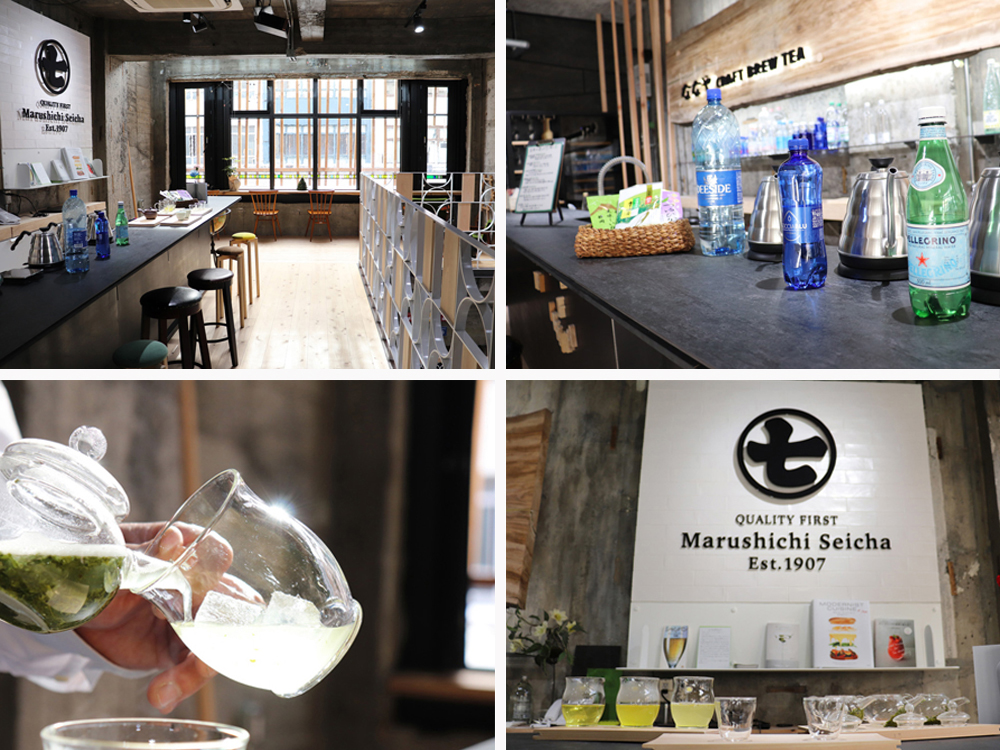 Other Nanaya outlets in Shizuoka are located at Grinpia Makinohara and the Fujinokuni Tea Museum.
Nanaya Tokyo Aoyama Store
[Address] Tokyo, Shibuya-ku, Shibuya 2-7-12 1F
[Access] 7 minutes walk from the B1 exit of Omote-sando station. 7 minutes walk from the Miyamasuzaka exit of Shibuya station.
[Telephone] 03-6427-9008
[Opening hours] 11:00~19:00 (Differs in the New Year season)
[Holidays] Tuesdays (Open on Bank holidays)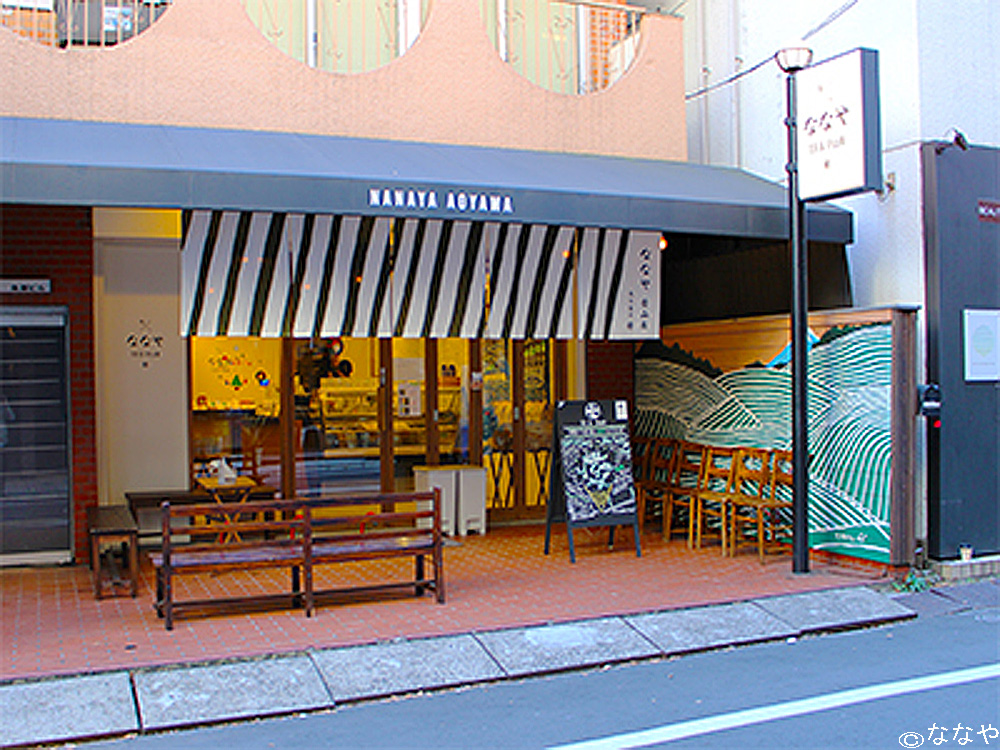 The shop has a calm, wood-toned interior. Chairs are set up just outside the shop and are used as part of the eat-in space. The menu inside the restaurant is written in a cute, pop-style, giving it a different atmosphere to the Shizuoka restaurant.
Nanaya Kyoto Sanjo Store
[Address] Kyoto, Nakagyoku, Aburayacho 92-1
[Telephone] 075-251-7780
[Holidays] Every first Tuesday (Open on Bank holidays)
[Opening Hours] 10:00~18:00
[Access] Get off the Kyoto subway on the Karasuma line at Karasuma Oike station. Exit from 3-2 and walk for 6 minutes. (470m.)
On the Kyoto subway East-West line, get off at Kyoto Town Hall and exit at No.3. Walk for 8 minutes (620m)
On the Hankyu Kyoto line, get off at Karasuma station and get out at exit no.14. Walk 8 minutes. (620m)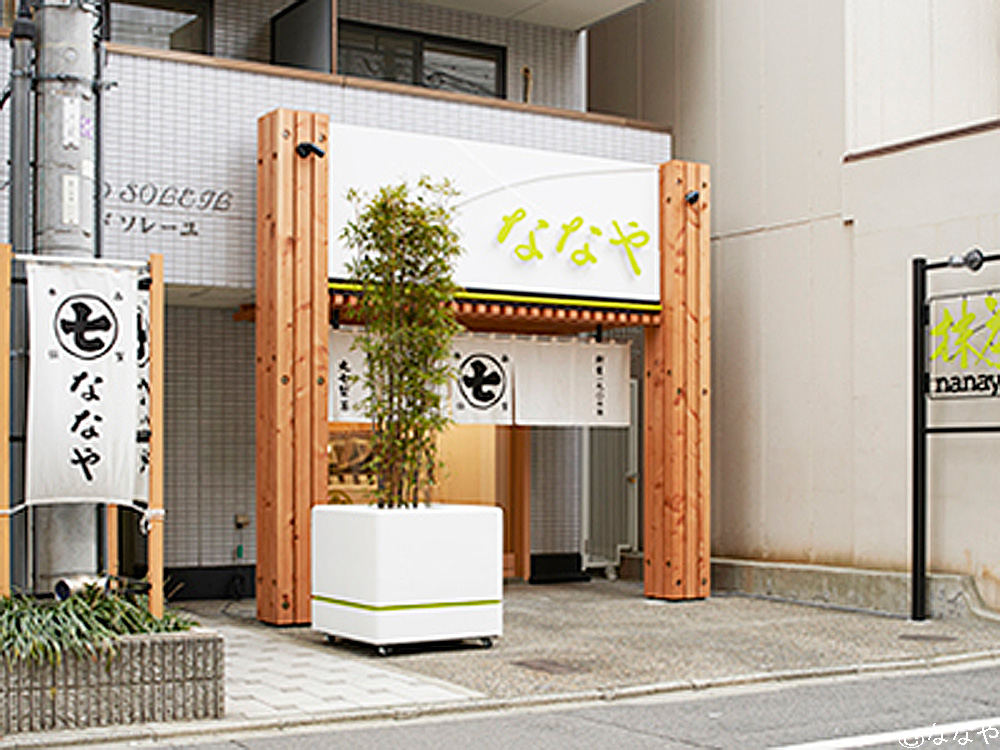 The shop has a simple, Japanese style. The interior is designed to have depth and with successful results. There is no café attached to the shop, but chairs in the shop are arranged to be used as an eat-in space. Original products using ingredients from Kyoto are available only at Nanaya Kyoto Sanjo Store.
Since 1988, Marushichi Seicha has been trying its hand at matcha production in the mountains of Fujieda, Shizuoka Prefecture, and after much trial and error, succeeded in producing high-quality Shizuoka matcha for the first time. Here, we would like to introduce a few of Nanaya's popular café menu items that lavishly use said matcha from Marushichi Seicha.
Special-made Matcha Gelato with Seven Levels of Matcha Richness.
The Nanaya matcha gelato is available in seven levels of intensity, from the No. 1 with a subtle matcha aroma to the Premium No. 7, the world's richest matcha gelato.
Premium NO7, said to be the richest in the world, is an impressive masterpiece rich and full of gusto, it tastes great to the end.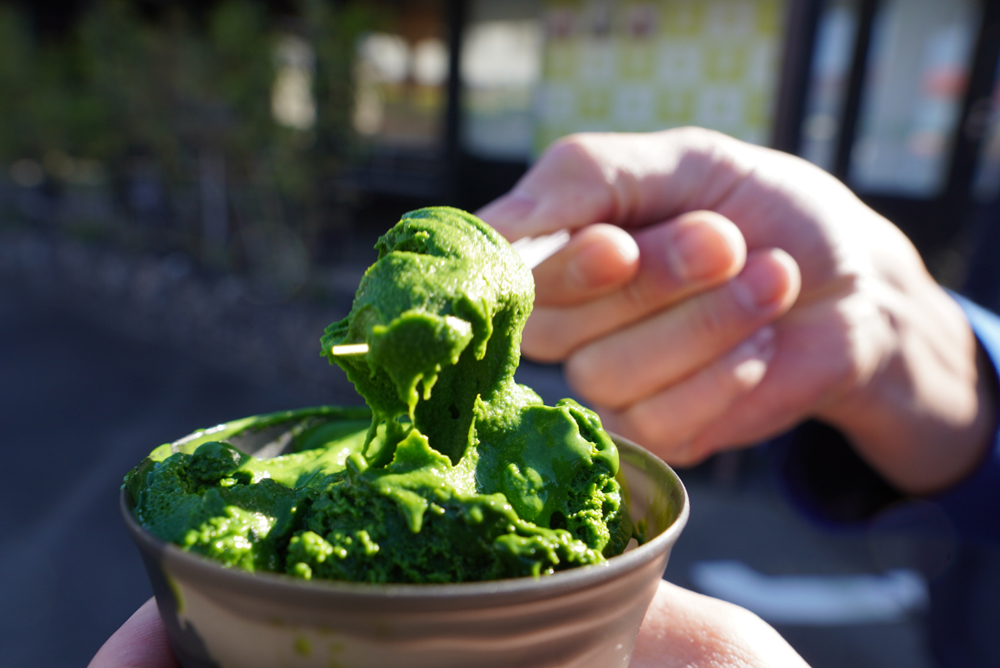 There are more than 10 types of gelato at Nanaya.
"Plain Gelato" is a refreshing milk flavour with a moderate sweetness.
"Genmaicha Gelato", with a strong taste and aroma of genmaicha (brown rice tea).
"Fujieda Highball Gelato", with the refreshing flavour of a highball.
"Hojicha Gelato", with the addictive aroma of hojicha.
"Japanese Black Tea Gelato", offering the unique aroma and sweetness of Japanese black tea.
All of these can be purchased eat-in or take-out.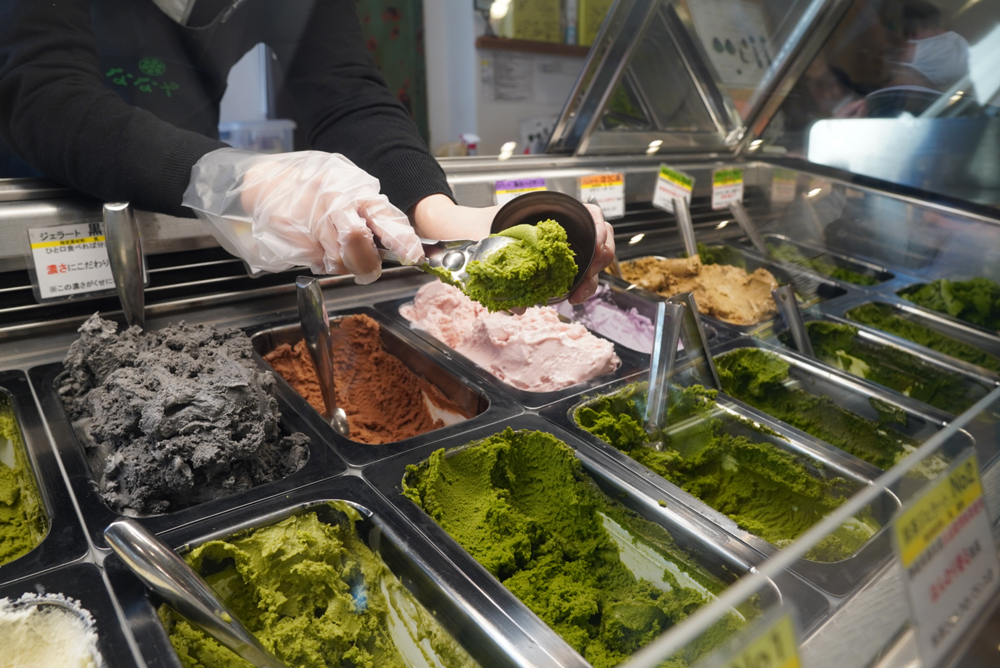 There is also a full line-up of other sweets including matcha tiramisu, macaroons, omelettes and baked cheesecakes.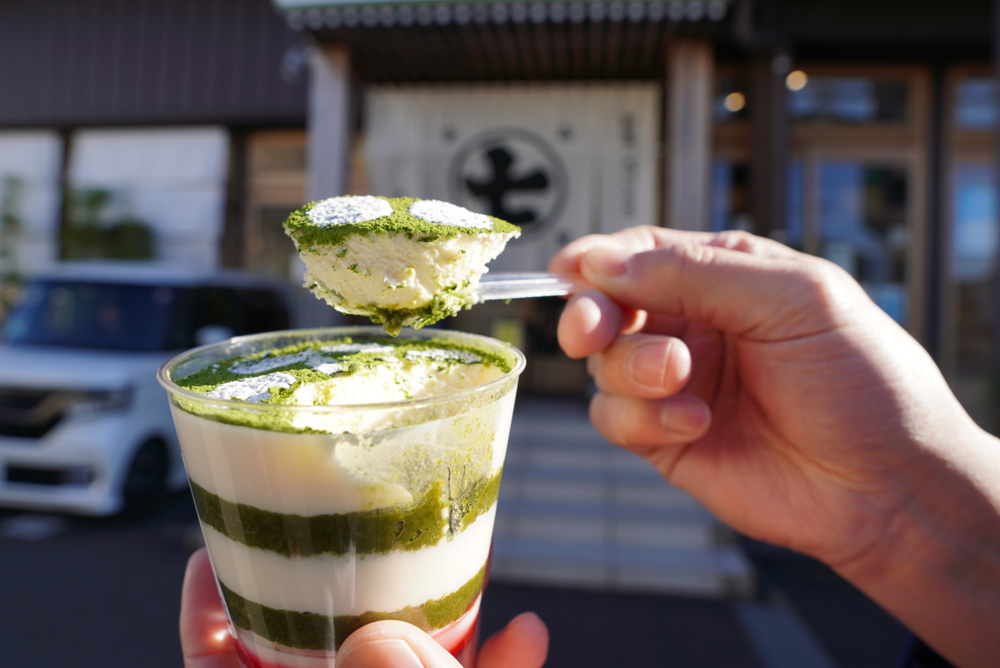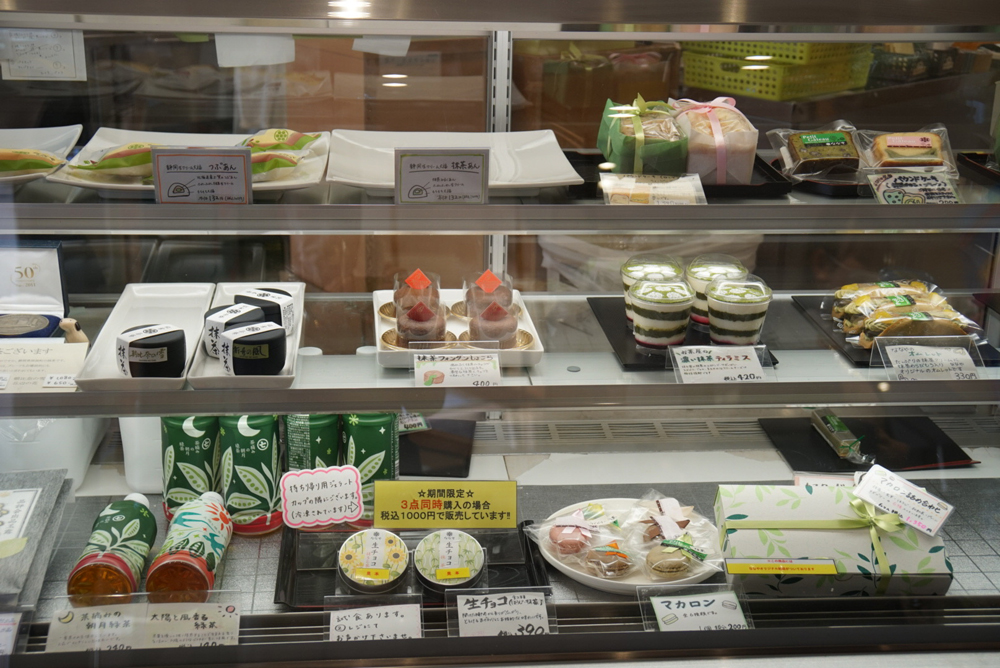 Nanaya interview: Stories about the challenges of making matcha in Shizuoka and the delivery of tea to the future.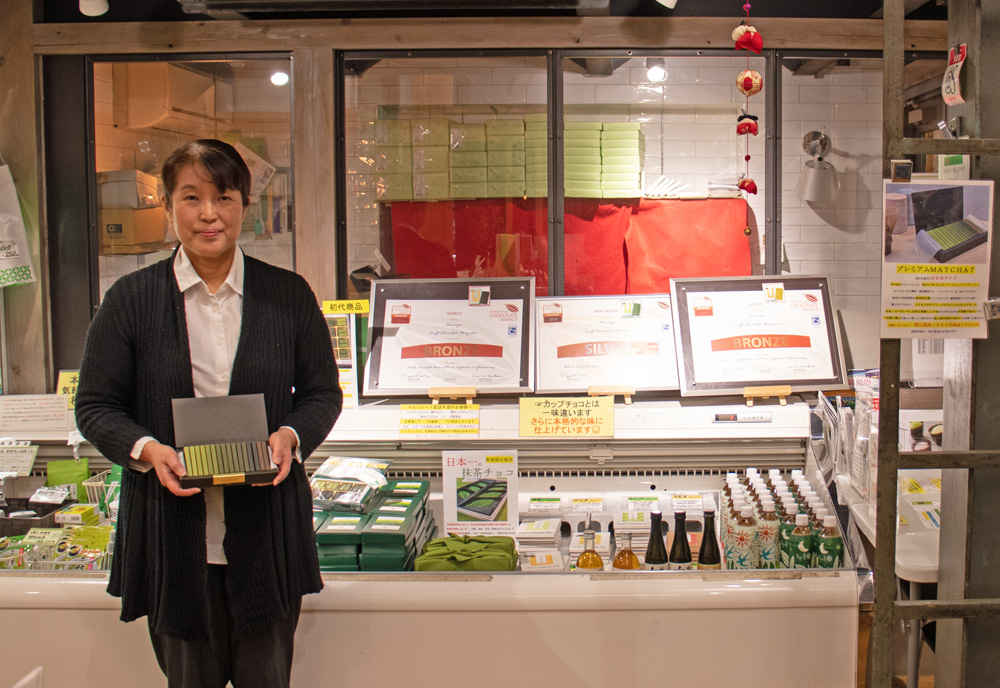 We spoke to Suzuki, Director of Retail Operations at Nanaya's Fujieda flagship store.
---
Marushichi Seicha's vision for developing the Nanaya business
–What is the vision for Nanaya?
Marushichi Seicha, which operates Nanaya, is a tea manufacturing company founded in 1907, and until 2007 was engaged in the manufacture and wholesale of tea products, mainly as an OEM (Original Equipment Manufacturer) for tea shops nationwide.
In 2010, Nanaya Fujieda opened the Fujieda flagship store in a part of what was then a tea factory. At the same time, the name Marushichi Tea Manufacturing, which had not previously been publicly displayed, was brought to the forefront, and in autumn 2011 the Aoba Koen branch in Shizuoka (now relocated to Gofukucho) was opened.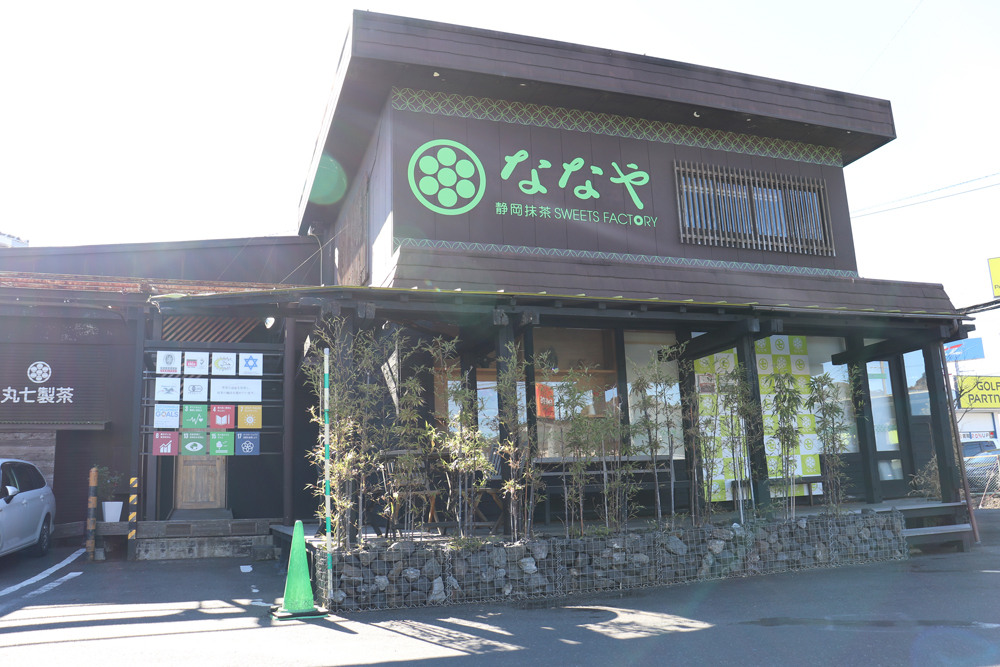 In 2016, a business partner's shop in Asakusa, Tokyo, asked President Suzuki for advice, "We want to increase the number of customers coming to our shop. Do you have any good ideas?" President Suzuki then suggested that they should put "Nanaya's Matcha Gelato", which was well received by many customers at the time, in their shops.
The shop was renovated into a collaboration shop with Nanaya and started offering matcha gelato. and a huge queue formed from the first day it opened. We were surprised at how crowded it was even early in the morning in the middle of winter. I still remember the scene (laughs).
The queues at the collaboration shop in Asakusa, Tokyo, were keeping customers waiting for too long, so we decided to open the Nanaya Aoyama shop in Aoyama, Tokyo, which is directly managed by Marushichi Tea Manufacturing.
Currently, Nanaya's matcha gelato is available at two locations in Tokyo, Asakusa and Aoyama.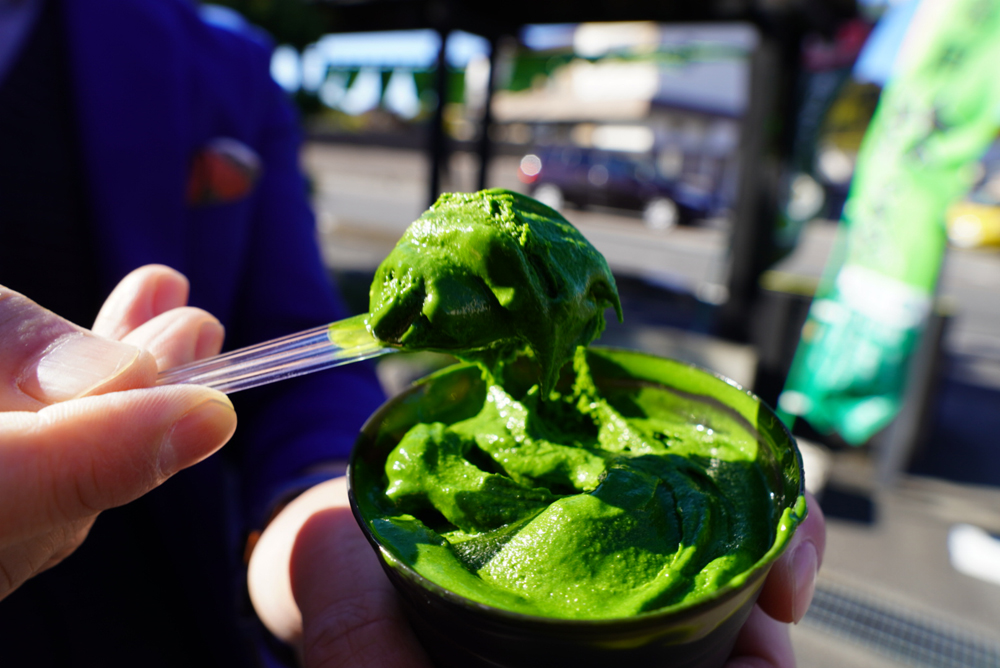 In 2018, Nanaya Kyoto Sanjo branch opened. It has a gelato workshop on the premises and you can watch the gelato making process through the glass from outside.
–Why did you decide to open a shop in Kyoto?
We had received a lot of requests for Nanaya to come to the Kansai region, because there were no Nanaya in the region west of Shizuoka. Enquiries from abroad were also increasing day by day.
We decided to open the Nanaya Kyoto Sanjo branch in the hope that having a shop in Kyoto, where tourists from all over the world visit, would help us to promote not only matcha gelato, but green tea in general.
We hope that foreign visitors to Kyoto will take green tea back home as a souvenir, and that green tea will become known throughout the world as a part of Japanese food culture. In this way, we aim to expand the market for green tea. That is the role of Nanaya Kyoto Sanjo Store.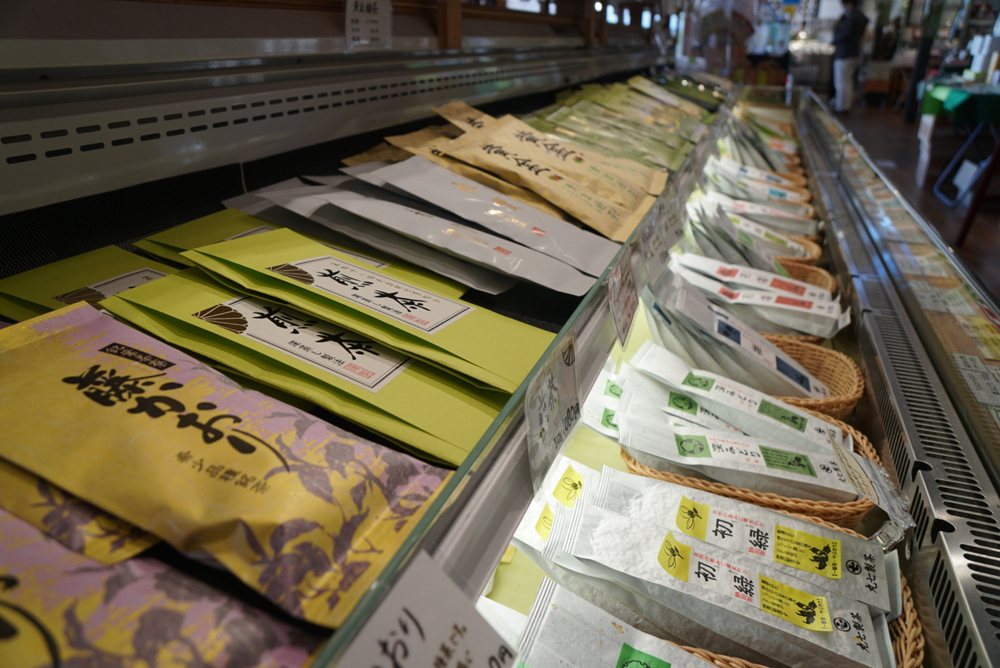 –It is also a good way to get Shizuoka matcha into the Uji matcha area.
The matcha used at Nanaya Kyoto Sanjo is produced in Kyoto. We use matcha from the famous Kyoto producer Yuichi Kikuoka, a winner of the Minister of Agriculture, Forestry and Fisheries Award many times at various competitions. At first we used Shizuoka matcha, but we changed to Kyoto-grown matcha because we thought that visitors to Kyoto would want to enjoy matcha grown in Kyoto.
We also want to promote Shizuoka's green tea through Nanaya Kyoto Sanjo, so we also offer green tea from Shizuoka. The matcha gelato in the takeaway cup is made from Shizuoka matcha.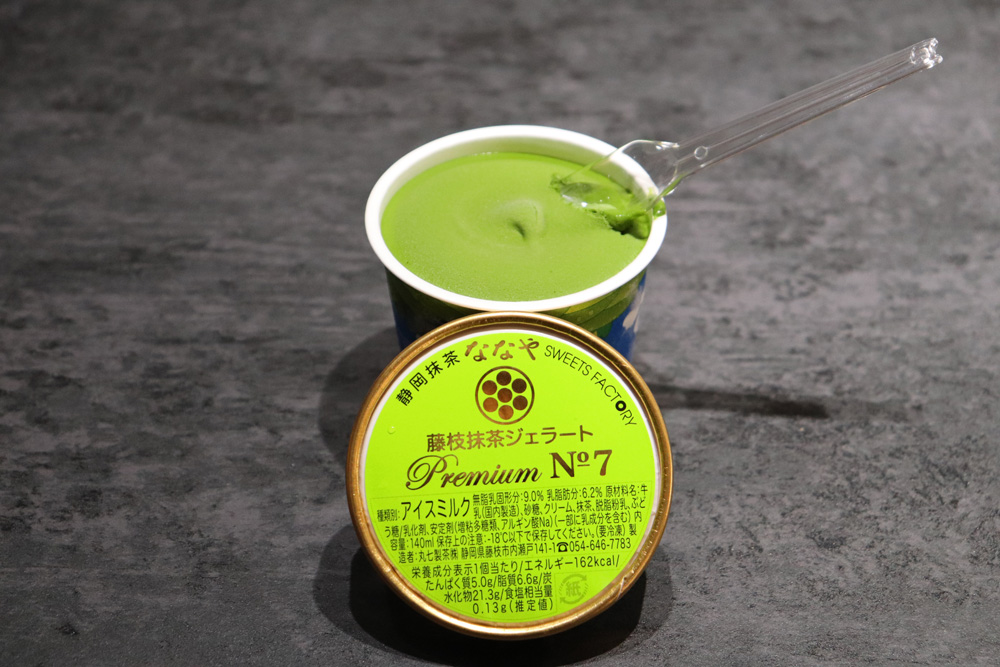 Marushichi Seicha's challenge – making Shizuoka matcha for the first time.
–Tell us about the first attempt to produce matcha in Shizuoka.
In 1988, Marushichi Seicha started to produce matcha in Shizuoka. Nowadays, matcha is commonly produced in Shizuoka, but at that time there was no matcha production technology in Shizuoka, and even when I went to Uji, Kyoto, nobody taught me anything about it.
I started making matcha without sufficient knowledge and made nothing but mistakes. Looking back on it now, it was a reckless challenge that I couldn't imagine daring to repeat.
I sought guidance from experts in various fields, learnt about tea garden management and spent a lot of money and effort to improve my skills.
Over time, Marushichi Seicha has developed a Shizuoka matcha product of quality, introducing state-of-the-art hygiene and food production technology in addition to the traditional methods of the past, that is recognized and loved by the public.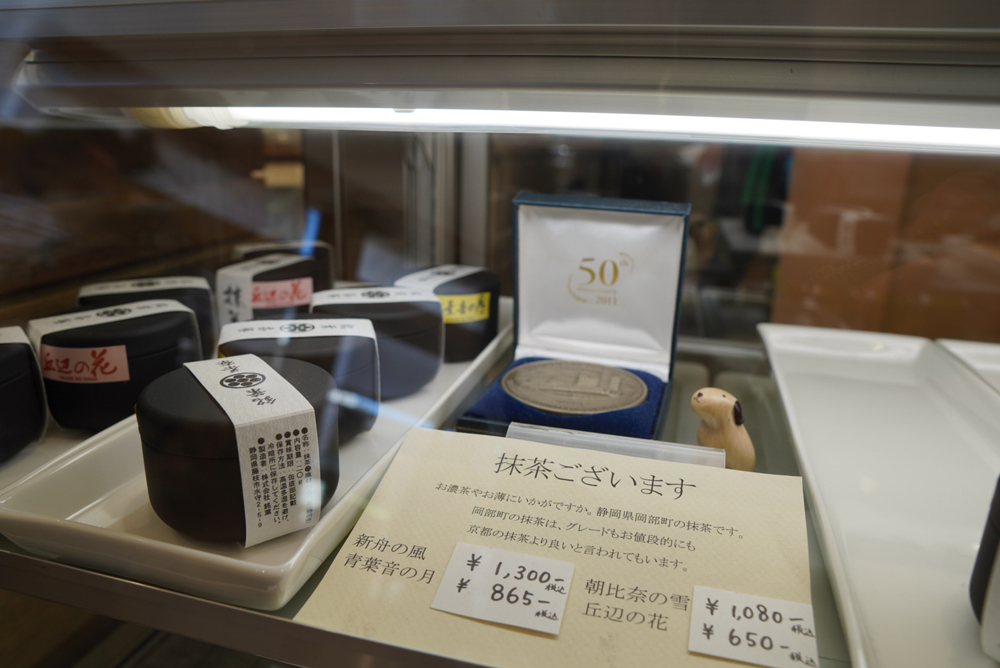 At one point, Marushichi Seicha's Shizuoka Matcha was on the verge of a very big business deal proposed to market it on a large scale.
However, a top official in charge of the project decided to decline our proposal because we were not Uji matcha. The Shizuoka Matcha brand was not as well established as the Kyoto Uji Matcha brand, so it wasn't selected.
We faced a big obstacle: "No matter how good the quality of Shizuoka Matcha is, if you don't have a brand, it will never be chosen by the market".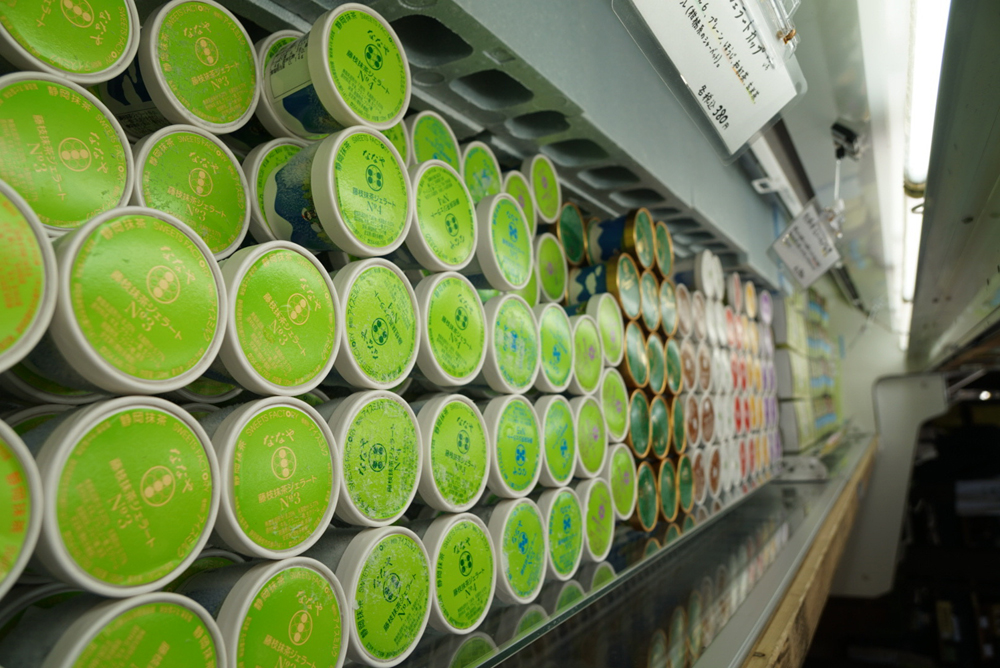 –It is true, when it comes to matcha, the Kyoto Uji name is huge. How did Marushichi Seicha establish the Shizuoka Matcha brand?
The first thing we did was to make people in our home town of Fujieda-Okabe aware of Shizuoka Matcha. We created and promoted sweets such as roll cakes, gelato and puddings that utilised the colour and flavour of Shizuoka matcha.
We also worked with local children to promote it, for example by holding a Shizuoka Matcha painting competition. These steady, community-based activities helped to establish the Shizuoka matcha brand.
How Nanaya's World's Richest Matcha Gelato is made
–Please tell us the story behind Nanaya's World's Richest Matcha Gelato.
The most important thing in making rich matcha gelato is to use matcha of good quality. Only when the matcha is carefully prepared and of good quality is it possible to create a soft, lingering aroma and bright green colour necessary for "Nanaya's World's Richest Matcha Gelato."
If the matcha is not of high quality, it will taste bitter and will be unpleasant to eat.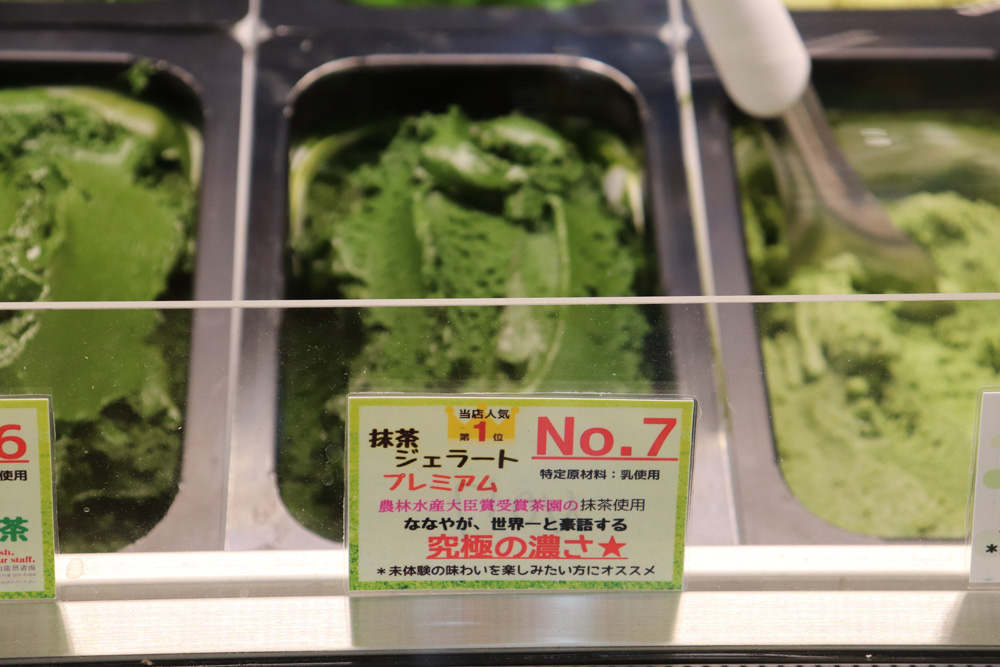 It took a lot of hard work, including repeated machine breakdowns to establish the production method, but the finished product, Nanaya's Matcha Gelato, is a great achievement, a world apart from the matcha ice cream that had been produced until then.
After the product was launched, it was well received by many people and began to gain popularity. Orders for matcha gelato began to come in again and again from confectionery manufacturers of all sizes. Products such as rich matcha beverages, sweets and ice-creams were sold one after another. I wondered if they were trying to imitate me.
–Weren't you worried about people copying you?
We are very particular about production, starting from the preparation of soil in the fields together with the farmers. We went through a huge amount of trial and error to arrive at our current production method. I believe that imitating only the top side of the process will eventually lead to a difference in price and quality, and the difference is obvious when you actually compare the two.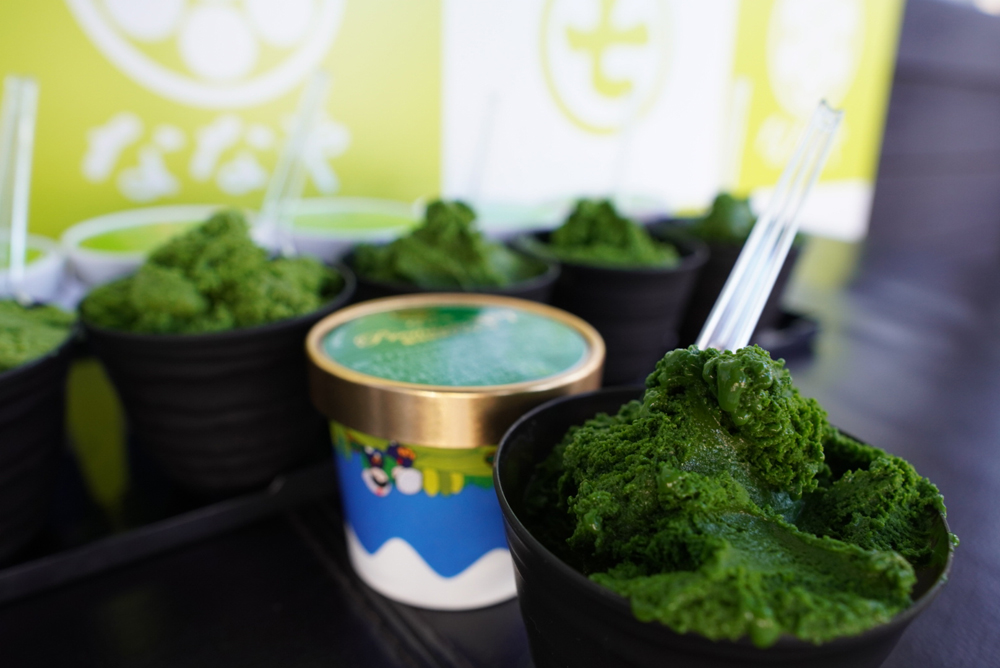 Nanaya's deluxe matcha chocolate, made with the utmost attention to raw materials.
–Tell us about Nanaya's matcha chocolate.
Most confectioners usually make matcha chocolate by mixing matcha with melted chocolate, which contains additives such as lecithin and flavourings such as vanilla.
However, in order to create Marushichi Seicha's aim of the "chocolate with the supreme flavour of tea" it was necessary to use chocolate with a high degree of purity, free from any flavourings or additives.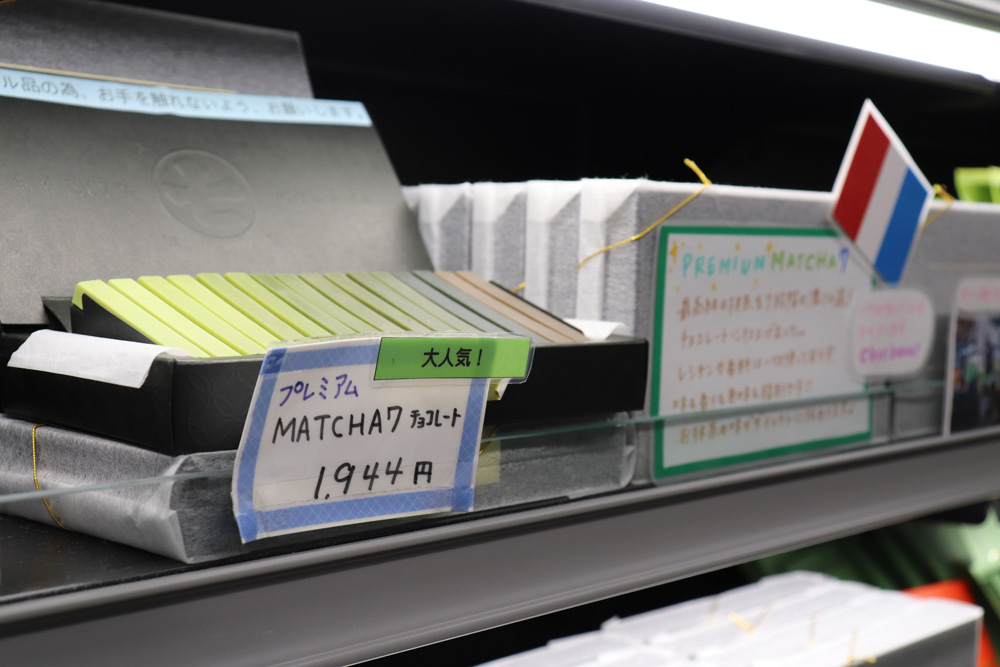 We searched high and low, but could not find a satisfactory raw material. In the end, we had to go to cocoa plantations abroad and experience the entire chocolate production process, including harvesting, fermentation and drying, to discover the skills necessary to make the ideal matcha chocolate.
It took four years of trial and error to work back to the first stages of the raw materials – cocoa butter, sugar and a small number of dairy ingredients. Finally, Nanaya's Premium MATCHA7 was completed.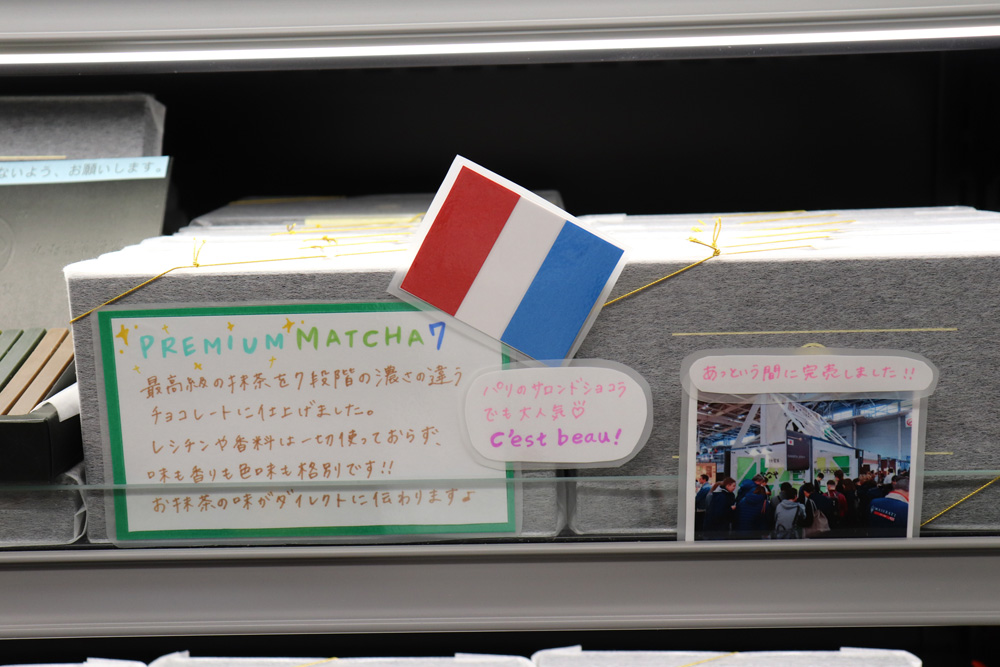 –Handling cacao, for example, is a completely different field from tea. What difficulties did you face?
It started with the crushing of large pieces of the raw material for cocoa butter. It was unfamiliar work, but I gradually got the hang of it. It was more like carpentry than patissier work (laughs).
At first, a custom-made machine was installed in the Fujieda flagship store to make Nanaya's Premium MATCHA7, but after sales began, the product quickly became so popular that production could not keep up. In order to set up a new production line, the manufacturing site was moved to a larger space in a factory in the Chocolate Village in Makinohara.
Nanaya's Fujieda Matcha Roll Cake, made with two types of matcha tea
–Tell us about the matcha roll cake.
The Fujieda Matcha Roll Cake uses two different qualities of matcha tea for the outer sponge and the cream inside the cake.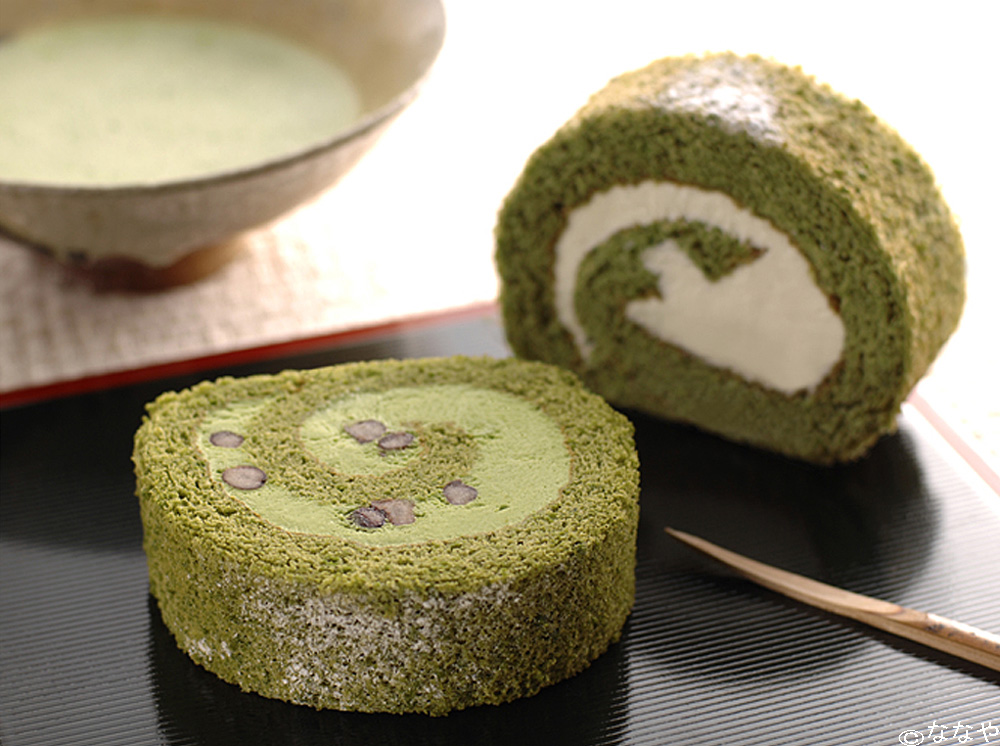 The sponge is baked and cooked, so a strong matcha tea with strong colour and aroma is used. The cream part is not cooked, so a matcha of a higher grade is used, finer than that of the sponge.
All of the matcha used is high-grade stone-ground matcha used for Japanese tea ceremonies. The pastry is made by patissiers in a workshop on the shop premises.
Nanaya's bottled tea is specially extracted and manufactured in the company's own factory.
–Tell us about your bottled tea?
Marushichi Seicha has named its bottled tea "Craft Brew Tea" and has devised its own production method and set up its own facilities. We are constantly improving our production process through trial and error, making use of our unique experience and know-how as a teahouse, not something that conventional manufacturers have access to.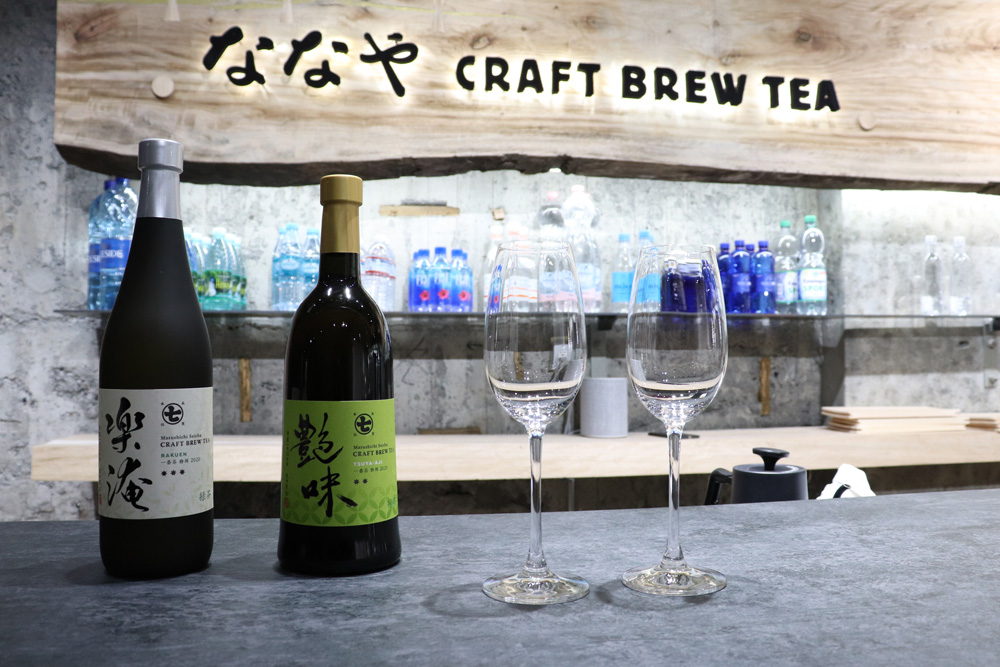 We consider the individuality of the tea leaves in each region as a rhythm or melody, and blend the tea leaves as if we were composing a musical composition. However, even if we have created the best blend, the taste will differ depending on the water quality and brewing method in a teapot. The fun in bottled tea is that you can enjoy the same taste all over the world, anytime, anywhere, just like a recording.
With "Craft Brew Tea", we want to create delicious Japanese tea like never before and introduce it to the world. (You can compare the teas at the Fujinokuni Tea Museum).
Nanaya's role as an ambassador passing on good Japanese food culture to the next generation
Japanese food culture has changed a lot in the last few years. We eat bread instead of rice. We drink coffee instead of tea. In some cases, miso is not even used in miso soup. If things continue as they are, Japan's food culture and producers will fall into disrepair. We believe that we should make sure that what we can pass on to the next generation is passed on.
As Japanese food spreads, so will the spread of healthy tea.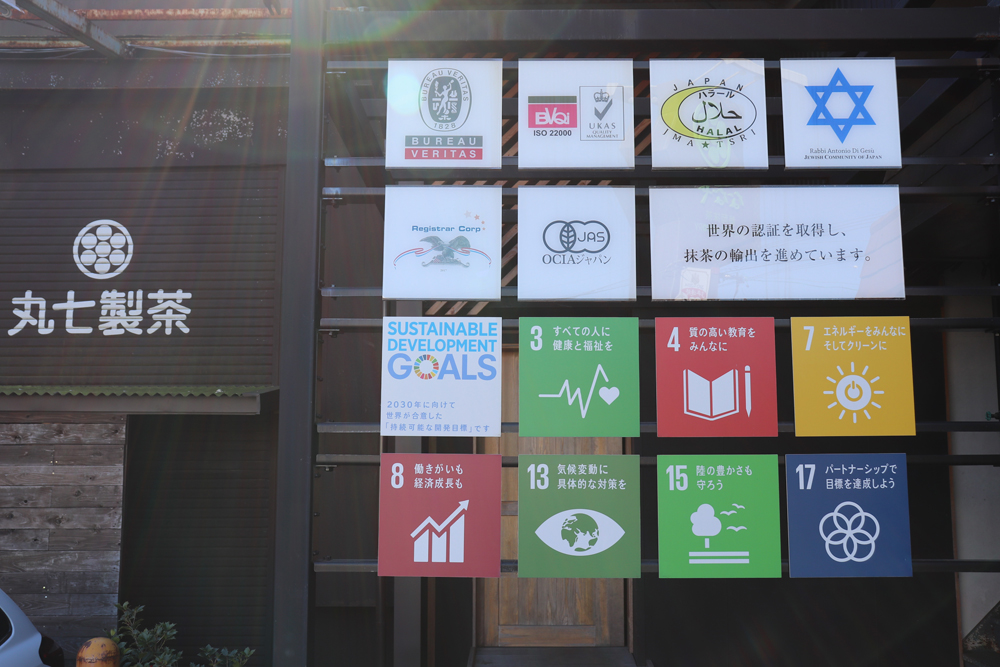 ▲Marushichi Tea was one of the first Japanese companies to obtain overseas certifications such as Halal, Kosher and Rainforest Alliance.It has been focusing on exports for the past 15 years.
Some time ago, a British broadcaster came to cover Japanese food culture. Compared to people overseas, Japanese people tend to be healthier, live longer, and be younger than they look. They were covering Japanese food culture, such as natto, miso and nori, with the aim of finding out the secret.
They covered a wide range of areas, including Ibaraki for natto and Nagoya and Aichi for miso. They travelled to a plantation deep in the mountains of Fujieda to cover matcha tea, and they came to our shop.
–I see, even people overseas know that we have good things here in Japan.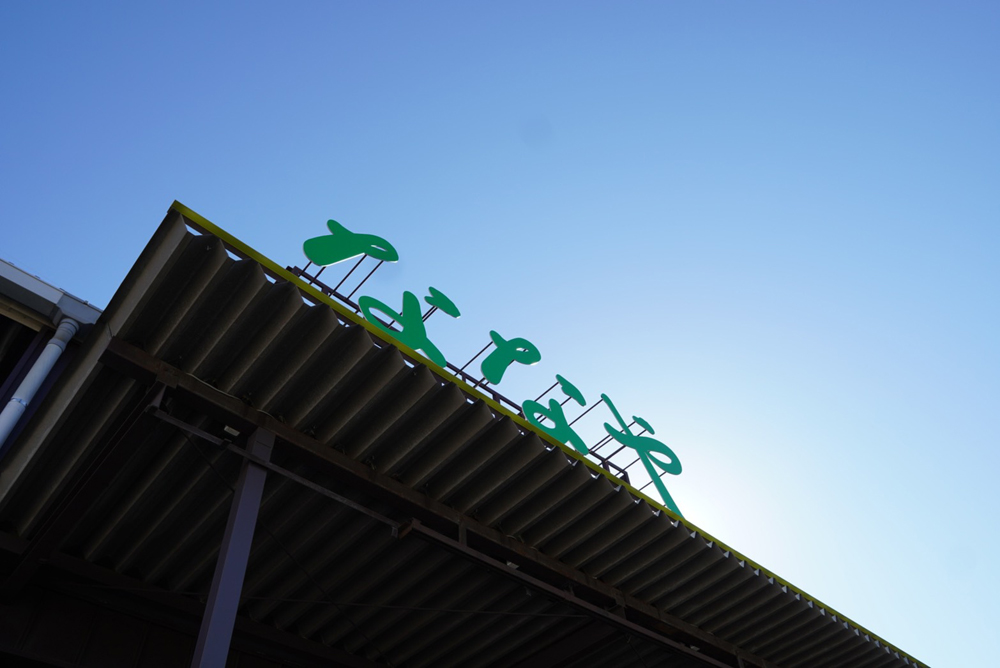 Our mission is to convey the benefits of tea to the world. Although it is true that tea should be brewed in a kyusu (teapot), many people don't own a kyusu nowadays. To promote tea in such a climate, we need to
Leaf
Teabag
Sweets
Bottled tea
We must approach people from the angle of 'eating' and 'drinking'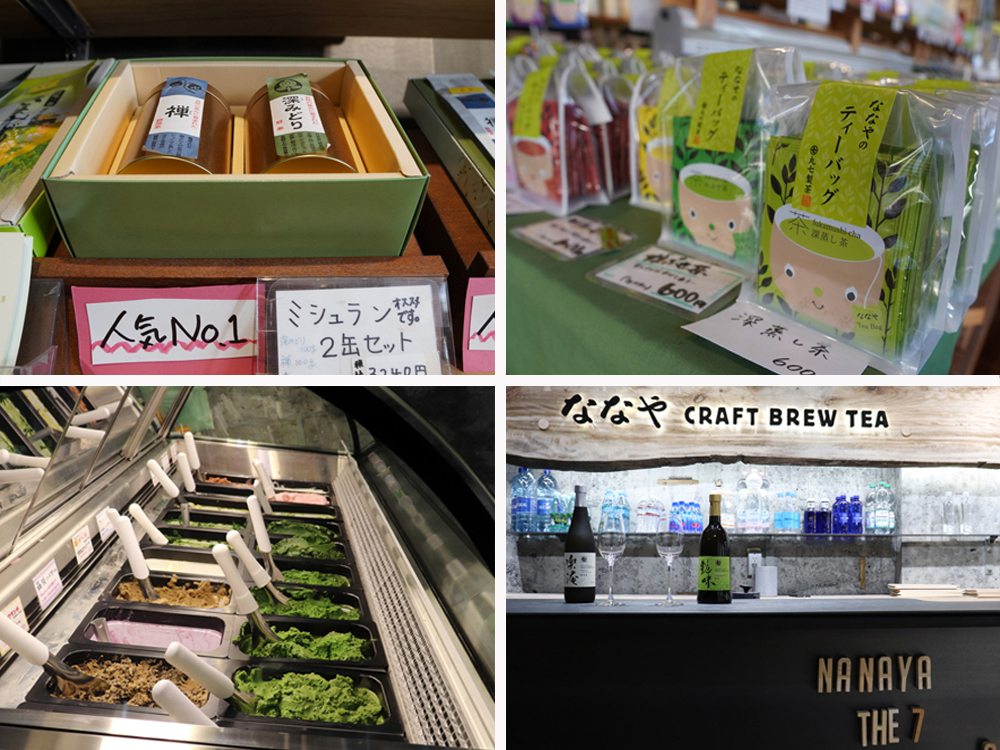 When people come from abroad, the shops in Aoyama, Tokyo, Sanjo, Kyoto and Shizuoka will become a conduit from where we can spread the news about the benefits of tea and Japanese food culture.
Japanese green tea is still a small presence on a global scale. I would like to convey the appeal of green tea to all tea lovers, both in Japan and abroad, so that they will love to drink it!
Fujieda Nanaya: Information, how to purchase
Address
426-0076 Shizuoka Prefecture, Fujieda City, Uchiseto 141-1
Website
www.nanaya-matcha.com
Phone number
054-646-7783
E-money and credit cards: Available
QR code payment
Available
Open
10:00~18:00
Closed
Wednesdays (Open on Bank holidays)
Parking lot
Available
Access
10 minutes by car from JR Fujieda station.
Nanaya Shizuoka Gofukucho Store

: Information, how to purchase
Address
Shizuoka Prefecture, Shizuoka City, Aoi-ku, Gofukucho 2-5-12
Phone number
054-251-7783
E-money and credit cards: Available
QR code payment
Available
Open
10:00~18:00
Closed
Wednesdays (Open on Bank holidays)
Parking lot
Available
Access
10 minutes walk from JR Shizuoka station.
| | |
| --- | --- |
| Writer | Norikazu Iwamoto |
| Career | Ochatimes chief editer.Meeting with Vice Governor of Shizuoka prefecture. Judge of Fuji country 100 tea's award in 2021,2022.Ocha Times link introduced at website of World O-CHA(Tea) Festival 2022, Tea Science Center and Ministry of Agriculture, Forestry and Fisheries. |
| | |
| --- | --- |
| English translator | Calfo Joshua |
| Career | Born and raised in England, living in Japan since 2016. Studying arboriculture in Shizuoka Prefecture whilst operating his landscape business Calfo Forestry. Appreciating the nature of Japan and the culture that places such importance in it. |
Related articles