Go to Japanese page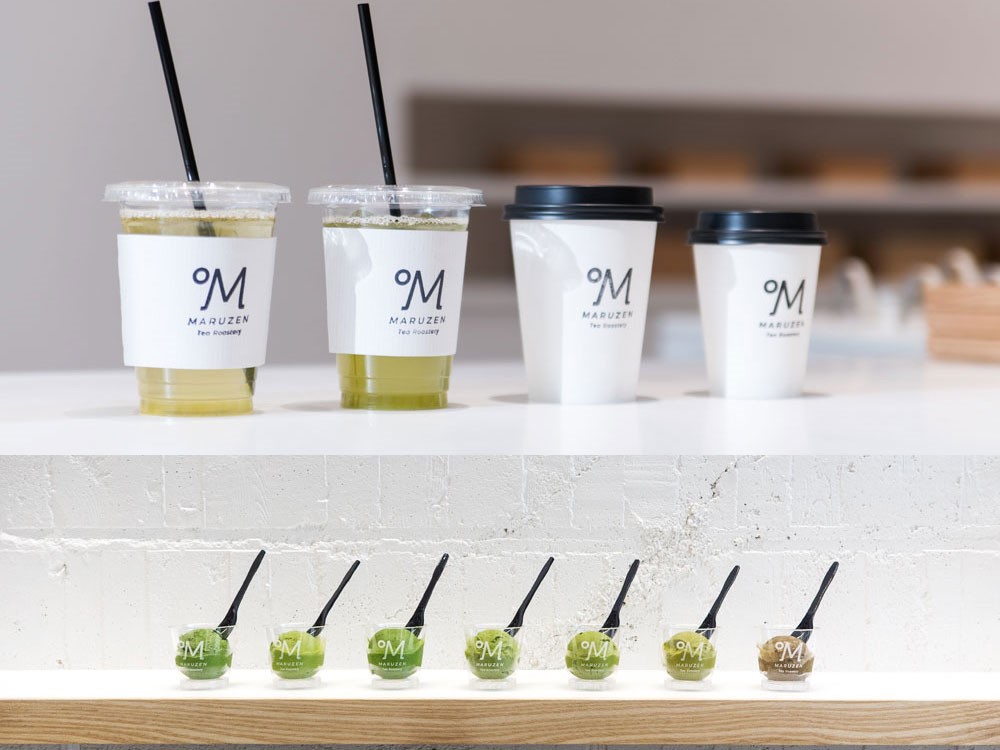 This article has 614characters.
A tea gelato cafe that offers hand-drip Japanese tea and has been designed by LUCY ALTER DESIGN, which runs a specialized tea shop called TOKYO SARYO.
With over 70 years of history, MARUZEN TEA Co., Ltd. (address: Mariko-Shinden, Suruga-ku, Shizuoka City, Shizuoka Prefecture) runs MARUZEN Tea Roastery, which opened in Jan 2018 in Gofukucho in Shizuoka Prefecture.
"°M" (degree Maruzen) is an original symbol that defines the roasting temperature at the MARUZEN Tea Roastery.

The store was designed by LUCY ALTER DESIGN, which has gained popularity for its stylish brand in Tokyo. The store's simple and fresh appearance with white as its base color, appears to be similar to that of TOKYO SARYO and SENCHADO TOKYO which are also designed by LUCY ALTER DESIGN.
MARUZEN Tea Roastery's service "you can select the roasting temperature" became its main topic.
The roasting temperature is the temperature when roasting Japanese tea.
The higher the temperature, the more fragrant it is,
and the lower the temperature, the fresher and lighter the taste is.
Selecting Japanese tea based on the roasting temperature range is the new way of enjoying the tea offered at the store.
There is a tea-roasting studio inside the store where you can enjoy the aroma coming from the freshly micro-roasted tea brewed at different temperatures and served on the spot.
Only the tea from the first harvest of the year from Shizuoka is used.
Because the tea is roasted in front of you upon ordering,
you will have a rich tea-experience of seeing, smelling, and savoring fresh tea.
↓Tea leaves samples separated depending on the roasting temperature.

You can choose your favorite roasting temperature for tea and tea gelato.
There are five types of roasting temperatures in the tea menu: 80℃, 100℃, 130℃, 160℃, and 200℃.
There are many types of tea with different optimized roasting temperatures:
80℃ for Gyokuro (premium shaded-grown green tea),
which is rich in umami and sweetness.
100-160℃ for fragrant Sencha and Hojicha,
and 200℃ for dark-roasted Hojicha, which is at the point of burning.
Each tea tastes distinctively different.
There are eight tea gelatos on the menu, including two types of non-roasted tea (0°M).

Aside from tea gelatos, seasonal gelatos are also served.
Tea gelatos are also sold as gift boxes. Shaved ice flavored with tea (Kakigori) is served during the summer as well.
Each cup of hand drip tea is carefully brewed.You can see how hand drip tea is made from outside the store.
In addition to Gyokuro, you can also choose Asamushi (light-steamed Sencha green tea with a fresh aroma) and Fukamushi(deep-steamed Sencha green tea with a unique and astringency taste), which are from Ryogochi in Shimizu-ku and Morimachi Enshu, respectively. It is also possible to choose HOT or ICE tea.

Tea leaves and snacks for drinking tea are also sold at the counter on the first floor.
MARUZEN Tea Roastery's gelatos are also sold at SENCHADO TOKYO (produced by LUCY ALT DESIGN), while SENCHADO TOKYO's dried fruits Yokan can be purchased at MARUZEN Tea Roastery.

There is a cafe on the 2nd floor.

↓Mini-triple set
Summer Menu shaved ice
I had a great tea experience enjoying a warm Sencha and three different tea flavor gelatos.
In order to taste very unique teas and gelatos, many customers visit the store from outside the prefecture and overseas by getting information via social media such as Instagram.
About MARUZEN Tea Roastery / How to Purchase
Address
2-2-5, Gofukucho, Shizuoka City, Shizuoka Prefecture, 420-0031, Japan
Website
http://www.maruzentearoastery.com/
↑the store's website

https://maruzentea.theshop.jp/


↑ You can purchase products via this online store as well.
Phone number
+81 54 204 1737
E-money and credit cards
Available
Open
11:00 to 19:00
Closed
Tuesdays
Parking lot
Unavailable but there are paid parking lots adjacent to the store.
Access
By train
8-minute walk from JR Shizuoka station
Related articles