The World of Tea Changes with Roasting Temperature at MARUZEN Tea Roastery 【Shizuoka City, Shizuoka Prefecture】

Go to Japanese page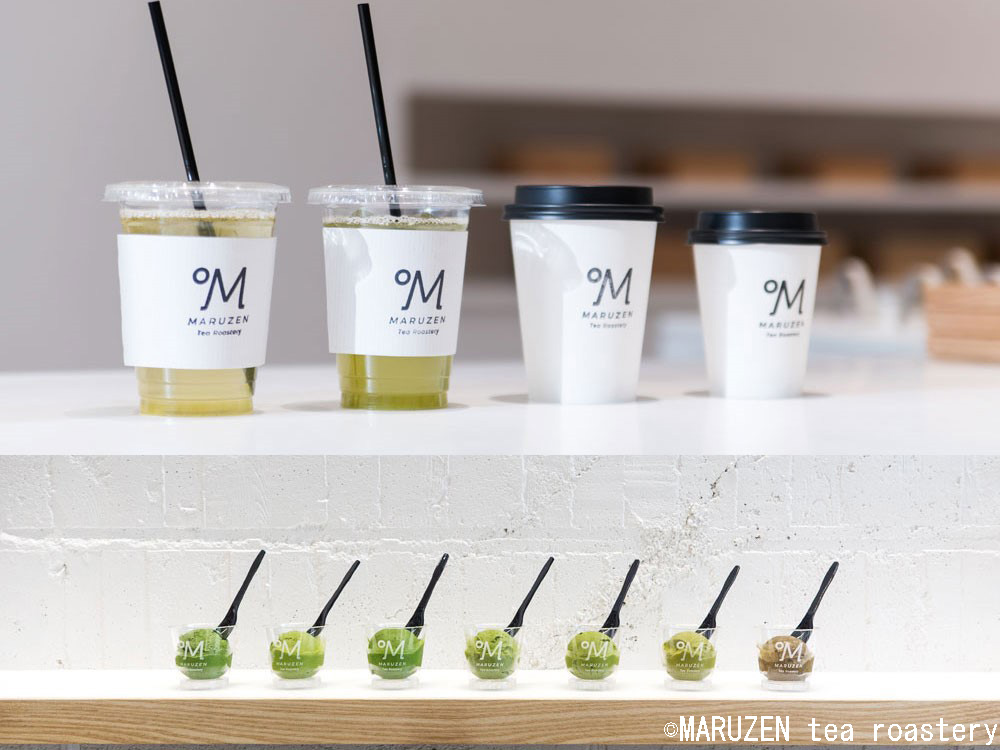 Gofukucho shopping street in the center of Shizuoka City, Shizuoka Prefecture, is a fierce battleground for tea shops, with many tea stores lining the street. This time we visited MARUZEN Tea Roastery, a stylish modern tea café on Gofukucho-street. The café has been attracting attention as a place where visitors can experience a change in flavor depending on the roasting temperature of the tea in drinks and tea gelato.
This article describes the interior of MARUZEN Tea Roastery and the appeal of the café menu.
About MARUZEN Tea Roastery
MARUZEN Tea Roastery is a tea cafe that opened in January 2018 in Gofukucho, Shizuoka City. It is operated by Maruzen Tea, a long-established tea wholesaler that has been in business for over 70 years.
The simple, clean, white exterior of the shop stands out among the many tea shops lining Gofukucho Street.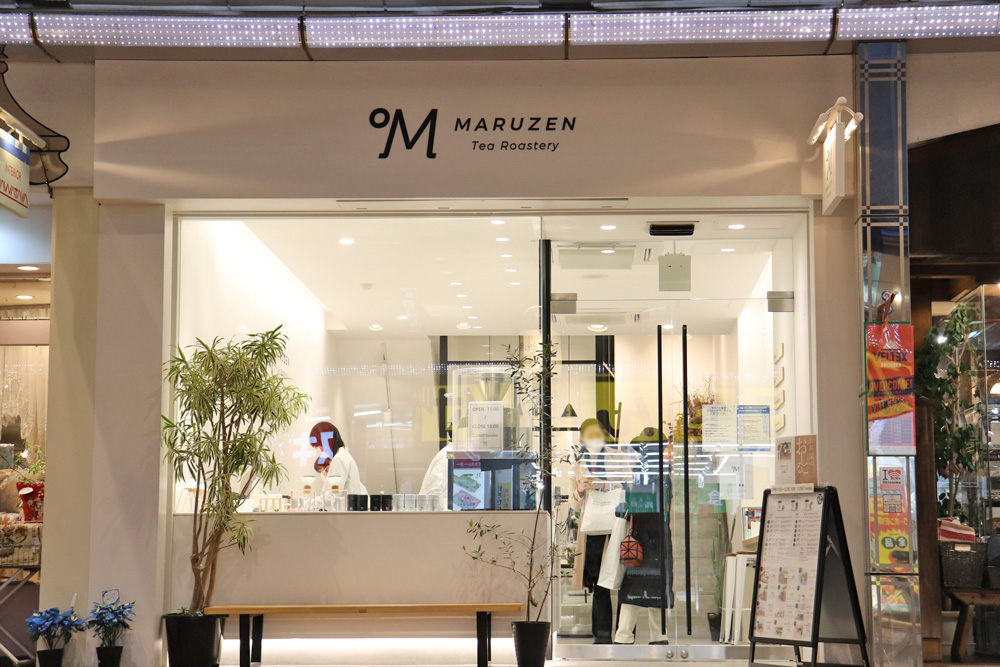 The store is designed and produced by LUCY ALTER DESIGN, a brand popular mainly in Tokyo for its stylish design.
In addition to MARUZEN Tea Roastery, LUCY ALTER DESIGN also produces Tokyo Saryo, the world's first store specializing in hand-drip Japanese tea, and Senchado Tokyo, which specializes in single-origin teas.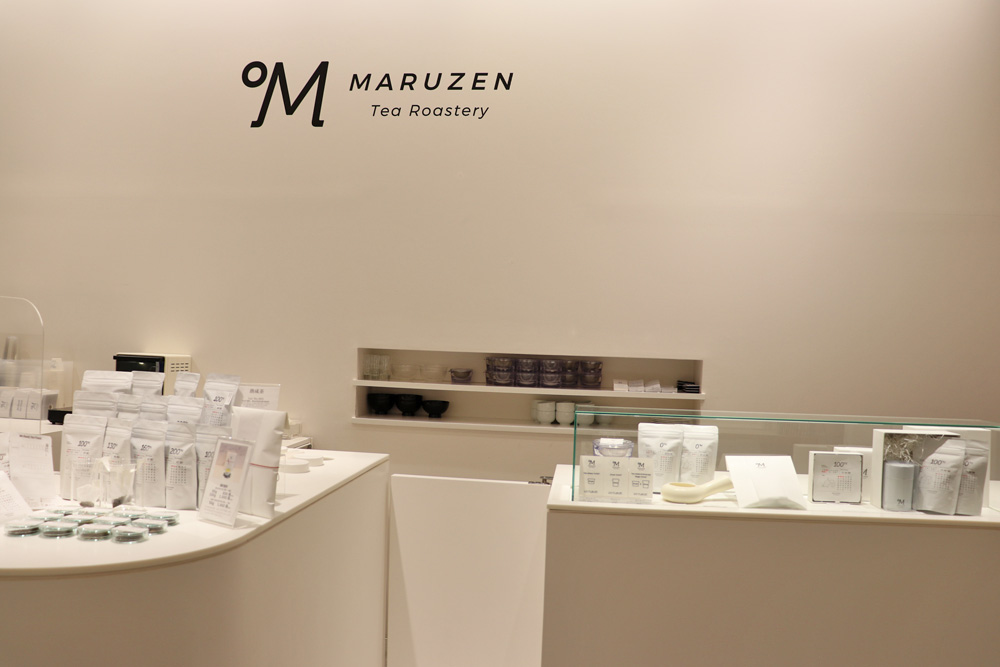 ▲The logo "°M (Degree Marzen)" symbolize roasting temperature at Marzen Tea Roastery.
At the counter on the first floor, customers can order from the café menu as well as purchase loose leaf tea and tea cakes.
The counter is also lined with Senchado Tokyo products, and Senchado Tokyo also carries MARUZEN Tea Roastery products.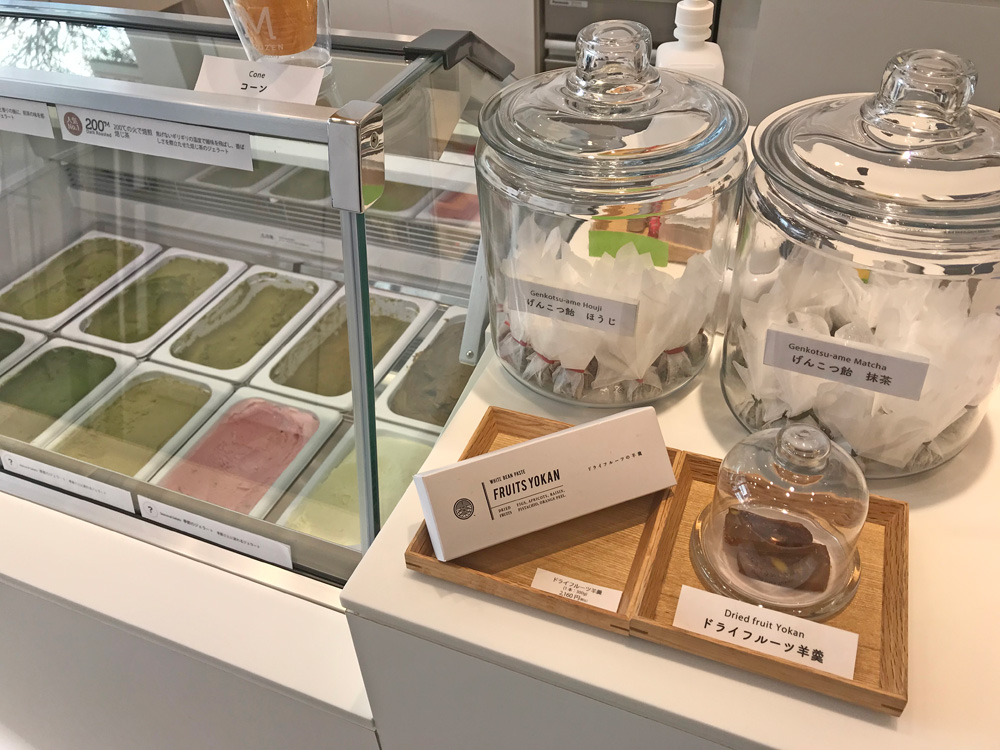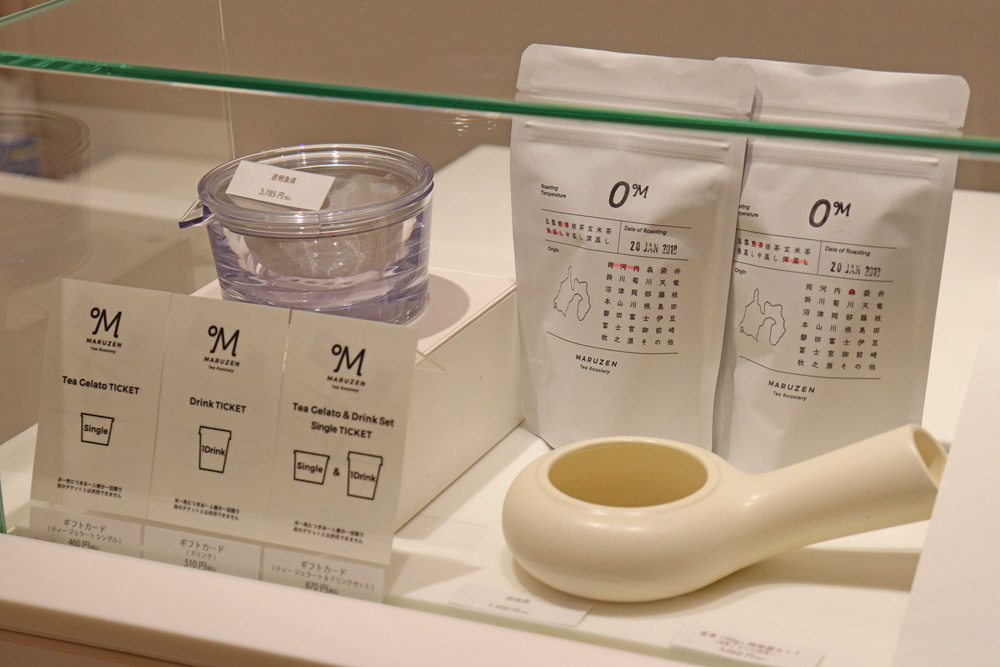 ▲The transparent teapot produced by Senchado Tokyo is a popular item that has sold over 30,000 units.
The second floor is a café space with electrical outlets and WIFI.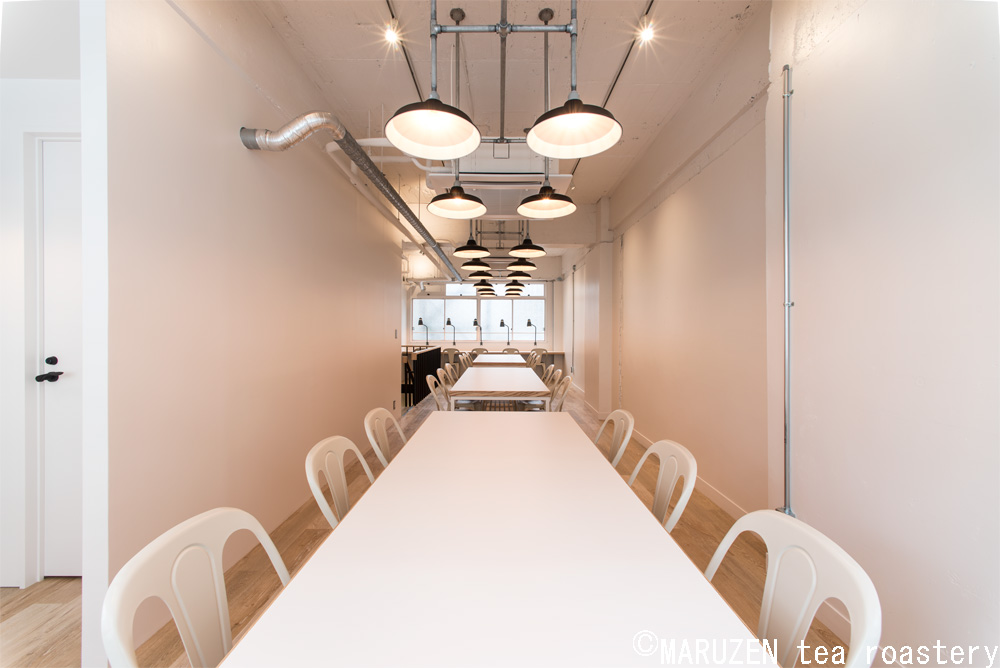 New proposal: "Enjoy tea at different roasting temperatures"
MARUZEN Tea Roastery's experiment is a new way to enjoy tea giving the customer the opportunity to select teas based on roasting temperature range.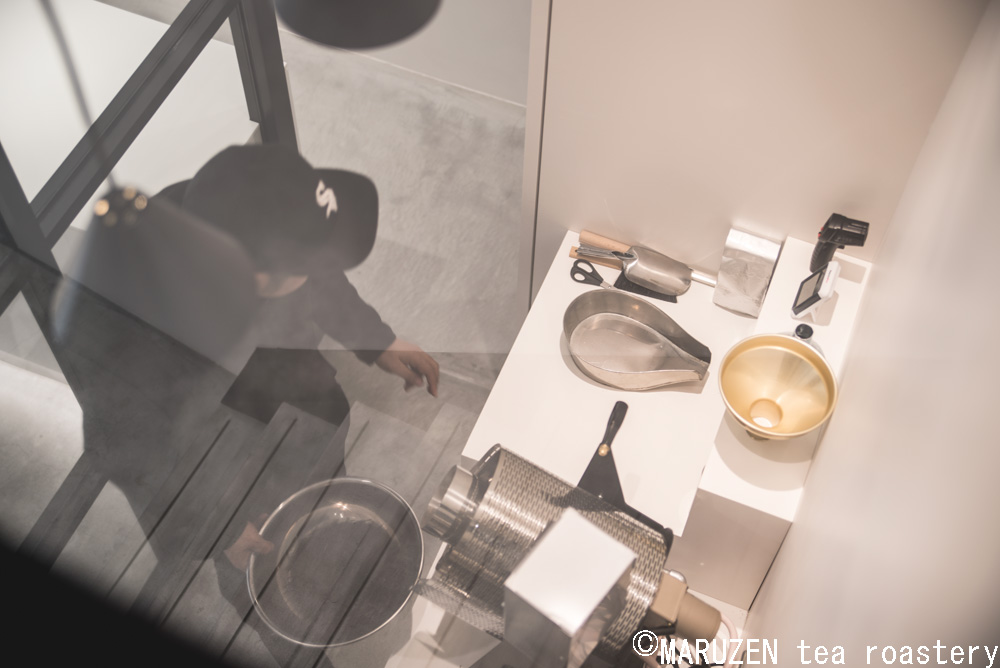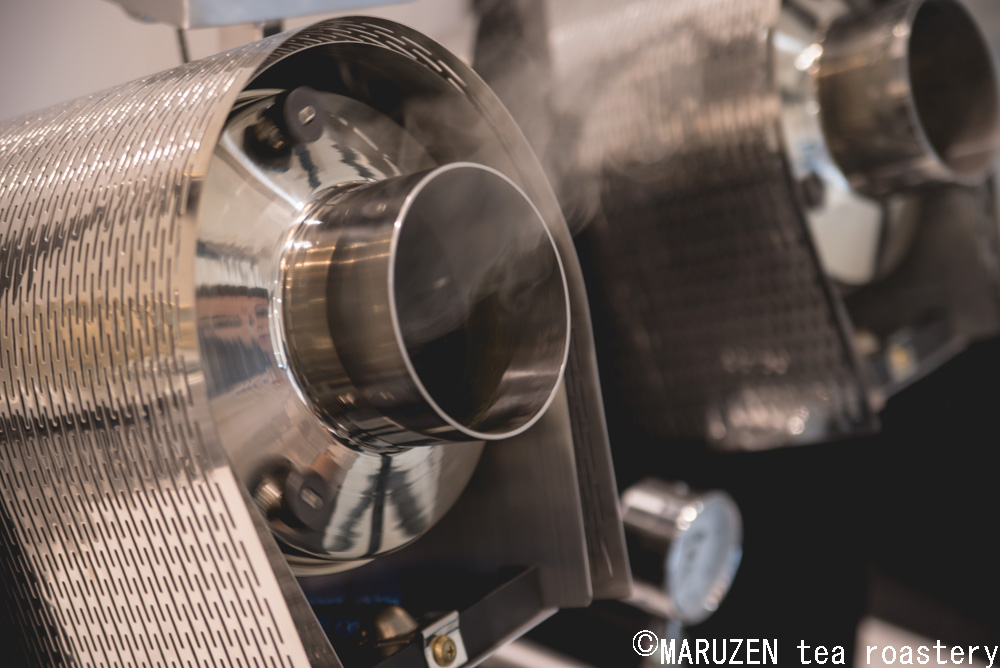 Roasting temperature refers to the temperature at which tea is roasted. The lower the temperature, the fresher and lighter the flavor, and the higher the temperature, the more savory the flavor.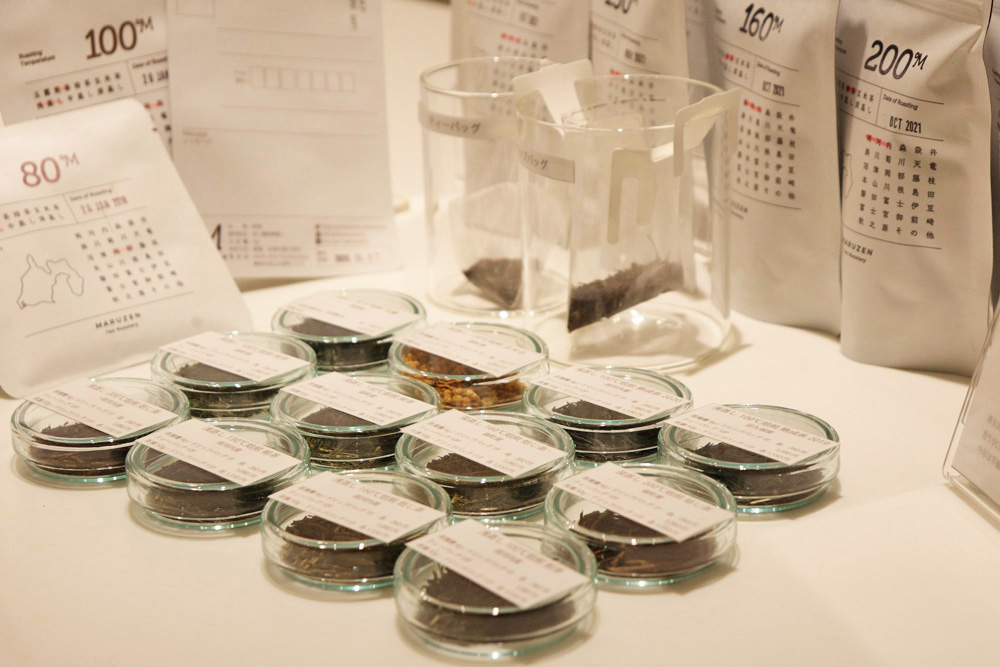 ▲There are seven temperature ranges to choose from: 0℃, 80℃, 100℃, 130℃, 160℃, and 200℃. Samples of tea leaves are also on display, making it easy to see the changes.
At MARUZEN Tea Roastery, tea leaves are roasted (micro-roasted) in small quantities at different temperature zones in the roasting studio located inside the store. The tea is then carefully hand drip brewed for a fresh and aromatic flavor.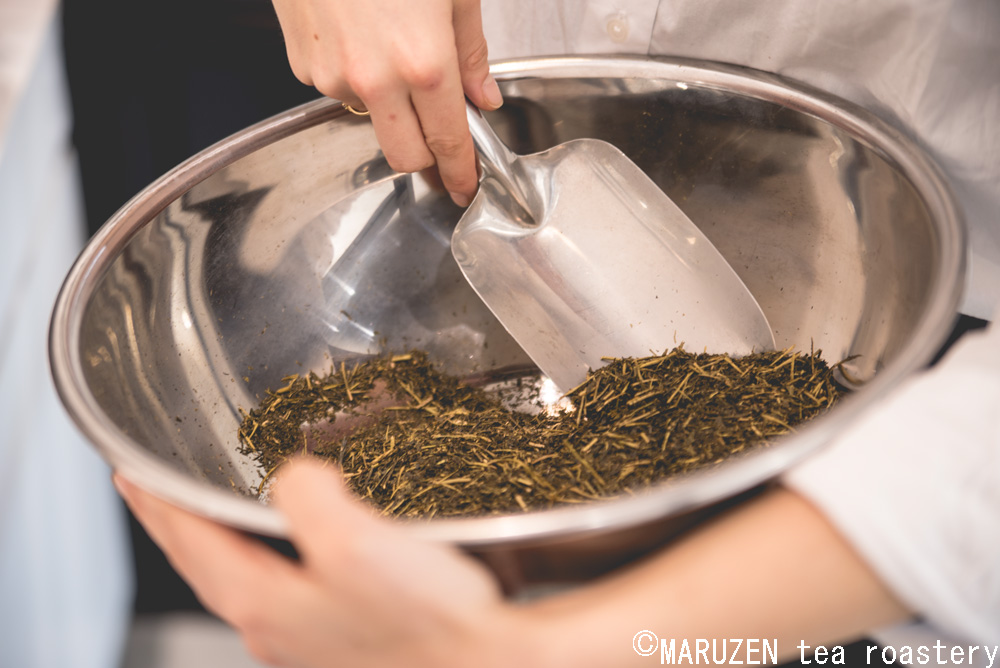 ▲The tea leaves used are the highest grade produced in Shizuoka Prefecture.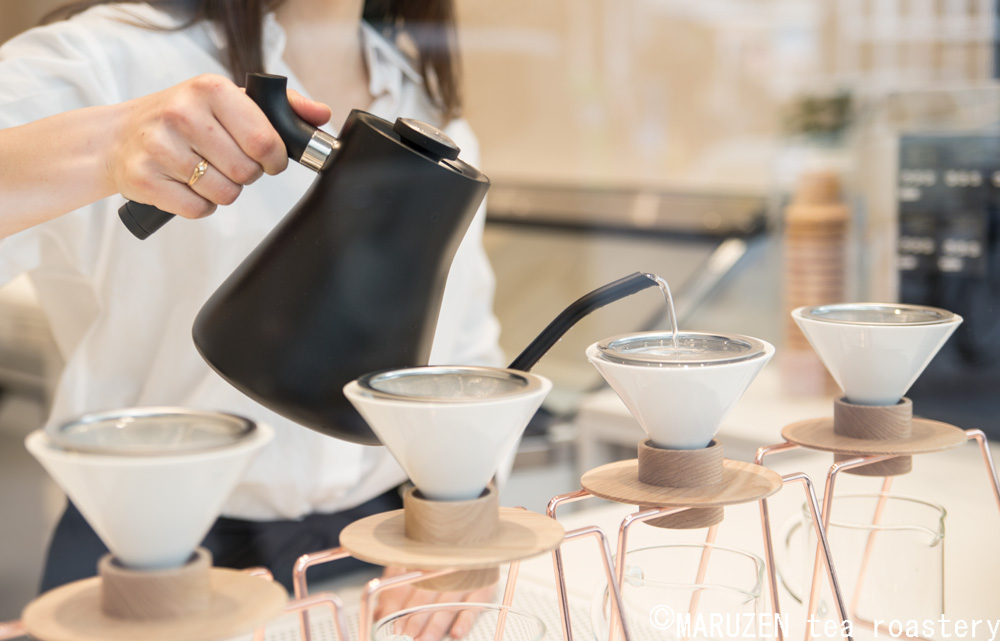 ▲You can watch through the glass from outside the store as each cup of tea is hand-dripped.
MARUZEN Tea Roastery has been attracting attention as a place to "see, smell, and taste" tea experiences like this, and even famous Youtubers from overseas have visited.
Introduction of MARUZEN Tea Roastery's Cafe Menu
MARUZEN Tea Roastery offers carefully hand-drip brewed teas and tea gelato with the aroma of tea locked in each cup.
Here is a small introduction to MARUZEN Tea Roastery's café menu.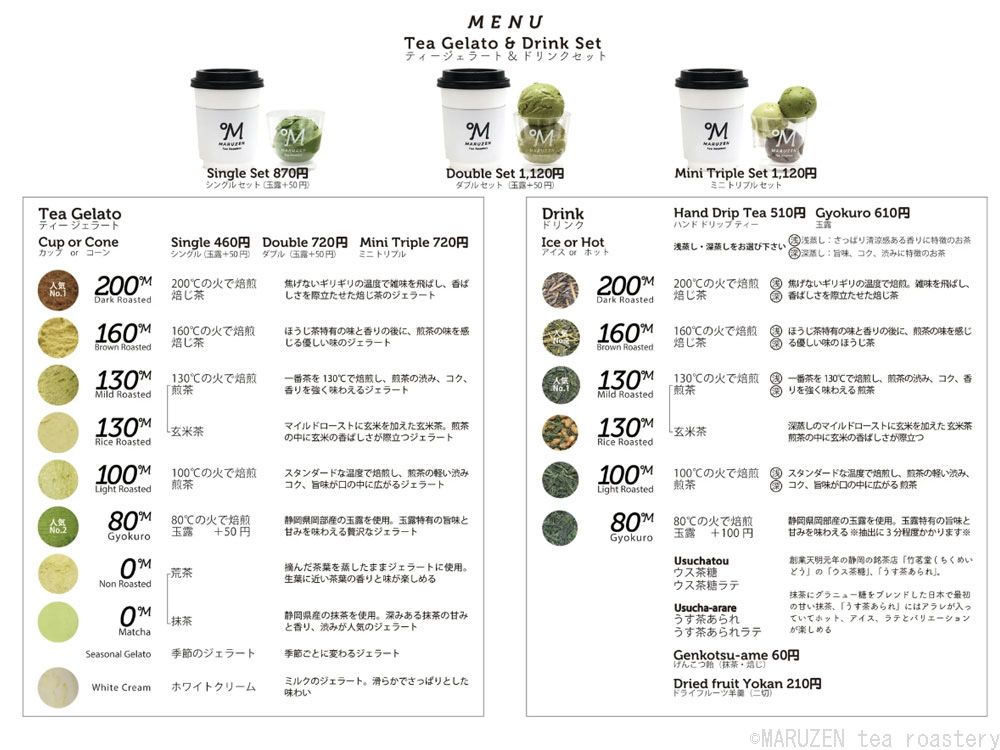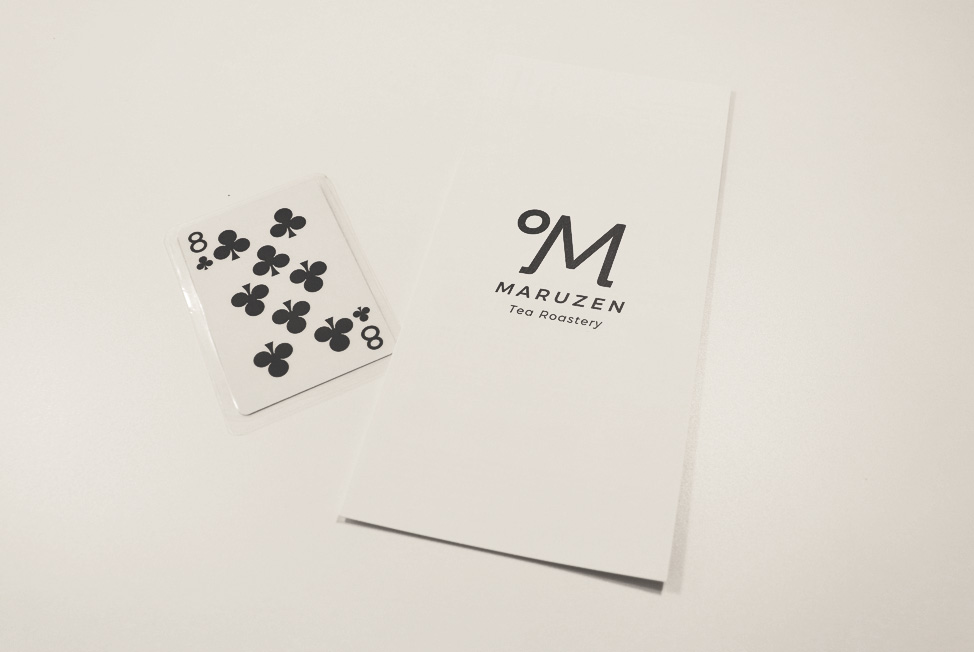 ▲Wait at the counter with a playing card, which you are given when you place your order.
Hand drip tea by roasting temperature
Green tea leaves are roasted in small quantities in the store's roasting studio and carefully hand-drip brewed one cup at a time. The tea leaves used are the highest grade from Shizuoka Prefecture.
There are six roasting temperatures to choose from.
The tea leaves are roasted at six different temperatures: gyokuro at 80°C for rich flavor and sweetness; sencha at 100°C for a full-bodied sweetness and astringency; hojicha at 160°C for a rich aroma; and dark roast hojicha at 200°C, the highest temperature, which almost burns the tea leaves.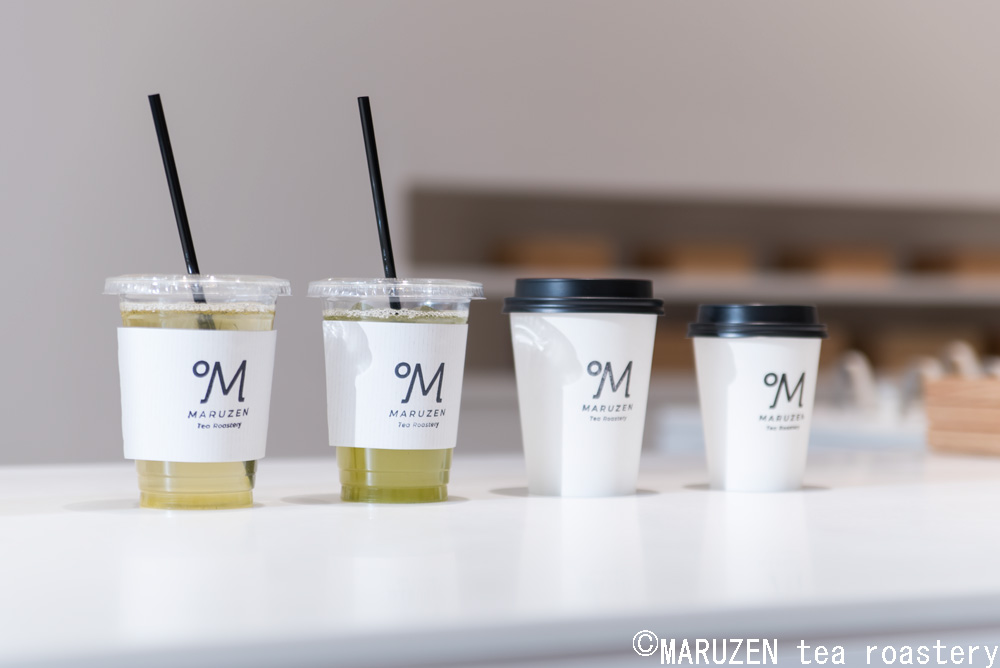 ▲Hot and iced is available. 
For Japanese teas other than gyokuro, you can choose from asamushicha (tea with a refreshing, cool aroma) produced in Ryokouchi, Shimizu-ku, or Fukamushicha (tea with distinctive flavor, richness, and astringency) produced in Enshu Morimachi.
Tea gelato by roasting temperature
Tea gelato can be selected from 6 different roasting temperatures: 0°C (non-roasted), 80°C, 100°C (light roasted), 130°C, 160°C, and 200°C (dark roasted).
The world's first attempt to offer a choice of tea gelato at different roasting temperatures: 0°C gives a fresh, lush taste, while 200°C gives a powerful aroma reminiscent of chocolate.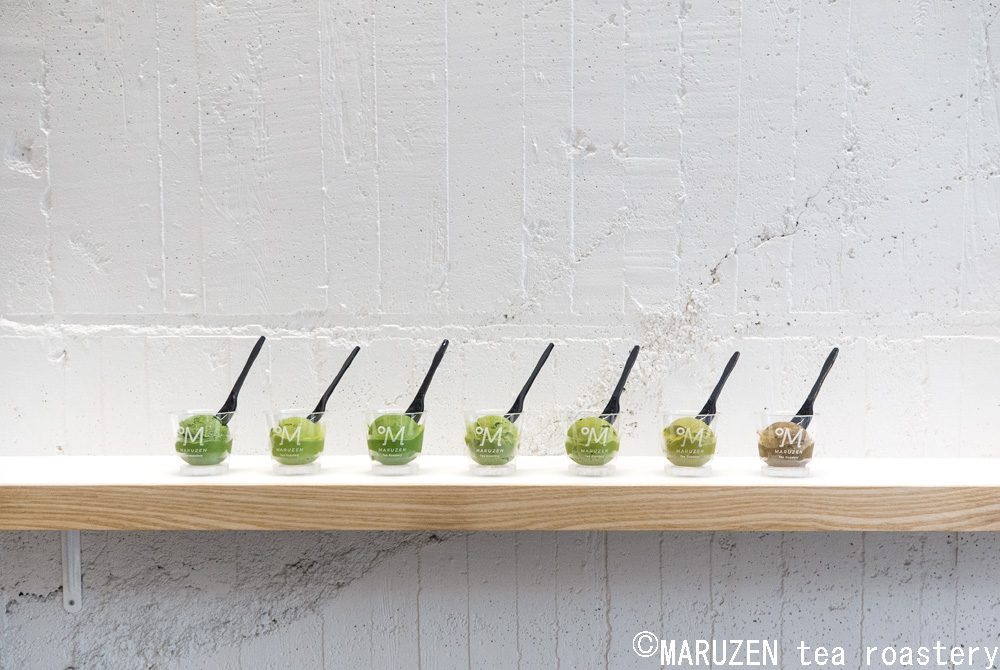 ▲At 0°C (non-roasted), you can choose between sencha and matcha.
Tea gelato made by a teahouse with great care changes not only the taste but also the texture on the tongue. There are new discoveries to be made with teas from every roasting temperature range.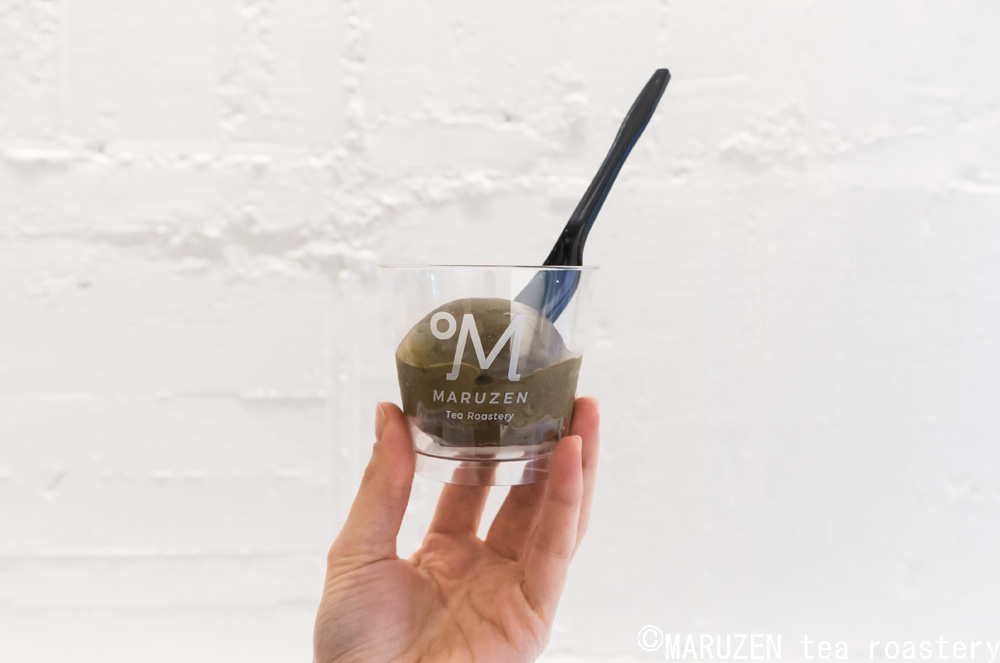 ▲Dark roasted tea gelato at 200°C
In addition to tea gelato, seasonal gelato is also available in gift boxes.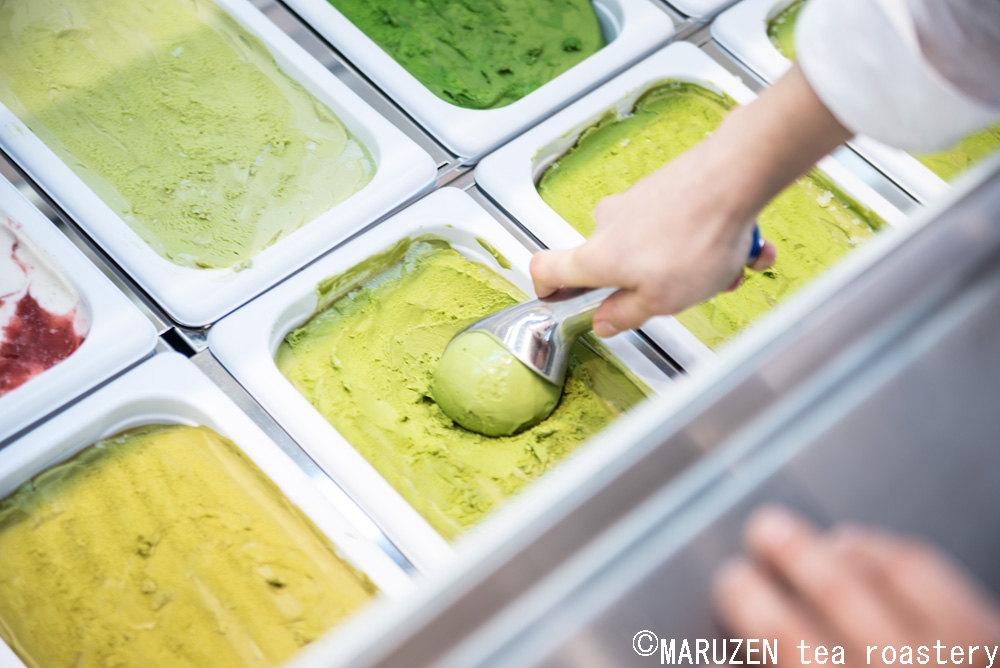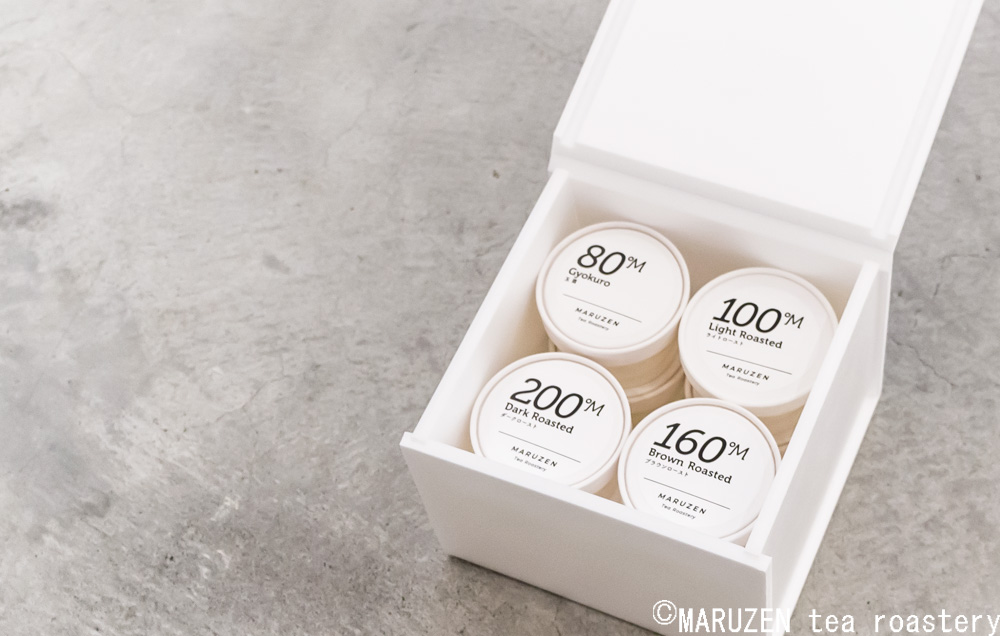 Single, double, and mini-triple sets are also available, where you can order a drink and gelato as a set. Enjoy taste pairing hand-drip tea and tea gelato.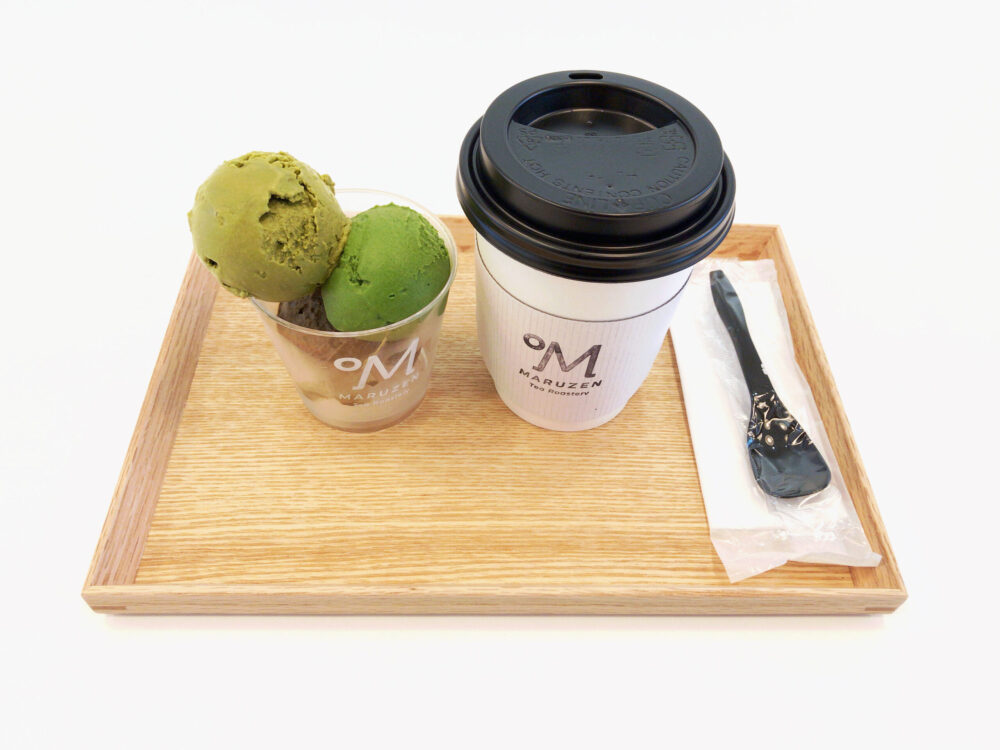 Tea affogado (drink set)
This is a sweet that only a tea maker can offer, in which the rich tea sauce and white cream gelato are well matched. The warm tea sauce is fun to drizzle over the cold gelato. The tea sauce is available in three types: sencha, genmaicha, and hojicha.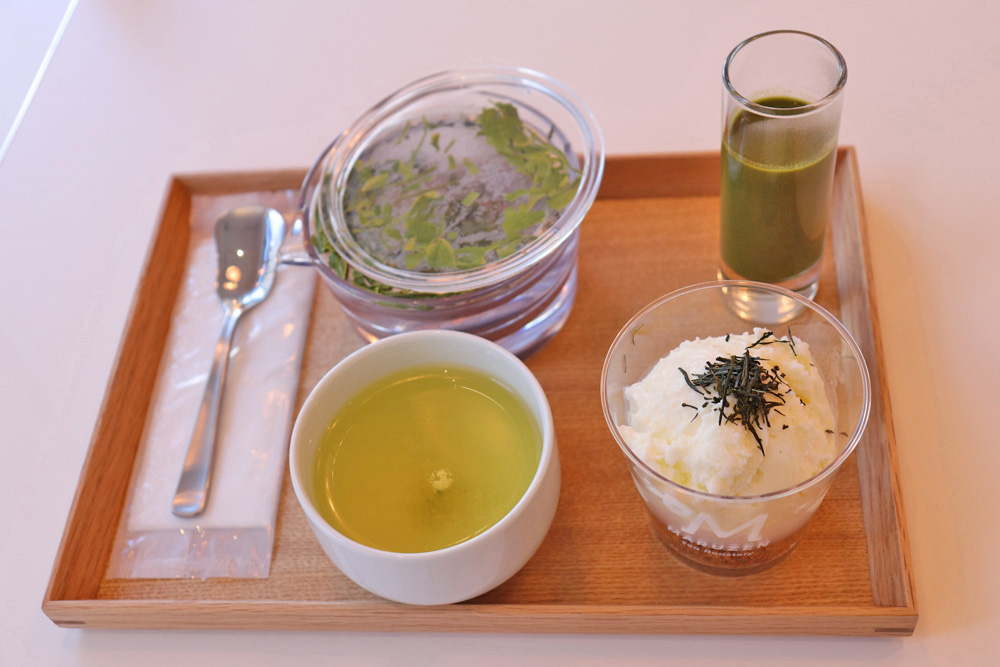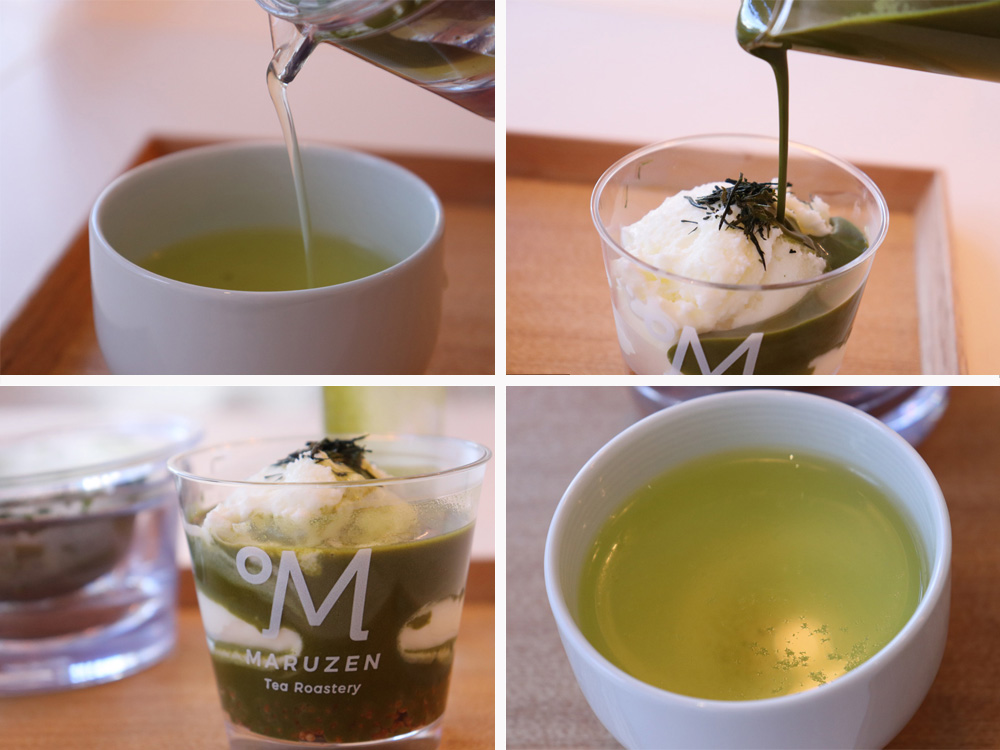 ▲Tea leaves sprinkled on the gelato.
A set of tea leaves brewed in a kyusu (Japanese teapot) for comparison
The set includes a brewing recipe, a timer, a pot of hot water, and sweetened tea. This hands-on drinking set makes it easy for anyone to enjoy the taste of teas brewed in a kyusu.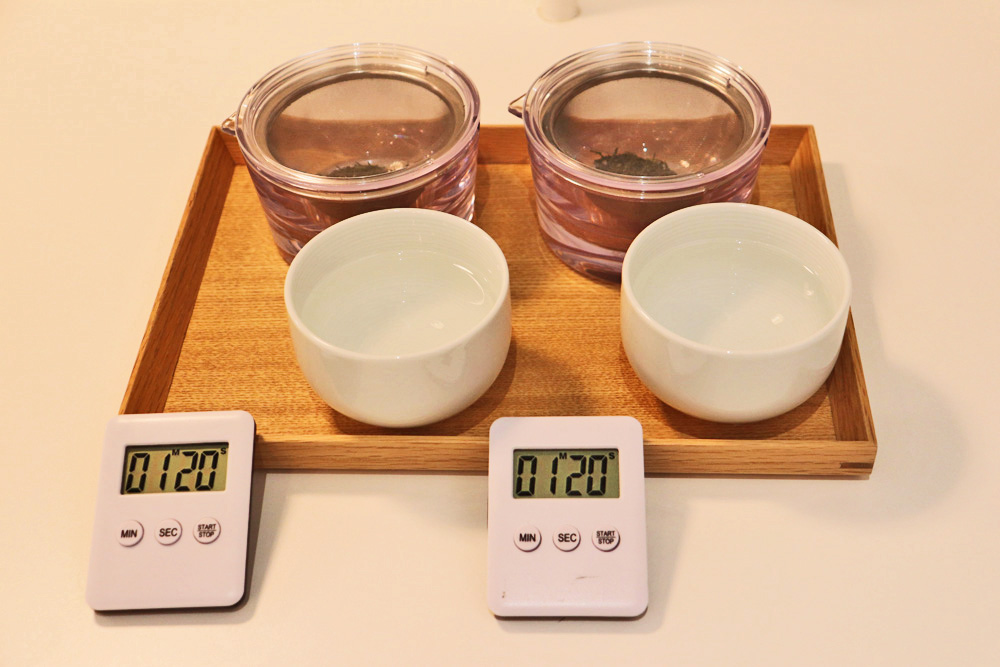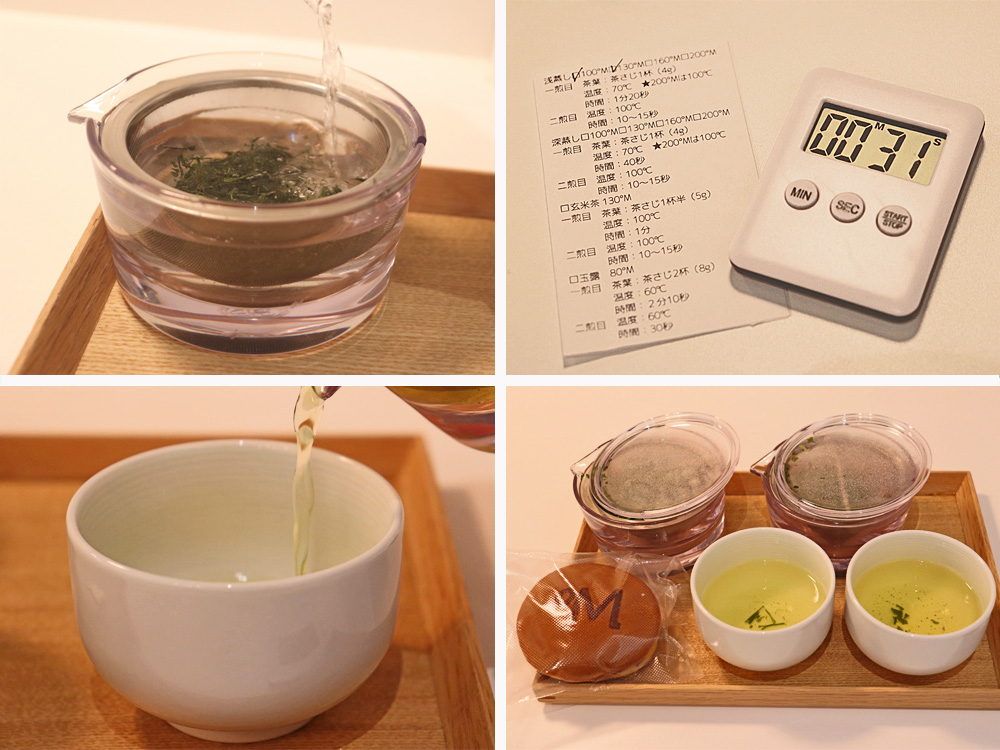 Tea Syrups and Kakigori – Summer Only!
A summer-only menu featuring three types of tea syrups at different roasting temperatures, served over fluffy shaved ice with mini gelato.
The experience of choosing tea from MARUZEN Tea Roastery's different roasting temperature ranges is not only delicious, but provides the opportunity to enjoy the gradation of tea flavors as they mix on your palate.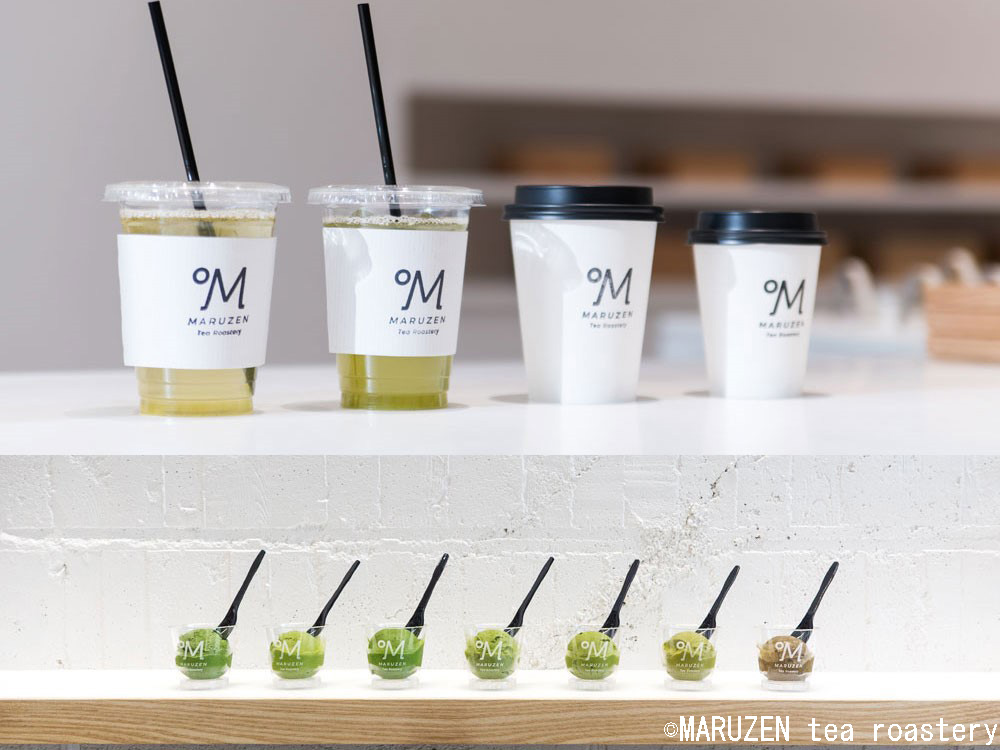 The wide variety of teas available makes it interesting to order a number of different kinds and share them with others. We also recommend using this stylish store as a simple coffee shop.
About MARUZEN Tea Roastery / How to Purchase
Address
2-2-5, Gofukucho, Shizuoka City, Shizuoka Prefecture, 420-0031, Japan
Website
http://www.maruzentearoastery.com/
Phone number
+81 54 204 1737
E-money and credit cards
Available
Open
11:00 to 17:00
Closed
Tuesdays
Parking lot
Unavailable but there are paid parking lots adjacent to the store.
Access
By train
8-minute walk from JR Shizuoka station
| | |
| --- | --- |
| Writer | Norikazu Iwamoto |
| Career | Ochatimes chief editer.Meeting with Vice Governor of Shizuoka prefecture.Judge of Fuji country 100 tea's award in 2021.Ocha Times link introduced at website of World O-CHA(Tea) Festival 2022. |
| | |
| --- | --- |
| English translator | Calfo Joshua |
| Career | Born and raised in England, living in Japan since 2016. Studying arboriculture in Shizuoka Prefecture whilst operating his landscape business Calfo Forestry. Appreciating the nature of Japan and the culture that places such importance in it. |
Related articles