The quintessential Shizuoka experience at Matcha-Kondo-no-Shokudo Restaurant 【Shizuoka City, Shizuoka Prefecture】

Go to Japanese page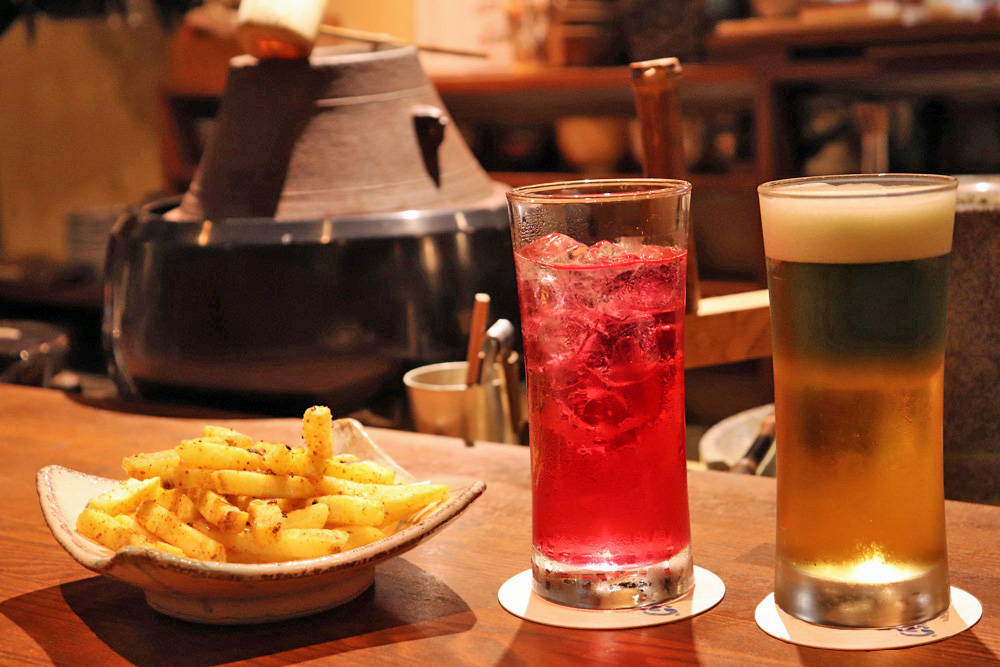 Matcha-Kondo-no-Shokudo is located along Aoba Symbol Road facing Shizuoka City Hall, a 15-minute walk from Shizuoka Station. The owner, Yusuke Kondo, is a certified Japanese tea instructor, and his restaurant is a certified Shizuoka tea house where you can enjoy Japanese cuisine and authentic Shizuoka tea using a traditional iron kettle and millstone. Many Japanese tourists visit this restaurant to experience the uniqueness of Shizuoka.
In this article, we will discuss the enticing menu items at Matcha Kondo no Shokudo and the concept of the restaurant as a place to experience Shizuoka's uniqueness, as well as the story of the owner, Yusuke Kondo.
About Matcha Kondou Shokudo
Matcha Kondou no Shokudo is a Japanese restaurant located along Aoba Symbol Road where you can enjoy Shizuoka tea, sake, and food. The owner, Yusuke Kondo, is also a certified Japanese tea instructor.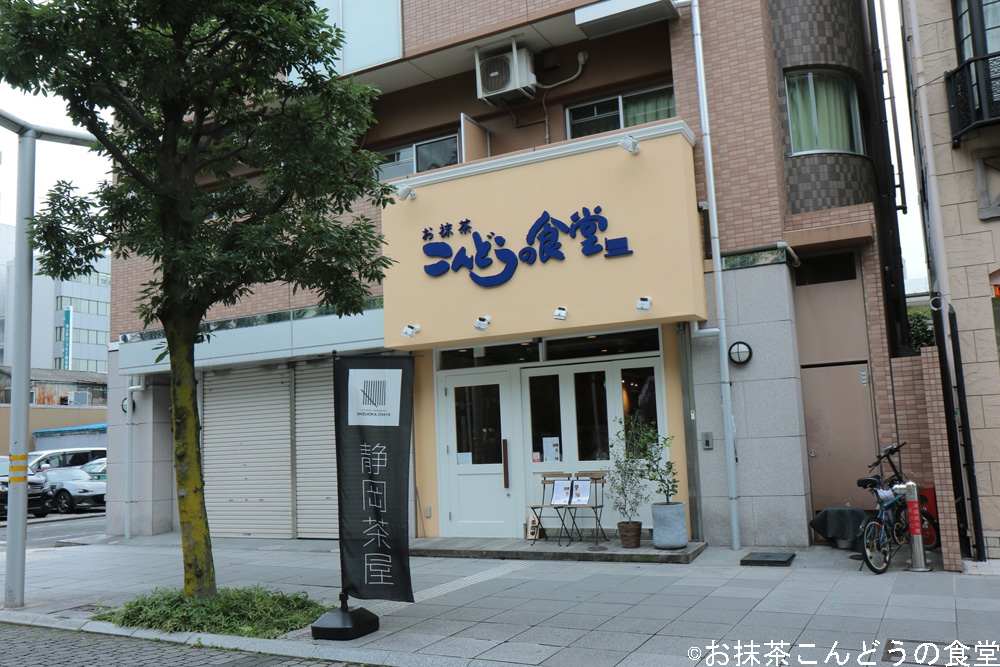 Originally operated in Tsushima-cho, Suruga-ku, Shizuoka Prefecture, Matcha Kondou was relocated along Aoba Symbol Road, Aoi Ku, Shizuoka Prefecture, and opened on June 28, 2019 as Matcha Kondou's Restaurant.
The iron kettle and millstone set up at the counter show the restaurant's dedication to tea, as expressed in the name "Matcha Kondou no Shokudo" (Matcha Tea Kondou's Restaurant). There are seven seats at the counter and five moving tables in the back, which can accommodate parties of 10 to 12 people.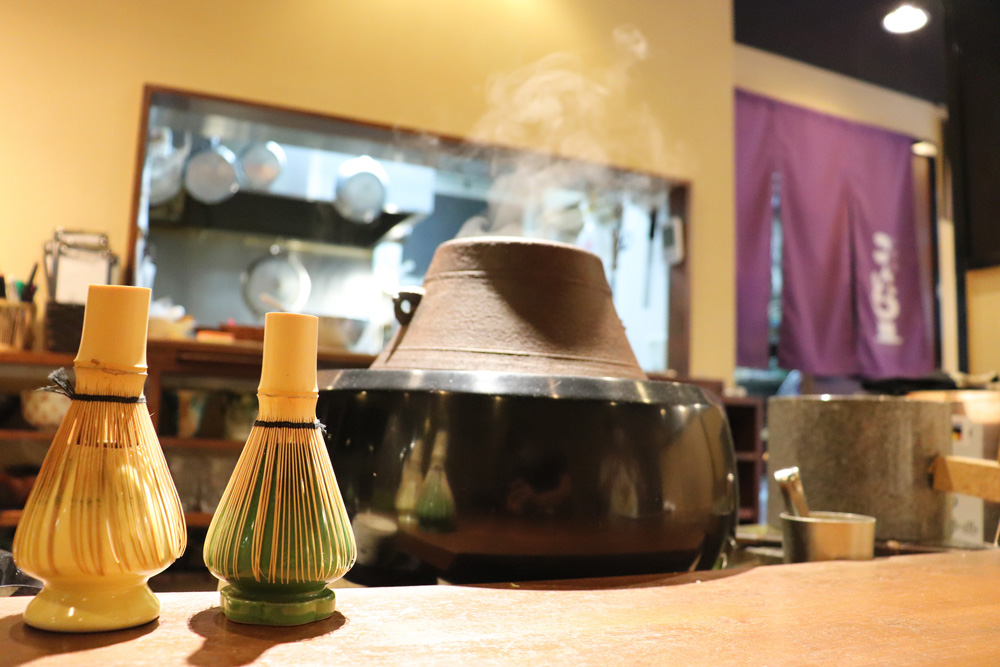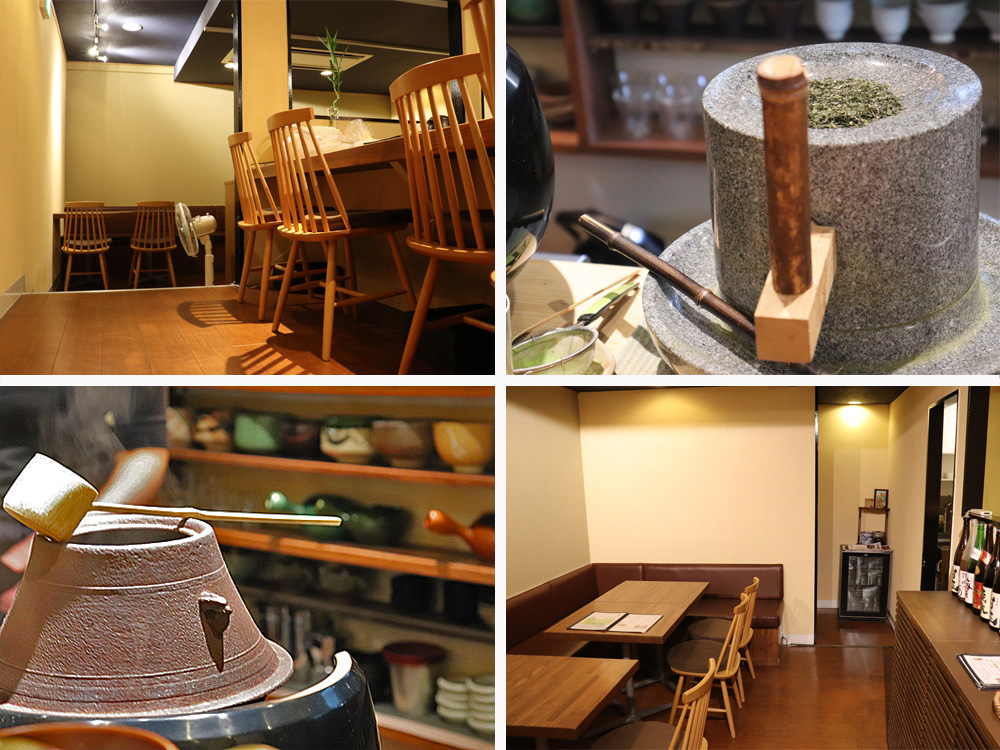 Introduction of Matcha Kondo Restaurant Menu
At Matcha Kondo Restaurant, you can enjoy Shizuoka tea and sake together with Japanese food. The menu varies from set menus to individual dishes and courses. Here are just a few of the popular menu items.
Hot tea and drinks!
All of the teas available are teas from Shizuoka that Mr. Kondo's has selected especially. You can choose from asamushicha (shallow steamed tea), fukamushicha (deep steamed tea), Japanese black tea, kamairicha (kettle roasted tea), oolong tea, and hojicha (roasted green tea). Hot tea is a simple yet deeply satisfying beverage that allows you to experience the changes in flavor from the first to the second infusion.
The lineup of teas changes with the season, so you will be able to experience a new charm of Shizuoka tea every time you visit.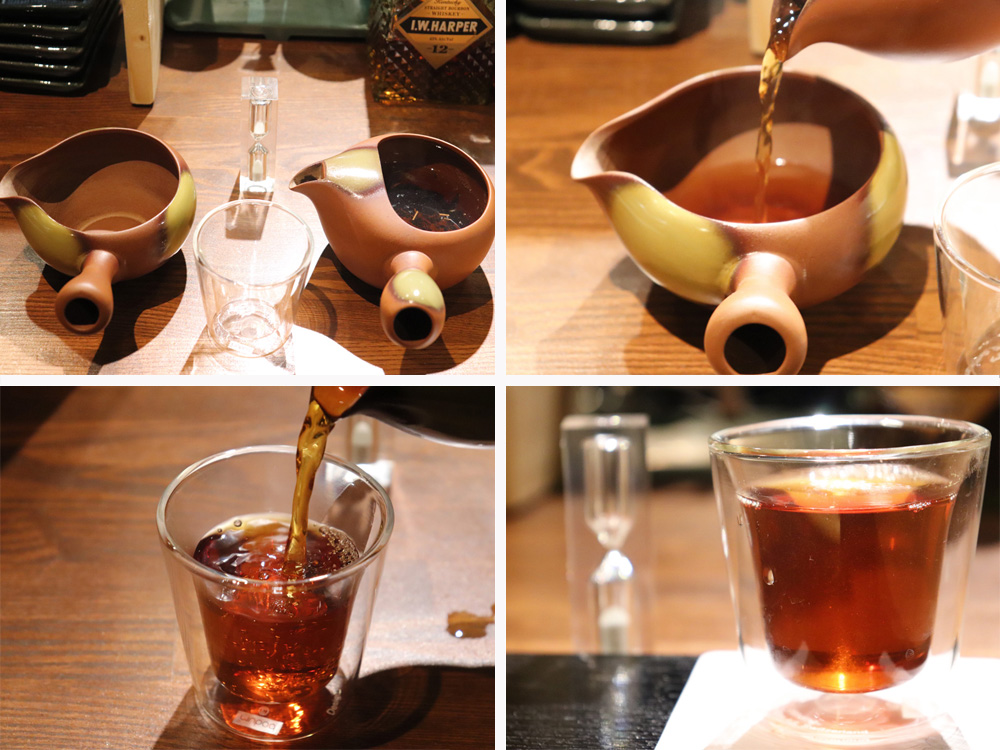 Matcha Shot
The Matcha Shot was developed with the desire to offer freshly millstone ground matcha. The three-layer contrast that emerges when matcha is poured over the beer is so beautiful that it is almost too good to drink.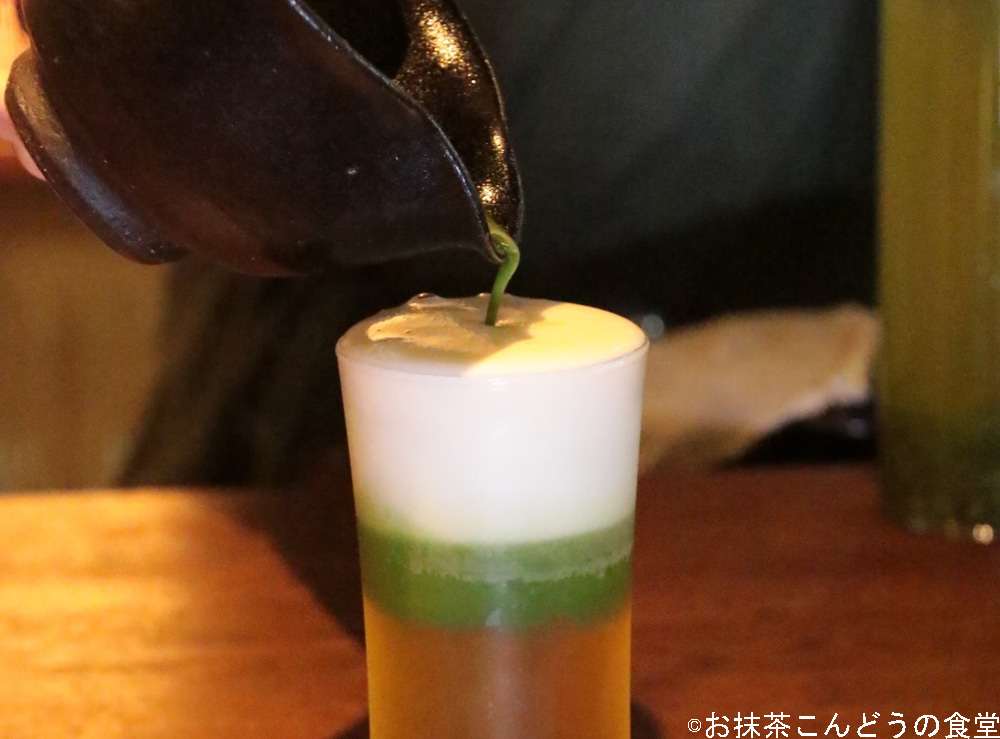 The matcha flavor fills the mouth as you take a sip and blends with the bitterness of the beer to create a mouth-watering taste. This unique matcha beer cocktail will delight both tea and alcohol lovers.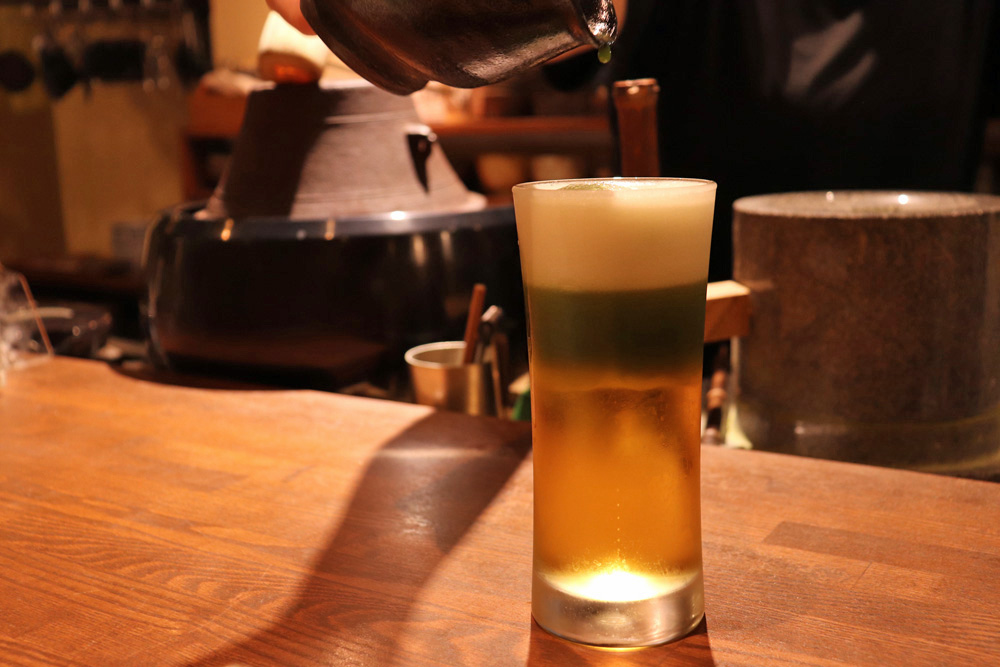 Japanese Tea Instructor General recommends Shizuoka Ochawari!
This Shizuoka Ochawari is served side by side with carefully brewed tea and shochu in a teapot. You can enjoy this drink three times by first tasting only the tea, then drinking only the shochu, and finally drinking the shochu with the tea.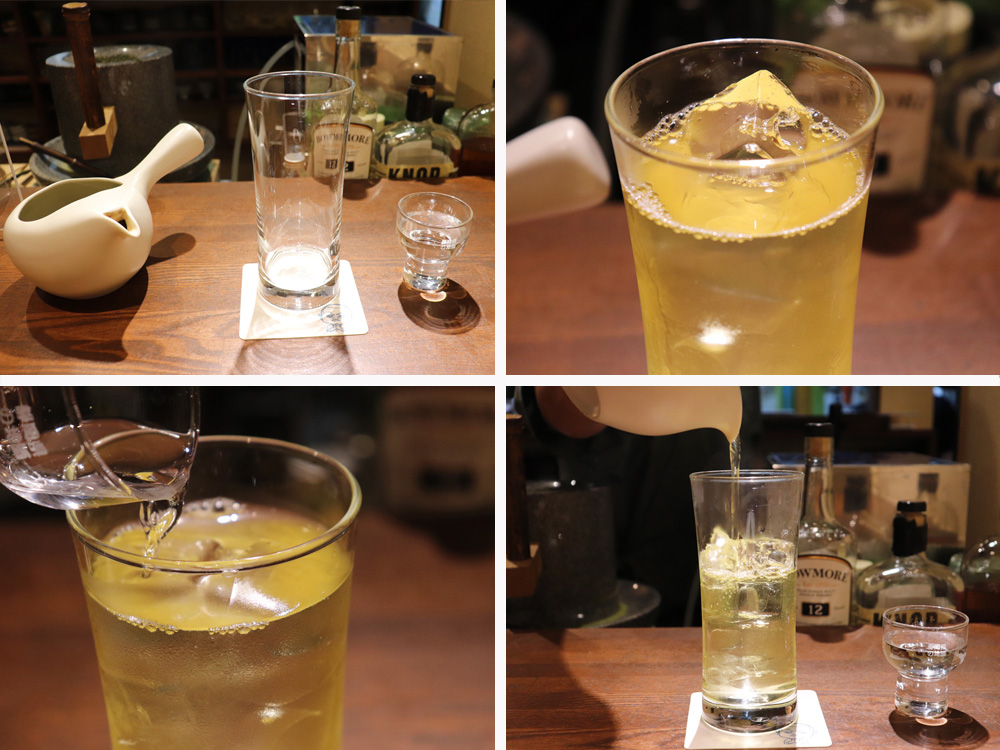 In addition, Matcha Kondo's cafeteria offers a wide selection of sake and shochu (Japanese liquor).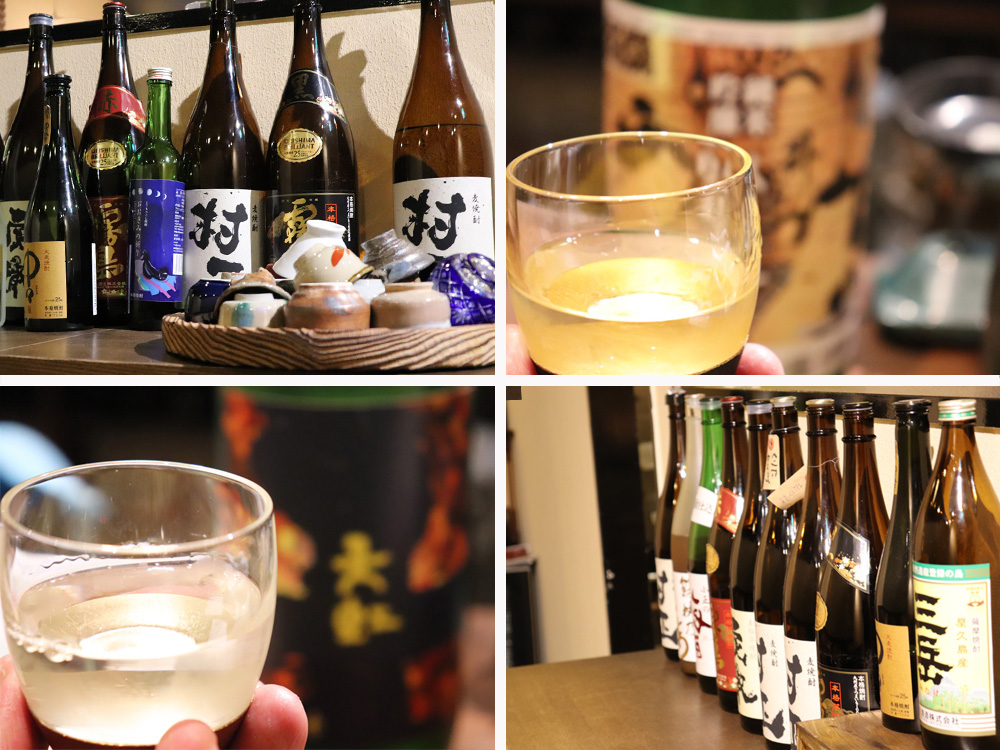 Grilled Chicken Thigh with Yuzu Kosho – Main Dishes
Chicken thighs are grilled to remove excess fat, making them fragrant and juicy. The yuzu kosho (Japanese pepper) matches the meat perfectly.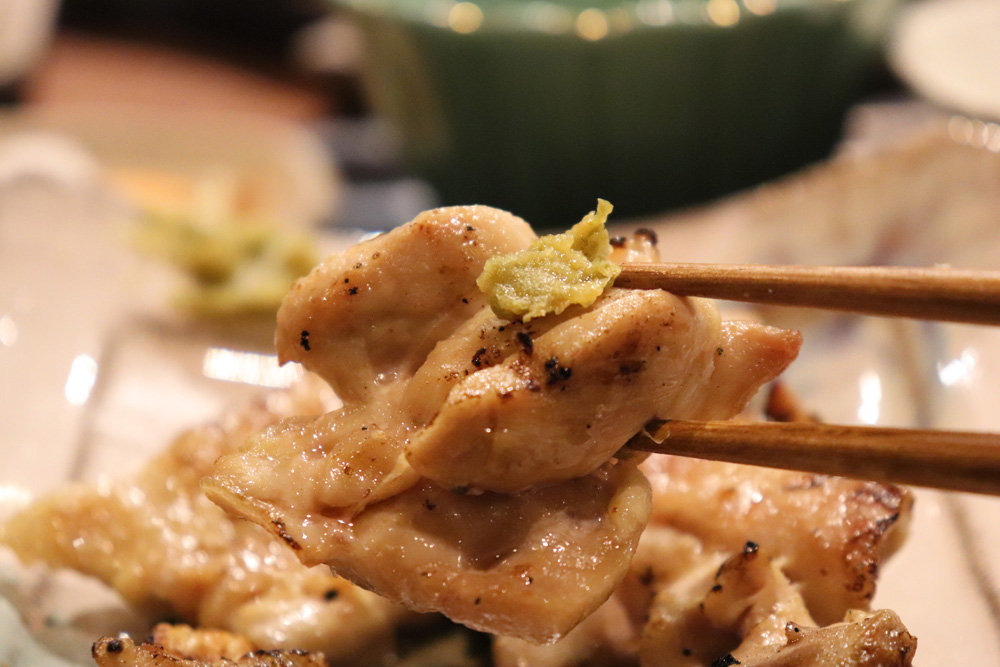 Japanese style hamburger – Main Dishes
Fluffy hamburger steak made with ground beef and tofu. Seasoned with a special onion sauce, pairs beautifully with the hamburger steak.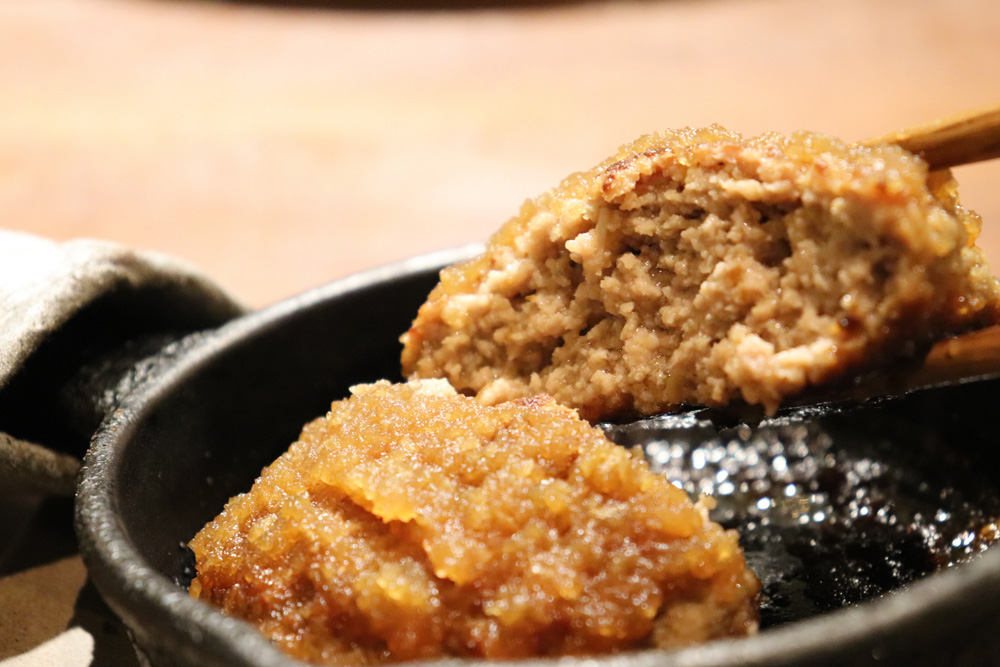 Honyama Wild Yam Tororo – A La Carte Dish
Mr. Kondo's grandfather was born in Mariko, so his local dish, tororo, is a dish with a special place in his heart. The sticky, white-colored Honyama yam is carefully grated so that it retains its shape, giving it a pleasantly crispy texture and a delicious flavor that is served with rice.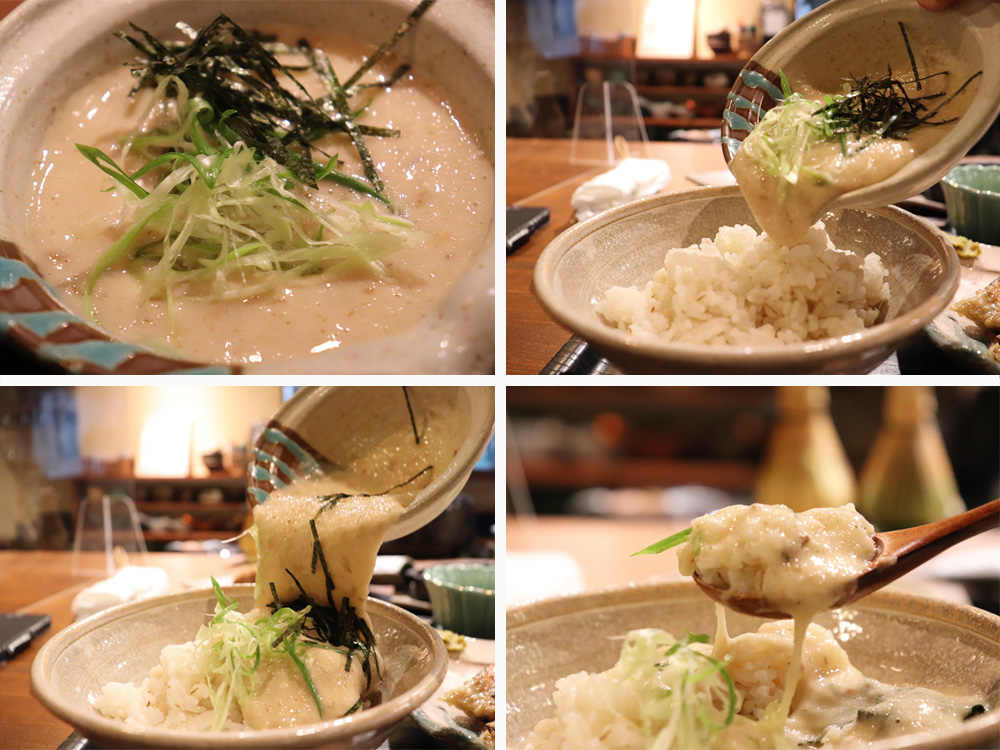 One meal, three vegetables – Set Meal
A set meal consisting of your choice of one of more than a dozen dishes, two small bowls of the daily special, pickles, miso soup, and rice.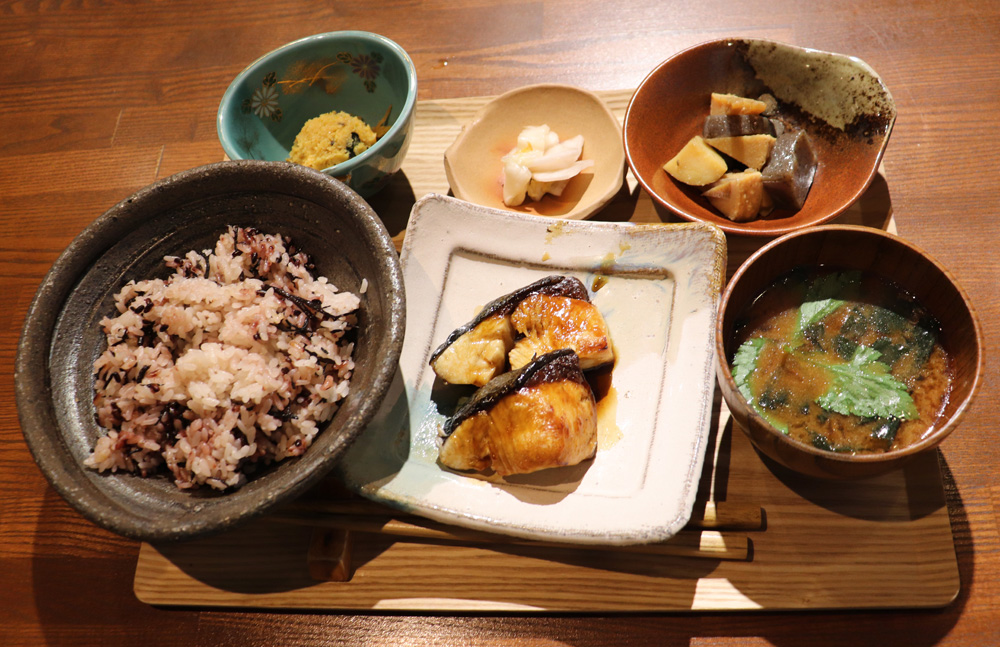 Konnyaku Dengaku – Side dish
Hot and firm konnyaku is served with Matcha- Kondo no Shokudo's special blend of miso paste. The miso used as the base is from Suenagaen, established in 1920. Although Suenagaen is now a specialty koji store, it was originally a well-known tea and koji store.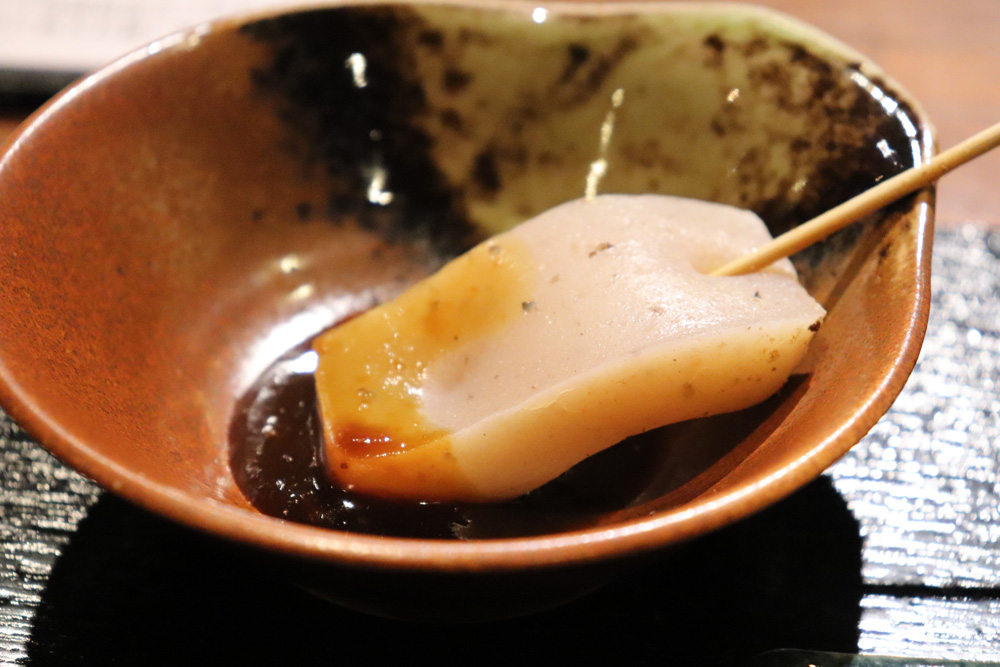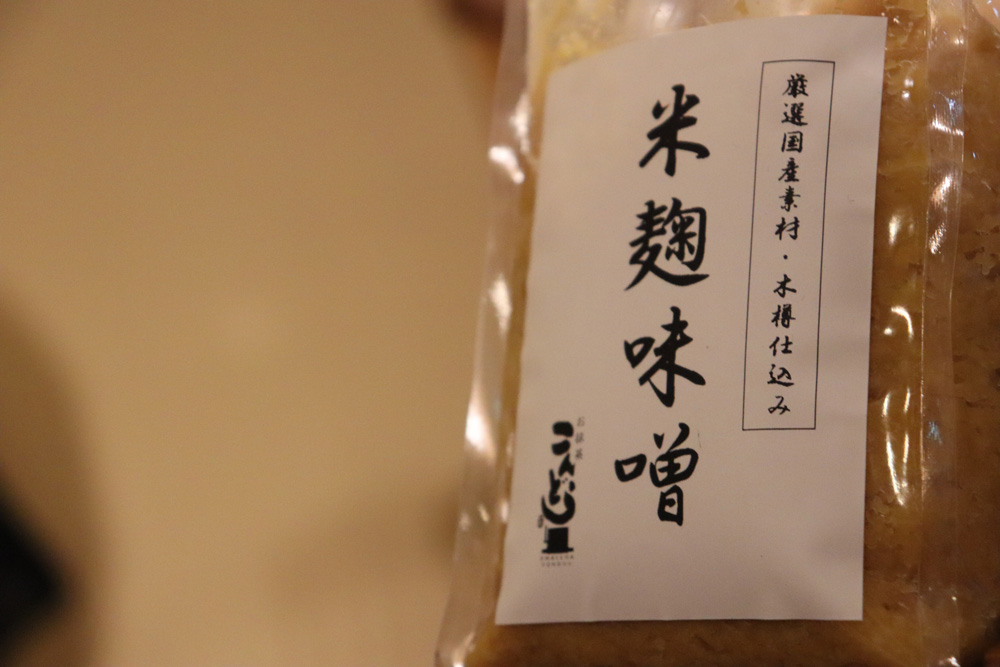 Various other menu items are offered on a daily basis, changing according to the season.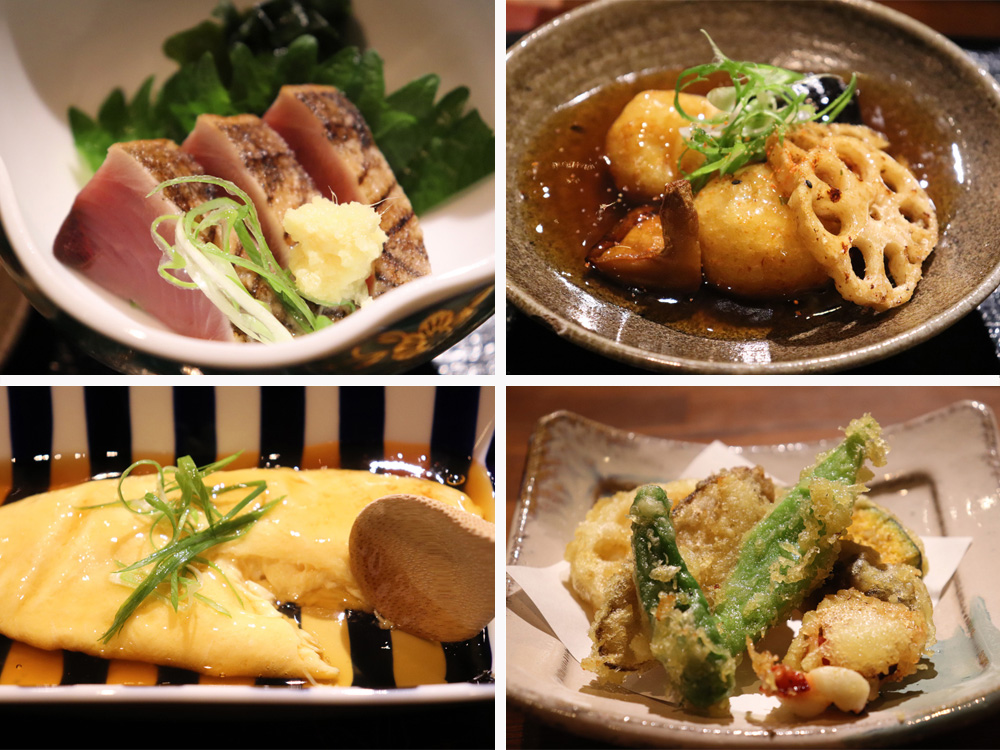 Hojicha roasted before your eyes.
Mr. Kondo personally roasts each hojicha to order using a roasting pan. The sight of Mr. Kondo checking the leaves as he roasts them in front of your eyes is a sight to behold.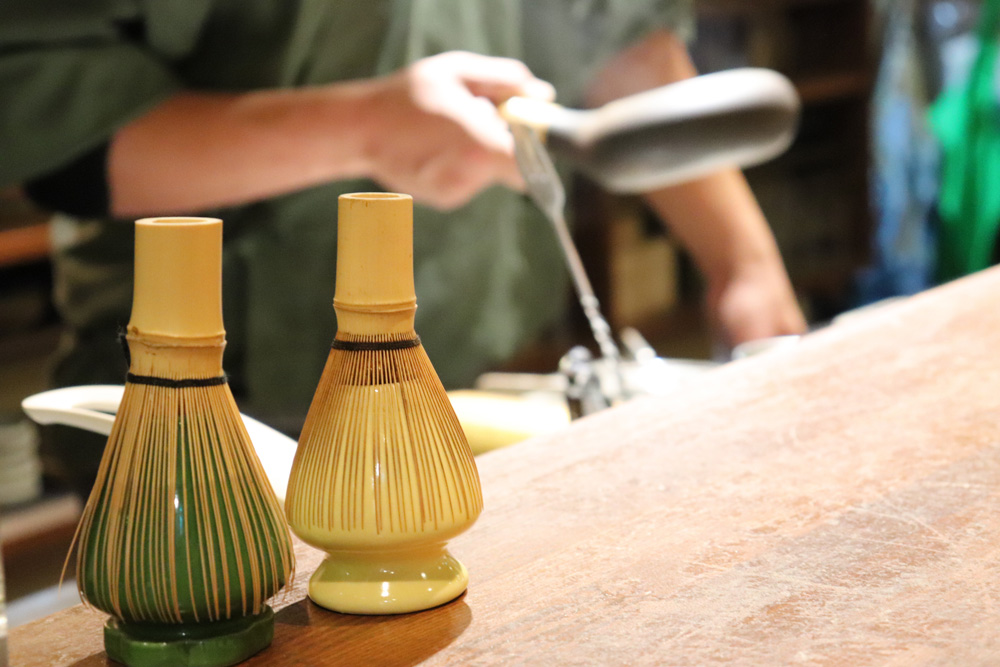 When the fragrant aroma begins to waft through the store, the customers are all start wondering how they too can enjoy a cup of freshly made hojicha tea.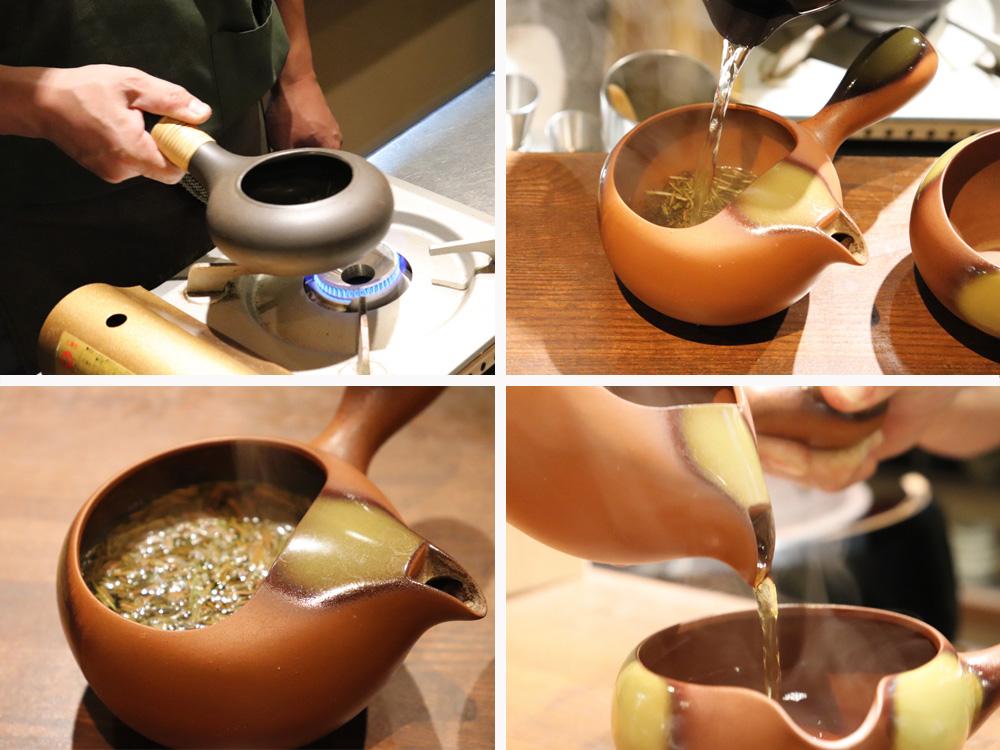 The luxurious hojicha has a hint of sencha flavor and a sweet aroma, and is very popular, but because the owner, Mr. Kondo, handcrafts it himself, is not always available depending on how crowded the store is.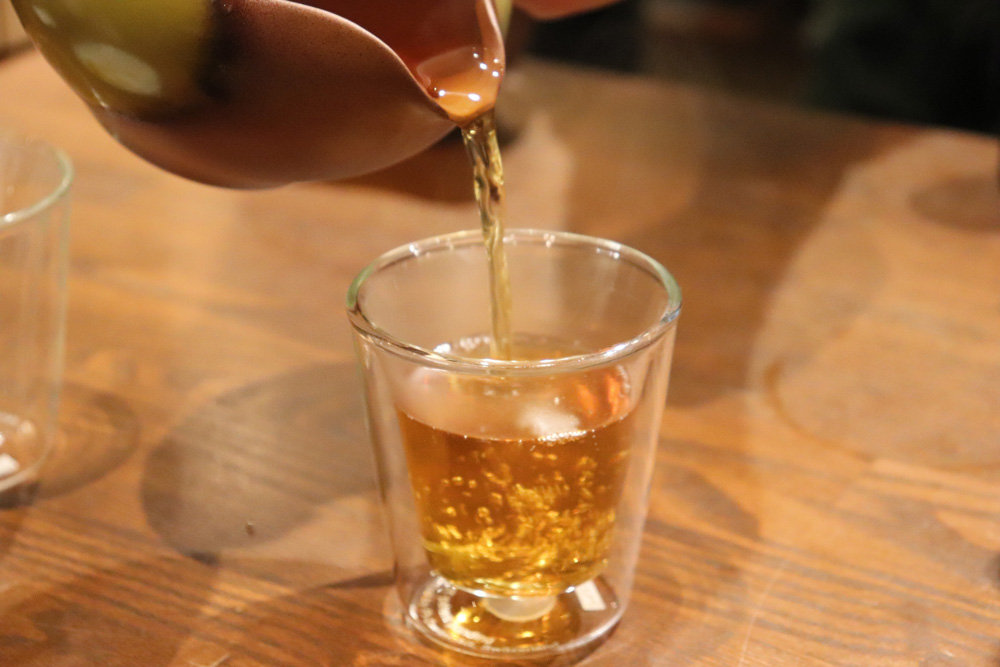 ▲There are two levels of roasting to choose from, light roast and deep roast.
Interview: Enjoying Shizuoka's unique flavor at "Matcha Kondo no Shokudo"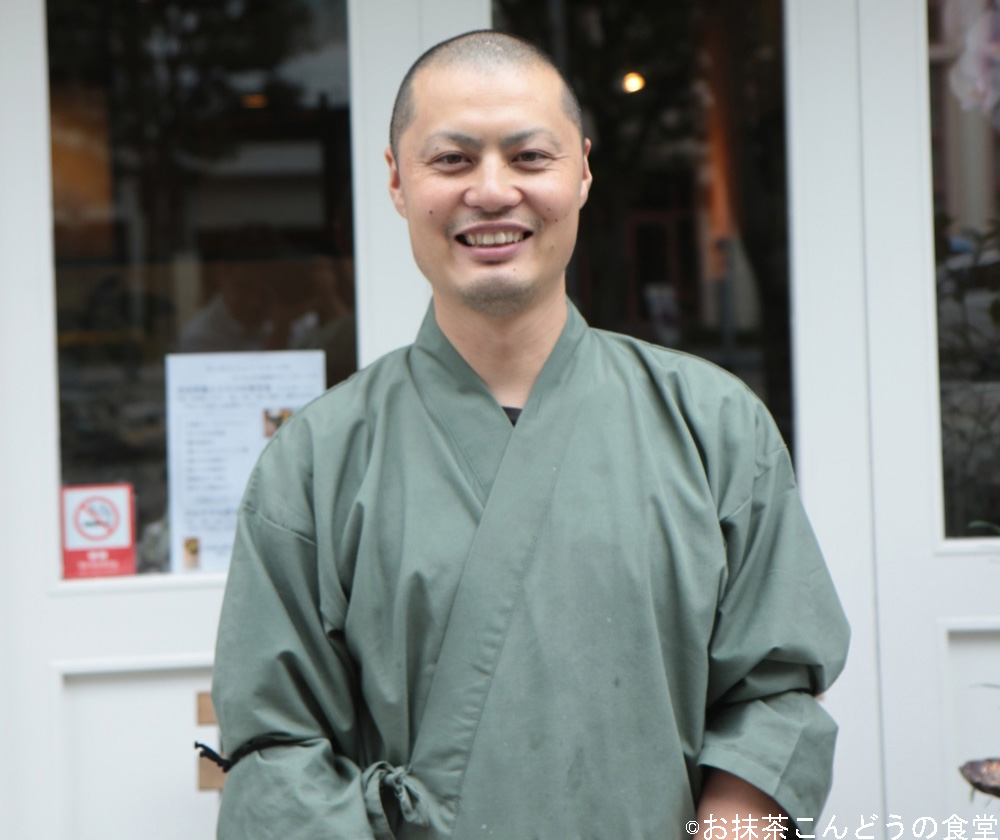 An interview with Yusuke Kondo, owner of Matcha Kondo no Shokudo.
---
–Please tell us about Matcha Kondo no Shokudo.
Matcha Kondou no Shokudo is a Japanese restaurant where you can enjoy Shizuoka tea, robata-yaki, tororo, set meals, and drinks. You can enjoy simple and comforting dishes a la carte or in a course, or just for a quick drink.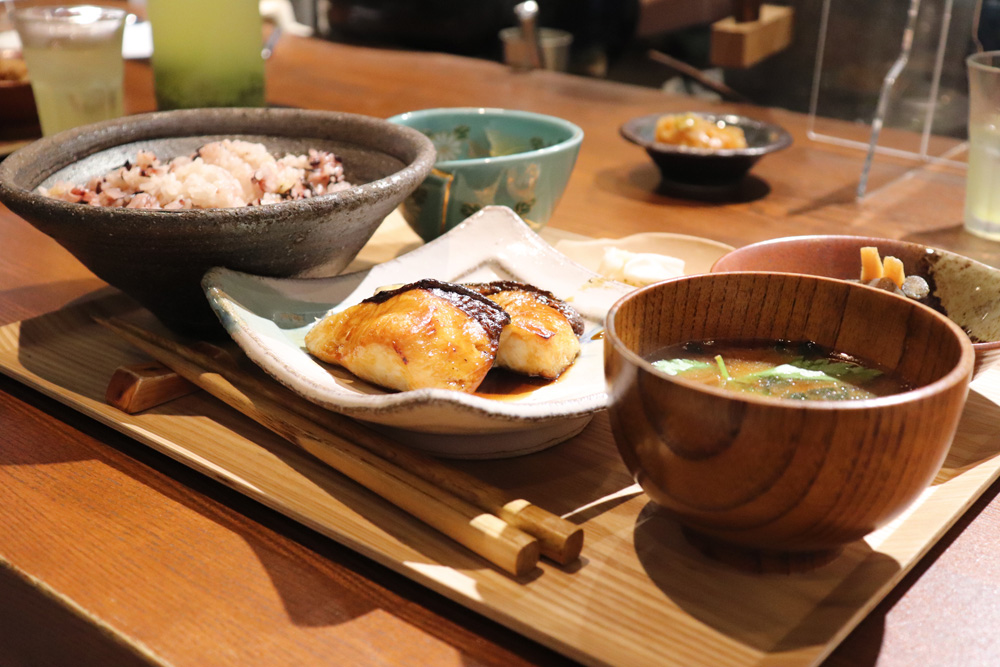 There are some tea shops in Shizuoka where you can eat in at the café, but when it comes to places where you can enjoy both food and tea, the number is quite limited. In such a situation, I wanted to open a simple restaurant that would give a sense of Shizuoka's uniqueness.
–The iron kettle and millstone set up at the counter are eye-catching.
Tea is a must when it comes to Shizuoka's uniqueness. I wanted to have a traditional kettle and millstone to serve freshly ground matcha. I wanted to develop a menu centered on tea, so I decided to be a bit aggressive and named the restaurant "Matcha Kondo no Shokudo" (Green Tea Kondo's Restaurant) (laugh).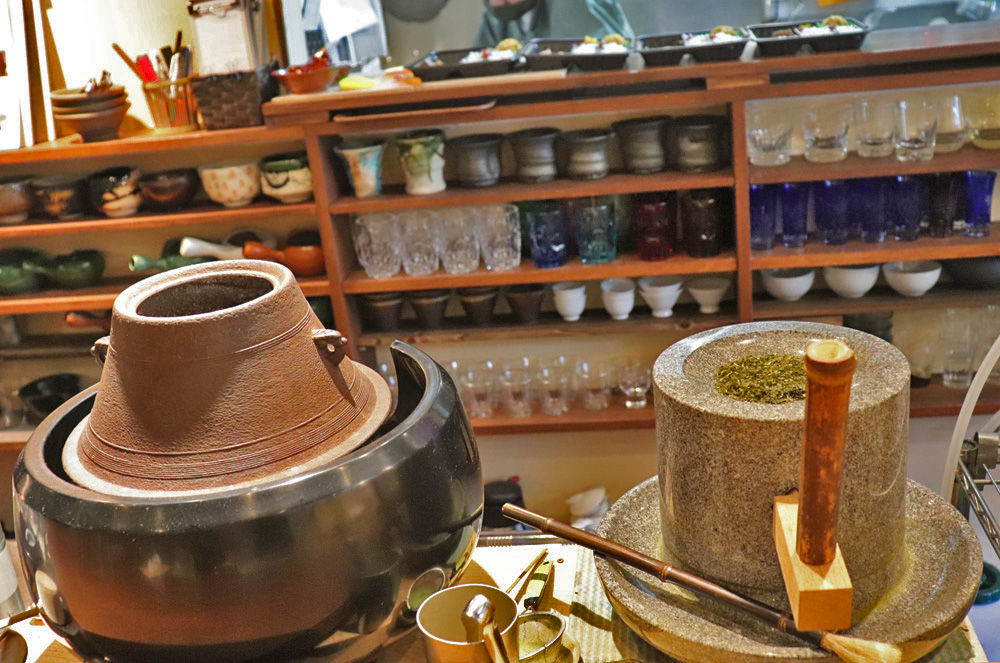 How a former French chef became involved in tea
–Before you opened Matcha Kondo Shokudo, did you run a teahouse?
I used to be a chef specializing in French cuisine, so I had no special connection to tea. It was not until after I opened the restaurant that I began to study tea.
After working as a chef at a hotel for about 9 years, I was involved in the establishment and operation of about 18 restaurants, including sake and wine bars, and that is where I acquired my knowledge of sake and wine. I also operated a hand-drip coffee shop, so I have experience teaching espresso and design cappuccino techniques.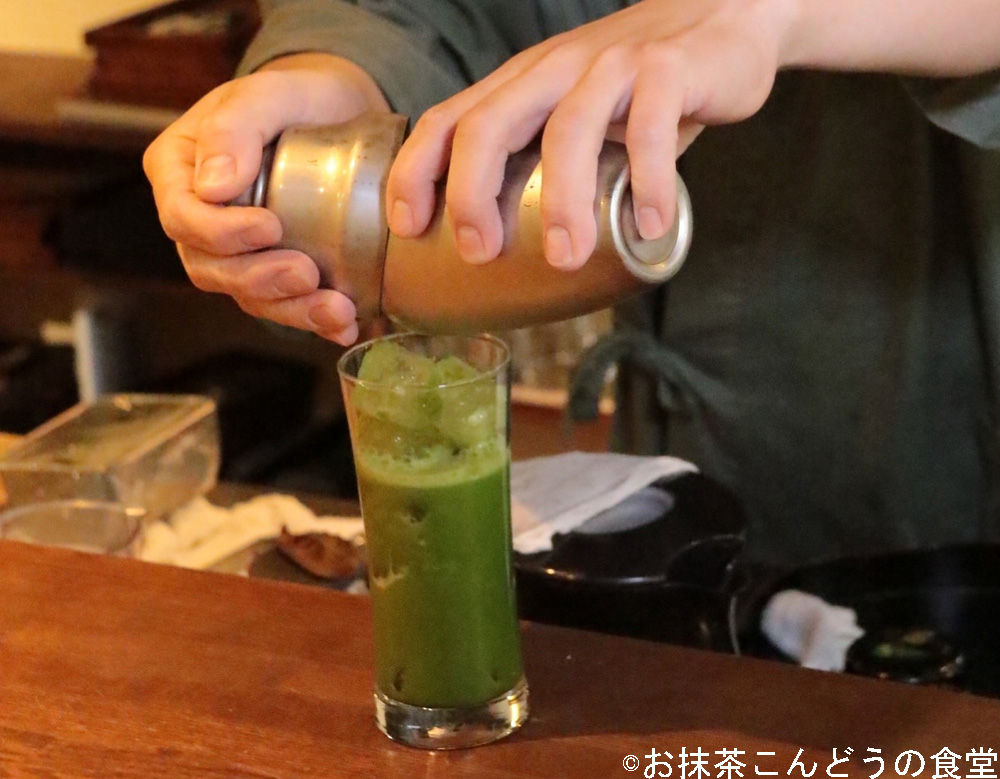 –After handling a diverse range of luxury beverages, you started with tea and became certified as a Japanese tea instructor.
As a chef, I was used to visiting and learning from producers, and tea is similar to other crops, so it was easy for me to learn. As I heard from many people, I realized that if I wanted to learn more about tea in depth, becoming a Japanese tea instructor would be the best way to do so.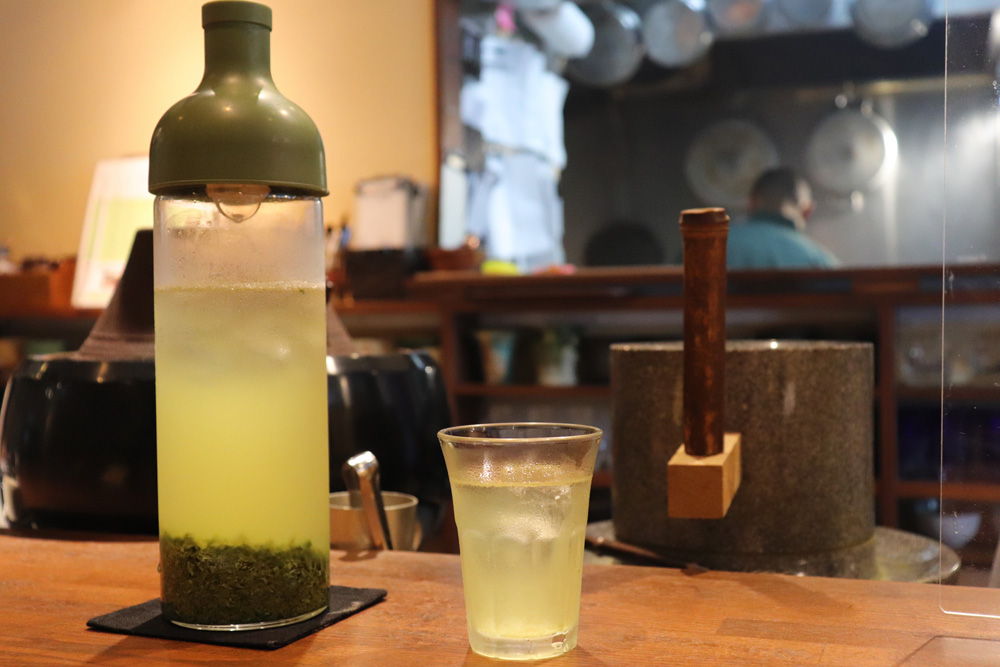 I managed to pass the Japanese tea instructor exam in one sitting, but at the time it was really tough studying late at night after the store was closed.
–How did you see tea from your perspective after all the experiences you had gained?
It's interesting. When I learnt about wine, I always tried to be aware of the region and terroir, and when I learned about tea from this perspective, I realized that it has something in common with wine.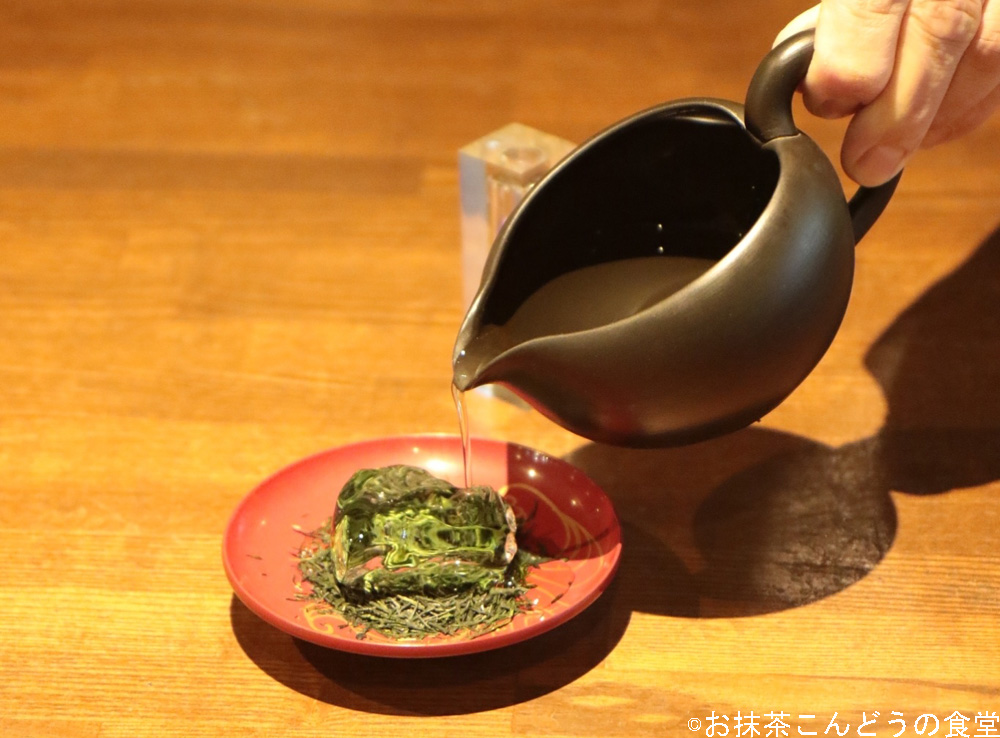 For example, the assemblage of wine may be the same as the assemblage of tea, and the characteristics of wines from different regions may be the same as the varieties of tea. Also, if we understand the meaning of terroir in wine and tea, we can understand what it means that tea is produced in high altitude mountainous regions.
In this way, my experience with other luxury beverages was useful. In the end, you just have to keep listening and drinking (laughs).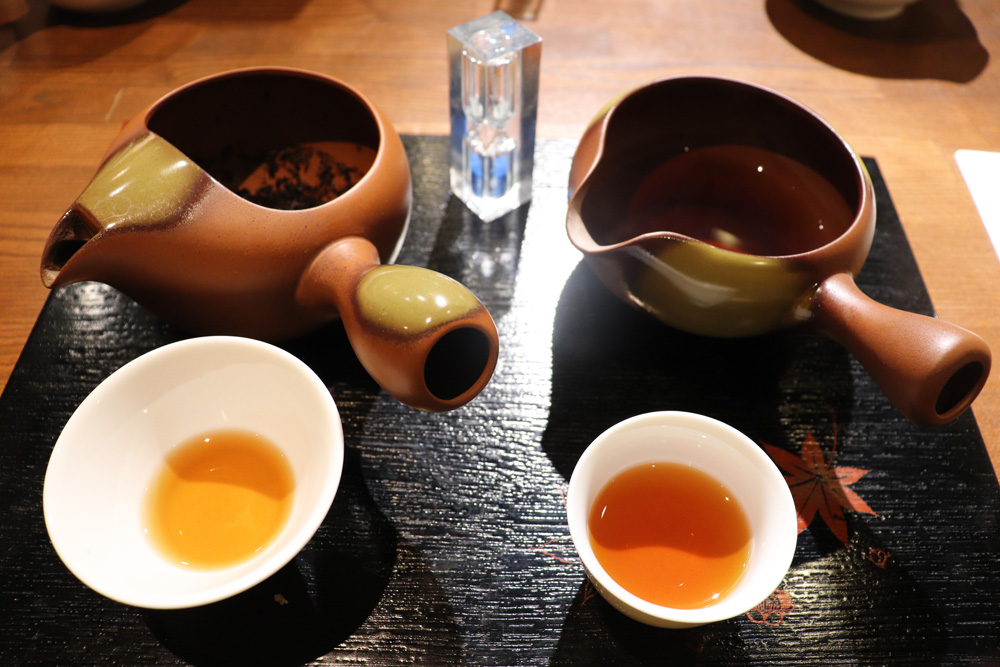 Matcha Kondo no Shokudo arrived at after much trial and error
The current Matcha Kondo no Shokudo is the result of much trial and error. Tea, sake, and ingredients were all chosen for a reason, and even the tableware has its own reasons.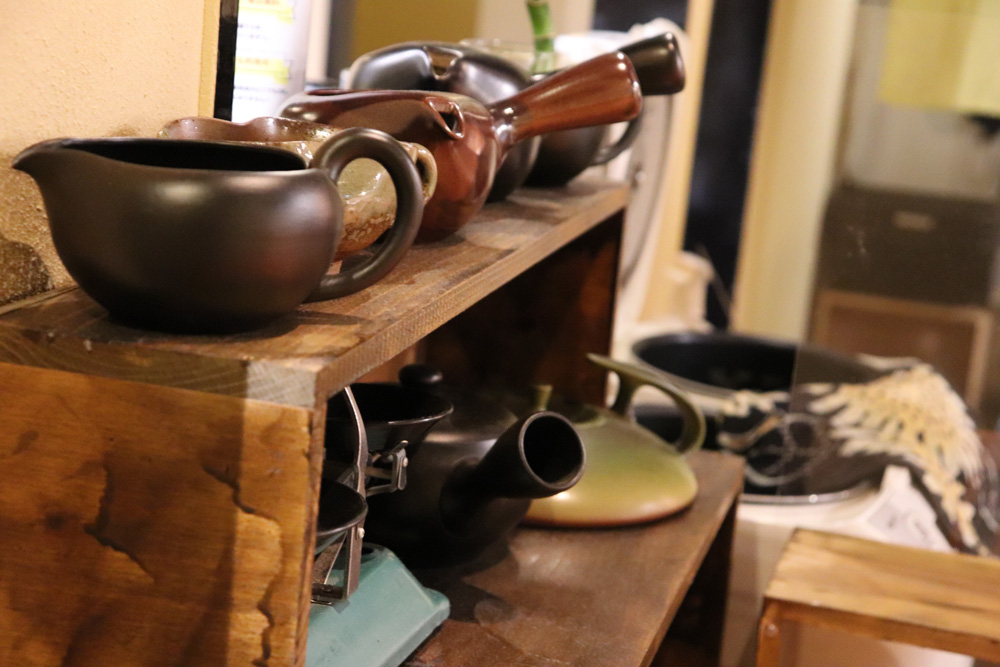 When I brew a strong-flavored tea, I use water for the first infusion and switch to hot water after the second infusion, and I use Bodum glasses for this purpose.
Since they are heat-resistant, they can be used continuously for both iced and hot tea, and by using a transparent vessel, visitors can enjoy seeing the water color change too. In addition, if we want our customers to enjoy the aroma of the tea, we serve it in a bowl with a wide mouth for drinking.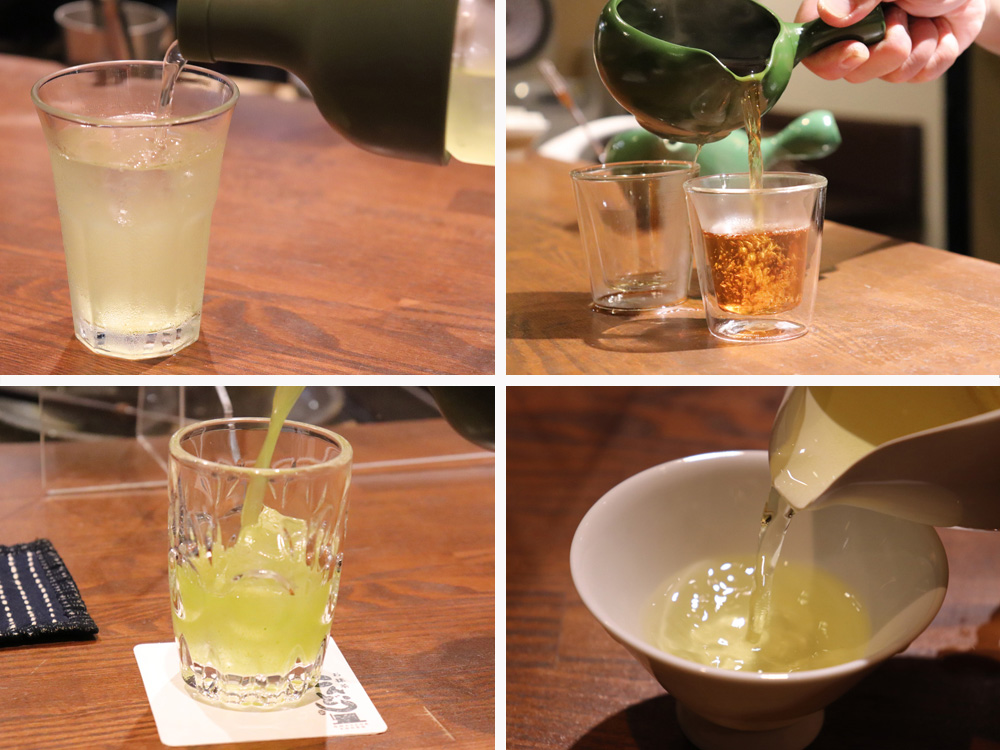 The shochu used in the Shizuoka ochawari is called Muramasa from Iki no Kura Shuzo in Nagasaki Prefecture. This is also the result of our experimentation with a variety of shochu varieties to create it.We continue to refine our choice in shochu to satisfy the expectations of our customers.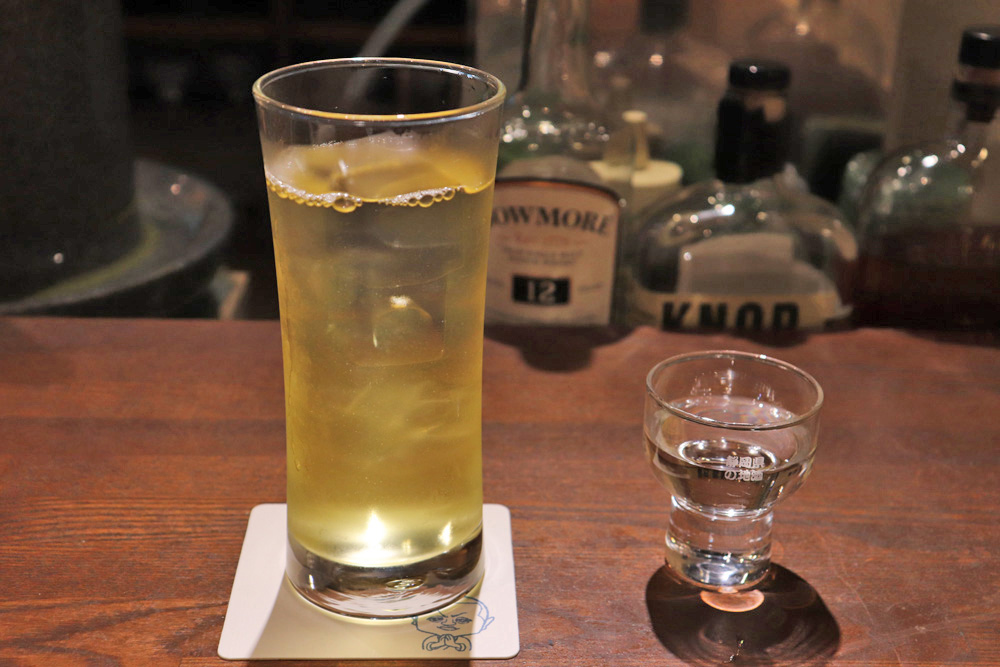 Matcha Kondo no Shokudo is fulfilling a childhood dream
Initially, Matcha Kondoh no Shokudo operated in Tsushima-cho for about five years. After moving to Aoi Ward we have been in business for two years now, so we will celebrate our 8th year in business this year.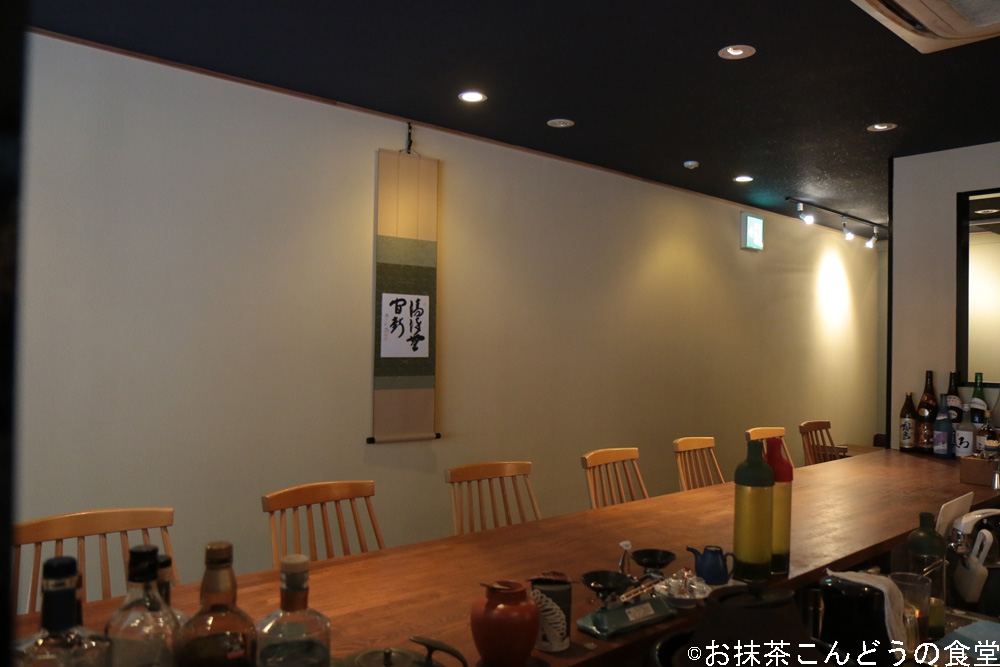 The curtain hanging at the kitchen entrance has been in use since the restaurant was established in Tsushima-cho. We would have liked to hang it at the entrance of the restaurant, but we couldn't because the door is designed to be opened from the outside, so we decided to hang it at the kitchen entrance.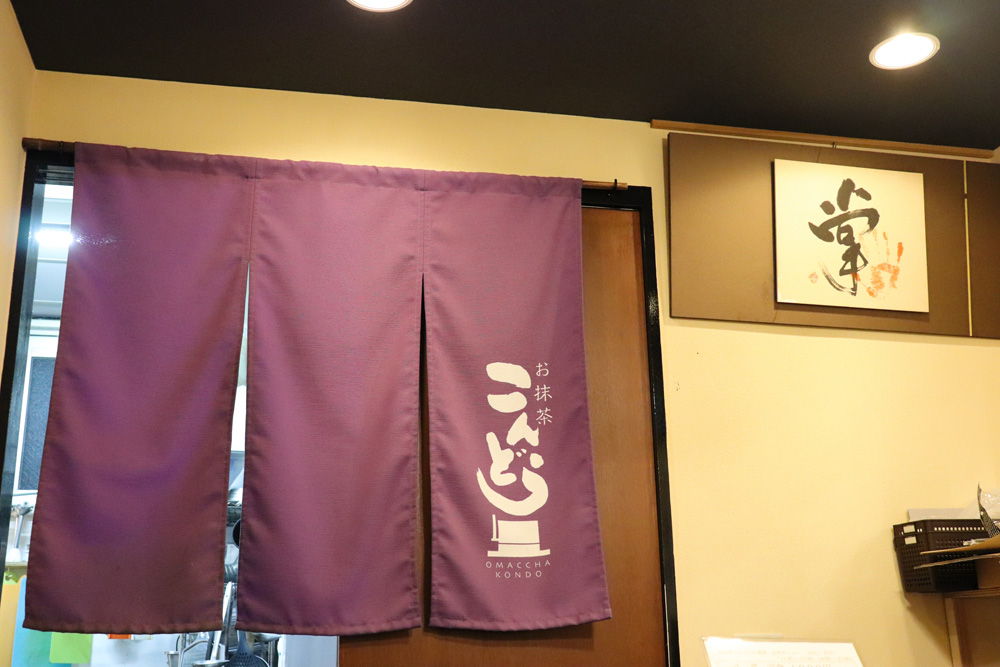 The restaurant's logo and business card on the curtain were created by a designer friend who is also a childhood friend. Ever since I was a child, he had a dream of becoming a designer and I had a dream of becoming a chef. Now we are both in the process of fulfilling that dream (laughs).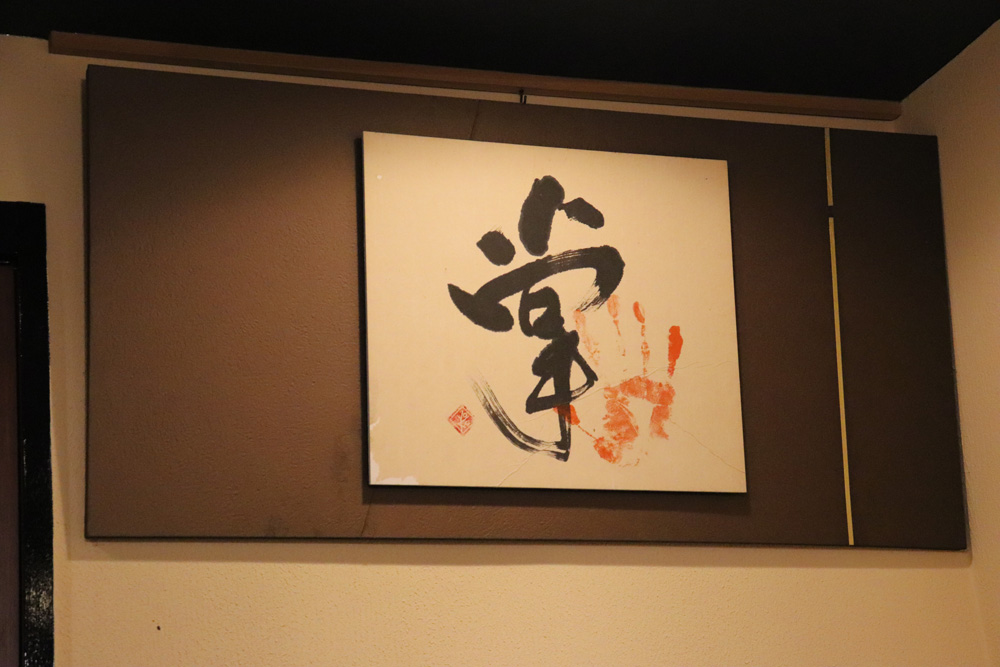 ▲The red palm on the colored paper is in fact the designer's palm.
Currently, tea may be a tough industry, but there is definitely a demand for it. I myself grow through the study of tea, and I hope that my time at Matcha Kondo no Shokudo restaurant will be an educational experience for our customers. I hope that you will use this restaurant as a place to feel the uniqueness of Shizuoka and entertain guests from outside of the prefecture.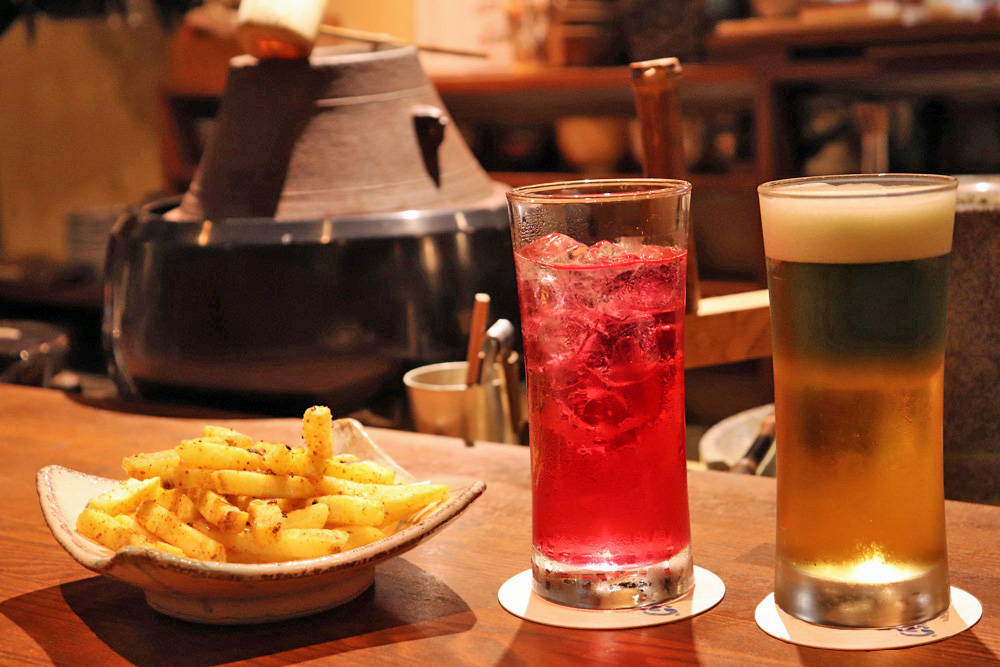 Information Of Matcha Kondou Shokudo
住所
2-4-5, Tokiwatyou, Shizuoka City, Shizuoka Prefecture,417-0841, Japan

ホームページ

https://omaccha-kondo.amebaownd.com/

(Japanese only))

電話番号
090-8130-1274
SNS

facebook

電子マネー・カード決済
Available
営業時間
lunch 11:30〜13:30(LO13:15)
dinner 18:00〜22:00(LO21:00)
定休日
Every Thursday and the third Wednesday of the month
駐車場
none
アクセス
15 minutes walk from Shizuoka Station
| | |
| --- | --- |
| Writer | Norikazu Iwamoto |
| Career | Ochatimes chief editer.Meeting with Vice Governor of Shizuoka prefecture. Judge of Fuji country 100 tea's award in 2021,2022.Ocha Times link introduced at website of World O-CHA(Tea) Festival 2022, Tea Science Center and Ministry of Agriculture, Forestry and Fisheries. |
| | |
| --- | --- |
| English translator | Calfo Joshua |
| Career | Born and raised in England, living in Japan since 2016. Studying arboriculture in Shizuoka Prefecture whilst operating his landscape business Calfo Forestry. Appreciating the nature of Japan and the culture that places such importance in it. |
Related articles