FUJISAN MARUMO CHAEN~First part~

Go to Japanese page
This article has 1950characters
What is the 'Fuji Tea' produced by Mohei Honda the 5th, who is also the Chairman of Shizuoka's 100 Best Mountain Tea Organization?
Fuji Tea is a brand born from the soil and wind of Mt. Fuji. Along with the blessings of nature, the tea-producing techniques of highly skilled experts have helped develop it for over 90 years.
When I put Fuji Tea in my mouth, I felt a slight tingle on my tongue. I tasted bitterness as if biting into the soil for just a moment. But right after that, waves of sweetness spread across my nasal cavity. Then, it comfortably flew toward my throat.
*This is the impression of our chief editor when he first tried Fuji Tea.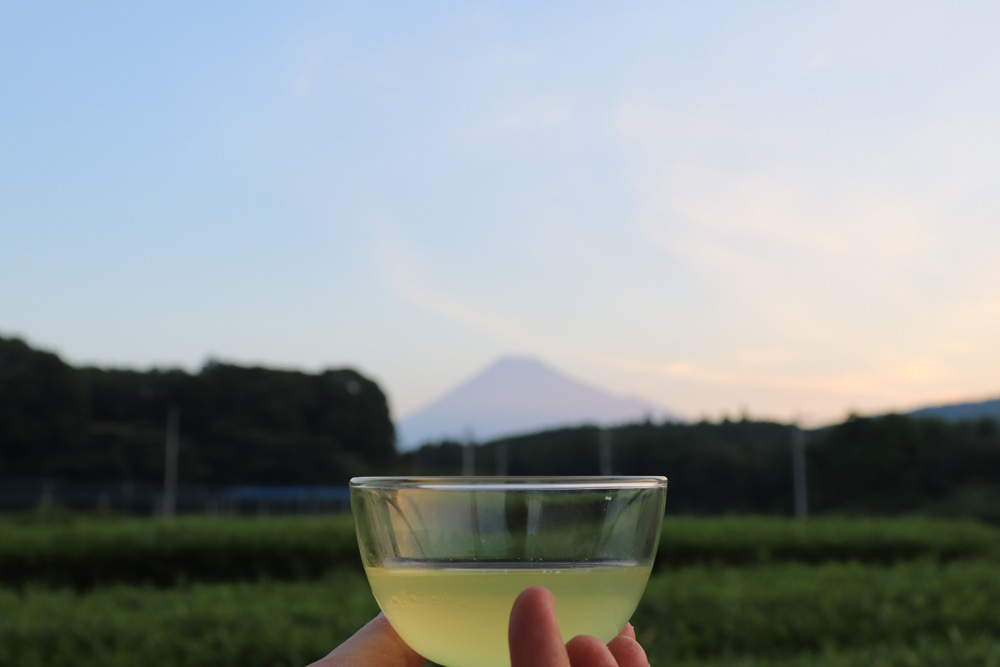 We interviewed Mohei Honda the 5th, who is also the chairman of Shizuoka's 100 Best Mountain Tea Organization. He has been devoting himself to MARUMO to create teas with wonderful flavors.
---
Mohei Honda: "Shall I show you our tea garden? It takes a few minutes by car from this tea factory."
― "Do you mean the tea garden, which is one of the tea terraces famous for The Tea Change Project?"
Mohei Honda: "Exactly."
― "Thank you. That is a place I've always wanted to visit. "
A tea terrace in "Tea Garden with the Ocean and Mt. Fuji View" where people can enjoy tea with a view of the Pacific Ocean and Mt. Fuji
Mohei Honda: "This tea garden is registered as an art museum in Google under the name Tea Garden with the Ocean and Mt. Fuji View. What we can see from here are: -Mt. Fuji -Mt. Ashitaka -The Suruga Bay Here is an open area, so we can see the Pacific Ocean beyond the Shinkansen bullet train, rice fields, and pine forests.
I've been using this Azumaya (Japanese style gazebo) as a venue for tea-picking experiences, and I thought it would be nice to have tea here. This Azumaya is made of Fuji-Hinoki (Japanese cypress). We cut the wood from Mt. Fuji in the summer of 2018 with Shuji Yamamoto. He is a contemporary artist who works on the themes of plants and vegetation.
It is also called The Mt Fuji Tea Terrace. You can book the terrace from our website or the website of The Tea Change Project that I'm involved with."
― "What a beautiful and refreshing place it is here. I heard that this place is also popular with foreigners?"
Mohei Honda: "People from various countries visit here. If you point in the direction of the Ocean and tell them, 'If you go this direction for about 13 hours, you will arrive in your country.' They will be happy (laughs). A Taiwanese tea master, Tea Gue (張家獻), came here to study Japanese tea."

↓Mohei Honda (left) and Taiwanese tea teacher, Tea Gue (張家獻) (right)

Our desire is for people to enjoy tea fields more.
Mohei Honda: "We have many tea cultivars in this tea field. The tea trees surrounding this tea terrace are Sayamakaori.
Sayamakaori makes a delicious iced tea in the summertime."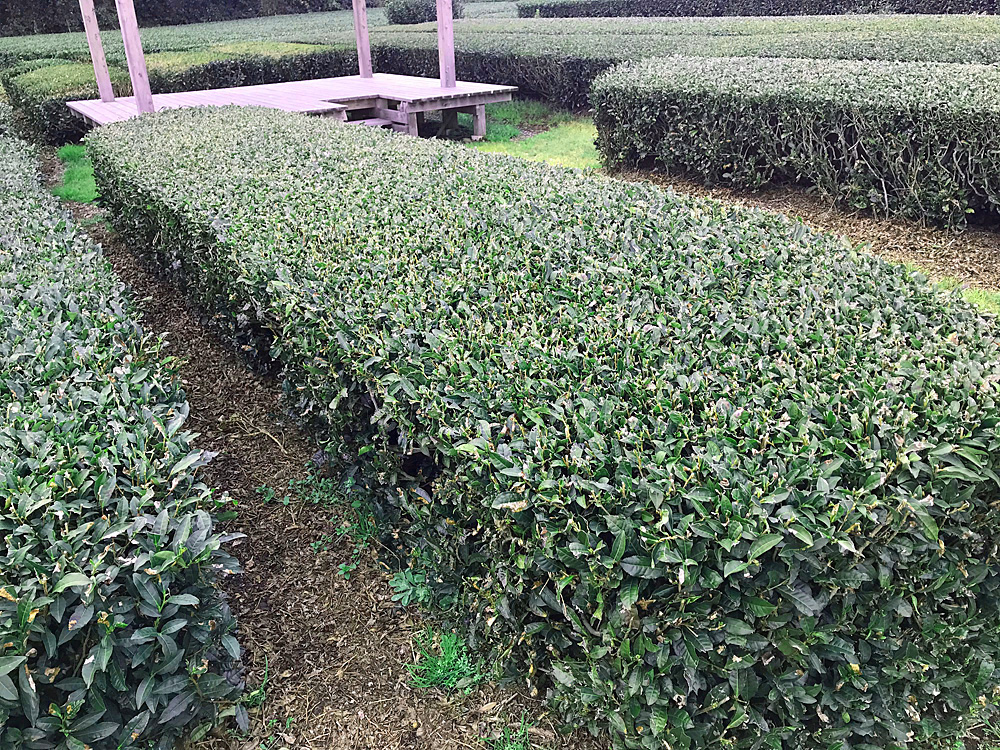 Mohei Honda: "The trees over there are Japan's most representative tea cultivar, Yabukita."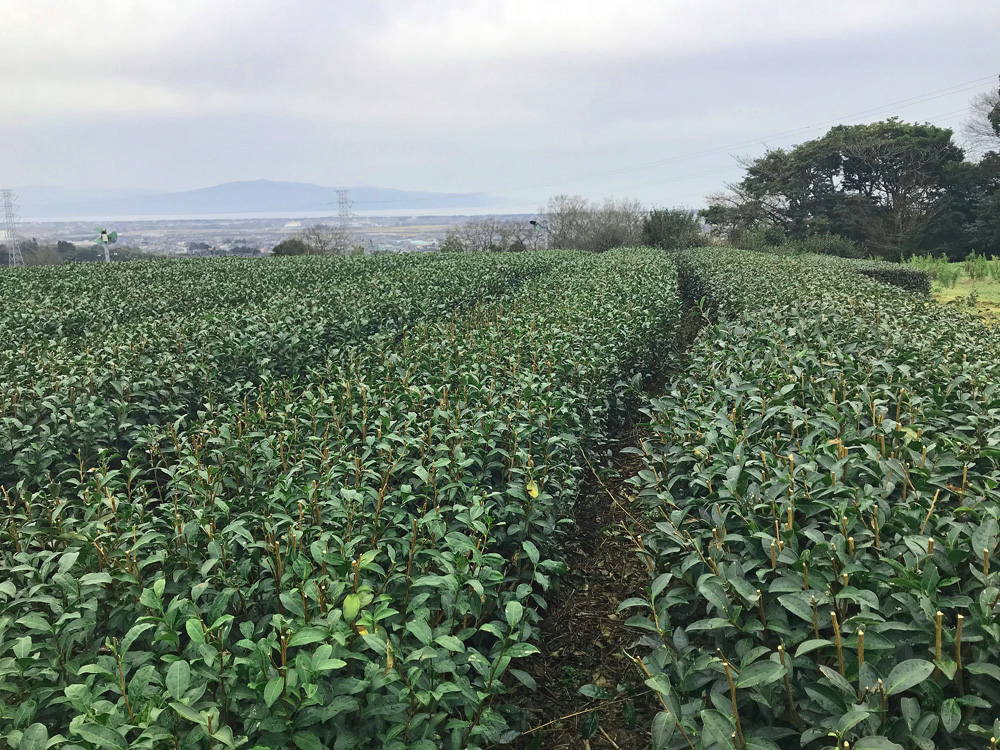 Mohei Honda: "The tea trees at the highest point are Meiryoku that are used for making Kamairicha (pan-fired tea), Hakucha (White Tea), and Oolong Tea.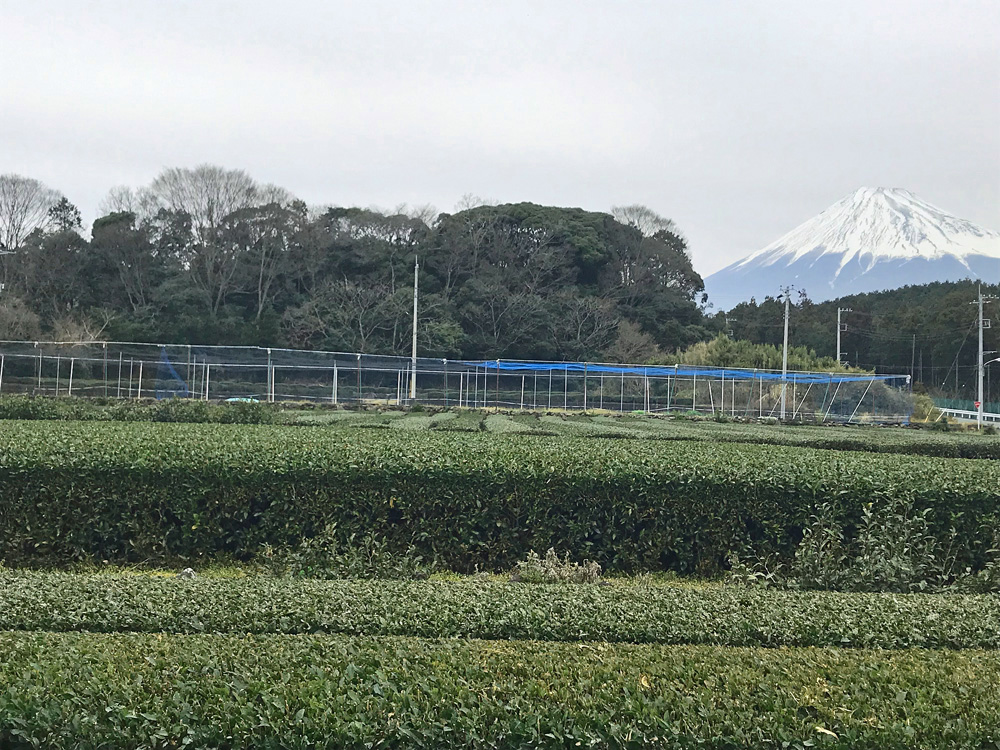 Mohei Honda: "And Sakimidori. This cultivar is developed in Miyazaki prefecture. This creates an interesting taste if you make oolong tea with it. "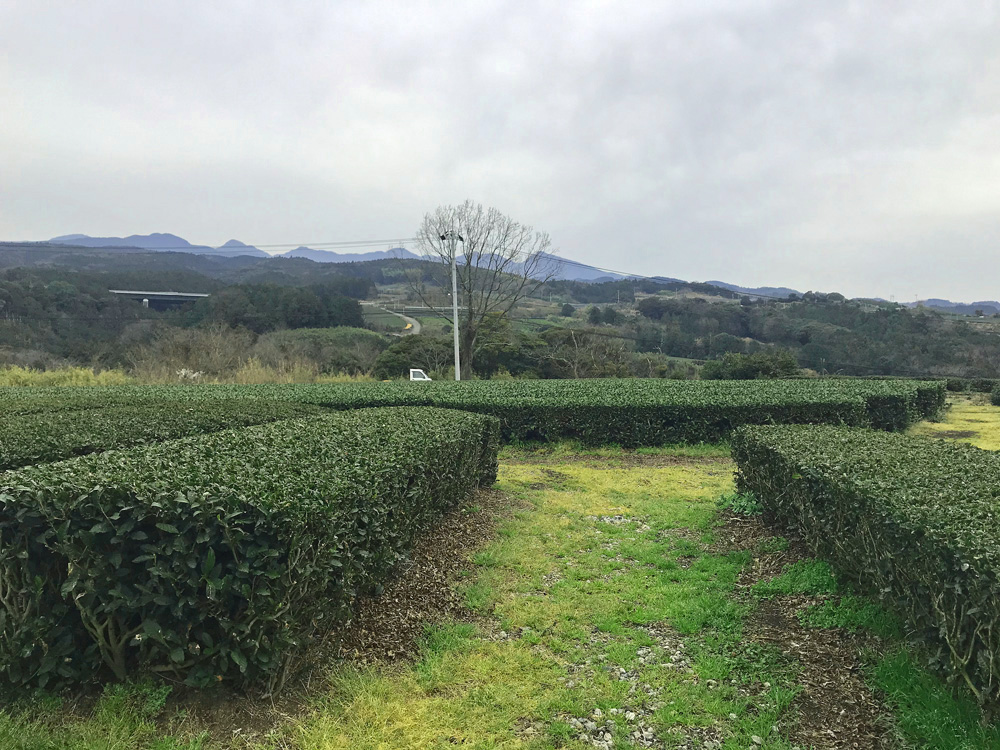 Mohei Honda: "By growing various cultivars, I can offer tea experiences throughout the year. In the cold season, using hard leaves, we make Hojicha (roasted tea). Our visitors can experience hand-rolling and pan-frying teas, but a reservation is required.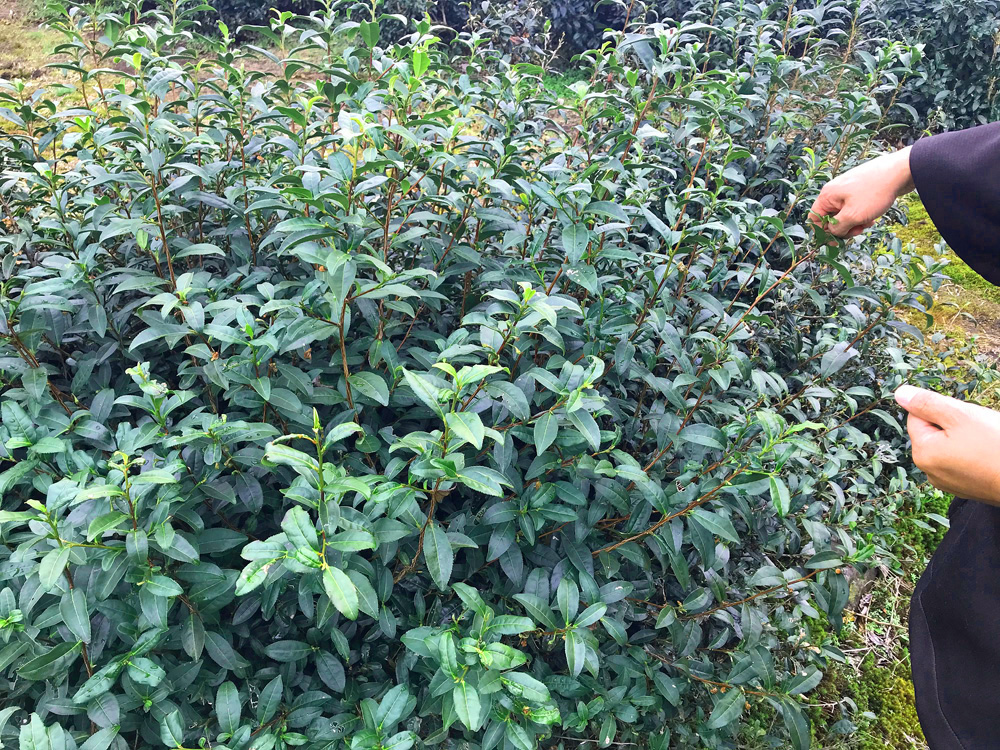 ― "Excellent! I don't think many tea gardens provide such a wide variety of tea making experiences."
Mohei Honda: "It's fun to have barbecues or pot parties with tea that matches the dishes in summer or late autumn. Baking sweet potatoes or making smoked food with friends under the blue sky is wonderful."

Mohei Honda: "I wish people not only to enjoy the tea experiences but also to enjoy the tea fields. We sometimes rent our tea fields out. I'm so happy to see people use our tea fields in various ways. For example, a tea ceremony teacher performed an open‐air tea ceremony. I also enjoyed the performance of the Shakuhachi-flute and Koto board zither.
Some people came here to perform yoga, some had sake parties, and some came here to relax and do nothing.
In particular, foreign visitors often come on their way from the east to the west, so they have a limited time to stay here. So we make sure for them to spend 30 minutes to 1 hour doing nothing. We want them to have a relaxing time in this peaceful place without any disturbance.
We drink tea to feel at rest.
↓ It is breathtaking to see the scenery, which changes depending on the season and time of day.

What moved me to start the OCHATIMES?
(↓ Mr. Mohei Honda the 5th serving tea.)

Mohei Honda: "Why made you start writing about tea farmers and tea wholesalers and publishing them on websites?"
― "I hoped that by improving how we transmit information, the Japanese tea market would be revived. I also like sake, but the sake market is definitely recovering. Sake is associated with the brewers, their backgrounds, and dramas in producing their products. That's why we can enjoy sake as a special drink for a once-in-a-lifetime encounter. However, most Japanese teas are disconnected from their producers and their stories. I'd like to connect the single-origin teas to their producers and blended teas to their tea masters. I believe that such stories derived from tea production are interesting and make each tea a special drink."
Mohei Honda: "There are definitely well-blended teas from good wholesalers. Blending teas seems patented or exclusively for wholesalers or tea masters, but they are not. At some tea stores in Tokyo, their owners are making their blends. But usually, by the time the tea product reaches the consumer, the tea producers, tea masters, wholesalers, and even the name of the production area will have disappeared. So our efforts and enthusiasm cannot be conveyed. It might have been better in the time of mass-consumption when tea was a daily necessity. But tea is not unique enough to be a hobbyists' favorite item. This is very different from sake."
― "The sake market is actively holding brewery events and festivals, since brewers and sake fans are very good at interacting with each other, and the number of sake fans is increasing. The SAKE TIMES also exists and is sharing information on sake.
So, I thought if we have a SAKE TIMES, why not an OCHA TIMES to transmit information on tea? I didn't know about the GRANSHIP World Tea Festival until just before the date of the opening. That reflects the current state of information transmission in the tea industry. Such a situation is deplorable. I have proposed to others to emphasize information transmission on tea. But no one was moved. So I decided to do it myself.
The process of making tea is really harsh. I had a metalworking job. I used to work for 150 hours of overtime per month at the company I worked for. I still haven't received overtime payment. But, when I saw the tea manufacturing process and experienced it, I was so surprised at tea production's difficulty. Moreover, because uncontrollable natural conditions influence it, there is no reproducibility, and the schedule changes rapidly. Besides, it takes more than three years from planting the trees to harvesting.
I believe that if people know the dramas and stories behind the tea production, their view of tea might change."
Mohei Honda: "Outside my tea factory, some seedlings are growing. I found their seeds between the Houryoku and Koyanishi tea cultivars at the corner of GRANSHIP Square near Higashi Shizuoka Station. I really wanted to grow tea trees from seeds."
↓ The seedlings that sprouted from the tea seeds

↓A tea seedling, which returned to the GRANSHIP at the World Tea Festival 2019

Mohei Honda: "I got the seeds about five years ago at the World Tea Festival, so they took five years to grow to this point. Tens of thousands of people visited the festival, but I remember that they passed by without showing interest in the tea trees and seeds on the ground outside the festival site.
As a person having a tea garden, the process from a tea tree in the soil to a cup of tea is fascinating.
Many people are interested only in brewing a cup of tea, but not interested in how that tea was made, how the tea trees grow, the soil, climate, etc. It's frustrating that their interest doesn't expand further, and I feel that people are missing out on something valuable. However, it can be the same even for people in the tea industry, only a few people think like me."
― "Honda-san, you have explained reasons for the unique flavors of teas well such as How to add fertilizer Geology Wind strength Climate, etc. You could put it into words very well. I've been pleasantly surprised at your explanations. (This subject is lengthy, so I'll write another article soon.)"

Mohei Honda: "Each work has its own meaning when it comes to cultivating tea. We accumulate knowledge from experience, but there aren't so many people who try to put it into words.
I think that there are many people who grow tea according to the land's characteristics from just experience. I don't want to say it's bad, because the result may be suitable for that piece of land. At least they are making an effort, so I have no right to say whether it's good or bad.
I just want to know how I can get results from my specific actions. I have also seen various types of tea fields. Each field had a slightly different concept. I wondered what was behind those differences. There are many intangible factors in tea cultivation. That is why we try various methods. By doing so, I should be able to find something that normally takes 50 years within 5 or 10 years. What I found may not be true, but I wanted to systematize my findings so that at least I could explain based on facts."


Mohei Honda: By doing so, even if I am away from the tea fields for ten years, I will be able to return to the field immediately when I resume the tea business. Also, when someone wants to start a tea business, the person doesn't need to start from scratch if someone who understands the tea business can instruct the person. Understanding the principles of how to act in each case helps people to enter the tea business.
~FUJISAN MARUMO CHAEN・How to Purchase・Booking the Tea Experiences~
Address
1765, Fujioka, Fuji City, Shizuoka Prefecture, 417-0841, Japan
Website

How to purchase

Booking the Tea Experiences

http://corp.fuji-tea.jp/

(↑FUJISAN MARUMO CHAEN official website)

(↑The link for the online store to purchase products.)

https://chajihen.com/en/contents/chanoma/the-mt-fuji-tea-terrace/

(↑The link for booking a tea experience at the "Tea Garden with the Ocean and Mt. Fuji View".)

instagram

https://www.instagram.com/honda_mohei/
Phone number
+81 545 30 8825
E-money and credit cards: Available
QR code payment
Available

QR code payment is not available.

Open
Contact FUJISAN MARUMO CHAEN
Closed
Contact FUJISAN MARUMO CHAEN
Parking lot
Available for a few cars
Access
By car
– 15-minute drive from Shin-Fuji Station
– 15-minute drive from Yoshiwara Station
– Exit from the Fuji-higashi IC of National Route 1, drive to the north on Prefectural Road 76. Go straight at the intersection with Prefectural Road 22, turn right just before the slope, cross the bridge over the Akabuchi River. Turn right after crossing the bridge, then turn left and continue 200m.
Related articles