Chamachi KINZABURO's Mission to Design Tranquil Tea Spaces【Shizuoka City, Shizuoka Prefecture】

Go to Japanese page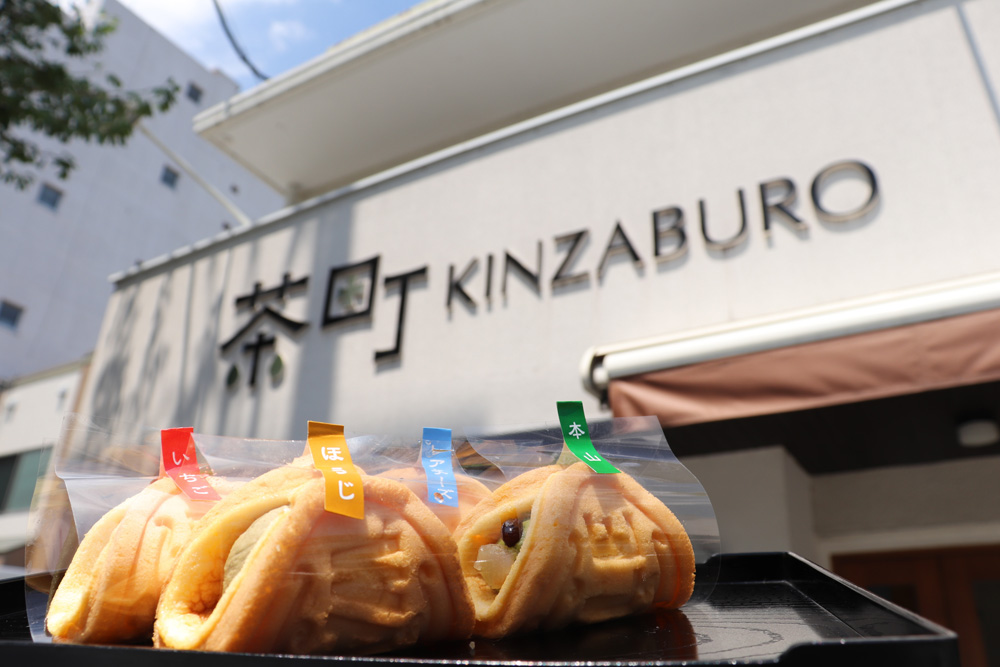 About 2 km northwest of Shizuoka Station, there is an area called "Chamachi" where the tea industry, including tea shops, tea-related companies, organizations, and markets, gather. The history and culture of Chamachi has continued since the Edo period (1603-1867), more than 400 years ago, and even today it is a sanctuary for the tea industry. We interviewed a Japanese tea café KINZABURO in Chamachi, which offers a wide variety of delicious teas and handmade sweets. The representative director, Mr. Fusao Maeda, is a skilled tea master and also serves as the chairman of "Chamachi Concierge," a project to promote the tea industry in Chamachi.
In this article, we will report on the cafe's interior, the cafe menu, and the concept of the 'Chamachi Concierge', including an interview with Mr. Fusao Maeda, the representative of Chamachi KINZABURO.
What is Chamachi KINZABURO
Chamachi KINZABURO is a Japanese tea café operated by Maeda Kinzaburo Shoten, a tea wholesaler established in 1914, and was awarded the Grand Prize for Design (Prefectural Governor's Prize) at the first "Local Shop" Design Awards held by Shizuoka Prefecture in 2017.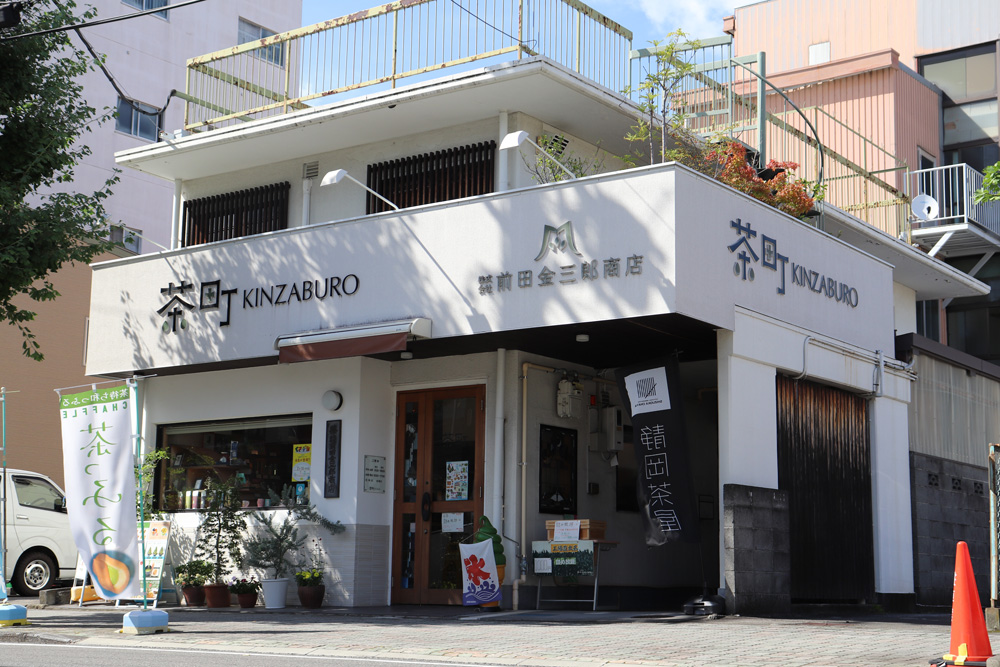 The first floor sells and accepts orders for tea, tea utensils, tea cakes and other delicious handmade sweets. The second floor is an eat-in space where you can relax while enjoying tea and sweets. (Umegashima Club's chai syrup is also available for purchase on the first floor.)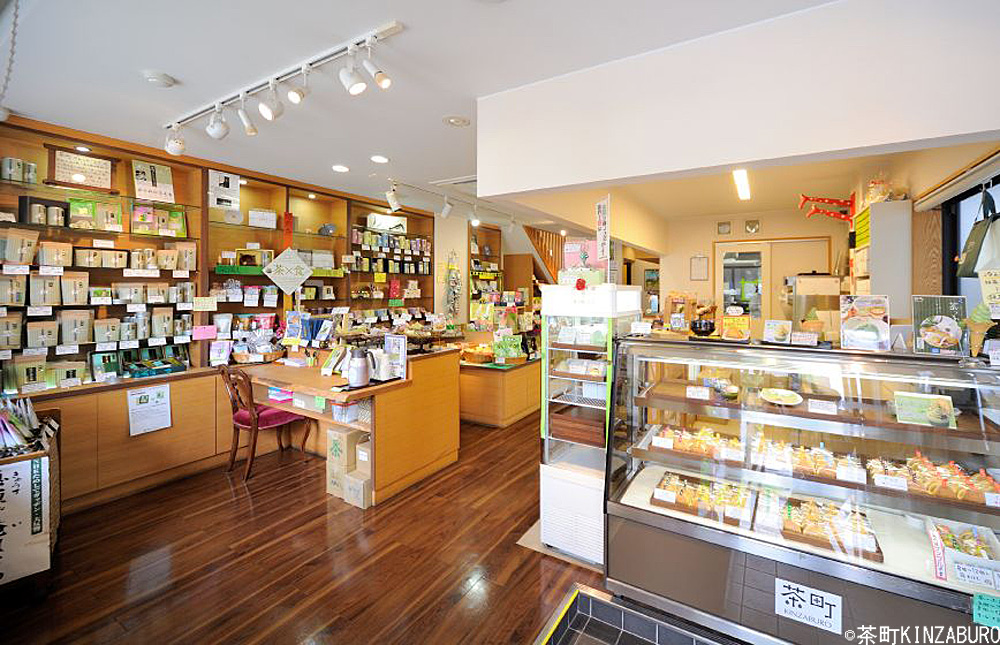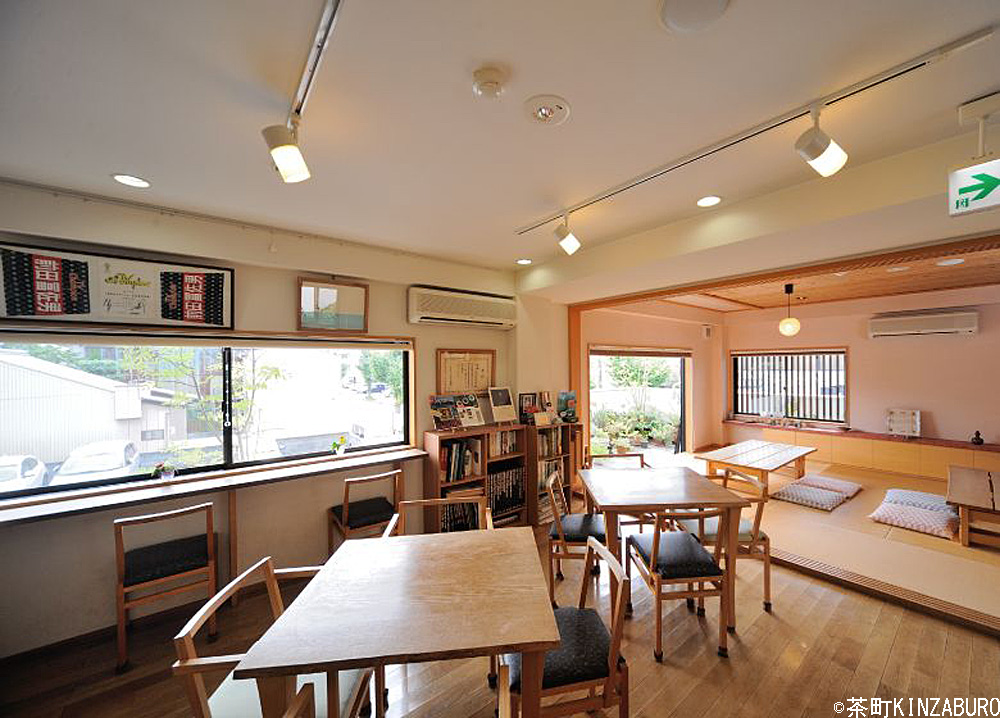 Recognized as the First Shizuoka Chaya Project Shop
The Shizuoka Chaya Project is a "plan to support the goal of 100 Shizuoka teahouses opening shops by the 2020 Olympics with the aim of attracting inbound visitors." The Shizuoka Tea House Project will include not only tea stores, but also stores with a connection to tea.
Chamachi KINZABURO is recognized by the Shizuoka Prefecture Chamber of the Tea Industry as the first Shizuoka Chaya (teahouse) and serves as an advisor to the Shizuoka Chaya Project.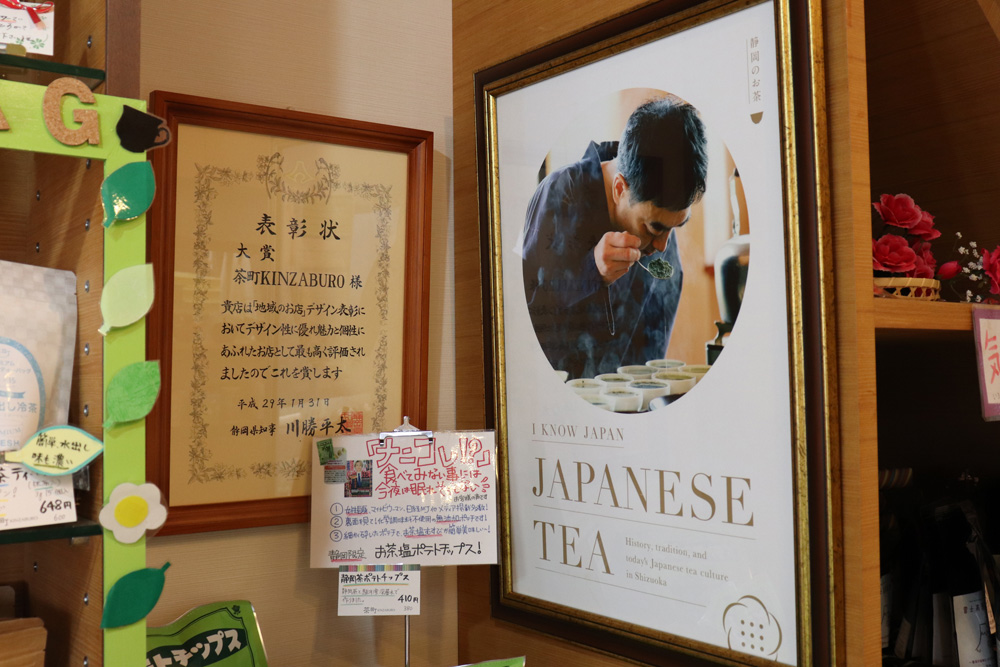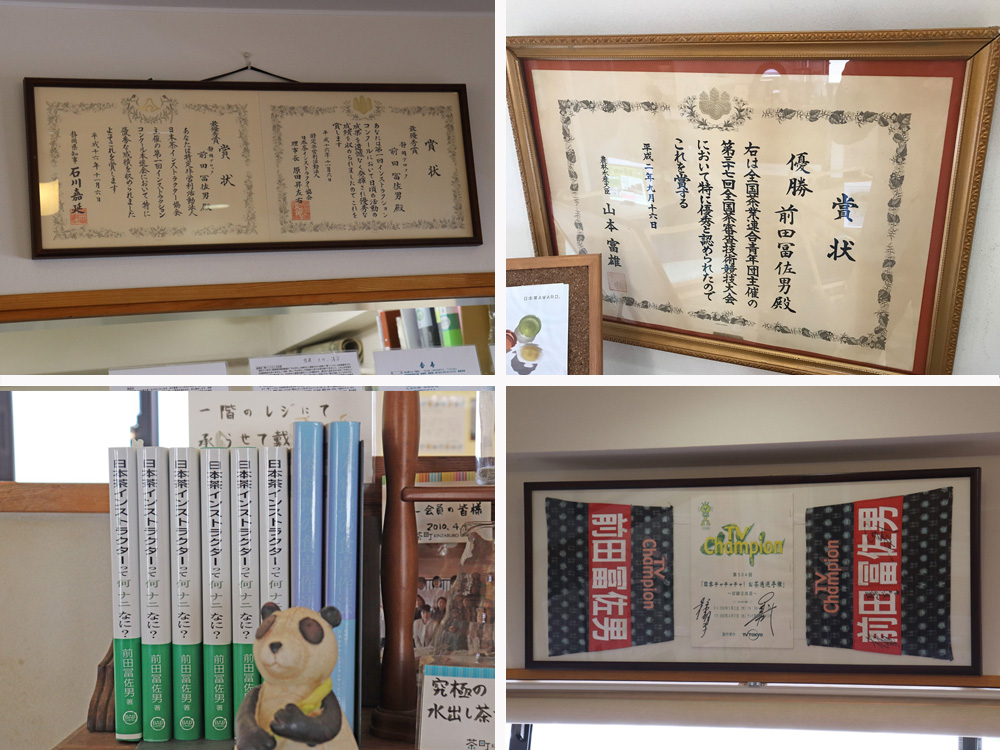 ▲KINZABURO is also an advisor to the Shizuoka Chaya Project. Mr. Fusao Maeda has many accomplishments in the tea industry, including appearances on TV and being a published author.
Chamachi KINZABURO offers a café menu of its signature teas, baked goods and sweets. Here we would like to introduce a few of their menu items.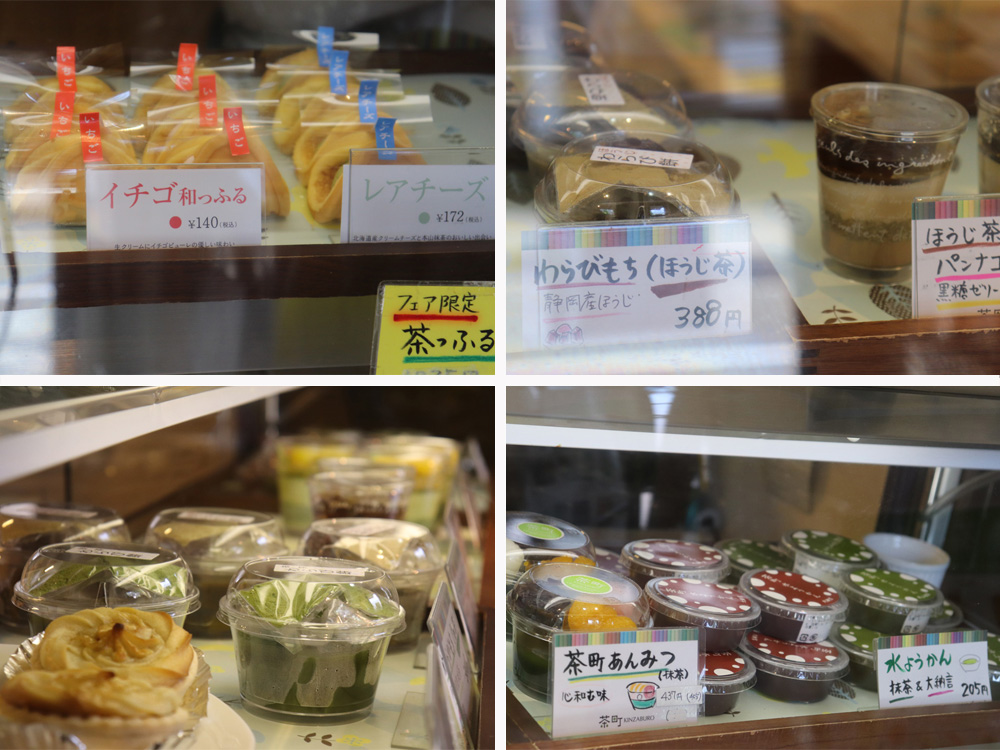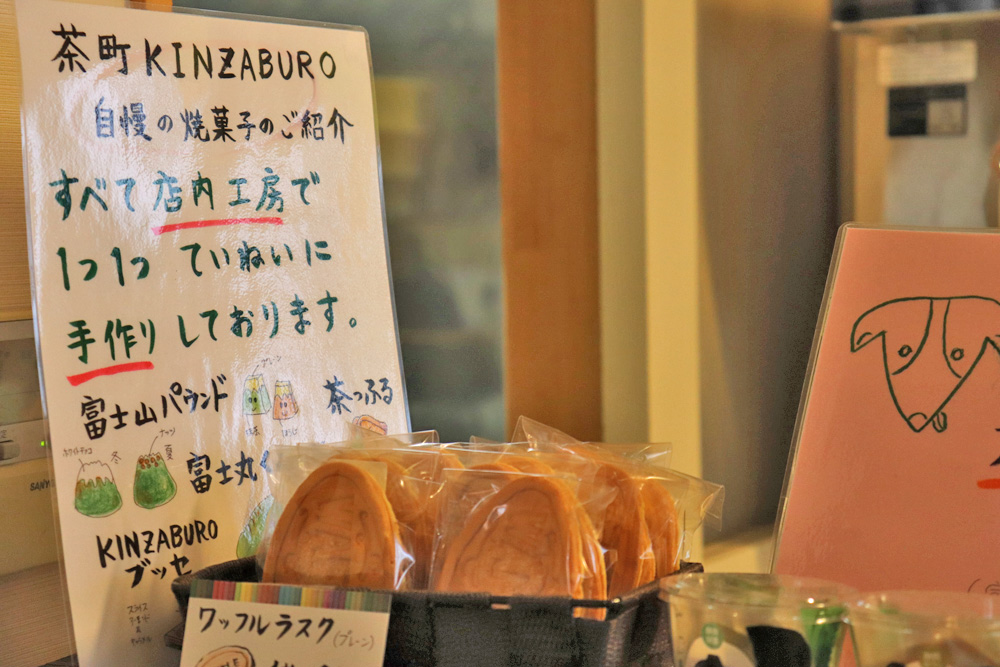 Handmade green tea waffles – Cha-furu
"Cha-furu" is a handmade waffle made from carefully selected ingredients by Maeda Kinzaburo Shoten. You can enjoy the different flavors of tea from different tea-producing regions in Shizuoka Prefecture, such as Tenryu, Honyama, and Kawane, with the nostalgic and delicate taste of their waffles.
More than 10 flavors of waffles are available, including tea and other classic flavors such as rare cheese, strawberry, and chocolate. They are available for eat-in or take-out.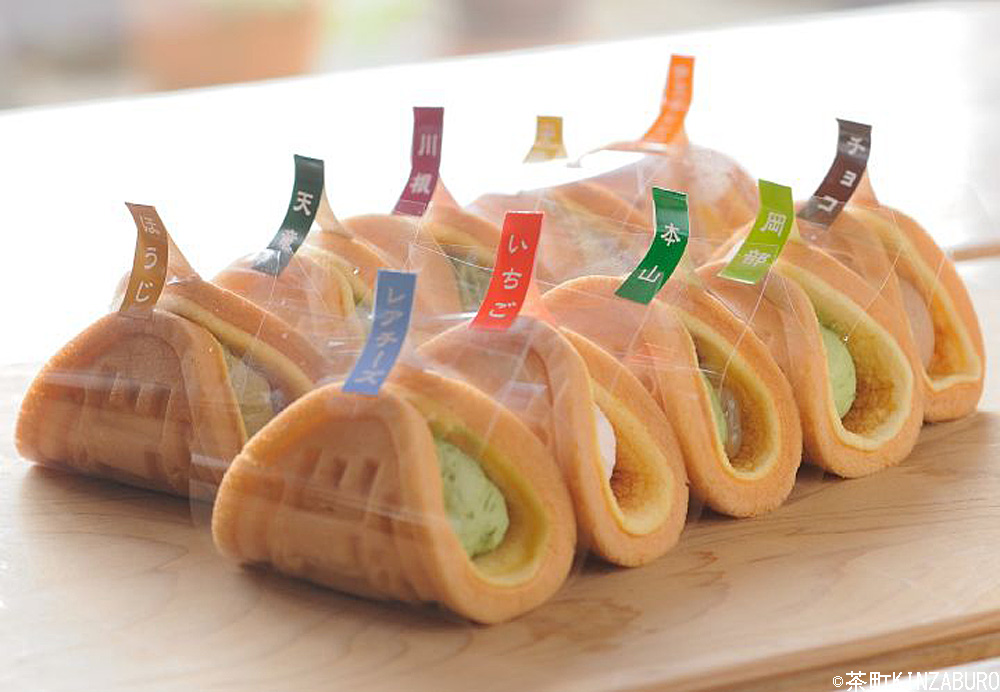 Thick Green Tea Affogato
Matcha ice cream, chestnuts, grains of sweet bean paste, and a special Japanese-style Mont Blanc topped with warm dark green tea. Just looking at the way the thick tea envelopes the Japanese sweets is delicious. This eat-in only item allows you to enjoy the marriage of thick, rich green tea and sweet ice cream!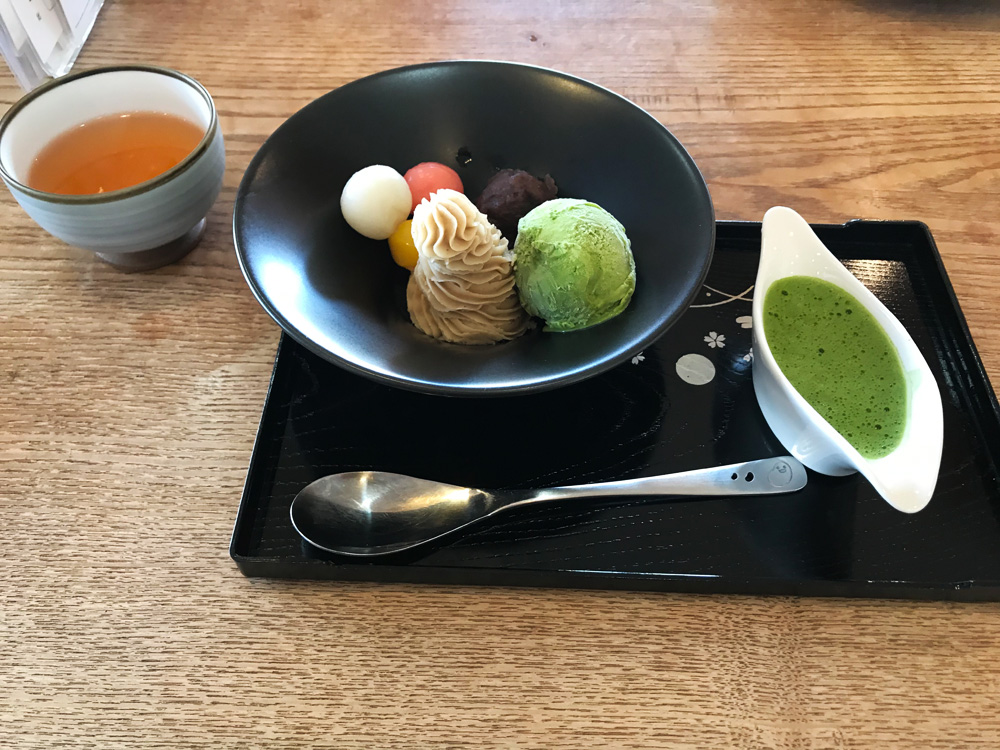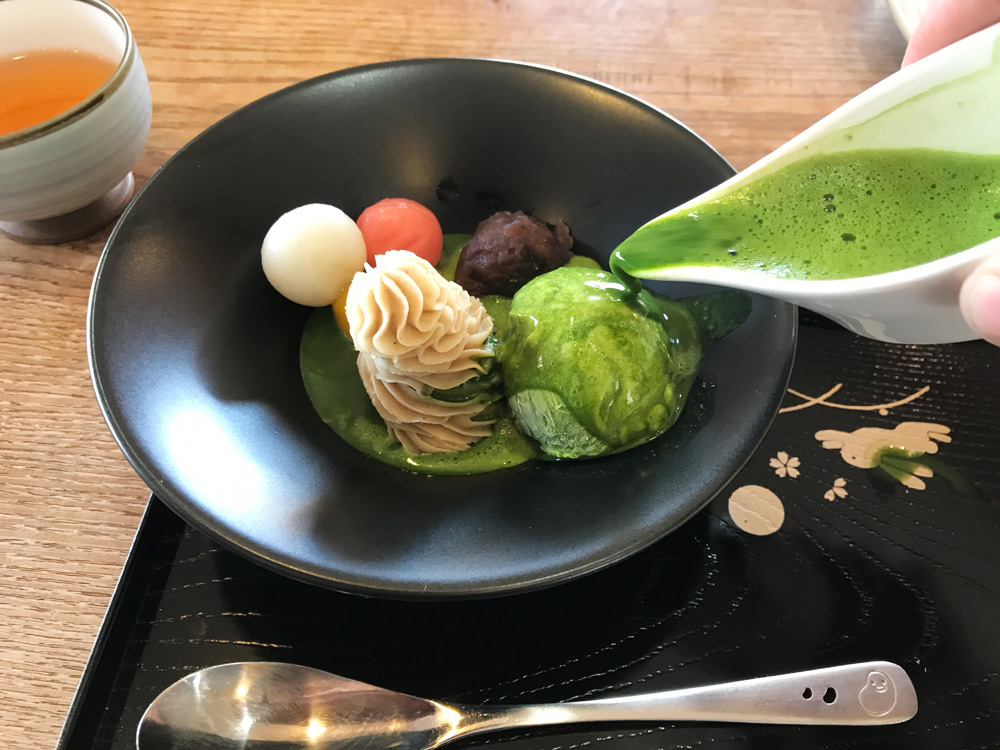 Honyama Matcha Soft Cream
The aroma of Honyama green tea leaves a pleasant aroma in your nose. It is so light and sweet that you can eat as many pieces as you like.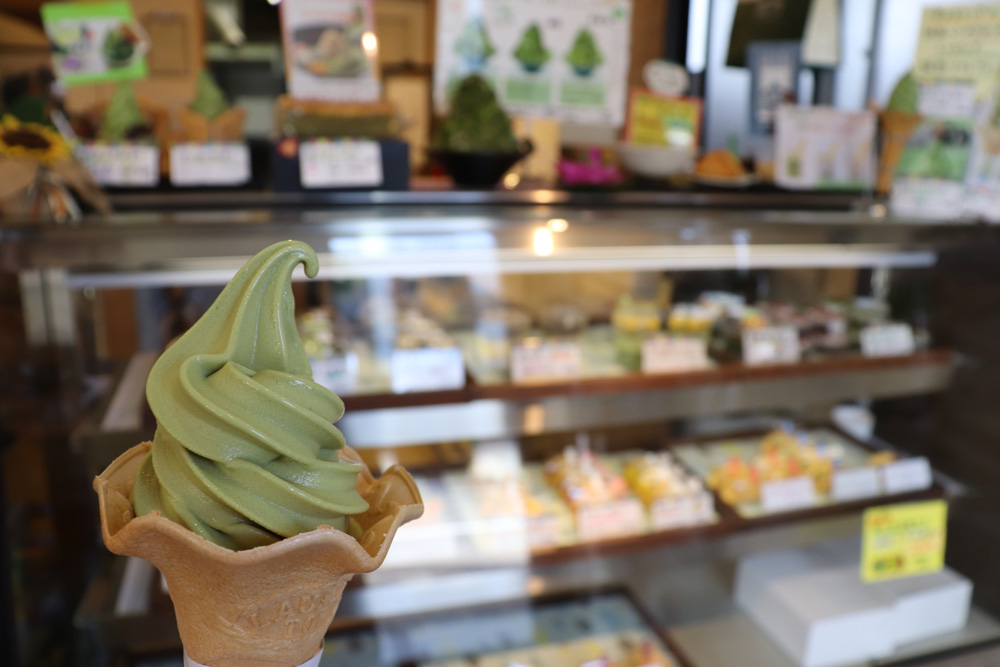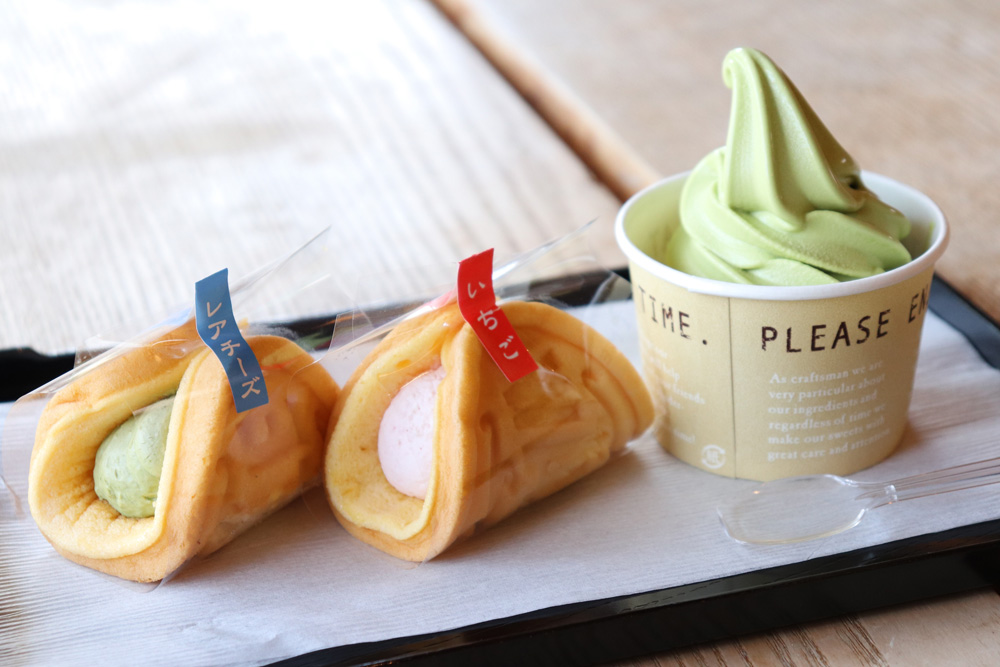 ▲Order a cup of Honyama green tea soft-serve and a bowl of chafuru (green tea waffles) separately for a luxurious set.
Matcha Shaved Ice – Summer Limited Menu
This summer-only menu allows you to enjoy the refreshing flavor of matcha green tea with shaved ice. The bottom of the shaved ice is filled with ice cream, anko (red bean paste), and other sweet delicacies. The flavors change as you continue to eat, making a most enjoyable experience.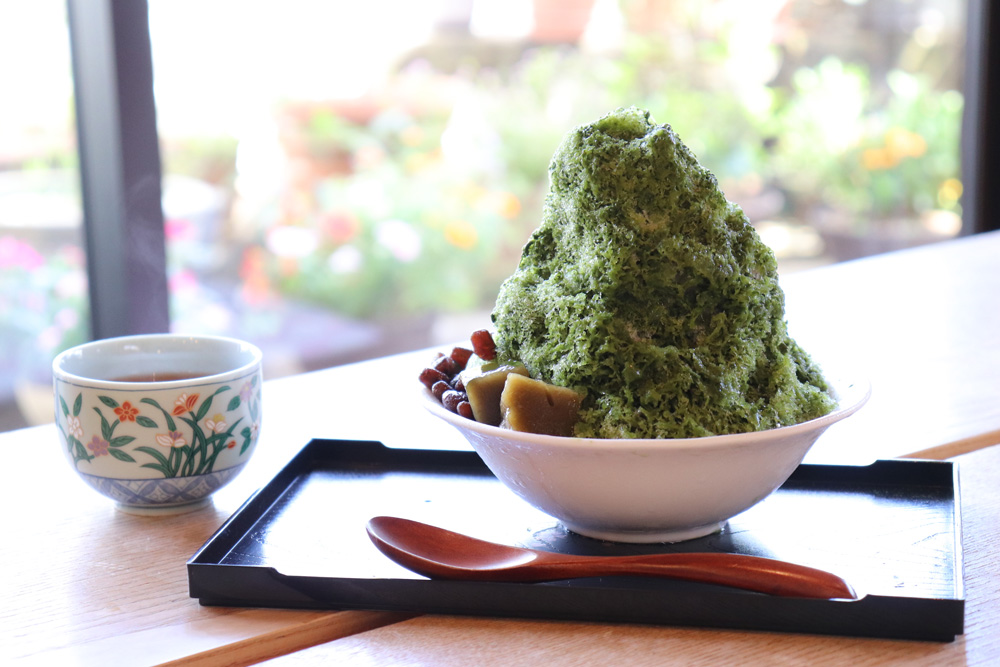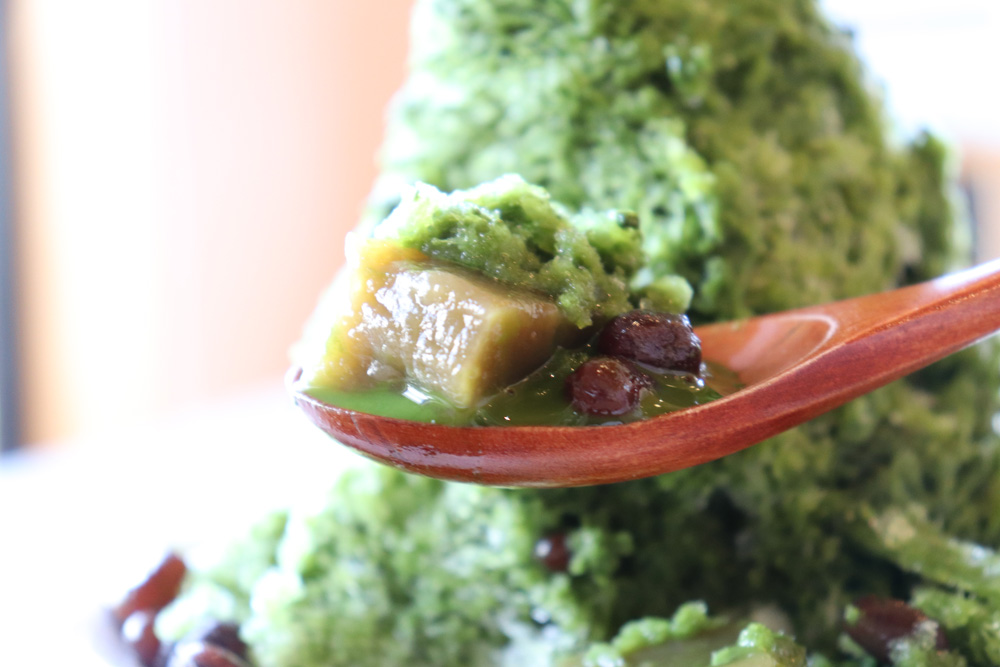 Find your own unique marriage of tea and sweets!
The eat-in space on the second floor offers more than 10 flavors of tea, all of which can be tasted free of charge. After ordering a sweet from the café menu on the first floor, go upstairs to find the flavor of tea that goes with your dish and enjoy creating your own personal marriage of flavors.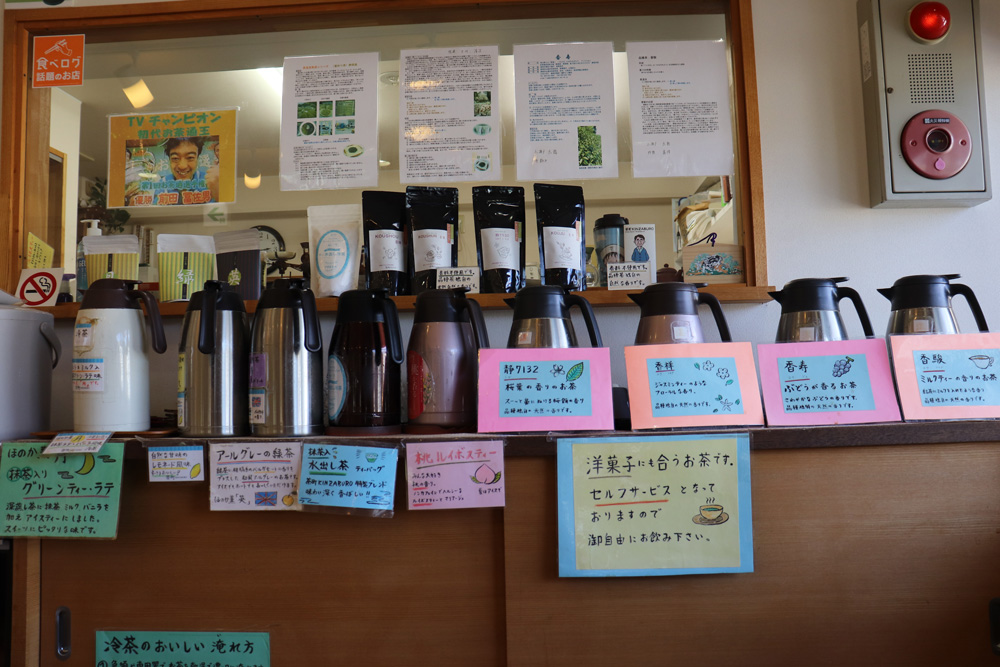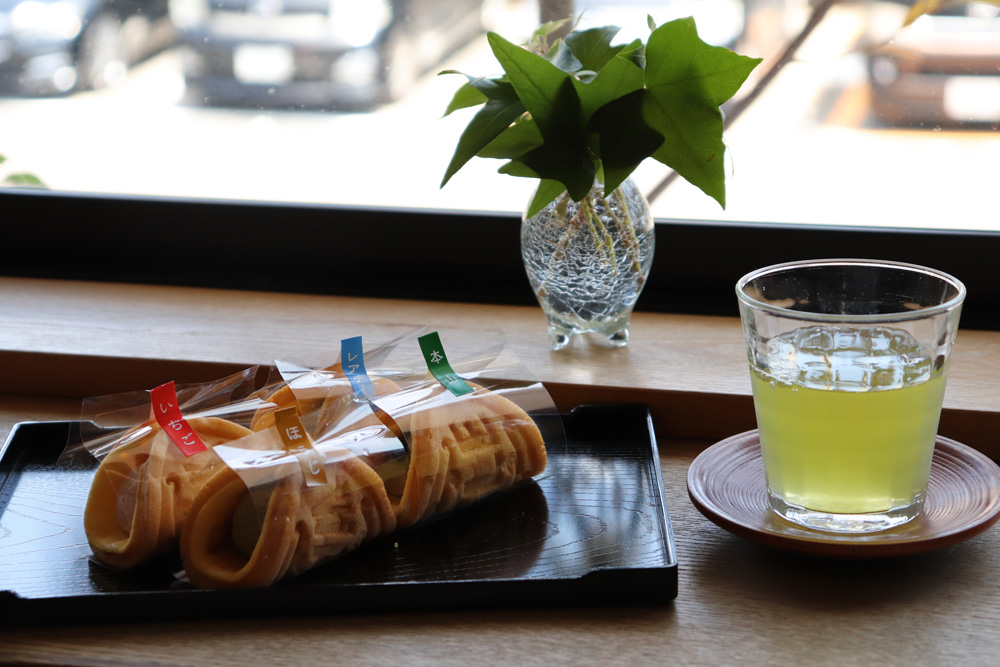 Interview: What kind of relaxing tea experience does Chamachi KINZABURO offer?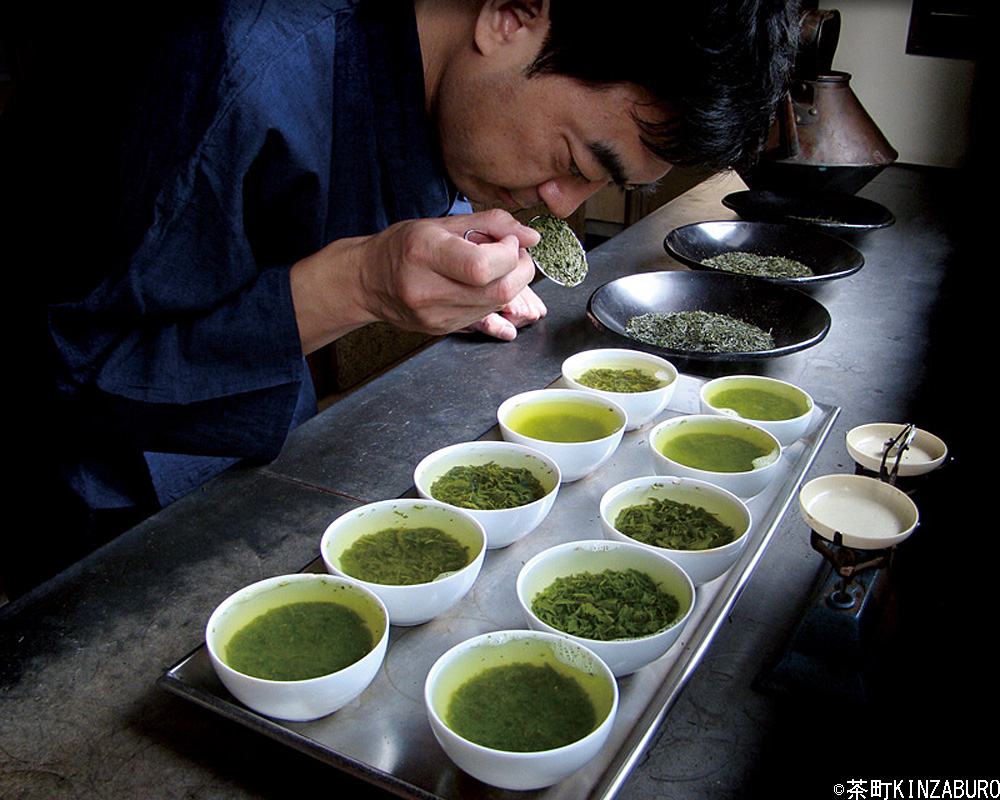 We interviewed Mr. Fusao Maeda, representative of Chamachi KINZABURO.
---
–Please tell us about Chamachi KINZABURO.
I believe that it is important as a teahouse not "to simply sell tea", but to sell "a set of things that offer an enhanced experience through the purchasing of tea."I am sure this is true not only for tea, but for all industries.
For example, if you are selling sandals, you will need to convince customers how the purchase of your sandals will enrich their beach life.
In this case, we thought it necessary to offer a set of services for selling tea, including a Japanese-style room for relaxing, reading, tasting and also a flower arrangement class. We decided to open the Japanese tea café, "Chamachi KINZABURO," to be such a place.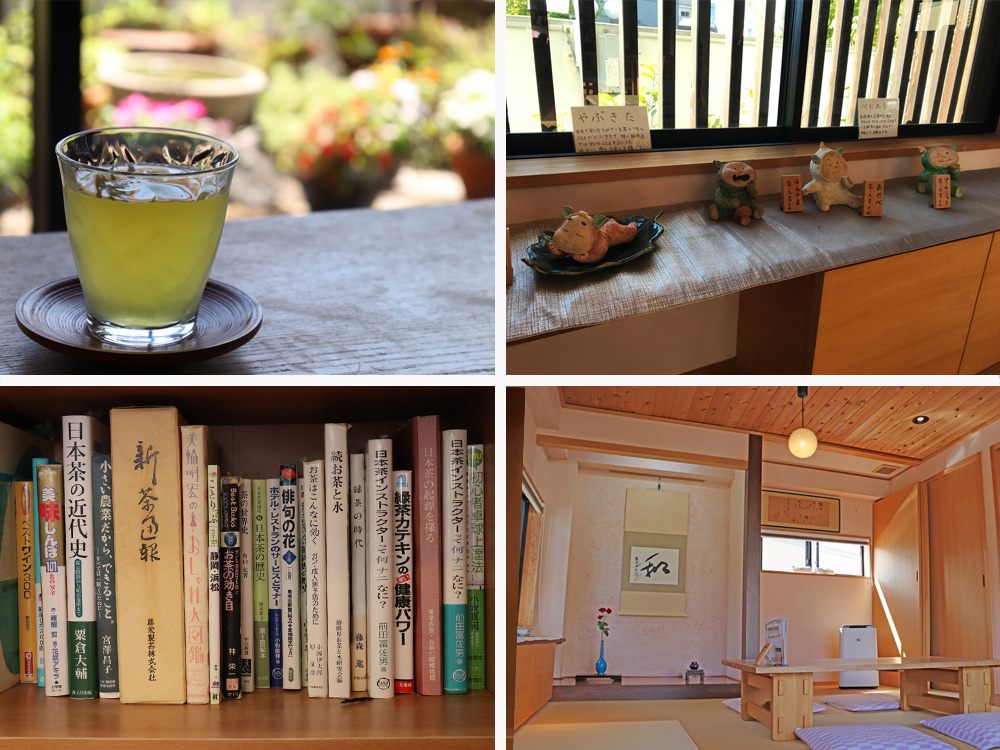 –How did you come to think it was important to sell tea with a set of experiences?
It was about 15 years ago. Dr. Iwasaki of Shizuoka University gave a lecture on the topic of "Creating Brands Utilising Local Resources." At the lecture, he showed me a document, the contents of which were astonishing to me.
The material was the result of a questionnaire survey of 800 young housewives in Tokyo and Kanagawa, which asked questions such as, "Tea brewed in a kyusu (teapot) is _____."
All of us attending the seminar, being tea producers, would naturally put the word "loose leaf tea" in the gap.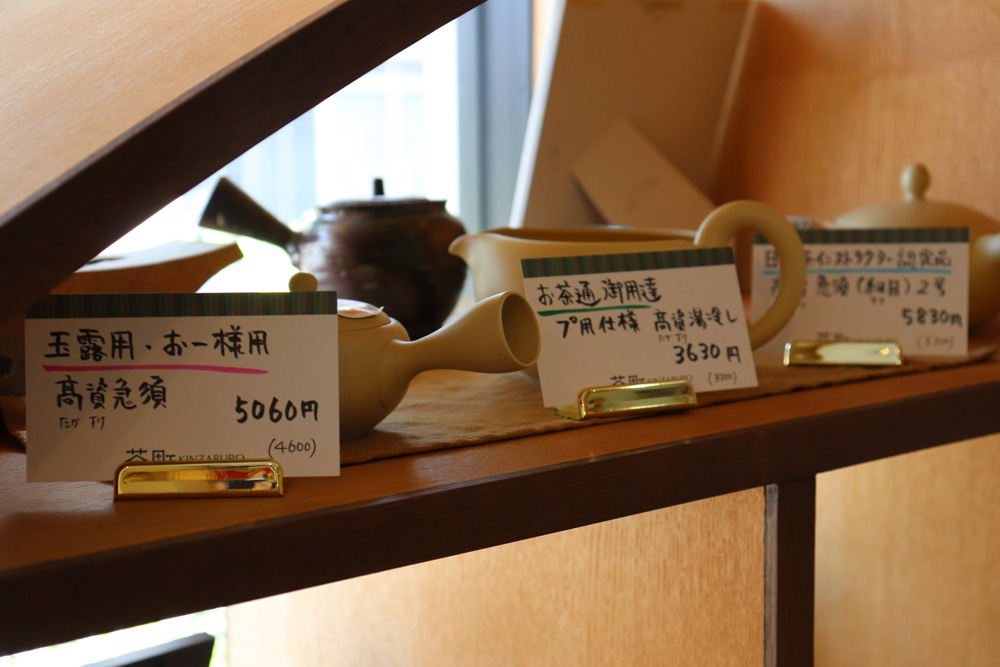 However, out of the 800 respondents surveyed only 2 of them answered "loose leaf tea." Instead, the answers were "relaxing," "peaceful," and "therapeutic."
No matter how much we tea shops want to sell "loose leaf tea," and what housewives want from tea is "relaxation," "peace," and "therapy," there will be always be a discrepancy between the two.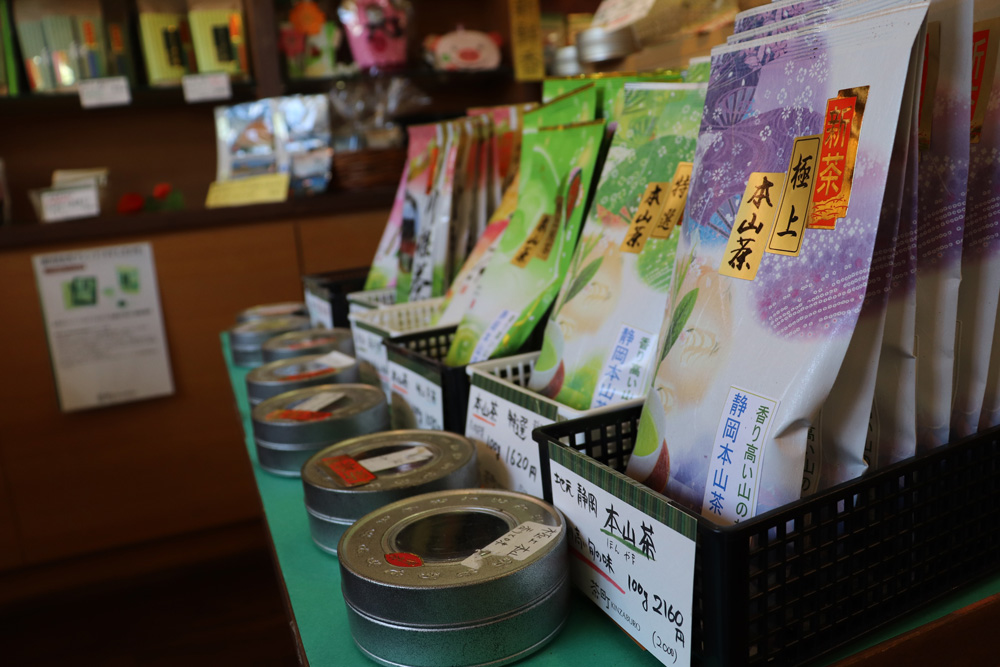 Thus I came to the conclusion that instead of selling loose leaf tea, we must create an environment that sells a restful, relaxing, and soothing experience.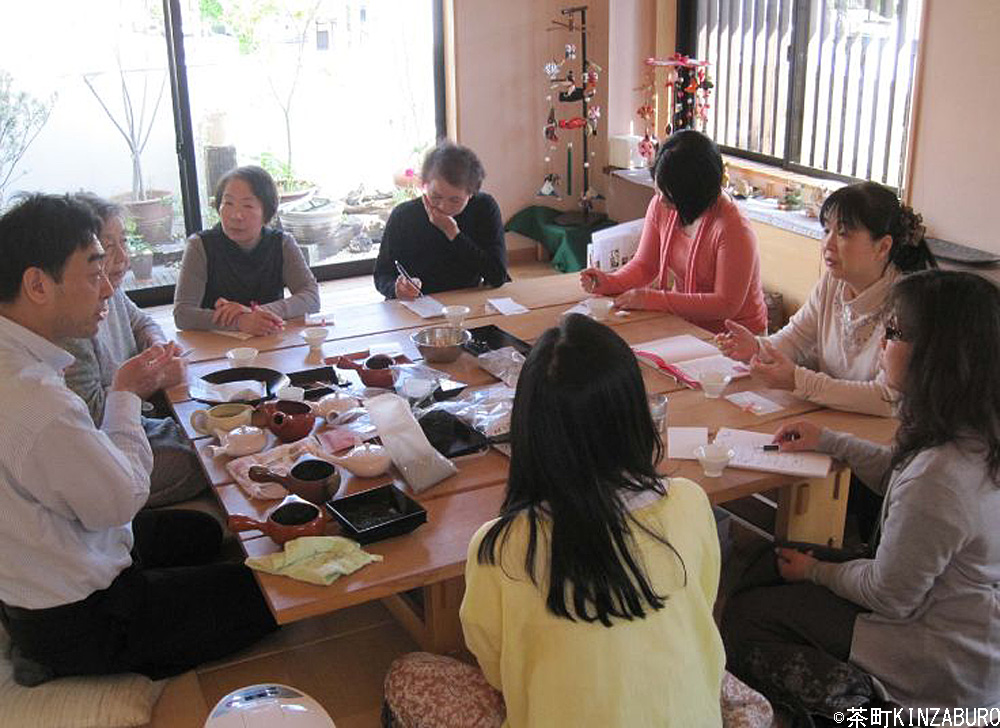 ▲Fusao Maeda giving a seminar on tea
Connecting CHANGE in tea to CHANCE
This may be true for other industries as well, but there is an inward-looking and close-minded part of the tea industry. However, I believe the time has come for the tea industry to change.
My first goal was to CHANGE the industry. I have been trying to CHANGE the tea industry, but only CHANGE will not lead to CHANCE. How can one change CHANGE to CHANCE? One needs to take the T out of the G part.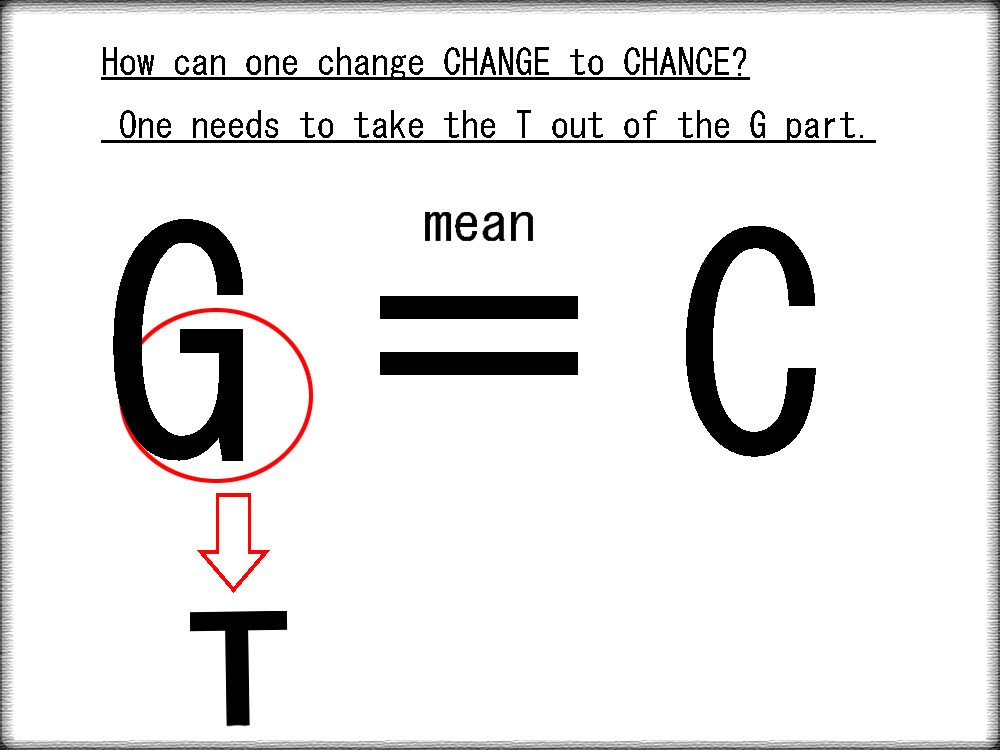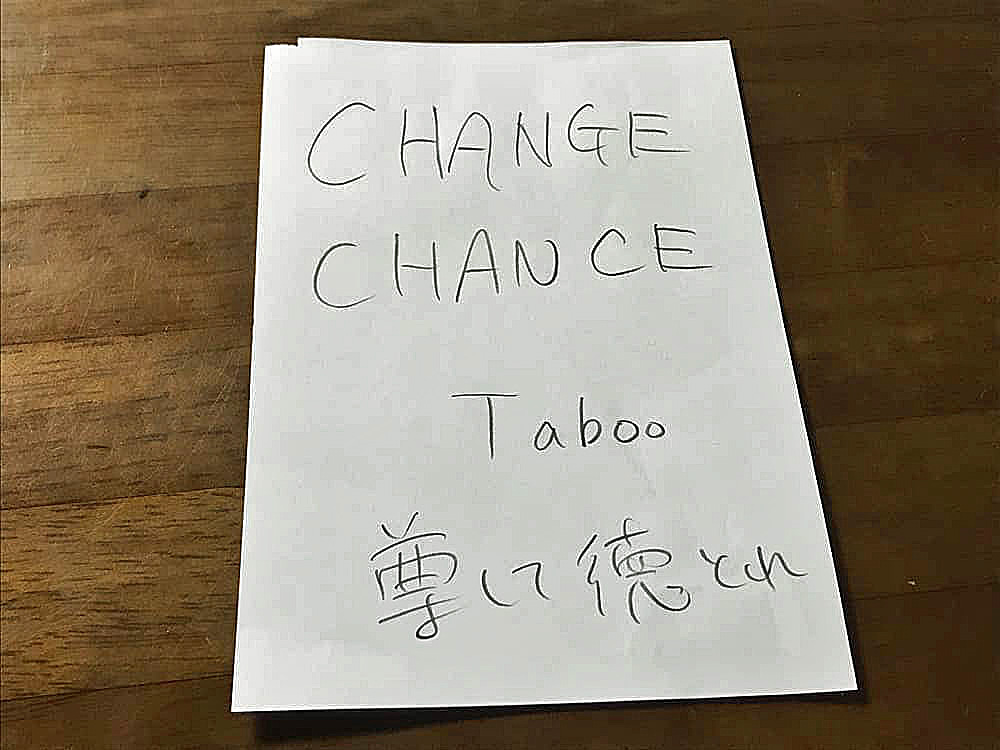 ▲Notes written during Maeda's interview.
The T part that must be removed is "TABOO". Every single blend of tea is a company secret (TABOO). I thought it was necessary to break down these taboos, so I started doing tea factory tours and opened the tea making process to the public (TABOO).
By disclosing things that have not been revealed before (TABOO), we hope that customers will feel comfortable with us and become fans of our tea.
The free tasting corner in the eat-in space on the second floor is also designed to aid in connecting "CHANGE" to "CHANCE".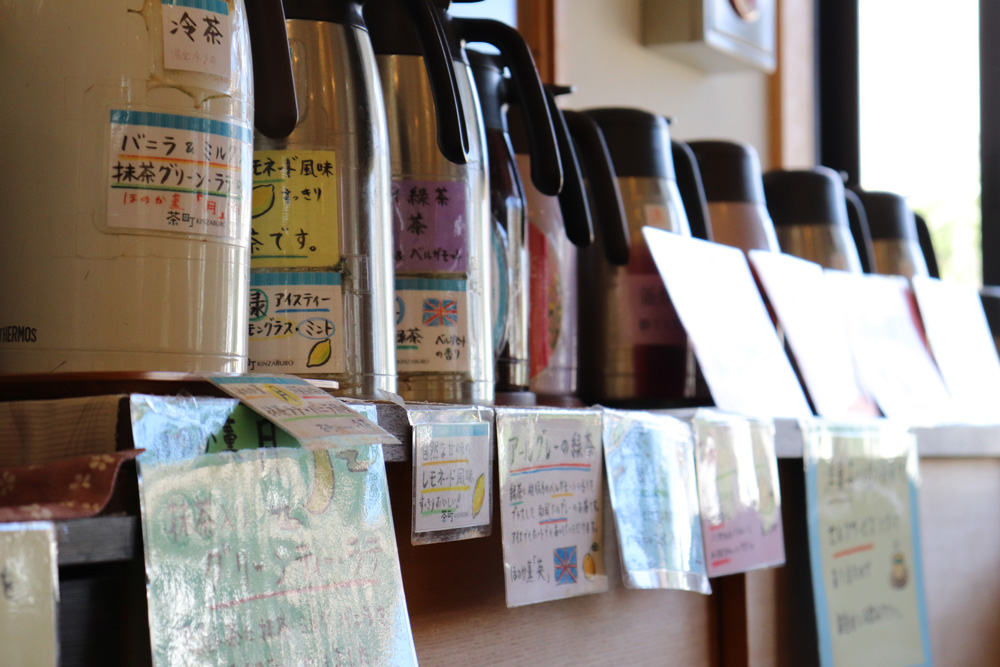 In order to connect the CHANCE that we have gained in this way I proposed the idea of a "Shizuoka Chamachi Concierge" and recruited volunteers to participate in the revitalization of the Chamachi area and the general promotion of tea.
Launch of the "Shizuoka Chamachi Concierge"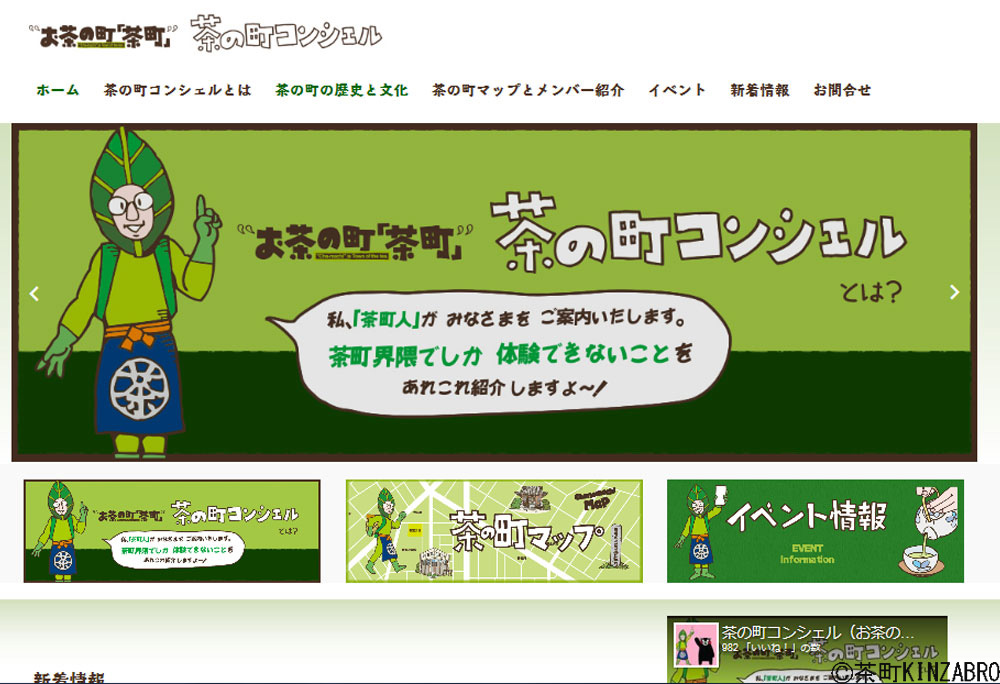 We believe that if the members of the Chamachi Concierge were to consist only of people in the tea industry, the opinions of each Concierge would be biased, so we have asked lots of people from all kinds of professions like butchers, barbers and miso makers to join us. In addition, professors from Shizuoka University of Art and Culture and Shizuoka Sangyo University joined us to provide a more multifaceted perspective.
First, we went to Yamanashi to observe wine tourism as a role model. We found that while the purpose of the tour was to visit wineries in Yamanashi, it was also designed to encompass the entire region, encouraging visitors to visit other facilities as well.
I also went to Obuse in Nagano, a town famous for its chestnuts. I could smell chestnuts everywhere in the town, and it was a very moving experience.
Applying these experiences to Shizuoka's tea tourism, I thought that a town with a long history and culture of tea with good transportation access from the station would be a good choice.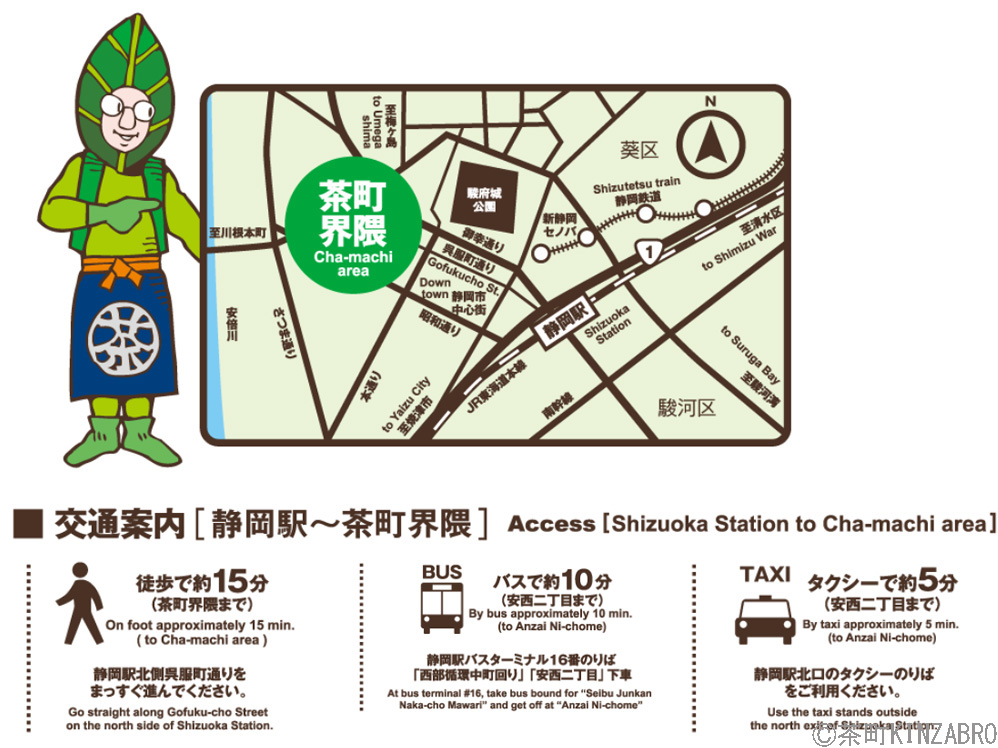 The key question, then, is "What is the best tea experience in Shizuoka that we can offer? To find out, we asked a professor from Shizuoka Sangyo University to conduct an objective monitoring survey of the concept of a Chamachi (tea town) concierge by having students visit.
The students all said, "Chamachi smells like tea." We thought this was similar to our amazement at the smell of chestnuts in Obuse.
The smell of tea in the town is something we take for granted, but first-time visitors are struck by it.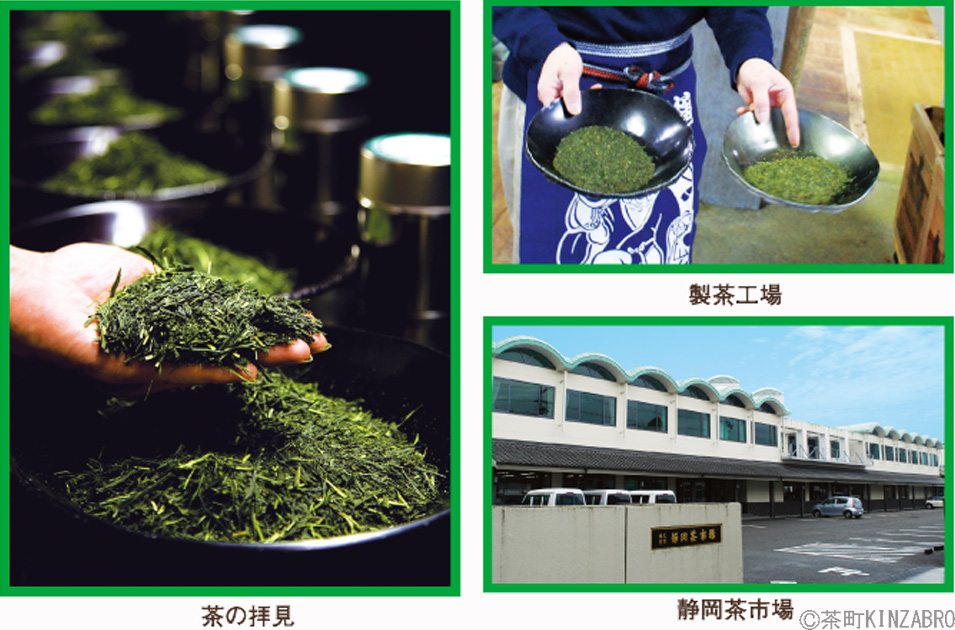 We had always taken it for granted, but there was already a unique culture in Chamachi that could only be found here.
For example, many bicycle shops line the streets of Chamachi. This is due to the fact that "Saitori," a profession unique to industrial tea towns, use bicycles as a means of transportation in the Chamachi area.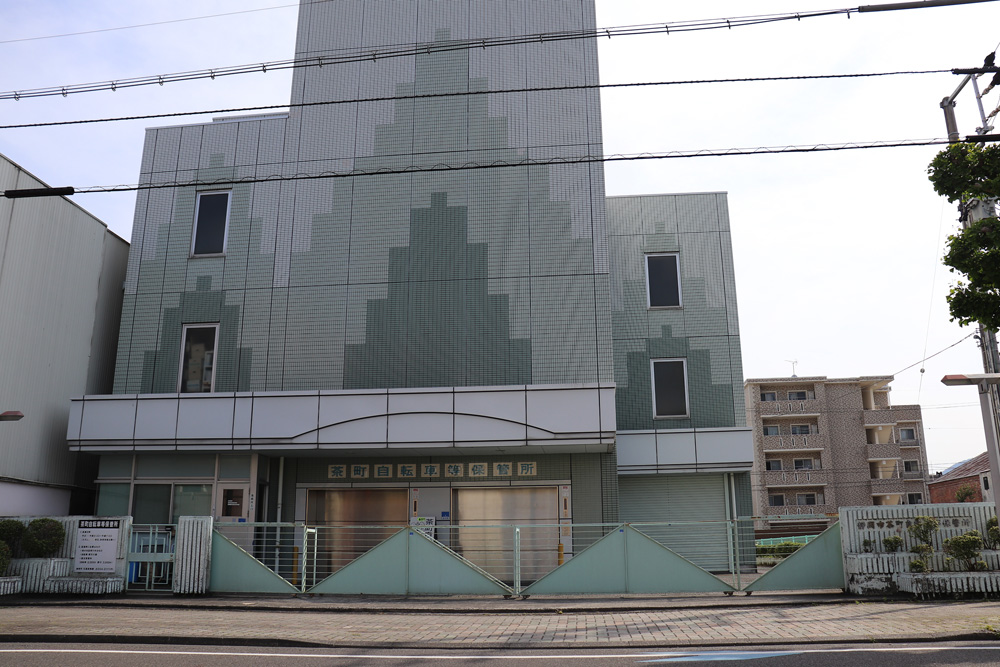 "Saitori" is the name given to a person who stands between tea farmers and wholesalers and negotiates with them. When tea farmers and wholesalers negotiate directly with each other, they often have conflicting interests, but a "Saitori" can smooth the way. Negotiations with the "Saitori" begin early in the morning. They have breakfast after work, which is why there are many cafeterias open early in the morning in Chamachi. Nowadays, there are convenience stores, but in the past, such early opening shops were rare.
In addition, tea trees are planted at the entrance of teahouses in the town, and their growth is used as an indicator to determine when new tea is ready. All this is a part of the unique culture of Chamachi.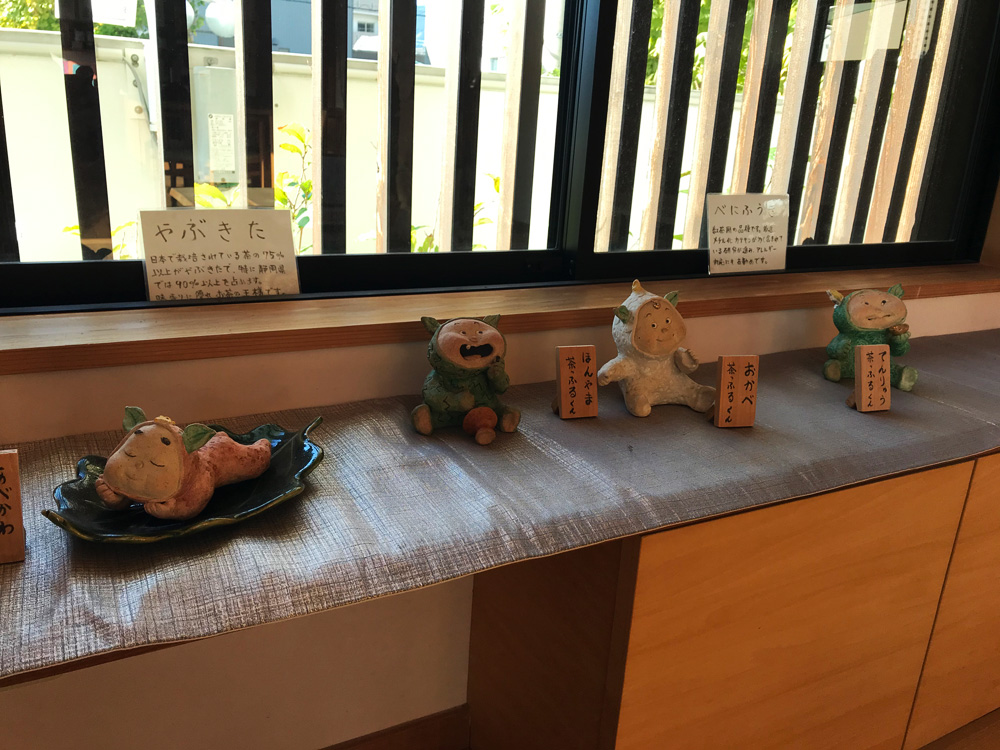 ▲ Tea trees seen from the window of the eat-in space on the second floor.
Through this process, tea tourism was launched, offering visitors the opportunity to tour the town's history and culture and enjoy tea and sweets while taking a tour of the factory.
More than 10 years have passed since then, and Chamachi, once only an industrial tea town, is now changing its perception to a tea tourism town where visitors can enjoy the various aspects that tea has to offer.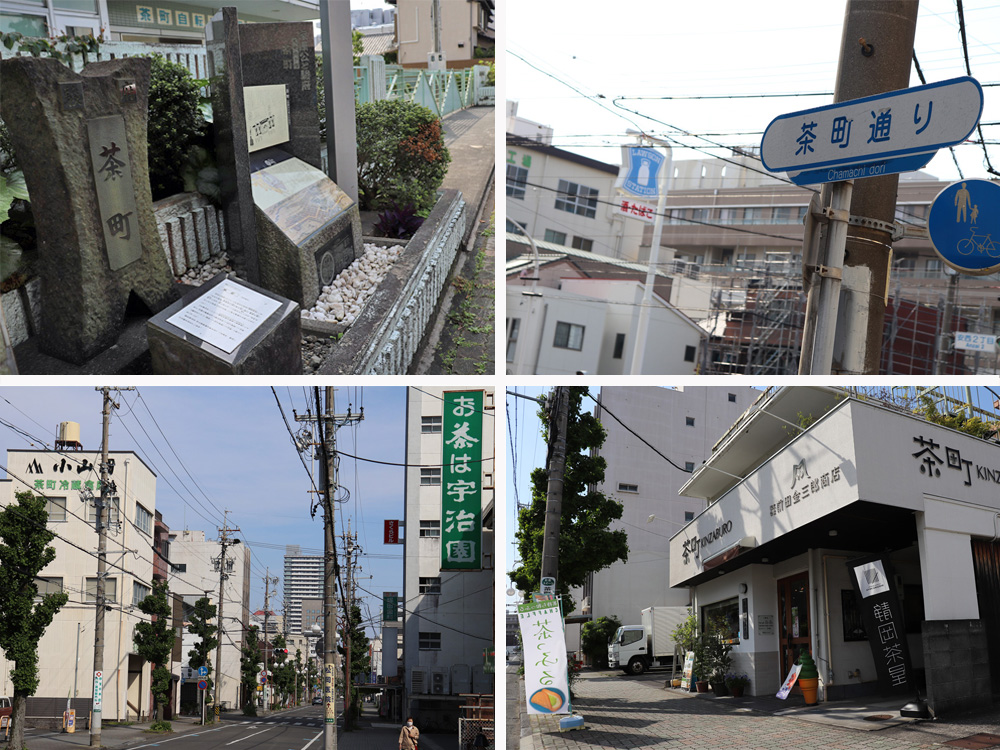 Connecting with Customers in the Spirit of "Respect and Virtue"
What I value in my actions is the spirit of "Respect and Virtue," which is to respect customers and provide services that satisfy them enough to make them fans of our company.
At KINZABURO, we issue a point card. We send a handwritten letter with a few lines of gratitude with a brush pen to customers who present their accumulated point cards. So far, we have written more than 10,000 letters.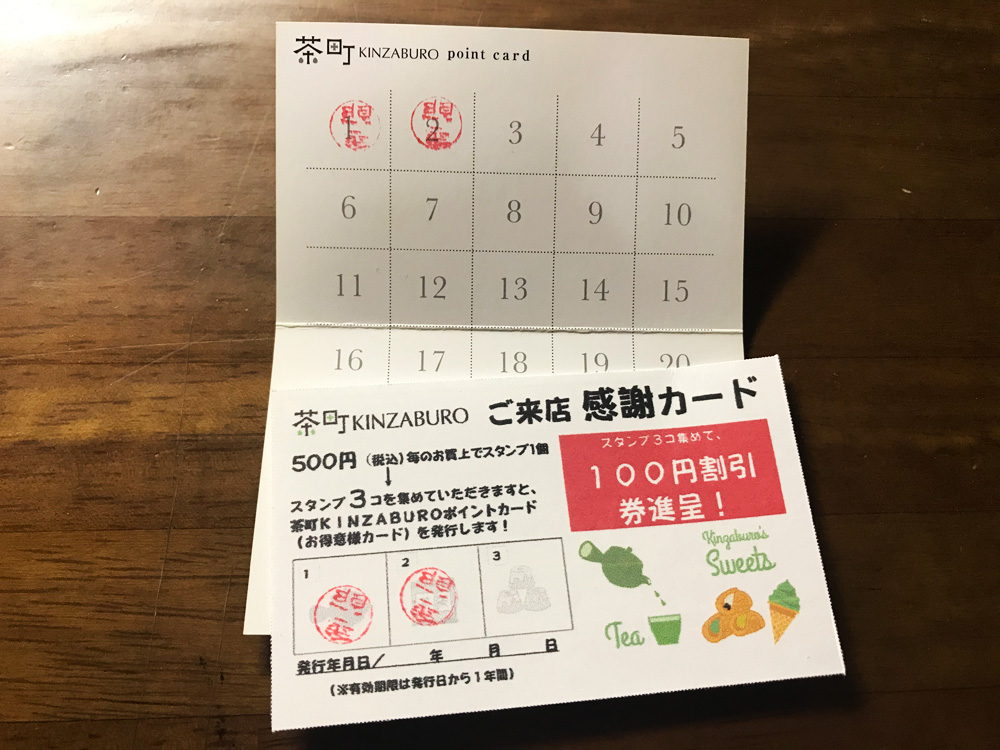 At first, we took all the point cards that our customers had accumulated and stored them, but when the number of cards we stored exceeded 3,000, we had no choice but to stop storing them because there were too many to manage.
We strictly manage personal information, and it is a lot of work, but we continue to maintain and cherish this kind of analog connection with our customers.
Thanks in part to these efforts, the number of repeat customers continues to increase at Chamachi KINZABURO, and we have received good reviews from everyone (laughs).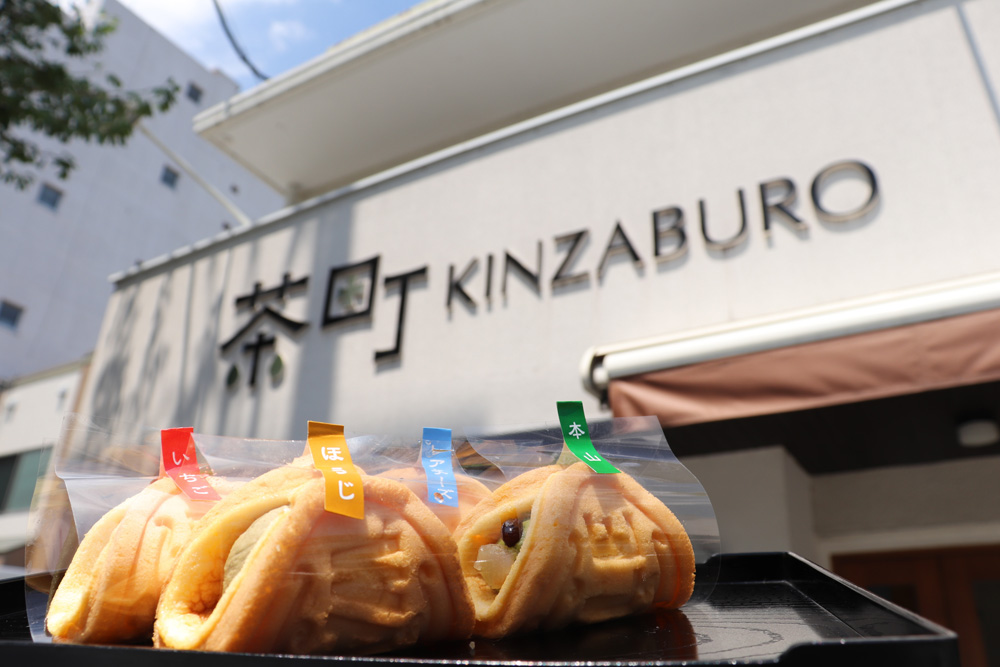 Chamachi KINZABURO: Information, How to purchase and Hands-on green tea experiences
Address
27 Dodayu-cho, Aoi-ku, Shizuoka City, Shizuoka Prefecture, 420-0018, Japan
Website
http://kinzaburo.com/

Phone number
+81 54-252-2476
E-money and credit cards
Available
Open
9:30 to 18:00 for weekdays
10:00 to 17:00 for Sundays and public holidays
Closed
Wednesdays
Parking lot
Available
Access
Shizuoka Station 8A (the side of rotary post office), No. 120 of Inomiya Line or No. 6 of Seibu-Junkan to Naka-cho (*No. 7 doesn't stop at the destination)
Get off at Anzai 2, Shizuoka Welfare HospitalCross the wide street and go straight for 30 m from the next traffic light. Then, you can see the cafe on the left side.
| | |
| --- | --- |
| Writer | Norikazu Iwamoto |
| Career | Ochatimes chief editer.Meeting with Vice Governor of Shizuoka prefecture.Judge of Fuji country 100 tea's award in 2021.Ocha Times link introduced at website of World O-CHA(Tea) Festival 2022. |
| | |
| --- | --- |
| English translator | Calfo Joshua |
| Career | Born and raised in England, living in Japan since 2016. Studying arboriculture in Shizuoka Prefecture whilst operating his landscape business Calfo Forestry. Appreciating the nature of Japan and the culture that places such importance in it. |
Related articles