Go to Japanese page
Japanese tea cafe by Fusao Maeda, a Shizuoka Cha-no-Machi Concierge chairman and tea maestro.
Fusao Maeda is the third owner of Maeda Kinzaburo Sho-ten. His history is as follow:
・Awarded from the Minister of Agriculture, Forestry and Fisheries as a representative of tea wholesalers
・A national champion in tea evaluation with the 8th Dan of tea tasting
・A champion in Japanese Tea Instruction Competition
・A champion in TV Champion Tea King
・Published a book "What is a Japanese Tea Instructor?"
He is a professional in the tea industry with many achievements in entertainment.

The cafe provides lots of tea sweets and teas featured by the media. All these items are popular. Although many sweets are prepared before opening hours, most of them are sold out by 3 pm.
↓ Before opening hours


↓ After 3 pm

↓ Shizuoka citizen selected Tea Waffle: Marriage of a Nostalgic Waffle and Delicious Shizuoka Tea as one of the 7 Shizuoka Aoi Premium Awards.


Tea Waffle can be takeout as well as eat-in. When you purchase it, the clerk will ask you about the travel time and add ice pack(s) to keep fresh during the time. I bought 4 flavors, Kawanecha, Honyamacha, Okabe's Gyokuro, and Japanese Cheesecake. I felt each one had a strong flavor that represented each region.
Enjoy 11 sample teas with various flavors free of charge at either of 22 seats at a table or a tatami in eat-in rooms on the 2nd floor.

↓ Hojicha brulee and bean jam.


↓ KINZABURO plate (Can select your favorite flavor for Tea Waffle. This is Hojicha flavor).


↓ Thick Matcha Affogato (The sweet is only available in the room. The strong tea fits sweets well).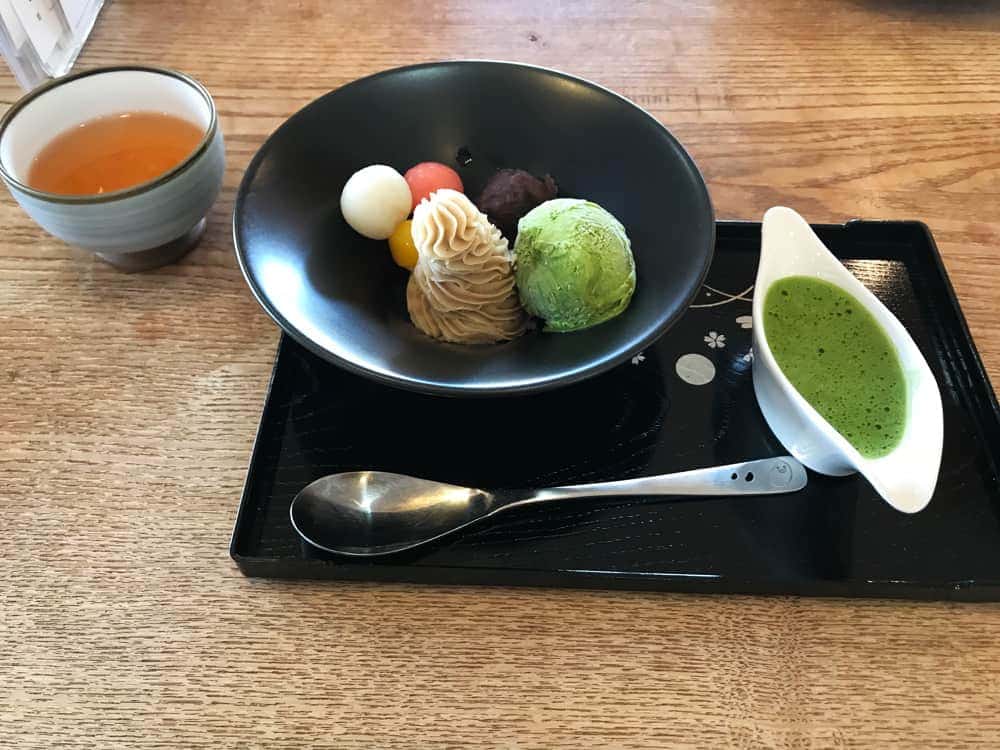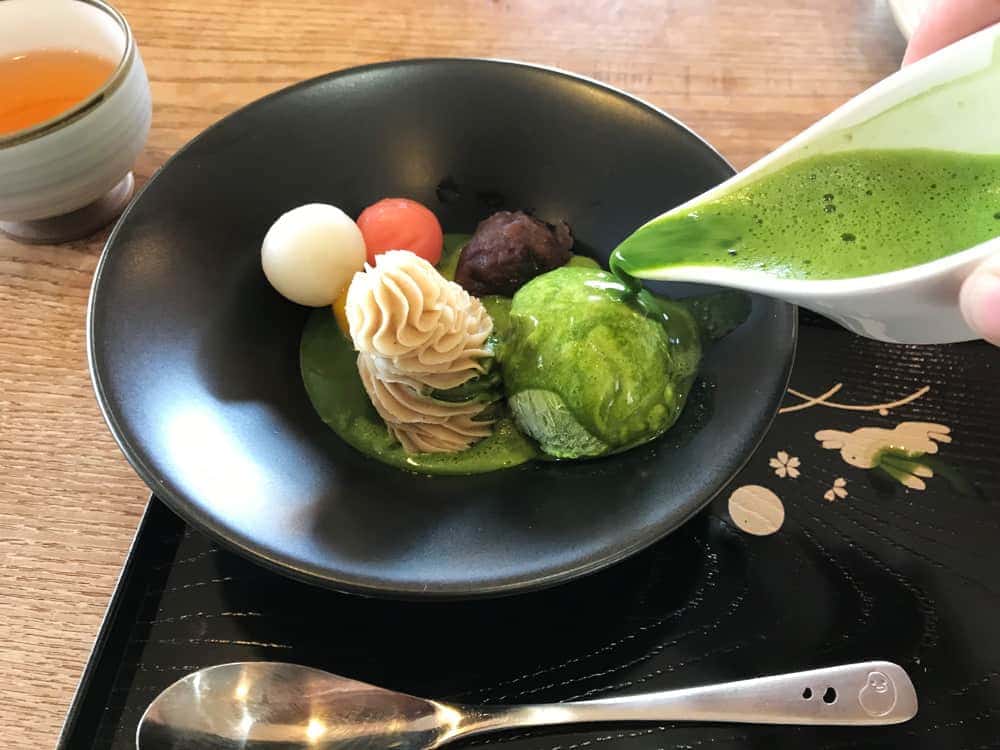 I interviewed Fusao Maeda, the president of the company.
---
Fusao Maeda "Maeda Kinzaburo Sho-ten has a history of 105 years. I am the third owner. As the third owner, I considered what would be expected. I concluded it would be important to master tea. Therefore, I aimed for great performance in the national competition of tea tasting at first. The event was held by 120 candidates who passed the preliminary stage throughout Japan. I came first there."


Fusao Maeda "Simply, I learned tea but I also have to talk about tea. That's why I thought I had to be a Japanese Tea Instructor. I decided to participate in the instruction competition for Japanese tea instructors. In the championship, you show how to deliver tea topics in an easy-to-understand and fun way. About 20% of candidates pass the qualification of the Japanese Tea Instructor. The selected instructors can join the contest. In the national stage, I won. At that time, the competition was held for the first time, so everyone looked a game face. After that, I won in TV Champion Tea King as well."

Fusao Maeda "These achievements formed the base that I mastered tea entertainment as the triple crowns of tea competitions, which led me here."
↓ His book, "What is a Japanese Tea Instructor?".
(A publisher was looking for someone who was on the top of the tea industry in Japan. After finding Maeda, the publisher was impressed by his performances and offered to write a book on tea).

― Maeda Kinzaburo Sho-ten was originally a tea wholesaler. What drove you to open the cafe?
Fusao Maeda "About 15 years ago, Professor Iwasaki of Shizuoka University gave a lecture. I shocked at the content of the PowerPoint in the presentation. It was a questionnaire for young housewives in Tokyo and Kanagawa, which asked what tea from Kyusu reminded them of.
They answered Peace, Comfort, and Relaxing.
For us, tea wholesalers, the answer would be Loose Leaf Tea.
However, Loose Leaf Tea only appeared by 2 of 800 housewives."


Fusao Maeda "We want to sell our product of Loose leaf tea while housewives want to feel Peace, Comfort, and Relaxing. Then, there is a gap in the desire between us and consumers."


Fusao Maeda "So, we concluded that consumers wouldn't be satisfied with us unless we created an environment that offered comfort and relaxing experience instead of loose leaf tea."


Fusao Maeda "More specifically, it's not just offering things. Consumers never buy things without a suggestion of experience by buying the tea. This concept is not limited to tea. For example, if you sell sandals, don't just sell them, but also suggest how to enjoy beach life with the sandals. Otherwise, the customers won't be satisfied with your service. For tea, I thought we should offer experiences of a book, a Japanese room, free tea, and a flower arrangement class. That's how I decided to open the cafe."

Shizuoka Cha-no-Machi Concierge is a suggested concept where tourists can follow the tradition of the tea merchant town.
Fusao Maeda "But I was afraid if the concept would go well in one cafe only. Therefore, I suggested a larger concept of Shizuoka Cha-no-Machi Concierge and recruited motivated volunteers. If the members only included those in the tea industry, we would be narrow-minded. So, we collaborated with butchers, barbers, and miso stores in addition to tea shops. A professor of Shizuoka University of Art and Culture also joined us so that we could consider the project from multiple angles."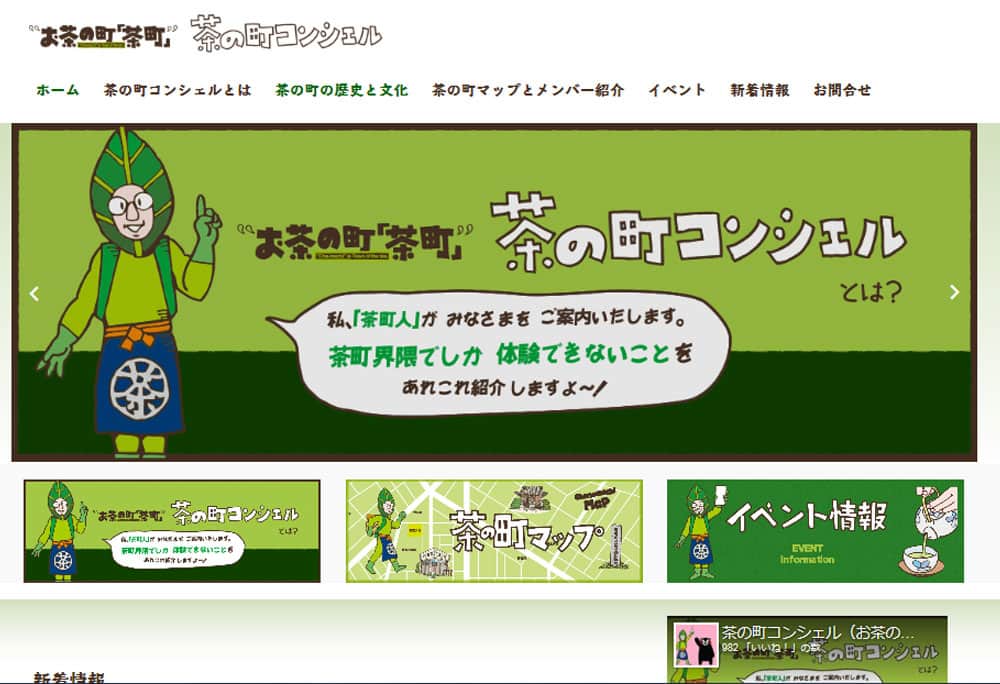 Fusao Maeda "First, I visited wine tourism in Yamanashi as our role model. The purpose of this tour was to see the winery, but customers could also go around other facilities and shops. It was organized on a large scale. If it was Shizuoka tea tourism, visitors would be able to get to the nearby Cha-no-Machi Concierge from the station. Next, I went to Obuse in Nagano, which is well known as the origin of chestnuts, namely a chestnut town. Actually, the scent came here and there, which attracted me. We considered the possibility of Shizuoka and asked a professor of Shizuoka Sangyo University. The students objectively monitored Cha-no-Machi Concierge in which everyone smelled tea here. We didn't notice that as it was too ordinary for us. However, visitors are impressed with the fragrance when they come here for the first time. This has something in common with the impression of chestnut aroma in Obuse."
― You achieved Cha-no-Machi Concierge by utilizing the existing advantages or features rather than creating something new.
Fusao Maeda "This town has many bicycle shops, which is derived by Saitori, a profession traveling and visiting tea wholesalers in the town by a bicycle. Saitori originally means to take profits. That is, Satori coordinates between tea farmers and tea merchants. If they negotiated each other directly, they must have got into a fight. There are some cafeterias open from the morning. These were rare although convenience stores are everywhere today. In the early morning, tea negotiation starts. To have a meal after the negotiation, such cafeterias exist. New tea trees are planted next to a tea shop. Observing the growth, we see the harvest season. All these customs represent unique tea culture. Visitors can see such culture and factories while tasting tea sweets, leading to sightseeing. That is the concept of Cha-no-Machi Concierge."

Fusao Maeda "These efforts made it easier for us to connect with the government, the Chamber of Commerce, universities, and the community. If it only generated profit for one shop, we could not connect with public organizations. However, it's the benefit for a group of Cha-no-Machi Concierge, so it's easier to connect with the government. In this way, we can use the public relations of the government, which resulted in the high attention of Cha-no-Machi Concierge and Chamachi KINZABURO.
About 10 years passed since then. In the last decade, the quiet tea town is recognized as a tourist tea town where you can enjoy tea from the public view. The reputation gathered more guests to our cafe. Promoting us in this direction, we received the Design Grand Prize (Prefectural Governor's Award) at the first local shop design award in Shizuoka. Also, we were certified as the first shop of the project, aiming 100 Shizuoka tea shops open for inbound tourists by the Olympic year of 2020, by Shizuoka Tea Industry Assembly. Shizuoka Chaya will reach 100 shops including those in Tokyo. It will include tea shops and related stores. Chamachi KINZABURO will be an advisor as the first Shizuoka Chaya."

Wish of Chamachi KINZABURO offering a Space That Blends Taste, Aroma, and Comfort
Fusao Maeda "Lose a dime and win a dollar. This is my value. We provide such a space to guests. I also write letters to them. More than 10,000 letters to day. At the annual fair, we send them DMs to treat as a special guest. Although I just write a few lines with a brush pen, it's precious communication with our guests connecting from the point card. Such a classic manner is also essential. We respect guests and receive their word-of-mouth and repeating visits. We put everything through a shredder after writing letters nowadays. In this way, we strictly handle their personal information. I had stocked point cards, but I stopped it at 3,000 cards as it was quickly full."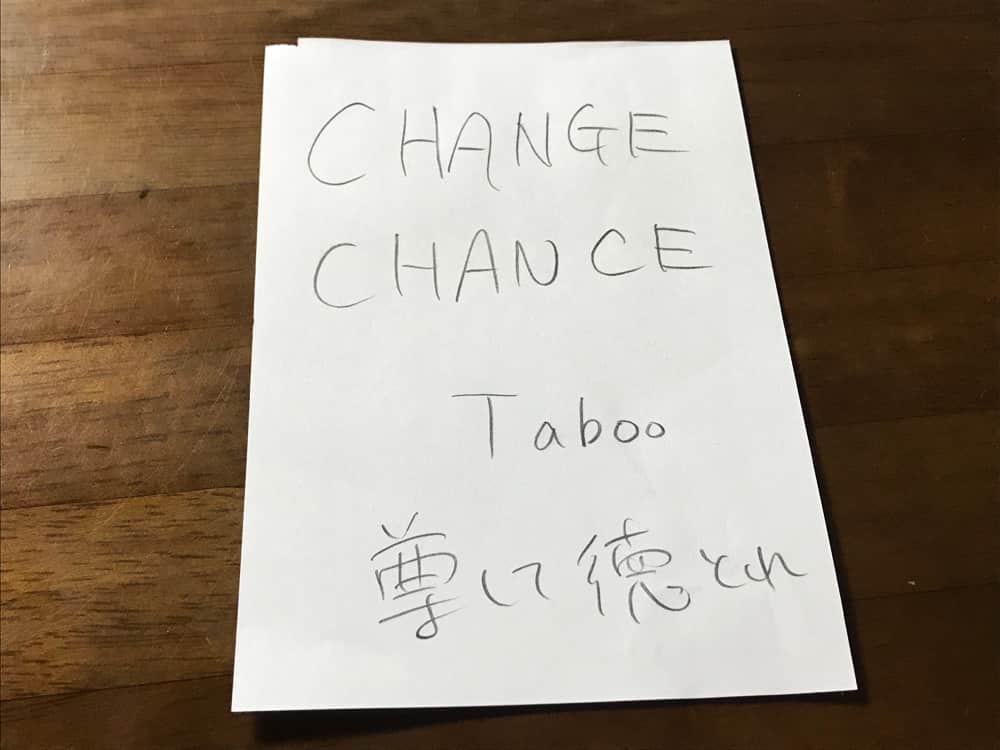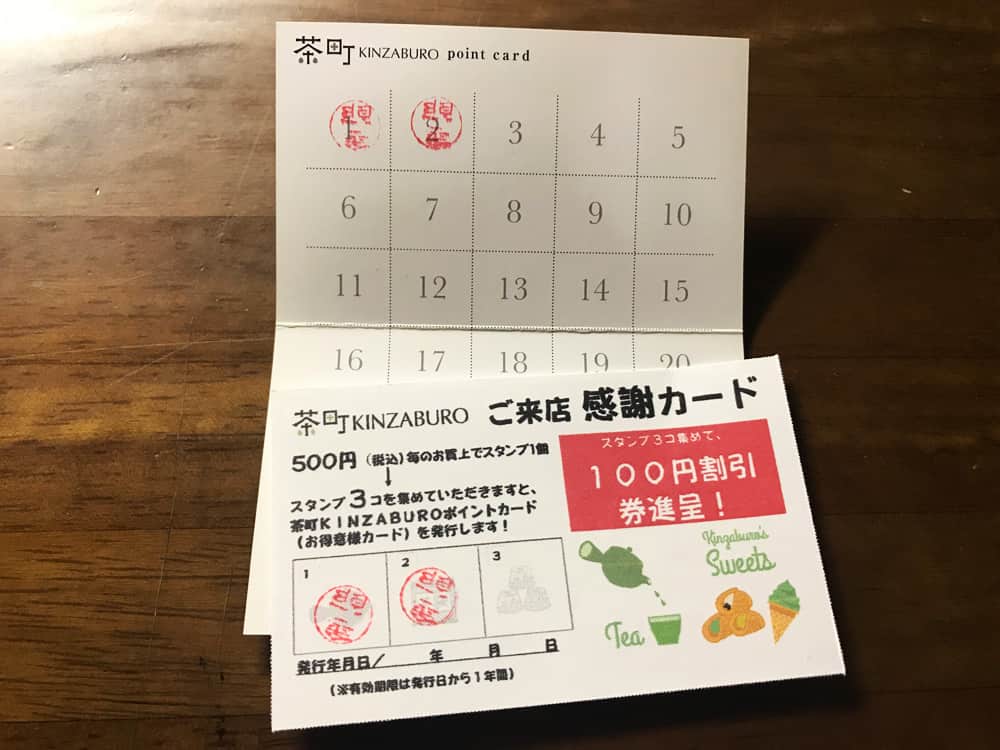 Fusao Maeda "Any industries may be the same, but the tea world is also close-minded partly. For example, we must hold even one tea blend as confidential information. I want to break the barrier. We should change too.
First, we aim for CHANGE.
However, a chance never comes just by changing.
What should we do?
To turn CHANGE into CHANCE, just remove the part of T shape in the G.
T indicates TABOO (restriction).
I will release TABOO.
To change into a tea town (CHANGE),
We prepared free tea samples. We also accept factory tours to reveal a black box of tea blends (TABOO) to everyone. By showing these TABOOs to the public, we give our guests a sense of security and closeness, which will make them our fans. That will be CHANCE.
Based on this main policy, we're going ahead as Shizuoka Cha-ma-Chi Concierge and Chamachi KINZABURO."
---
Fusao Maeda has a flexible attitude and considers how to spread tea from different perspectives. He respects the formalities and history while he never gets caught up with one form. He keeps pursuing the current ideal style of tea. I felt his enthusiasm to protect and spread the tea culture".
At Chamachi KINZABURO, it's also fun to find several marriages by yourself with tea sweets by reliable tea masters and tea samples of various flavors. Why don't you come and enjoy a wide range of tea created by the skilled tea maestro Fusao Maeda?
Thank you for reading the report of Cha-ma-Chi KINZABURO by our chief editor.
Cha-ma-Chi KINZABURO
Chamachi KINZABURO.
Address
27 Dodayu-cho, Aoi-ku, Shizuoka City, Shizuoka Prefecture, 420-0018, Japan
Website
http://kinzaburo.com/

Phone number
+81 54-252-2476
E-money and credit cards
Available
Open
9:30 to 18:00 for weekdays
10:00 to 17:00 for Sundays and public holidays
Closed
Wednesdays
Parking lot
Available
Access
Shizuoka Station 8A (the side of rotary post office), No. 120 of Inomiya Line or No. 6 of Seibu-Junkan to Naka-cho (*No. 7 doesn't stop at the destination)
Get off at Anzai 2, Shizuoka Welfare HospitalCross the wide street and go straight for 30 m from the next traffic light. Then, you can see the cafe on the left side.
Related articles