Enjoy Honyama Green Tea at the 170-Year-Old "Old-Family House Cafe Katsuyama" 【Honyama Tea, Shizuoka Prefecture】

Go to Japanese page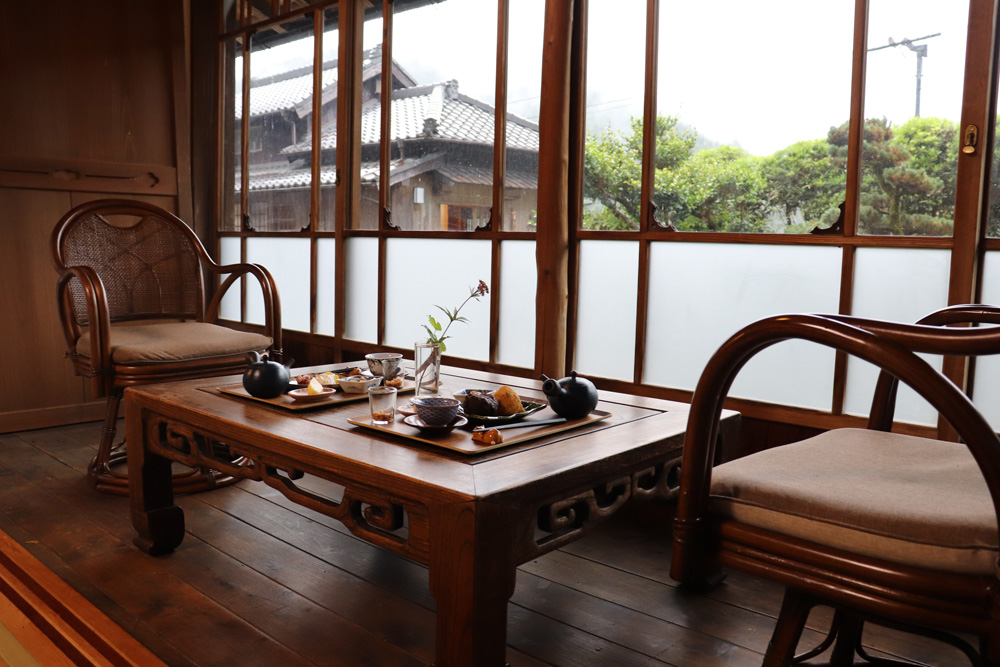 The tea produced in the Abe and Warashina River basin, located about 40 minutes by car from Shizuoka Station, is called Shizuoka Honyama-cha, characterized by its bright mountain-water color, elegant, delicate taste, and refreshing aroma. The tea farmer we interviewed this time is Katsuyama Tea Mfg, who produces Honyama-cha along the Mizumiiro River, a tributary of the Warashina River. The company handles the entire process from cultivation to production. The renovated 170-year-old minka (traditional japanese house) Cafe Katsuyama is a relaxing spot where visitors can enjoy Honyama-cha surrounded by the rich natural environment of Mizumiiro.
In this article, we will report on Cafe Katsuyama's menu and tea production in Mizumiiro, including an interview with Hisao Katsuyama, representative of Katsuyama Tea Mfg.
What is Old-Family House Cafe Katsuyama
Katsuyama Cafe is a 170 year-old minka (traditional Japanese house) cafe located in Mizumiiro, Shizuoka Prefecture, Japan. It is operated by Katsuyama tea farmer Katsuyama Seicha, who handles the entire process from tea cultivation to tea production.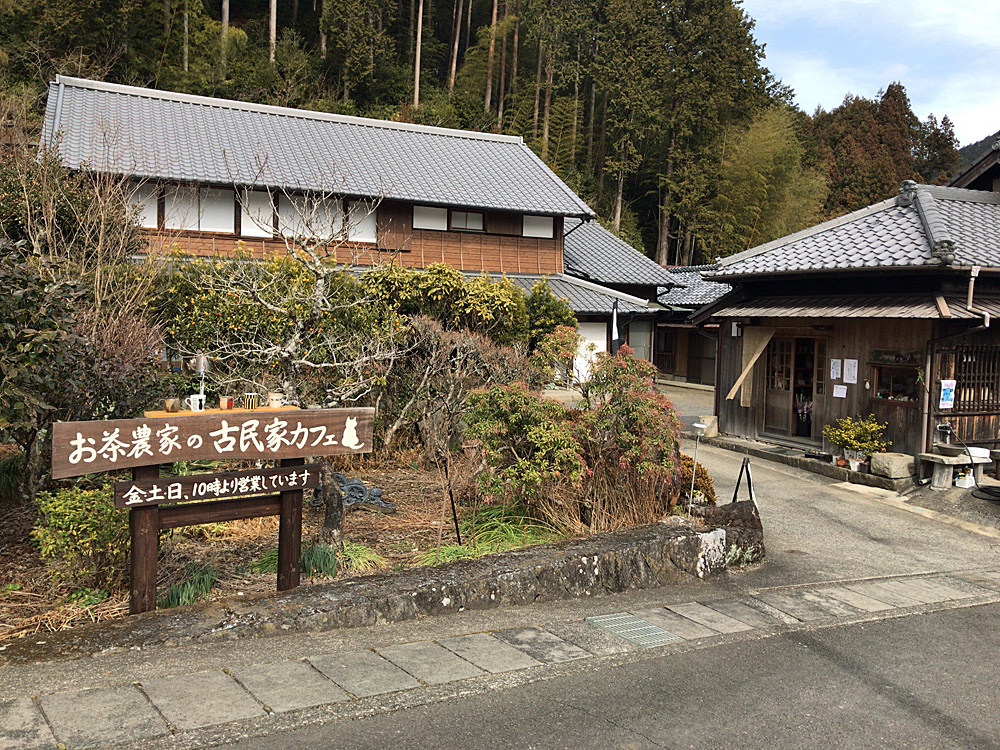 The reception and sales store on the right side of the entrance accepts orders from the café menu. On the shelves inside the store are a variety of teas, from Katsuyama Tea Mfg's rare hand-picked teas to tea bags and black teas.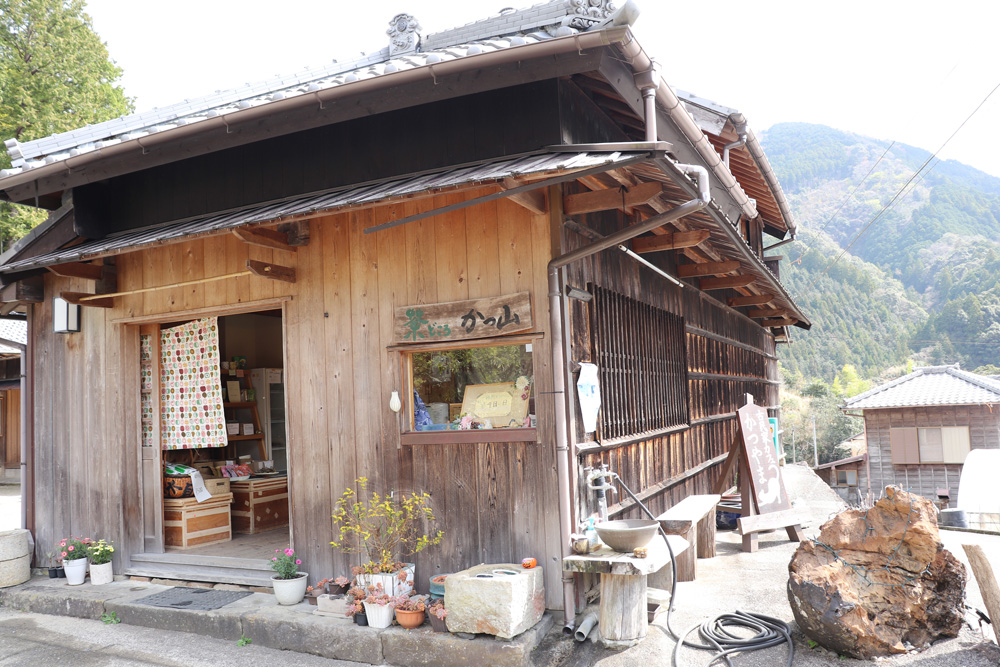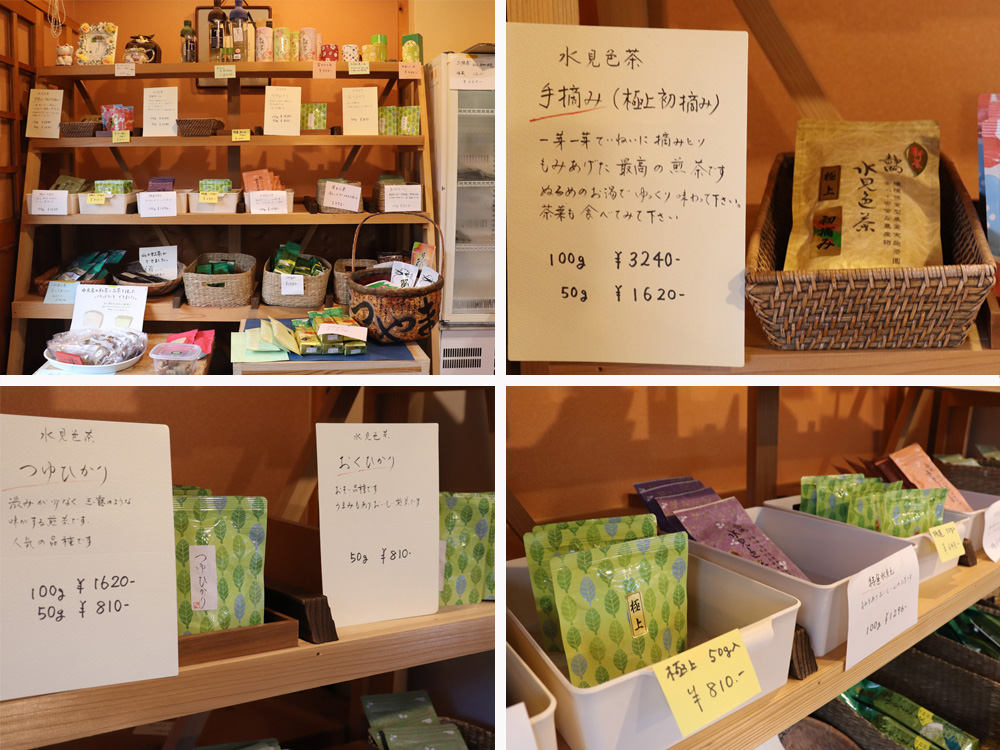 Stepping into the café, you will find a wooden tea room, rarely seen in traditional Japanese houses. The upstairs lounge with its unusual ceiling makes you feel as if you are back at home in the countryside.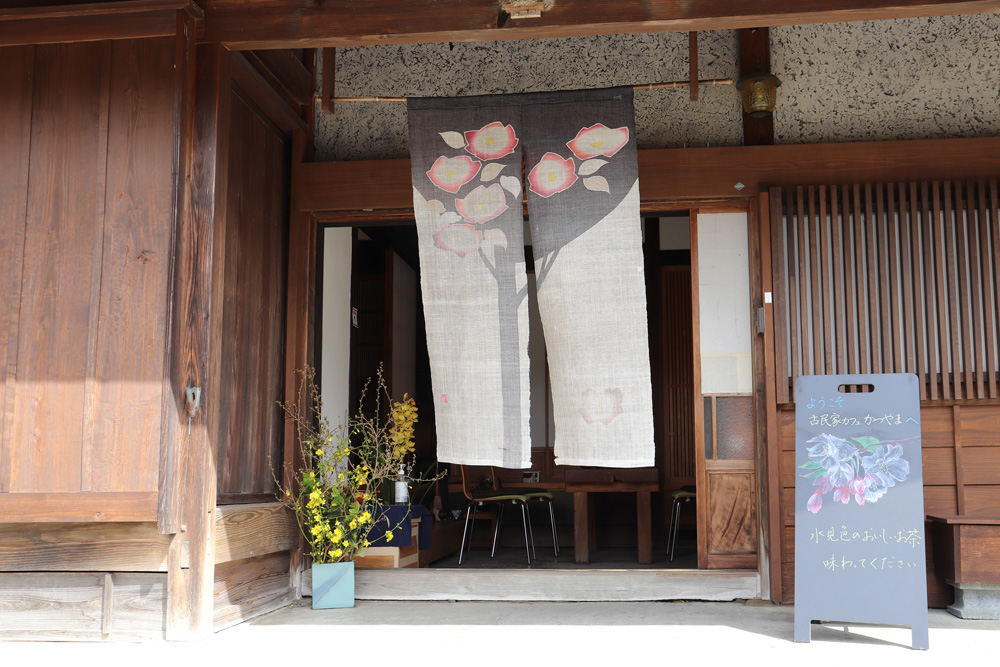 In the hot summer months, the cool, clear breezes of the mountainous region provide a comfortable summer retreat, and in the cold winter months, you can enjoy the warmth of the stove or brazier in the calm Japanese-style room.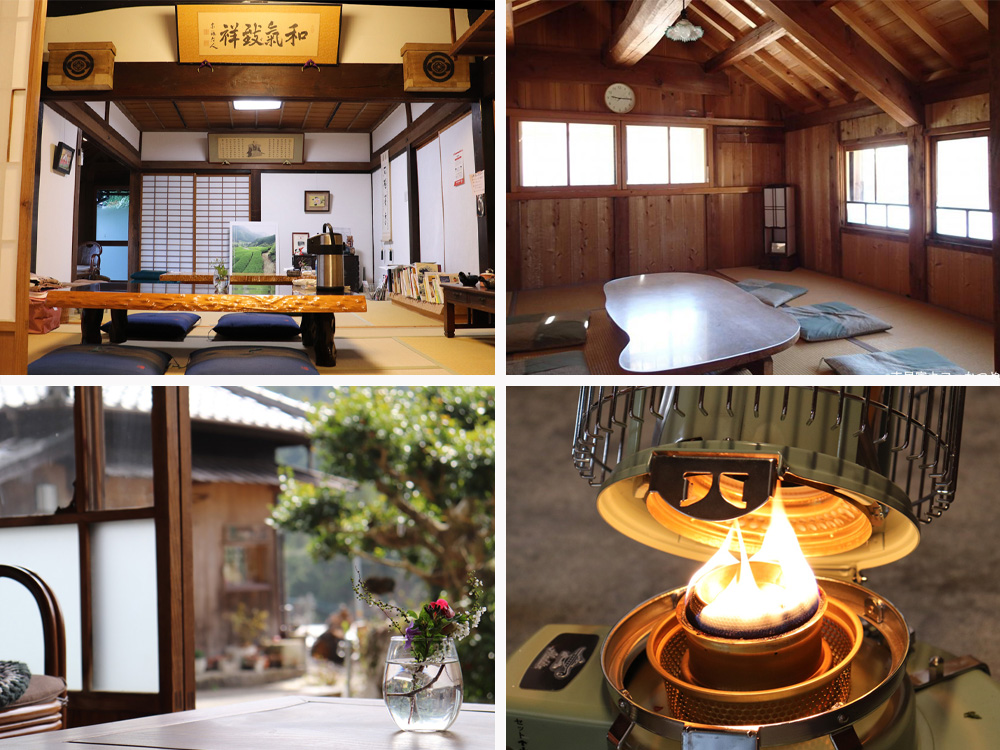 The rooms, ranging from large to small, are separated by sliding doors to maintain privacy, making it a great place for couples to enjoy time together.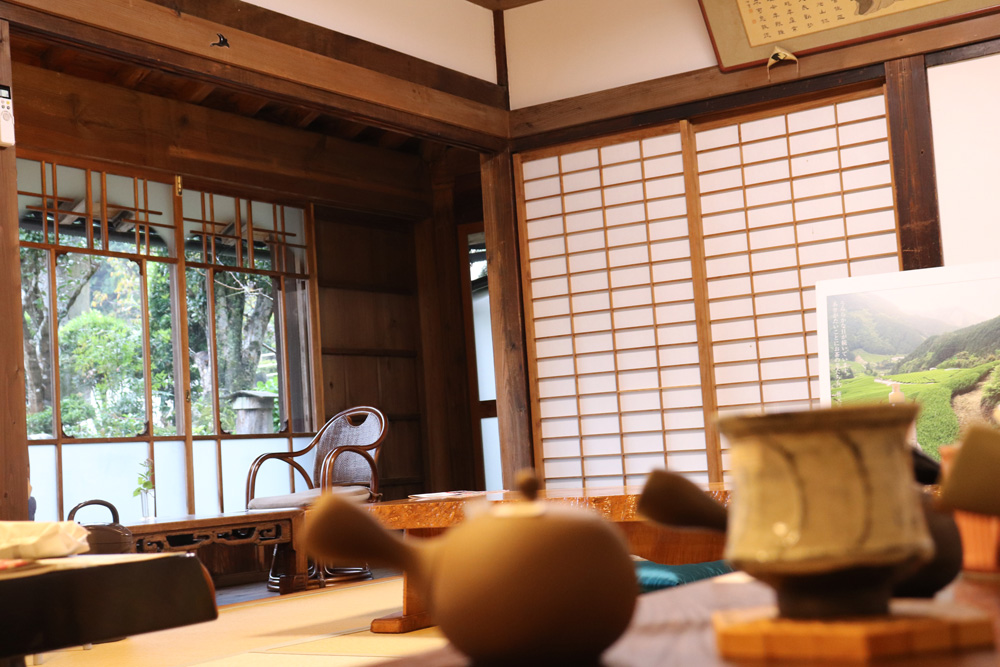 Pet lovers will be happy to know that a dog run is attached to the cafe!
The old house cafe has a dog run in order to make use of abandoned farmland in the neighborhood. The dog run is entirely handmade by Mr. Katsuyama and his staff. It is open to the public free of charge, a great offering for pet lovers.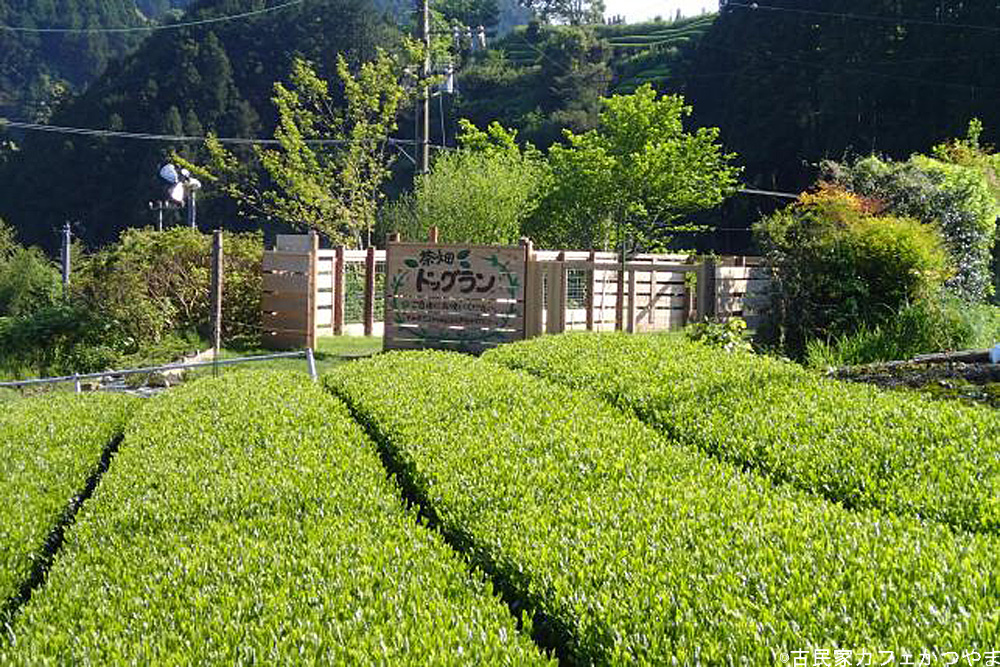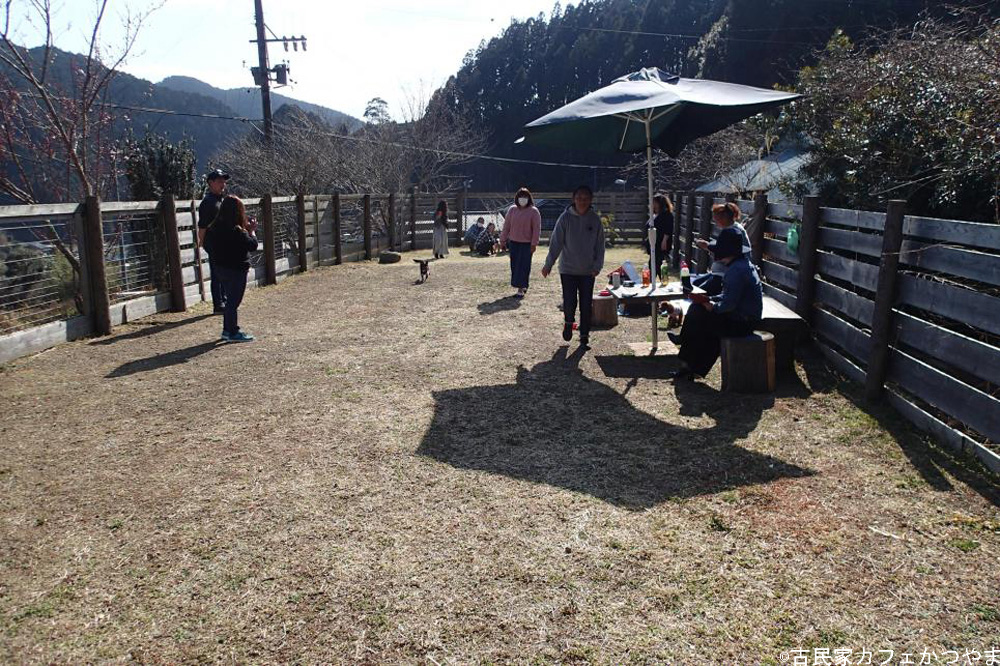 Tea and Cafe Menu at the Old House Cafe Katsuyama
The cafe menu features Honyama tea produced by "Katsuyama Tea Mfg" a company that has been making tea for 30 years. Here we would like to introduce a few of the items on the café menu.
The café menu is combined with seasonal ingredients, so it may change from time to time. After placing your order, sit and wait in the eat-in space, and your dish will be brought to you.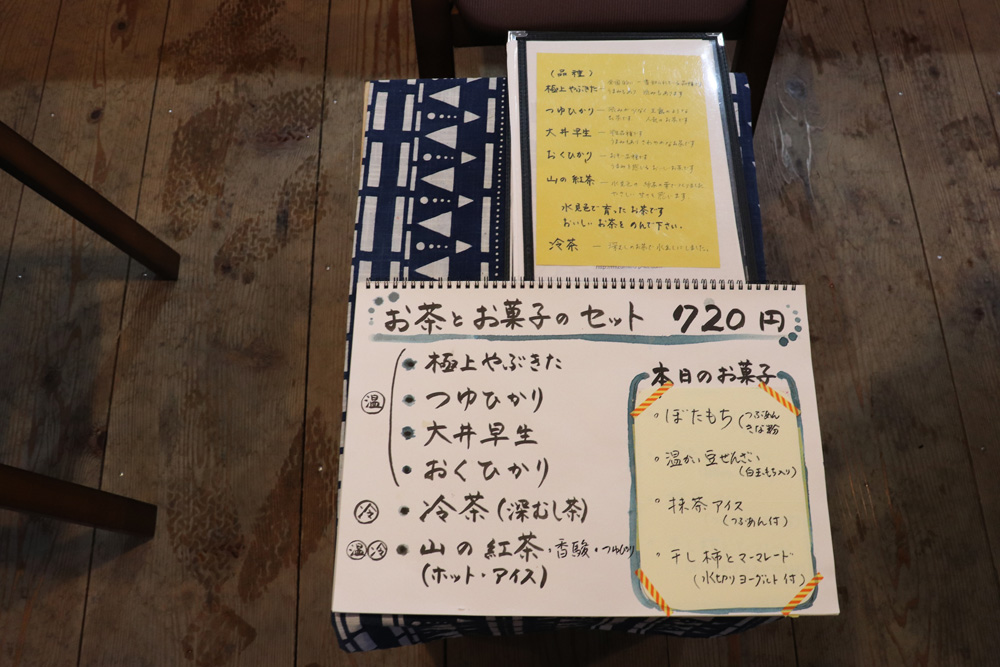 The "Yabukita Superior" and Botamochi
The green tea is a bright yellow color with a mellow flavor and fresh aroma. The handmade botamochi (soybean flour and sweet bean paste) goes very well with the tea.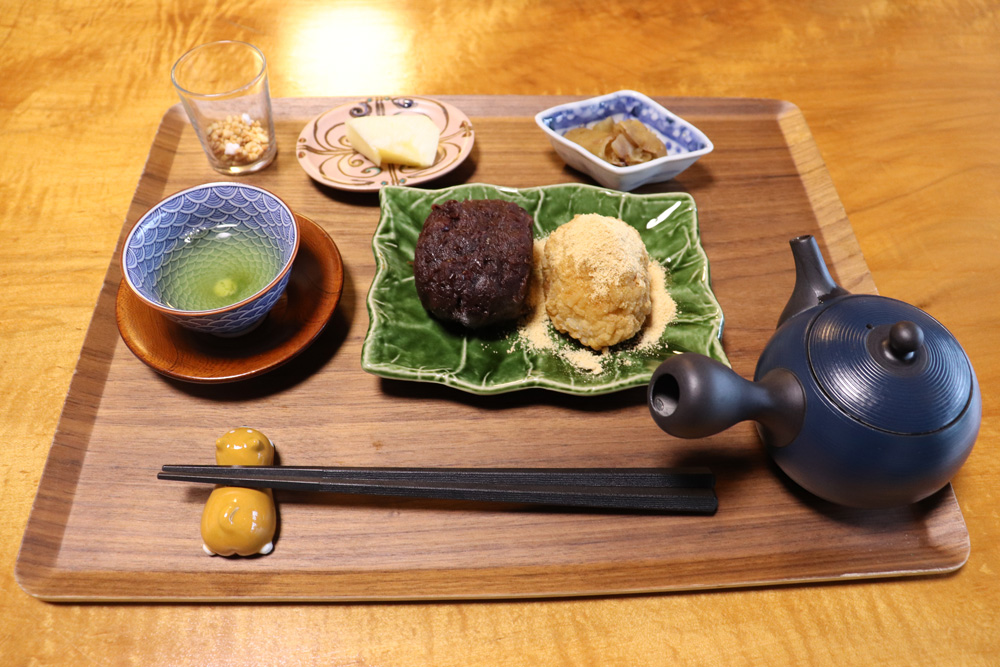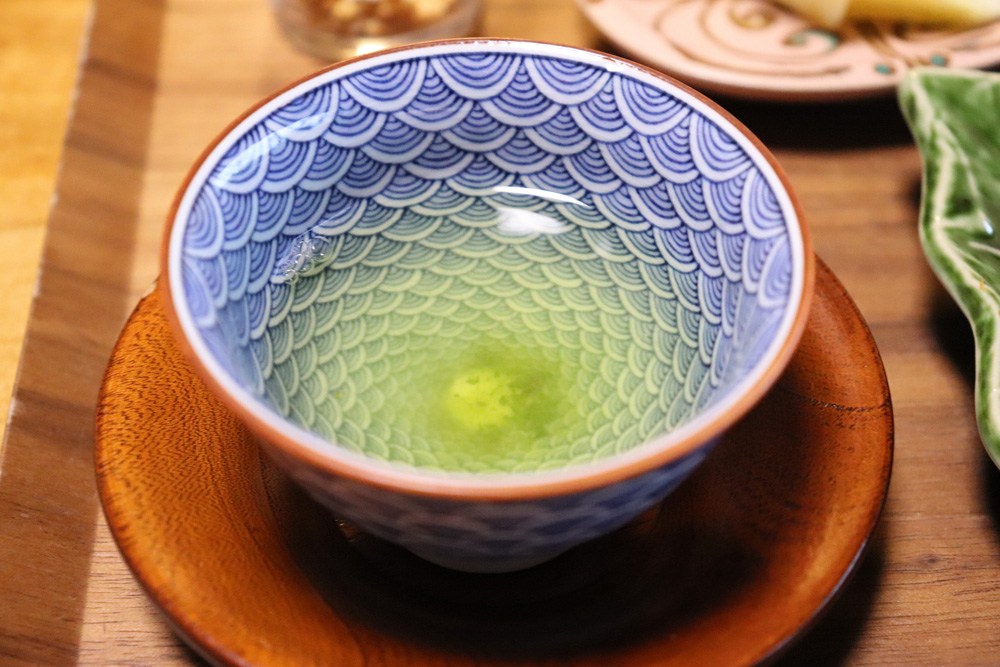 The "Yabukita Superior" can be brewed by yourself using a kyusu (Japanese teapot). The first three teas can be enjoyed in the usual way, and the fourth can be enjoyed as genmaicha (brown rice tea) by adding the accompanying brown rice. The waiter will give you detailed instructions on how to brew the tea in advance, so you can feel free to order even if you are not an expert on tea.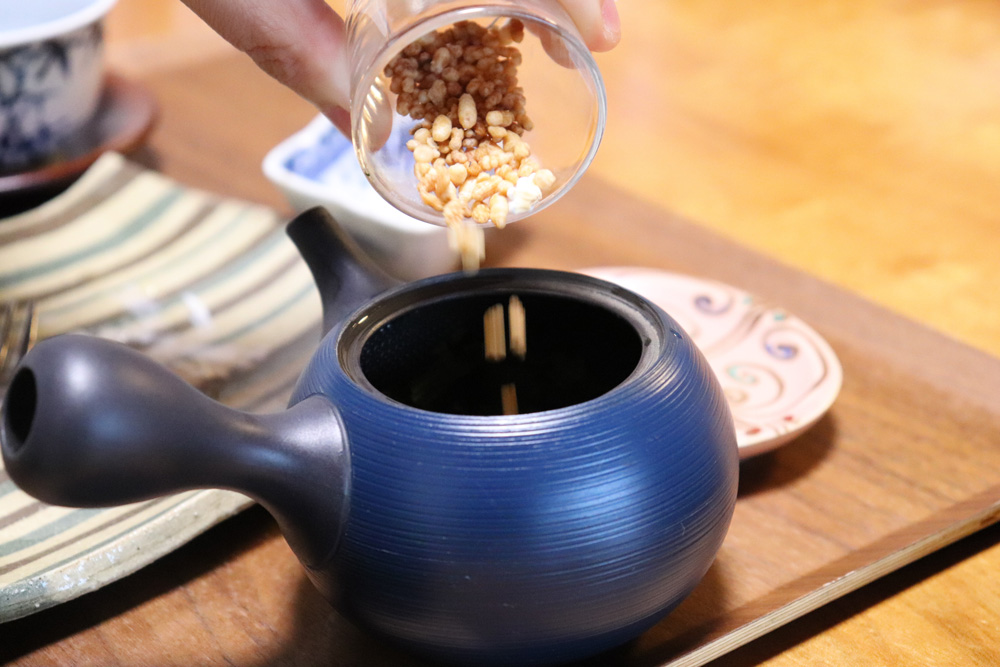 "Ooi Wasei" oranges, marmalade and dried persimmons.
The characteristic fresh flavor is unique to Ooi Wasei. It goes well with the sweet and sour taste of dried persimmons and marmalade.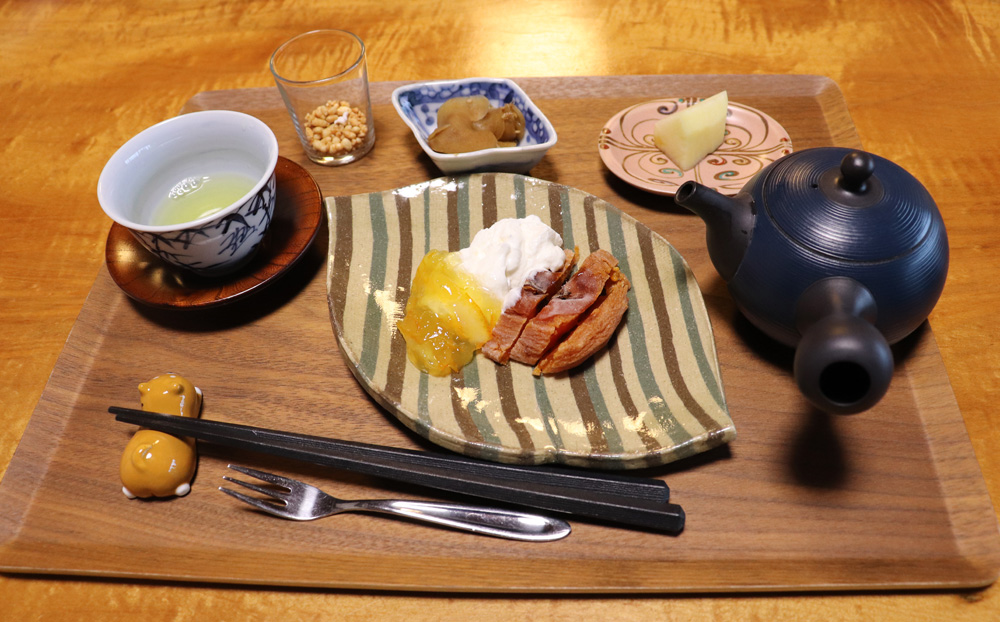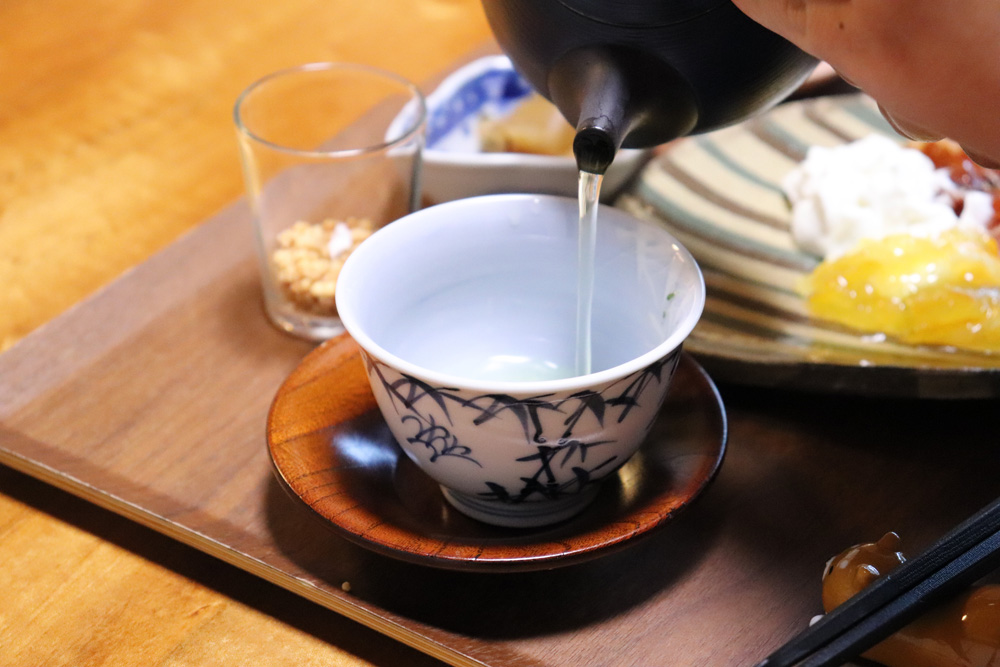 Iced mountain black tea with dried persimmon and marmalade
In summer, Katsuyama Tea Mfg's iced black tea, chilled to a crisp, is irresistible. The sweet and sour taste of dried persimmons and fruits pairs very well with the black tea.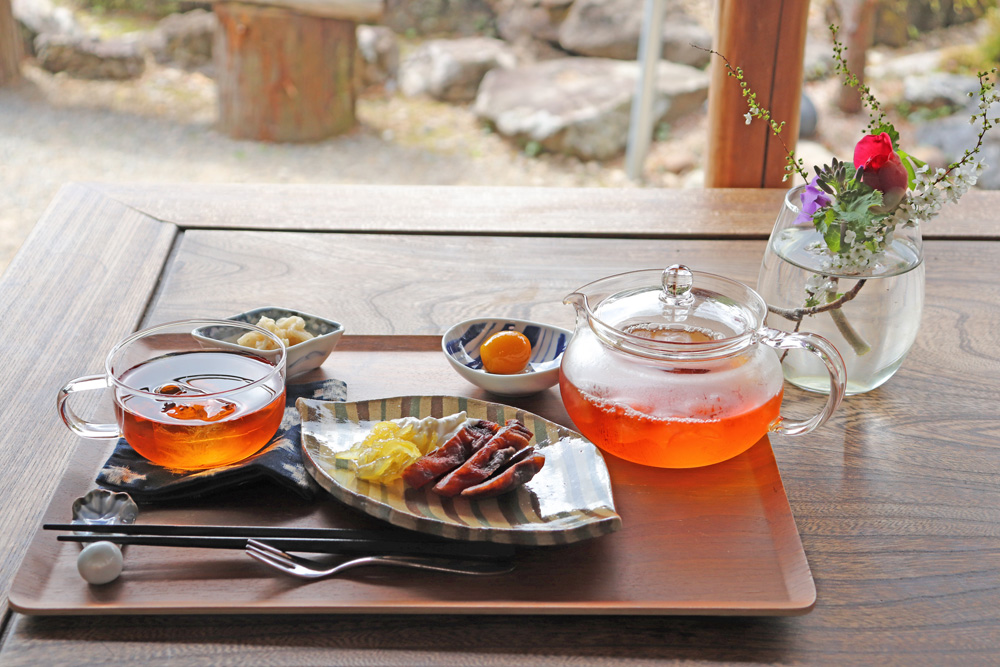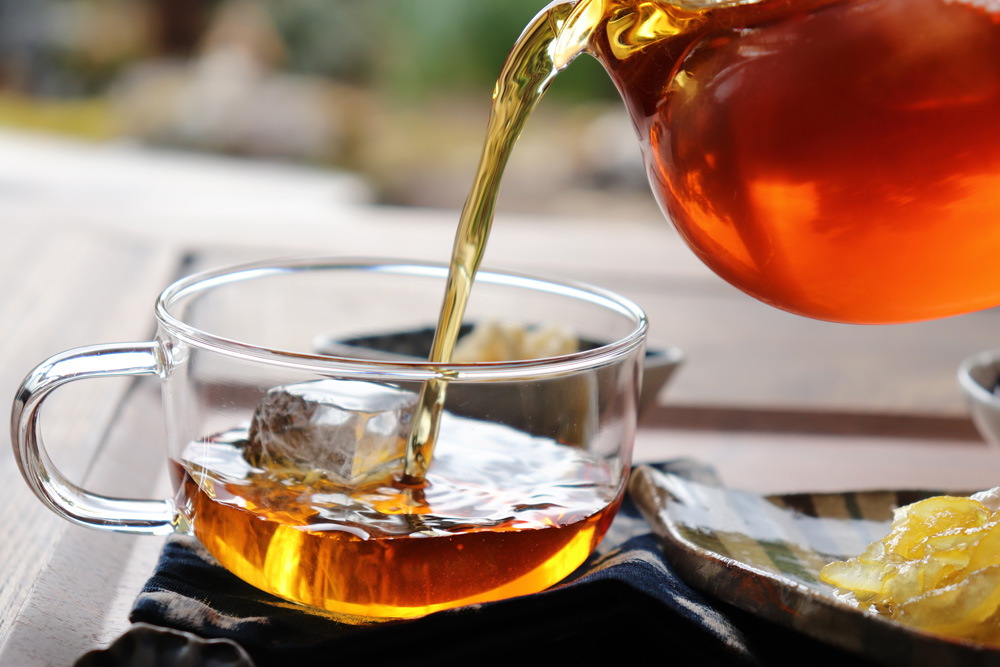 Iced fukamushicha (deep steamed green tea) and black tea jelly with sweet sake syrup.
Cold-brewed fukamushicha (deep steamed green tea) is perfect for summer. The black tea jelly is made from strong black tea is popular for its refreshing sweetness and smooth texture.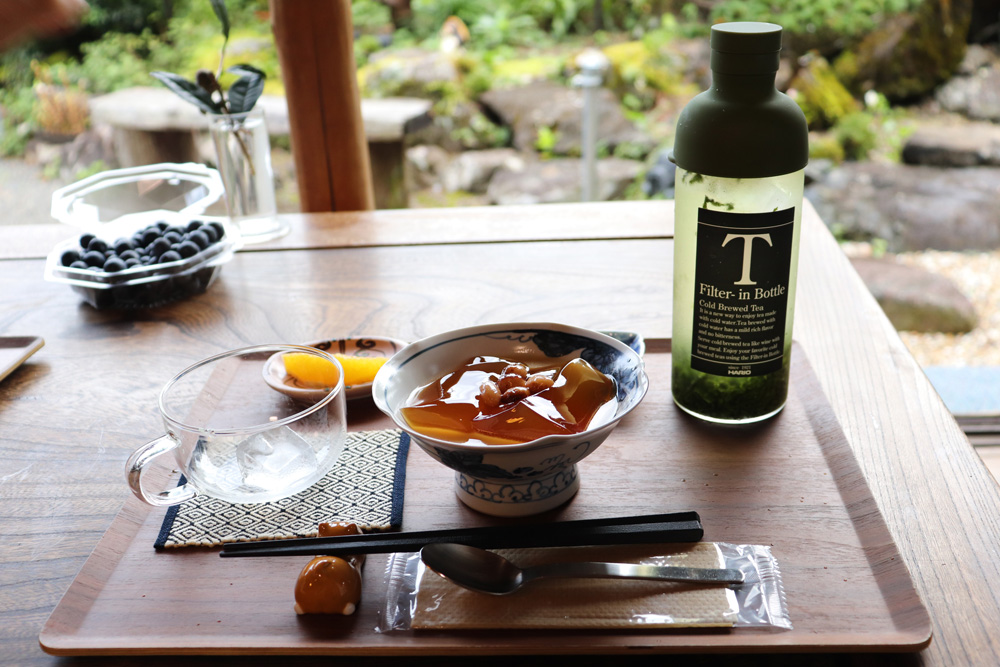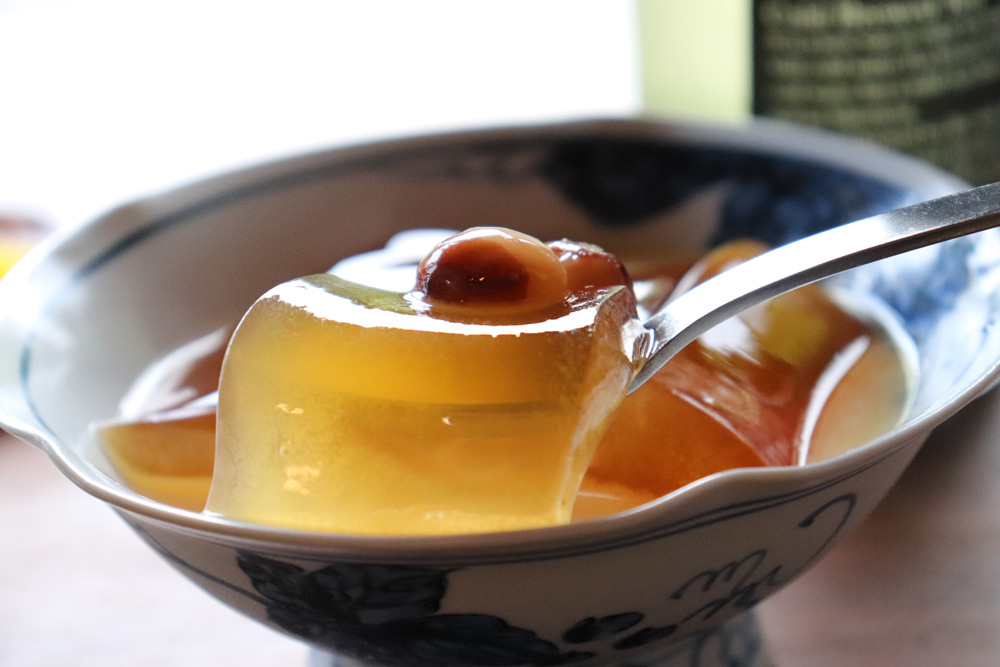 Lunch is also available (advance reservation required).
Old House Cafe Katsuyama also offer lunch menus such as a "natural yeast bread set" and "rice ball set" that feature ingredients produced locally in Mizumiiro.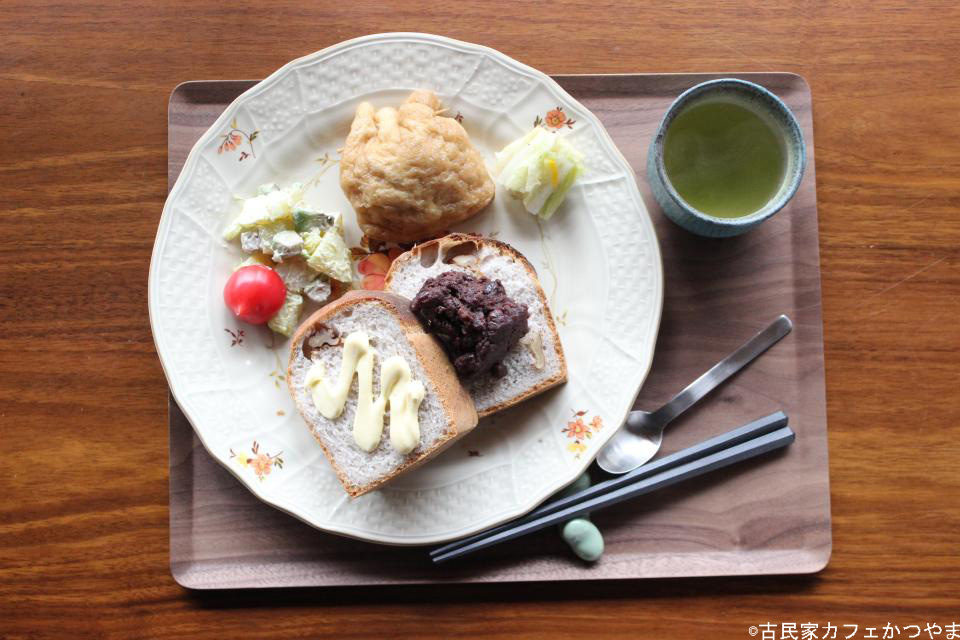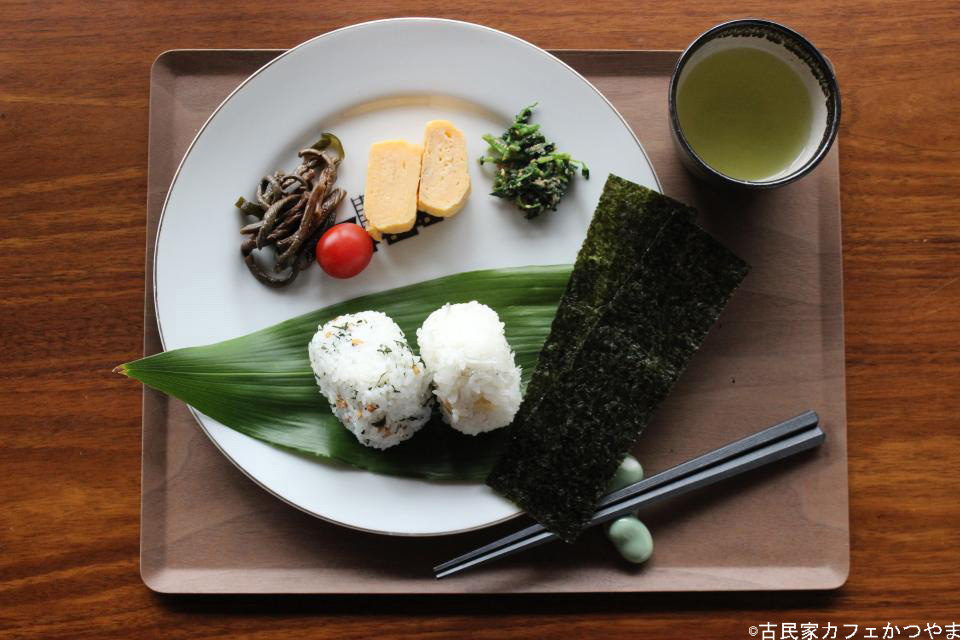 Interview: Enjoy the rich nature of Honyamacha and Mizumiiro at the Old House Cafe Katsuyama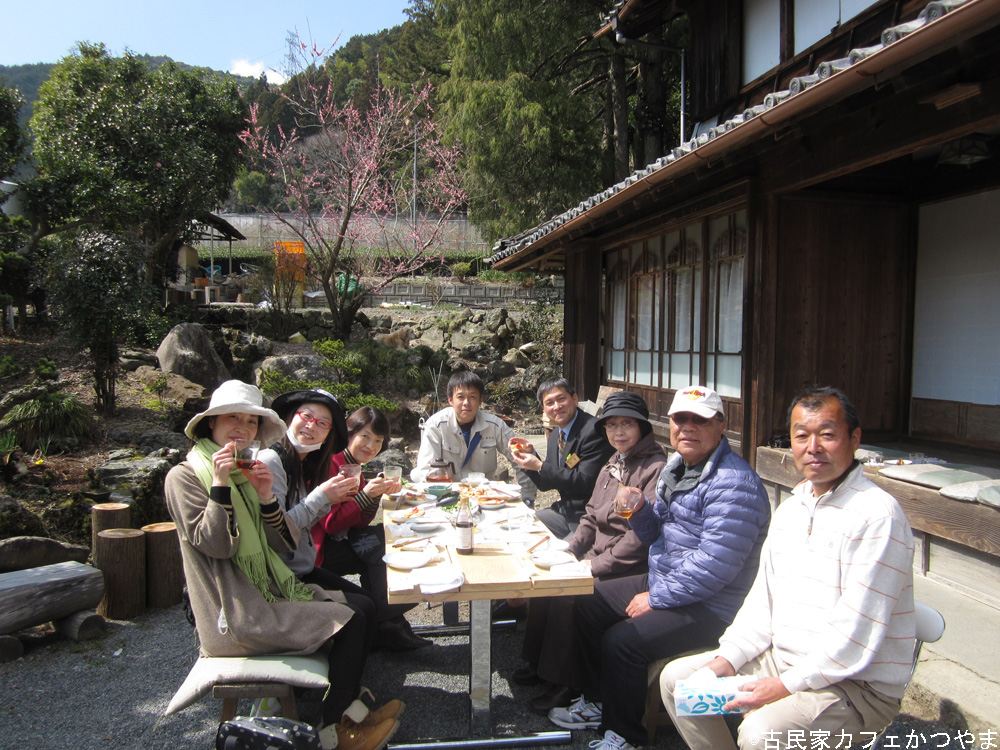 We interviewed Hisao Katsuyama, representative of Katsuyama Tea.
---
– Please tell us about the Old House Cafe Katsuyama.
Old House Cafe Katsuyama is an 170-year old minka that we renovated into a cafe. You can enjoy Honyamacha carefully prepared by Katsuyama Tea Mfg while surrounded by the ambience of an old minka house and the rich natural beauty of Mizumiiro.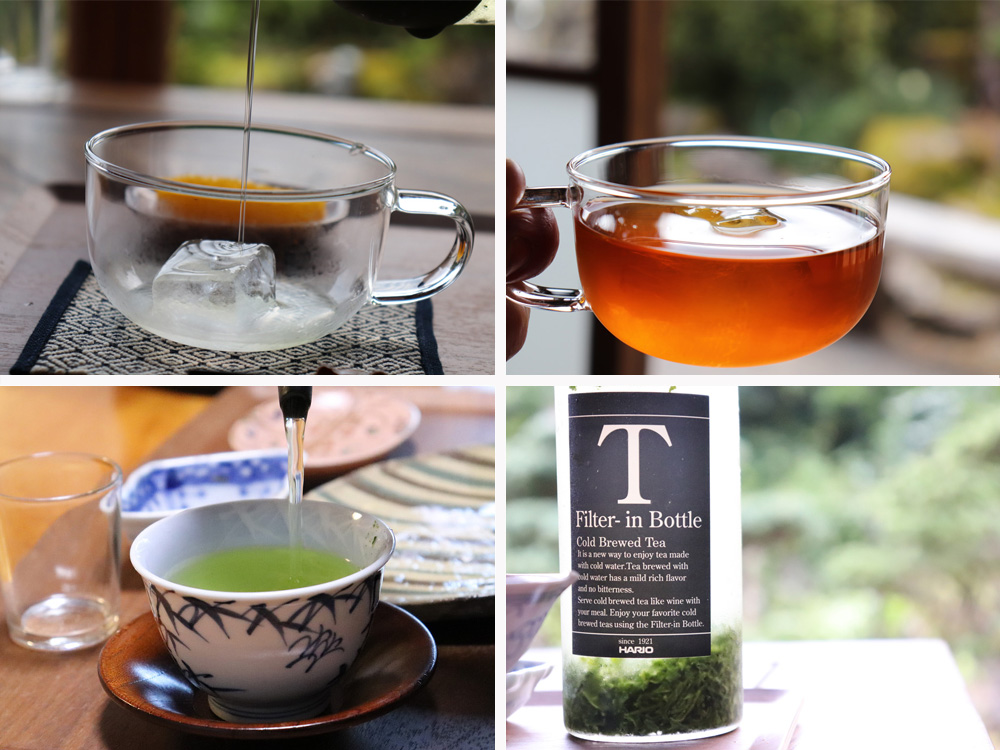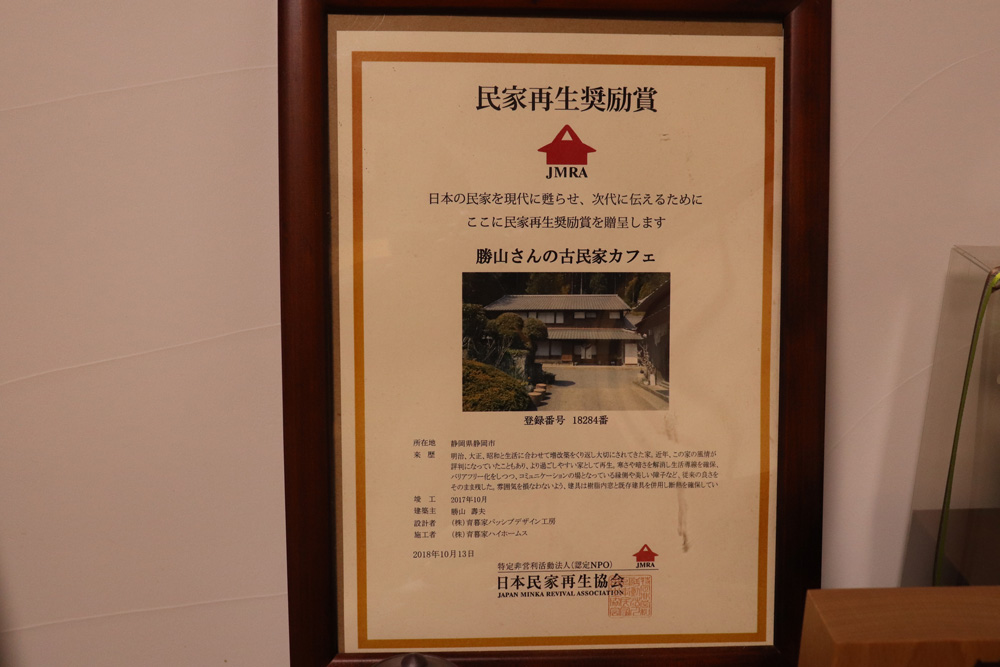 ▲Mr. Katsuyama's skill in renovating this minka and giving it new life as a café has been highly praised.
–The tea as well as the o-hagi (rice cakes) and dried persimmons were very tasty. How are these menu items prepared?
Basically, everything we serve at the Old House Cafe Kazuya is handmade by us. Ohagi, dried persimmons, yogurt, ginger, etc. are all homemade. We also use ingredients produced here in Mizumiiro. We do sometimes use produce shared from farmers in other regions though (laughs).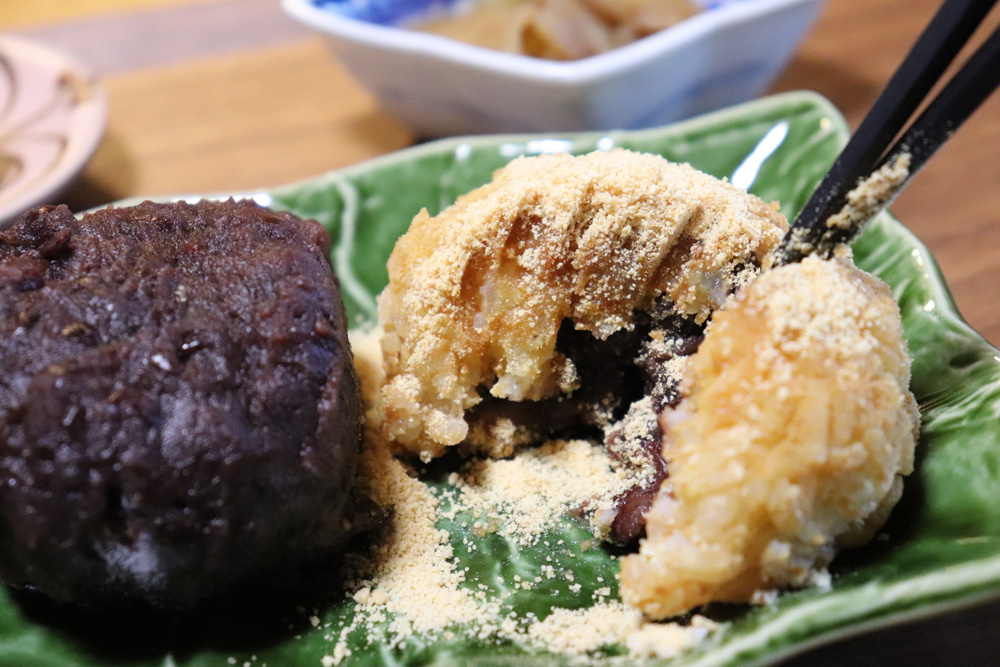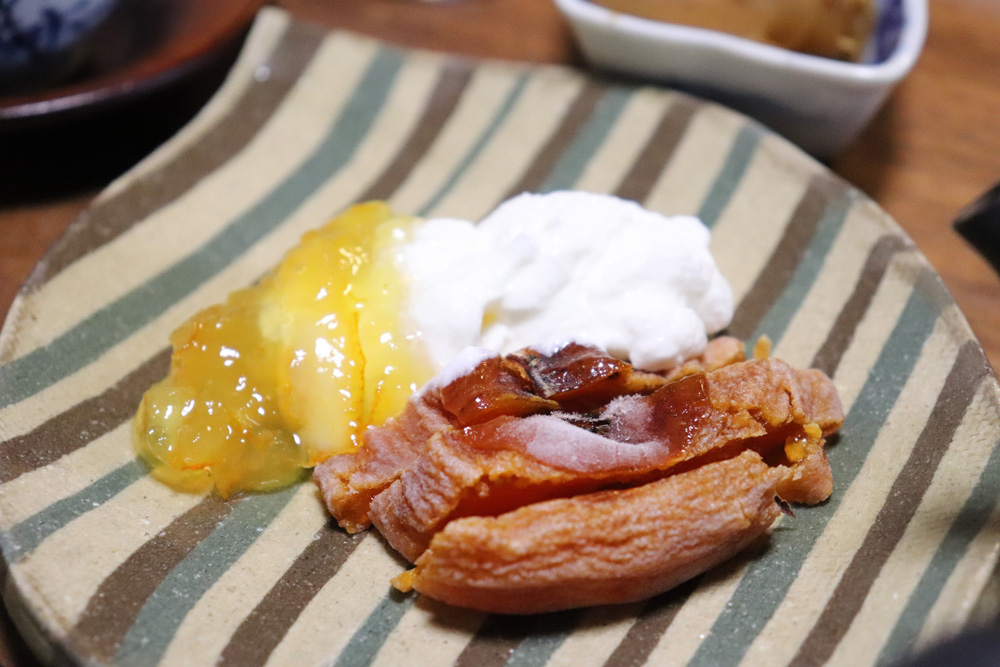 Decades making tea in a rugged mountainous area
–Please tell us about the tea production process at Katsuyama Tea Mfg.
At Katsuyama Tea Mfg, we do everything from cultivation to tea production. I have been making tea since I was 20 years old, so I have been making tea for more than 30 years. One of my school classmates is Yoshio Moriuchi of Moriuchi Tea Farm.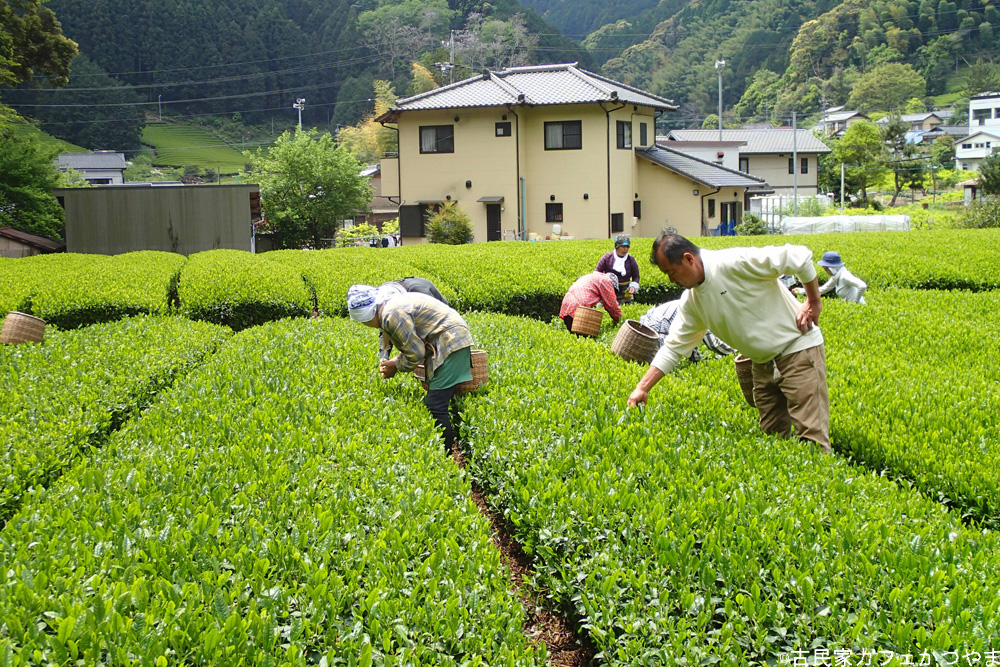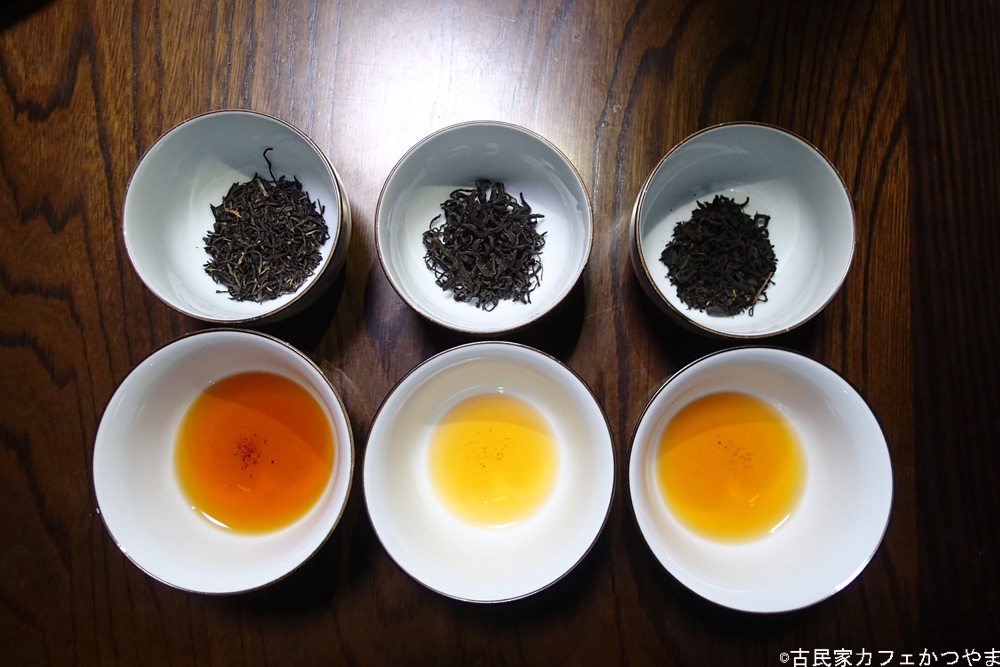 ▲Katsuyama Tea Mfg produces not only green tea but also Japanese black tea.
Our tea plantations are all on steep slopes in the mountains. It is really hard to work with nature on sloping farmland. In the winter in the mountains, it gets especially cold.
If a frost were to fall onto the tea plantation, the tea buds would be crushed and harvest would be impossible. To prevent this from happening, we have installed fans to blow warm air onto the tea trees.
–I often see fans in the tea plantations. Now I know they serve this purpose.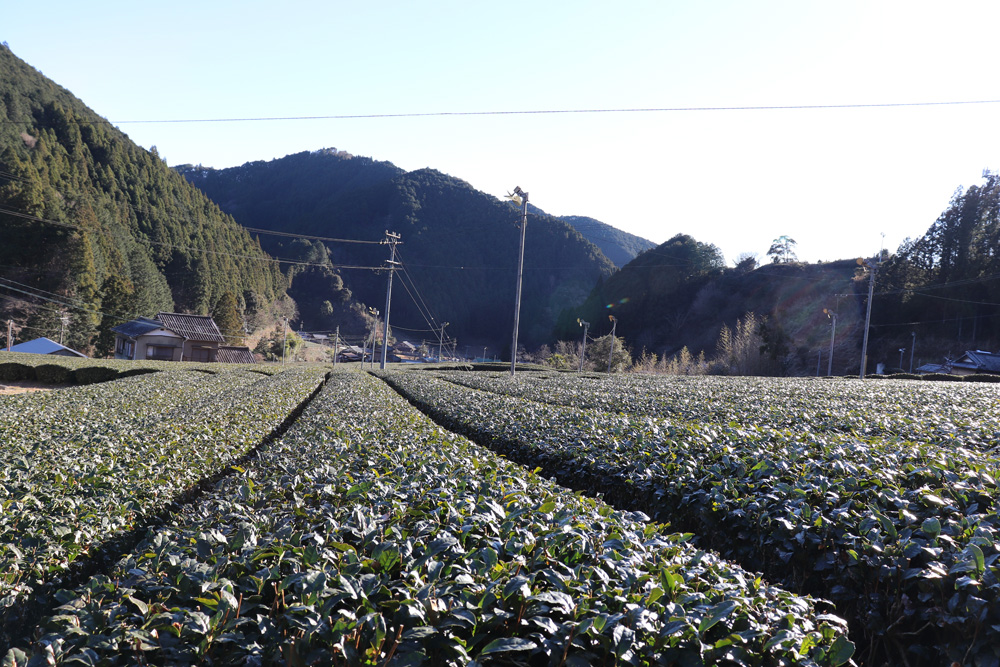 ▲Frost prevention fans installed in tea plantations
I want people to relax and enjoy tea brewed with water from the area it was produced.
–Tea really tastes good when you drink it surrounded by the nature of Mizumiiro.
I'm glad to hear that. Maybe the water used to brew the tea has something to do with it. I recommend that if you want to drink really good tea, drink tea brewed with water from the region where the tea was made. I think that is the best way to drink tea.
–I've heard the same about sake. When drinking sake, it is also recommended to drink water from the place where the sake was brewed as a chaser.
It's a strange phenomenon. (laughs)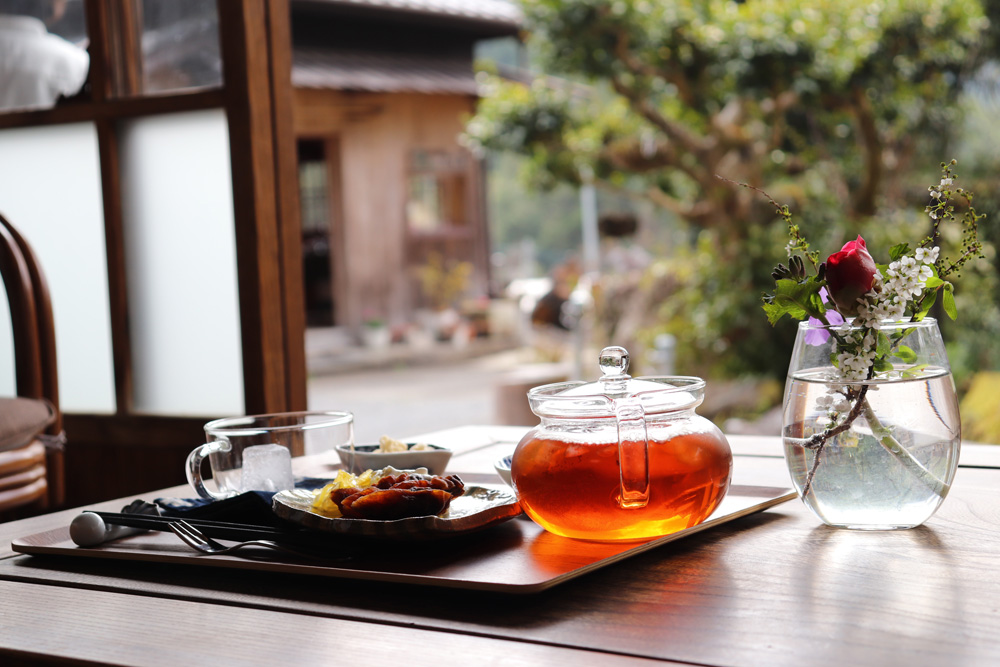 The management philosophy of the Old House Cafe Katsuyama is "Never fall into complacency." We try to carefully observe and make sure that our customers are enjoying the food.
We want our guests to feel free to relax in the Japanese-style room, on the porch, in the garden, or anywhere else they choose.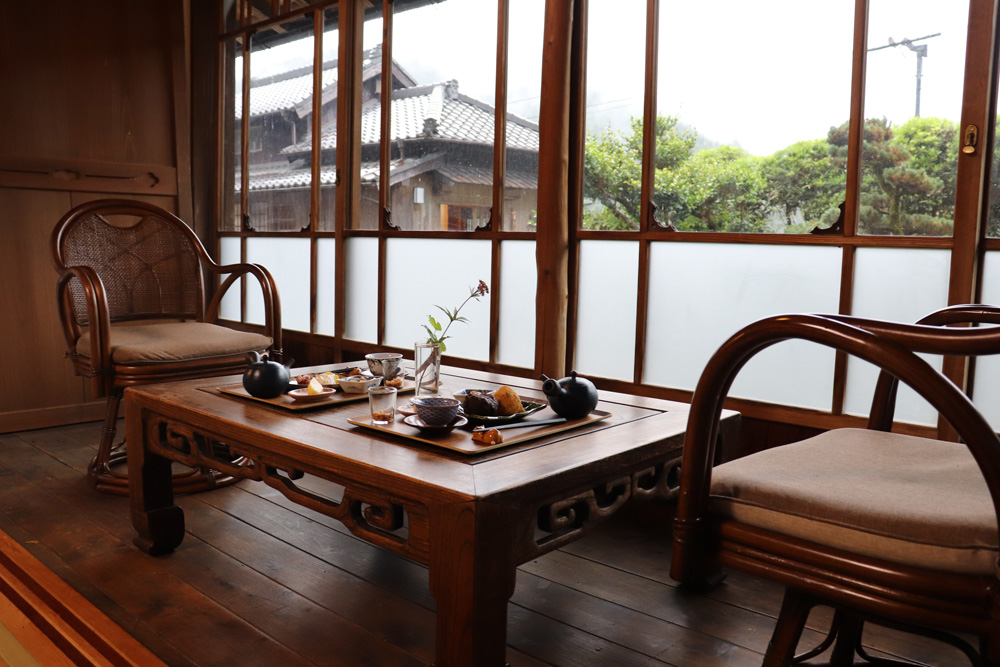 Perhaps it is difficult in today's Japanese lifestyle, but I believe it is important to rest.
In China, it is a cultural practice to take time to make a cup of tea and rest! (laughs)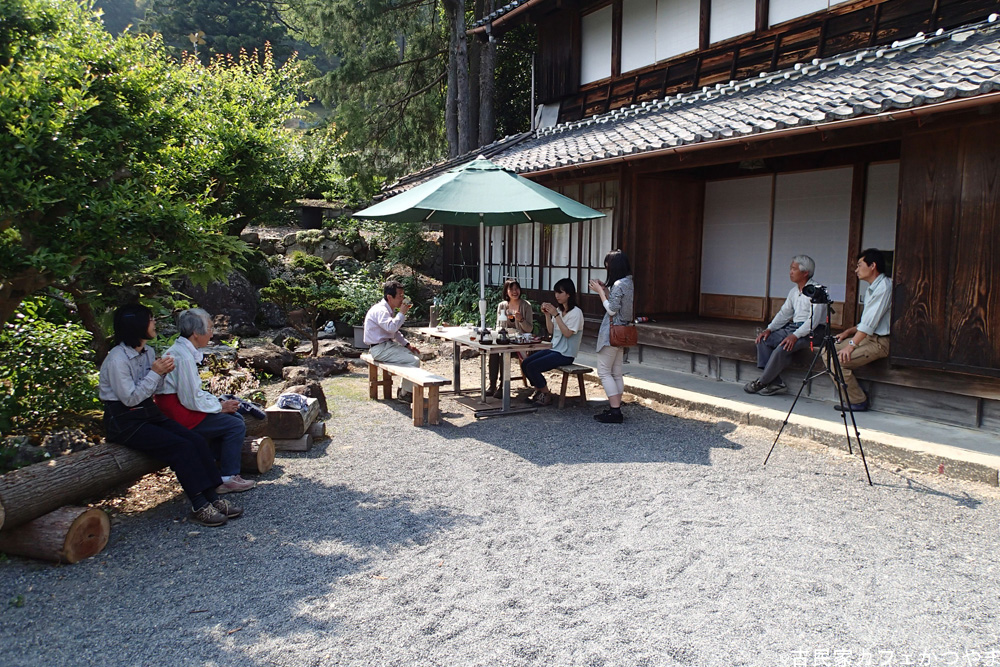 Information on the Old House Cafe Katsuyama
Address
71-14 Kamata, Suruga Ward, Shizuoka City, Shizuoka Prefecture, 421-0133, Japan
Website

http://mizumiiro.p-kit.com/

Phone number
+81 54-279-0024
E-money and credit cards
Not Available
Open
Katsuyama Seicha 9:00 to 17:00 (Tue to Sun)
Traditional Farmhouse Cafe 10:00 to 16:00 (Fri, Sat, Sun)
Closed
 Irregular holidays
Parking lot
Available
Access
From JR Shizuoka station, cross the Anzai bridge over the Abe river that runs into the city. Follow national road 362 along Warashina River Northeast for 10 kilometers. Along the way, you drive through two tunnels and, after several hundred meters, turn left at the second traffic light (the light in front of the JA Nakawara Branch office). Follow the Mizumi-iro River upstream for 4 kilometers, heading for Mizumi-iro elementary school. Pass by the elementary school until you reach an intersection 500m ahead. There you have the bus stop "Mizumi-iro". Turn left at the intersection and follow the road for 180 meters.
| | |
| --- | --- |
| Writer | Norikazu Iwamoto |
| Career | Ochatimes chief editer.Meeting with Vice Governor of Shizuoka prefecture.Judge of Fuji country 100 tea's award in 2021.Ocha Times link introduced at website of World O-CHA(Tea) Festival 2022 and Tea Science Center. |
| | |
| --- | --- |
| English translator | Calfo Joshua |
| Career | Born and raised in England, living in Japan since 2016. Studying arboriculture in Shizuoka Prefecture whilst operating his landscape business Calfo Forestry. Appreciating the nature of Japan and the culture that places such importance in it. |
Related articles