Sasukien is a Tea Theme Park for Three Generation Families to Enjoy【Shimada City, Shizuoka Prefecture】

Go to Japanese page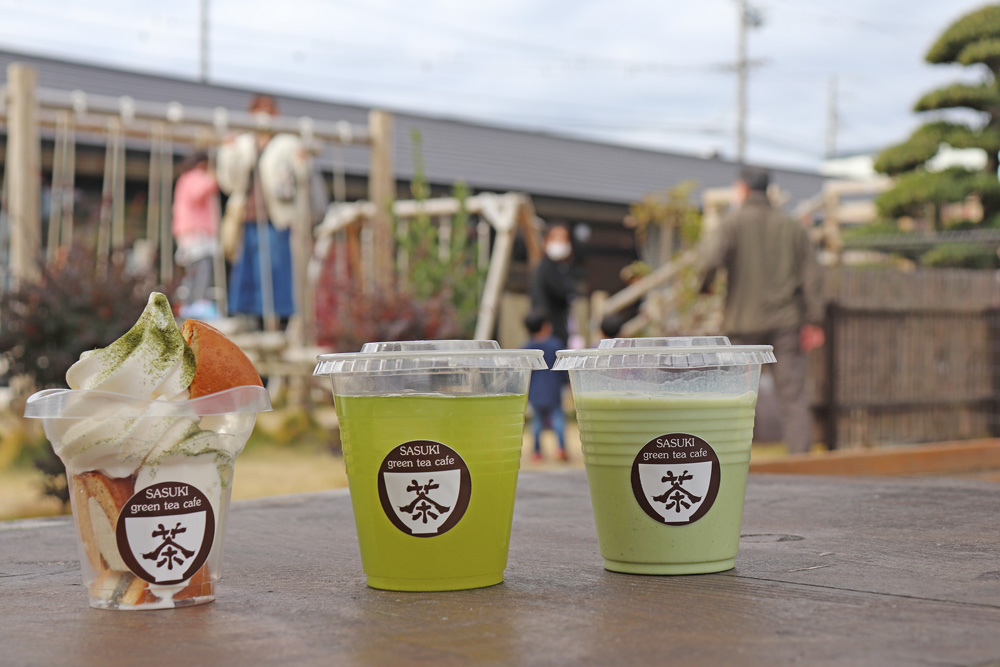 Hatsukura, Shimada City, Shizuoka Prefecture, is a bright and scenic tea production area, producing a tea called Shimada-cha (Shimada tea). This time I was fortunate enough to have the opportunity to interview Sasukien, here in Hatsukura, Shimada. It is a tea theme park, with a café, restaurant, athletic facilities, footbath, oxygen capsule, and even a dog run, not to mention green tea for purchase.
In this article, we report on Sasukien's tea and café menu, as well as the reason for creating Sasukiland, in an interview with Takahide Otsuka, CEO of Sasukien.
About Sasukien
Sasukien is a teahouse in Sakamoto, Shimada City, Shizuoka Prefecture, with the concept, "Enjoyable for the whole three generation family." It is operated by Otsuka Seicha, a long-established tea company that has been in business for over 120 years.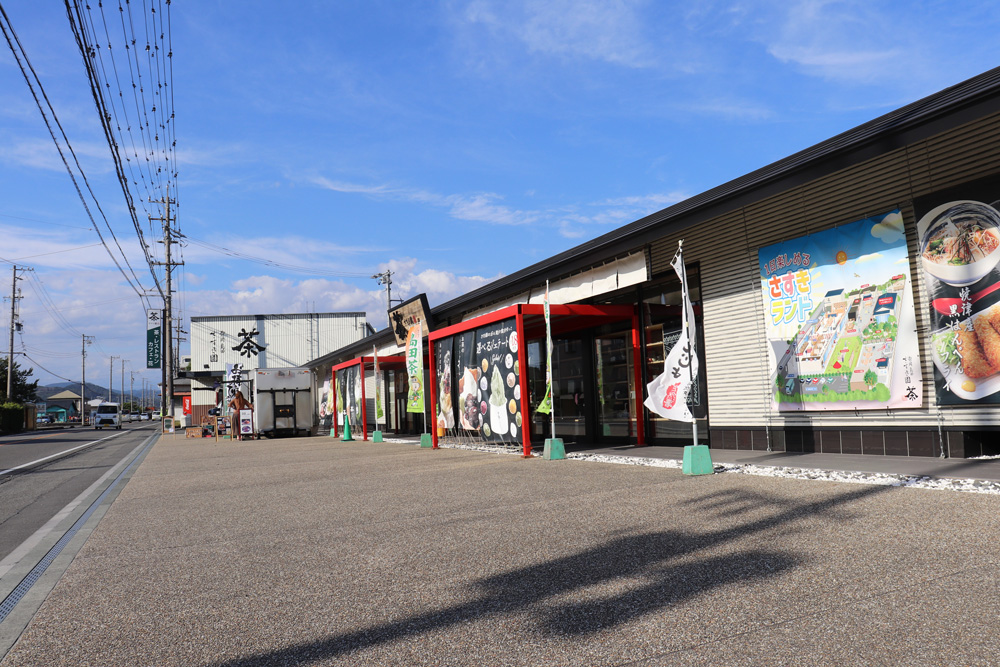 In 2017, Sasukien was renovated as a teahouse "enjoyable for the whole three generation family" with athletic playground equipment, a radio-controlled corner, and a footbath.
Sasukien has a café, restaurant, athletic field, footbath, radio-controlled corner, oxygen capsule, and dog run, not to mention tea purchases, for the enjoyment of all generations, from children to the elderly.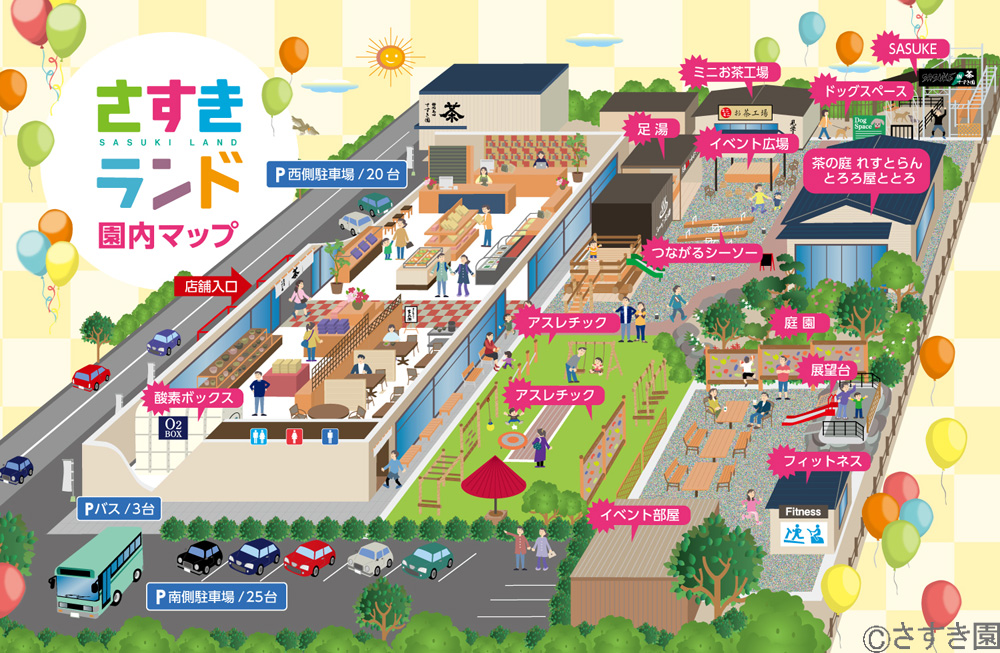 Sasukien's Tea Bags – "Kamiwaza"
Sasukien's Tea Bags – "Kamiwaza" are based on the following concept: "People who have stopped drinking tea have not stopped drinking tea because it is not tasty. They just don't drink it because they don't have a teapot. It was created out of the desire to do something about such a situation."
These tea bags are different from ordinary teabags in that they have been created to taste as if they were brewed in a kyusu (Japanese teapot).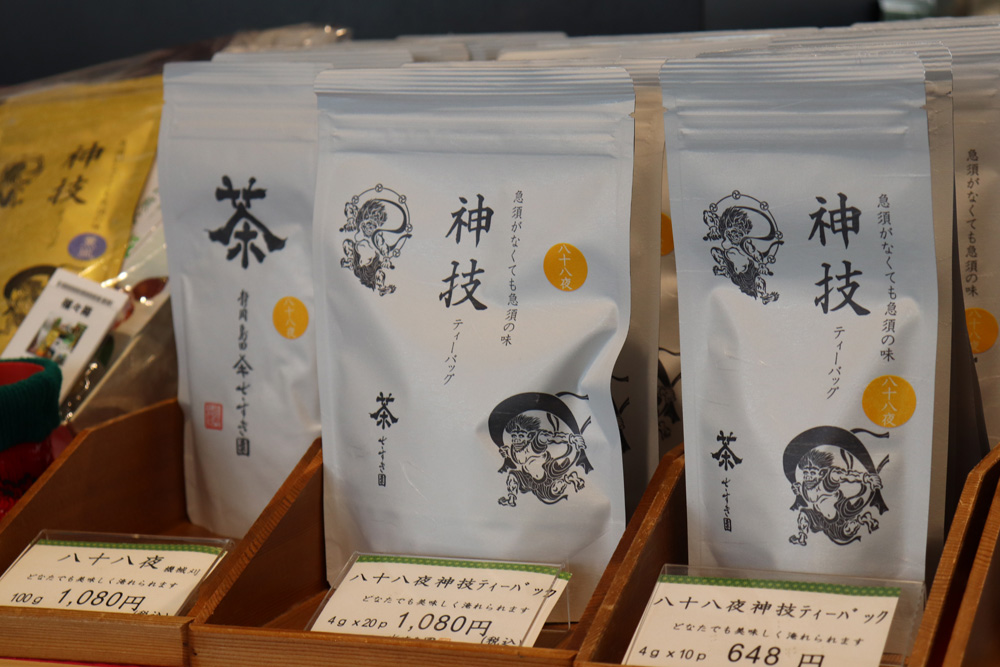 Tea cakes made in collaboration with Sasukien and a long-established confectionery store.
Sasukien has been actively developing products that make use of tea and local ingredients in order to introduce the taste of tea to as many people as possible. Sasukien has collaborated with long-established confectionery stores such as Takoman, Shimizuya, and Ryugetsudo to create several popular tea cakes. (Some of Sasukien's teacakes can also be found at the Horai-bashi 897.4 (Yakunashi) teahouse.)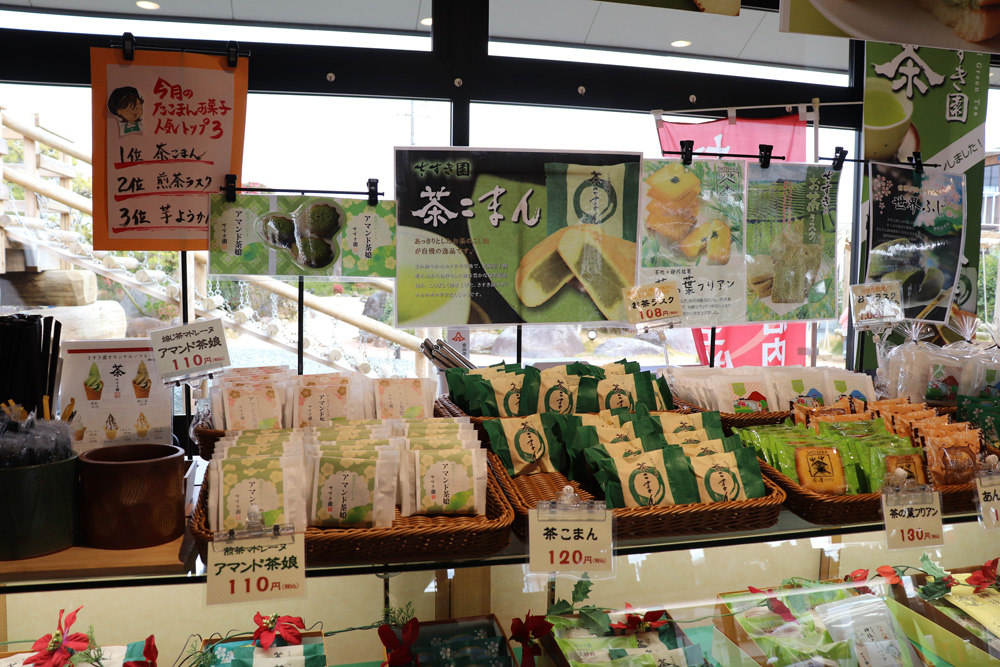 The wooden playground of Sasuki-land
The wooden playground, built by Sasukien in cooperation with the local forestry cooperative and the local community, is popular for its warm appearance. Even the parts that touch the hands are not too hot in summer and not too cold in winter, making them functional and different from metal.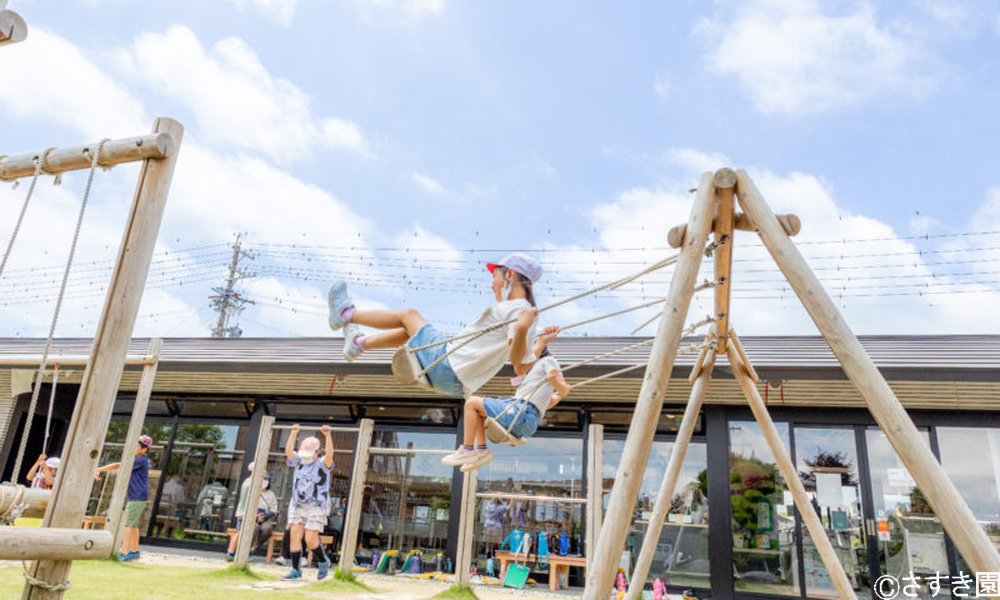 From the observation deck, you can see Mt. Fuji directly in front of you, the Shinkansen bullet train to your right, and looking back, you can see airplanes taking off from Shizuoka airport.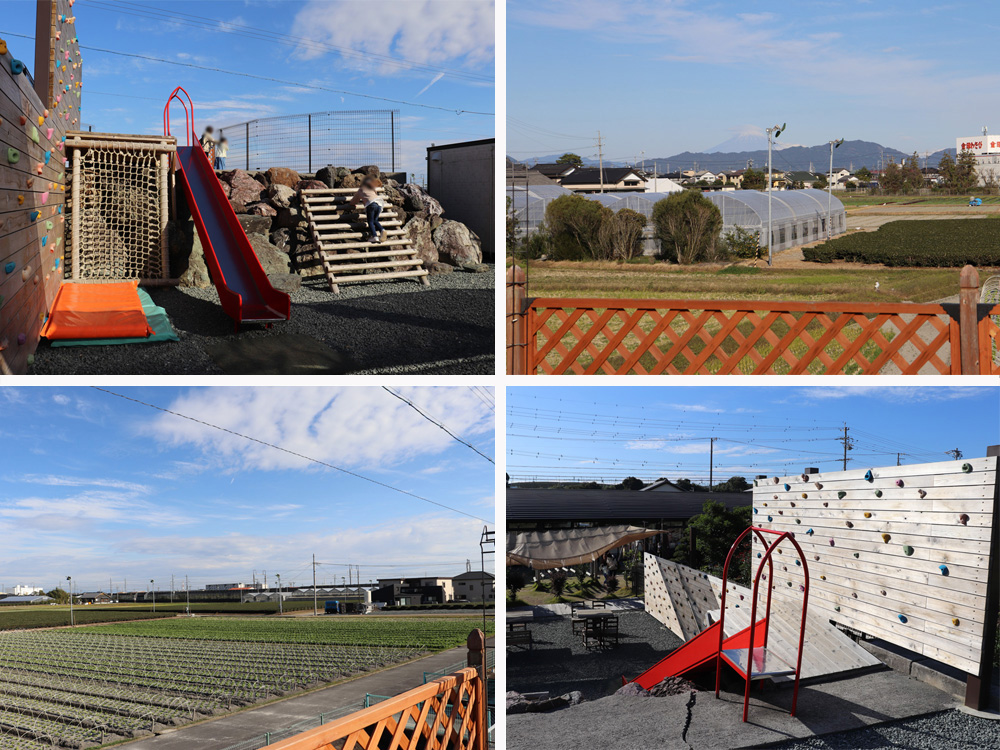 ▲The slide and bouldering wall is especially popular with families.
RC Racing Circuit
At the RC circuit, visitors can play with a mini go-cart that runs at 5 km/h, controlled by a remote control that resembles an actual steering wheel. The mini go-cart developed by Shibata Jidosha, an automobile specialty store, are designed to be sturdy, so they can withstand collision. They can be enjoyed by people of all ages, from children to adults.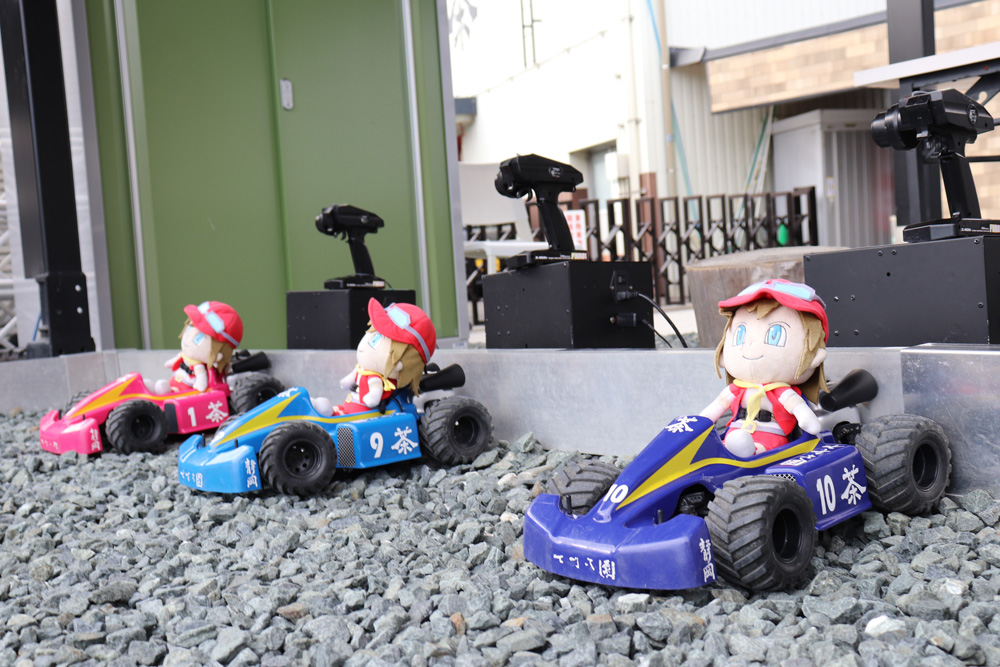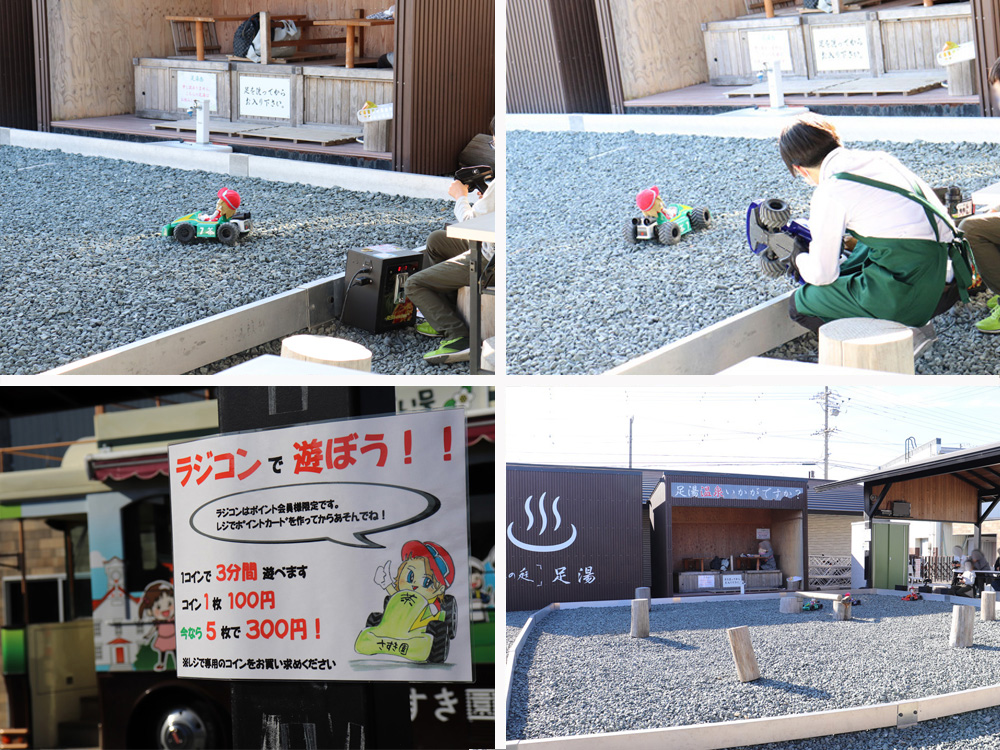 ▲You will need to be issued a Sasukien point card, which serves as a substitute for a driver's license.
There are also many other attractions such as a mini tea factory, a dog run, a footbath (Saturdays and Sundays only), a tea garden restaurant where visitors can enjoy local food, and many other contents.
Sasuki-Land" is fenced off and security cameras are installed to ensure complete security. Children can play there with peace of mind.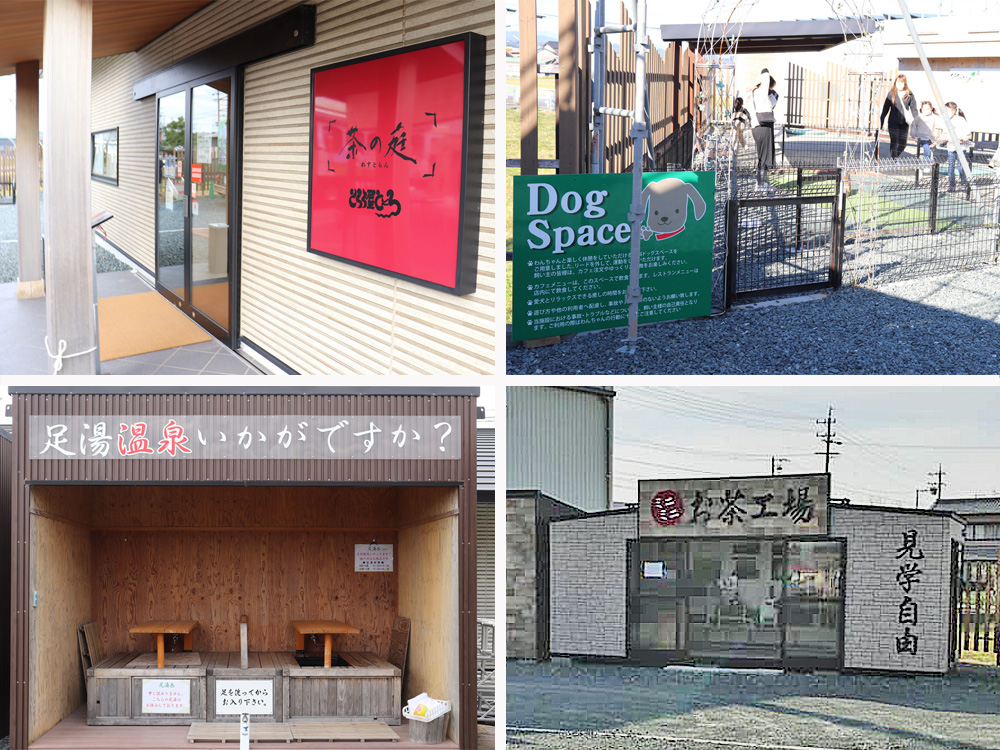 Located in the Hatsukura area on the south west bank of the Oigawa River, Sasukien's tea plantation is blessed with an environment suitable for tea cultivation, including moderately humid winds and fertile soil. Sasukien's tea is "sweet, tasty, and addictive."
Here we would like to introduce a few of the café menu items that feature Sasukien's tea.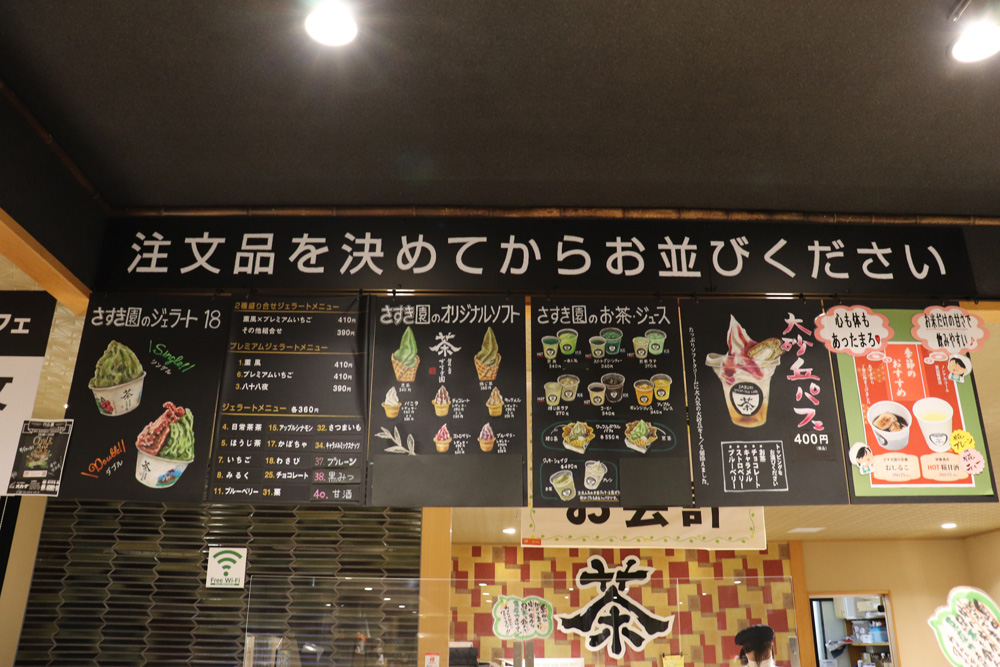 Cookie Shake – Tea flavor
This drinkable shake contains Sasukien's tea cookies, which are very popular as souvenirs. The savory tea flavor gives it a unique taste.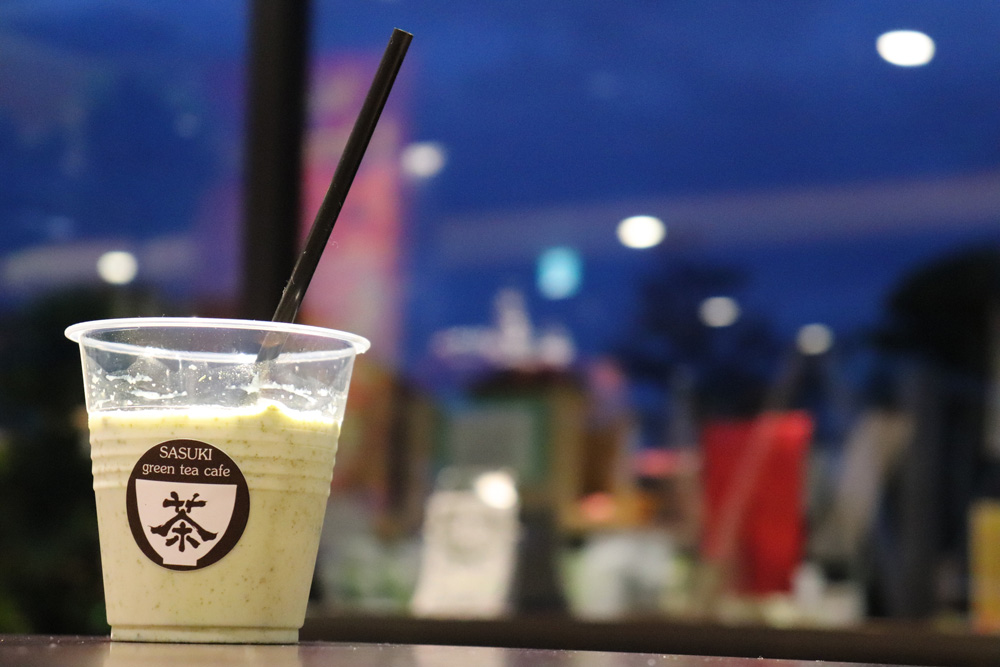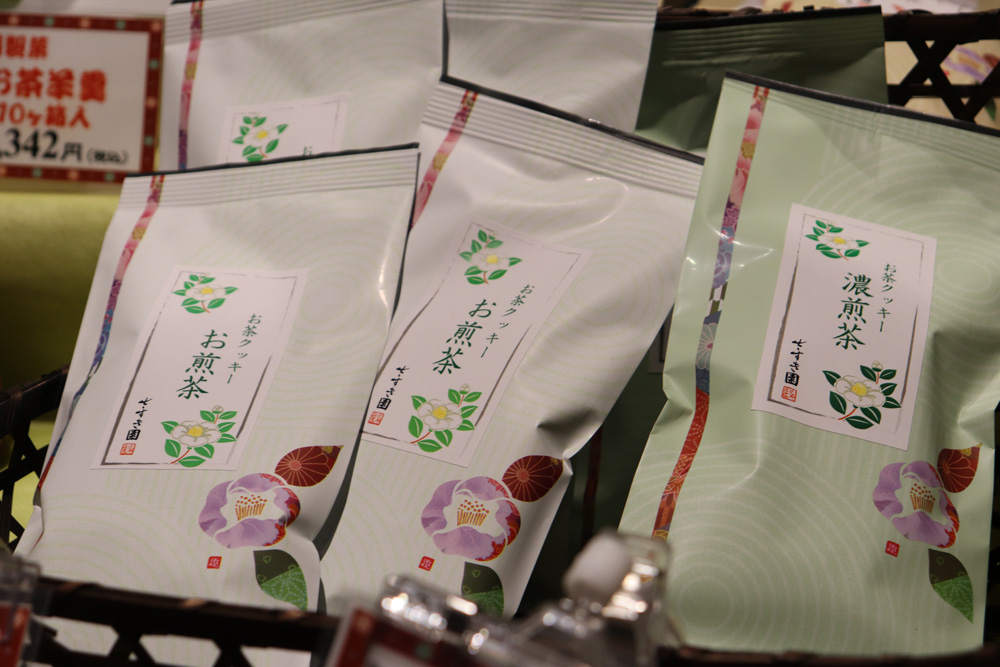 ▲Tea cookies can be purchased at the store.
Sencha
A delicate cup of tea with refreshing sweetness, pleasant bitterness and astringency, available hot or iced.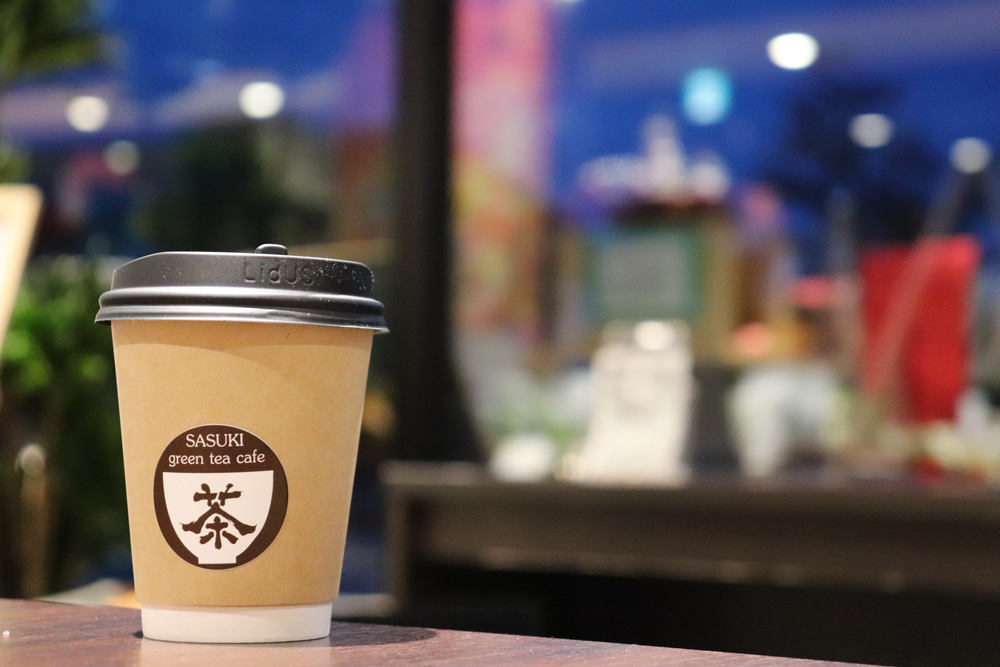 Gelato – "Kunpu" and Premium Strawberries
Sasukien's most popular gelato. You can choose from the 18 types lined up in the showcase at the store, in a "single" or a "double" cone. The take-out cup type can be shipped nationwide, so it is recommended as a gift.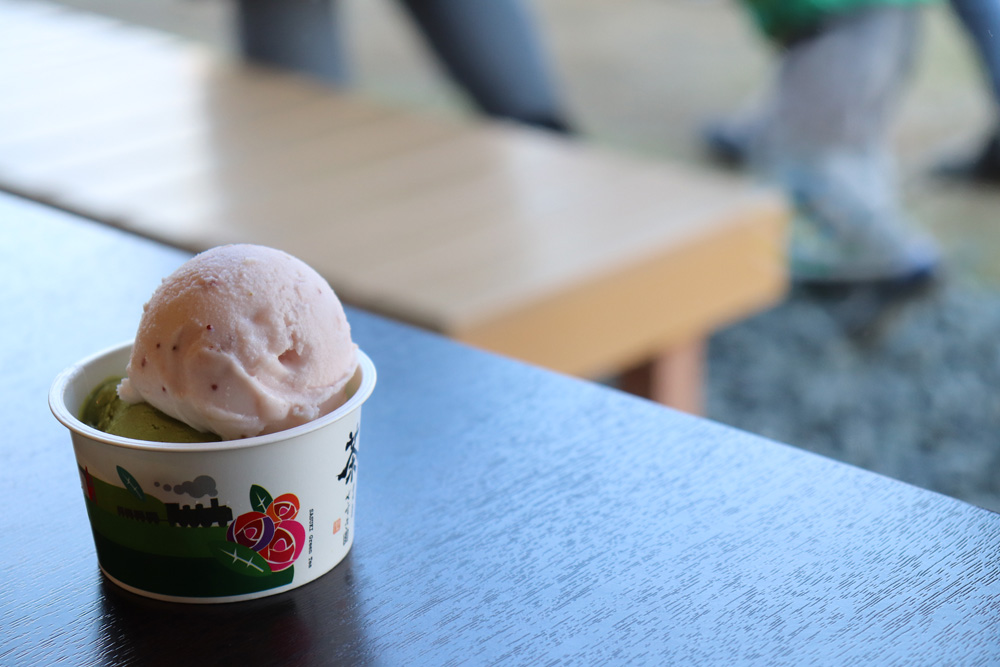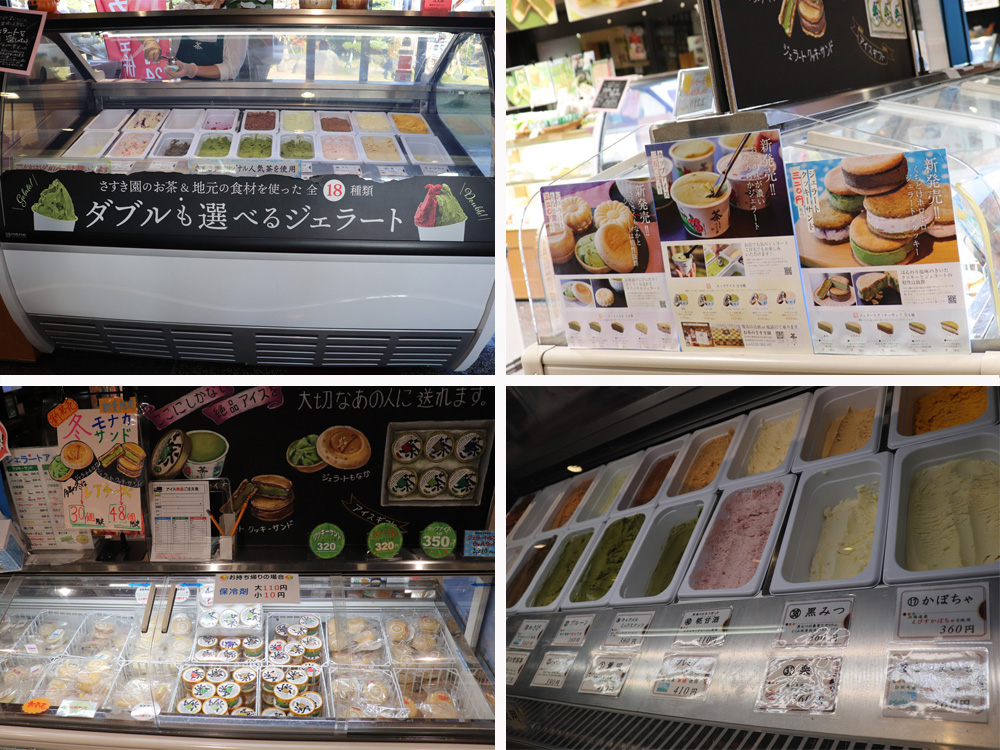 Great Sand Dune Parfait
This parfait includes the popular tea confectionery "fresh large sand dune sweets" from the famous long-established confectionery store "Takoman" in Shizuoka. It is a popular item that can be enjoyed with milk soft serve.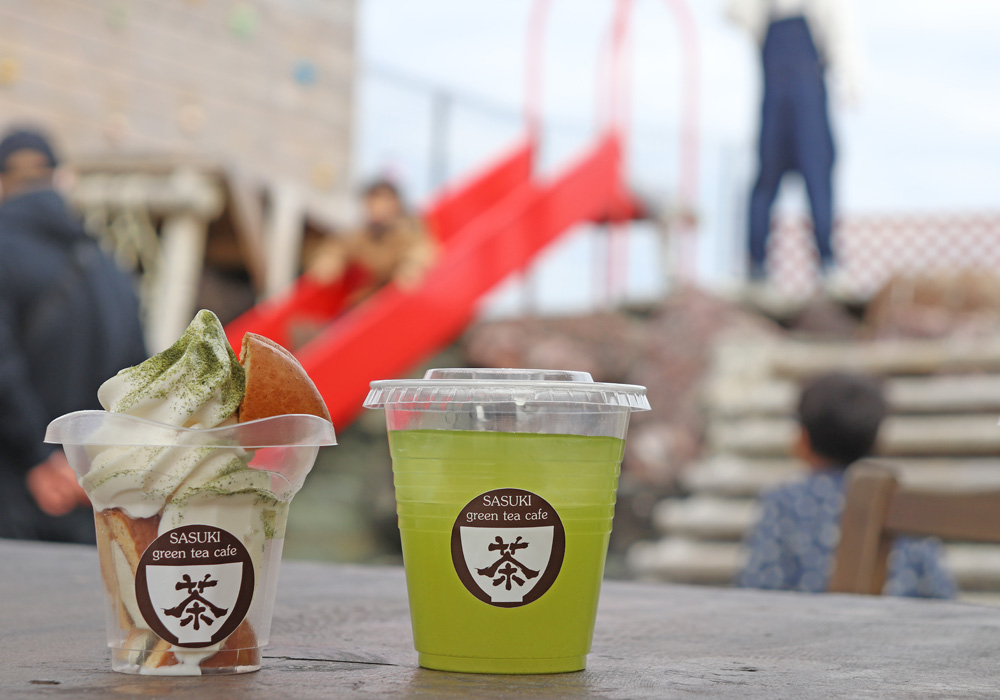 ▲The photo shows a set of sencha green tea. It is a perfect match with Sasukien's sencha tea.
Fresh 'sand dune sweets' are also sold in the store's showcase, and you can take home your favorite flavor of daisy dunes as a souvenir.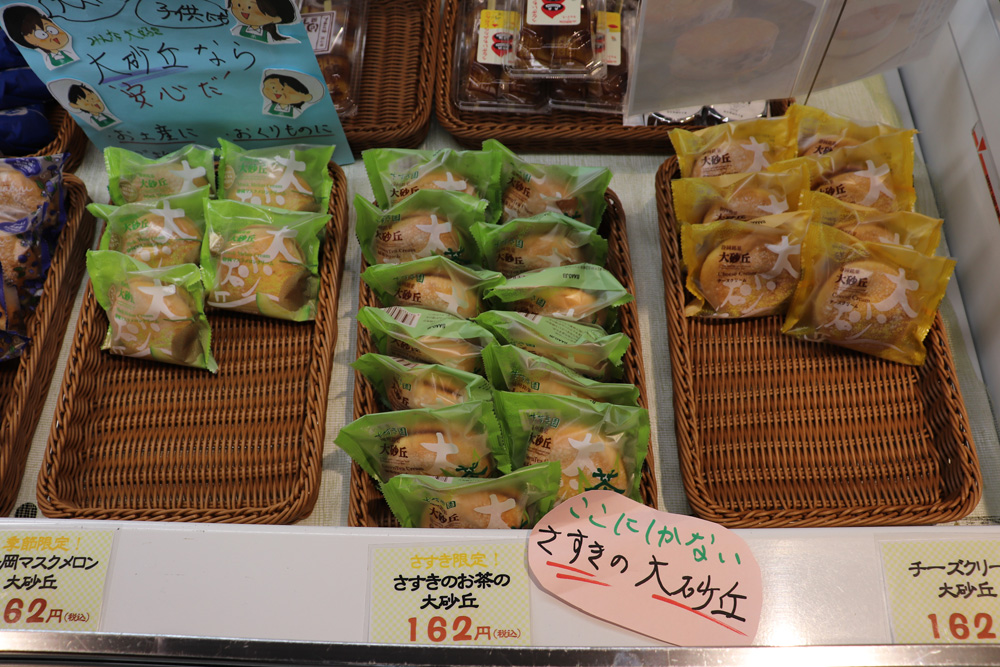 Oshiruko – Winter Only
Handmade "oshiruko" is made with the utmost care, beginning with the careful firing of the azuki beans. The crispy rice cake in the exquisitely sweet red bean paste is delightful.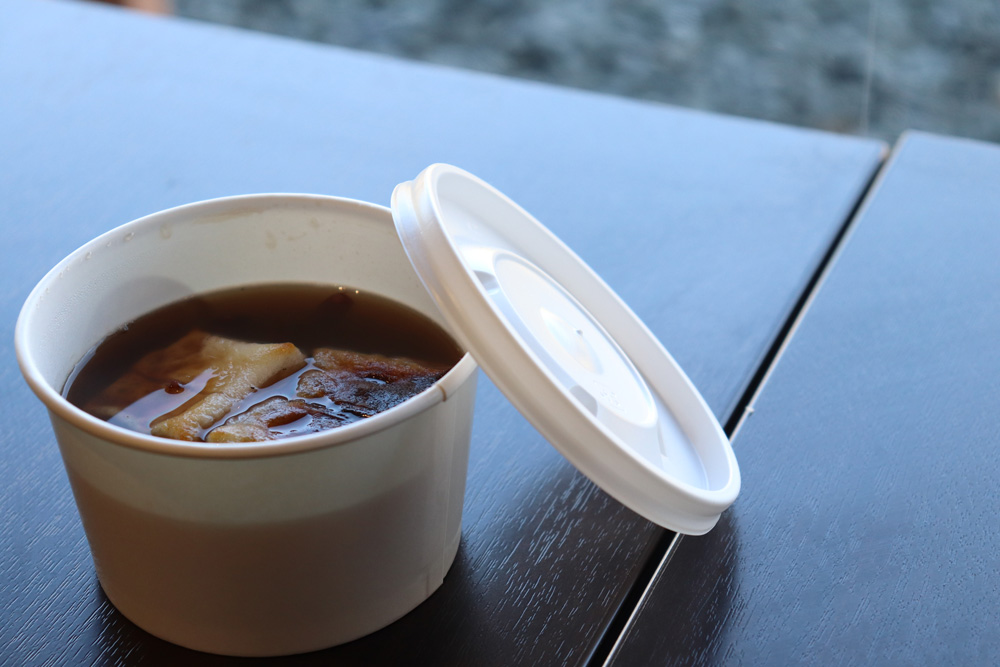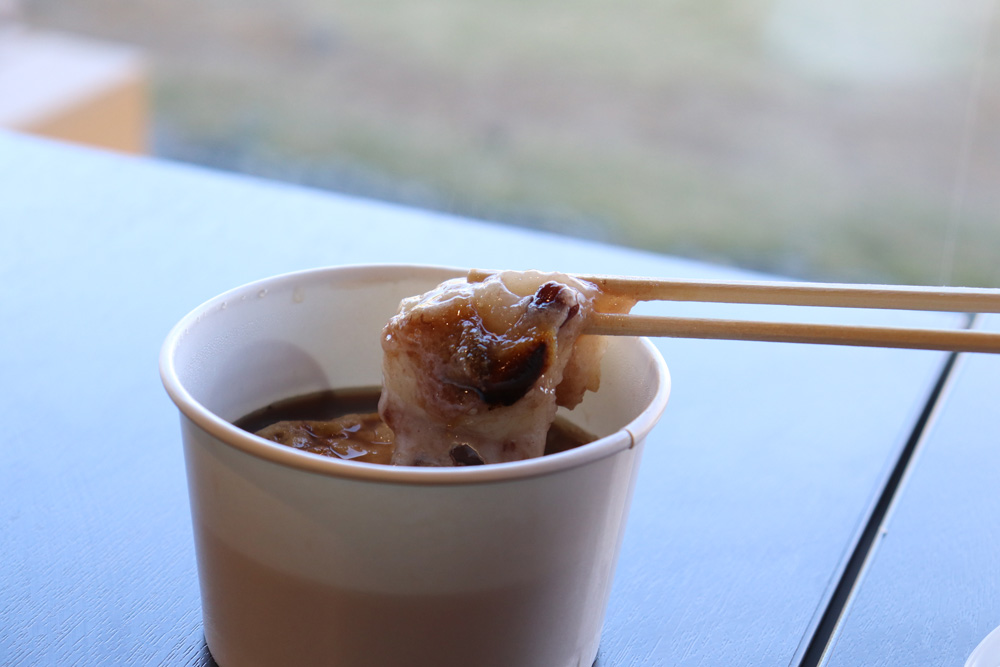 Interview: Construction of "Sasuki-Land" was made possible by thinking of "people" rather than "things"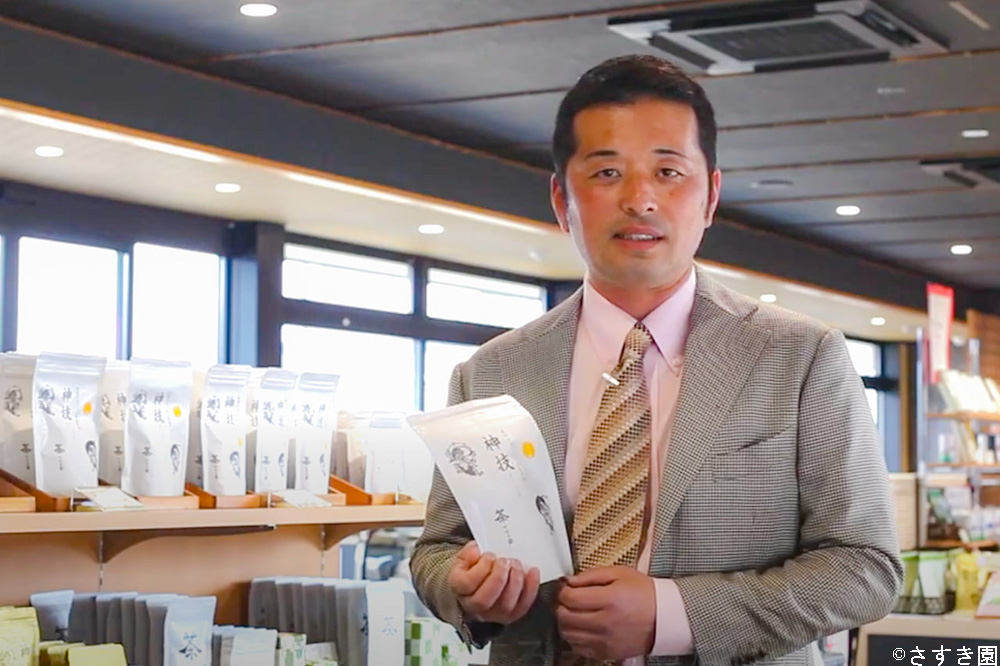 We interviewed Mr. Takahide Otsuka, Representative Director of Sasukien Tea Farm.
---
Background of the Construction of Sasukieland
–Why did you decide to build Sasukieland?
I have visited many tea shops all over Japan. I was very impressed by all of them, but I thought, "If we do something similar at Sasukien, we won't be able to attract customers, we need to give our customers a stronger incentive to come.
We analyzed the customer base that comes to Sasukien, and found that 88.4% of them are women. Since women are more likely to have children and grandchildren, we thought, "Why not make Sasukien a place where people can bring their children?
Isn't it wonderful to have a teahouse that supports the children who are the future of Japan (laughs)?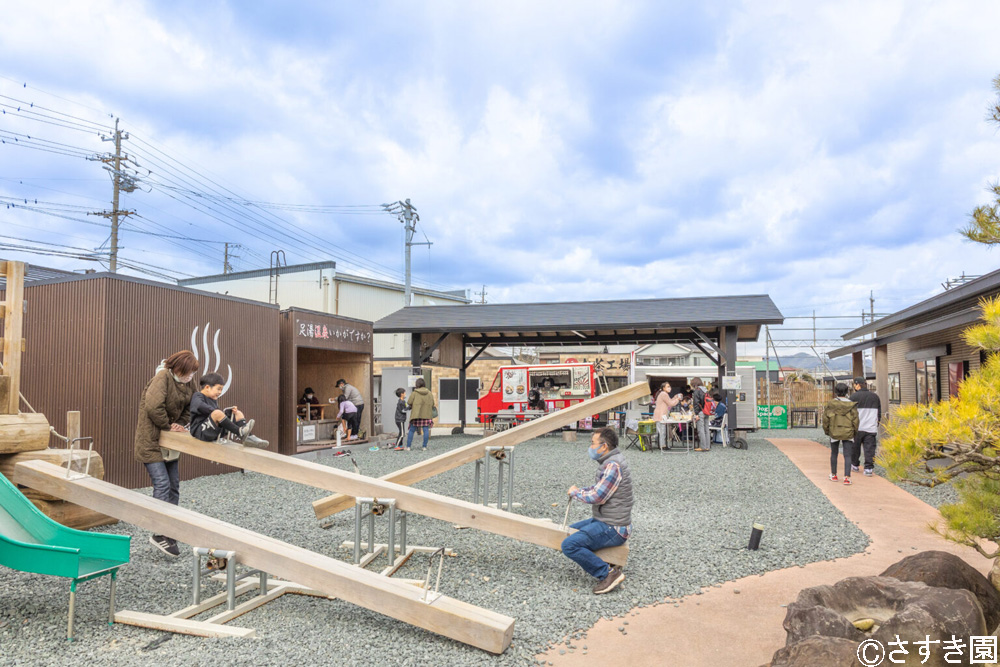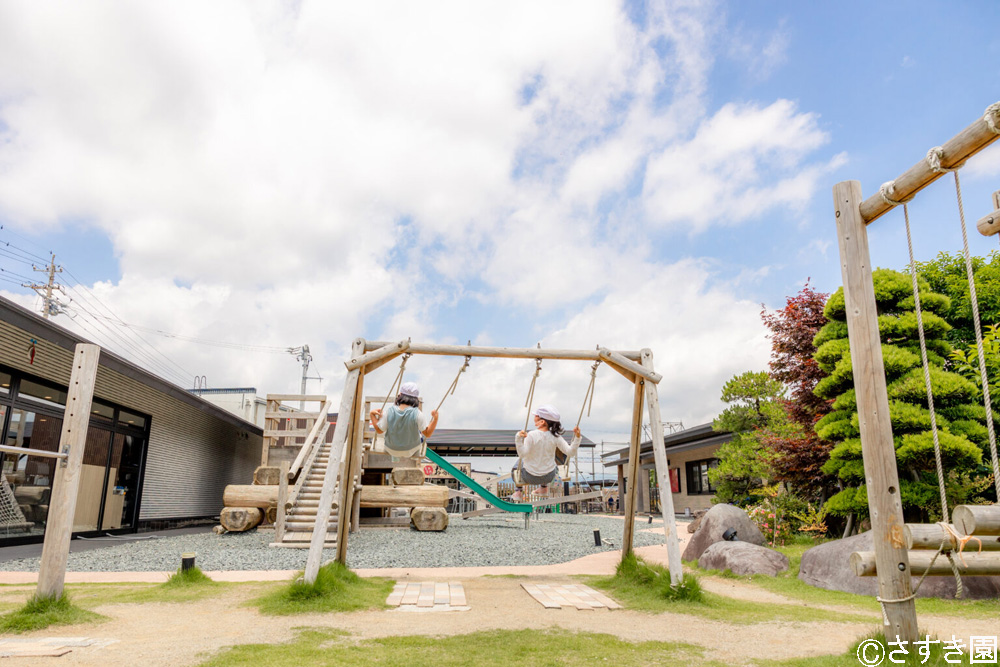 –I am sure there aren't many restaurants where you can let your children play in peace. It must be very helpful for parents.
Sasukien is not only a place for children to play, but also assists nursery schools and kindergartens with extracurricular childcare programs. It can also be used as a place for children to experience shopping on their own for the first time.
This experience can be a valuable social learning opportunity for children to learn about the price of things, change, sales tax, etc.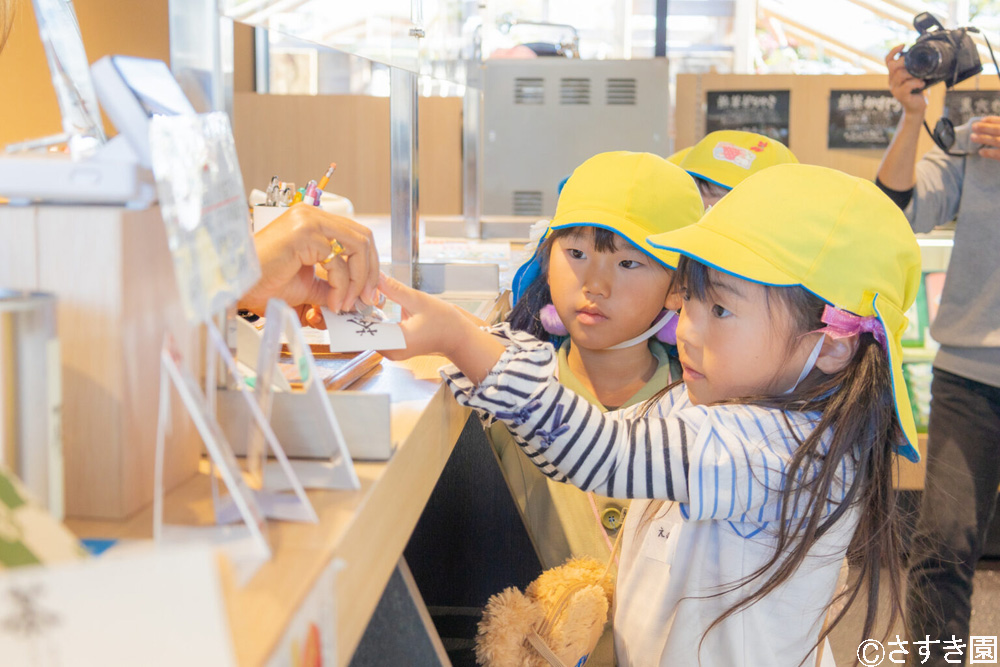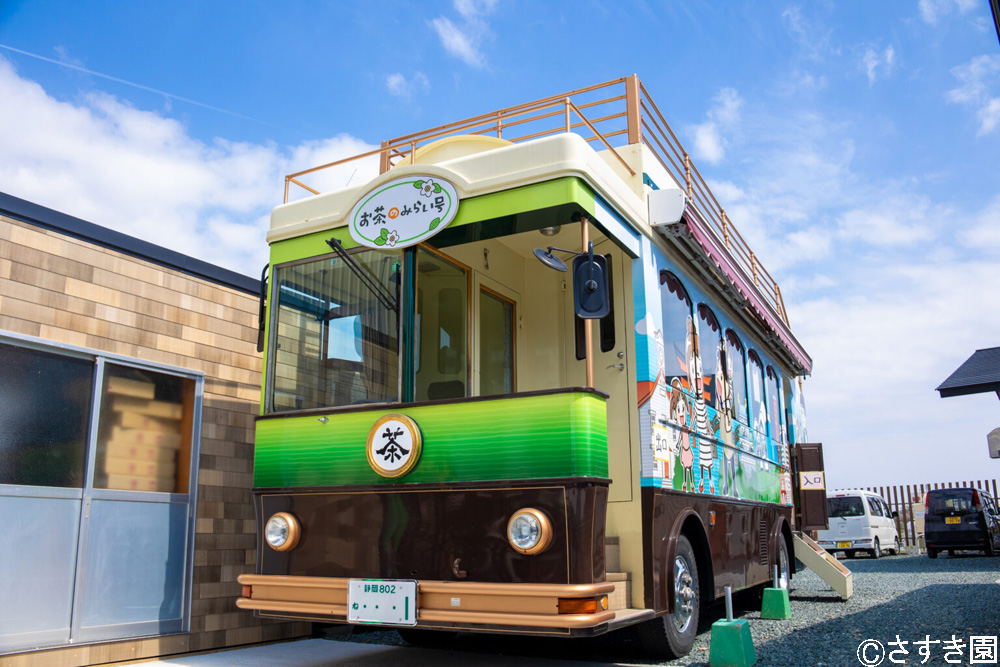 ▲We also provide transportation by bus.
–The management of Sasukien is directly connected to educational support.
The sight of children playing energetically cheers up the adults who watch them. We have not only tea here, but also "Sasuki-land" where you can enjoy exercising and "oxygen capsules" that are said to be effective in relieving fatigue, so I think you will be energized both physically and mentally.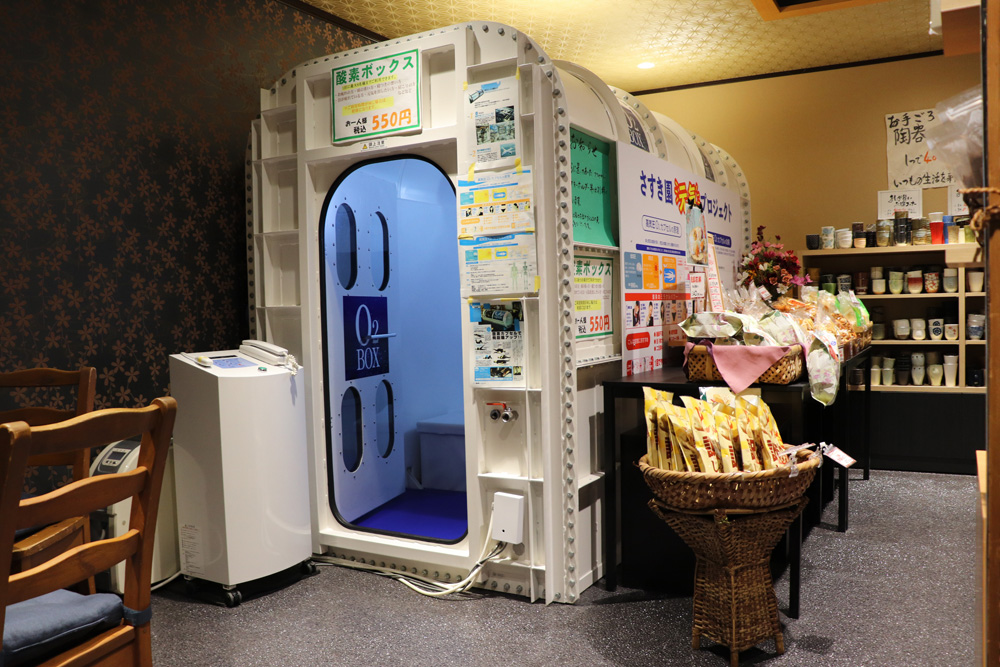 ▲The oxygen capsule can hold up to 8 people at a time and costs 500 yen per hour (reservation required).
It's a place to share pleasant times and make memories.
Customers become fans of Sasukien because they want to support a tea shop that values energy, health, inspiration, and connection. Sasukien is made possible by the support of such fans.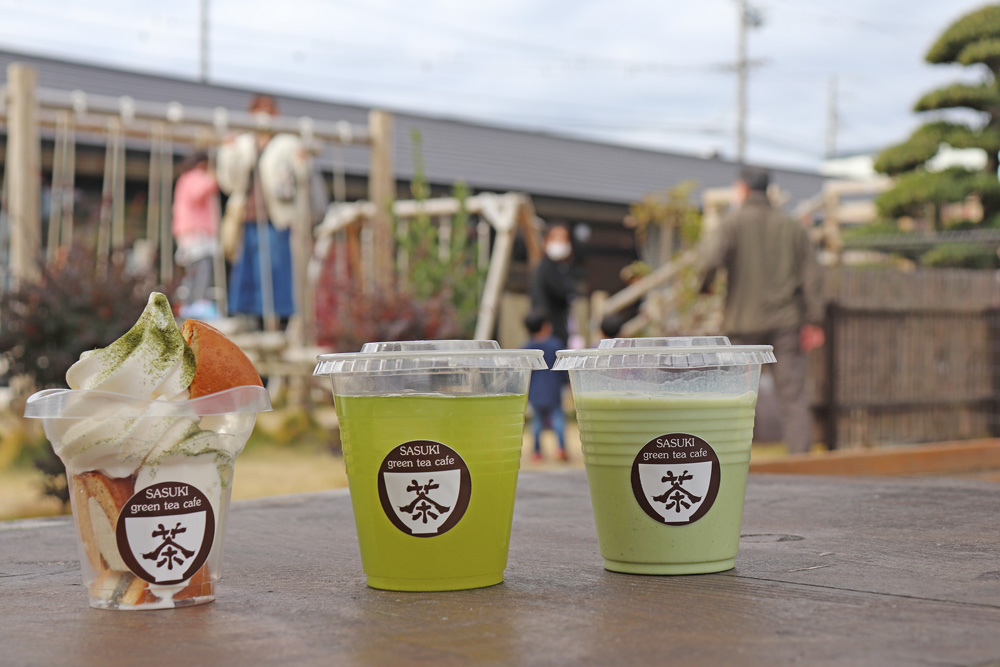 Sasukien has a staff full of tea experts.
At Sasukien, I, as well as all of our staff, have acquired knowledge of the physical and scientific aspects of tea and therefore, we can explain to you why tea is delicious, how it is made, and why you should buy tea from tea makers.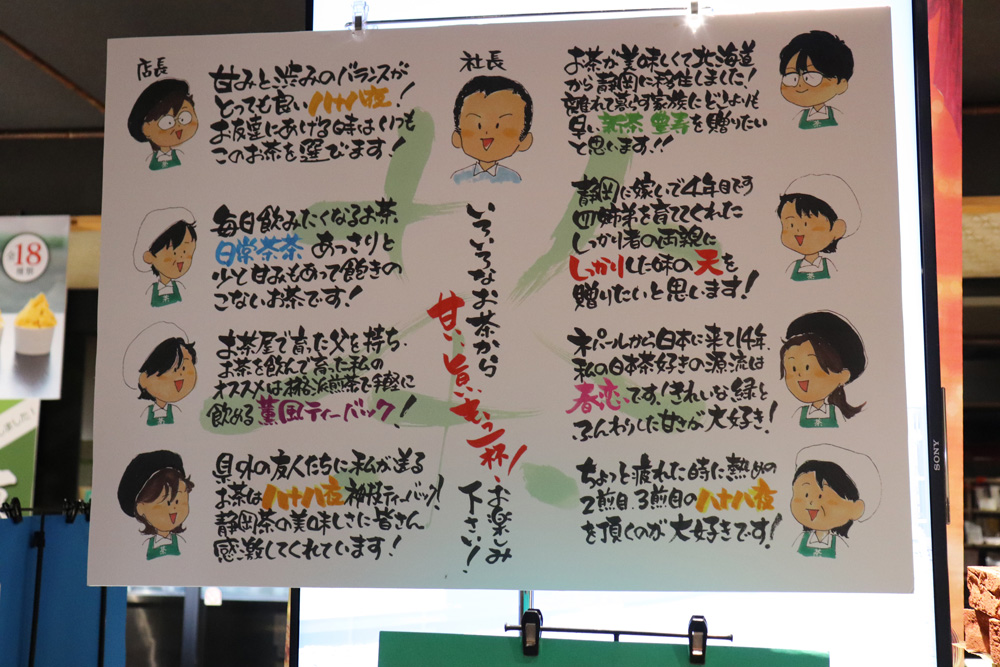 –Why do you insist on being able to explain tea?
Tea comes in a wide range of prices, from general use to high-end. If we cannot clearly answer the reasons for those different prices, we would not be able to call customers with confidence.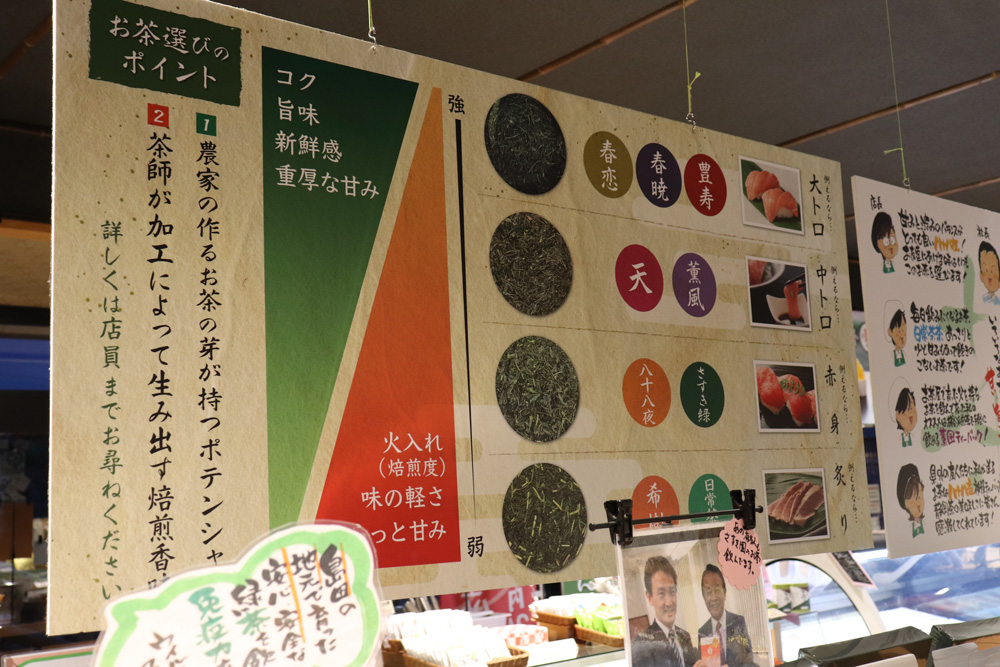 However, I do not believe that a tea maker can ever sell tea if they only look at tea as a material object.
Look not only at the material object but also at the people who drink and enjoy it with others.
If you sell any kind of tea with confidence, that is fine, but if you only look at the material object that is tea, you will end up talking about "deep steamed tea" or "mountain tea". However, I don't believe that the customer will understand the real value of tea that way. however I don't think that is the way to get people to know about tea. The thing that I want people to understand is that the starting point to selling tea is somewhere very far away. the starting point to selling tea is a place that requires much experience to get to.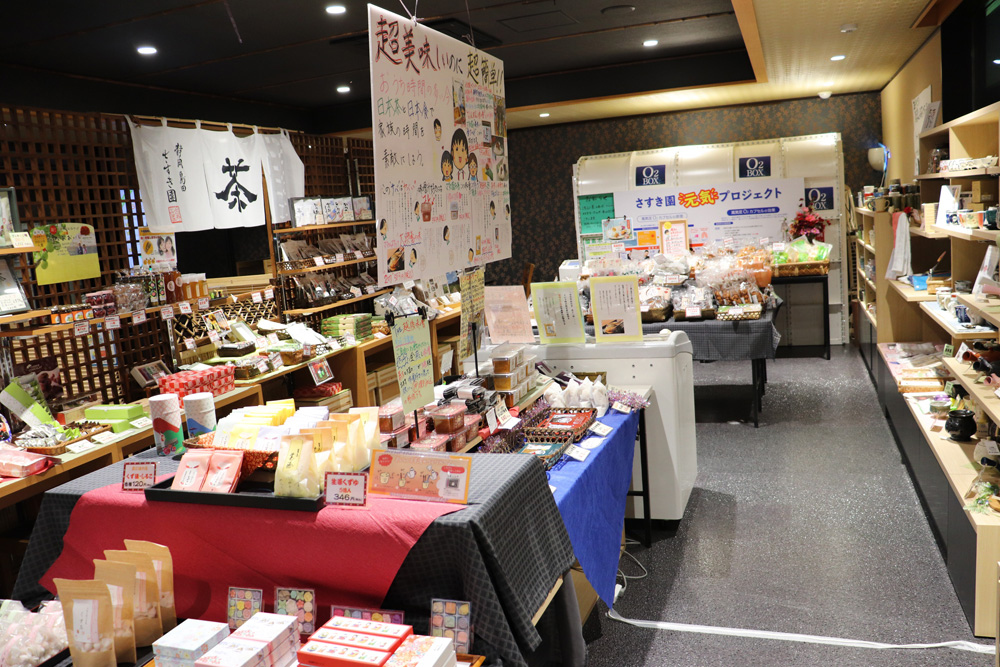 It is a matter of course that the product is good. We must package and offer tea in a way that shows what role it plays and how it can add color in people's lives.
If we are consulted by a customer who is looking for "tea as a gift," we feel it is important to explain the value of tea and how it should be packaged, such as how tea in a can makes an impression on the recipient or how an o-noshi (label) should be written on the package.
We believe that offering tea in such a way is the role and value of a specialty tea store.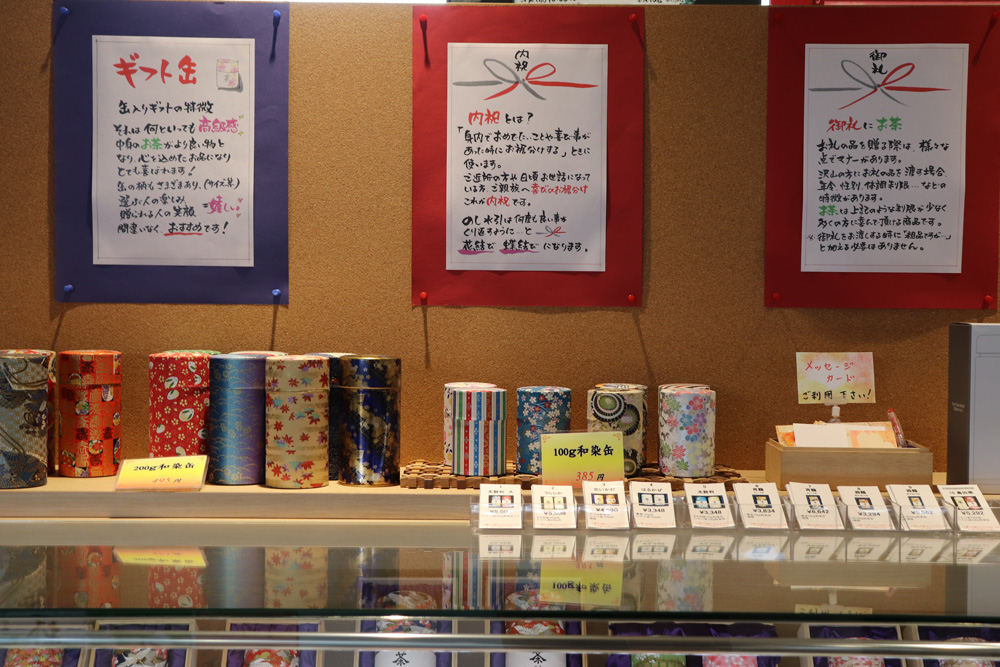 –Sasukien has a lot of sets that combine tea with various other items. Is this also done with packaging in mind?
Yes, for example, if a gift worth 10,000 yen is to be given in return for a gift worth 5,000 yen, the set should include tea, sweets, and dried bonito flakes, rather than tea alone. This would be more suitable for today's nuclear families.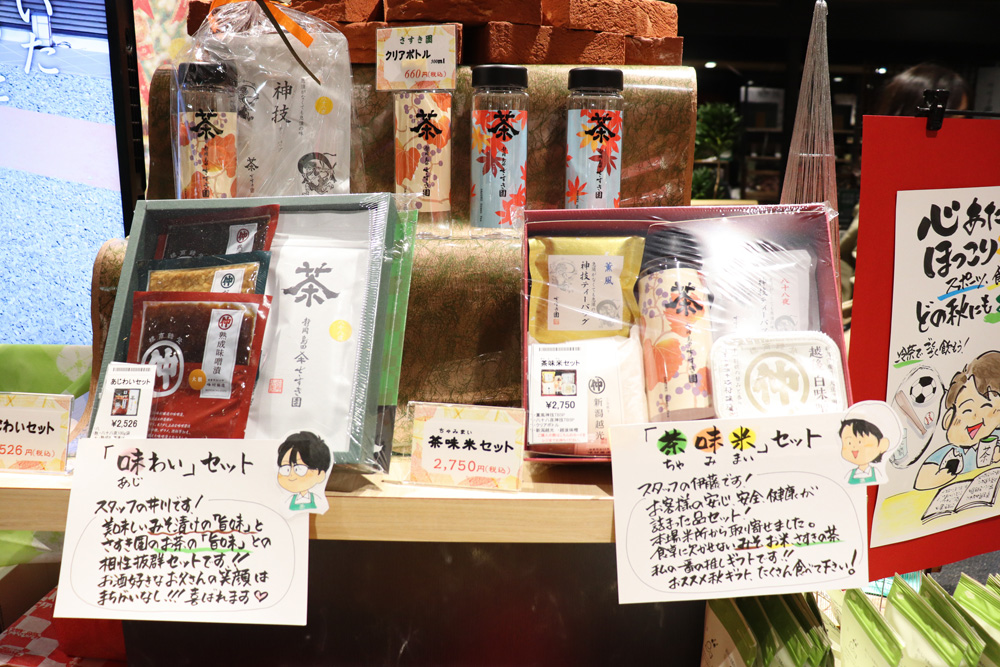 Some may say that this kind of set up will make tea hard to sell. However, I think it is difficult for tea to even become an option for people unless we consider how to arrange and integrate it into people's lives.
With this in mind, we need to get people to walk through the gates of the teahouse and experience how nice tea is.
Sasukien's effective theory of attracting customers
In general, teahouses have a difficult atmosphere for visitors to enter, and there is even an image that once you enter, you have to buy something.
Sasukien has been devising various ways to attract customers so that the entrance hurdle to the teahouse is low, while at the same time maintaining its high status as a tea specialty store.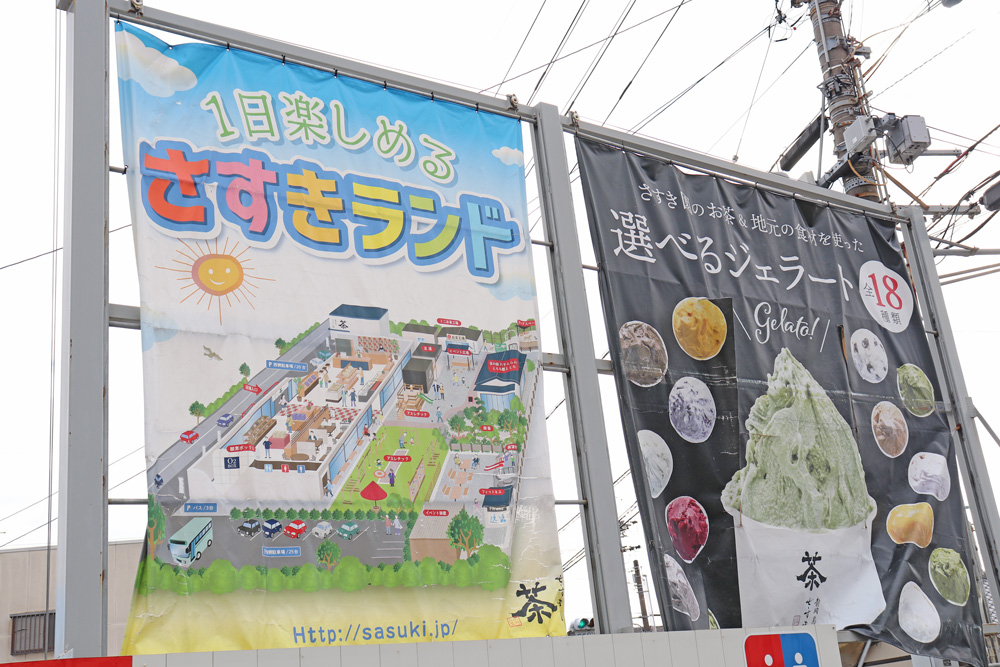 Sasukien's theory of attracting customers is first to make it "easy to enter" and second to make it "easy to buy."
Therefore, Sasukien offers not only tea, but also sweets, frozen foods, and other items in a variety of categories to give customers a reason to visit other than just for tea.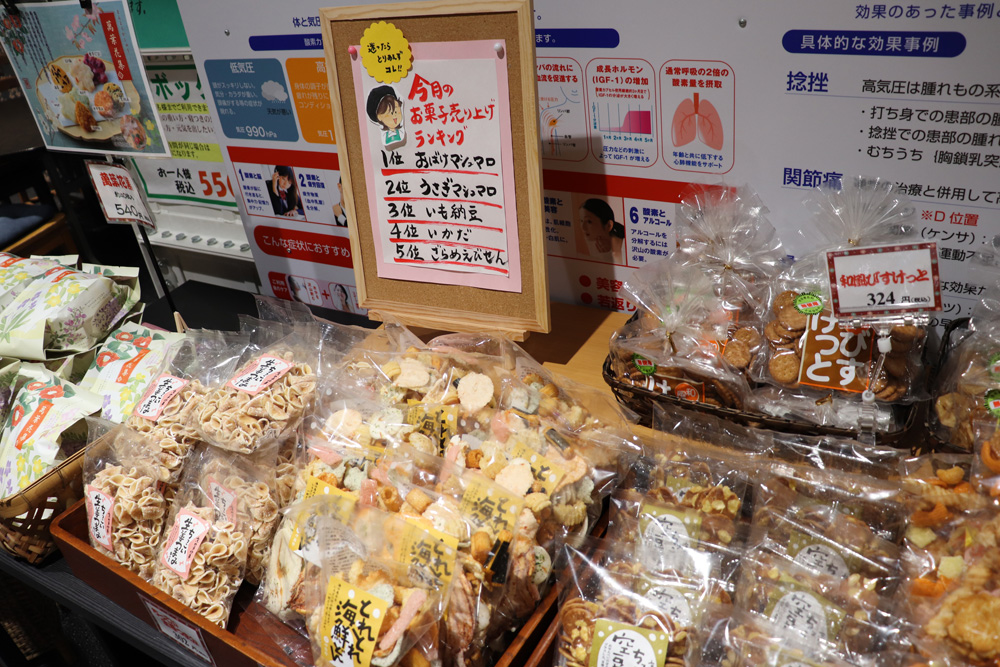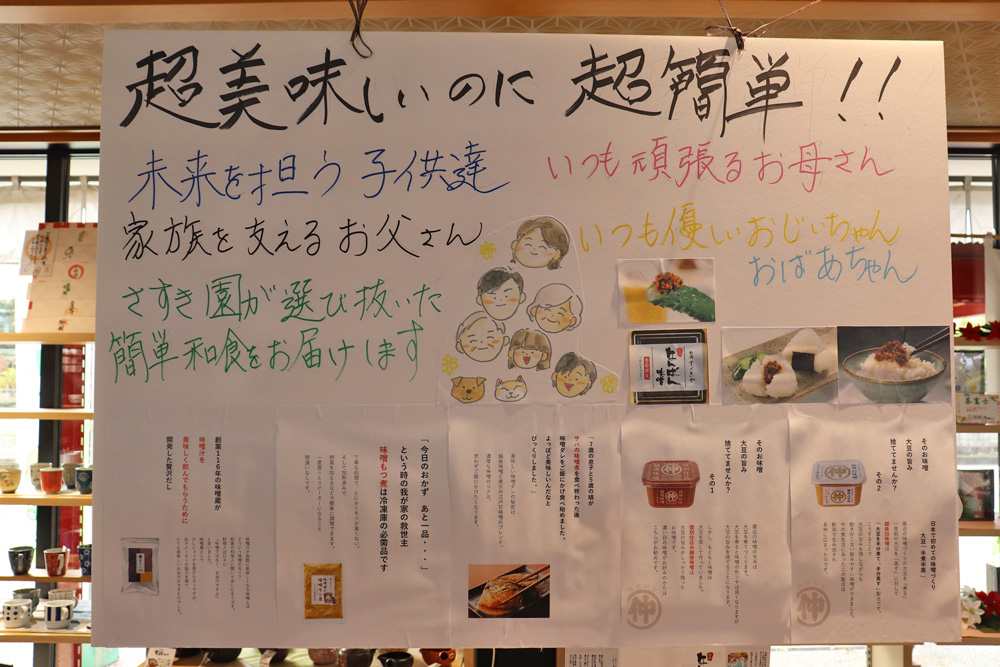 ▲The storefront is lined with Japanese food products that make you feel the excellence of Japanese tea.
–The entrance to the store is set very wide.
It is difficult to single out only tea-loving customers. However, if you can attract a lot of customers, some of them will come for tea. As a result, many people will be exposed to tea.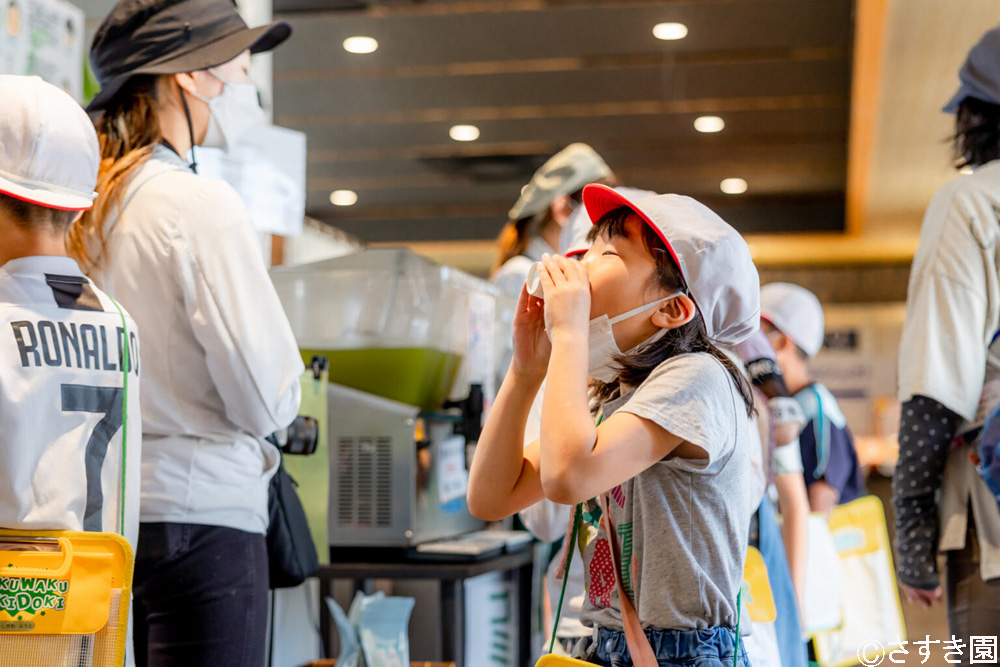 ▲On a typical day, we serve 30 liters of free tea tasting.
We start by building a relationship of trust with our customers in this way. After that, we recommend teas that we really want to sell. That is how many steps Sasukien takes before selling tea.
Customers are impressed by the accumulation of these steps and are impressed. Their voices spread through social networking sites, attracting even more people. And many media outlets, including newspapers, TV, and radio stations, come to cover the event. As a result word spreads without spending money on advertising.
The cost of attracting people is inevitably high. The key is creating a system that attracts people.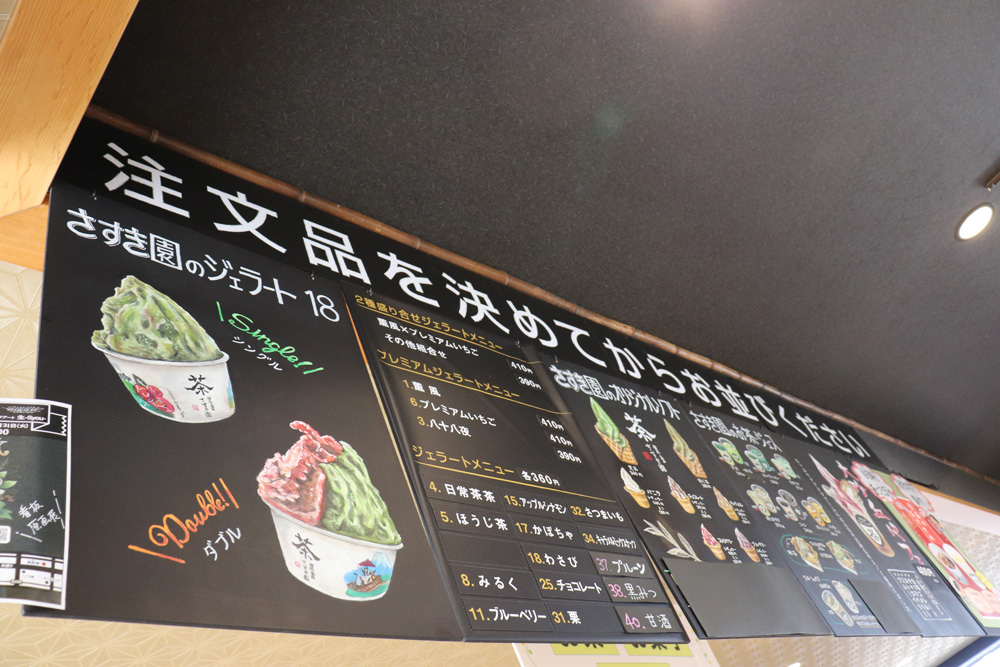 ▲Cafe menus drawn with chalk art are familiar to people at Starbucks and Tully's and easily attract attention.
No matter how well you can make tea, you can't beat the smiles on children's faces.
During the hot summer months, tea trees synthesize sugars and amino acids to make sweet, delicious tea. Technically speaking, the substance produced at this time of year is a precursor substance, one step before the sugar and amino acids, that is transferred to the roots in the cold winter months.
This activity is called nutrient translocation, and it is during this time that sugar synthesis takes place. The colder the winter, the more the tea tree actively synthesizes sugars to protect itself, resulting in sweeter tea. In other words, the production of tasty tea requires a difference in temperature during the year, and Shizuoka has it. That is why Shizuoka is the best place for tea production.
However, customers are more pleased with the sight of children playing happily than with such a difficult story (laughs).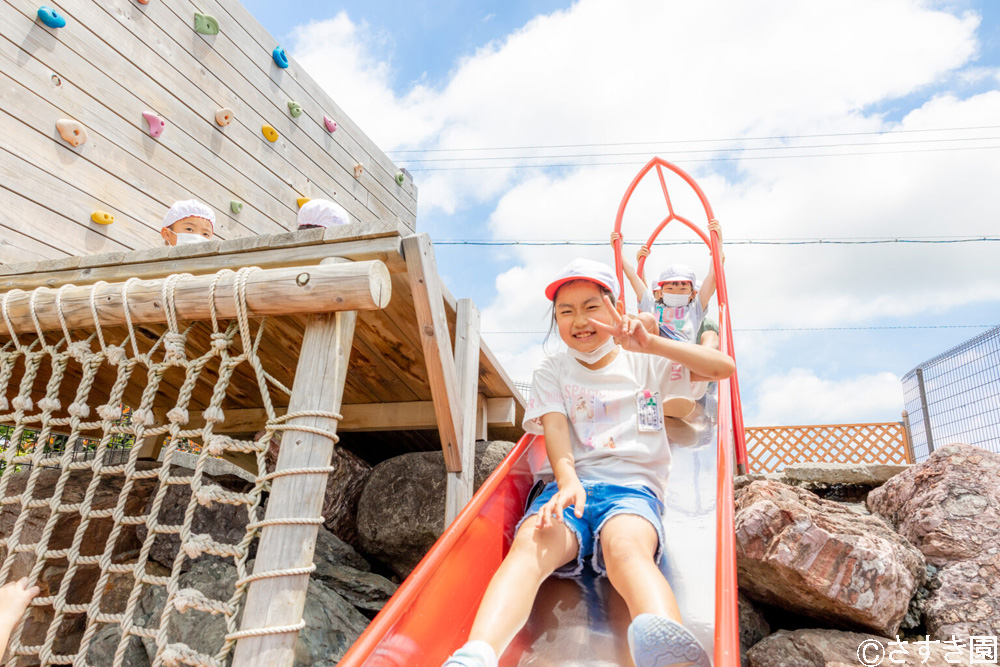 –I guess what tugs at people's heartstrings differs from person to person.
We are constantly analyzing and researching from all aspects of physics, science, and biology to improve the quality of our tea. We earnestly work on tea production paying particular attention to overtures and varieties in order to satisfy our customers.
However, nothing can beat the "dazzling smiles of children."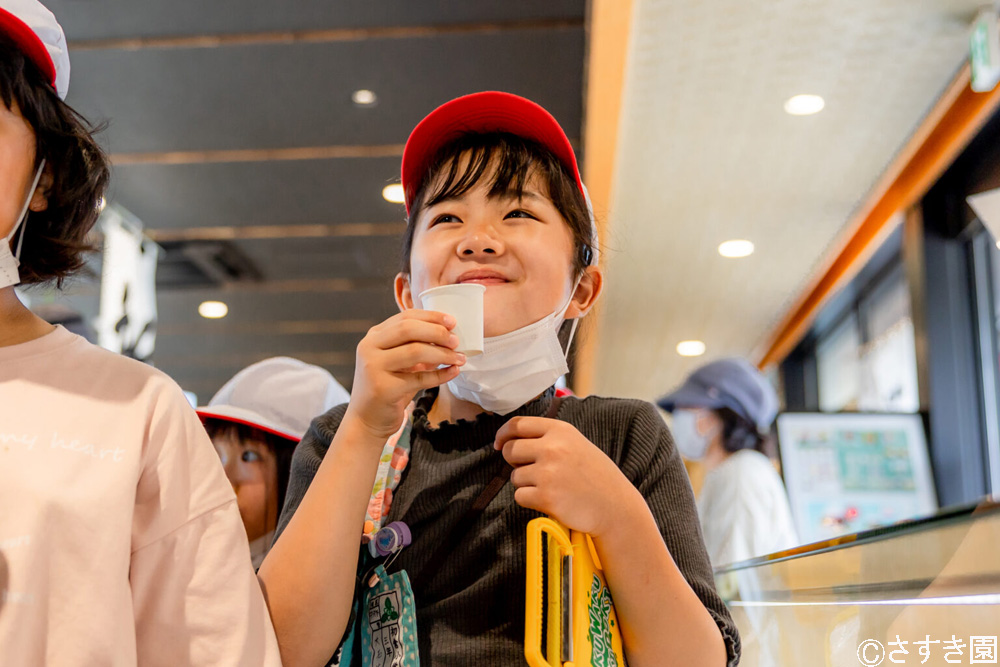 Many people come to Sasukien. Everyone is touched by the tea. When they drink it they smile and tell us how delicious it is. I think that is good enough for me (laughs).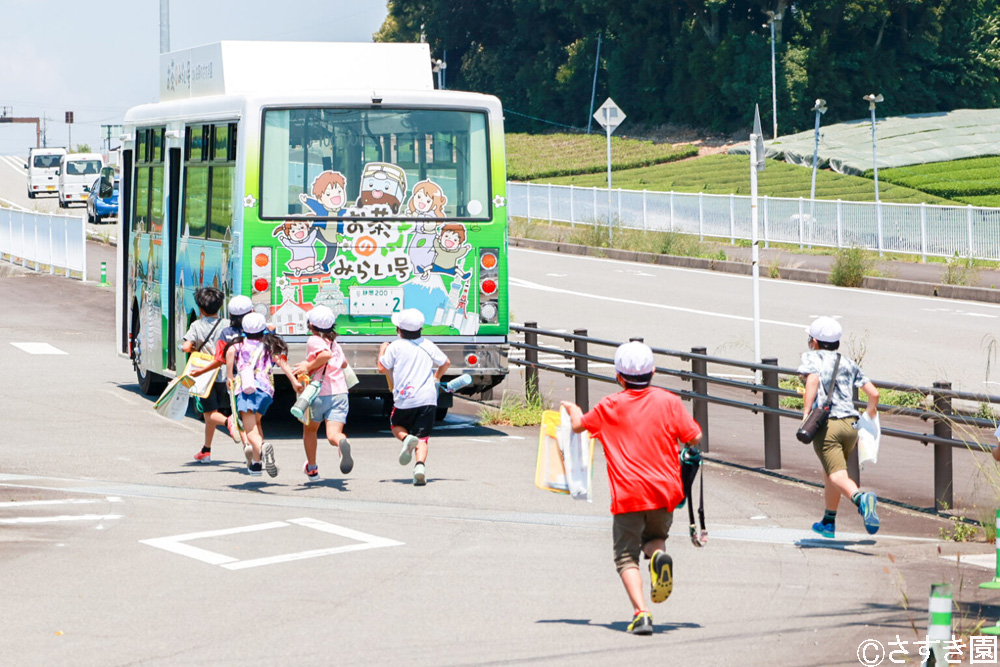 Information Of Sasukien
Address
938-1, sakamoto, shimada City, Shizuoka Prefecture, 427-0111, Japan
Website

https://sasuki.jp/

Phone number
0120-38-2107
E-money and credit cards: Available
QR code payment
Available
Open
【Shop】 9:00~19:00(9:00~18:00 on Sundays and holidays)
【Cafe】10:00~17:00 (last order 16:30)【tea garden restaurant】Lunch 11:00-15:00, Dinner 17:00-22:00 (until 15:00 on Wednesdays)
 Closed(Sasukien)
open every day of the year
Closed(Tea garden restaurant )
Thursday
Parking lot
Available
Access
Along Prefectural Route 34
10 minutes from Rokugo Station by car
5 minutes from Yoshida Interchange on Tomei Expressway
| | |
| --- | --- |
| Writer | Norikazu Iwamoto |
| Career | Ochatimes chief editer.Meeting with Vice Governor of Shizuoka prefecture.Judge of Fuji country 100 tea's award in 2021.Ocha Times link introduced at website of World O-CHA(Tea) Festival 2022 and Tea Science Center. |
| | |
| --- | --- |
| English translator | Calfo Joshua |
| Career | Born and raised in England, living in Japan since 2016. Studying arboriculture in Shizuoka Prefecture whilst operating his landscape business Calfo Forestry. Appreciating the nature of Japan and the culture that places such importance in it. |
Related articles