Experience the Four Seasons and the Blessing of Kakegawa Fukamushicha at the Chanoniwa.【Kakegawa City, Shizuoka Prefecture】

Go to Japanese page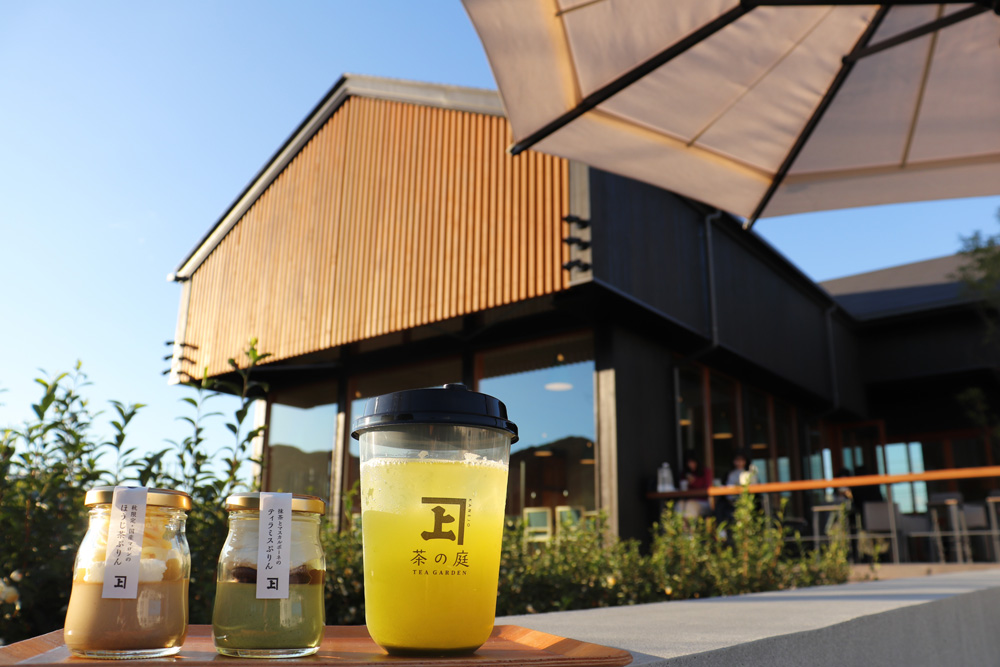 Kamiuchida, a five-minute drive from the Kakegawa Interchange, is one of the finest tea production areas in Kakegawa City, Shizuoka Prefecture (also known as the tea capital of Japan). The café "Chanoniwa," which opened in 2021 in Kamiuchida, is located next to KANEJO Group's Sasaki Seicha, and has gained popularity as a tea café where visitors can experience tea culture through the garden, factory, and store.
In this article, we will tell you about the appeal of Chanoniwa's teas and café menu, as well as the events leading up to the opening, in an interview with the store's manager, Mr. Matsumoto.
What is Chanoniwa?
Chanoniwa is a Japanese tea cafe that opened in February 2021 in Kamiuchida, Kakegawa City. It is operated by Sasaki Seicha, a long-established tea manufacturing company (KANEJO Group) that has been in business for over 100 years.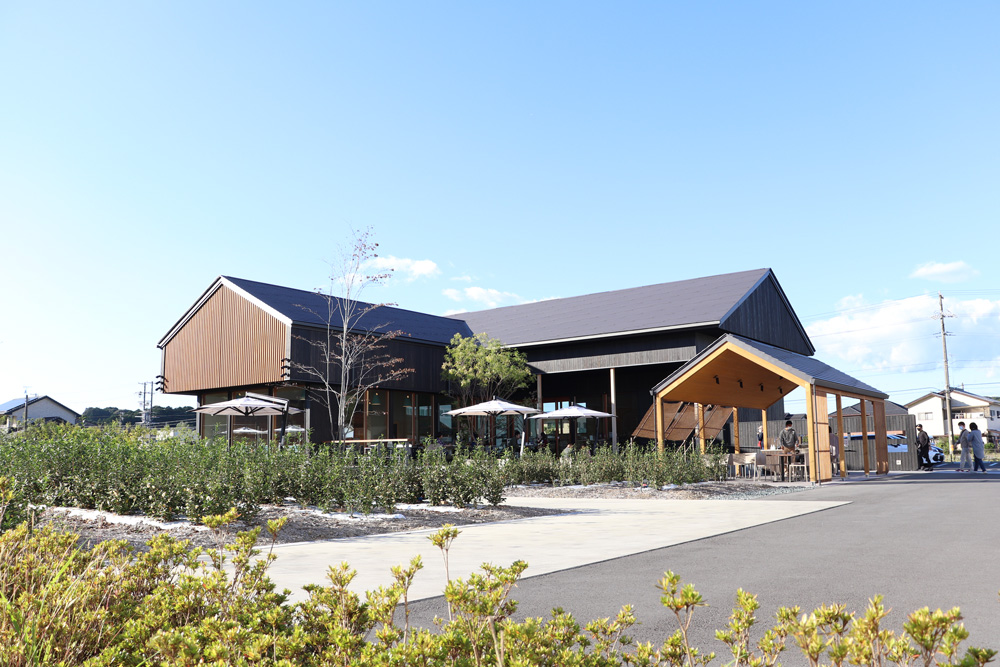 At first glance from the street, the Chanoniwa looks like a chic and stylish building.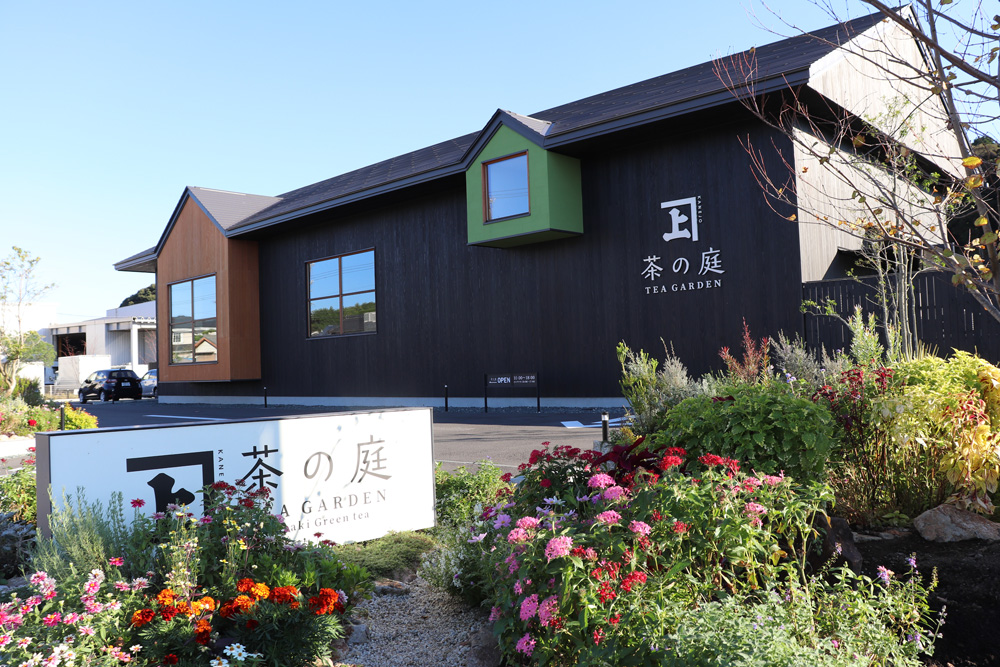 But once inside, a breathtaking sight awaits. The tea garden that surrounds the store stretches all the way up the mountainside, and the wooden terrace seating in various places seems to float in the middle of it.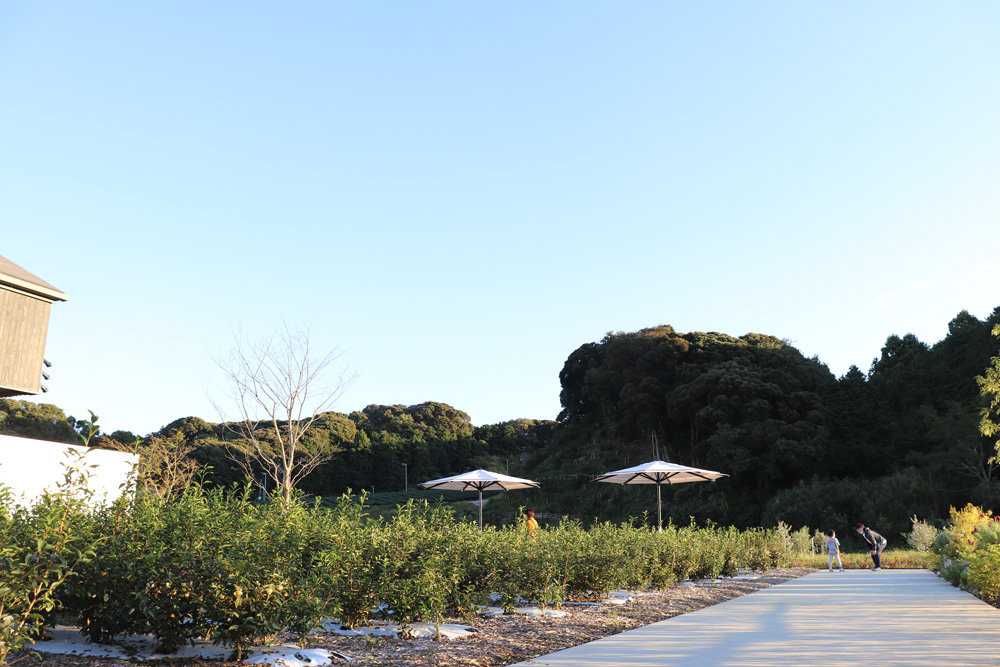 On sunny days, visitors feel as if they have stepped into a tea garden, as the aroma of roasting wafts through the air from the roasting factory right next door.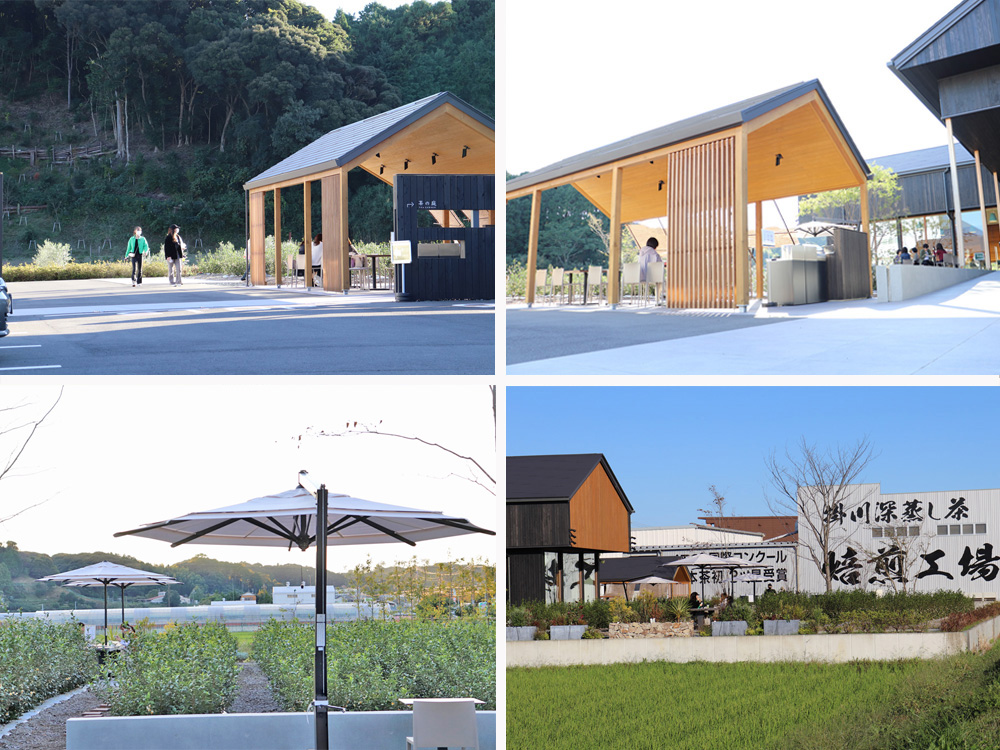 The interior décor incorporates lots of wood, blending harmoniously into the natural landscape. Visitors can relax and enjoy the changing seasons from the tea garden outside the large-opening windows.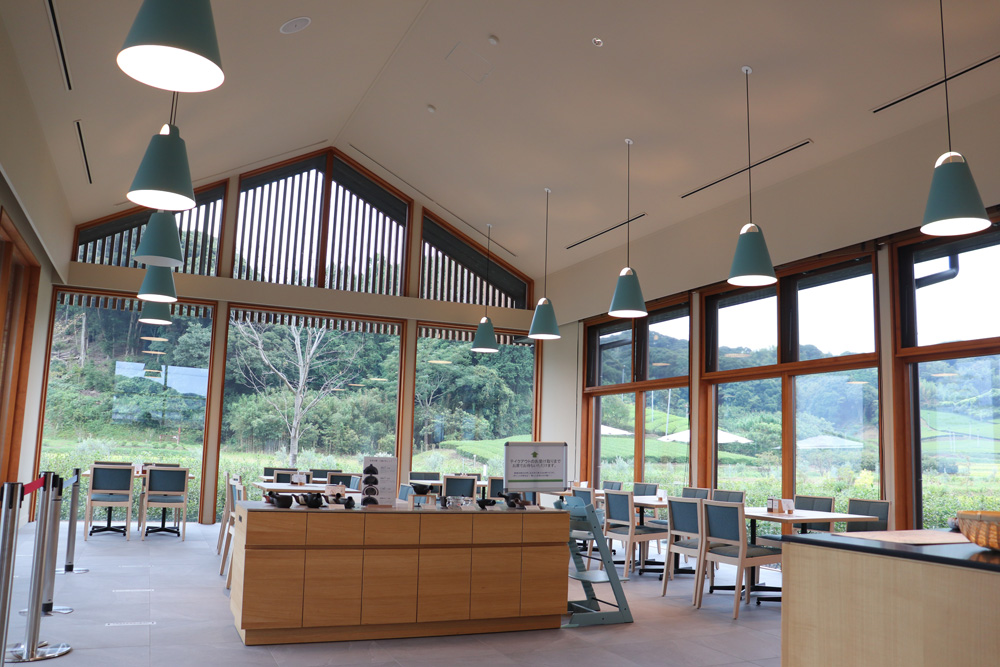 ▲Feel the four seasons through the tea garden in front of the café.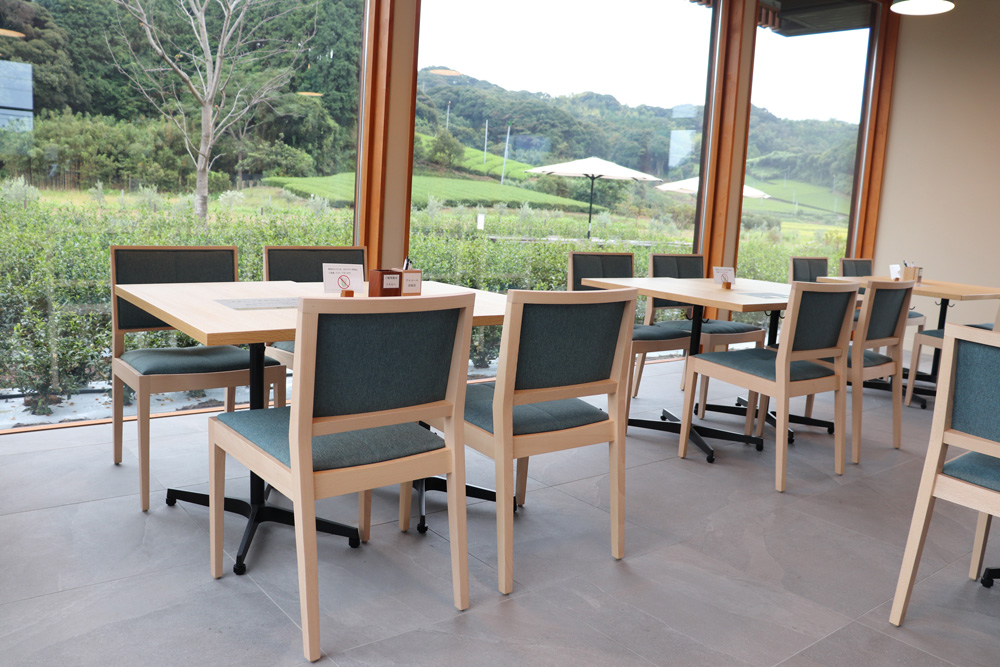 The wooden terrace seats are crowded with people on sunny days. The wood's distinctive aroma wafts through the air after a rainfall, and a small mobile fireplace is set up during the colder months, making it possible to enjoy the tea throughout the year.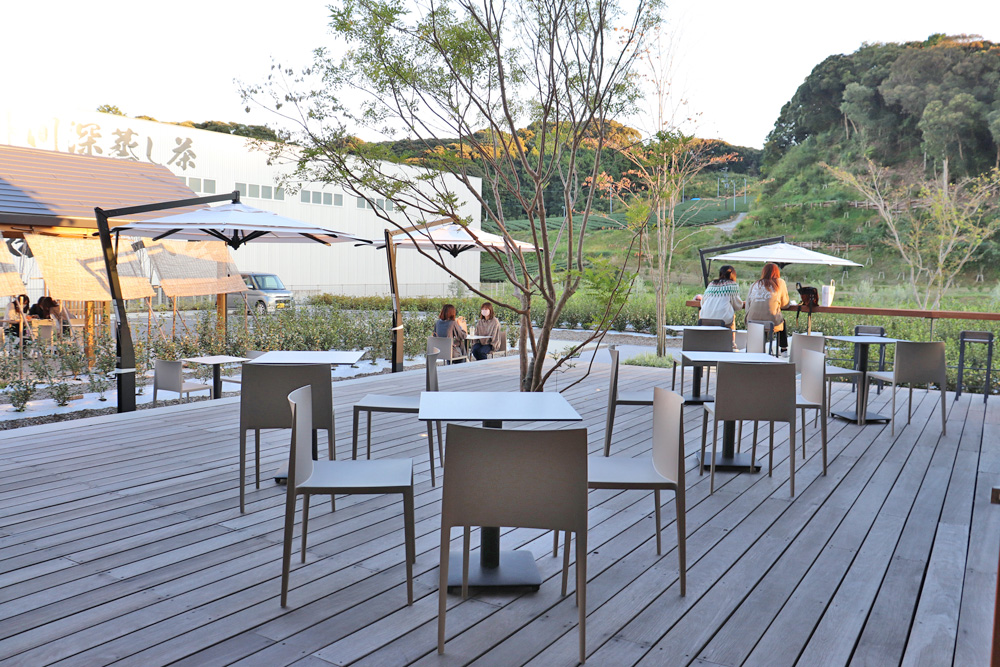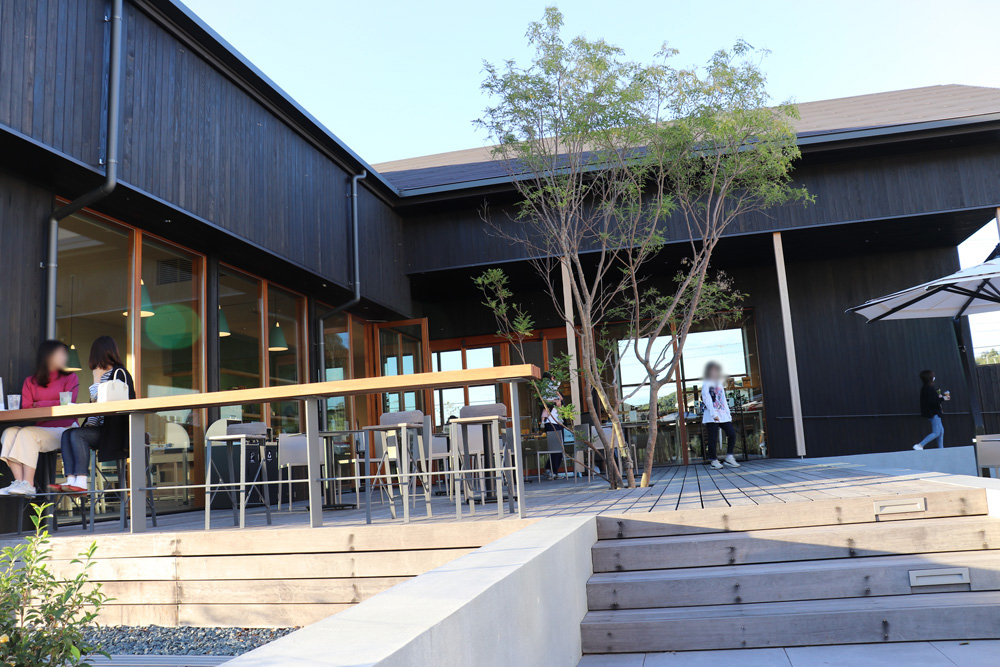 An Introduction to Tea in the Chanoniwa.
[KANEJO Group] Sasaki Seicha, which operates Chanoniwa, has received the Minister of Agriculture, Forestry, and Fisheries Award more than 33 times, the Emperor's Cup Award, and the first three-star rating of Japanese tea from the International Taste Testing Organization.
Here we would like to introduce a few of [KANEJO Group] Sasaki Seicha's teas that can be purchased at Chanoniwa.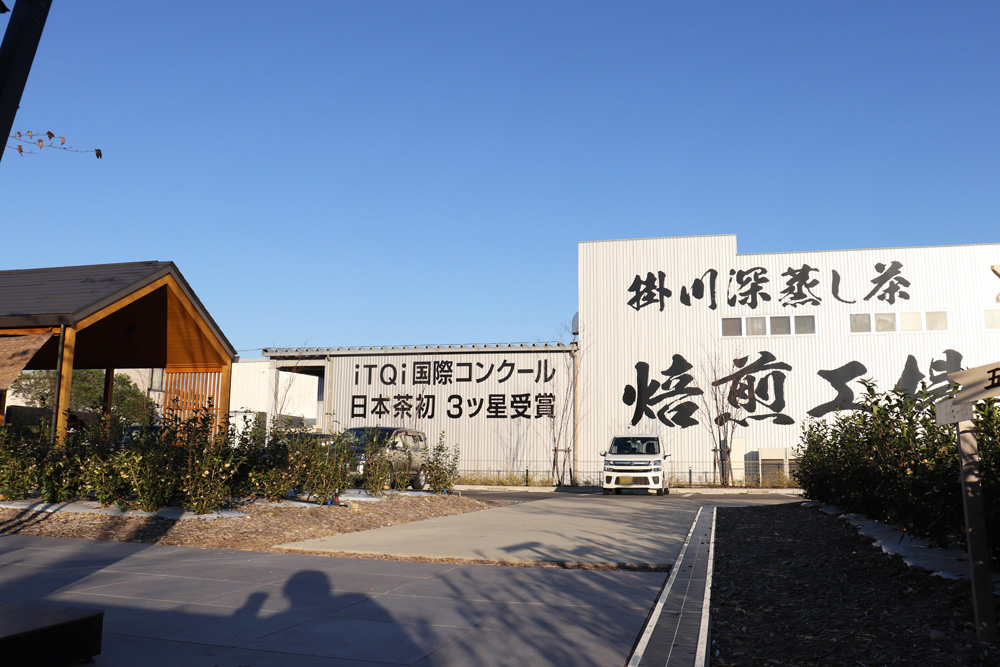 Standard Series
In Kakegawa, the western region of Shizuoka Prefecture, the tea season begins in April each year. The tea buds that are picked are small and soft. As the days go by, they grow and become larger, and the ingredients such as vitamin C, catechins, and theanine gradually change, as does the taste. The Standard Series is a series of teas that allow customers to enjoy the changing flavors of the tea as it matures by adjusting the times of year the leaves are harvested at.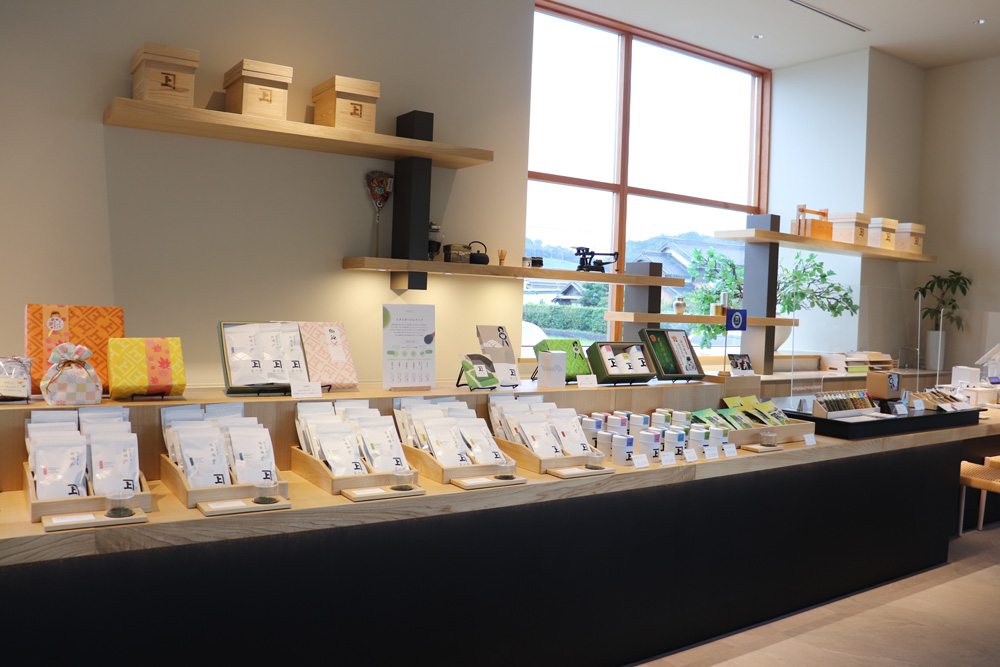 The variety used is Yabukita, the most widely grown variety of tea in Shizuoka. This standard series is also a long-selling product of [KANEJO Group] Sasaki Seicha.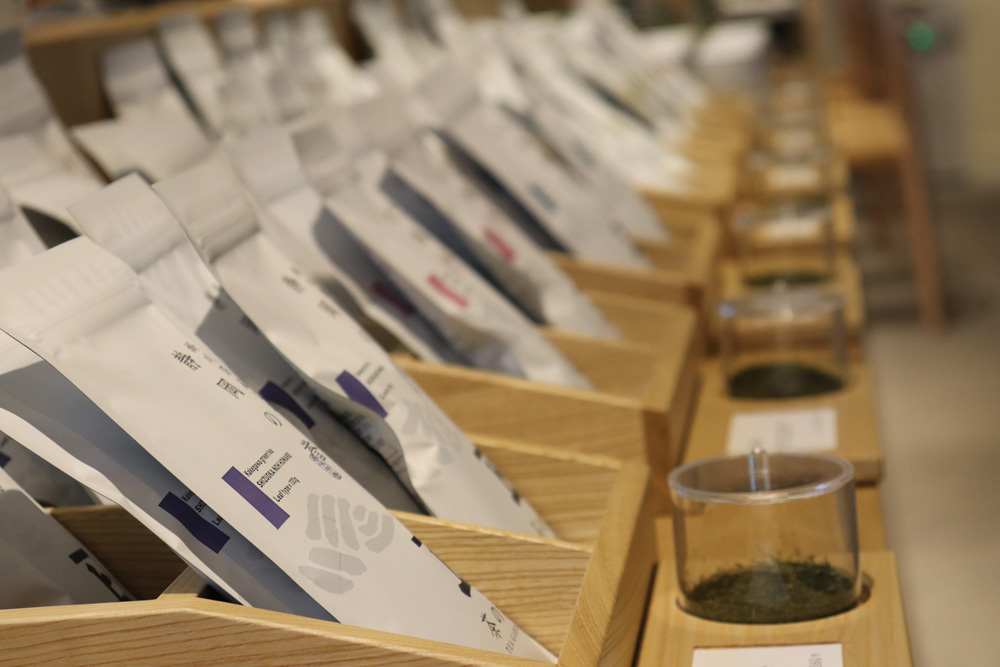 Chanoniwa Series
Tea varies in flavor depending on the variety, cultivation method, roasting temperature, and other factors. The series offers a myriad of flavors in a rich lineup that are only available at Chanoniwa.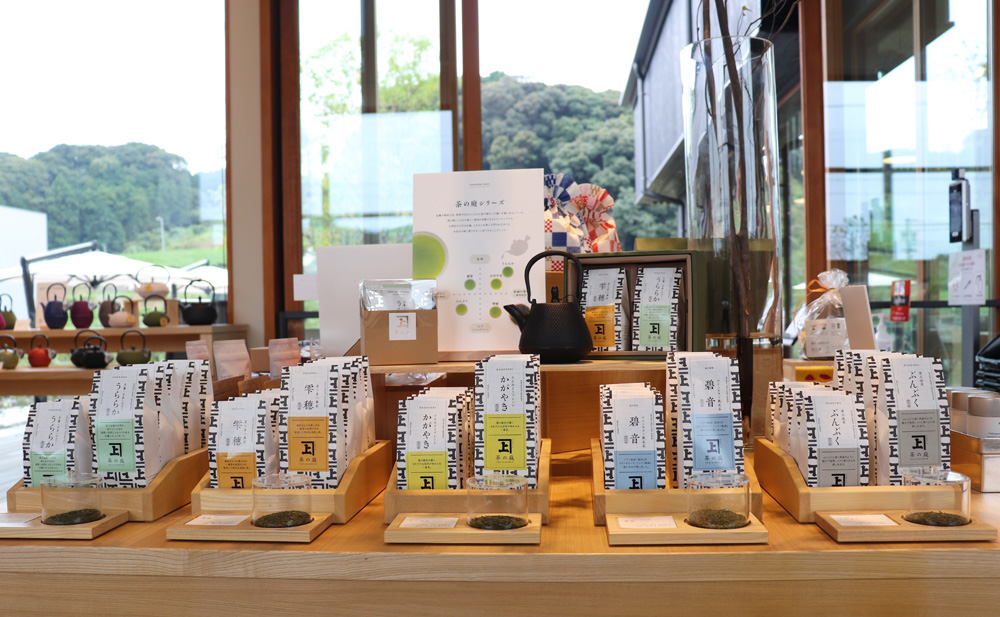 "Kagayaki" has a refreshing flavor that women can't resist. "Aone" a wine cellar-aged tea with a mellow flavor, is made by preserving it in a wine cellar in Nagano Prefecture. We have a variety of teas that not only tea lovers but also first-time tea drinkers will want to try.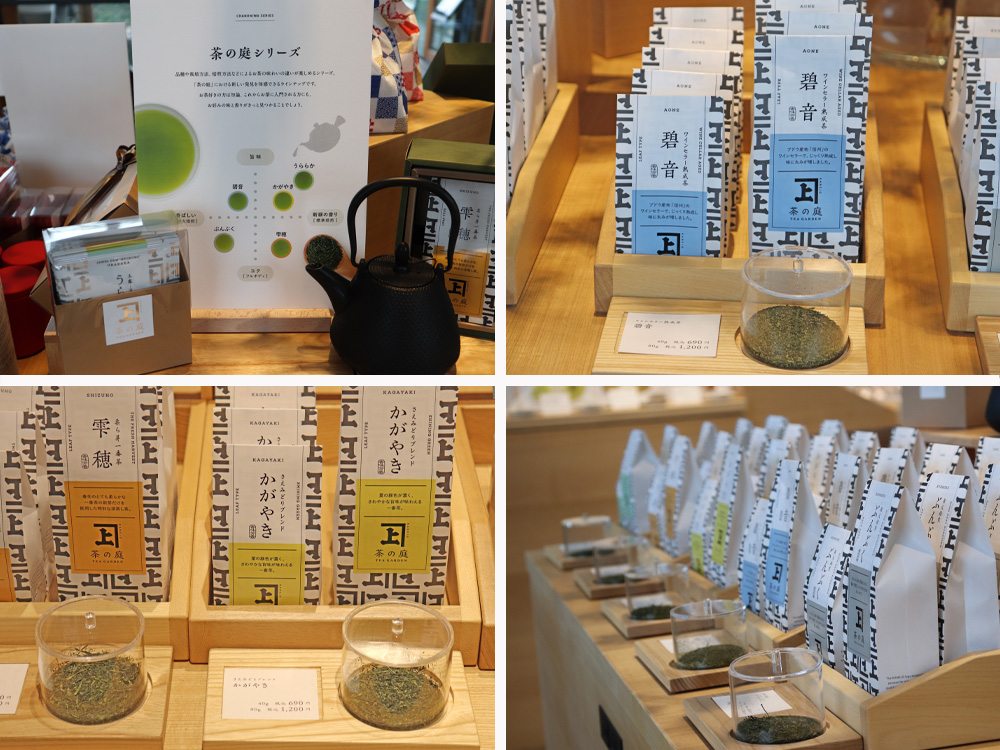 ▲The above chart shows the shape of the tea leaves, and the flavor of the tea, making it easy to find the flavor and aroma that you like.
Tea Amore Series
The Tea Amore series was created with the wish to bring color to daily life with herbal teas.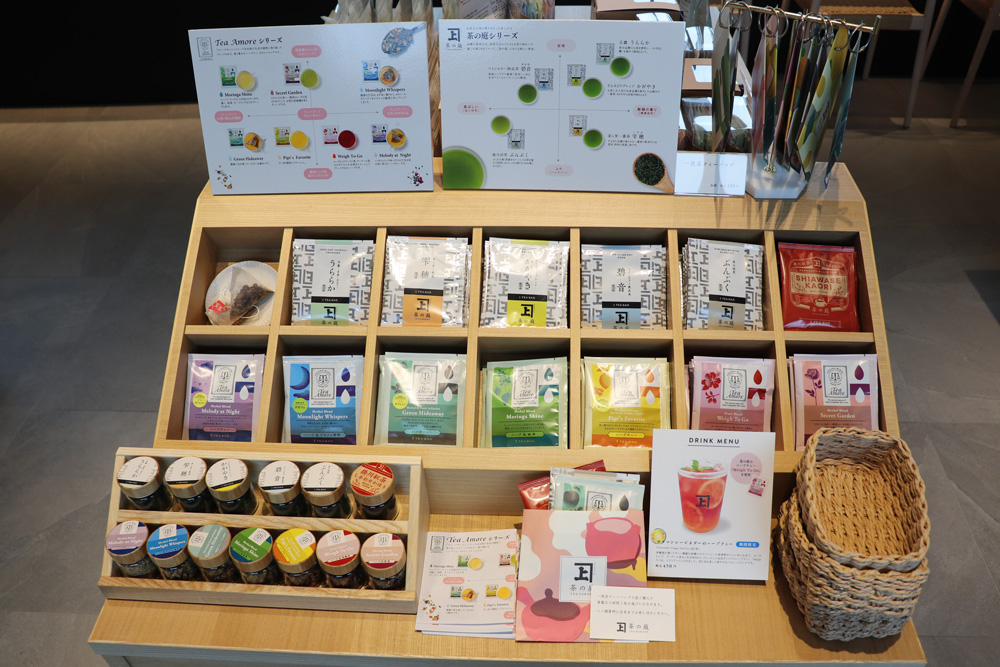 Blended to suit women's lifestyles and sensibilities, these aromatic herbal teas will add color to a variety of occasions, such as a change of pace during busy days or when entertaining friends.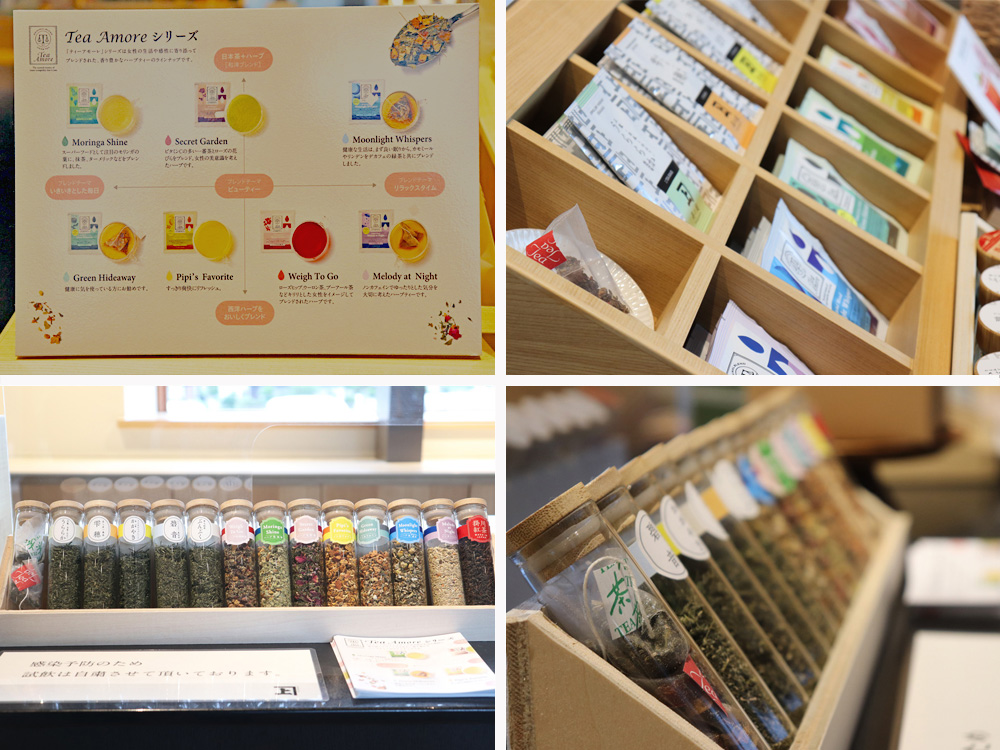 ▲A small bottle is available for samples, allowing you to actually smell the fragrance.
Tea Bag Series
We also offer a full lineup of tea bags that make enjoying delicious tea easy. The tea bags are shaped like a pyramid, providing ample space for the tea leaves to move around in the hot water, resulting in a flavorful cup of tea. They can be enjoyed both hot and cold, ideal to have on hand all year round.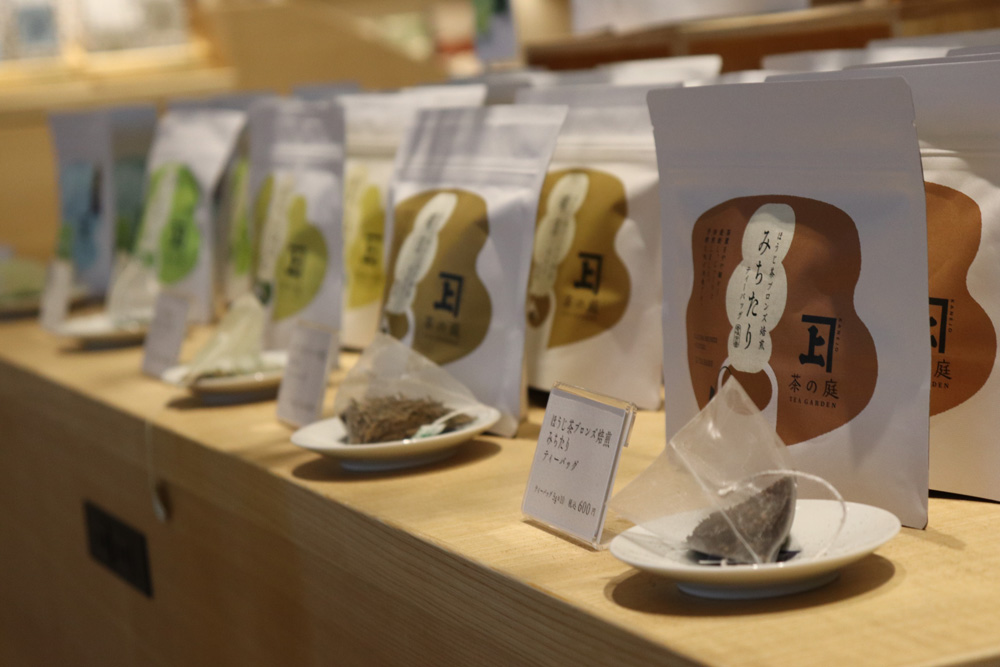 Kakegawa Matcha
Kakegawa Matcha is made using the Kakegawa fukamushi (deep steamed) manufacturing technique to bring out the best flavor. It is recommended not only for use in the tea ceremony, but also for cooking, baking, and alcoholic beverages with matcha.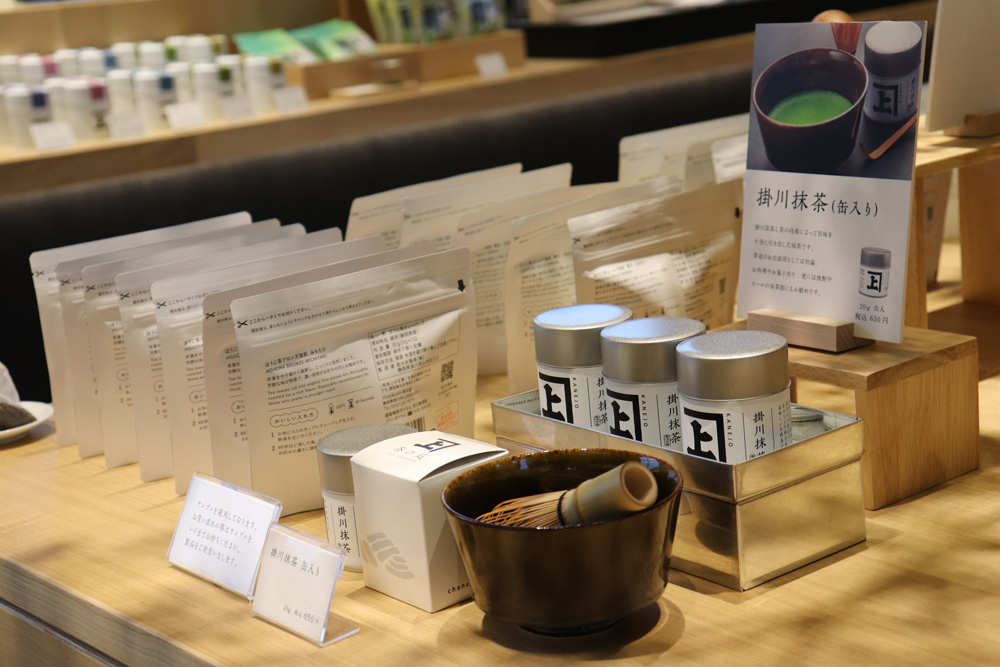 Kakegawa Black Tea "Happiness Kahori"
Kakegawa Black Tea Happiness Kahori" was produced under the guidance of Ananda Feld, former factory manager of the renowned New Vithanakande Tea Estate in Sri Lanka.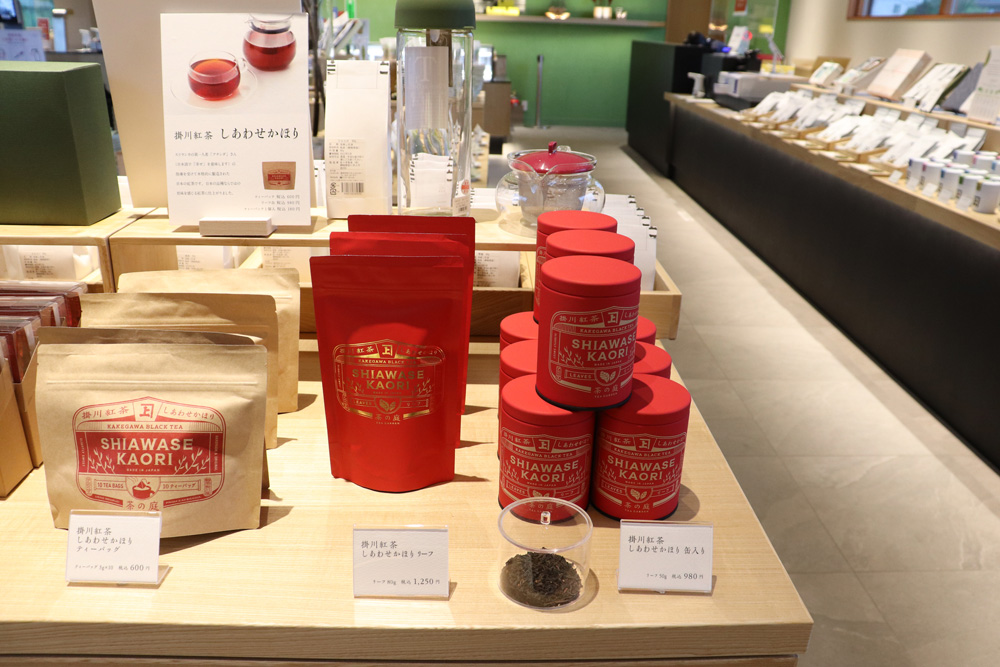 Kakegawa Black Tea "Happiness Kahori" is made from a Japanese variety of Benifuuki, which was created while learning the essence of tea making from a leading tea maker in Sri Lanka. Enjoy its rich sweetness and flavor.
Japanese Sweets
Japanese sweets are also available at Chanoniwa. Rich matcha cakes made with plenty of Kakegawa matcha and langdosha cookies with white chocolate and tea will give your tea time a new dimension.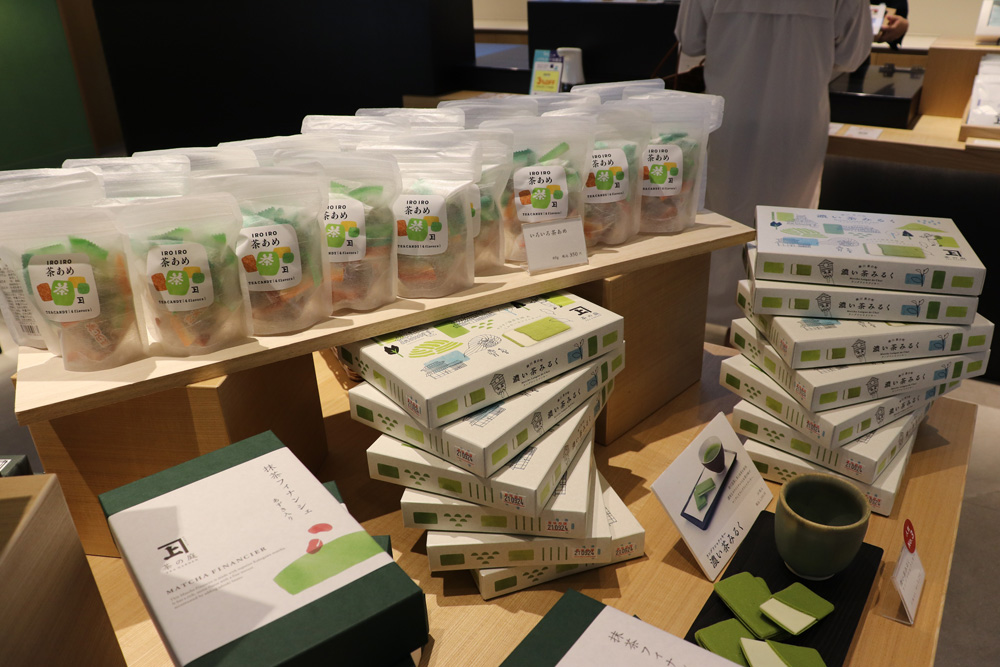 Introducing the Cafe Menu at Chanoniwa
Chanoniwa offers a café menu using tea from [KANEJO Group] Sasaki Tea and local Kakegawa ingredients. Here we would like to introduce a few of the café menu items.
Smooth Tea Pudding – Tiramisu Pudding
A rich matcha pudding made with luxurious Kakegawa matcha is layered with rich chocolate sauce, chocolate sponge, and mascarpone for a heavenly combination.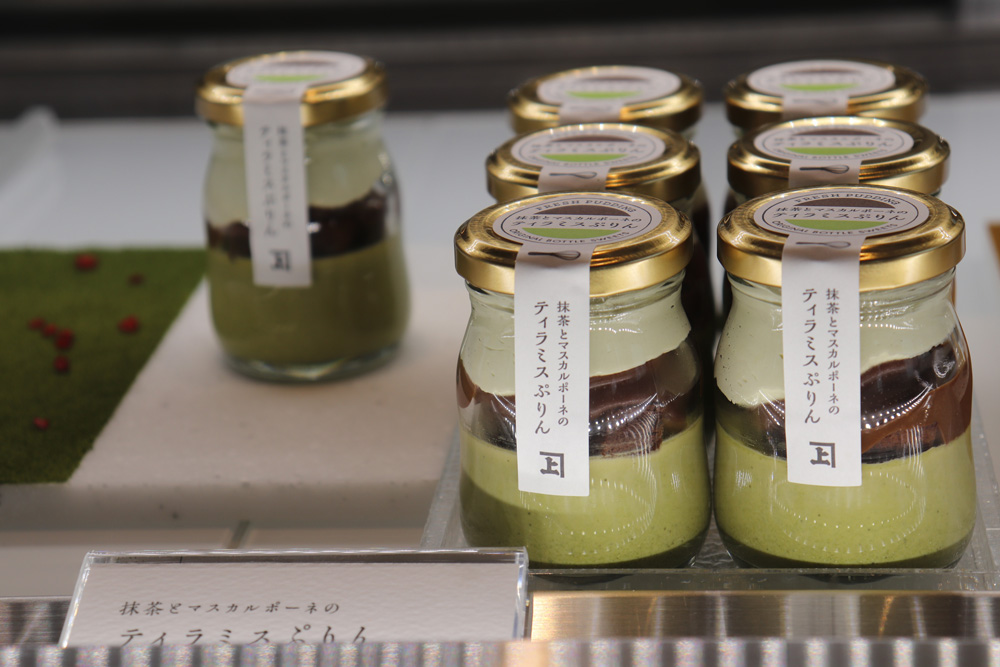 The staff of Chanoniwa started the project from conception, and went to a patissier in order to create a satisfying pudding that would be loved by men and women of all ages while taking advantage of the tea produced by KANEJO Group's Sasaki Seicha.
Inside the Chanoniwa store is the pudding workshop, where you can see through the bay window how they are handmade every day. The lineup changes depending on the season. Some flavors, such as Japanese black tea and hojicha, are made all year round, while others are seasonal.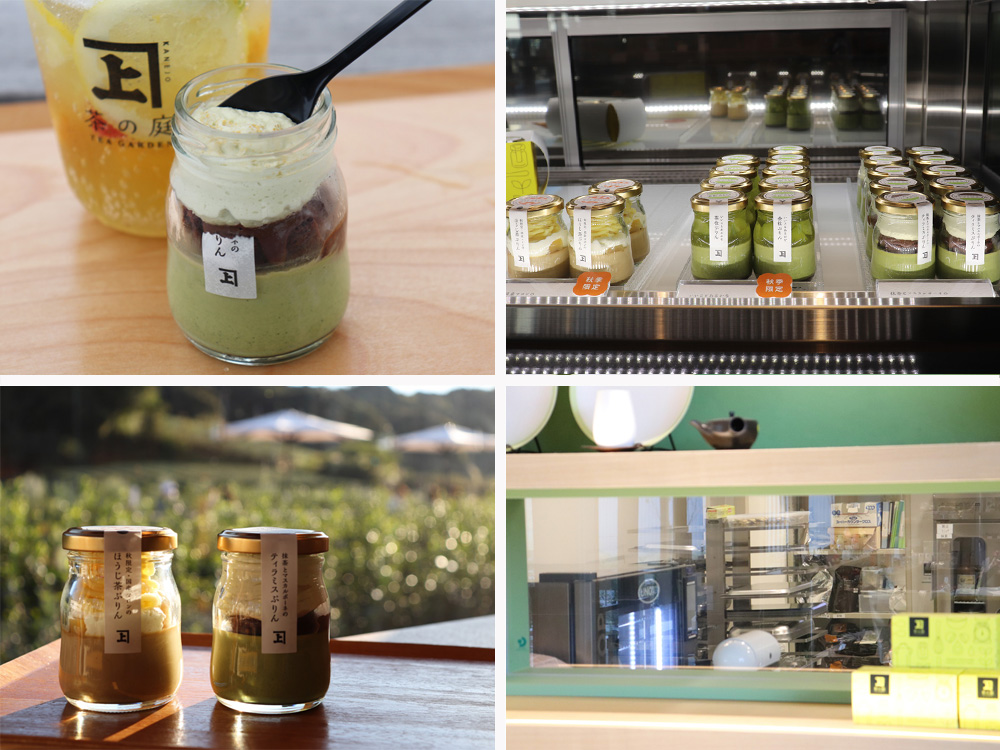 Hand-picked Emperor's Cup Commemorative Tea
[KANEJO Group] This tea was created to commemorate Sasaki Seicha's winning of the Emperor's Cup. The tea is made by carefully hand-picking the finest tea buds from the tea plantation where the tea is grown with great care, and then deep steaming them.
This top-quality cup, with its layers of flavor, sweetness, and lingering aftertaste, is available in limited quantities.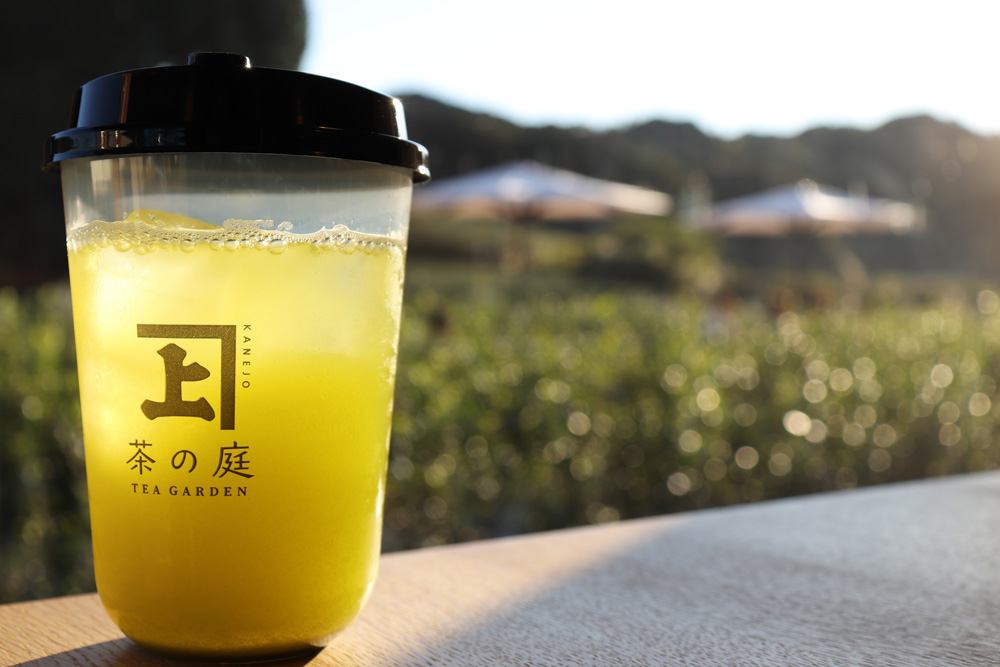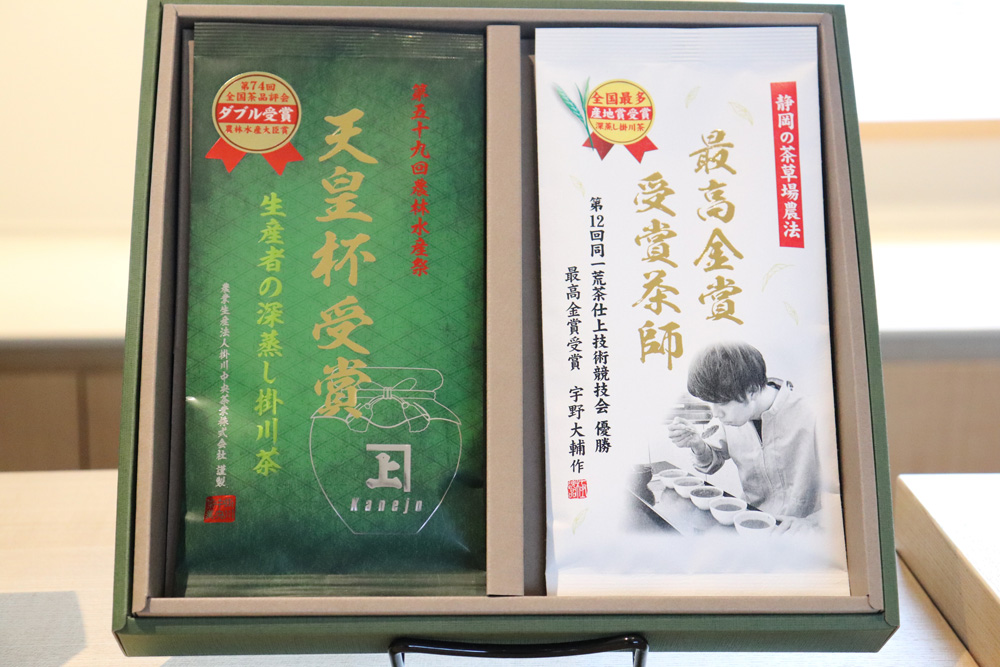 ▲Emperor's Cup award-winning commemorative tea is also available in leaf form.
Japanese black tea fruit soda (seasonal)
Aromatic Japanese black tea, homemade lemon syrup, and seasonal fruits combine to create a refreshing soda.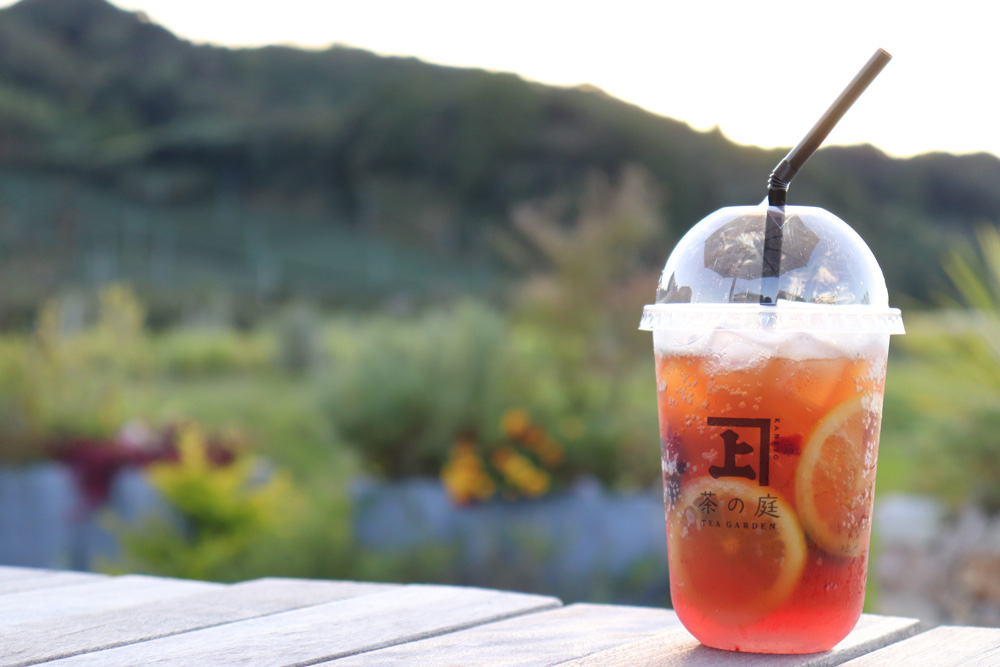 Farm-squeezed mandarin juice
Thick orange juice made by squeezing Shizuoka mandarins at the farm to keep that fresh-picked taste locked in.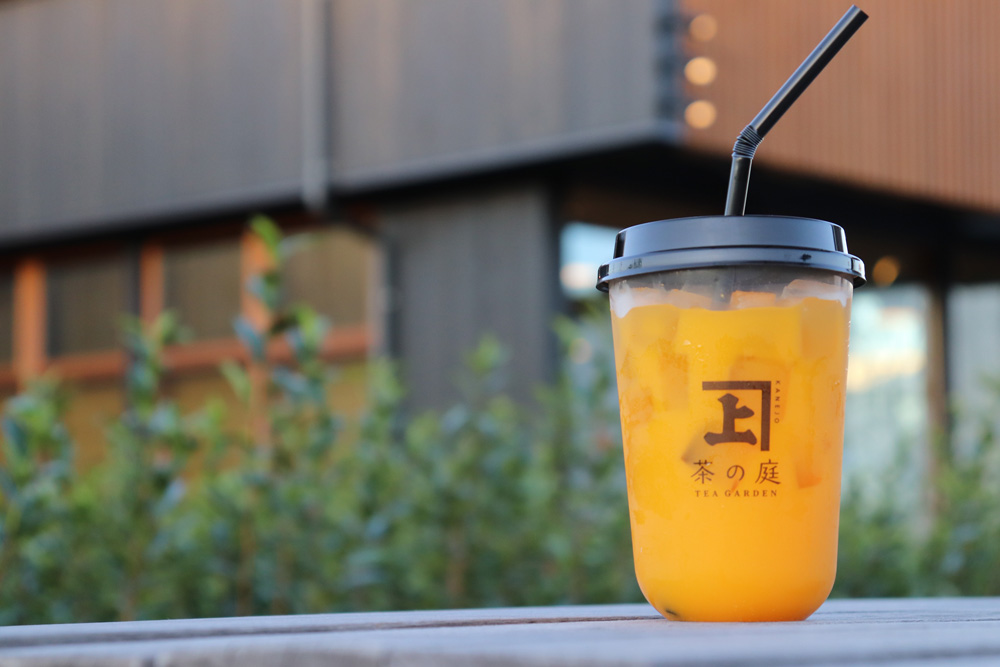 Interview: Chanoniwa conveys the bounty of Kakegawa fukamushicha through its interactive tea farm.
We interviewed Mr. Matsumoto, manager of Chanoniwa.
---
The process of creating a floating garden in a tea farm. – Chanoniwa
–Please tell us about the Japanese tea café "Chanoniwa."
Chanoniwa is a Japanese tea café operated by Sasaki Seicha, a KANEJO Group company that has been established for 100 years. The concept of a "Floating Garden in a Tea Farm – Chanoniwa" is to provide a moment to experience the four seasons through the garden that spreads out before your eyes, and feel how nice tea can be.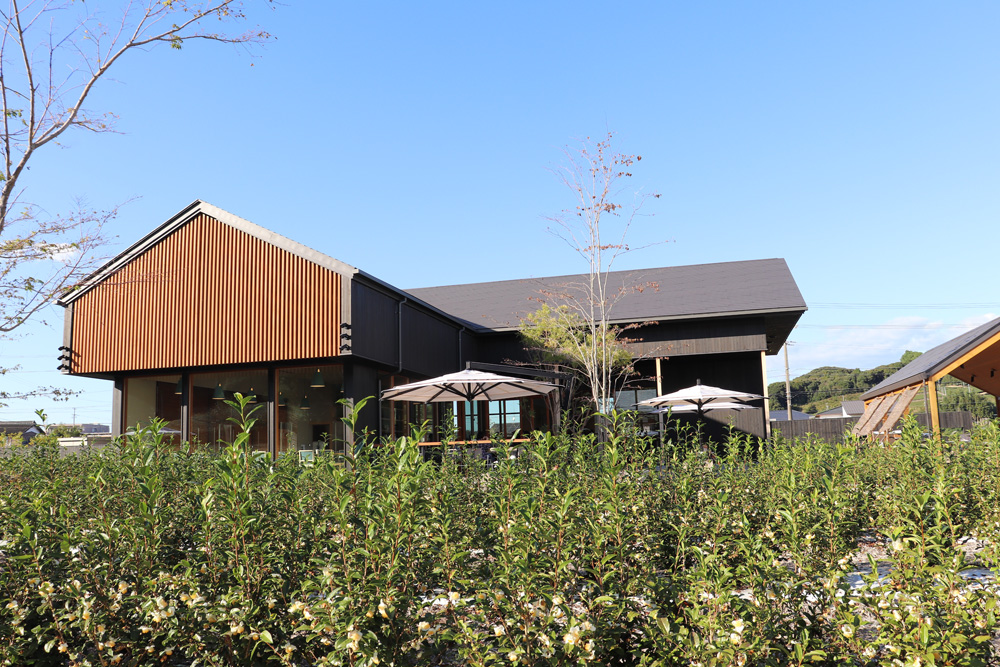 –Just looking at the beauty of the colorful flowers in the garden is relaxing.
To give visitors a dramatic view of the four seasons, seasonal flowers are planted around the garden. Someiyoshino cherry trees and aodamo (Japanese ash) bloom in spring, shimatoneriko (ash tree) blooms in early summer. After the yamaboshi (Japanese flowering dogwood) is in full bloom, the maple trees will gradually remind us of the coming of autumn.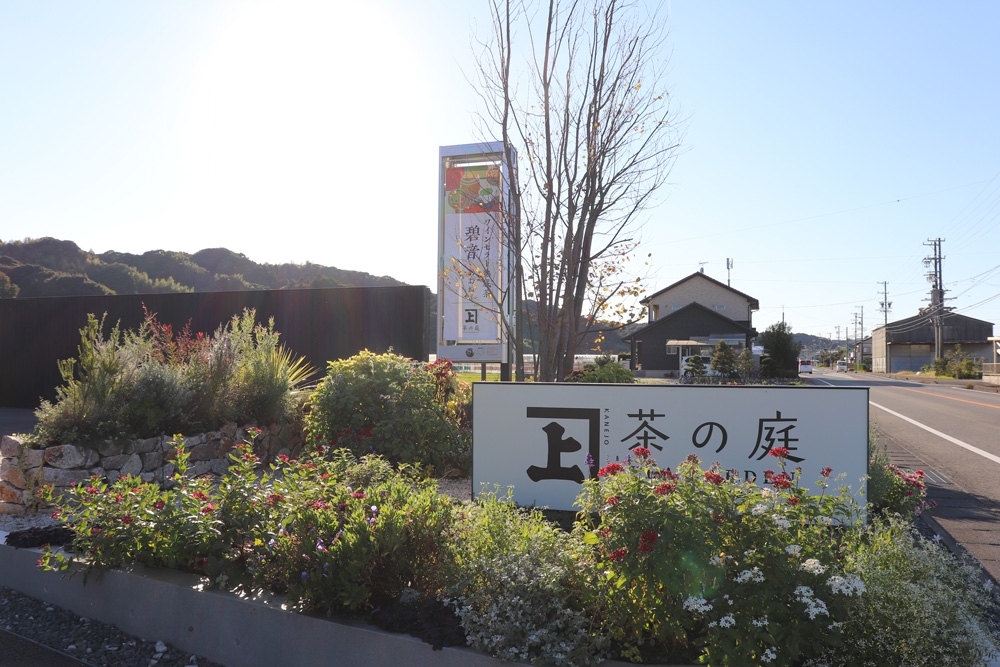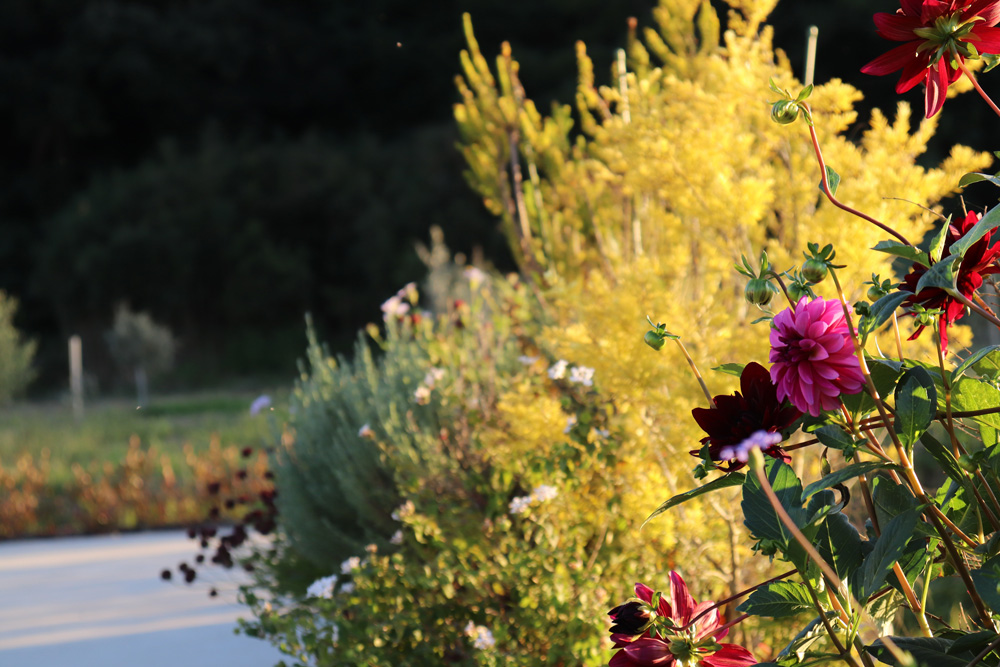 We hope to bring the charm of tea to you through hands-on experiences of picking tea, rolling tea, and making matcha while experiencing the tea gardens colored with the changing mood of the four seasons.
Chanoniwa is situated right next to their Kakegawa tea factory.
–Is there a reason why you chose to build the garden next to your company?
We want to create a facility that allows us to present tea in new ways while respecting tradition and innovation. Considering this, we thought it would be important to provide not only tea but also value-added experiences.
We came to the conclusion that the best way to do this would be to build a tea garden next to our company here in Kakegawa.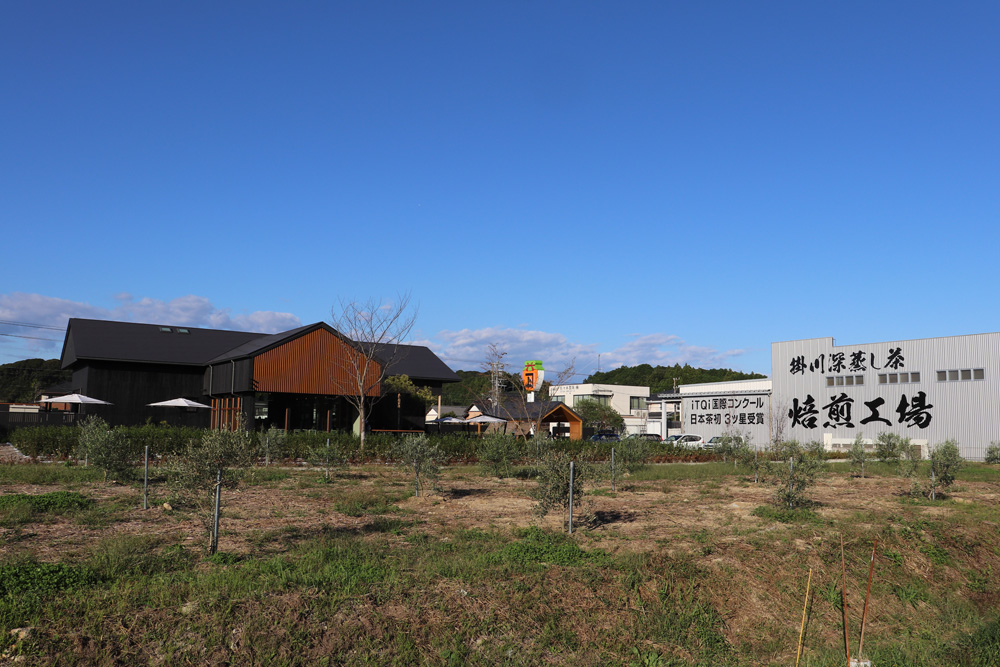 All of the tea plantations surrounding Chanoniwa are the fields of tea farmers contracted by KANEJO Group's Sasaki Seicha. After the tea is harvested, it is sent directly from the roasting factory next door to the Chanoniwa, where it is served in cafes and retail outlets. Due to this, we are confident in both the freshness and quality of the tea.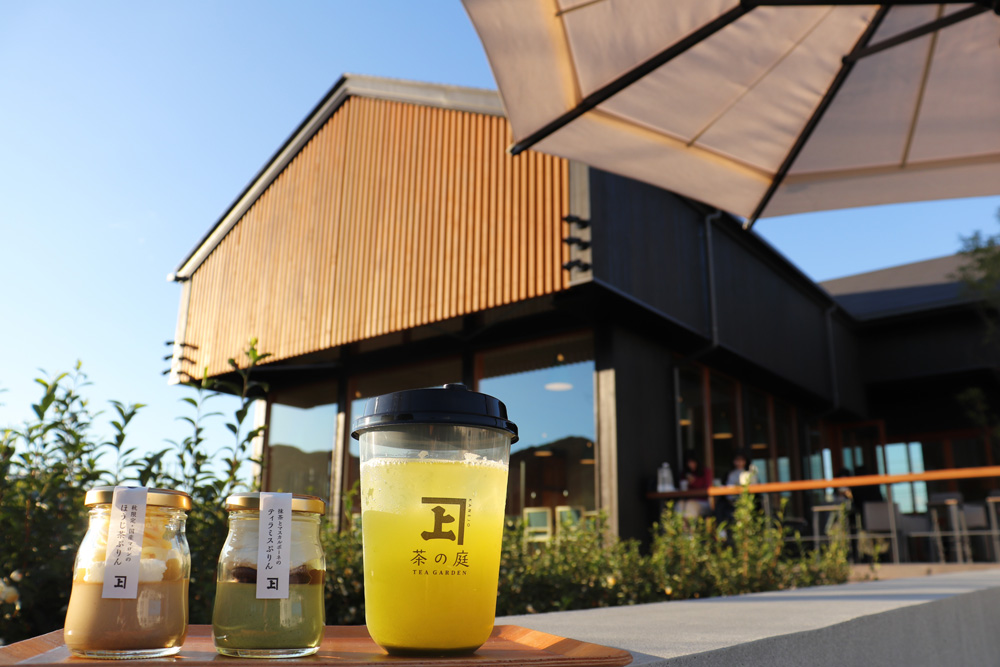 –By building this facility next to our company in Kakegawa, we were able to realize the ideal location of having a tea garden, factory, and café all in one place.
[The KANEJO Group] Sasaki Seicha's strength lies in the fact that we have an integrated production, processing, and sales line.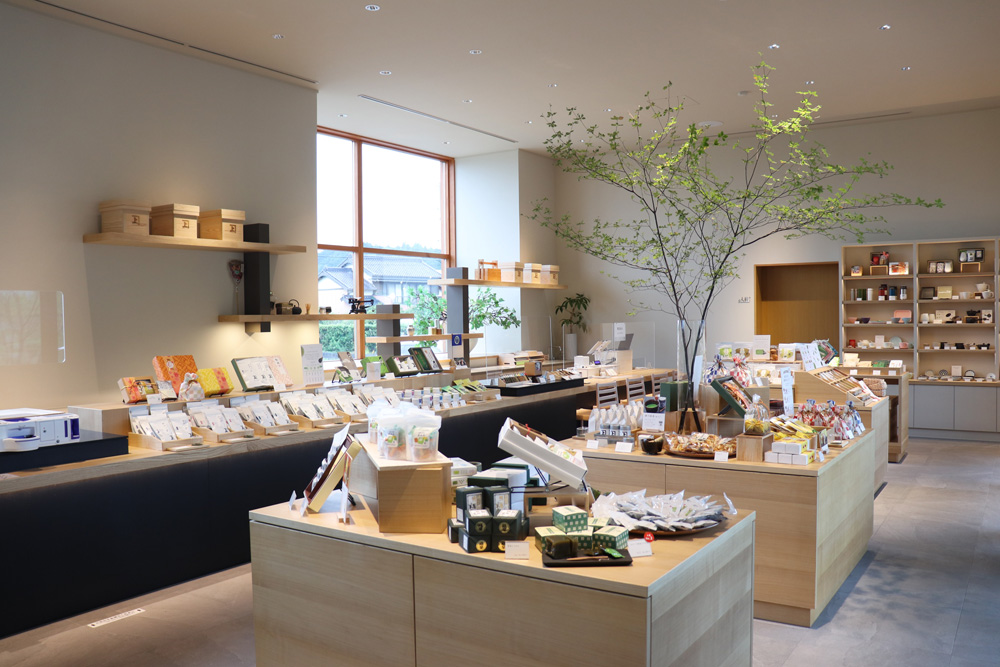 In the production department, we are always thinking about how to make tea that is close to the customer's needs.
The processing department tells the production department what they want from the rough tea leaves (aracha) before they are made into tea, and the production department works to improve the tea to meet those requests.
The sales department is closest to the customer and feeds back to the production and processing department based on the customer's requests.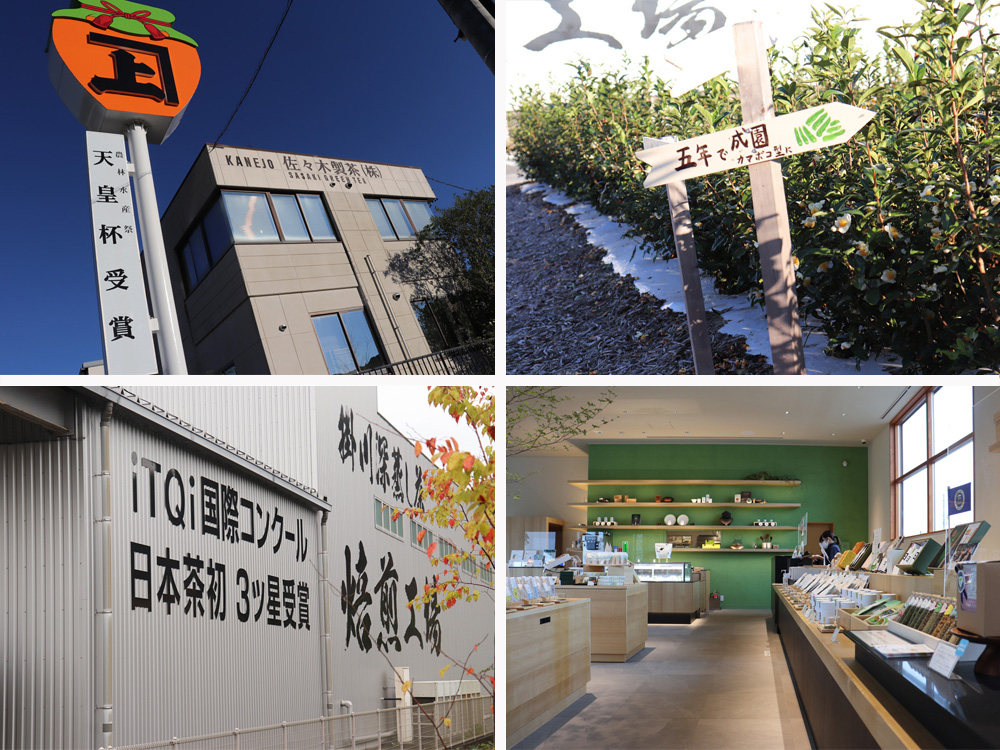 Simply put, we want to have a system that can quickly notice customer feedback and respond to it immediately while still delivering the tea. If we have an integrated tea production system in-house, there are no intermediary margins, so we can provide better products to our customers quicker and at a more competitive price.
Promoting fukamushicha (deep steamed green tea) from Kakegawa.
We feel strongly about the need to communicate the appeal of Fukamushicha from here in Kakegawa, Shizuoka. What is Kakegawa? What is deep steamed tea? I feel that there are still many people who do not know.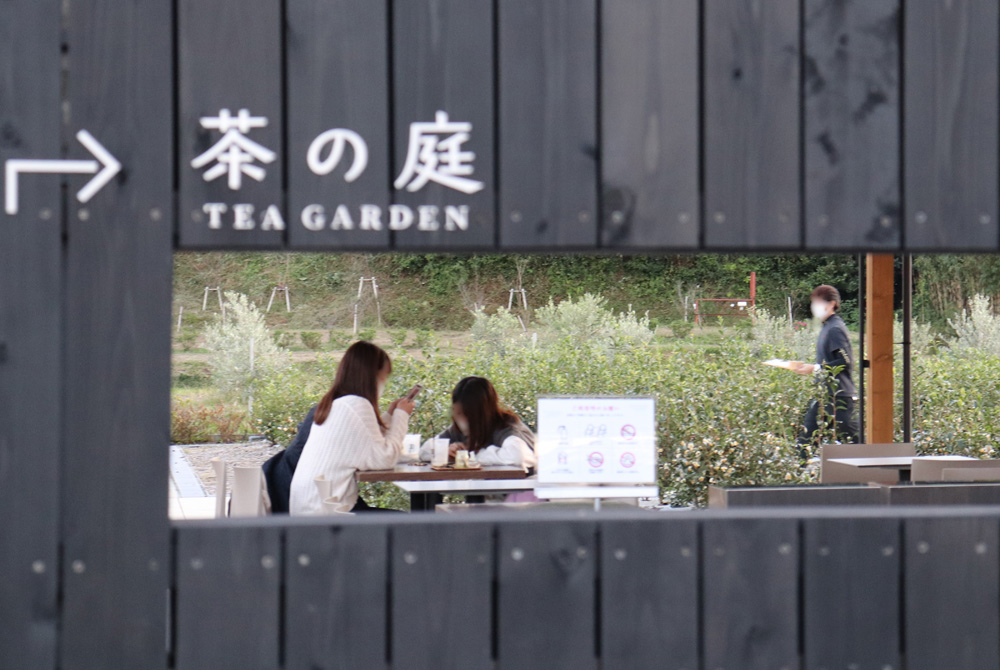 The image of free tea has gained ground. If you go to an interchange, there are places that offer tea for free, and I think some people are satisfied with that.
Even in the Kakegawa area, there are young people who say they have never picked tea before, and it is not clear whether they even drink tea. I think it is very important for the development of the industry to bring tea to the younger generation.
However, I think that the image of "Shizuoka = tea" is still strong. In fact, you see tea fields everyday in Shizuoka.
We saw this as an opportunity to create a terrace where people can dine or hold events surrounded by gardens and experience the appeal of tea through all five senses.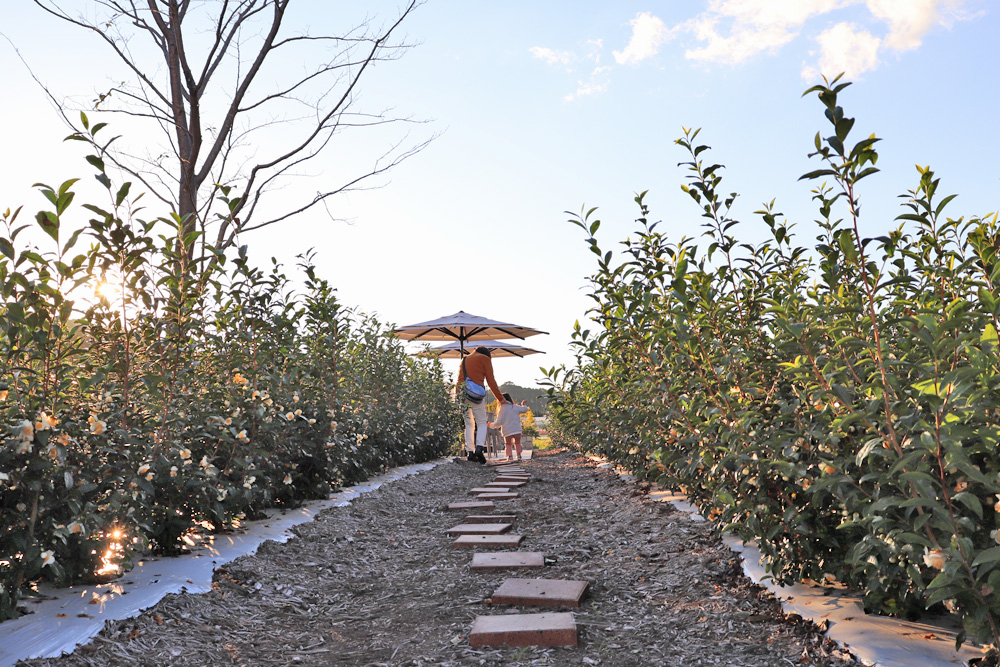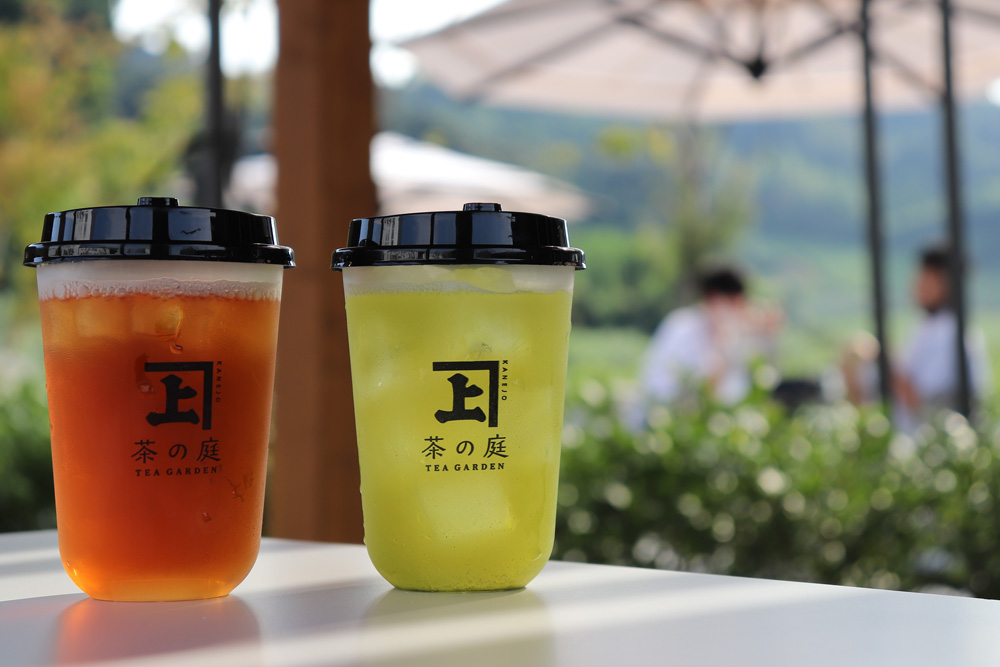 Although it is undecided at this time, we would eventually like to hold events such as tours of neighboring tea factories. This would allow us to offer a more realistic experience of tea production and finishing.
Depending on the time of year, we may even have tempura of freshly picked tea buds from the garden right in front of us. I'm sure you'll all be amazed at how good it tastes!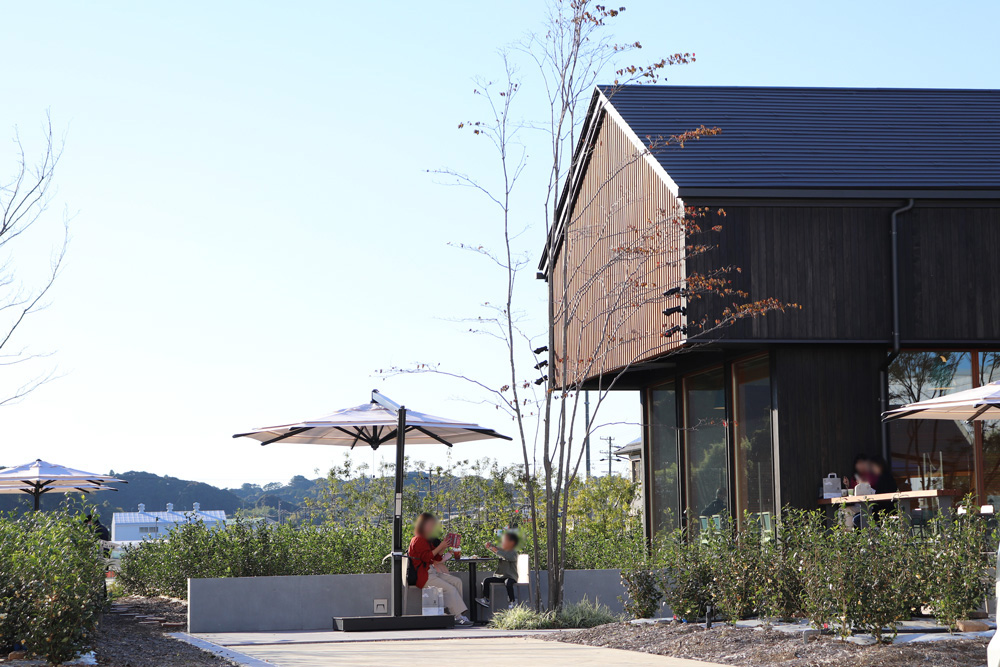 Information Of Chanoniwa
Address
389-1, kamiuchida, kakegawa City, Shizuoka Prefecture, 436-0012, Japan
Website

https://chanoniwa.com/

Phone number
0537-28-7077
E-money and credit cards: Available
QR code payment
Available
Open
Shop 10:00−18:00

Last order 17:00

Closed
Wednesday
Parking lot
Available
Access
From Tomei Expressway, 5 minutes from Kakegawa IC in the direction of Nagoya
From Tokyo, 5 minutes from Kikukawa IC.8 minutes by cab from JR Kakegawa Station South Exit (Shinkansen Exit)
| | |
| --- | --- |
| Writer | Norikazu Iwamoto |
| Career | Ochatimes chief editer.Meeting with Vice Governor of Shizuoka prefecture.Judge of Fuji country 100 tea's award in 2021.Ocha Times link introduced at website of World O-CHA(Tea) Festival 2022. |
| | |
| --- | --- |
| English translator | Calfo Joshua |
| Career | Born and raised in England, living in Japan since 2016. Studying arboriculture in Shizuoka Prefecture whilst operating his landscape business Calfo Forestry. Appreciating the nature of Japan and the culture that places such importance in it. |
Related articles