Go to Japanese page
Chatsutei, conveying the authentic taste of Japanese tea for 100 years since its establishment
Based in Numazu, Shizuoka Prefecture, Chatsutei has been devoted to tea-making under the principle of "Conveying the true taste of Japanese tea" since its founding in 1909.

Chatsutei handles tea from all over without prejudice to create their unique tastes through blending. Currently, their cafe is closed, but you can purchase their products at the shop and via the official website of Chatsutei.

Chatsutei Bottled Tea to introduce a new hospitality style

The Chatsutei Bottled Tea series has been commercialized to introduce a new hospitality style. Tribute Liquid Tea: A limited version of "Shizuoka White Leaf Tea" is the highest quality product in this series.
Shizuoka White Leaf Tea is a rare tea with a gold sheen to it. It is cultivated using a special method that blocks sunlight for a certain period of time. As a result, it contains more amino acids than other teas.
It was commercialized after one year of development with the desire to create something excellent, and not mass-produced.


The optimum extraction temperature for tea varies depending on the leaves and the manufacturing method. However, no matter how high the quality of the tea leaves, boiling water can destroy the delicate sweetness of the tea.
Therefore this tea is brewed with water at low temperatures to preserve the deep flavor and elegant aroma that only tea masters could formerly enjoy, finally being bottled like wine. Chatsutei has contributed their Shizuoka White Leaf Tea to Kunozan Toshogu Shrine.
A new tea brand, "The Delicious Japanese Tea Institute" designs delicious Japanese teas for the freestyle enjoyment of tea

We interviewed Mr. Takahiro Uematsu, President of Chatsutei.
---
Takahiro Uematsu: "Unlike with other teas and coffees, most people don't have opportunities to experience the authentic taste of Japanese green tea. Some even feel that the real taste of Japanese green tea is too "deep". Two years ago, I started the "Delicious Japanese Tea Institute" with the idea for people to enjoy authentic Japanese tea more freely and easily.
For that reason, I thought that making brands would be a good idea. So I initiated the following two brands;
'Chatsutei' for more orthodox green teas, and
the 'Japanese Tea Institute' for delicious teas that appeal to the younger generations.
I have been focusing on these two brands."
― "When we start something completely new, generally it's difficult to be accepted by the public. I believe that this is the case with many things. So, how was the reaction around you?"
Takahiro Uematsu: "In the beginning, many people said, 'Do you really think that such a plan will succeed?' Some people still may ask that. However, after we announced this project, various press corps started visiting us to inquire about the project."
― "Surely, the Delicious Japanese Tea Institute got a great response from the media?"
Takahiro Uematsu: "I felt that the reaction varied depending on the media type, such as TV, radio, and social media. The most impressive one was when MEZAMASHI TV did a feature on us, we received a great response.
The Delicious Japanese Tea Institute aims to be a door to green tea for young people who are drinking green tea less and less these days. We also invented tea paste. I would like to introduce dishes using this new product and eventually lead people to drink authentic green tea."
↓ Creative Japanese French dishes prepared by the Shizuoka University Tea Circle, Issen. The members of Issen used Chatsutei Hojicha Rice, and Yabuzaki-en's "Gyokuro and Tencha" (shaded-grown green tea) in the dishes.
(Details of these dishes will be published at a later date.)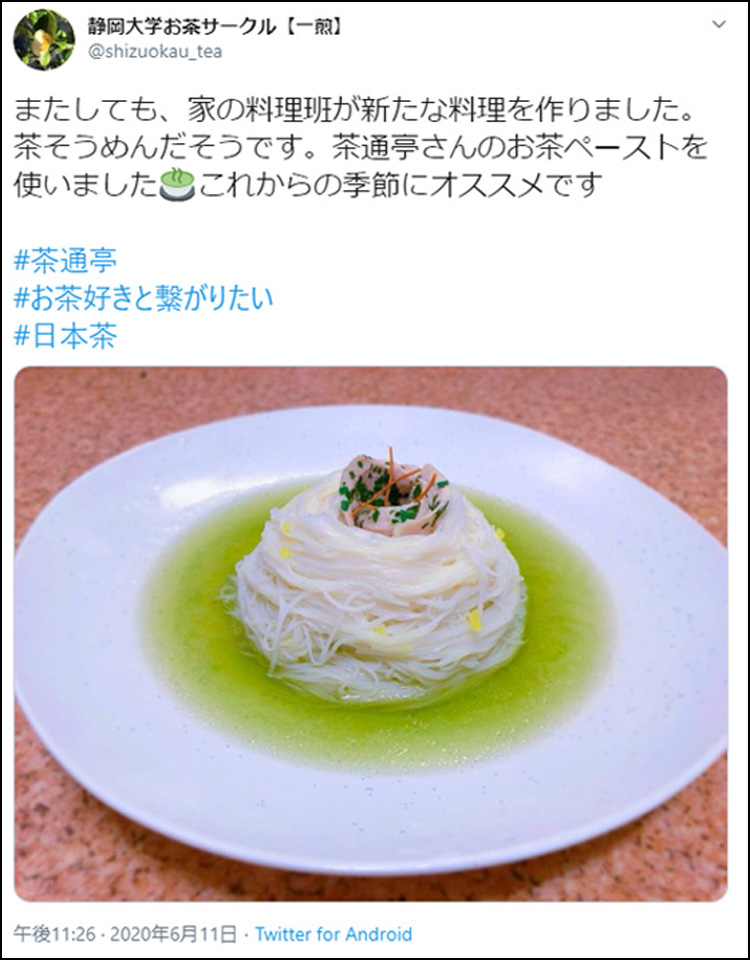 ―"A door to green tea for young people. Mr. Uematsu, you must be thinking about the current situation in the Japanese tea market."
Takahiro Uematsu: "If we can't sell tea, the market will be oversupplied, and the tea price will fall. As a result, tea farmers will not be able to buy fertilizer and will end up in a vicious cycle which will disable them from producing delicious teas.
In the future, it may be necessary to produce teas with a uniqueness that is clearly recognized by the consumers.
However, unlike other agricultural products, the ideas and intentions of tea farmers are difficult to reflect in their products' appearance.
Tea must have potential.
I think that the potential is currently unclear."
---
One hundred years ago, Chatsutei, an old-fashioned professional tea wholesaler, was founded in Shizuoka, which is famous for its tea.
They introduce others to how they can experience Japanese green tea more deliciously and enjoyably through the following brands;
"Chatsutei" for orthodox green tea lovers, and
the "Delicious Japanese Tea Institute" for the younger generation.
About Chatsutei / How to Purchase
Address
Address: 555, Ohsuwa, Numazu-shi, Shizuoka Prefecture, 410-0873, Japan
Website
http://www.cha2tei.com/
You can purchase products at Chatsutei or on its online shop.
Phone
+81 55 920 0025
E-money and credit cards
Not acceptable.
Open
9:00 to 17:00
Closed
Sundays and public holidays
Parking lot
Available
Access
By Car
About 15-minute drive from the Numazu IC on the Tomei Expressway
By Train
About 5 minutes by taxi from JR Katahama Station
Related articles