Shizuoka Tea Experience Cycling Tour【Local Travel Partners】

Go to Japanese page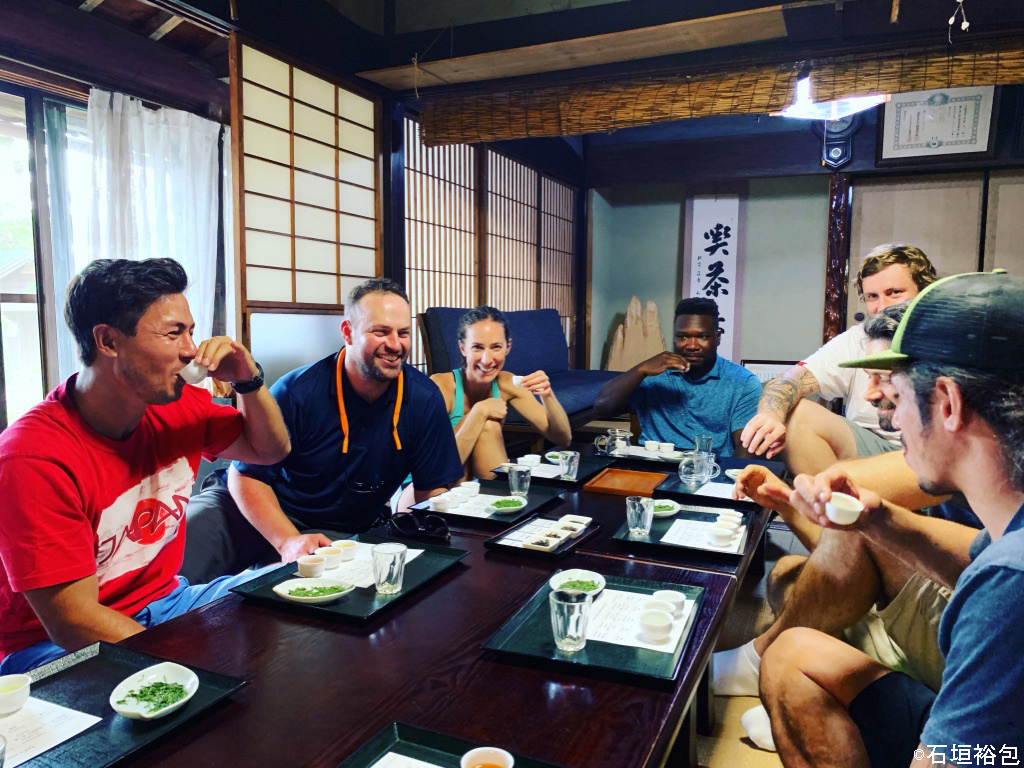 Located in the central region of the Japanese archipelago, Shizuoka has a mild climate, rich nature, recreational facilities, hot springs, and a wealth of other attractions. The company we interviewed this time is Local Travel Partners, a travel agency that plans and proposes tours to fully enjoy Shizuoka. The company's representative, Mr. Hirofumi Ishigaki, well versed in Shizuoka-ism, plans and proposes tours, one of thewe being the Shizuoka Tea Experience Cycling Tour, created in collaboration with Moriuchi Tea Farm. These tours are rapidly gaining popularity, especially among foreign visitors to Japan.
In this article, we will report on Local Travel Partners and the Shizuoka Tea Experience Tour created with Moriuchi Tea Farm, including an interview with Hirofumi Ishigaki, CEO of Local Travel Partners, and a tour report by Shizuoka University students.
About Local Travel Partners
Local Travel Partners is a travel agency located in Oguro, Suruga-ku, Shizuoka City. The company is headed by Hirokane Ishigaki. The company plans and proposes tours for out-of-prefecture tourists that offer experiences unique to Shizuoka.
The company's main customers are foreigners visiting Japan, and so far, Mr. Ishigaki has connected Shizuoka with more than 20 countries as a tour guide, offering tours to more than 450 people each year.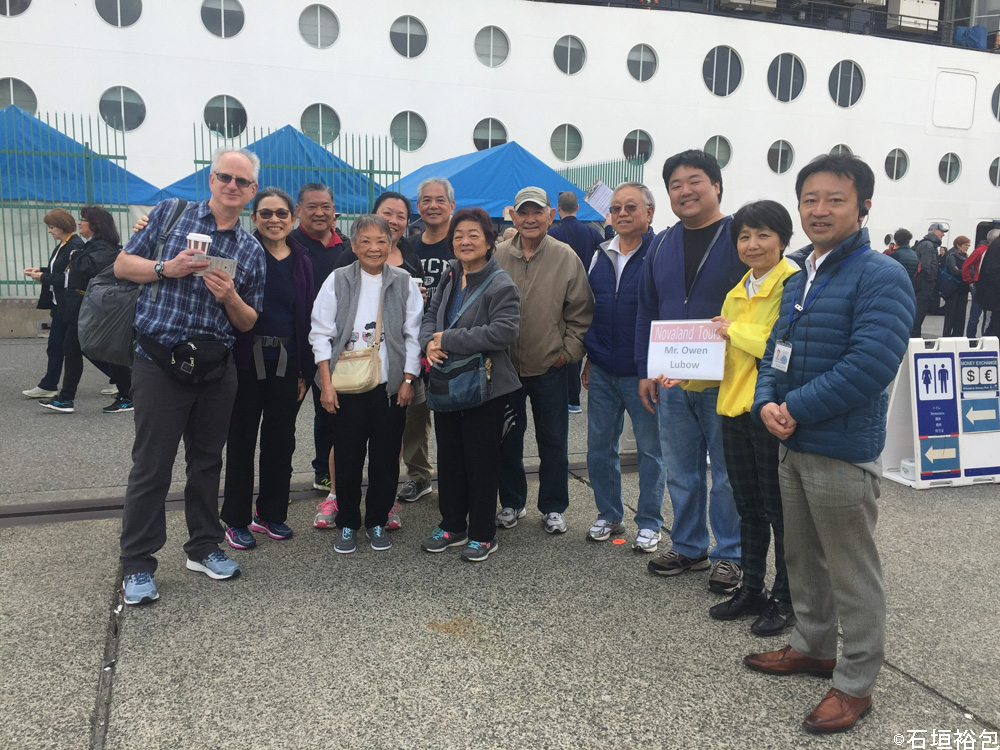 ▲The rightmost person in the photo is Mr. Hirofumi Ishigaki, the representative of the company.
Strengths of Local Travel Partners
Local Travel Partners' strength is its ability to provide tailor-made travel plans that take advantage of Shizuoka's regional network. The company offers tailor-made trips for large groups as well as small groups of family members or couples, and the plans on its website can also be arranged according to customers' wishes.
In 2021, the Shizuoka Prefectural Government introduced us as a company committed to universal design in recognition of our efforts in this area.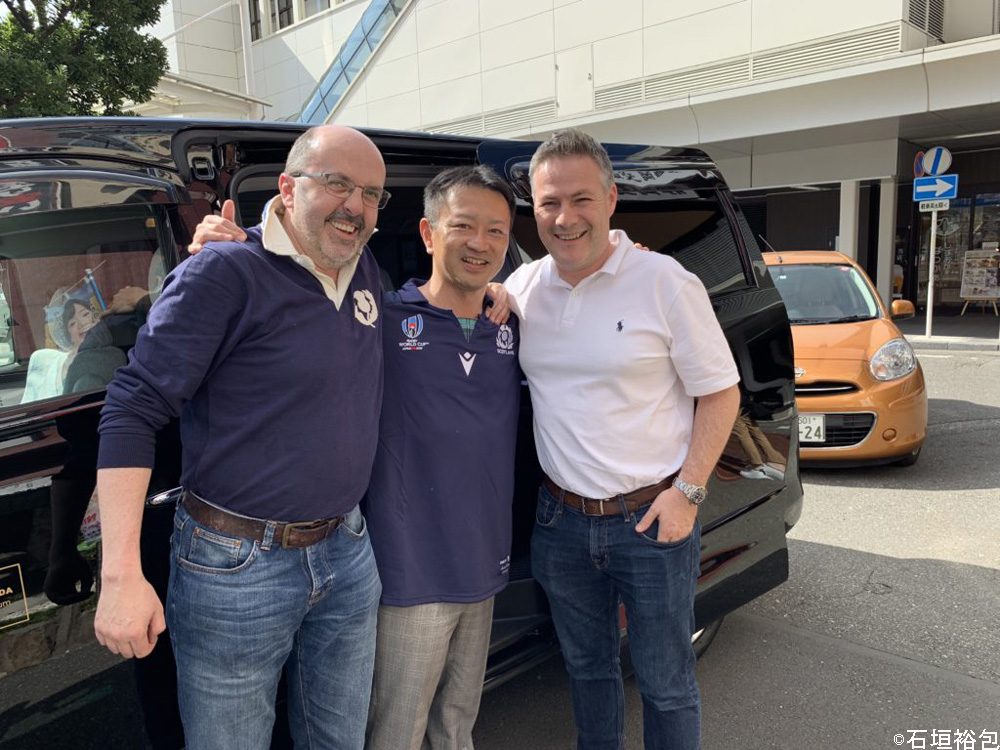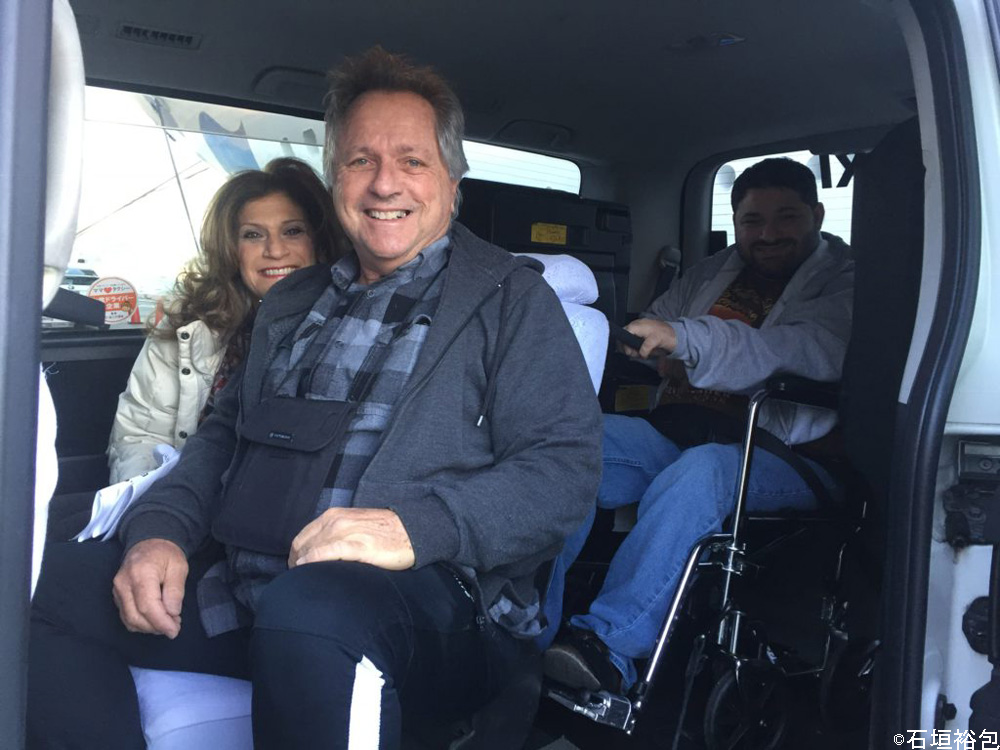 ▲We are also able to offer travel plans for wheelchair users.
Mr. Ishigaki is highly trusted in his hometown of Shizuoka and sometimes teaches at Shizuoka University as a lecturer.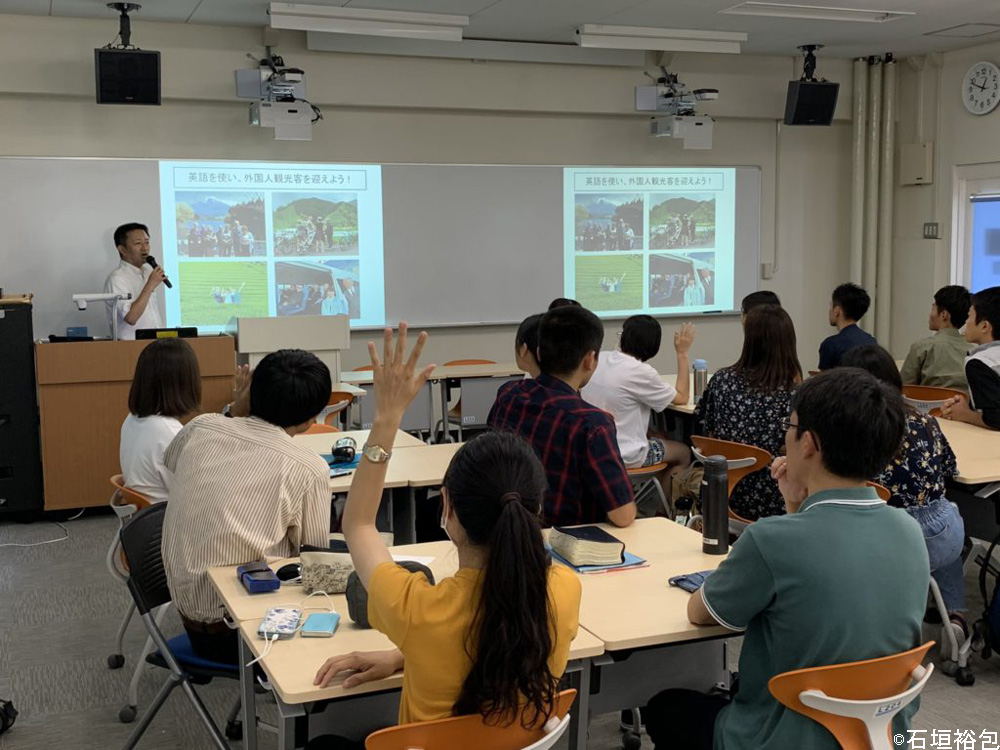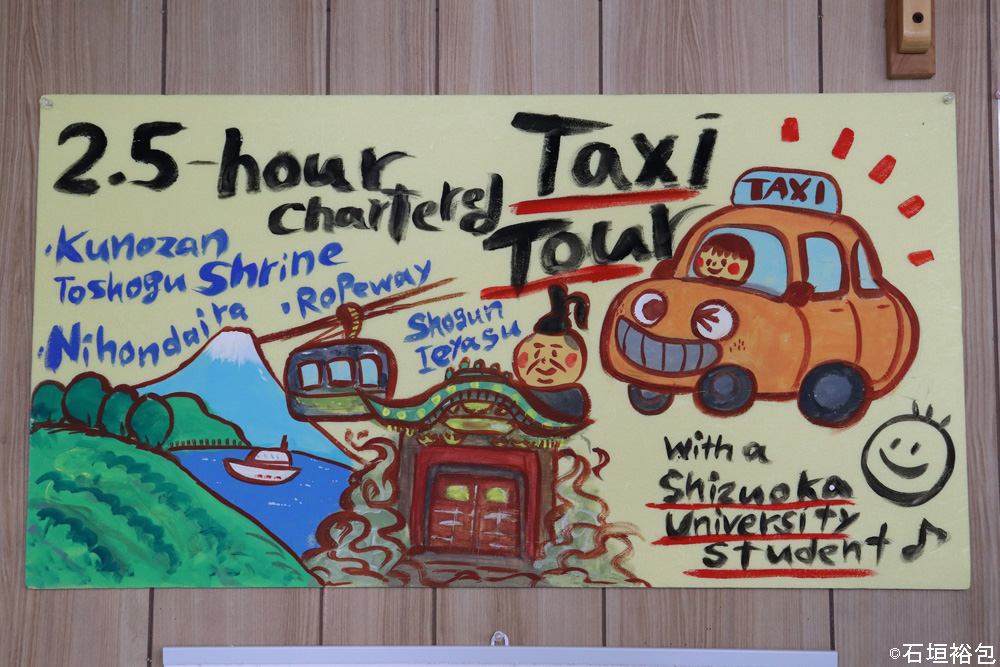 ▲A handmade advertising board made by Shizuoka University students is displayed at the company.
Interview: Shizuoka Tea Experience Cycling Tour : Created in Response to Customer Feedback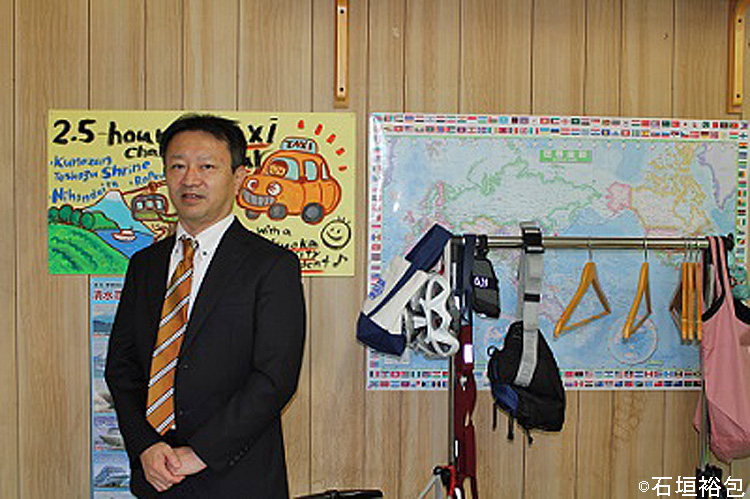 We interviewed Hirofumi Ishigaki, representative of Local Travel Partners.
---
We wanted to respond to the voices of our customers who wanted to experience Shizuoka tea.
At Local Travel Partners, we mainly plan and propose Shizuoka tours for foreign visitors to Japan, and we received many requests from customers who wanted to see the tea fields, pick tea, and compare teas.
In this context, we learned that Moriuchi Tea Farm is actively promoting Shizuoka tea through farm tours, farmer cafes and other activities. Since Moriuchi Tea Farm is not far from Shizuoka Station and is very active in welcoming foreign visitors to Japan, we contacted Mr. Moriuchi and asked him if he would be interested in working with us to create a travel plan.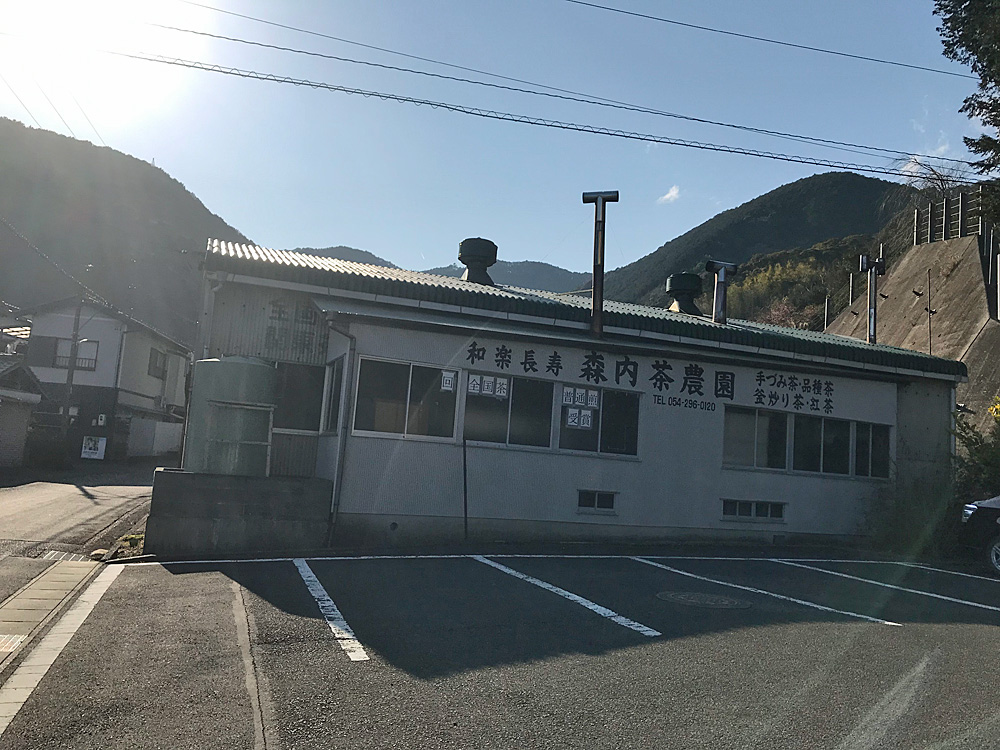 We started this tour as a cycling tour because we thought that if we made it a cycling tour, the journey itself would be an interesting experience. The tour was very well received and we received many applications, mainly from foreign visitors to Japan.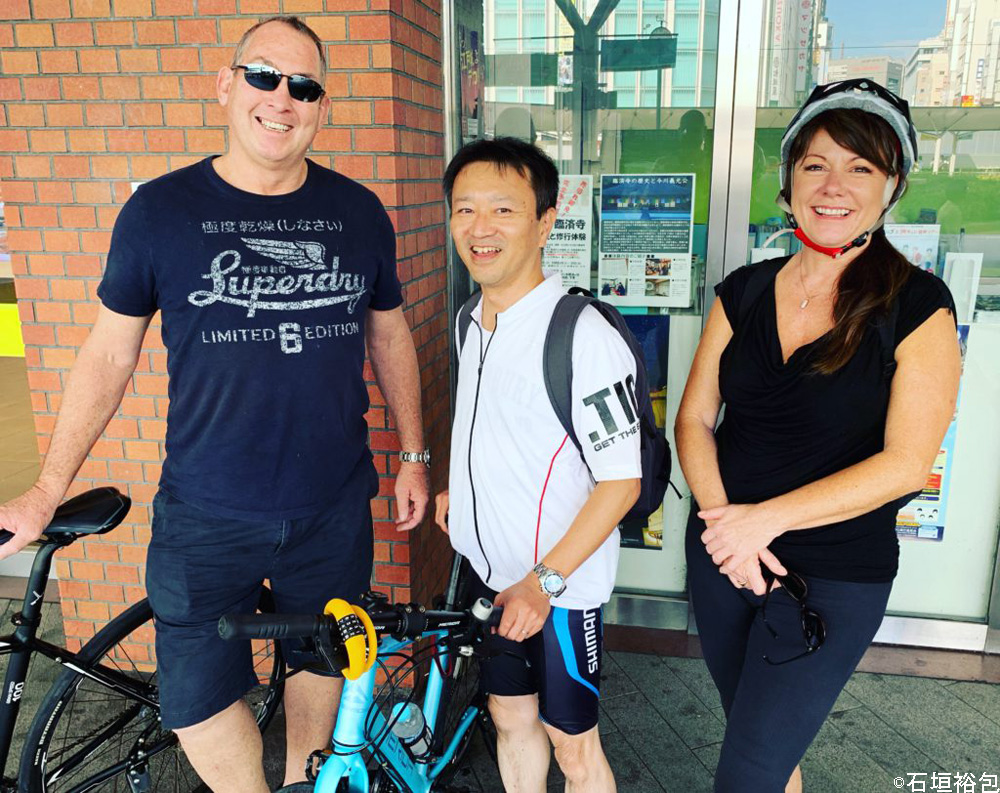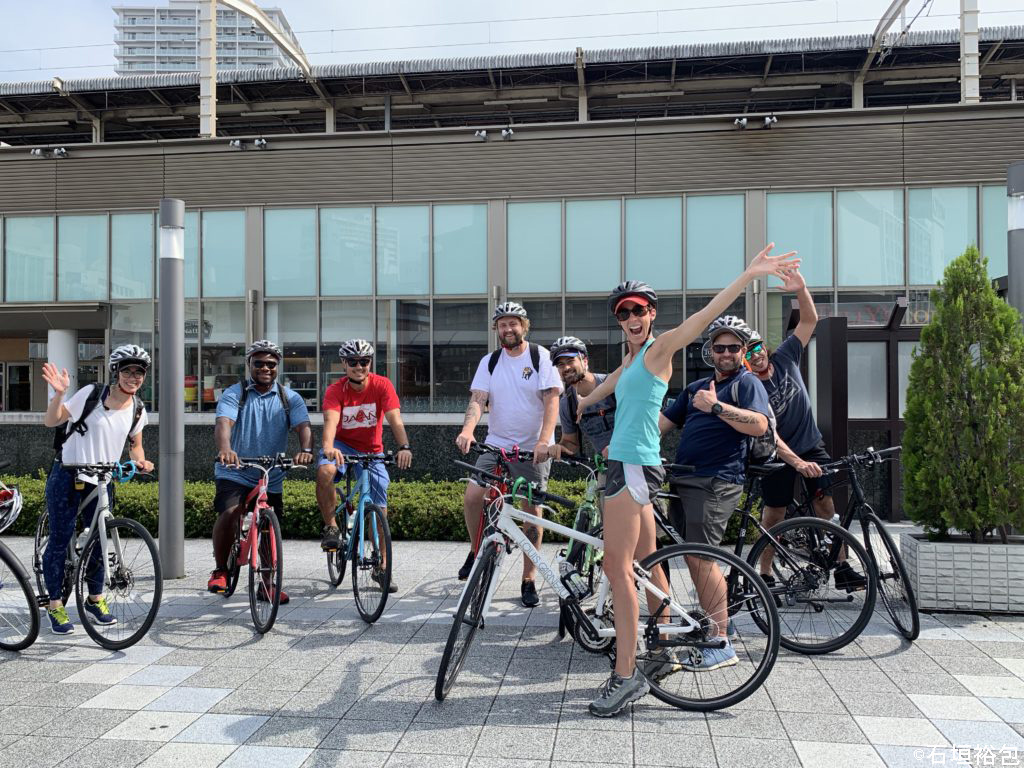 Canadian and Taiwanese cross bikes available.
Cross bikes are used for cycling. Road bikes have narrow tires and are suitable for cyclists who travel long distances at high speed, but they are difficult for beginners, and we thought cross bikes would be more suitable for guided cycling with slow side trips.
The cross bikes we own are made by Canadian bicycle manufacturer Luegano and Taiwanese bicycle manufacturer Merida. I had long envisioned a "free cycling tour around Shizuoka Prefecture," so I bought a good-quality cross bike before I registered as a travel agent.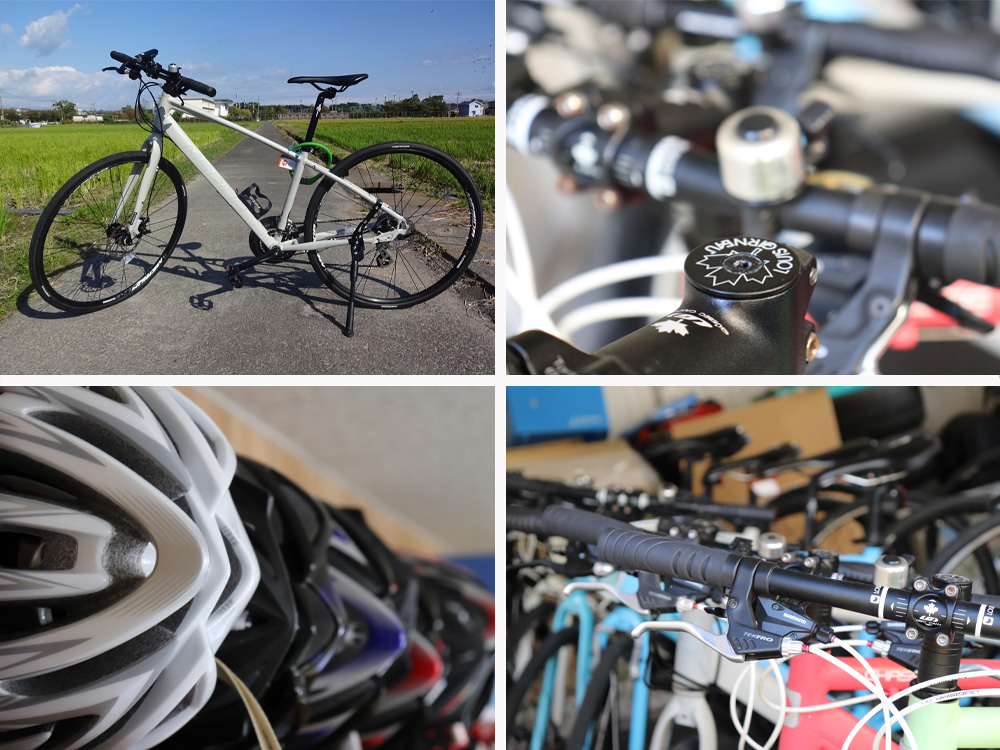 ▲The cross bikes are available in sizes that can accommodate people over 190cm tall.
Local Travel Partners also offers cross bike rentals. In the past, many of our customers were foreign visitors to Japan, but recently the number of Japanese tourists has been increasing.
Many of them come on business trips from Tokyo, want to ride after work on weekends, or rent a cross bike as a test ride before purchasing a bike.
Shizuoka Tea Experience Cycling Tour for a memorable experience
For safety reasons, the cycling route to the Moriuchi Tea Farm follows the banks of the Abe River, where there are few cars passing by. The route is slow and non-speeding, and is known as "pottering". The tour is very popular because it is a great way to learn about the history and local conditions of the Abe River area, and sometimes watch a youth baseball game on the banks of the river.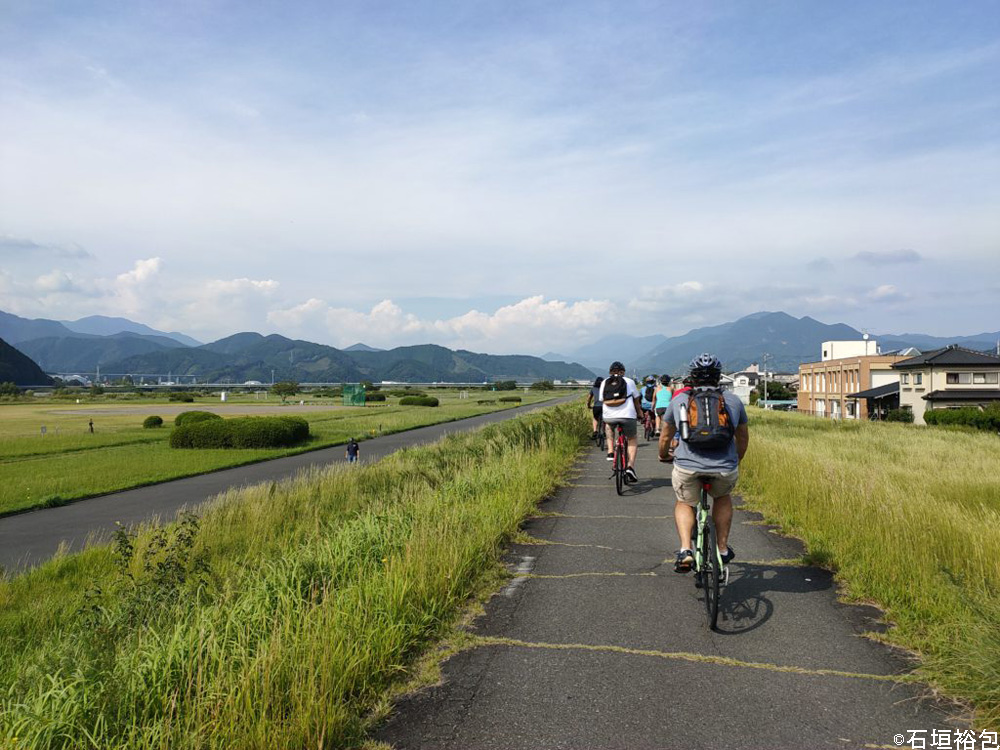 At the tea plantation of Moriuchi Tea Farm, everyone was very eager to ask questions about the tea making process. They were very interested in observing the covered tea plantation.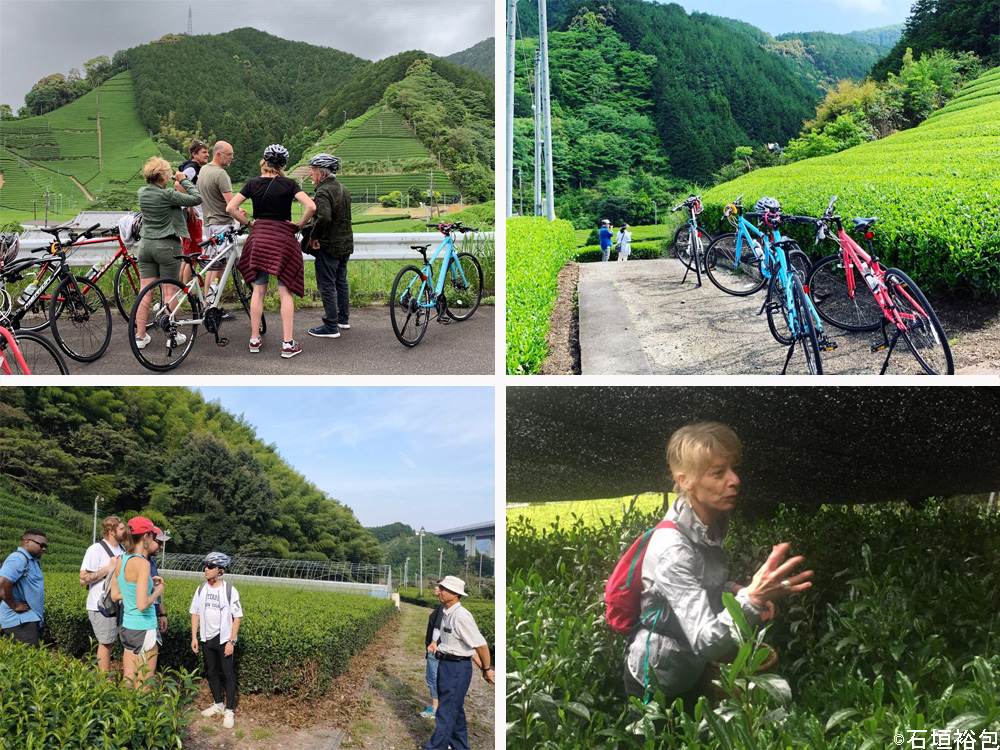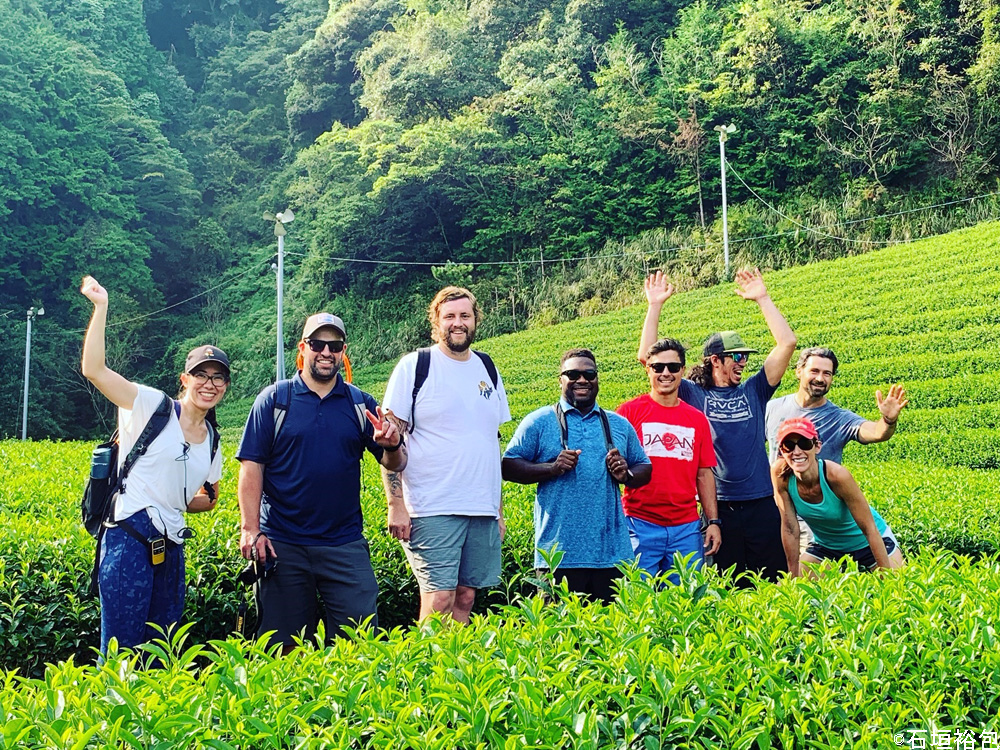 The tea drinking experience was also very much appreciated. Especially for visitors to Japan, drinking Japanese tea on the earthen floor of a 150-year-old traditional Japanese house is a heartwarming experience.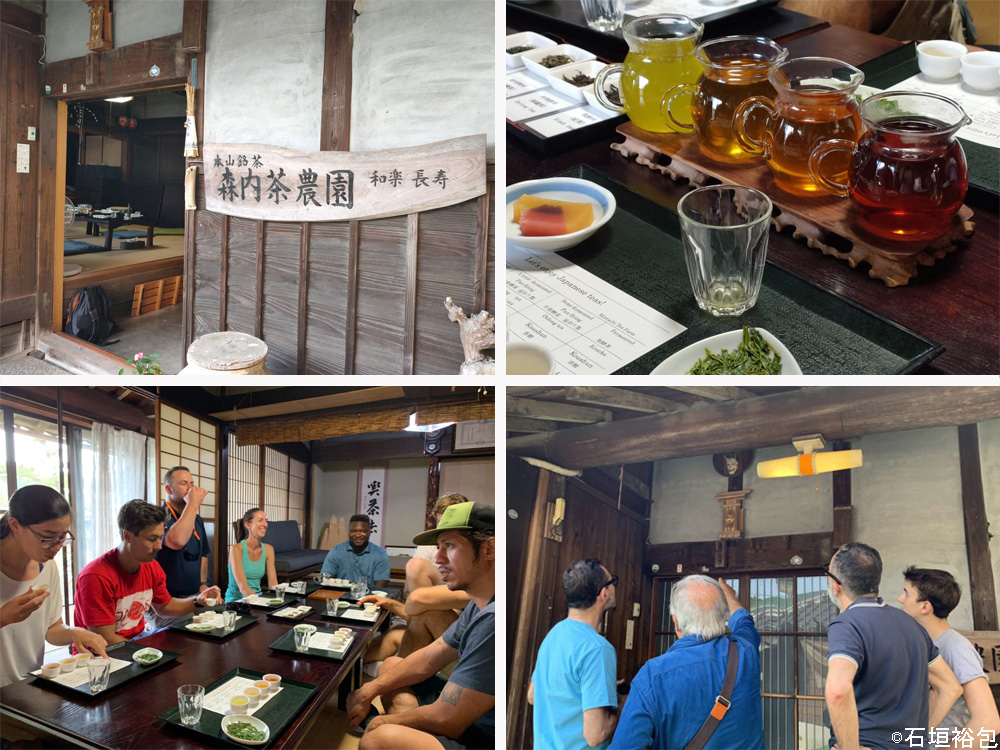 On the way back, we take a different path to the way we came. We recommend seeing the Sengen Shrine and the Sengen Street shopping street.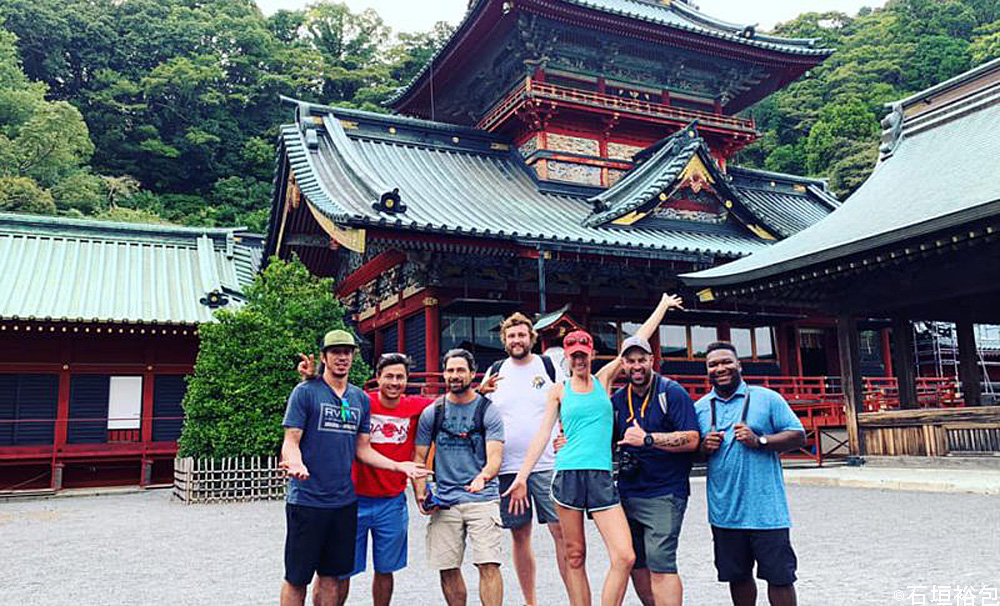 Traveling enriches your life
I believe that life is made more enjoyable and richer by meeting various people and coming into contact with unknown cultures and lifestyles while traveling. Travel is a wonderful experience to step out of the ordinary and into the extraordinary. Let Local Travel Partners arrange a trip of your choice!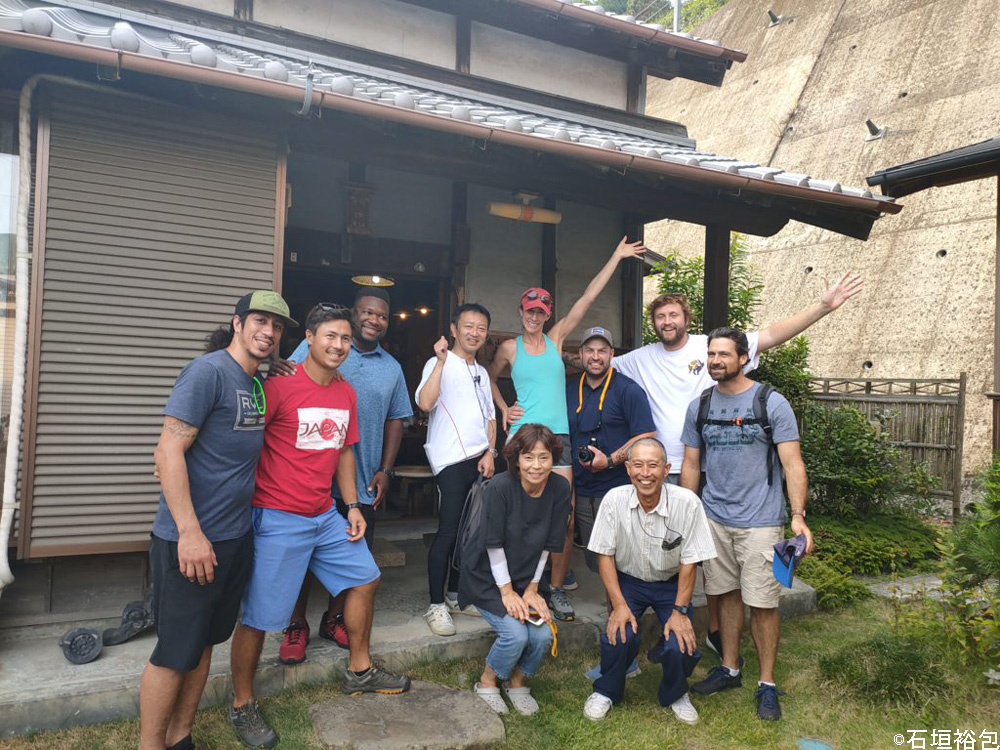 Shizuoka University Students Report on Cycling Tour to Experience Shizuoka Tea
Shizuoka University students went on the Shizuoka Tea Cycling Tour, which is especially popular among foreign visitors to Japan. Here are their impressions of the tour.
Mr. Hoshino, a representative of Shizuoka University's tea circle Issen, cooperated with the tour. The following is a report on the experience by Mr. Hoshino.
---
Riding a cross bike for the first time in my life to Morinouchi Tea Farm
It was the afternoon of June 27 when I joined the Shizuoka Tea Experience Cycling Tour. It was a beautiful sunny day for cycling, which is hard to believe during the rainy season, but it was very hot. First, Mr. Ishigaki of Local Travel Partners at the starting point gave us a quick lesson on hand signs and how to ride a bicycle. It was also my first experience with a cross bike, and I was worried that I might have an accident since it looked so expensive.
After getting ready, it was time to head to the Morinouchi Tea Farm!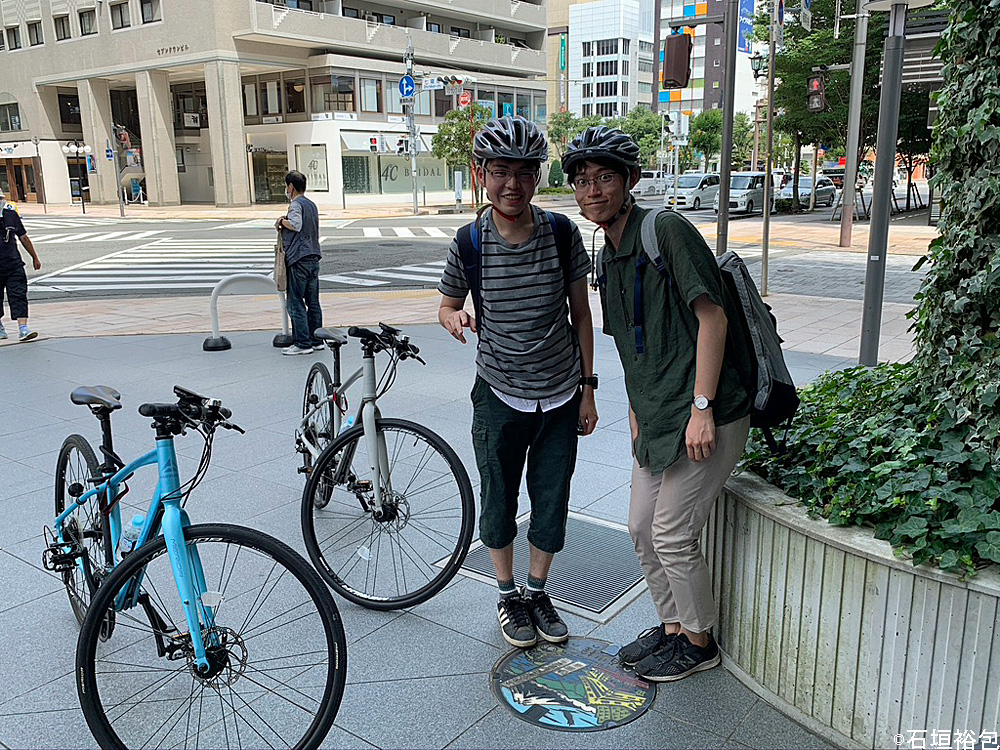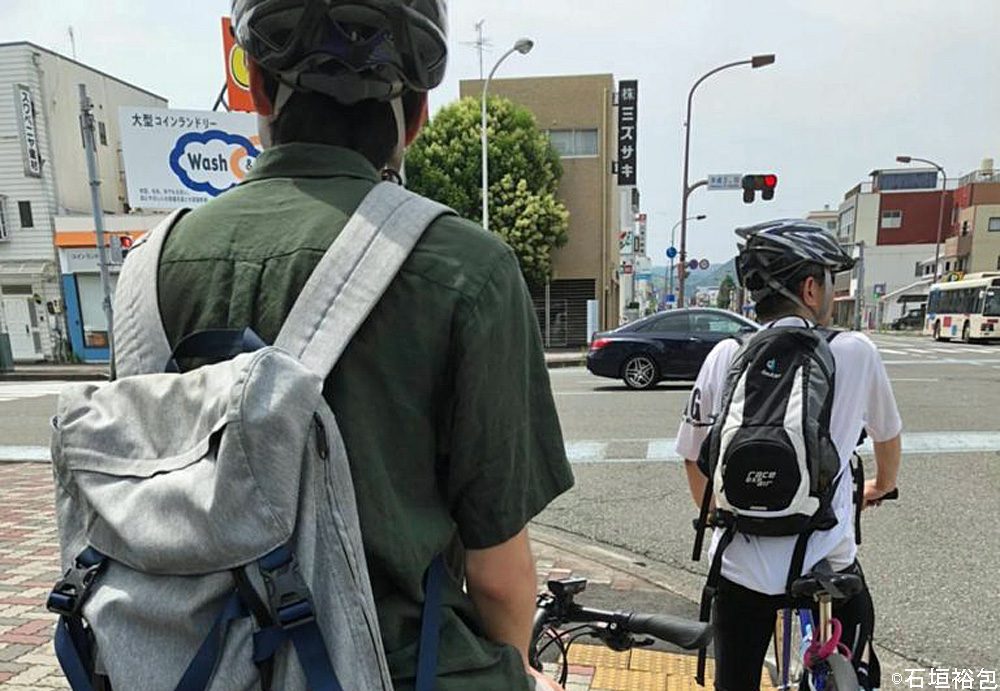 Soon after our departure, Mr. Ishigaki suddenly got off his bike in town. I thought he was already taking a break this early, but I was wrong. Mr. Ishigaki usually gives tours to foreign tourists, and this is definitely the first place he takes them. Mr. Ishigaki pointed to a manhole depicting places related to Shizuoka and lucky charms.
Mr. Ishigaki said, "For Japanese people, this is something we take for granted, but for tourists, this is very unusual." He told me, "When I explain that this manhole is related to Tokugawa, people always take pictures of it." I took a picture of the manhole with my foot on it, the way tourists do.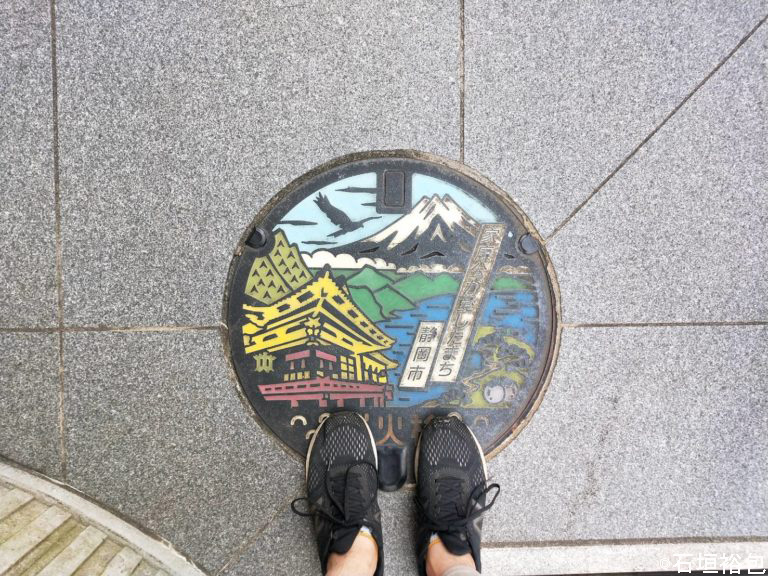 After taking pictures of the manhole, we set out again for the Moriuchi Tea Farm. Along the way, we talked about the local conditions near the Abegawa River in Shizuoka and the interesting features that tourists enjoy as we headed toward our destination. As with the manholes we had seen earlier, it seems that rare things are completely different in different cultures.
After about an hour of pedaling, we arrived at the Morinouchi Tea Farm after overcoming the steep hill, the last hurdle to the farm!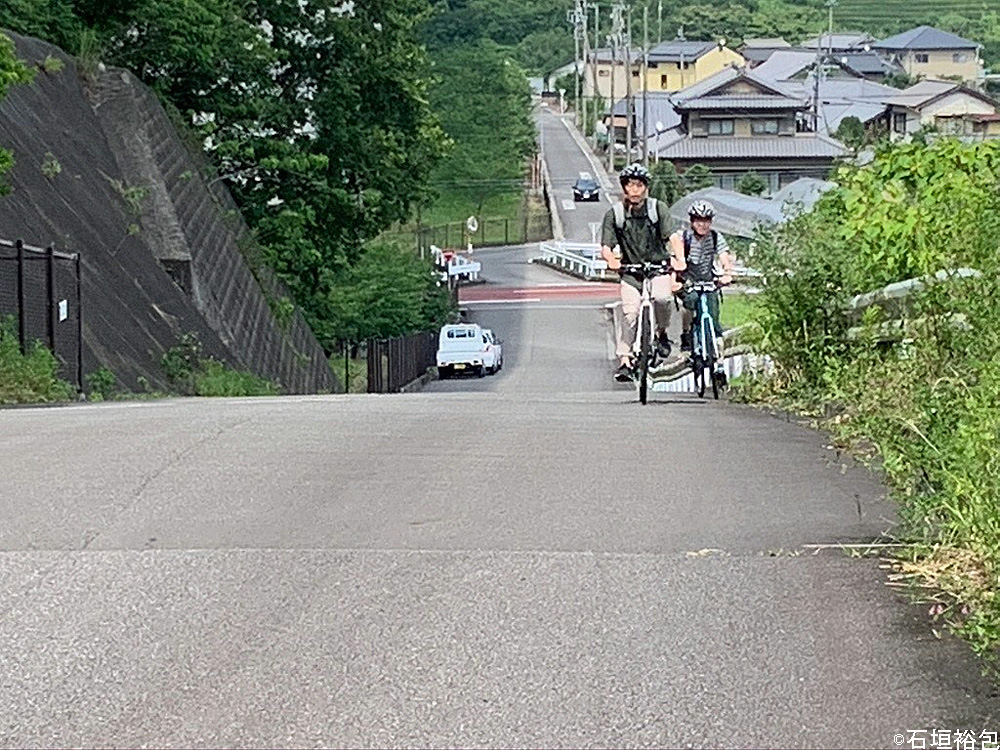 ▲Mr. Hoshino and his team completed the steep climb up the hill. Many visitors to Japan give up halfway up the hill.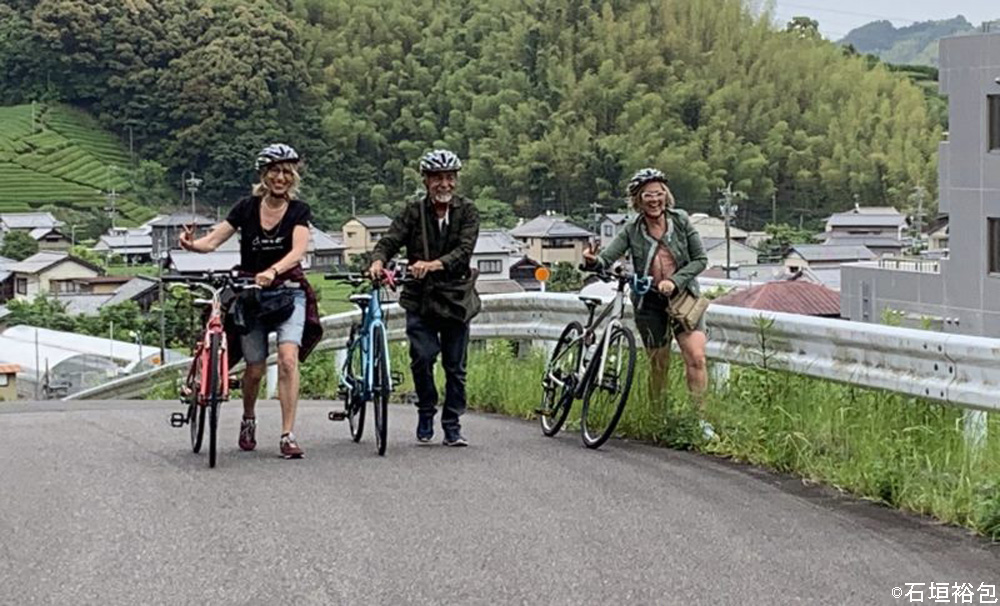 Visiting the magnificent tea garden at Moriuchi Tea Farm
As soon as we arrived, we were shown the selfie spot that Mr. Moriuchi highly recommends. We listened to Mr. Moriuchi's talk as we gazed at the tea garden.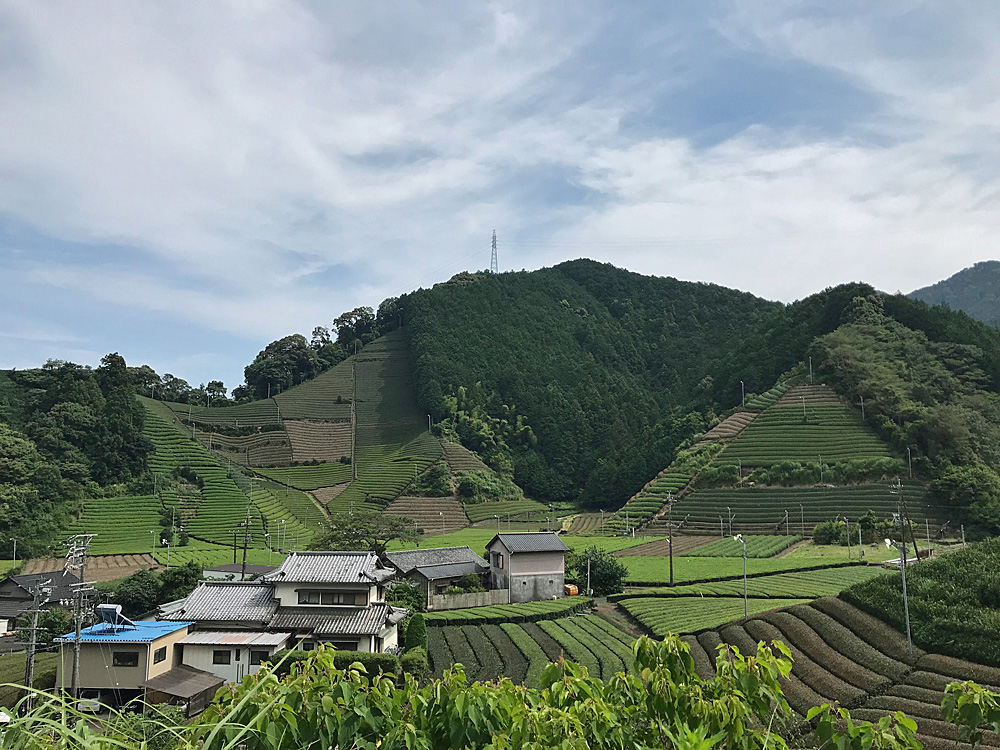 The next tea garden we were shown was a tea garden that grows varieties of tea such as Koushun and Marici. Tea lovers will be delighted to know that Mr. Moriuchi grows many varieties of tea and that they can be enjoyed at the café to be introduced later.
As we waded through the tea garden, we found a plantation that had been uncovered. I thought they were growing gyokuro, but apparently not(For more information about Gyokuro, see the article on Yabusakien).It seems that they are growing tea for competitions, and the covering makes the finished tea dark green in color and suppresses the production of catechins.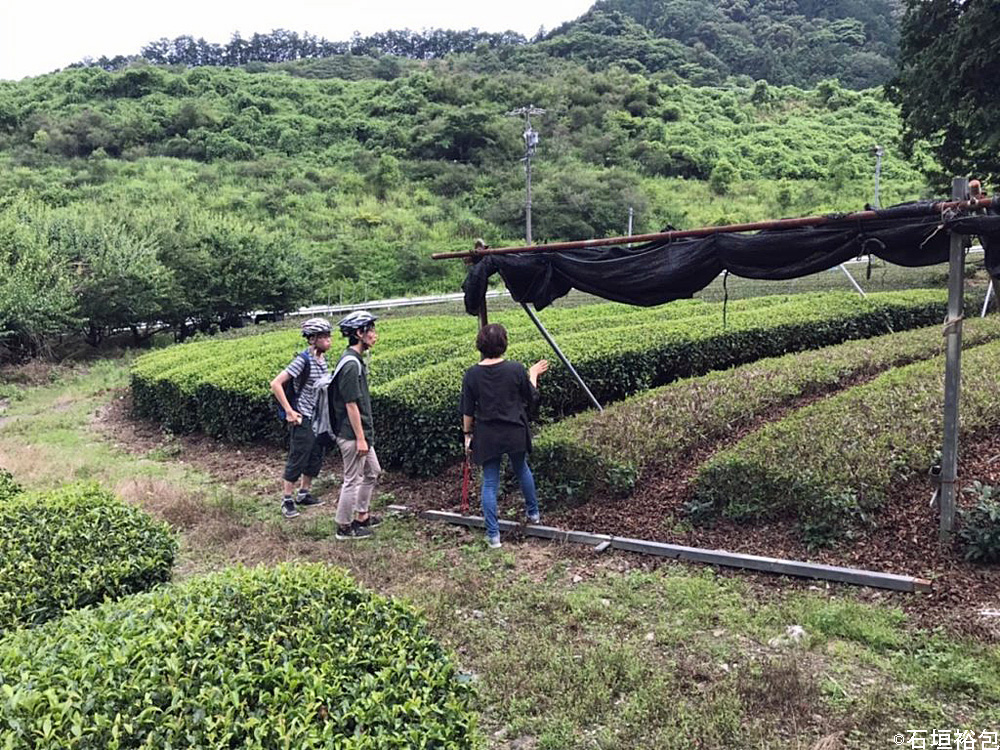 Finally, the tea garden tour ended with a photo shoot in the tea garden. Taking pictures while surrounded by tea. The rich aroma of tea made us feel happy.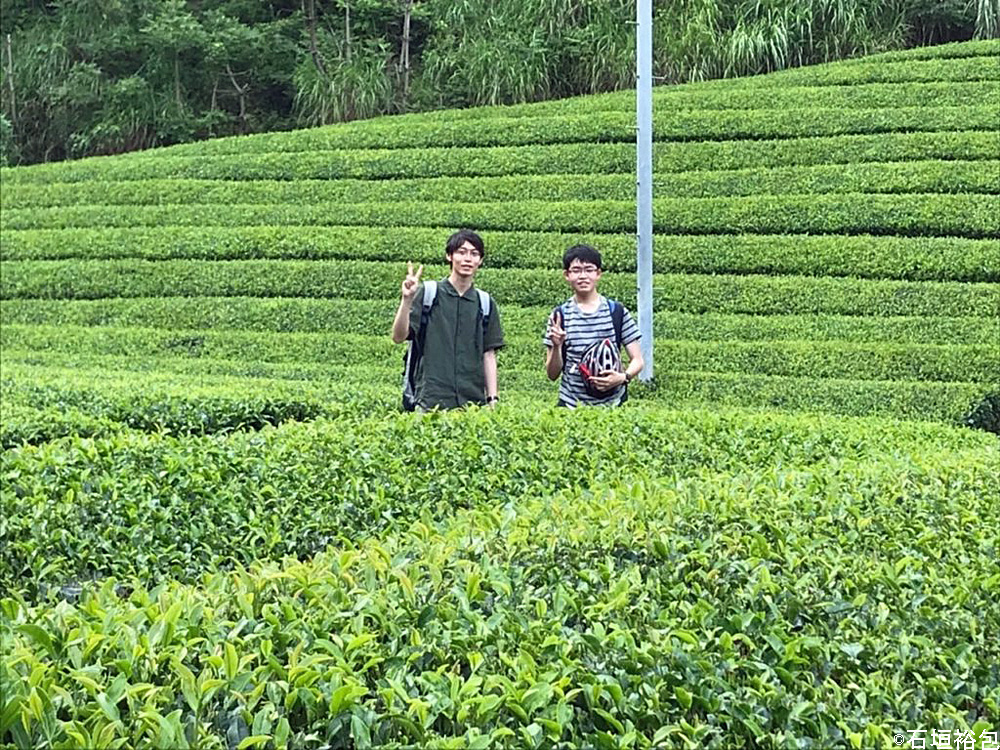 Tea drinking experience at a farmer's cafe
After the tea garden tour, we moved on to a cafe directly managed by Mr. Moriuchi. The cafe has a nice, calm atmosphere, like a hideout.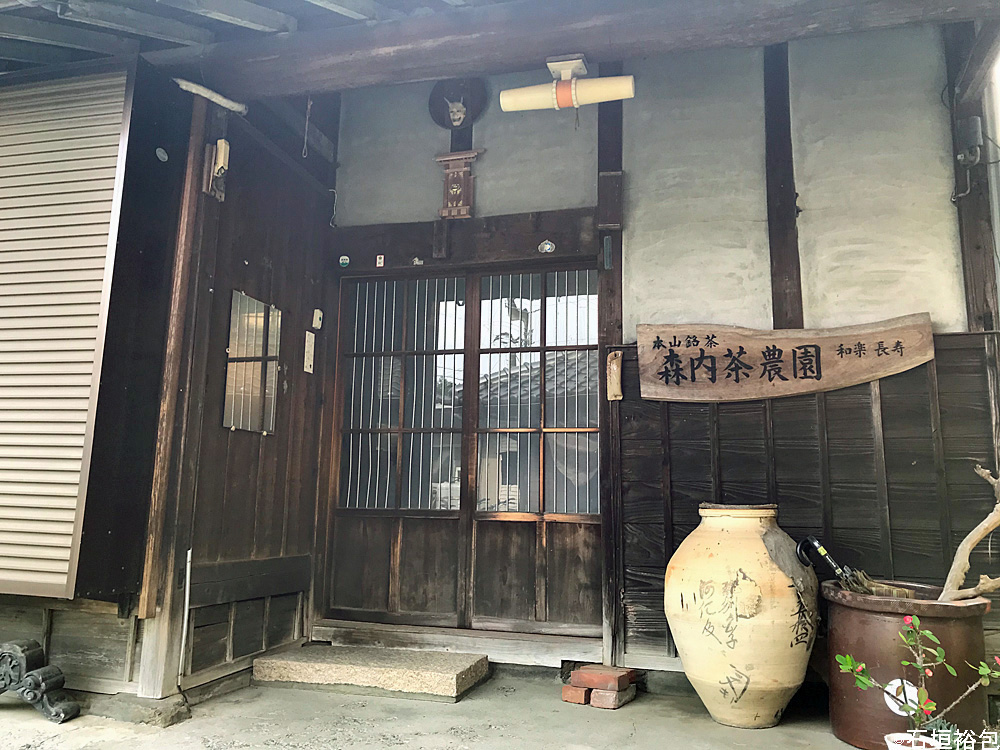 When you enter the cafe, it is cool enough to make you forget the heat outside. There was an incense burner near the entrance, and tea was burning. The rich aroma of tea wafted in the air and gently soothed my fatigue.
After taking a seat and taking a breath, I had a cup of cold tea. It was a tea and mint soda, not too strongly carbonated, and very soothing. The freshly brewed cold tea was exceptional.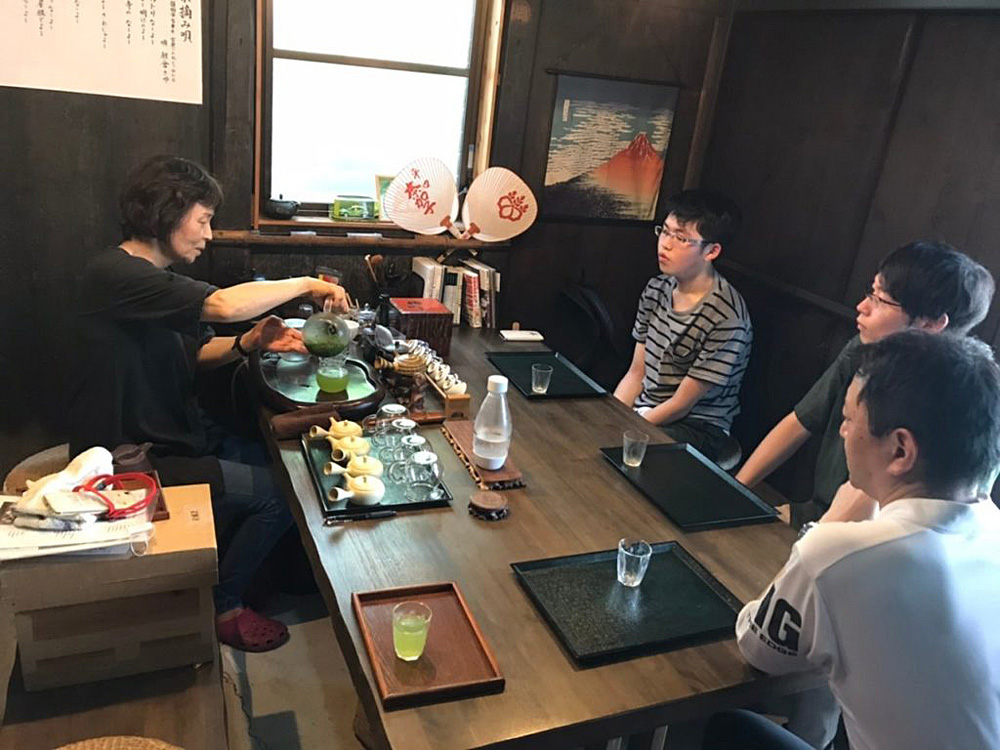 Next, we were served a tea leaf that had won a prize at a tea show. We slowly sipped this tea with ice. Each tea leaf was beautifully shaped and had a rich flavor.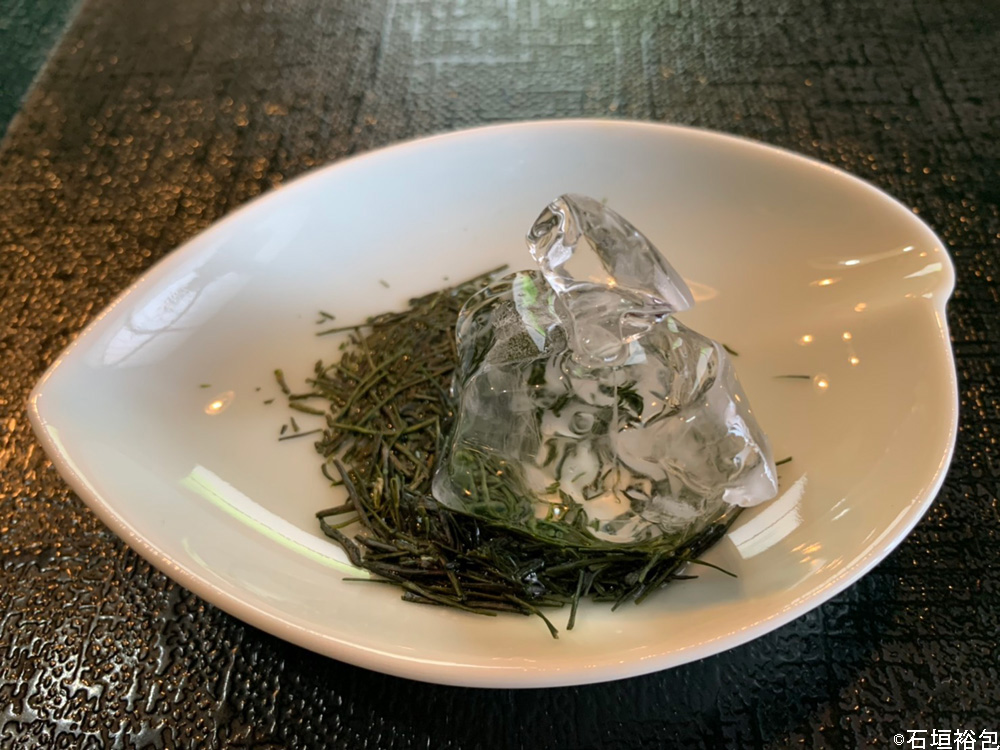 After the iced tea leaves were served, the main part of the tea tasting began. There were three courses available.
1. A course of Japanese teas such as genmaicha (brown rice tea) and hojicha (roasted tea)
2. A course of green, oolong, black, and other teas with different degrees of fermentation.
3. a course to compare different varieties of green teas.
I chose course 3 this time, even though I had a hard time deciding! The course also allows you to choose four varieties of tea that you would like to drink. However, as mentioned above, Mr. Moriuchi produces many varieties of tea, so I was very confused about what to drink here as well.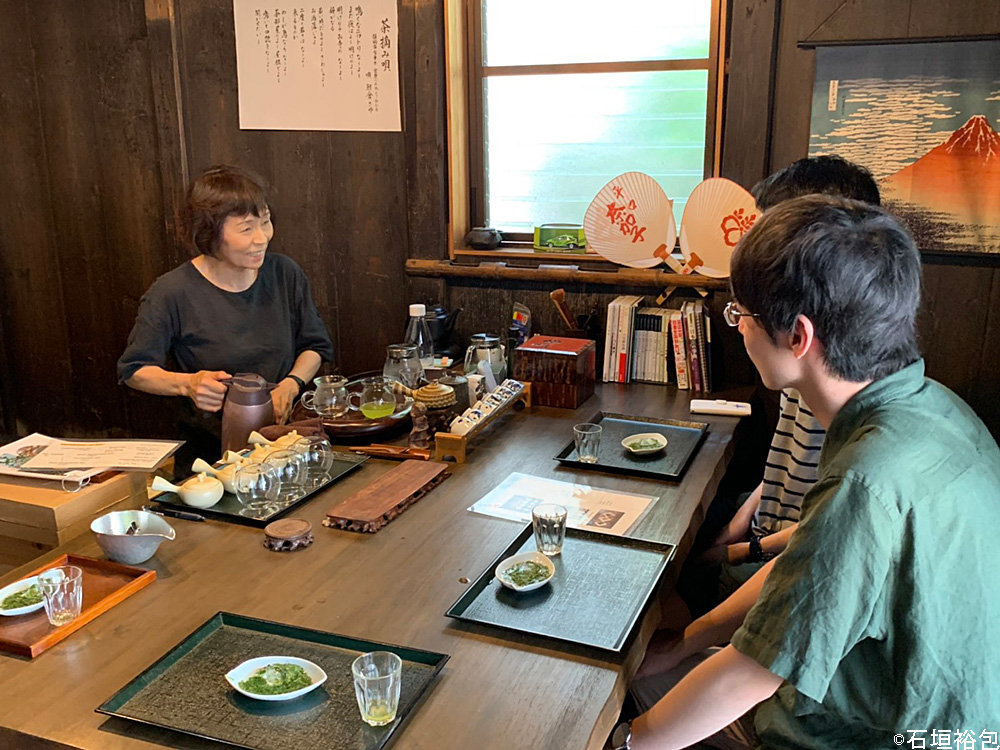 After much agonizing, I decided on Inaguchi, which I had never tried before, Yumesuruga, the popular Koushun, and HARU-SORA, which Mr. Moriuchi makes himself!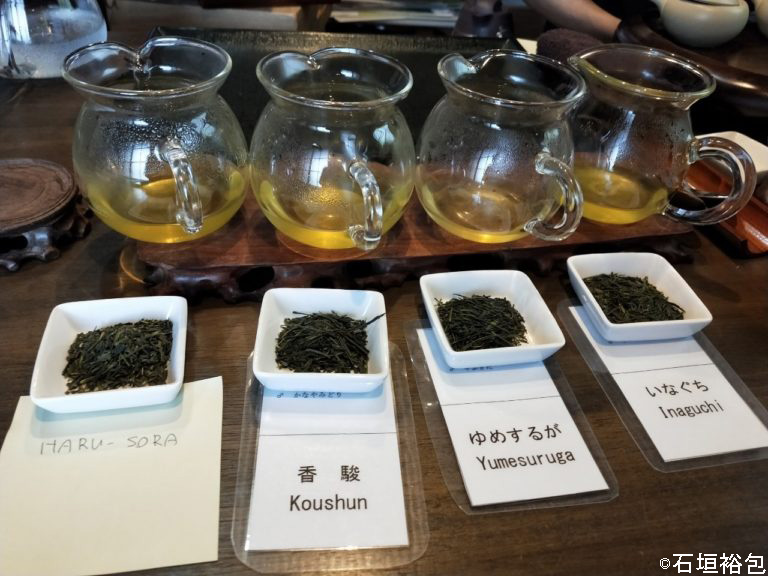 ▲When the four are laid out side by side, you can see that they are completely different, even in color.
When we compared them, we were surprised at the difference in taste. First, Inaguchi had a strong astringent taste and seemed to go well with something sweet, like a green tea. Secondly, Yumesuruga, on the contrary to Inaguchi, tasted less astringent and more sweet, like a modern tea for young people.
Kouhun had a strong and eccentric aroma. According to my friend who went with me, it was an interesting tea with "a grassy aroma that blew through my nose. HARU-SORA tasted more like a fermented tea such as oolong than a green tea, and was soft and easy to drink. It was a perfect match with the yokan (bean jelly) tea sweets.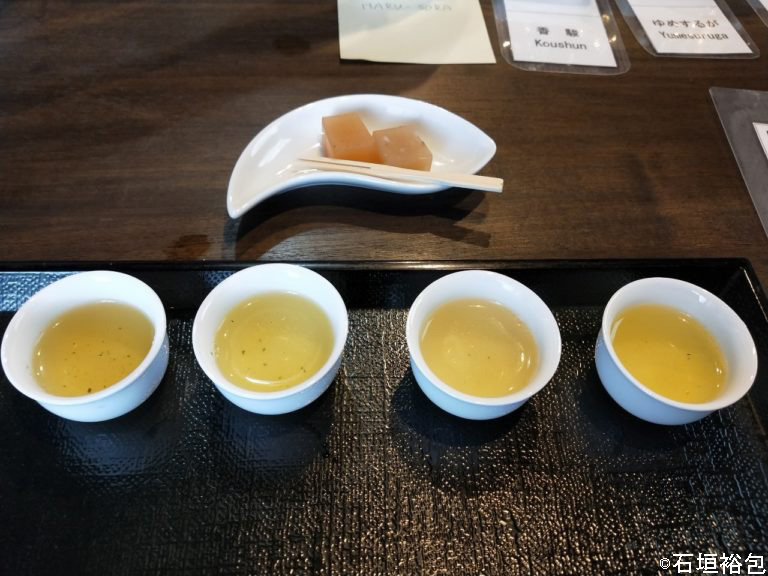 When the tea was gone, it was time to start on the final dish. We poured tea seed oil and salt from Suruga Bay over the tea husks from the tea we had just drank. The combination of the tea's original flavor and saltiness was delicious. This was the end of the tea drinking experience.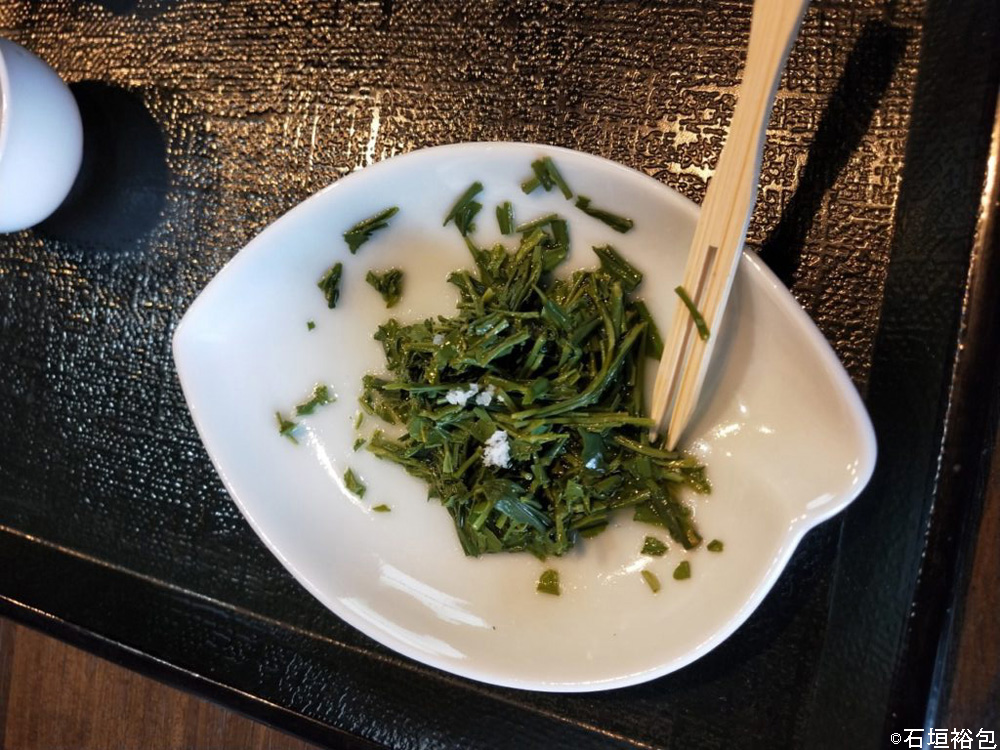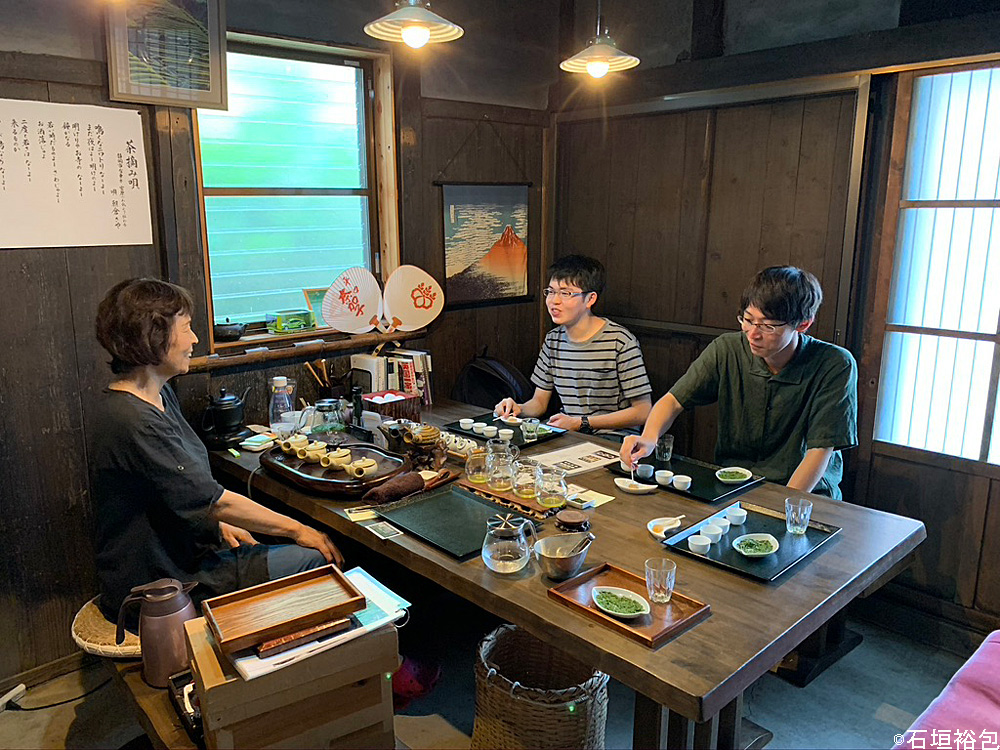 After spending two hours enjoying the experience and thanking Mr. Moriuchi for his hospitality, we finally departed from the cafe for home!
On the way back, we took a different road than the one we took on the way there to Sengen Shrine.
On the way back, the heat had eased up a bit and it was just right for cycling. After about 40 minutes of biking with a slightly cool breeze, we arrived at Shizuoka Sengen Shrine. On the way back, it seemed we would stop at either Nanaya or Sengen Shrine, and since we had never visited Sengen Shrine, we decided to go there this time.
Sengen Shrine is a shrine consisting of seven shrines and is quite famous among the locals. We toured the shrines while listening to Mr. Ishigaki's talk. I should visit all seven shrines when visiting a place like this, but I gave up on the shrine at the end of a long flight of stairs. We took pictures from the spot marked as a "photo spot." It seems that anyone can take a great picture here.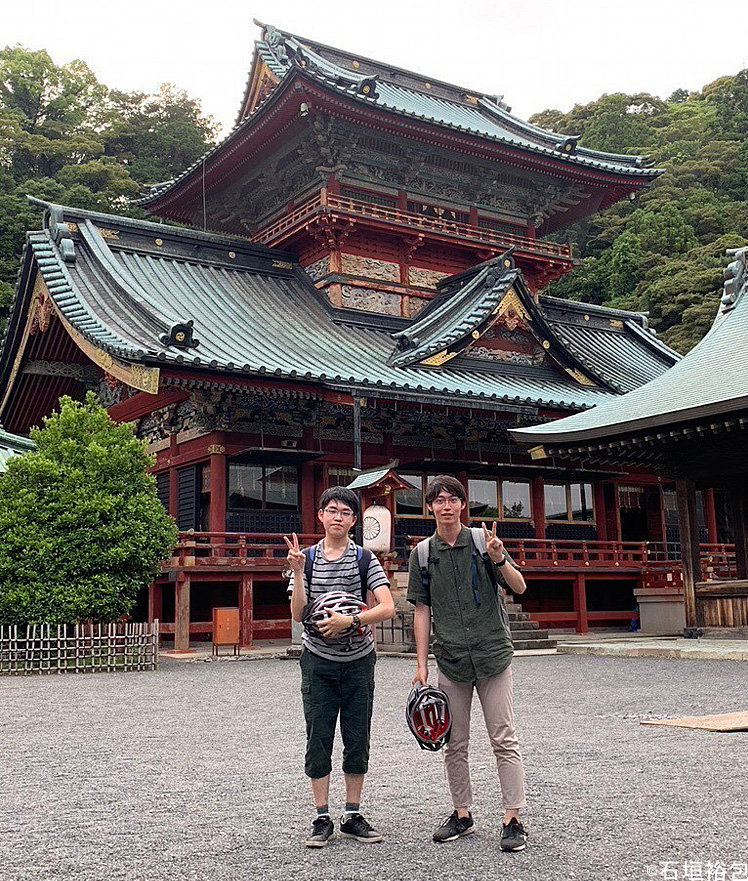 After walking around the shrine, we set out again. On the way, we stopped at a store recommended by Ishigaki-san on Sengen street Avenue to buy some souvenirs. We then passed through Sunpu Castle Park and through the city of Shizuoka before finally arriving at our final destination! After about four hours, our cycling tour was over!
What did you think of the Shizuoka Tea Cycling Tour?
It was my first time to participate in a cycling tour and I was a bit nervous, but Mr. Ishigaki gave us detailed explanations and rode at our pace, so it was a very comfortable trip. It was an enjoyable tour for tea beginners and connoisseurs alike, and I would recommend it to anyone who wants to experience tea culture in Shizuoka.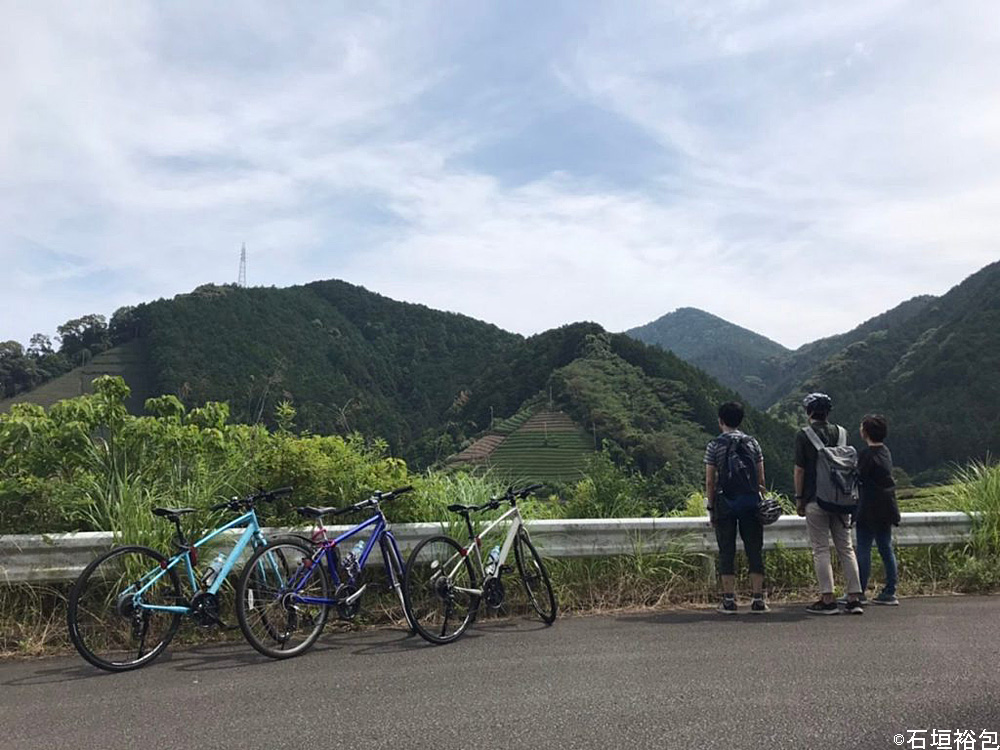 Information Of Local Travel Partners
Address
2-1-10-3F, Oguro, Suruga,Shizuoka City, Shizuoka Prefecture, 422-8072, Japan
Website

https://www.localtravelpartners.com/

Phone number
054-260-4890
E-money and credit cards: Available
QR code payment
Available
Open
9:00 – 18:00
Closed
 Sundays and holidays
Parking lot
Available
Access
5 minutes drive from JR Shizuoka Station
| | |
| --- | --- |
| Writer | Norikazu Iwamoto |
| Career | Ochatimes chief editer.Meeting with Vice Governor of Shizuoka prefecture. Judge of Fuji country 100 tea's award in 2021,2022.Ocha Times link introduced at website of World O-CHA(Tea) Festival 2022, Tea Science Center and Ministry of Agriculture, Forestry and Fisheries. |
| | |
| --- | --- |
| English translator | Calfo Joshua |
| Career | Born and raised in England, living in Japan since 2016. Studying arboriculture in Shizuoka Prefecture whilst operating his landscape business Calfo Forestry. Appreciating the nature of Japan and the culture that places such importance in it. |
Related articles