chagama – the gateway for promoting tea to the younger generation【Shizuoka City, Shizuoka Prefecture】

Go to Japanese page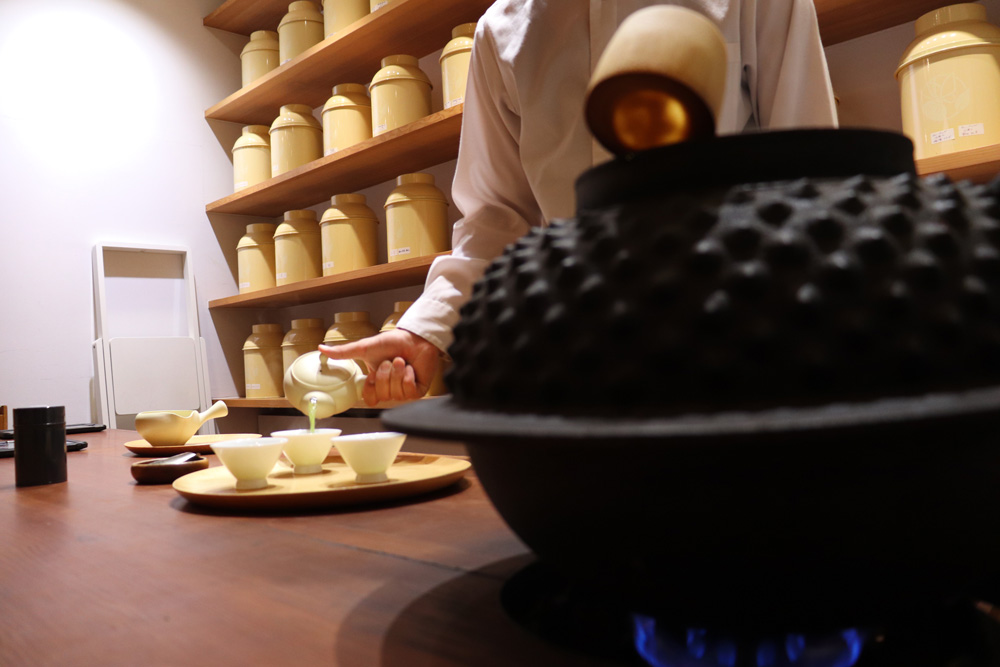 Located next to the north exit of Shin-Shizuoka Station, is an area called Takajo, a popular residential area with a relaxed atmosphere, close to the station but without the hustle and bustle. Enjoy a leisurely stroll, soaking up the atmosphere as you navigate the narrow streets dotted with unique stores. This time, we visited chagama, a Japanese tea store here. They offer more than 50 kinds of tea tasting and a high-quality café menu that only a specialist Japanese green tea store can provide, in order to make tea more fun and accessible.
In this article, we will explore the concept behind Chagama, the path on the way to opening the shop and an interview with the manager.
About Chagama
Chagama is a specialist Japanese green tea store located in Takajo, Shizuoka City. It is operated by Marumo Mori Co., Ltd. a long-established tea wholesaler established in 1877. Marumo Mori Co., Ltd. sells carefully crafted teas and tea utensils, as well as their cafe serving green tea, sweets and over 50 types of teas for tasting.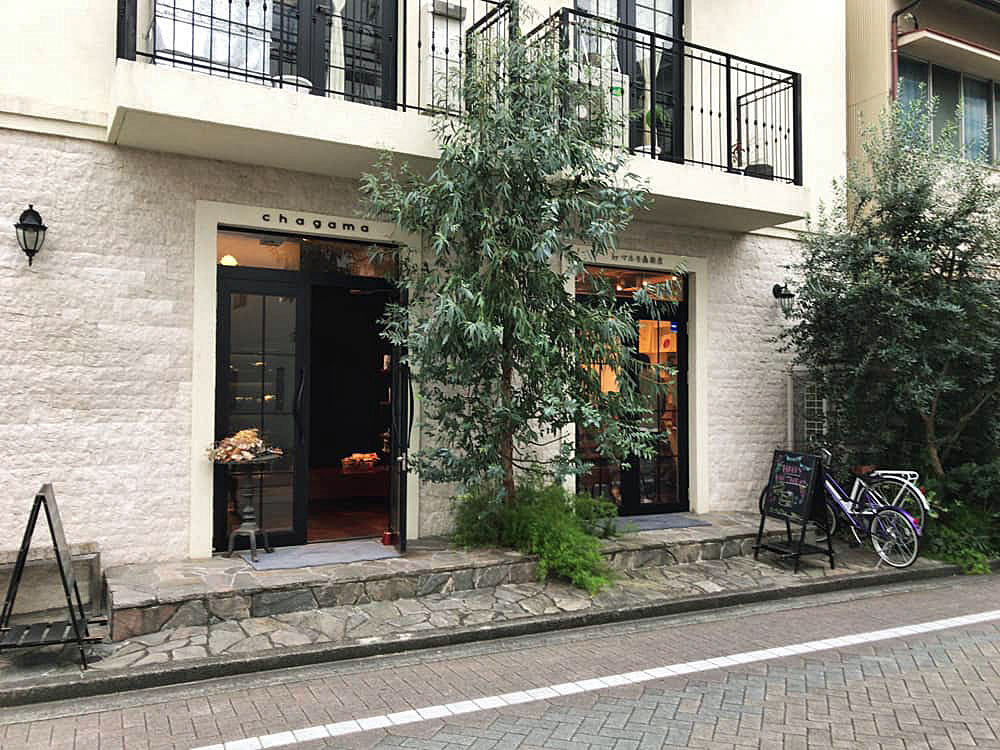 About Marumo Mori Co., Ltd. which operates chagama
Marumo Mori Co., Ltd. is a long-established tea wholesaler established in 1877. The job of a tea wholesaler is to take aracha (tea leaves used as raw materials before they are made into products for consumers) purchased from tea farmers and make them into delicious and refined teas for wholesale to retailers.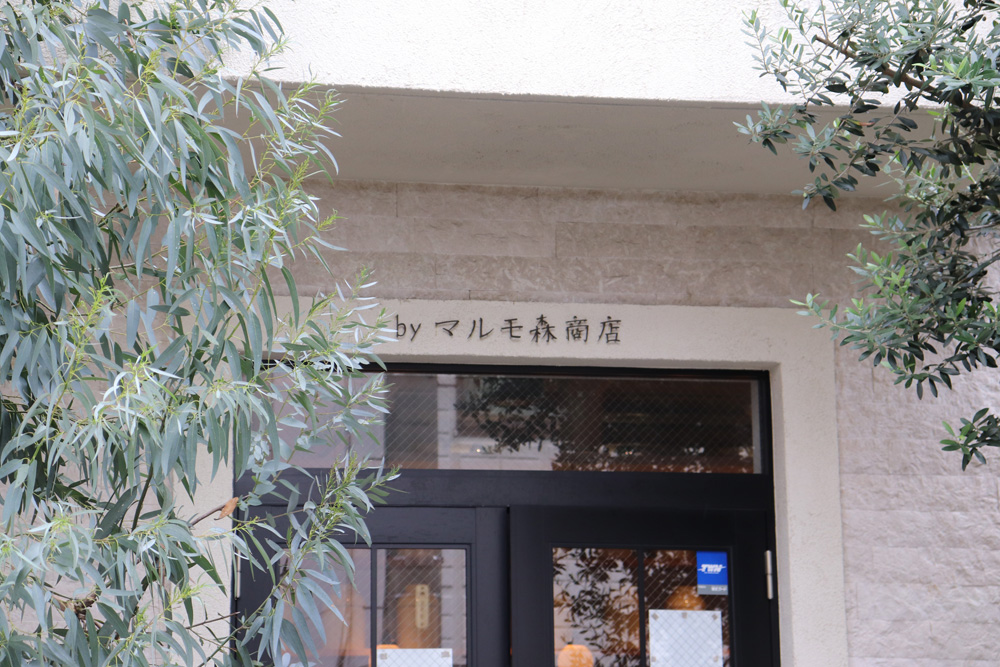 In the process of finishing tea, the key to its flavor is a process called "Gogumi," or blending, in which tea leaves from various regions are blended together.
The number of tea leaves required for the blending process varies from 7 to 8, or 14 to 15 different varieties, depending on the time and circumstances. The taste of the tea produced during the gougumi process is the face of the tea wholesaler, so generally only professional tea masters who have spent many years honing their craft are entrusted with this process.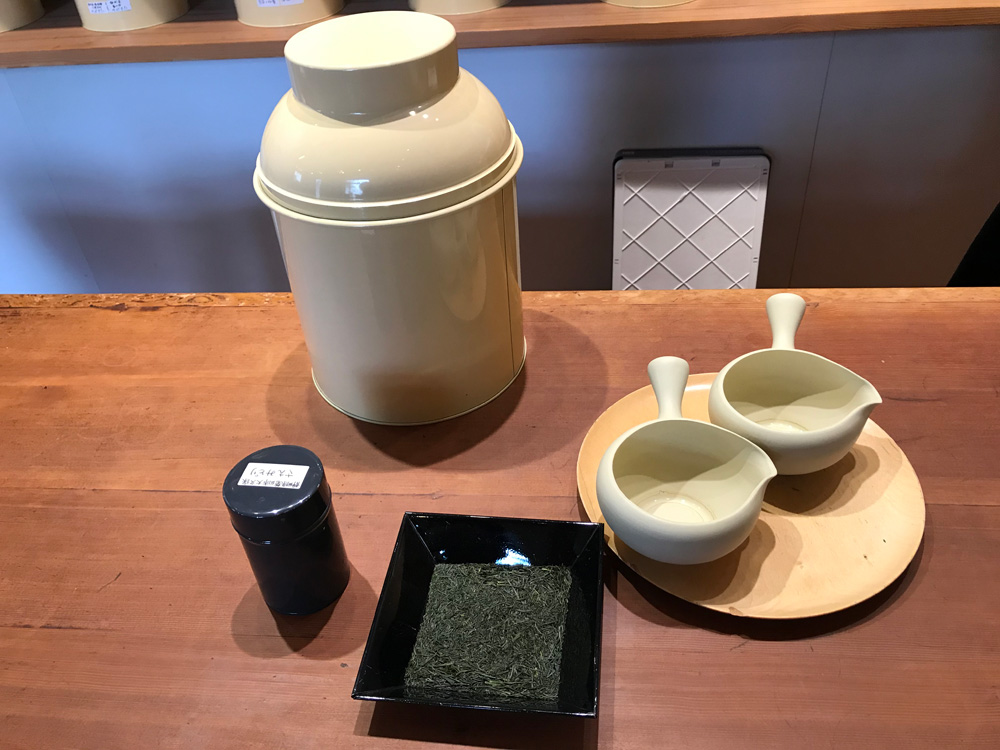 Marumo Mori Co. Ltd's gougumi blend is made by Nobuki Mori, a 9th level tea evaluator and one of only 30 certified Japanese tea conoisseurs in japan.
Marumo Mori Co., Ltd. aim for the absolute best taste, not just a good one. Each time they blend green tea, they try many different combinations to determine the best, and the final product is then delivered to their customers.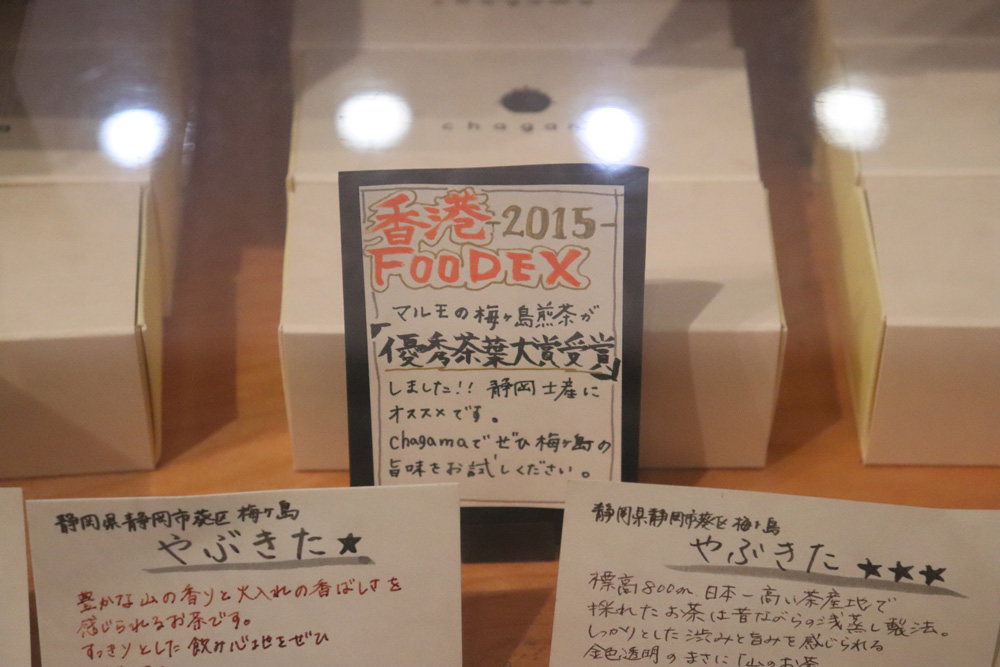 Green tea blended by wholesalers like Marumo Mori Co., Ltd. is called "Gogumicha" or "blended tea" because it has a rich flavor and aroma that cannot be obtained from a single variety.
On the other hand, green teas made with leaves harvested from a single plantation are called "single origin teas" (single variety teas full of the individuality of the producer).
Generally, most of the teas that reach consumers are blended teas.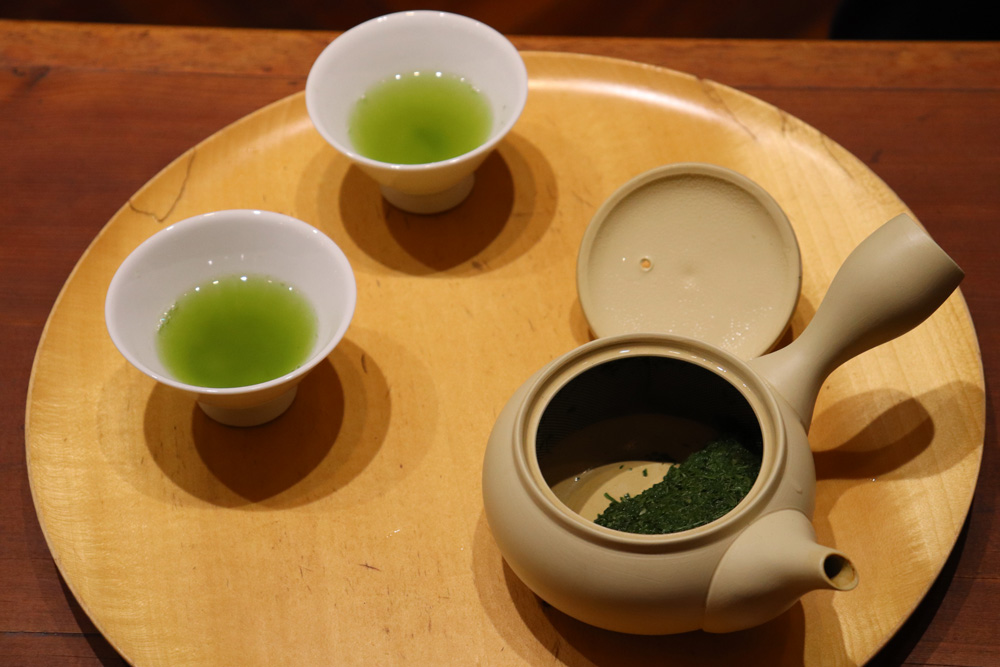 The smallest pack of loose leaf green tea available at chagama is 50 grams. The teas are displayed in lovely transparent film wrappings, giving you a peek inside.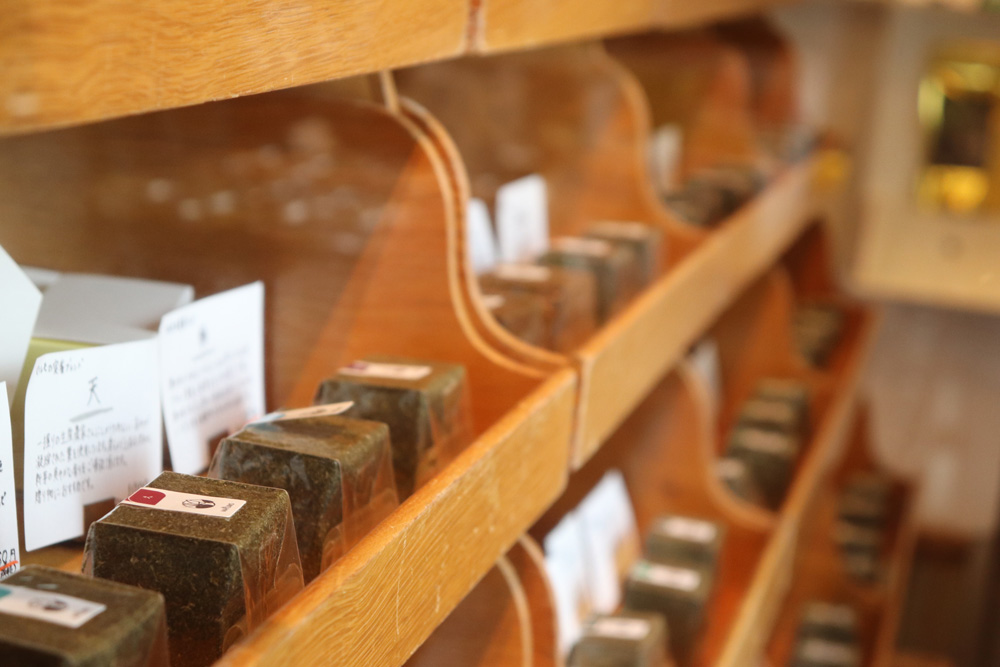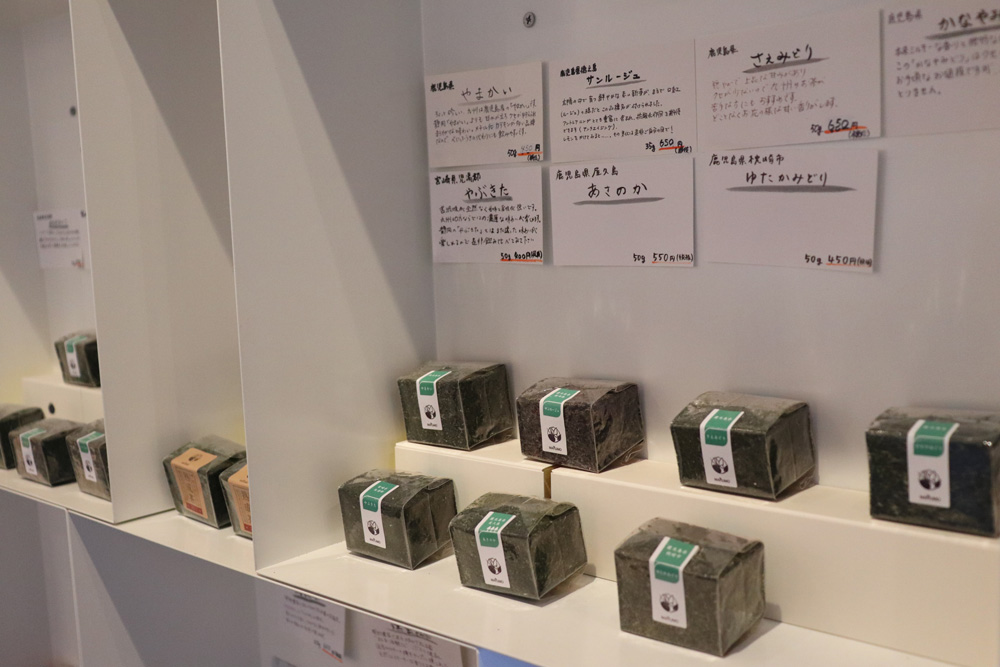 ▲ The transparent film package cuts out ultraviolet rays and will not damage tea leaves.
In addition, a variety of other tea-related products, such as tea utensils and tea cakes, are available for purchase.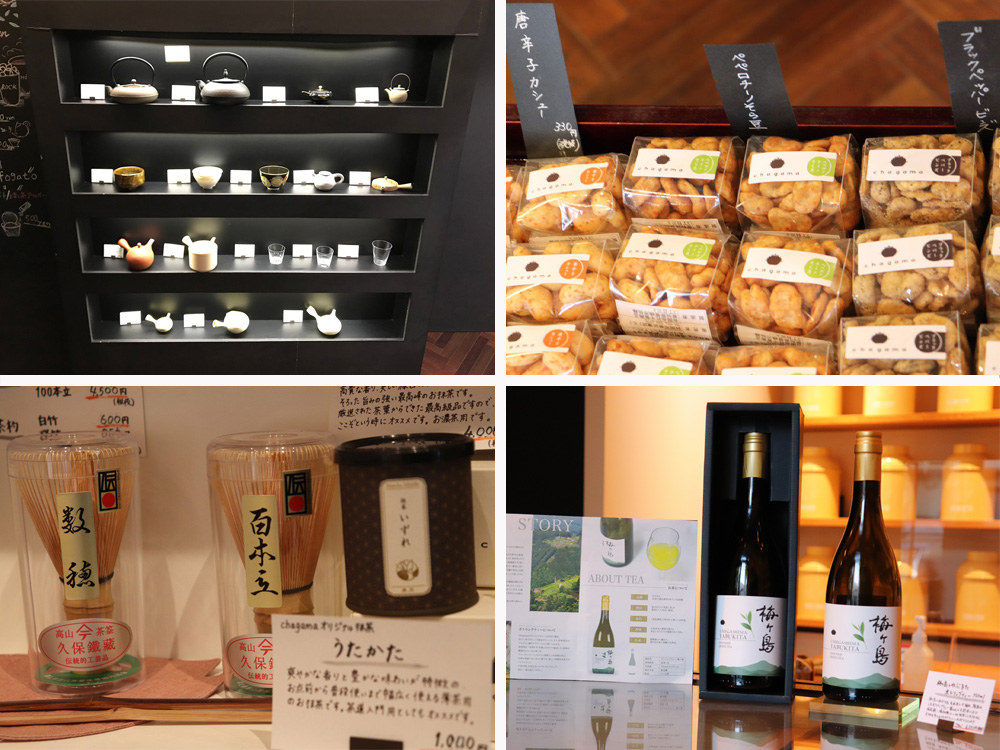 A spectacular tasting corner with a wall full of tea jars
As you enter the store, you will immediately notice the jars filling the entire wall. These jars all contain tea leaves. chagama always has more than 50 types of tea available. Visitors can sample all of them at the tasting experience corner.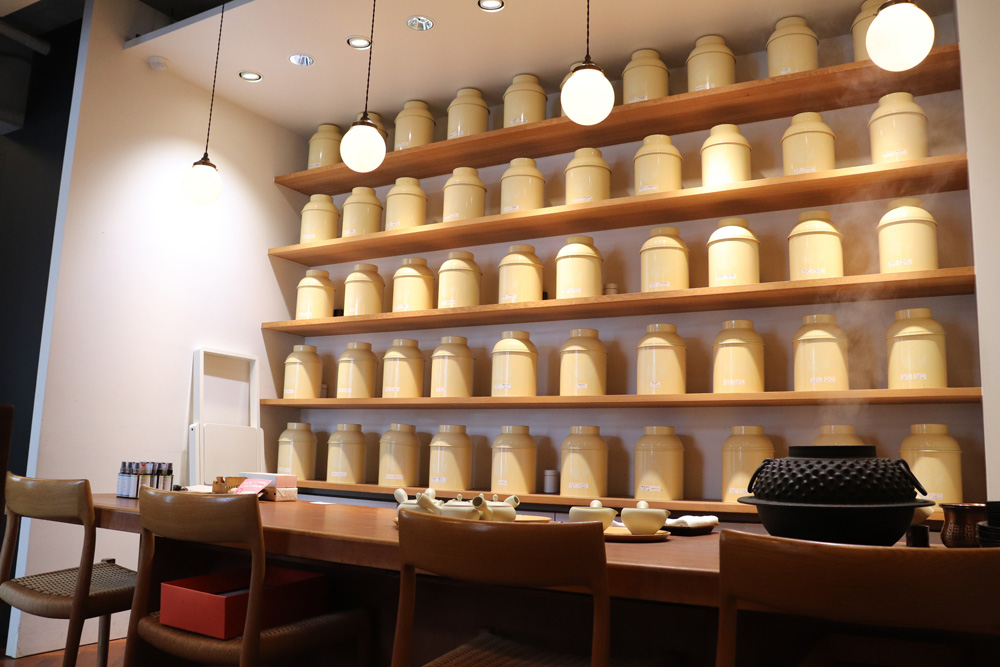 A relaxing sencha, aromatic hojicha(Roasted japanese green tea), gyokuro with a mellow flavor full of umami, Japanese black tea with a gorgeous aroma, and basil-flavored tea reminiscient of Italy, all of these teas will make you feel the depth of the world of tea culture.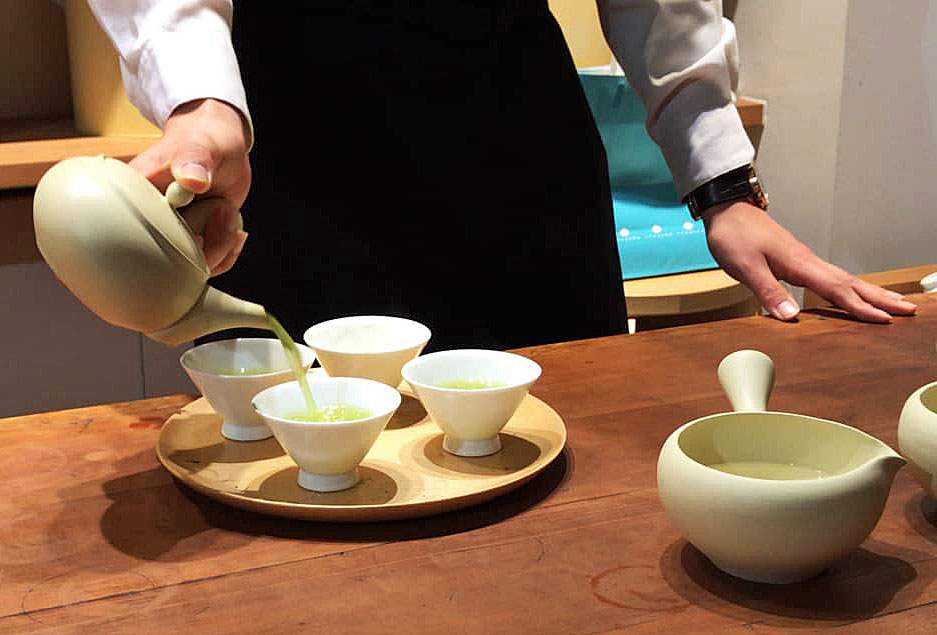 ▲When you ask staff for a tasting, they will carefully brew the tea in front of you using a kyusu(teapot).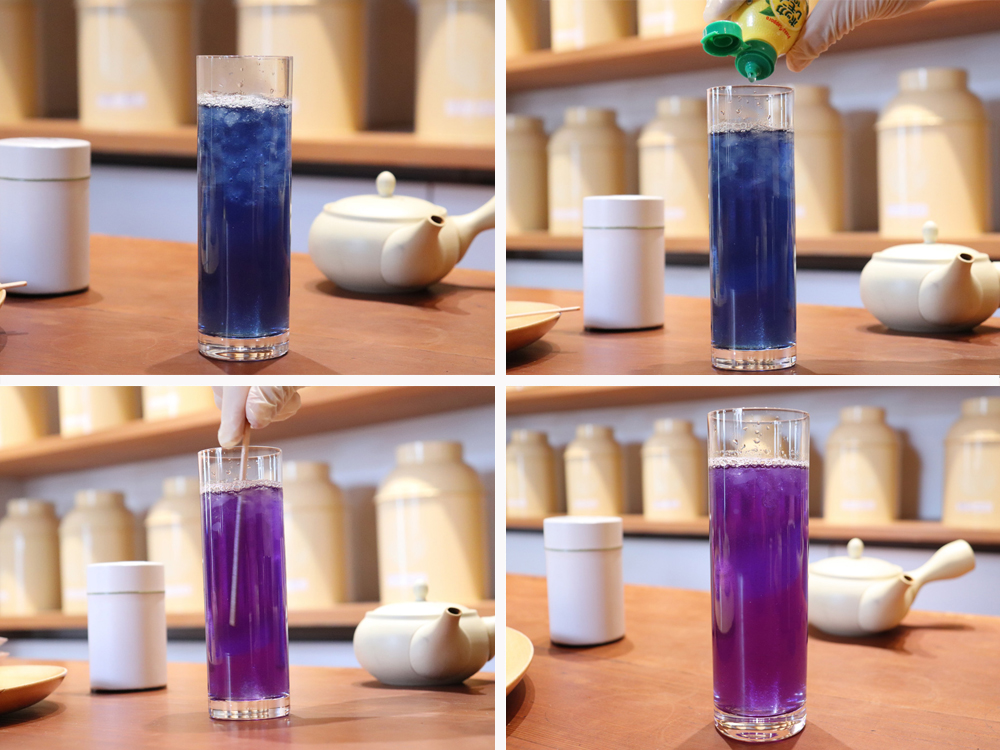 ▲The Elixir of Immortality tea (butterfly pea tea), which is also a favorite of the charismatic host Roland, changes color when lemon juice is added, creating a fun visual effect.
The water used to brew the tea is boiled in an iron pot. The iron in the pot adsorbs and removes impurities from the water, making the water soft to the palate. This adds yet another appealing dimension to the flavourful tea.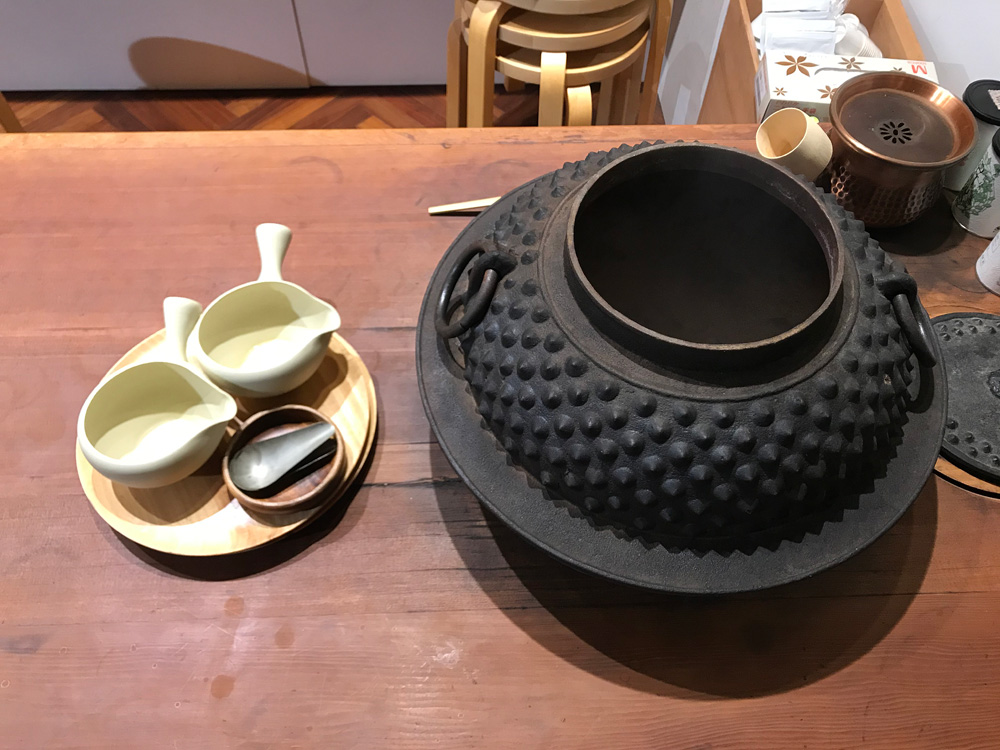 At chagama, you can enjoy a menu featuring high quality, authentic Japanese green tea. Here is a brief introduction of the cafe menu.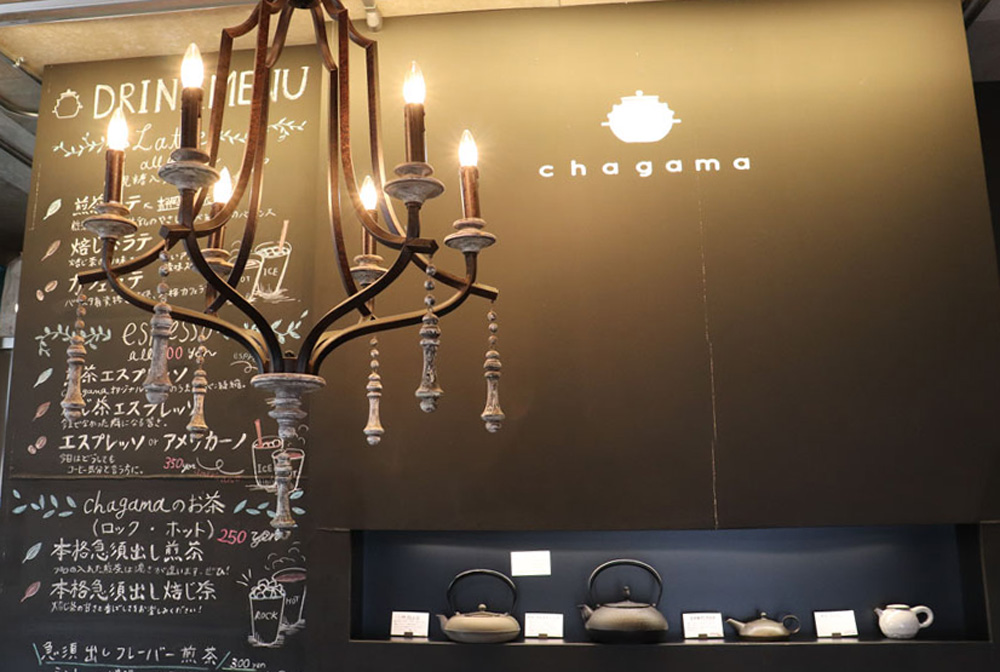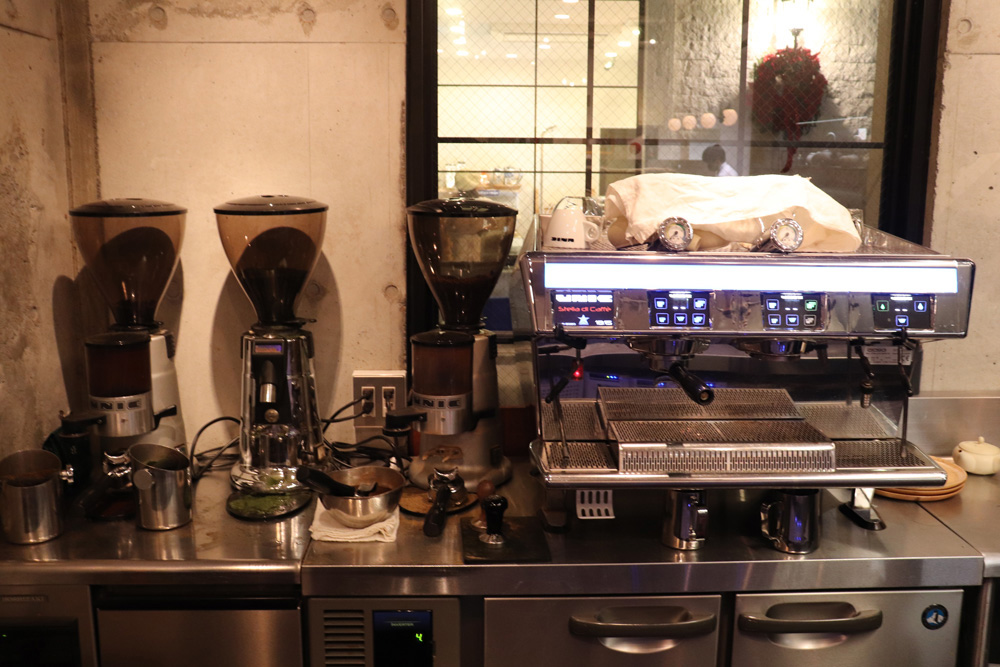 ▲Chagama's special espresso machine
From left to right: Sencha espresso brewed in an espresso machine, Sencha latte, and authentic kyusu brewed sencha.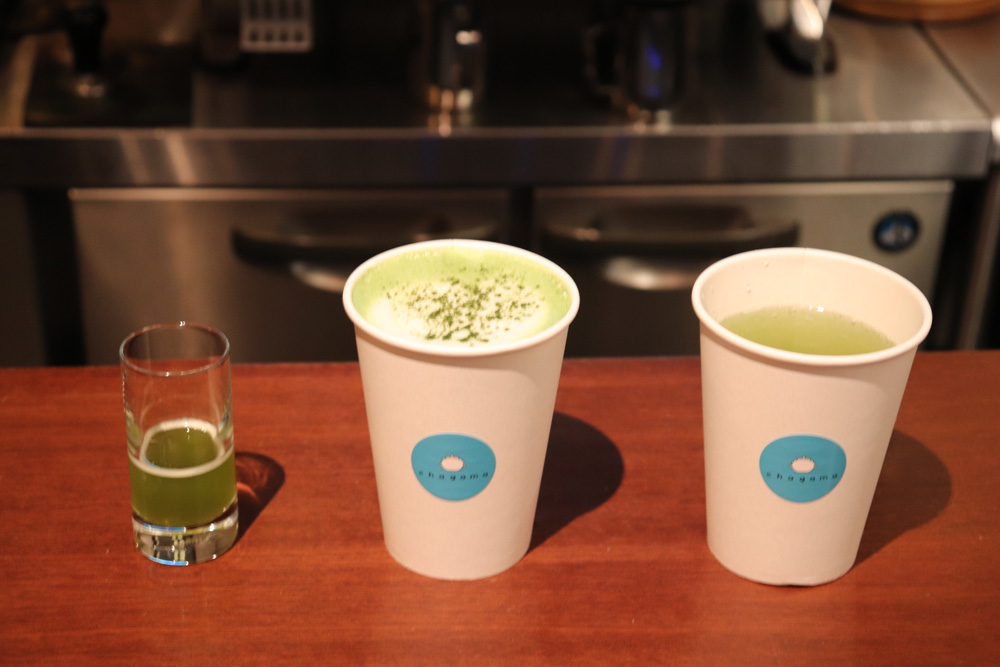 Spicy chai is delicious and warming, recommended in the cold winter months.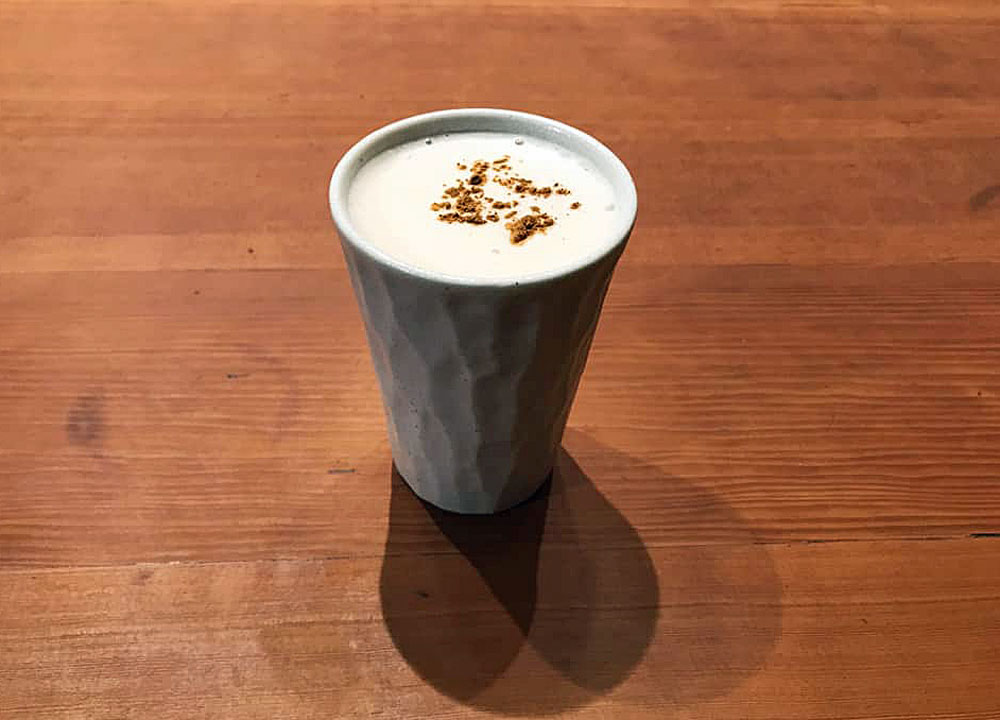 On weekend nights, the bar is open as chagama night
On weekend nights, chagama opens anew as BAR chagamanight (currently closed due to COVID-19), serving exotic cocktails in the perfect marriage of the tea specialist's authentic Japanese green tea and quality alcoholic beverages.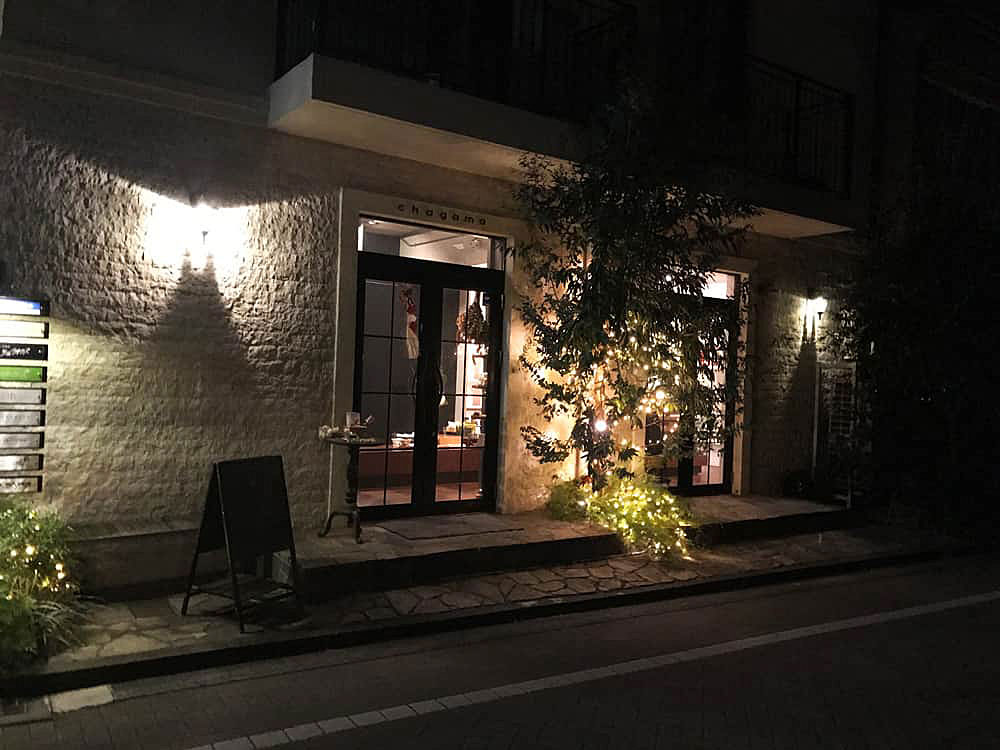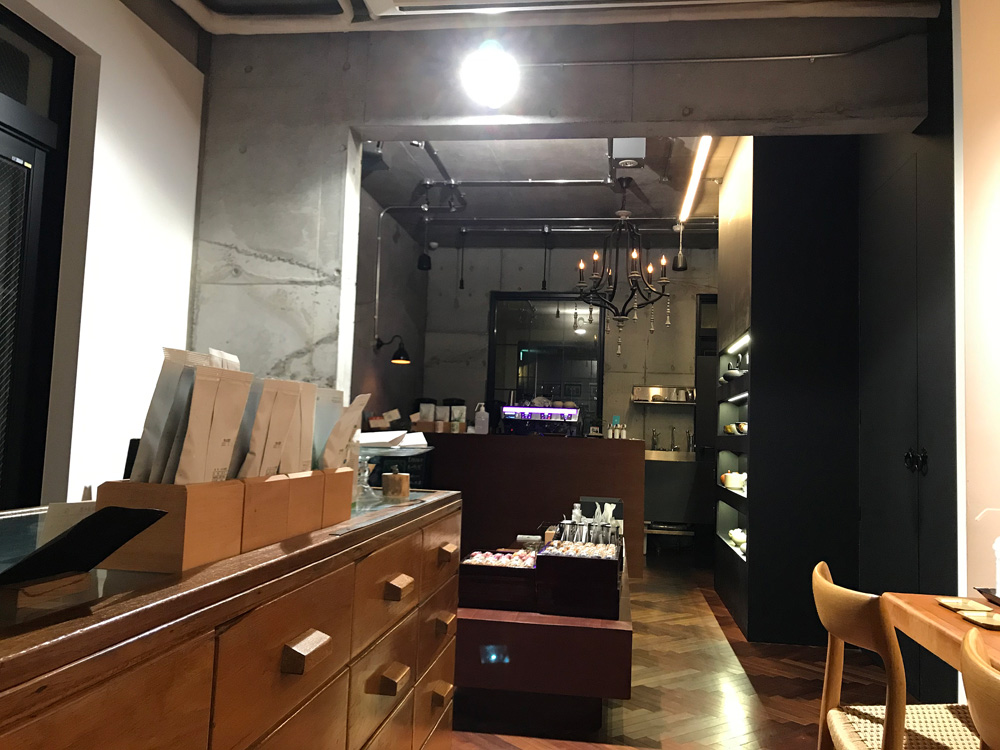 ▲At night, the atmosphere is completely different from that of the daytime.
Sencha mojito with the aroma of herbal aroma of green tea. Laphroaig whisky and smoked black tea. Soft drinks such as fukamushicha (deep steamed tea) and hojicha are also available.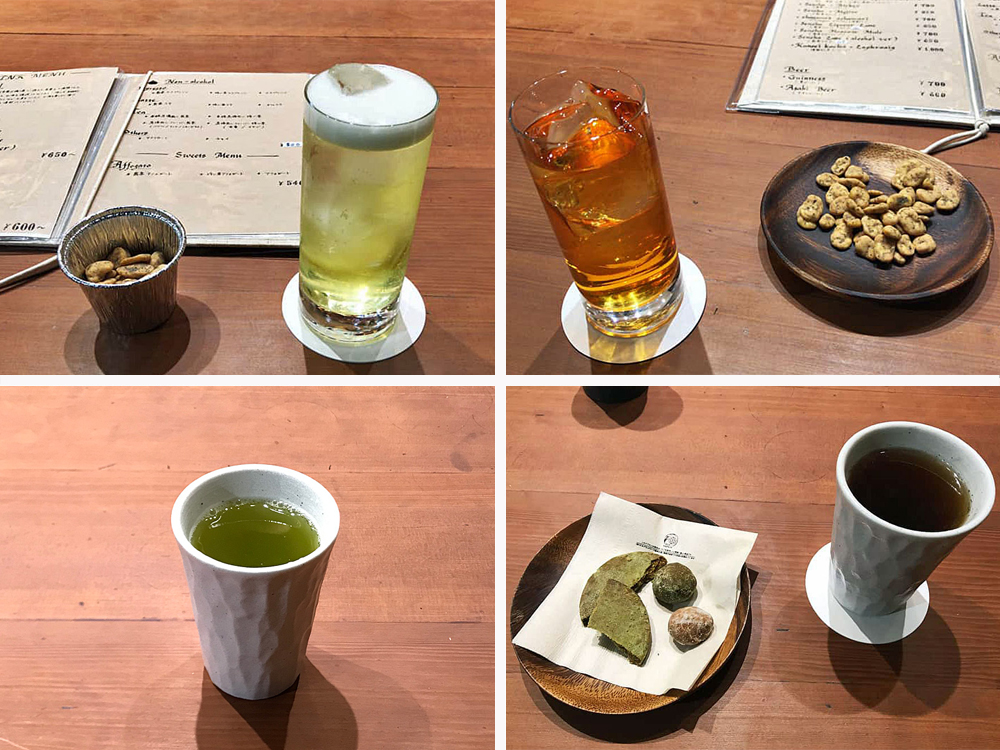 Interview: chagama is a place to explore new ways to spread the beauty of tea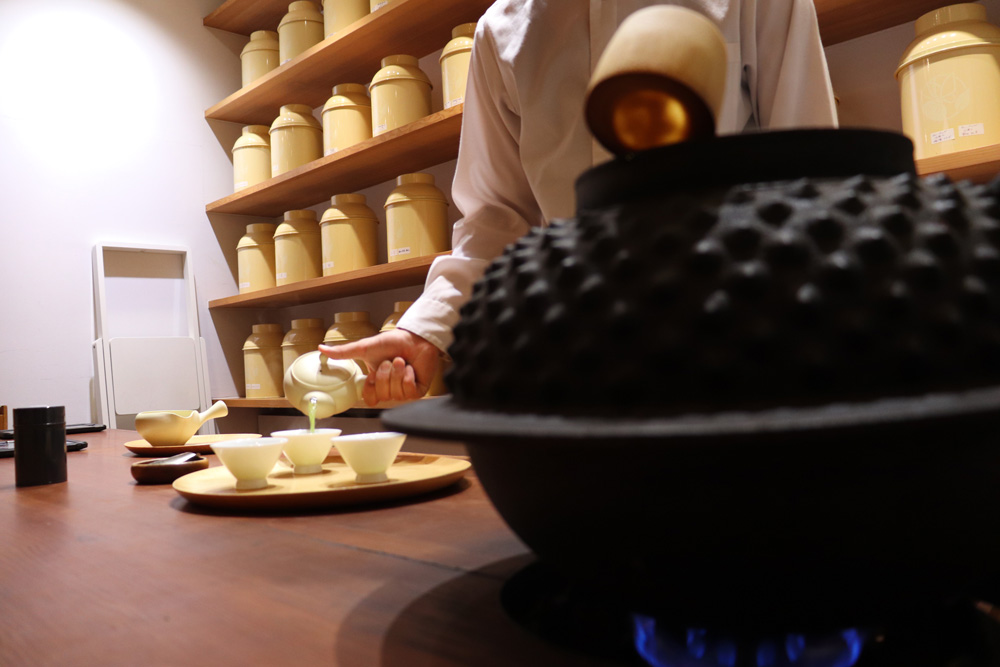 We interviewed the manager of chagama.
---
Why did Marumo Mori Co., Ltd. open chagama?
–Why did Marumo Mori Co., Ltd. open chagama?
Years ago, tea sold as much as it was made. Today, however, tea consumption is steadily declining year by year, and it is no longer possible to sell tea just by producing it.
Tea is not only good for your health, but it is also a wonderful luxury item that tastes great and goes well with food. How is such a wonderful thing really not selling anymore? How on earth can tea be sold?
At chagama, we want to promote green tea from a new angle that hasn't previously been available. Chagama is a specialist Japanese green tea store, a cafe and also a space to experiment with the medium of tea in new ways.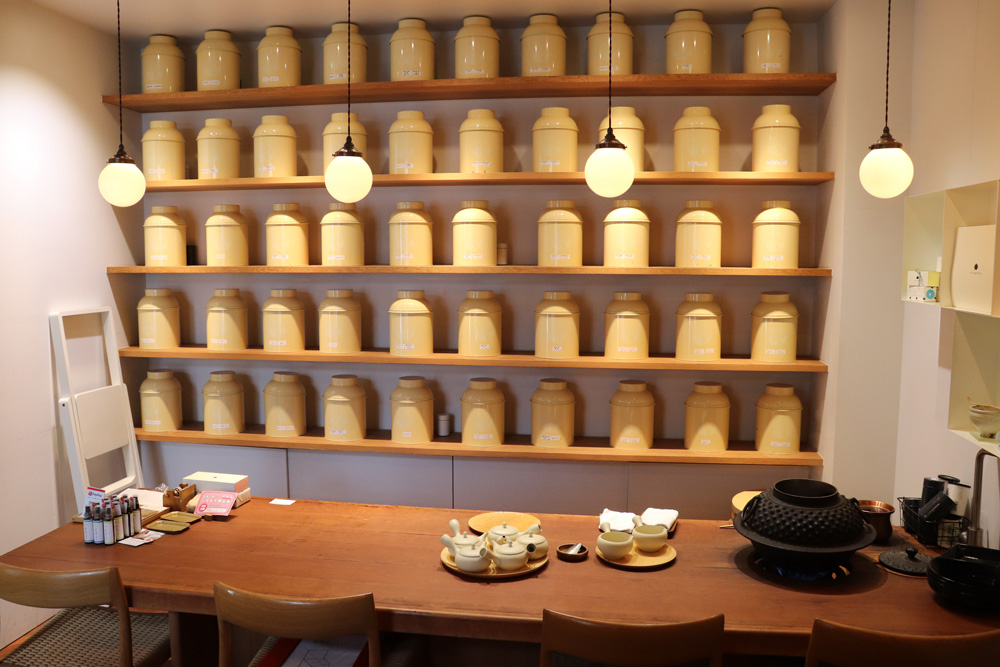 chagama's experiments in promoting tea
— What are some of the experiments that chagama is working on to promote tea?
For example, we have started offering tea packages in sizes as small as 50 grams. In addition to the usual packaging, we have also prepared packaging with a special UV protected transparent film.
In this way, customers can enjoy using the color and shape of the tea leaves as criteria for selecting products. The size of the tea leaves is also reasonable, and we hope that this is a more accessible way of delivering tea than in the past.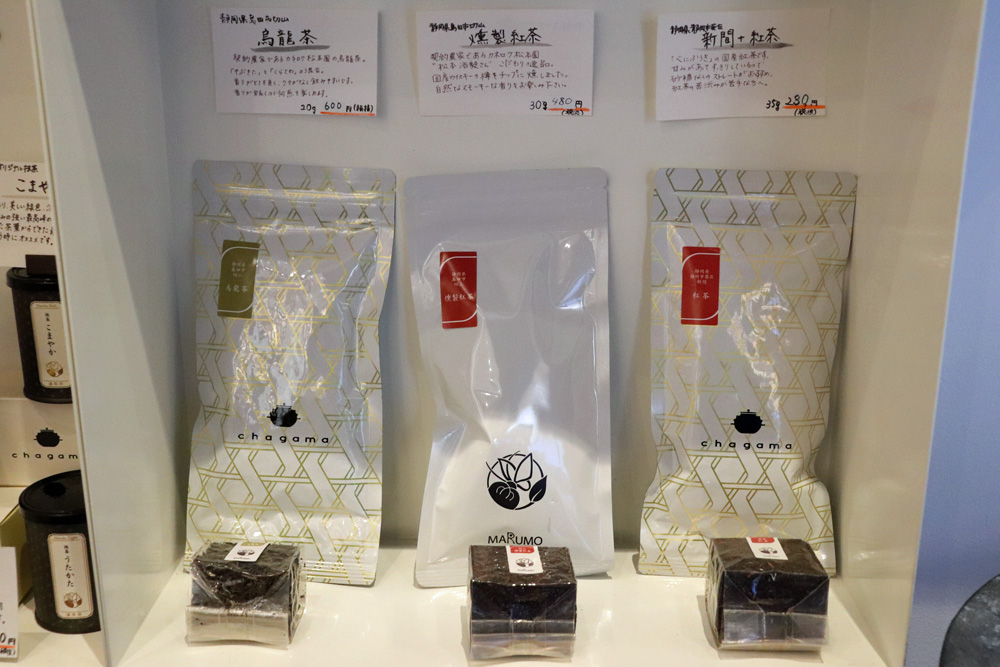 At chagama, we sell brightly colored teapots(kyusu) in the hope that younger customers will be attracted to this aesthetic. This has been very well received, and young people buy them for themselves or as gifts.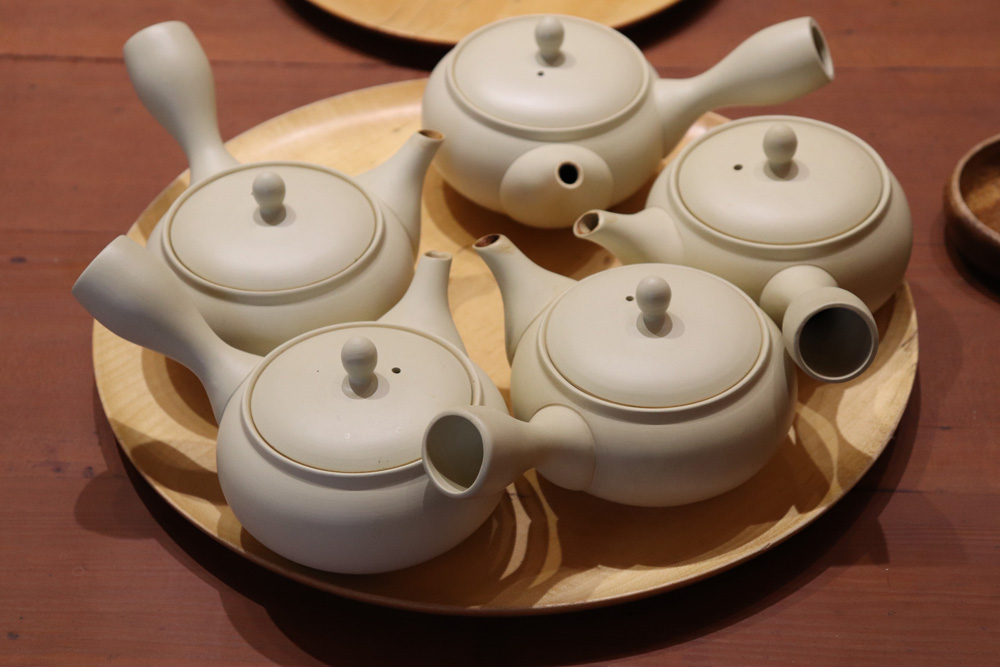 The lighting in the store is also designed to match the tea. We adjust the lighting according to the time of day and the weather.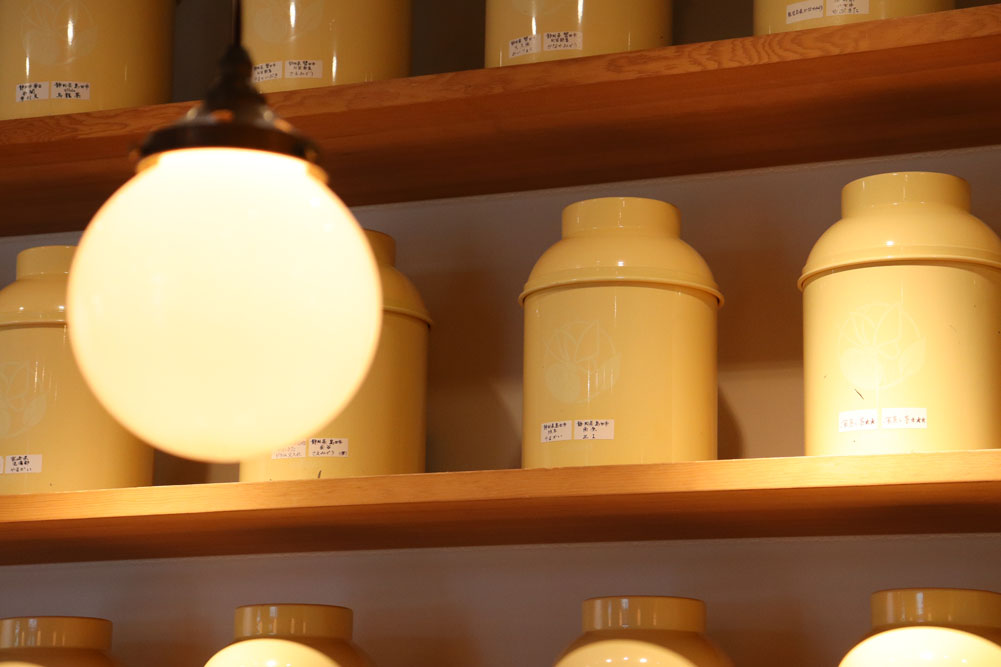 At chagama, we do not have clocks or thermometers. We choose to do this because we want our customers to be free from the restrictions of brewing temperatures and brewing times, and allow them to enjoy their tea freely.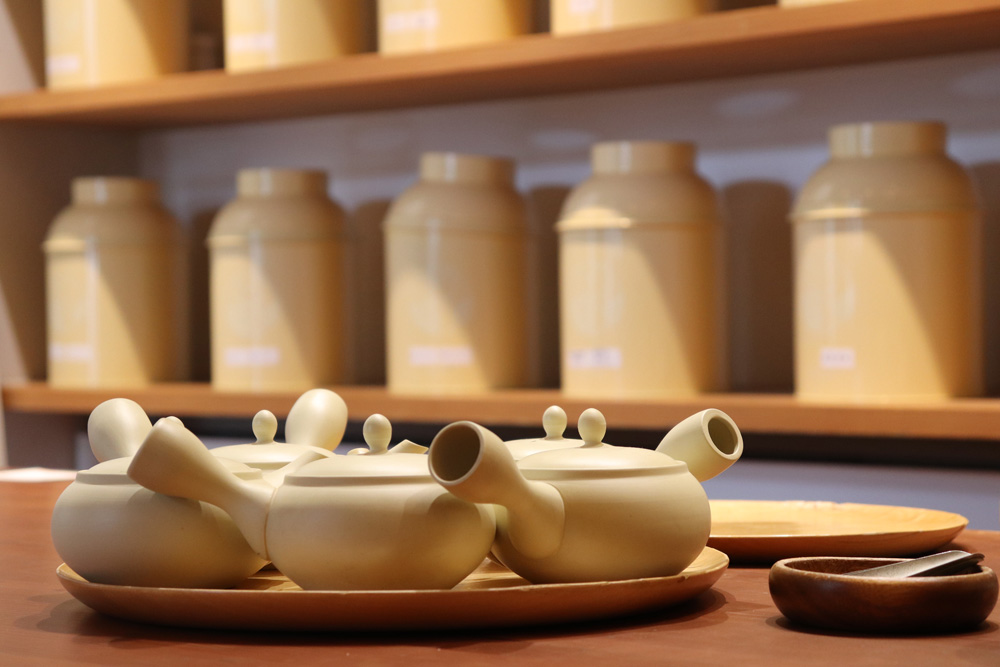 We continue to boil water in the iron kiln with the spirit of hospitality.
–The iron kiln that boils the water is very old isn't it. It has a wonderful patina!
This is a Nambu Ironware iron kiln made by a company called Oitomi, in Iwate, Japan. It took us more than half a year to remove the rust and restore it to usable condition.
The water boiled in this iron kiln is very mild and soft on the palate, which serves to enhance the flavor of the tea.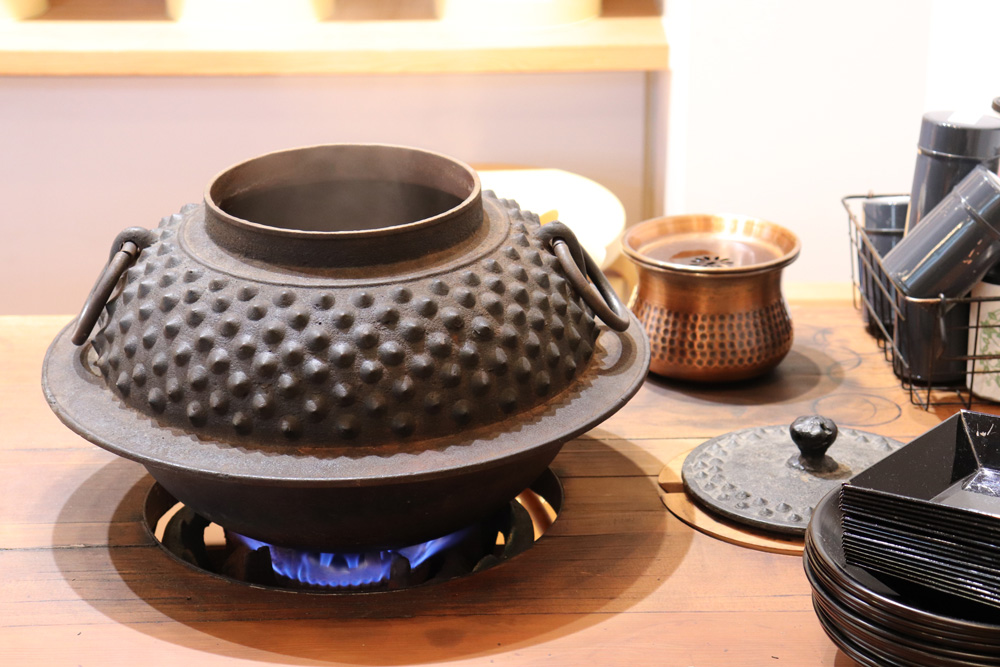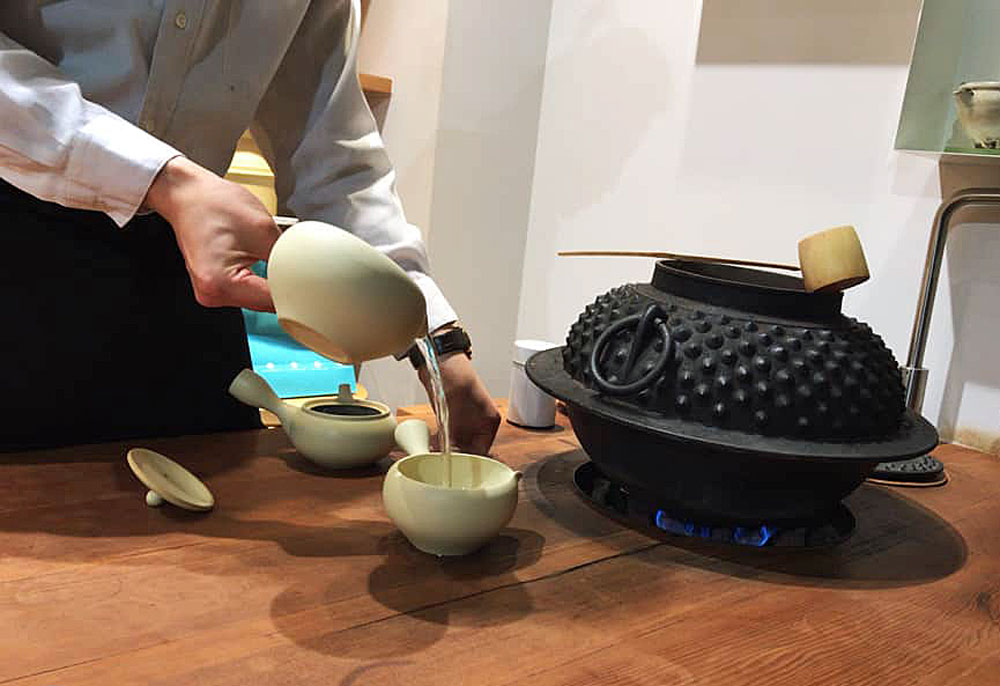 In the north eastern part of Japan, it is customary to keep hot water constantly boiling. This is said to be a hospitable gesture to ensure that no matter when guests arrive, they can be immediately entertained. In keeping with this custom, chagama keeps the water constantly boiling during business hours.
These days teahouses have an image of being difficult to enter. We want this image to disappear, and we want tea to be an integral part of people's lives.
Our wish is for chagama to be a gateway to tea for many people. Please feel free to come in. Whenever you come, we will be happy to serve you with our delicious tea!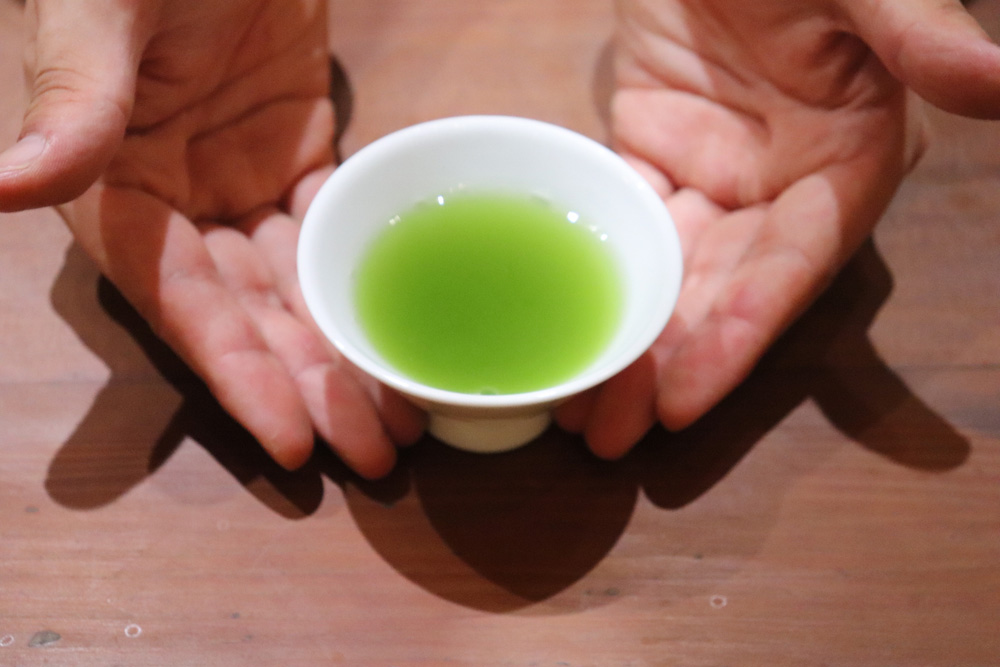 About

Chagama/

How to Purchase
Address
2-11-9, Takajo, Aoi ku, Shizuoka City, Shizuoka Prefecture, 420-0823, Japan
Website
https://www.ochanet.com/chagama/
Phone number
+81 54-260-4775
E-money and credit cards
Available
Open

10:00 to 19:00

For chagamanight, 20:00 to 24:00

For more details, check chagama's Facebook or call them.

Closed
Mondays
Parking lot
Not available
Access
10-minute walk from Shin-shizuoka Station
| | |
| --- | --- |
| Writer | Norikazu Iwamoto |
| Career | Ochatimes chief editer.Meeting with Vice Governor of Shizuoka prefecture.Judge of Fuji country 100 tea's award in 2021.Ocha Times link introduced at website of World O-CHA(Tea) Festival 2022. |
| | |
| --- | --- |
| English translator | Calfo Joshua |
| Career | Born and raised in England, living in Japan since 2016. Studying arboriculture in Shizuoka Prefecture whilst operating his landscape business Calfo Forestry. Appreciating the nature of Japan and the culture that places such importance in it. |
Related articles