Nihoncha Kimikura's brand of Japanese green tea expresses the pure delight in tea【Kakegawa City, Shizuoka Prefecture】

Go to Japanese page
Kakegawa City in Shizuoka Prefecture is one of the most famous tea growing areas in Shizuoka Prefecture, the reason for its fame being its main product, fukamushicha (deep steamed tea), characterized by its deep richness and sweetness. The subject of this article, Nihoncha Kimikura is 8 minutes from Kakegawa Station by car and is a Japanese green tea store specializing in Kakegawa fukamushicha. The first floor sells Japanese green tea, tea cakes, and tea utensils, while the second floor is a tea house where visitors enjoy high-quality tea. It also operates KIMIKURA CAFE, a casual tea shop in the same city, and opened its Shizuoka Gofukucho branch in April 2022. The company is actively promoting Japanese green tea, centering on Kakegawa fukamushicha.
In this article, we will introduce the shop Nihoncha Kimikura, its café menu, the story behind the launch of the brand, and an interview with the store manager.
About Nihoncha Kimikura
Nihoncha Kimikura is a specialist Japanese green tea store that offers Kakegawa fukamushicha and other teas from tea production areas throughout Japan. It is operated by Marumatsu Tea Co.,Ltd, a tea manufacturing company that has been in business for over 80 years. It currently has two stores in Kakegawa and one in Shizuoka City.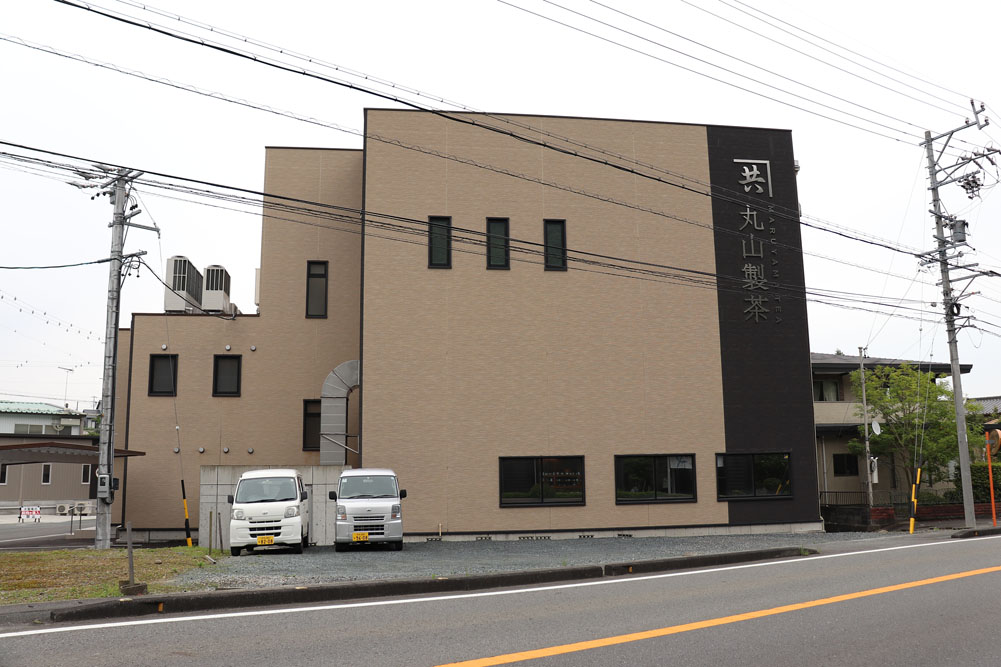 Nihoncha Kimikura Kakegawa flagship store
[Address] 436-0016 Shizuoka prefecture, Kakegawa city, Itasawa 510-5
[Parking] Available
[Access] 5 minutes by car from the Tomei Expressway Kakegawa IC.
[Telephone] 0537-24-6008
[Opening Hours] 1F 10:00~18:00 2F 10:00~18:00 (LO 17:30)
[Holidays] the New Year's holiday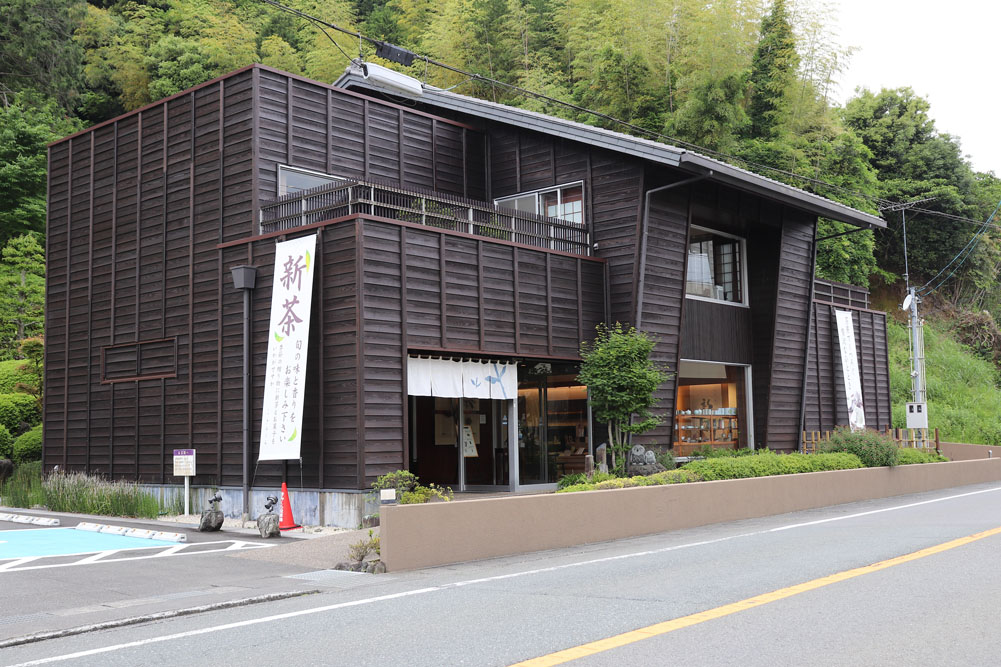 The wooden exterior of the Nihoncha Kimikura store, stands in harmony with the natural surroundings of the rural tea-producing region of Kakegawa. A wide variety of teas are delivered fresh from the nearby Maruyama Tea Company, and a full lineup of fresh teas are available for both retail and café use.
The second-floor is a stylish cafe with a luxurious atmosphere, with views of the beautiful well-kept Japanese garden seen through the large windows. Enjoy the elegant garden, quality green tea and meals using local ingredients that only a true specialty Japanese green tea store can offer.
The cafe menu is renewed throughout the year in accordance with the seasons.
Nihoncha Kimikura Shizuoka Gofukucho store
[Address] 420-0031 Shizuoka prefecture, Shizuoka city, Aoi ku, Gofukucho 2-5-21 Nozare Biru 1F
[Access] 10 minutes from Shizuoka station.
[Telephone] 054-255-2000
[Opening Hours] 10:00~19:00 (Last Orders at the Teahouse / 18:00)
[Holidays] the New Year's holiday
In April 2022, Nihoncha Kimikura Gofukucho store opened in an elegant, white-colored atmosphere about a 10-minute walk from Shizuoka Station. The café space (6 seats at the counter and 14 seats at tables) attached to the retail corner located in front of the entrance gives customers an authentic experience of Japanese green tea, especially the famous Kakegawa fukamushicha.
Sit at the counter seats with a luxurious atmosphere reminiscent of a ryotei (traditional Japanese-style restaurant), and watch the staff carefully brew your green tea right in front of you. The aroma of tea fills the air as if the steam rising from the teacup was a signal. It is moments like this that soothe the soul. If you let them know in advance, they will adjust the temperature of the water used to brew the tea for you.
You will immediately receive a pot of hot water, with which you can either make a second infusion yourself or have a staff member brew it for you.
The menu is made up of a selection of the five types of Japanese teas selected by Nihoncha Kimikura (Nihoncha Kimikura no Iori, hojicha(Roasted green tea), gyokuro, honyamacha, and seasonal recommended teas), to be enjoyed as a set with the sweets listed on the menu. As with the Kakegawa flagship store, the types of tea and sweets available change with the seasons. (You can check the cafe menu at the Gofukucho shop on their website.)
KIMIKURA CAFE
[Address] 436-0043, Shizuoka prefecture, Kakegawa city, Oike 2242-1 (Inside Oike Park)
Pets OK / Free Wi-Fi available
[Access] 15 minutes from the Tomei Expressway Kakegawa IC
[Telephone] 0537-25-7744
[Opening Hours] 10:00~18:00 (Last Order for sweets 17:30)
[Lunch] 11:00~14:00
[Holidays] the New Year's holiday
KIMIKURA CAFE, located next to the city gymnasium, is a Japanese green tea café offering a healthy and casual way to enjoy tea.
The menu offers a wide variety of drinks and one-plate snacks, and eat-in and take-out options are also available. Enjoy tea and snacks with your pets on the open terrace, or take a stroll around Oike Park with a takeout drink in hand.
The Cafe Menu at Nihoncha Kimikura's Kakegawa Flagship Store
Enjoy magnificent pairings of high-quality Japanese tea and sweets at the tearoom on the second floor of the main store. Here we will introduce a few of the items on the menu.
Everything Matcha set
Popular since the opening of the restaurant, the matcha set includes a choice of deep steamed tea, Matcha(drink), and others. (The photo shows the green tea selection.)
The set includes Matcha jelly, Matcha ice cream, Matcha bean paste, warabimochi (rice cake), and shiratama (white rice balls), and is topped with a generous amount of Matcha honey.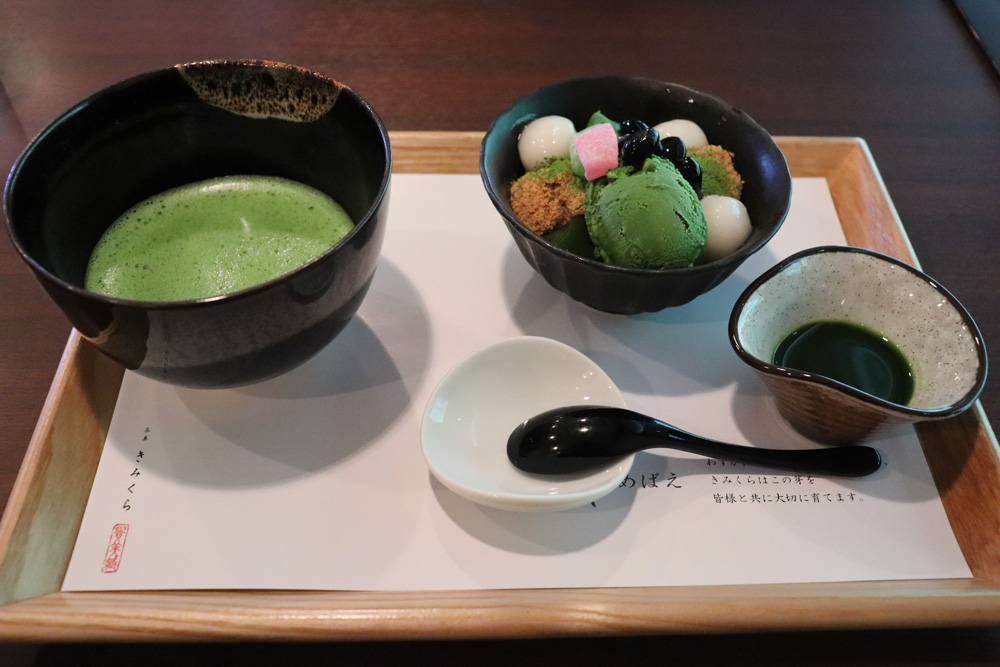 The elegant and moderate sweetness is very well matched with the nice aroma and bitterness of matcha, making this a dish that matcha lovers will not be able to resist.
▲The thick matcha sauce goes well with this dish.
Order a cup of Fukamushicha(deep steamed tea) if you want a refreshing combination with this dessert. The deep richness and natural sweetness of this tea goes well with this dish.
Kakegawa Matcha Parfait
Their most popular dessert is Kakegawa Matcha Parfait, made with a wide variety of ingredients. The refreshing taste of matcha without any bitterness is irresistible.
The rich sauce makes the tea taste even more intense.
Matcha Tiramisu
A perfect bittersweet harmony is achieved in a sublime fusion of mascarpone cream and Shizuoka matcha. The rich and smooth texture of tiramisu is a perfect accompaniment to a cup of tea.
Hojicha Latte
A unique beverage intertwining the aroma of hojicha with rich milky sweetness. This warming latte is recommended for the cold winter months.
Hojicha Beer
Very rare Hojicha beer (alcoholic and non-alcoholic options available). Cheese and spicy nuts go well with this aromatic lager.
Thus, the tearoom on the second floor of the main Nihoncha Kimikura Kakegawa flagship store, you can enjoy high-quality Japanese tea, sweets, and a seasonally changing menu with a view of a beautiful Japanese garden.
▲The bonsai on display on the second floor are from the long-established bonsai store "Taishoen" in Suruga ku, Shizuoka Prefecture.
Interview: Japanese tea brand "Kimikura" by Nihoncha Kimikura reveals the therapeutic pleasure of green tea
We spoke with the manager of the Nihoncha Kimikura Kakegawa flagship store.
---
The origin of the name of the new brand "Kimikura"
–Please tell us about Nihoncha Kimikura.
The location of the Kakegawa flagship store is the site where Maruyama Seicha, the company that operates the store, was founded. Many years ago the founder's house stood here.
At first, tea was offered only for simple tasting and sales in a corner of the office in front of the store, but we decided to use this space to promote more in order to boost the tea industry in Kakegawa, a nationally famous tea production area.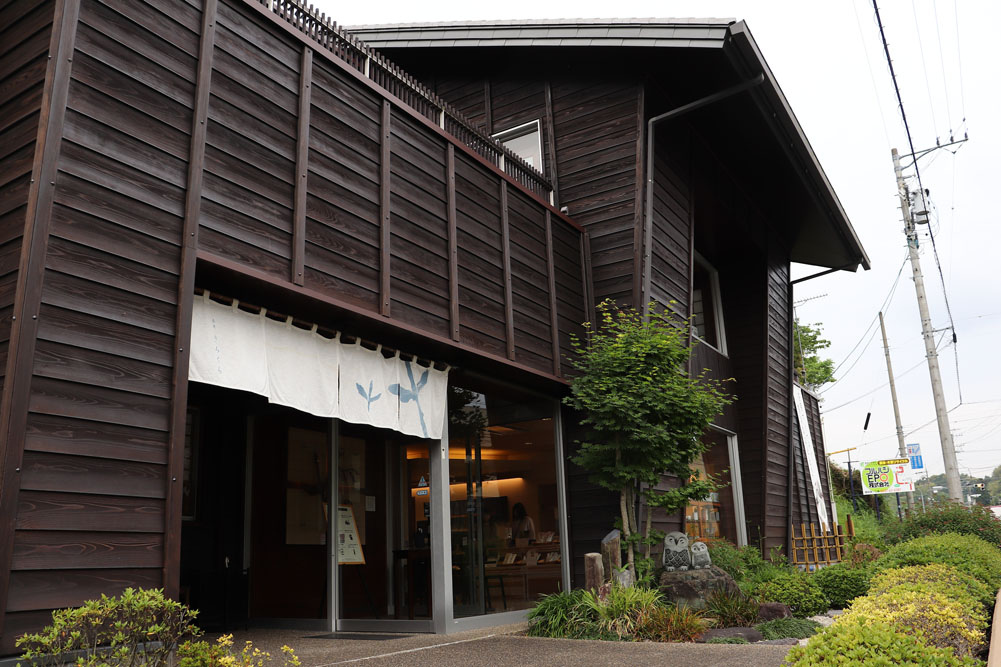 Maruyama Seicha newly launched a new brand "Kimikura" to promote tea – the workings of nature, people's thoughts, and techniques that create the best tea. The brand name "Kimikura" means "a storehouse where precious and beautiful things gather."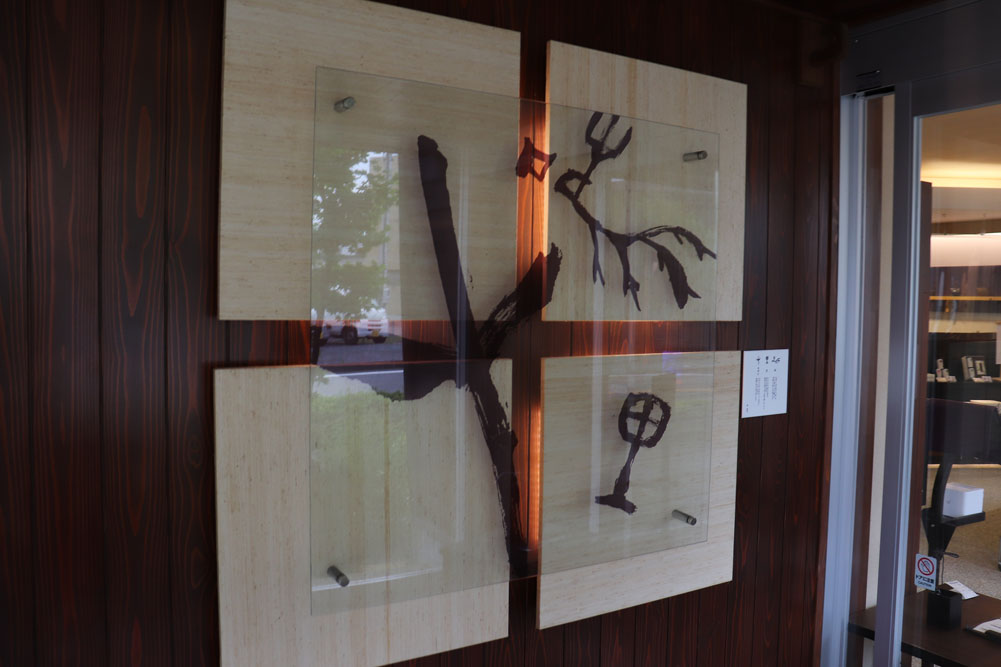 ▲The motifs "wind," "village," and "sprout" of the Nihoncha Kimikura brand of Japanese tea are calligraphy by the female calligrapher Kasetsu
Original "Kimikura" brand items available only at Nihoncha Kimikura
–All of the products on display have wonderful package designs.
Yes, the tea sold on the first floor of the Nihoncha Kimikura Kakegawa flagship store is all packaged in original brand packaging. Even the handbags that hold the products are all original, and are available only at Nihoncha Kimikura.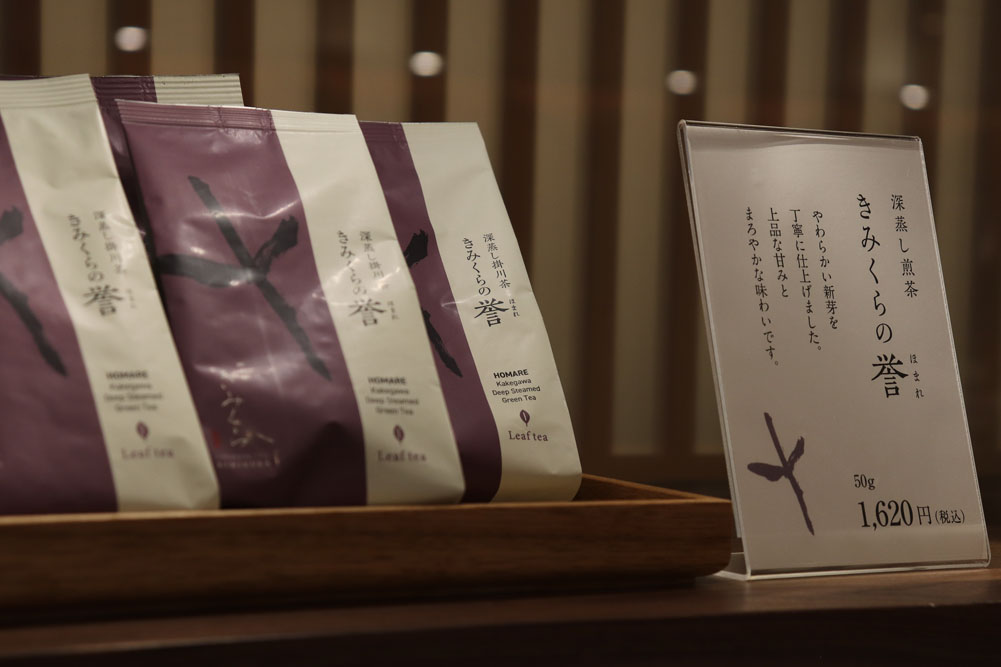 ▲The beautifully designed "Kimikura" package with a "sprout" design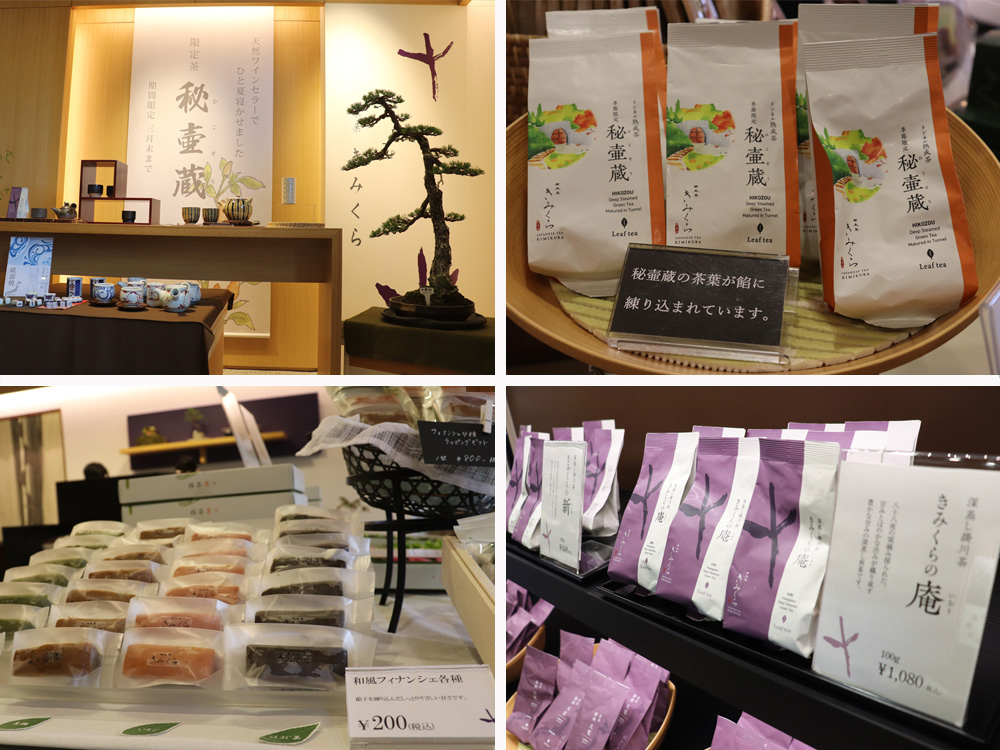 We are considering increasing the number of tea bags, which are easier to consume, since we have noticed a decrease in the sales of 100g packs of loose leaf tea.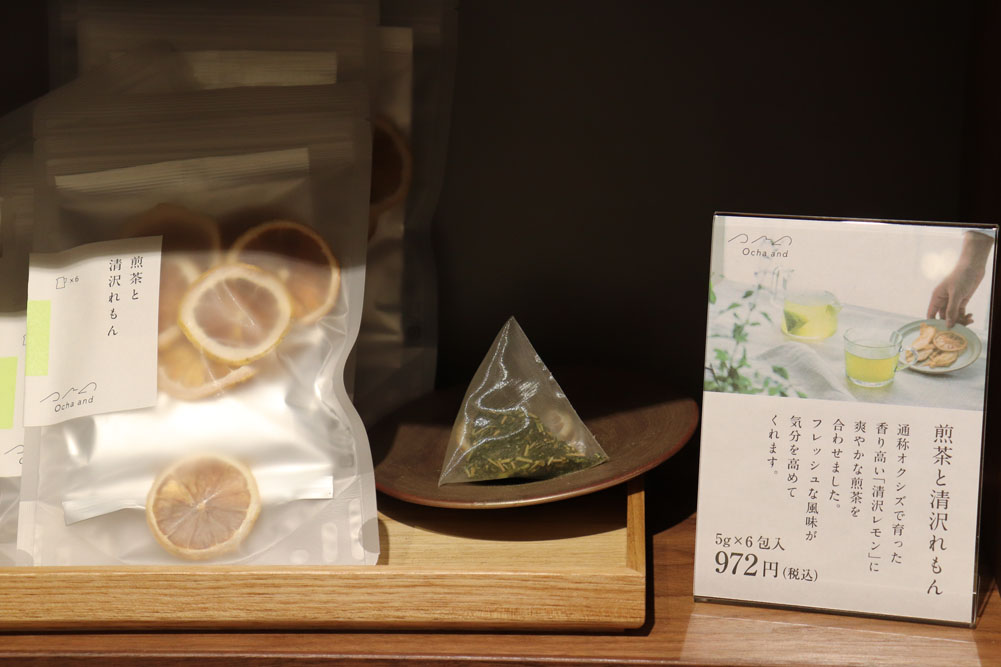 It seems that tea may become less popular as a gift for the mid-year and year-end gift-giving seasons.
Recently, however, we have been receiving an increasing number of requests for Kimikura-branded wrapping paper and handbags as gifts for weddings and other private celebrations, and we are feeling a definite response to our recent branding activities.
Considering a rise in demand from overseas tourists, we would also like to pay more attention to the English-language description of information on green tea.
At Kimikura we have prepared a café menu of sweets and parfaits for young people who don't drink much tea these days, to give them an opportunity to learn about green tea.
–How did you develop the menu?
In the beginning, we had a consultant to help us with menu development, but now we are undertaking this on our own.
Shaved ice in summer and strawberry parfaits in winter are available as seasonal menu items. Recently, not only the sweets menu but also lattes such as matcha green tea have gained in popularity.
Thankfully, we have received more customers than expected, and the restaurant has filled up quickly. At one point there were so many customers waiting that the restaurant could not accommodate them all. In order to accommodate more customers, we removed the showcase on the second floor and set up new tables.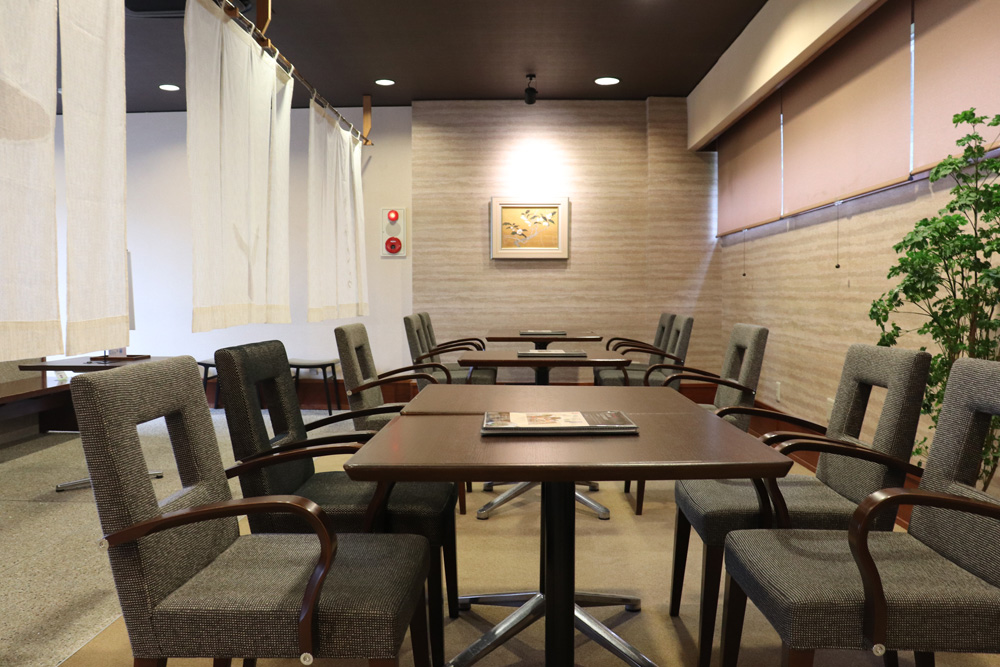 ▲In order to solve the problem of waiting customers, the showcase was replaced with table seating.
–What kind of customers do you have?
Many young women and couples come to our store after searching for us on social media. People posting about Kimikura's menu on social networking sites also attracts new customers. Perhaps we owe some of our success to the influence of such posts. (laughs)
In 2017, our sister store, KIMIKURA CAFE, opened near the Kakegawa City Gymnasium. Unlike "Nihoncha Kimikura," it has a more casual atmosphere.
At KIMIKURA CAFE, tea is not sold as a leaf tea, but as a drink like coffee.
After exercise, we drink tea. We want to transmit that kind of healthy image
Nihoncha Kimikura Kakegawa Flagship store: Information, How to purchase
Address
510-3, Itasawa, Kakegawa City, Shizuoka Prefecture, 436-0016, Japan
Website

https://kimikura.jp/honten/

Phone number
 0537-24-6008 ( Open hours 10:00~19:00)Domestic call in Japanese only
E-money and credit cards
Available
Open
10:00 to 18:00 at the tea stand on the first floor
10:30-18:00 (last order: 17:30) at the tearoom on the second floor
Closed
New Year holidays
Parking lot
Available
Access
By bus
Go out the north exit of Kakegawa Station and take the bus of Daito Hamaoka line at bus stop 3 for less than 10 minutes and get off at Itasawa. Then, you can reach the shopBy car
Total 8-minute drive from Kakegawa Station with 4-minute drive via Tomei Kakegawa IC
Nihoncha Kimikura Gofukucho store: Information, How to purchase
Address
 Nozare Biru 1F,Gofukucho 2-5-21, Aoiku, Shizuoka city, Shizuoka Prefecture, 420-0031,
Website

https://kimikura.jp/gofukucho/

Phone number
054-255-2000
( Open hours 10:00~19:00)Domestic call in Japanese only
E-money and credit cards
Available
Open
10:00~19:00 (Last Orders at Teahouse / 18:00)
Closed
New Year holidays
Parking lot
Not available (Use nearby toll parking lot)
Access
 8 minutes walk northwest from the northern exit of Shizuoka station. 6 minutes walk south-west from Shin-Shizuoka station.
KIMIKURA CAFE: Information, How to purchase
Address
2242-1, Oike, Kakegawa City, Shizuoka Prefecture, 436-0043, Japan (in Oike Park)
Website

https://kimikura.jp/cafe/

Phone number
+81 537-25-7744
E-money and credit cards
Available
Open
 10:00~18:00 (Last order for sweets 17:30)

[Lunch] 11:00~14:00

Closed
New Year holidays
Parking lot
Available
Access

By car About 15-minute drive via Tomei Kakegawa IC About 5-minute drive via Saigo IC (Kakegawa Bypass) By bus Take a northbound Kakegawa City Bus and get off at the entrance of Sunrena with a 4-minute walk Take a northbound Kakegawa City Bus and get off at Kamiyashiki with a 6-minute walk
| | |
| --- | --- |
| Writer | Norikazu Iwamoto |
| Career | Ochatimes chief editer.Meeting with Vice Governor of Shizuoka prefecture.Judge of Fuji country 100 tea's award in 2021.Ocha Times link introduced at website of World O-CHA(Tea) Festival 2022. |
| | |
| --- | --- |
| English translator | Calfo Joshua |
| Career | Born and raised in England, living in Japan since 2016. Studying arboriculture in Shizuoka Prefecture whilst operating his landscape business Calfo Forestry. Appreciating the nature of Japan and the culture that places such importance in it. |
Related articles