GREEN ∞ CAFE is a tea shop that tells the story of Ryogouchi green tea【Ryogouchi Tea, Shizuoka Prefecture】

Go to Japanese page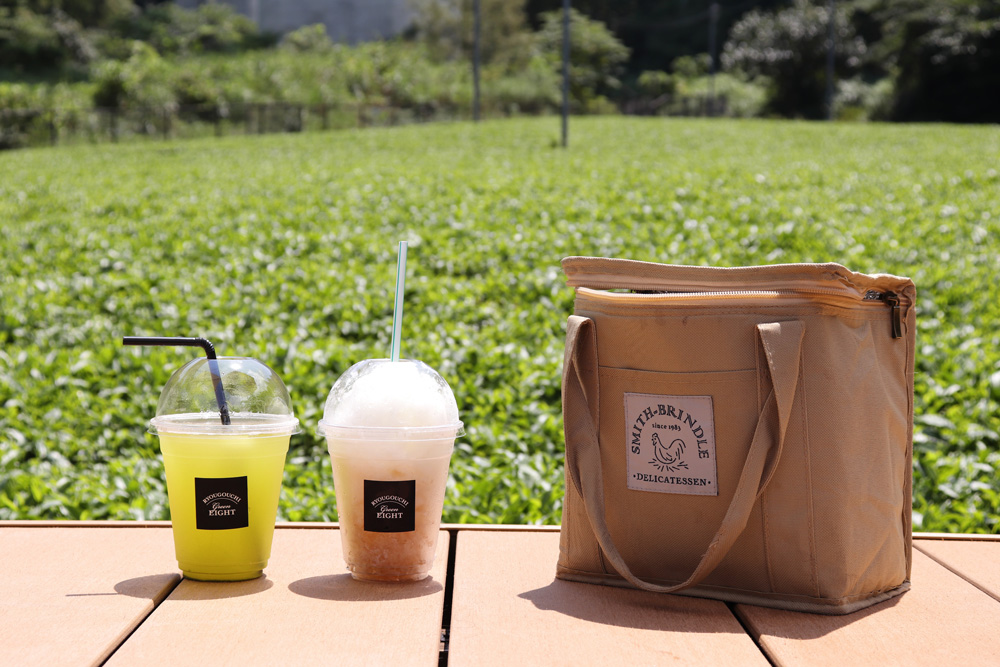 The mountains surrounding the clear Okitsu River in Ryogouchi, Shimizu-ku, Shizuoka Prefecture, are a source of high quality tea. The tea leaves grown in the mountains are thinner and softer, and the steaming process takes less time. Therefore, the final product, called "asamushicha," (lightly steamed) is sold at a high price every year. GREEN ∞(eight) CAFE, which handles Ryogouchi mountain tea, is a tea café and tea vendor that attracts many visitors despite its location about 40 minutes by car from Shimizu Station.
In this article, we introduce GREEN ∞ CAFE's menu and interview the President Mr. Hojo about what attracts people to the cafe.
What is GREEN ∞ CAFE
GREEN ∞ CAFE, opened on November 1, 2015 and is a cafe, retail shop, and processing facility operated by tea farmers in Ryogouchi. It is operated by Green Eight Co., Ltd. The company was established by eight local tea farmers.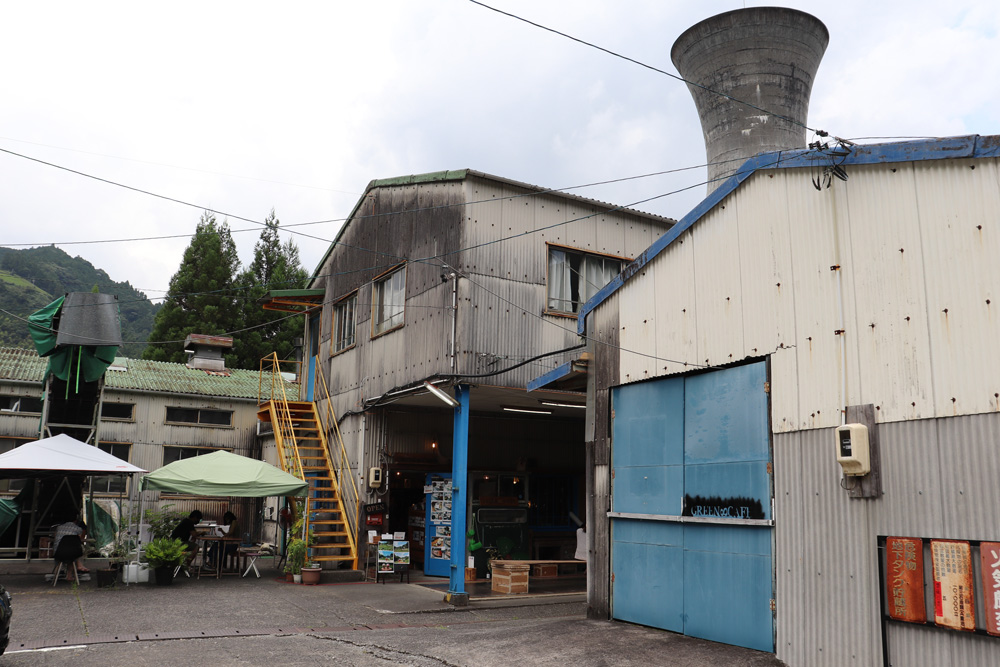 ▲The large gourd shaped chimney is a landmark that can't be missed.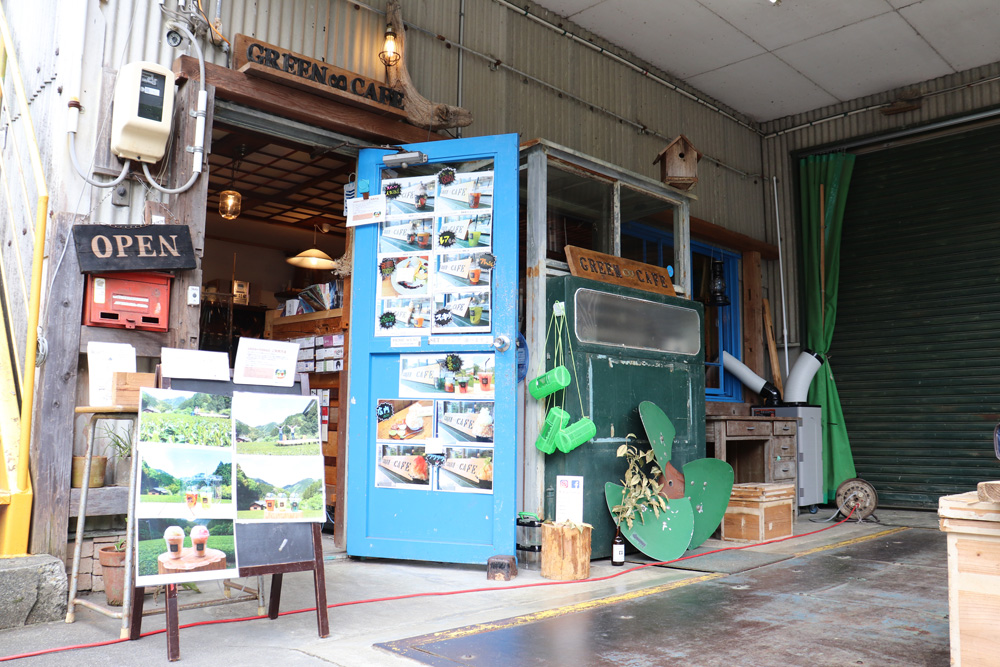 ▲The former office space in the company's factory was renovated over a period of about three months.
The interior has a calm and unique atmosphere, incorporating aged wood from local old minka homes.
You can purchase GREEN ∞ CAFE tea in the store. Japanese black tea made by fermenting fresh tea leaves harvested in Ryogouchi's tea fields is very popular.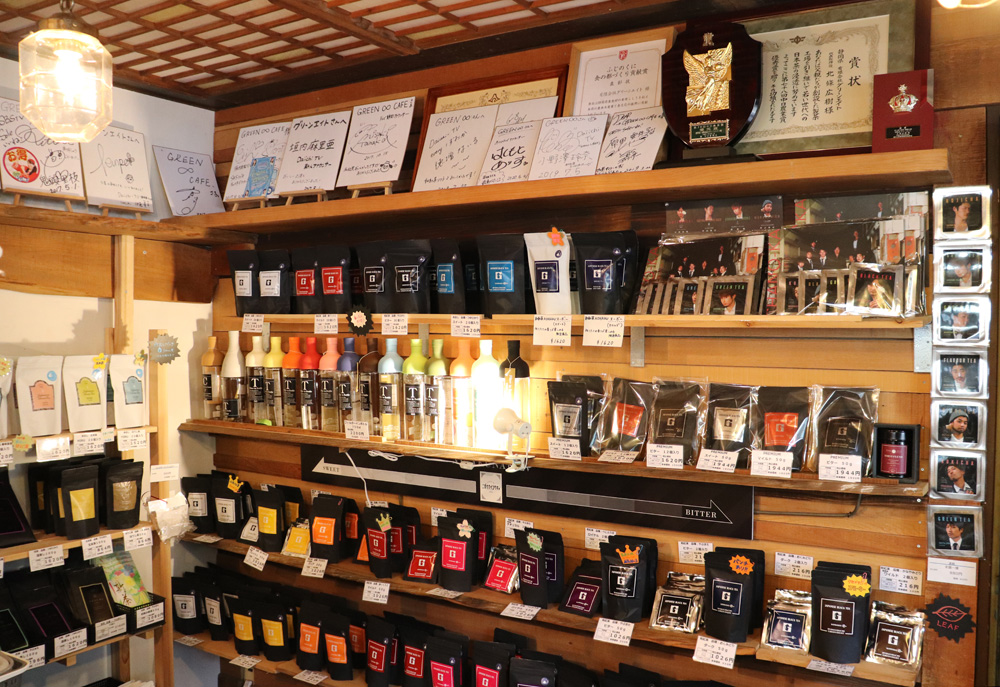 On the front shelf of the retail section, the teas are arranged order of sweet to bitter from left to right. Thanks to these easy-to-understand indicators, even beginners can find the Japanese black tea they prefer.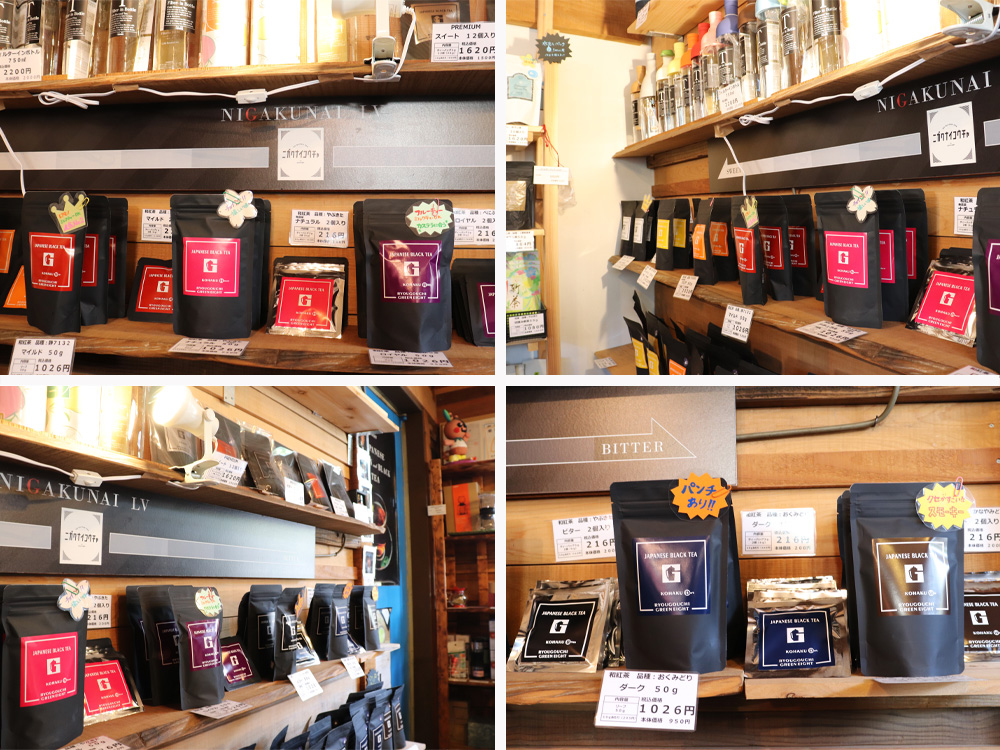 Enjoy tea from the beauty of a tea field at Green∞ Tea Terrace.
Enjoy the cafe menu surrounded by tea fields at Green∞ Tea Terrace, and enjoy the kind of workshop only a tea farm can provide.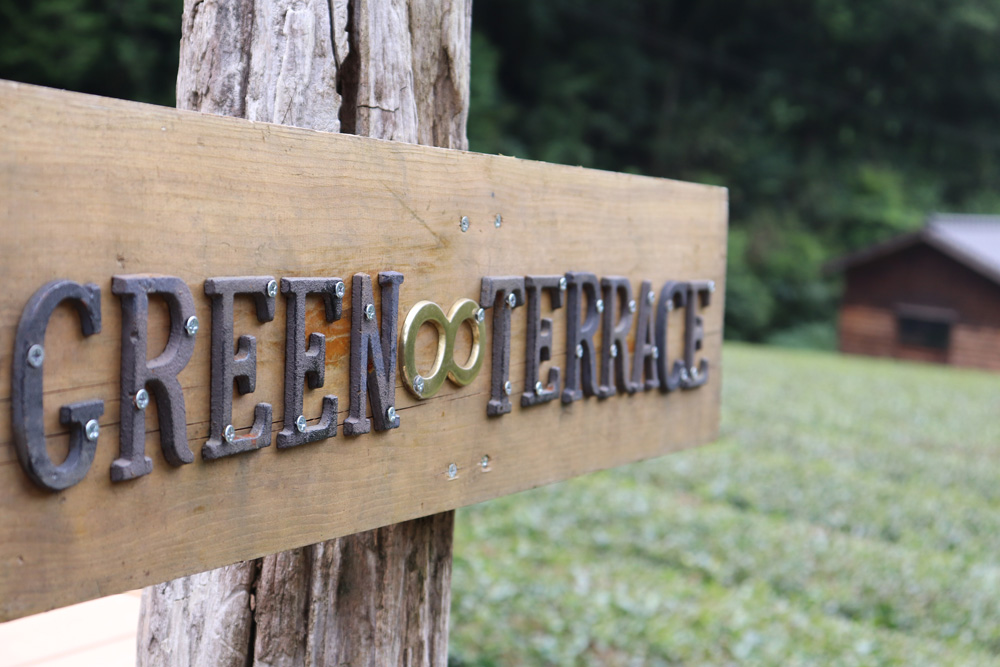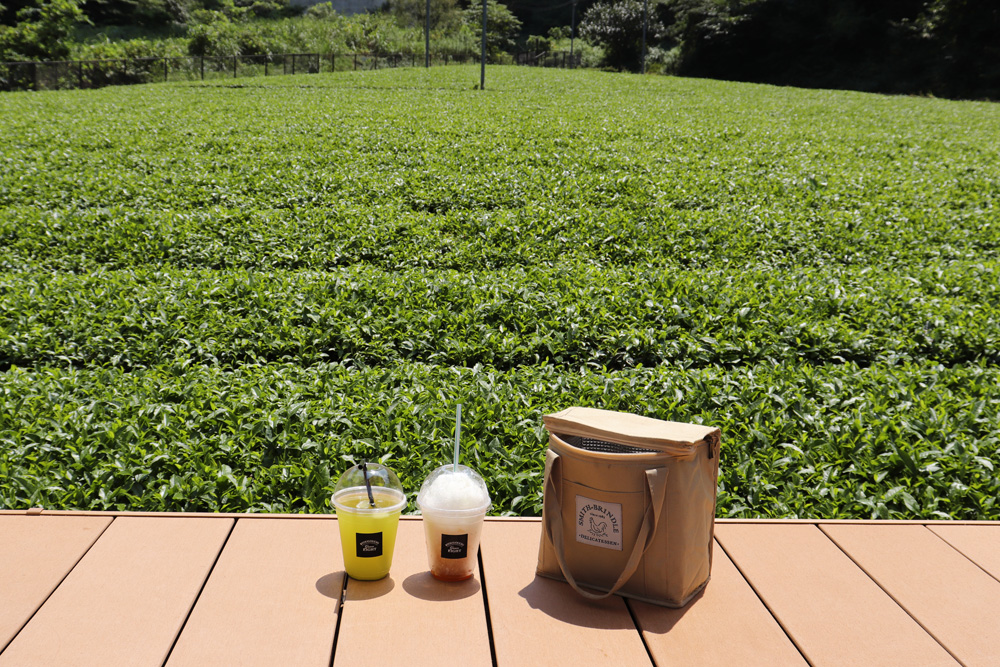 Pack your purchased dish into a cool bag and head to enjoy a picnic at the Tea Terrace, a 10-minute walk from the cafe.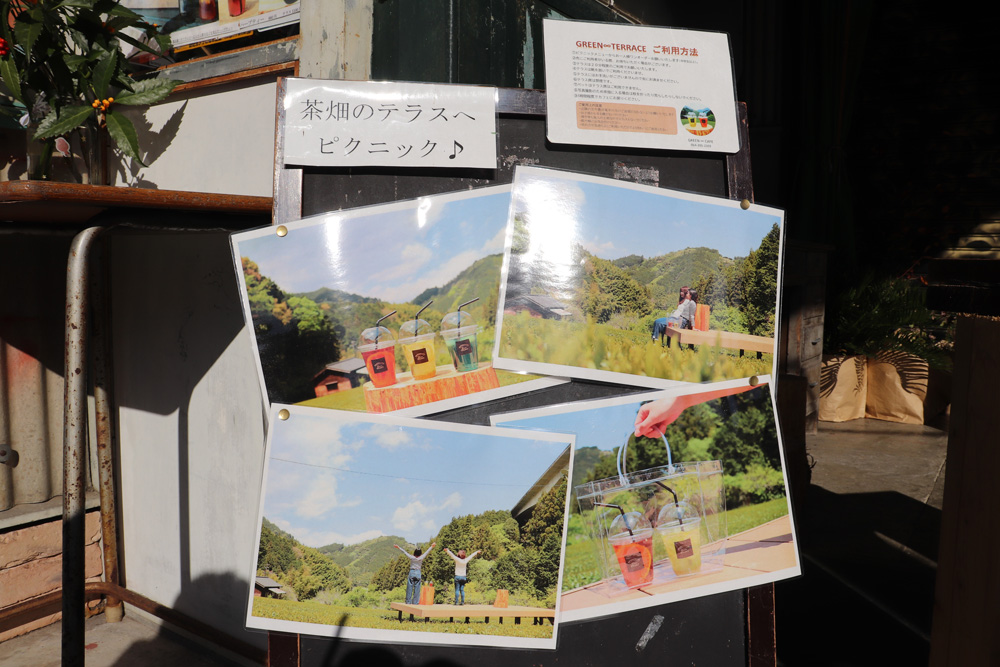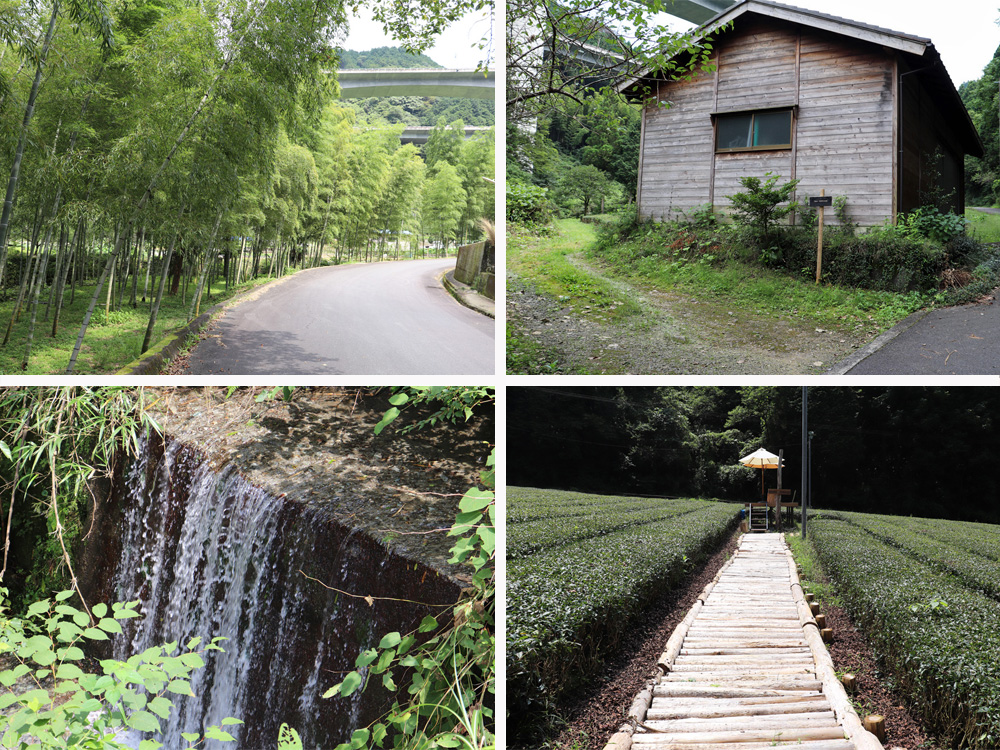 Since availability is limited, it is recommended to reserve advance if you want to be sure of using the service.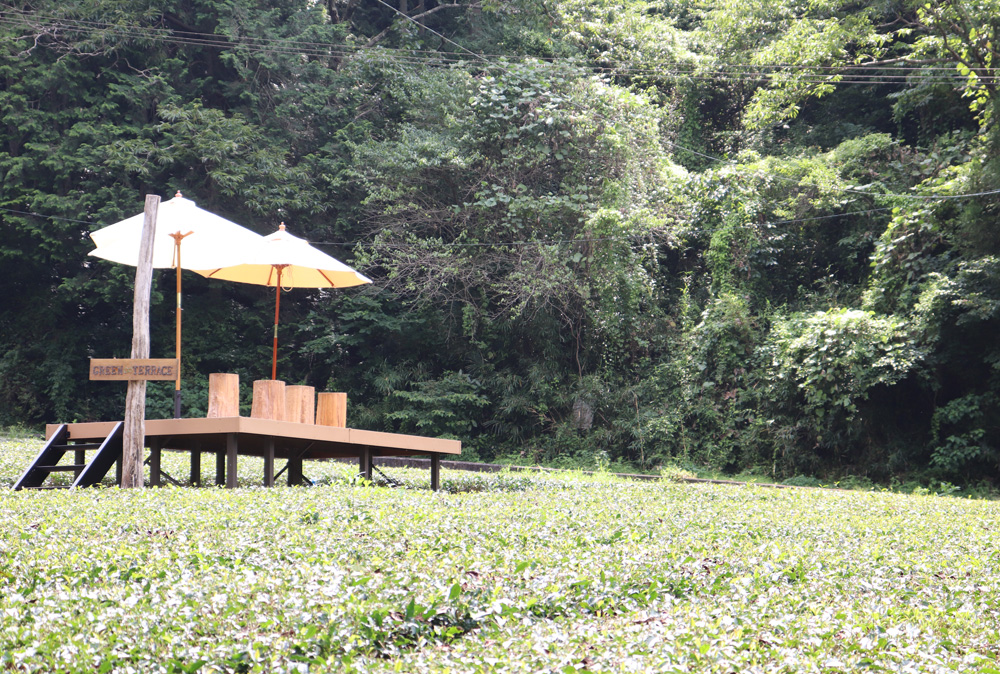 GREEN ∞ CAFE offers a menu using non-flavored and non-blended teas that can only be made by a café directly operated by a tea farm. The lineup ranges from delicately flavored to rich and sugary sweets. Here we would like to introduce a few of the menu items.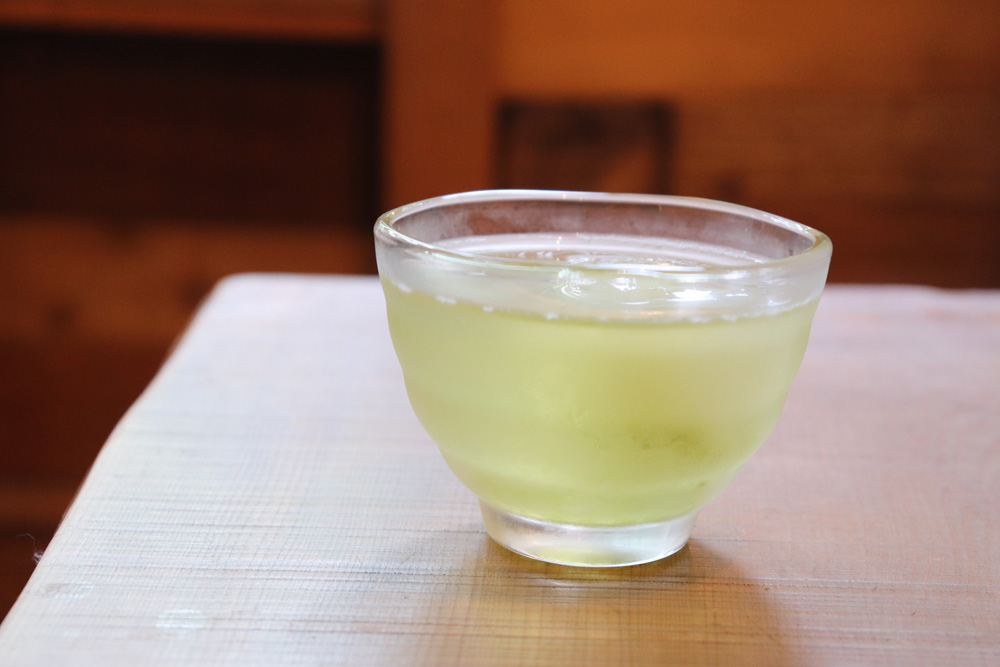 Japanese Black Tea Parfait
The tea leaves sprinkled on top of the soft-serve ice cream, shows the hospitable spirit of this high-end tea-producing region in their most popular parfait. Fruits and tapioca arranged underneath provide a variety of flavors and textures to enjoy.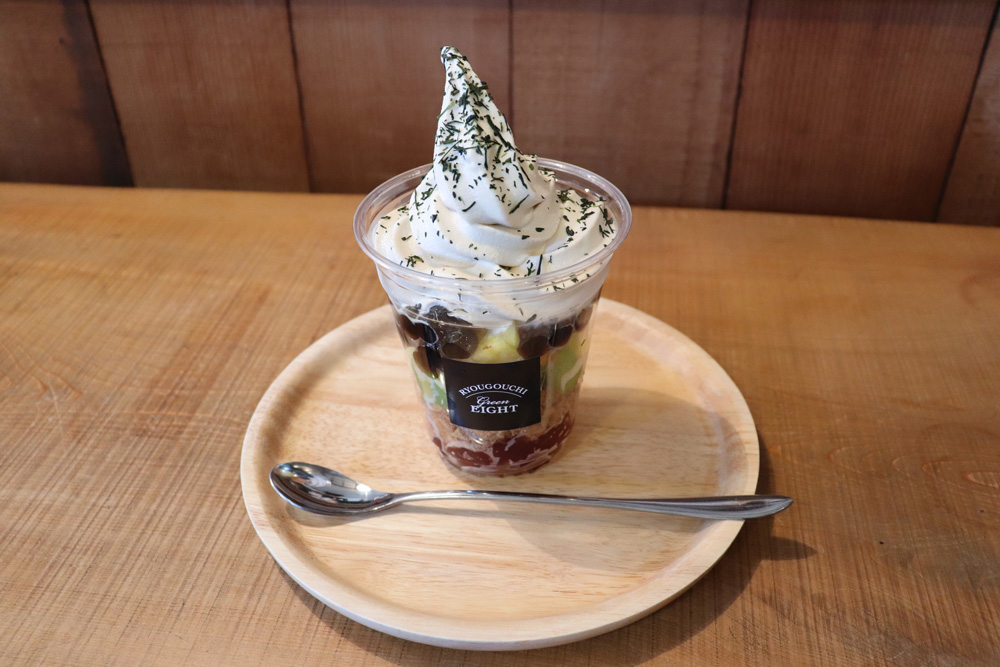 Order with tea and enjoy at a special set price.
▲ Japanese black tea parfait and citrus tea set
Local butterfly bee herbal tea with changing taste and color.
The dazzling bright blue tea changes to a lovely pink color when lemon syrup is added. This herbal tea is pleasing to the taste buds and the eye as well.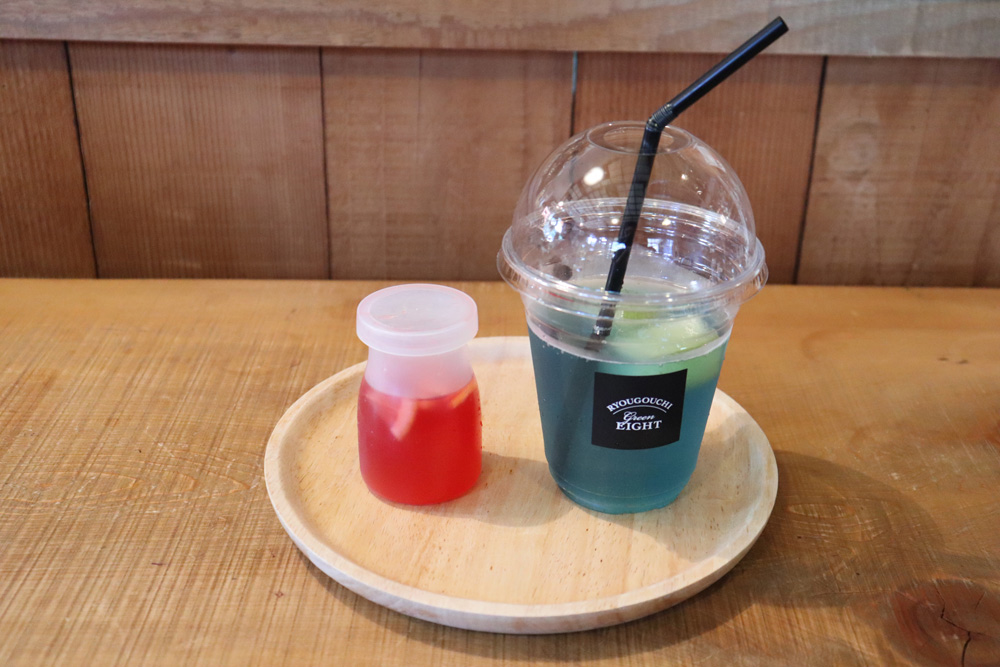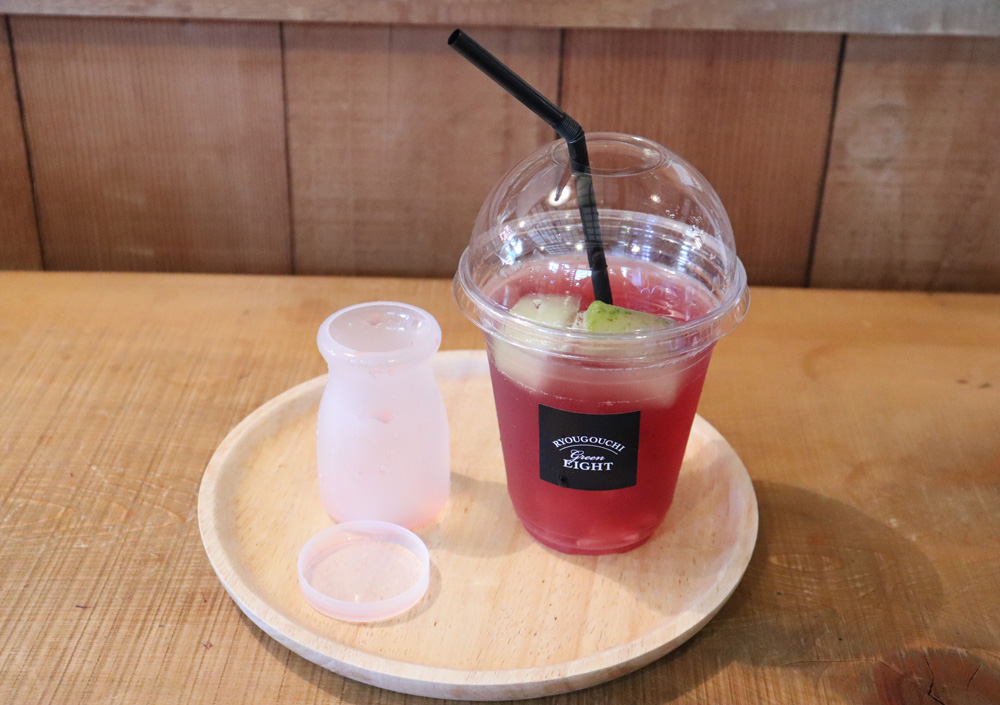 The tea leaves used are "Japanese Black Tea Royal," sold at GREEN ∞ CAFE. Try it with your chagori alone first, then add the accompanying fruit sauces (kiwi, pineapple, strawberry, mandarin orange, and blackcurrant) for a new flavor.
A unique product from a producer involved in everything from the composition of the soil of the tea plants to the making of the chagori syrup.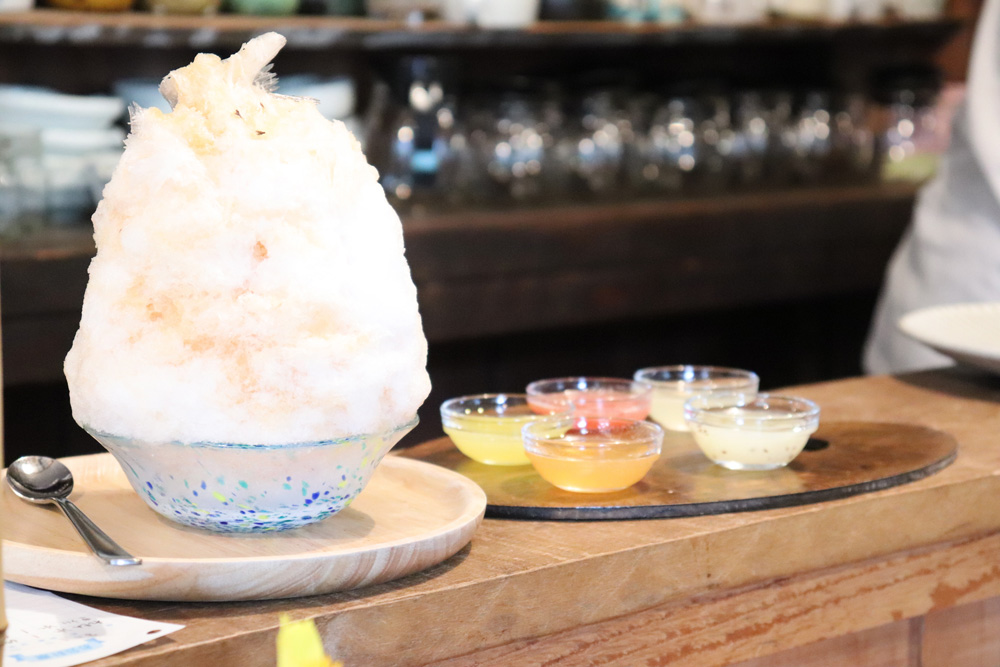 Japanese Black Tea French Toast (Seasonal availability)
GREEN ∞ CAFE's popular signature black tea syrup poured generously over fluffy French toast. The elegant sweetness of the syrup is a perfect match with the the French toast.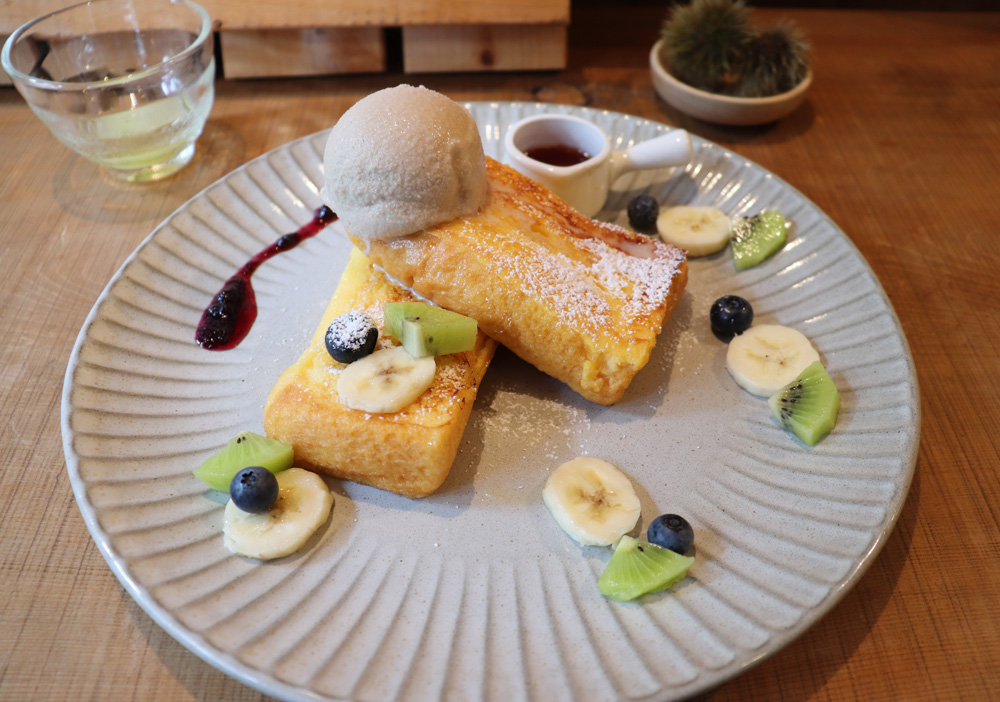 Japanese Black Tea Dark Chocolate Pancake (Seasonal availability)
A delicious chocolate pancake using GREEN ∞ CAFE's Japanese black tea Dark("Dark" means characteristic bitterness). The deep and rich chocolate sweetness pairs delightfully with the Ryogouchi tea.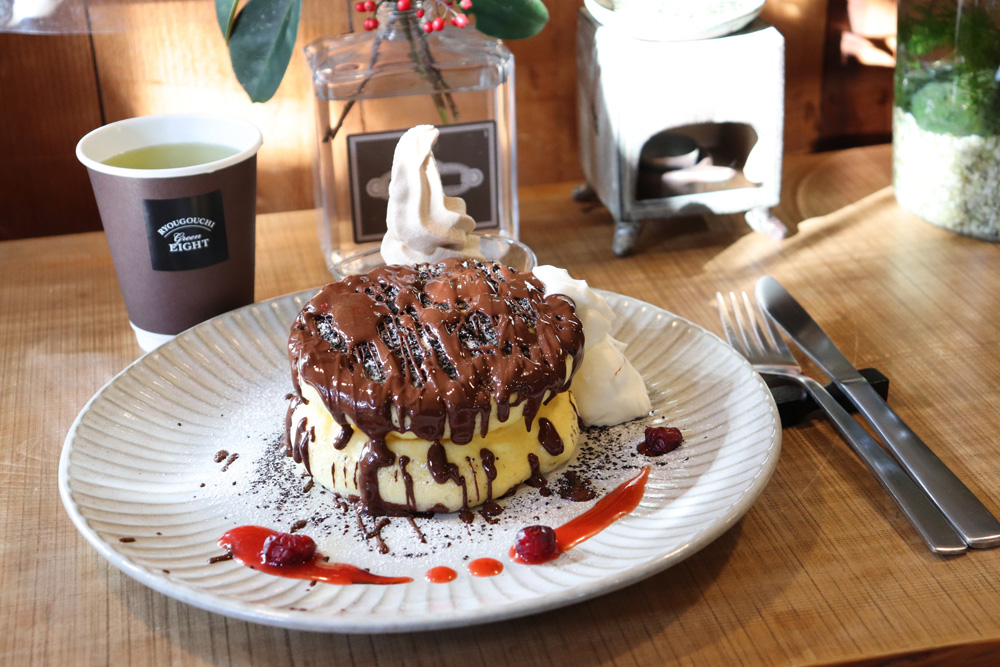 Interview: GREEN ∞ CAFE, the teahouse telling the story of Ryogouchi tea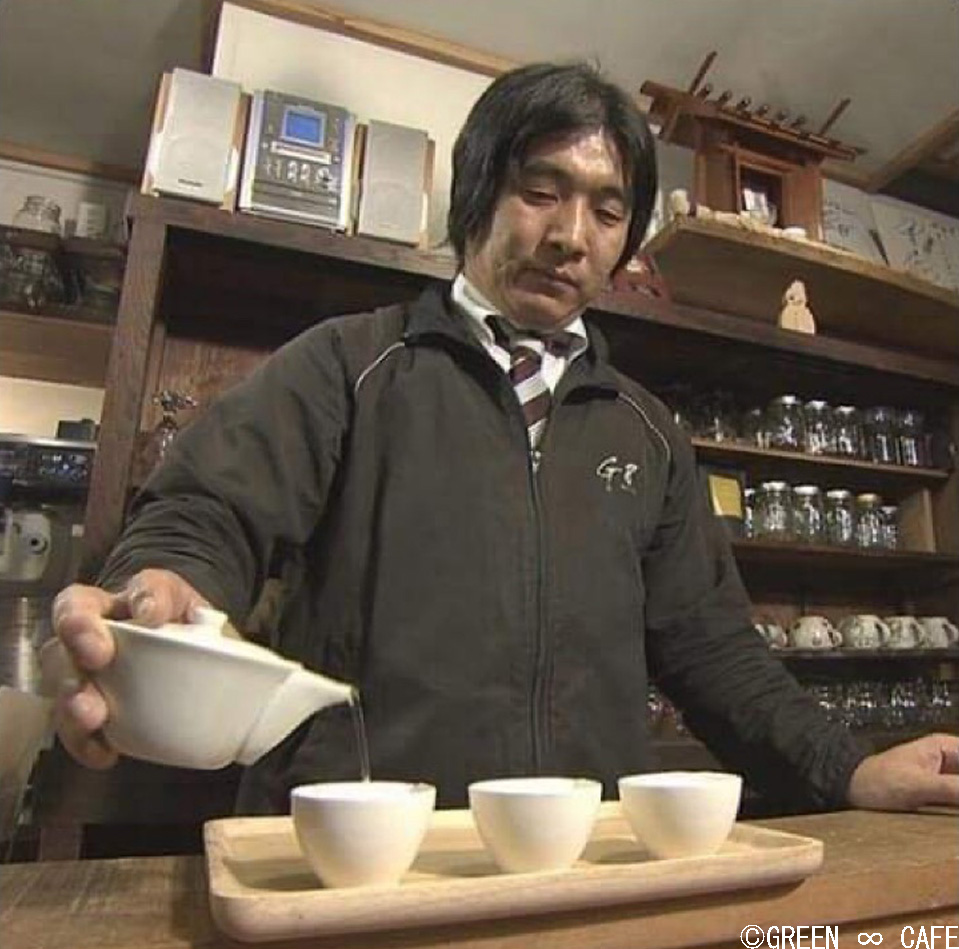 We spoke with Hiroki Hojo, president of GREEN ∞ CAFE.
---
Our goal is to be a tea shop that tells a story spreading the value of tea to the public.
–Please tell us about GREEN ∞ CAFE.
On November 1, 2015, we opened GREEN ∞ CAFE as a tea factory, café, and retail shop after spending about three months renovating the former office space in our factory in Ryogouchi.
We hope that the customers who come to our café will experience the joy of tea and spread it throughout the world. This is the concept of GREEN ∞ CAFE.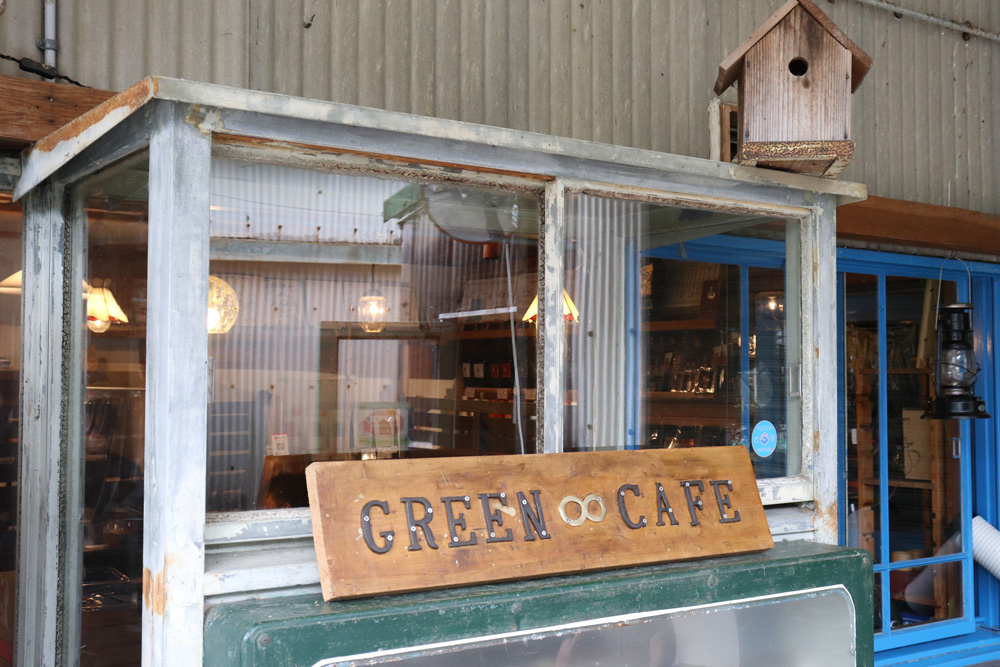 We set up a tea terrace in the tea garden where GREEN ∞ CAFE's tea is harvested in the hope that people will become familiar with the story of tea. From now on, we would like to convey the appeal of tea not only in terms of the beverage but also the way tea manifests itself as a region.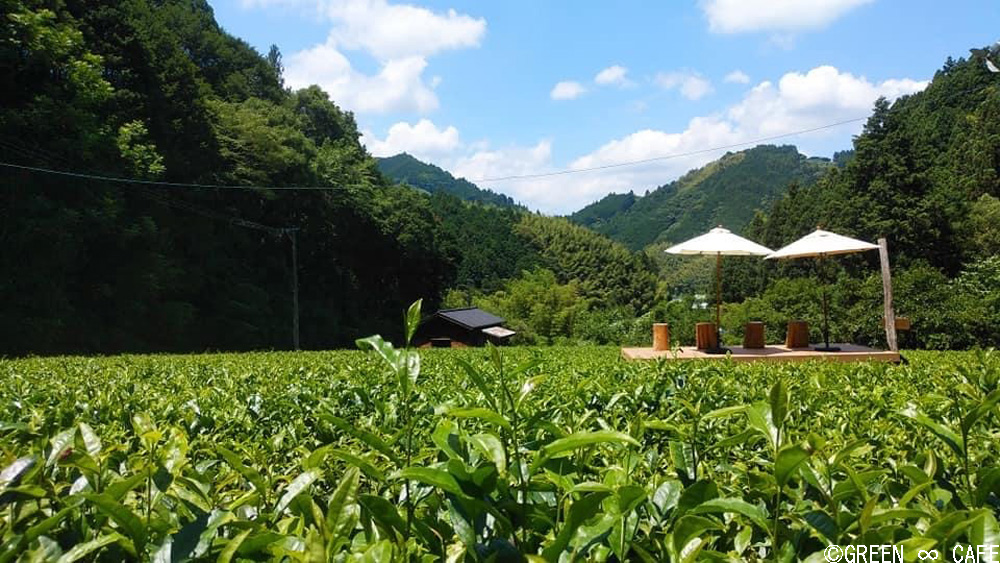 In front of the entrance to the cafe is a door painted black. The leaf pattern on the edge is a spray-painted stencil of tea leaves. This is another interesting expression of tea (laughs).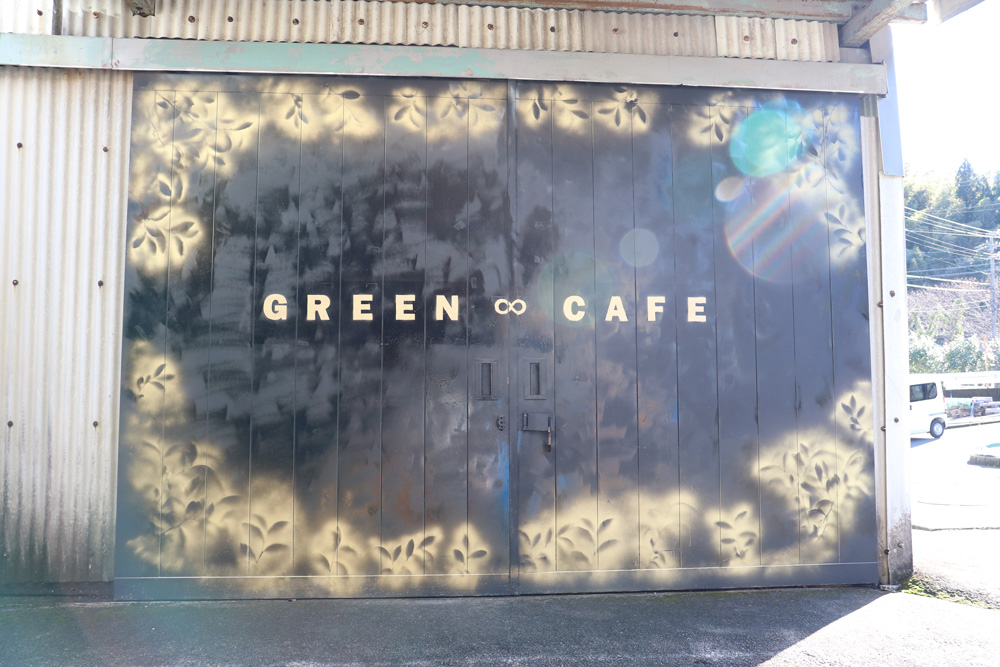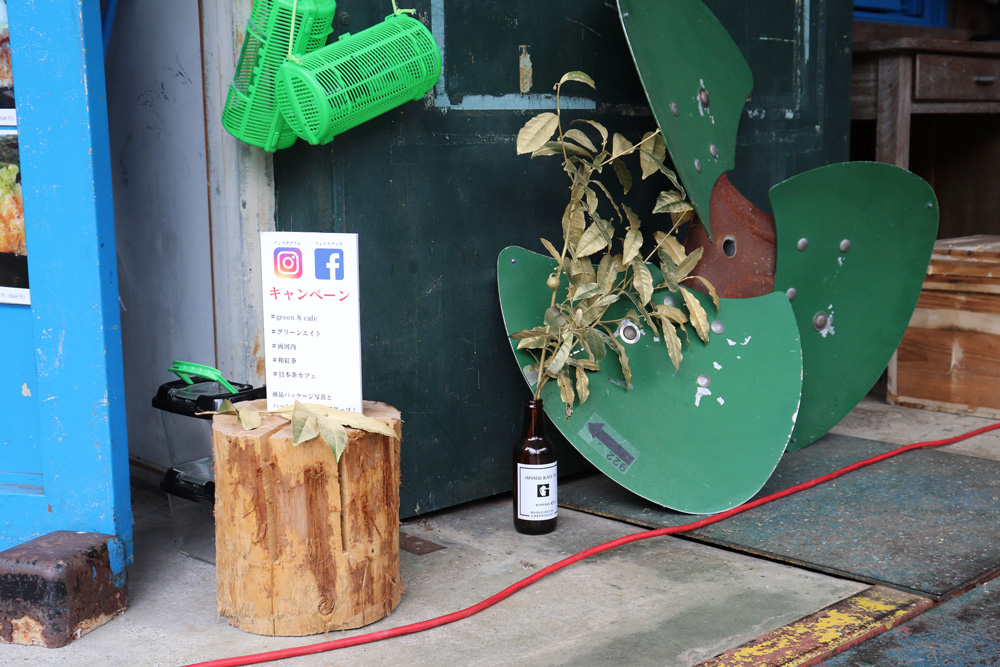 ▲ Tea leaves are displayed at the front of the store.
Cherishing the essential spirit of an ochaya(tea house).
–On holidays, GREEN ∞ CAFE has so many customers that the parking lot can't hold all the cars. However, there is no indication that the restaurant is trying to increase the turnover rate. Customers are welcomed to relax at leisure. Why is this?
I believe the customers who come to Green ∞ Cafe are already being generous with their time as they travel to us here in Ryogouchi. I think I end up spending a lot of time serving customers out of gratitude (laughs).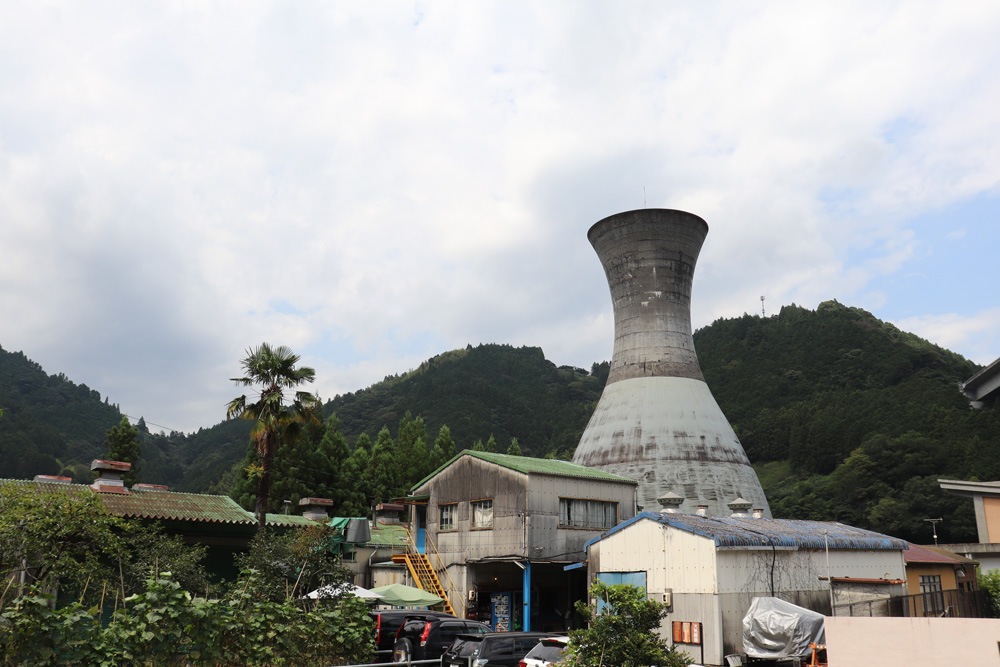 More than anything, we want to be an ochaya. Certainly, if you are conscious of profit per customer, the turnover rate may not be good. However, if all you want to do is to increase the turnover rate, you could do a tea stand. That would be deviating from the essence of what we are aiming for as an ochaya.
We want to be thorough and think from the customer's perspective. We know that this is very difficult and perhaps idealistic. However, we want to continue to pursue to be that kind of teahouse.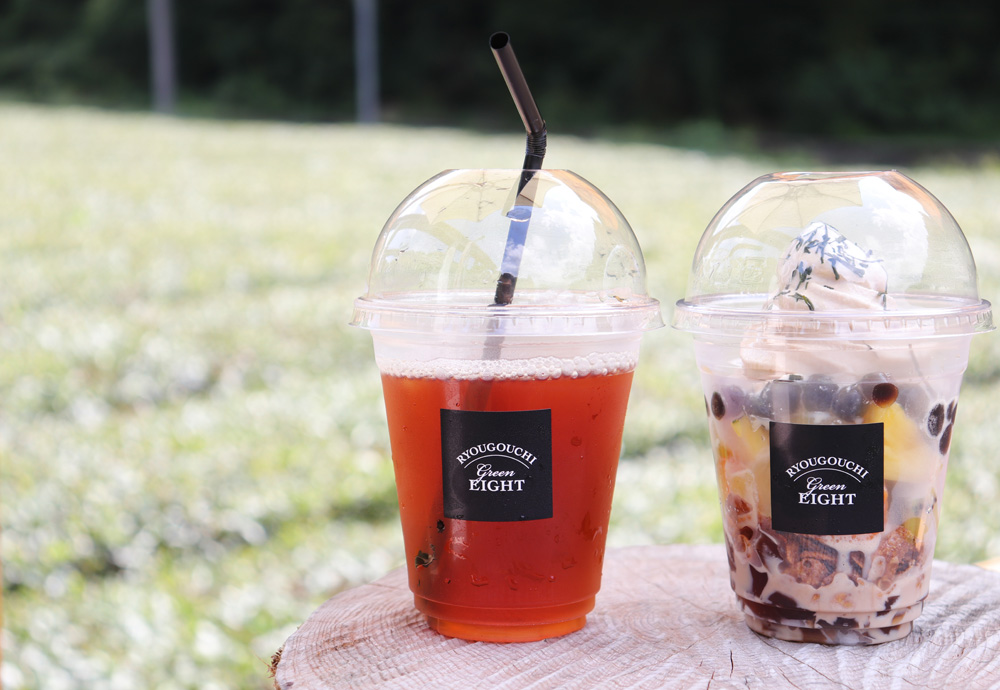 The story of Green∞ Cafe's where fans connect with each other and spread the word
GREEN ∞ CAFE offers the story surrounding Japanese tea – the leaf, the café, the tea plantation, and the factory tour – as one package.
Those who have become fans of our story connect with others and help us create new fans. Because they take our Green8 Cafe seriously, sometimes they give us harsh feedback.
I am truly encouraged and grateful for the presence of such fans.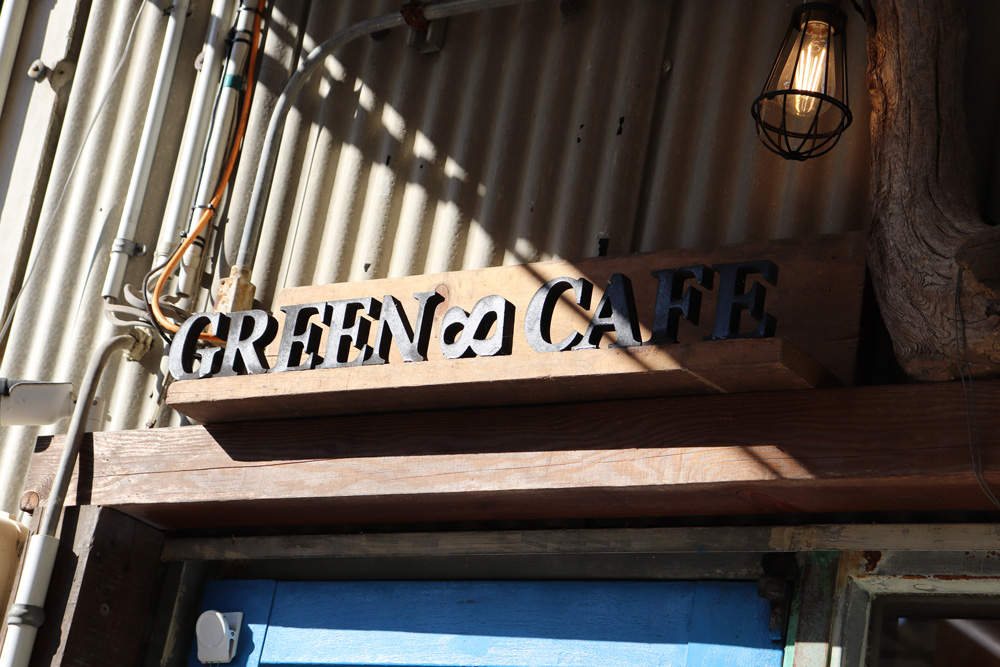 "Business" is truly as profound as the word suggests, and it must continue to never be boring. We at GREEN ∞ CAFE will continue to provide stories about tea that our fans will never get tired of!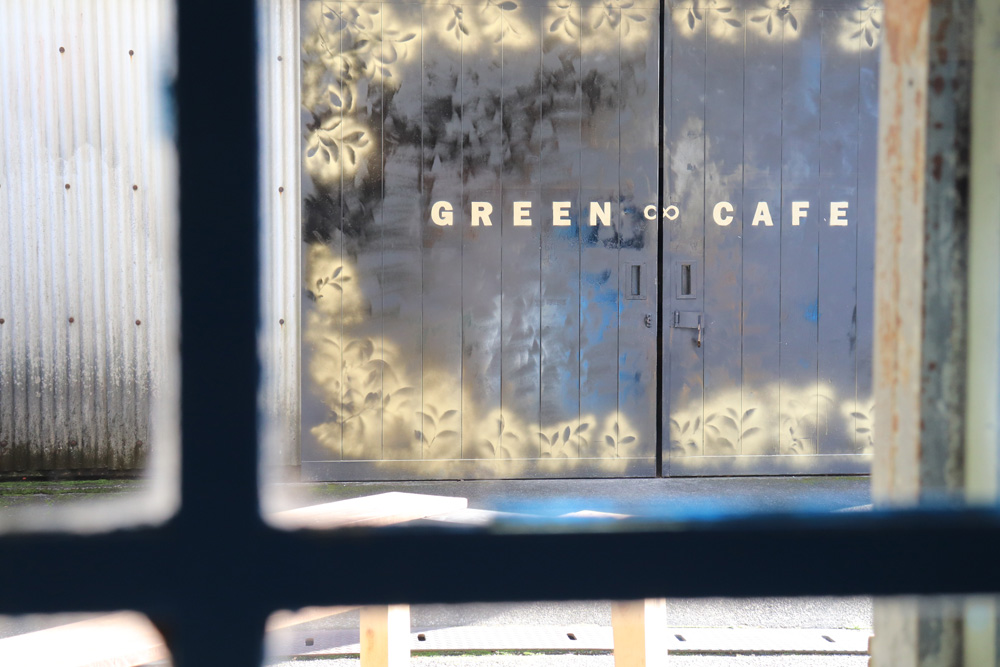 Green ∞ Cafe; Information, How to purchase
| | |
| --- | --- |
| 住所 | 424-0403 Shizuoka prefecture, Shizuoka city, Shimizu ku, Wadashima 349-4 |
| ホームページ | https://green-8.com/72206/ |
| 電話番号 | 054-395-2203 |
| 電子マネー・カード決済 | Available |
| 営業時間 | 10:00~16:00 |
| 定休日 | No scheduled holidays |
| 駐車場 | Available(5) |
| アクセス | 10 minutes by car from Shimizu IC on the Shin-Tomei Expressway. |
| | |
| --- | --- |
| Writer | Norikazu Iwamoto |
| Career | Ochatimes chief editer.Meeting with Vice Governor of Shizuoka prefecture.Judge of Fuji country 100 tea's award in 2021.Ocha Times link introduced at website of World O-CHA(Tea) Festival 2022. |
| | |
| --- | --- |
| English translator | Calfo Joshua |
| Career | Born and raised in England, living in Japan since 2016. Studying arboriculture in Shizuoka Prefecture whilst operating his landscape business Calfo Forestry. Appreciating the nature of Japan and the culture that places such importance in it. |
Related articles