Naturalitea's Tea Crafting Community Grows from Setonoya to the World 【Fujieda Tea, Shizuoka Prefecture】

Go to Japanese page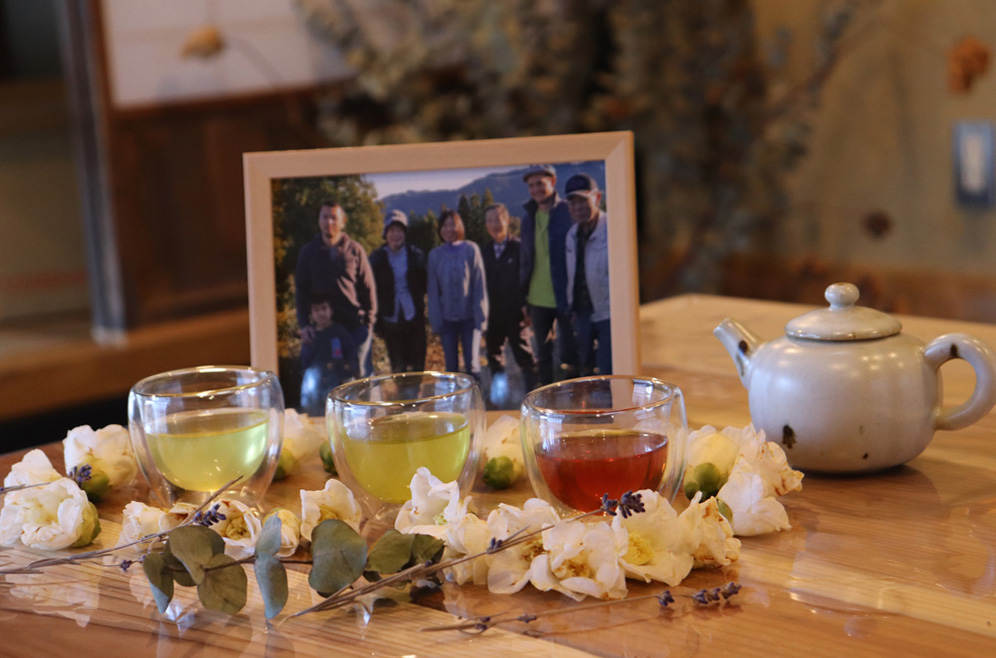 Naturalitea is a tea producer based in Setoya, Fujieda of Shizuoka Prefecture growing tea organically since 1976. Local leaders in the export of their tea, taking non-Japanese interns and providing tours of their farm aimed at foreign tourists, they are bold pioneers of international tea business. In 2021, Naturalitea received the O-CHA Pioneer Award from the World Green Tea Association in recognition of its longstanding activities.
This article will tell you about the charm of Naturalitea's teas and the global market for Japanese tea, including an interview with Tamiko Kinezuka of Naturalitea.
About Naturalitea
Naturalitea is a tea farm producing organic tea in the Setonoya valley north of Fujieda city in Shizuoka. The current chairman, Mr. Toshiaki Kinezuka set up the limited company and has been growing tea organically since 1976.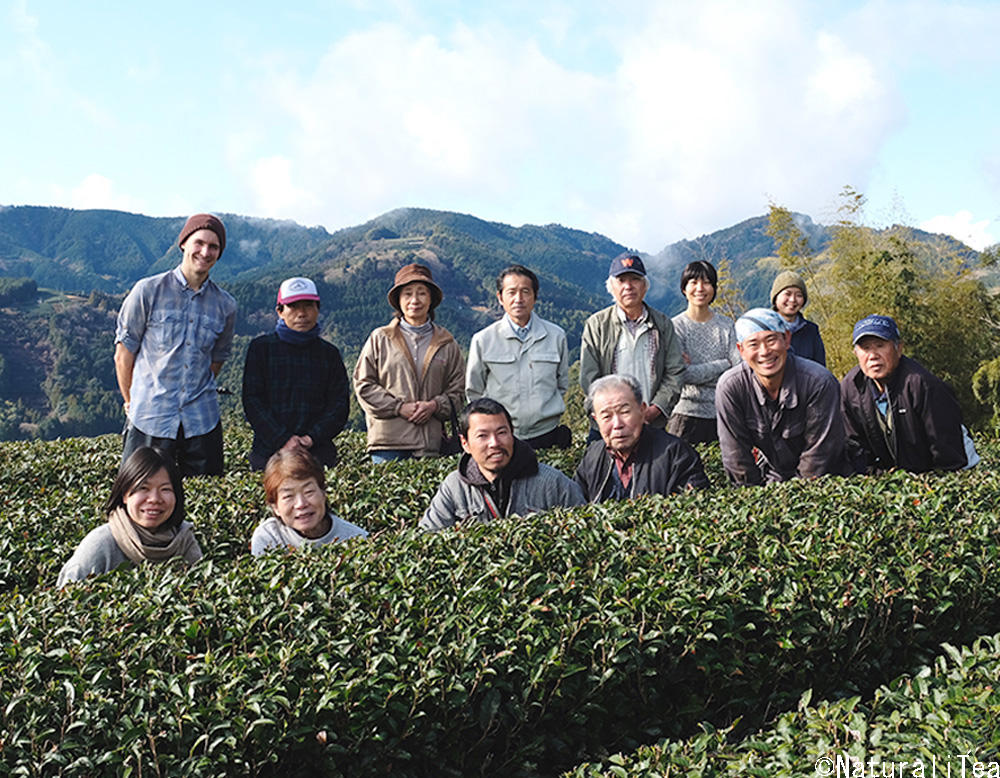 Another strength of Naturalitea is its integrated management. From planting and nurturing tea seedlings, preparing tea gardens, harvesting, processing and packaging and delivering the tea to their customers, they know exactly 'from which plantation on which mountain and who produced the tea that you have in your hands.'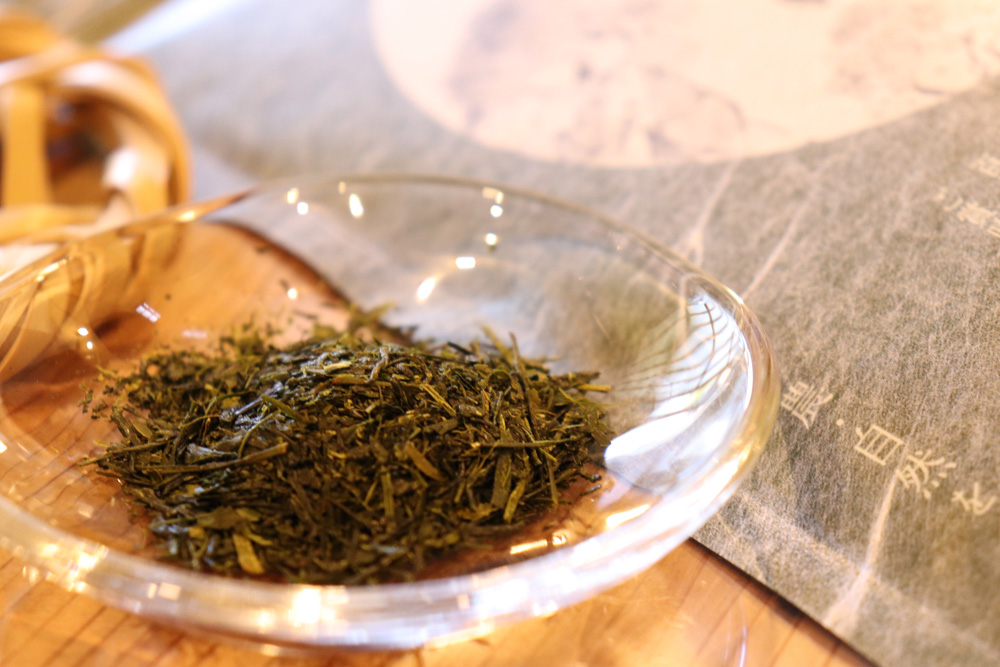 Awarded the O-CHA Pioneer Award Special Grand Prize by the World Green Tea Association
In 2021, Toshiaki Kinezuka was awarded the O-CHA Pioneer Award Special Grand Prize by the World Green Tea Association for his activities and achievements in expanding organic farming. The world is now beginning to pay attention to his activities of "not leaving everything to the market, but connecting and spreading tea to consumers on our own terms."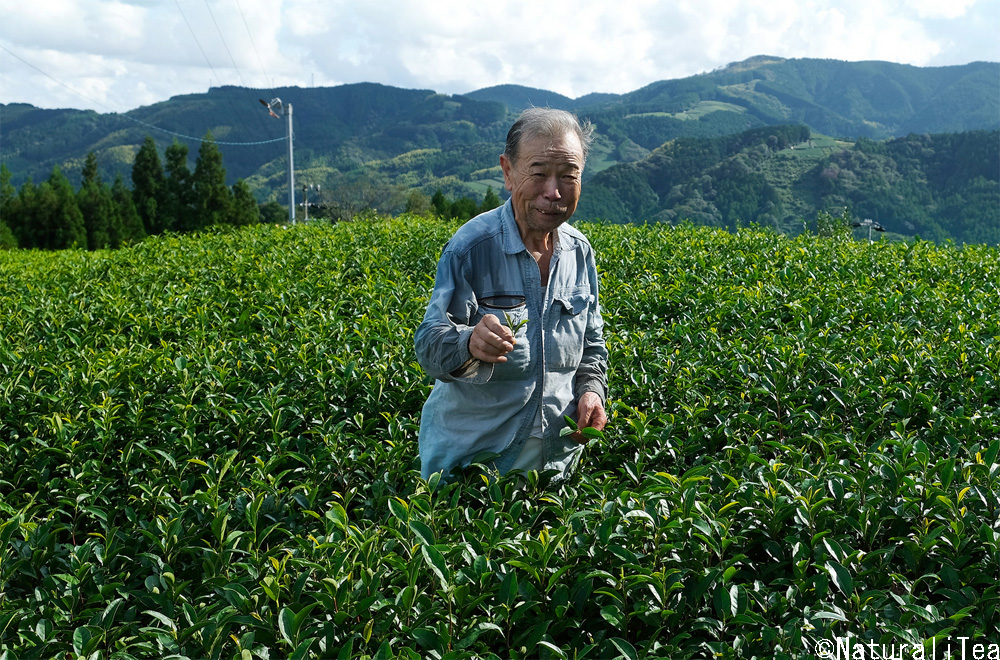 An Introduction to Naturalitea's teas.
Mr. Kinezuka's son Kazuki, president of Naturalitea, is in charge of everything from fertilizer design and cultivation to processing. Kazuki, who always pays close attention to the management of the tea plantation, is well acquainted with the quality of the tea leaves and is able to process aracha by taking full advantage of their characteristics.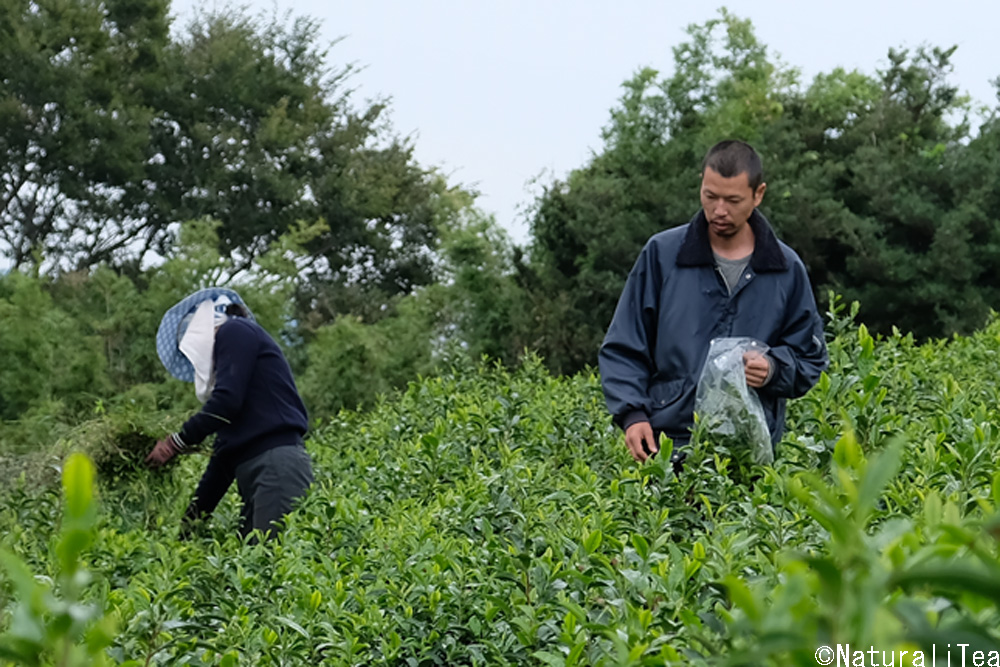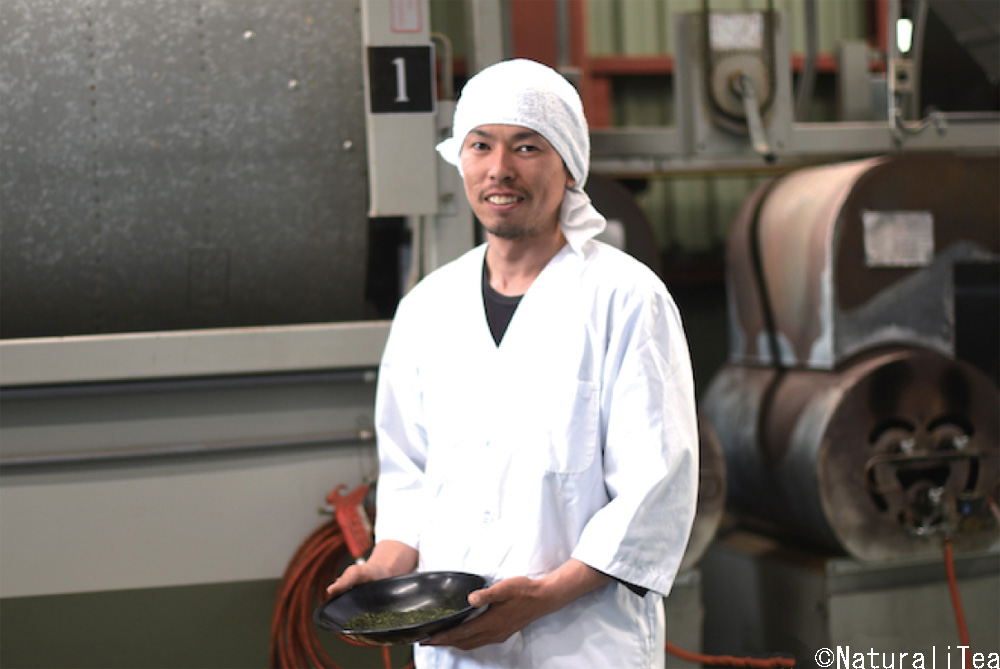 The final processing is handled by Mr. Kinezuka's daughter, Tamiko. In this process, the shape, aroma, taste, and color of the tea leaves are checked. To ensure that the fresh taste and aroma are not lost, most of the processing is done just before shipping, and she spends every day of the harvest season in April checking the quality of the tea leaves.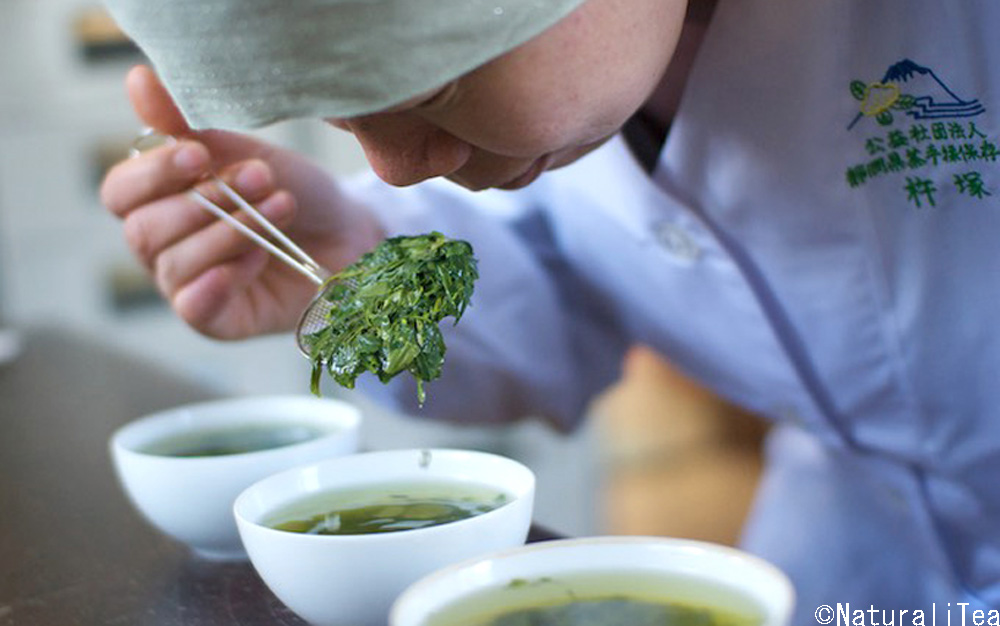 Organic 88 Nights Hand Picked Sencha
Organic 88 Nights Hand Picked Sencha is made from tea leaves picked during the 88 nights counting from Risshun(Time to start seeing signs of spring), the most delicious tea harvest time of the year. Tea shoots from mountainous regions are very tender and delicate, yet their inner flavor is a high peak of sweetness and astringency. The flavour of new buds sprouting in spring.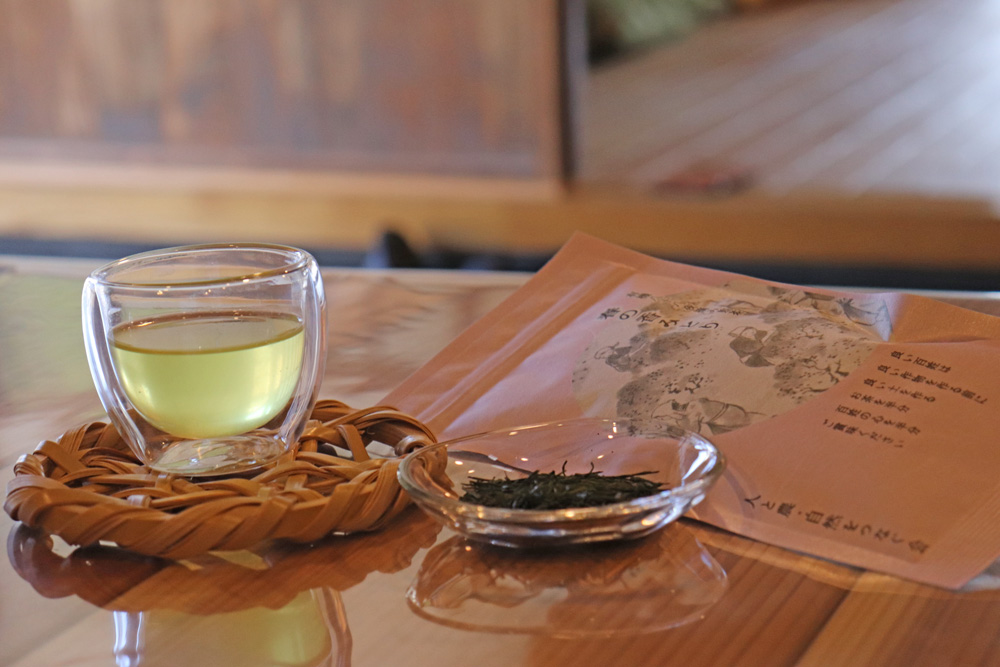 Yama no Fuka-Mushi Yabukita Midori.
"Normally, tea leaves from mountainous areas are steamed for a short time (asamushi) to make the best use of their thin nature, but with this tea we steam it for a long time to produce "fukamushi" tea. This deep steaming process, taking advantage of the characteristics of tea leaves from mountainous areas, is made possible by our thorough knowledge of the quality of tea leaves from our own gardens. It is a deep green mountain tea with a mellow flavor."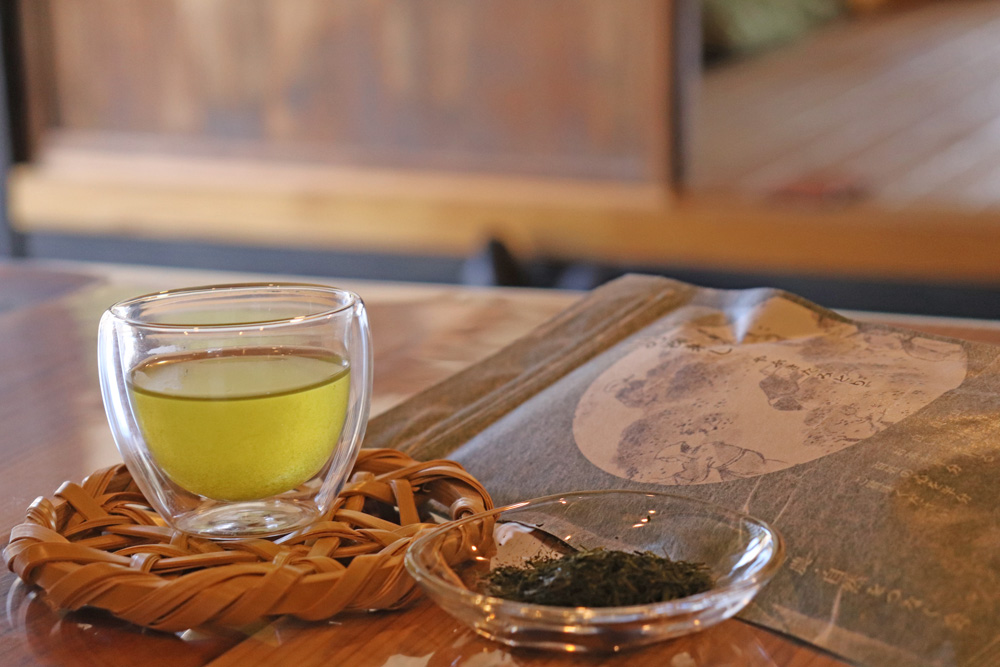 Setoya Momiji – Organic Japanese black tea.
A Japanese black tea produced from "unka bud tea leaves," a rare raw material for black tea. During the hot and humid summer season, an insect about 2 mm long called unka lives on the tea plant and nibbles on the leaves. The tea leaves nibbled by the insects change their chemical composition through enzymes, producing an aromatic sweet taste. Unka bud tea leaves produced in this way are traded at high prices in Sri Lanka and Taiwan, the home of black tea, as a raw material for delicious tea.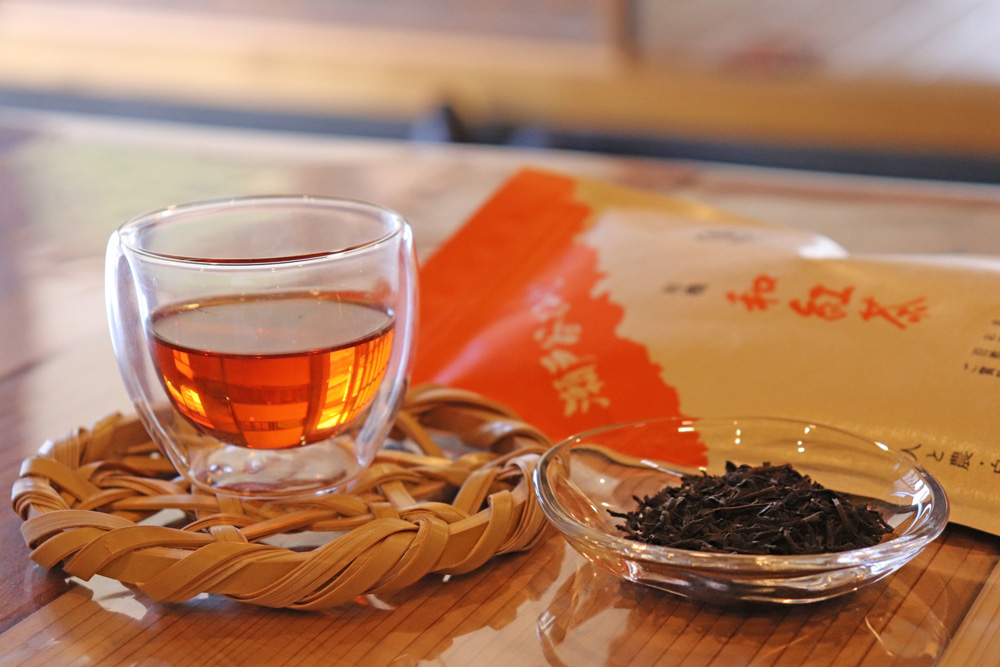 At Naturalitea, harvested tea leaves are wilted for about 8 to 18 hours at the tea factory, and then processed in a special soft twisting machine imported from Sri Lanka. The tea is then fermented for another 1.5 to 3 hours to become black tea.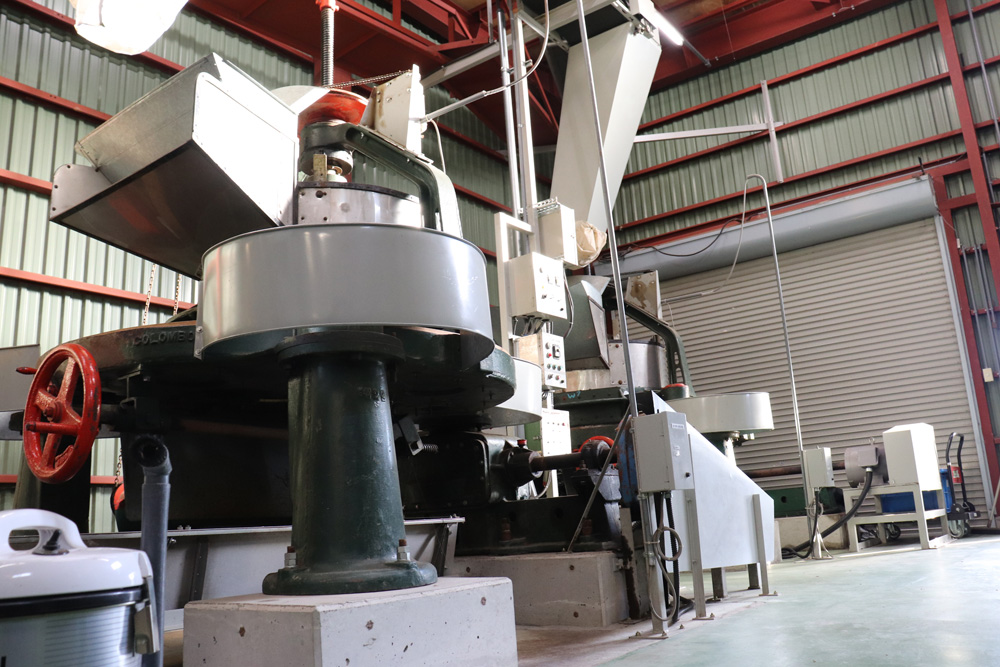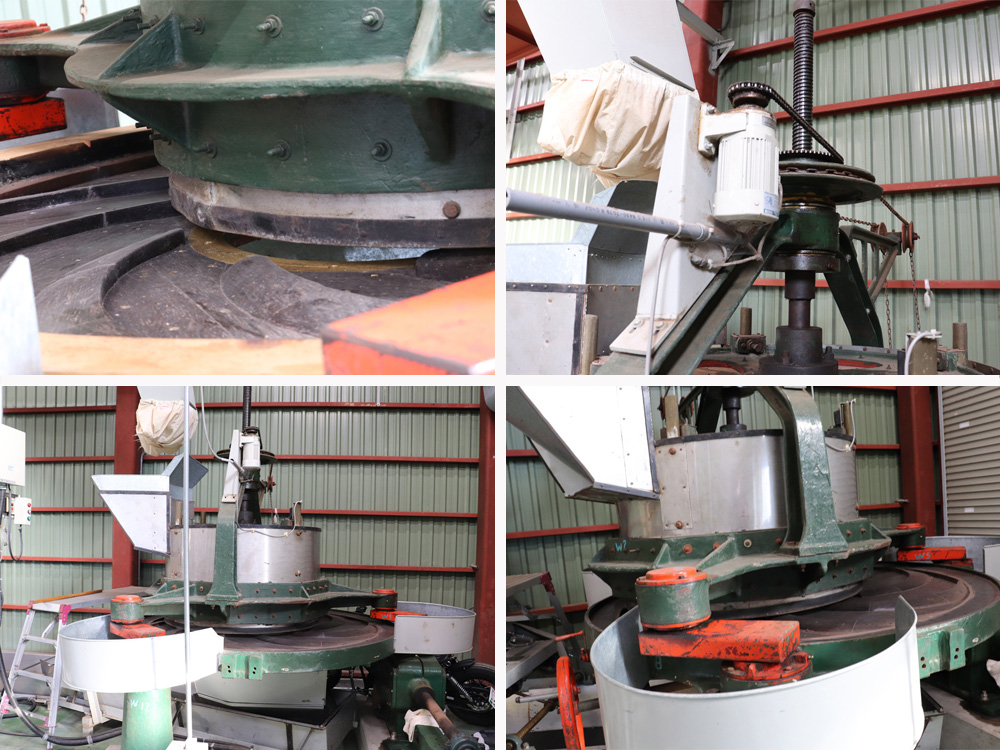 ▲In order to produce the quality tea that Naturalitea demands, a special soft twisting machine imported from Sri Lanka is used.
Interview: Naturalitea's tea making connecting Setonoya to the world.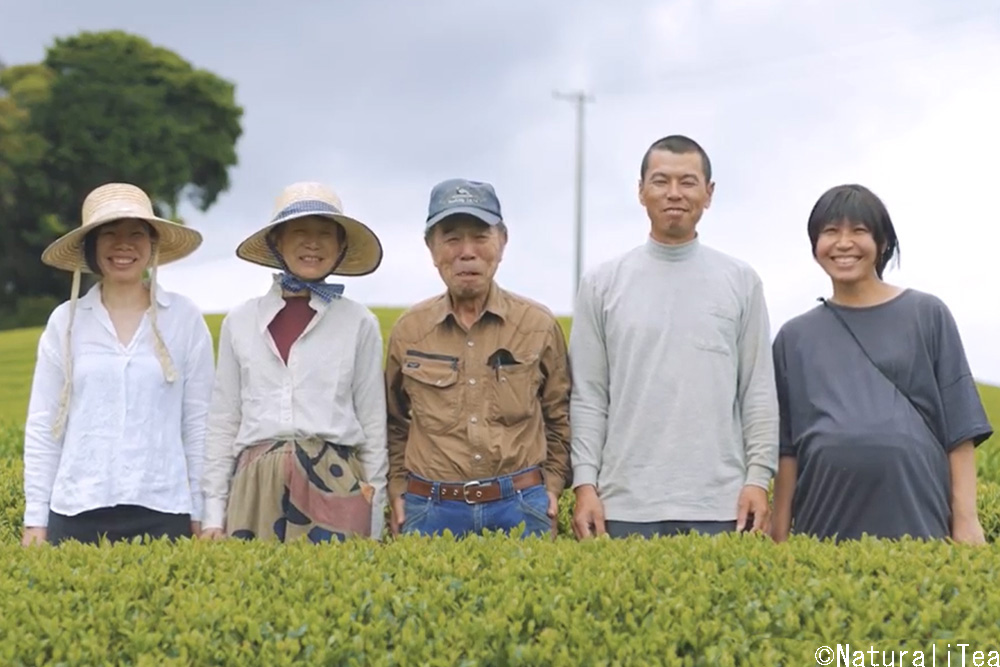 We spoke with Tamiko Kinezuka (the woman on the far left) of Naturalitea.
---
Rehabilitating Abandoned Tea Gardens and Cultivating New Farmers
Today, most of the tea farmers in Setonotani, Fujieda City, are over 60 years old. The number of abandoned tea plantations continues to increase, as the farmers are physically unable to continue farming in the harsh natural environment. One of Naturalitea's activities is to rehabilitate abandoned tea gardens by clearing the land with heavy machinery and replanting tea trees. We also focus on training new tea farmers. In an effort to revitalize agriculture in the area, a childhood friend of Kazuki Kinezuka has recently joined the circle of comrades who have been working together in organic farming since Toshiaki Kinezuka's generation.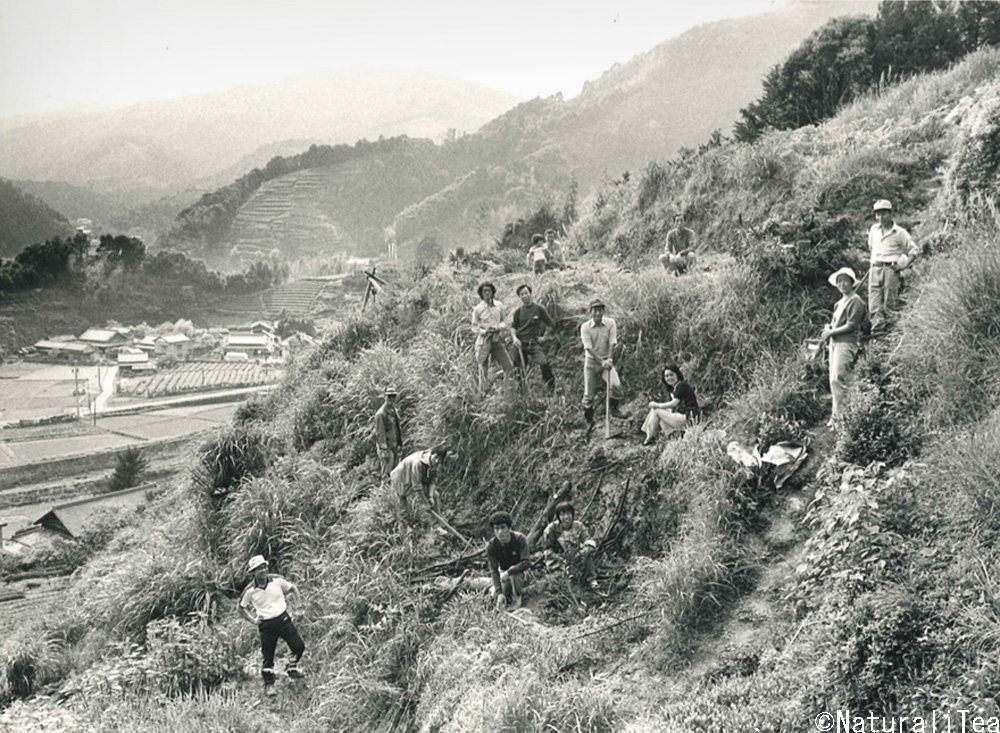 ▲Toshiaki Kinezuka, who started organic farming 45 years ago, and local farmers. They are still working together to train new farmers.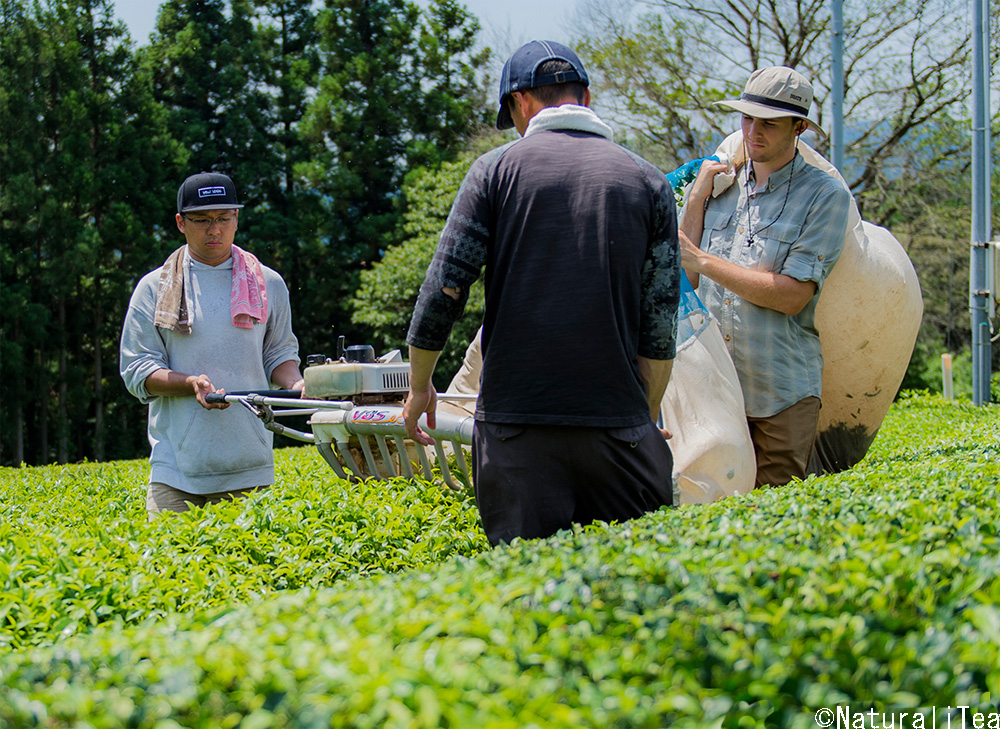 In recent years, in order to convey the appeal of Setonoya's natural environment, tea flavor, and organic cultivation, a young generation of farmers has begun connecting with people around the world via SNS to encourage them to visit the area in person.
The tea farm tour that tourists love!
Naturalitea offer tours of their tea production facilities for visitors from all over the world. We give them the opportunity to visit various tea plantations in different mountains. They can see up close the change in growth and unique characteristics of the plants depending on the area. Depending on the time of year we are able to give tours of the tea processing factory and show the machines.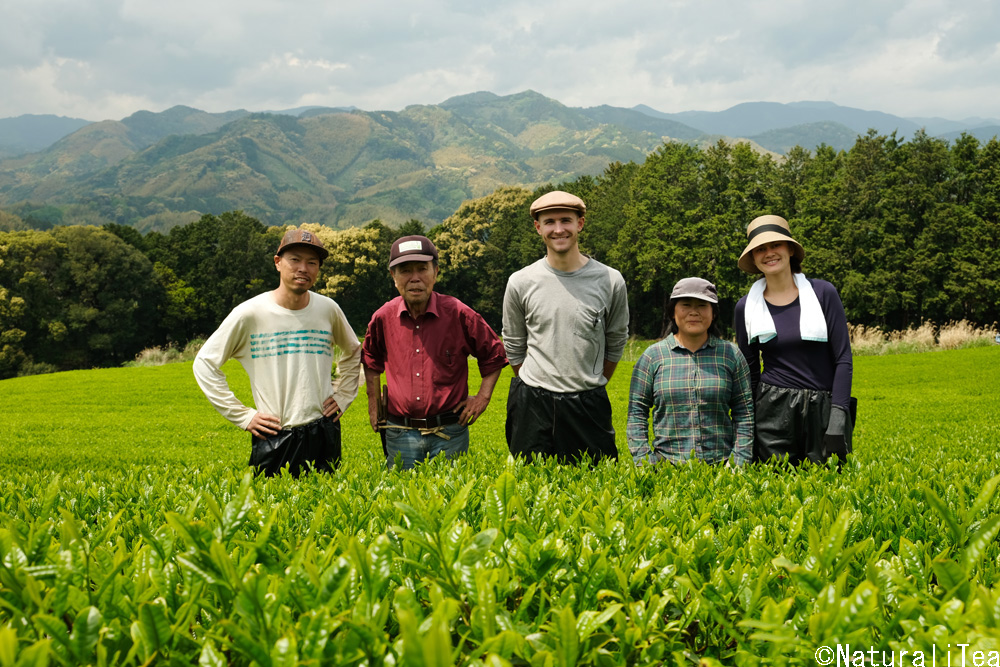 We also offer tea tasting opportunities. There are many different types of tea, and I think it is easiest to understand what kind of tea is available by actually tasting and comparing them. When we have visitors from overseas compare several kinds of tea, they are surprised at the difference in taste.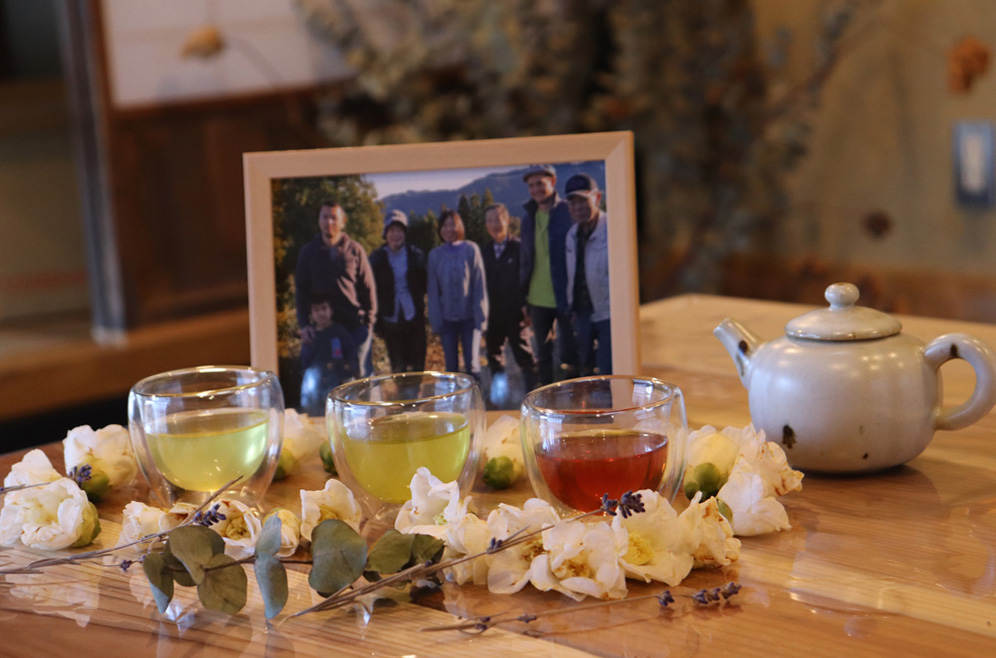 We exchange opinions with you about the environment, the Japanese tea industry, and the wonderful scenery of Setonoya, which is blessed with abundant nature, while sharing our thoughts about the tea we have painstakingly produced.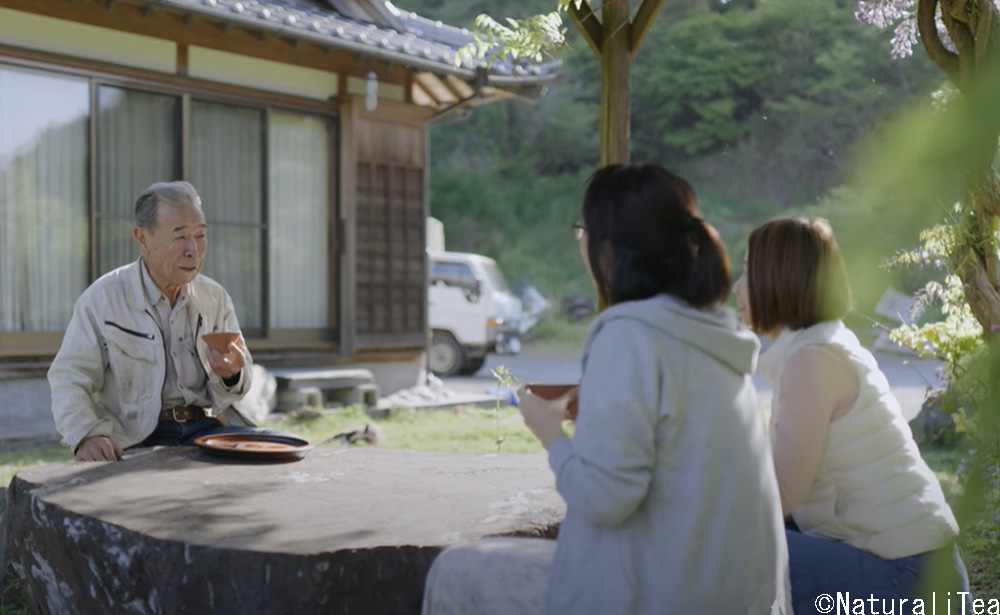 -Are there people abroad who are interested in seeing Japanese tea plantations?
There are many. We once had a visitor who lived in Singapore, and he had only seen wildlife on TV. He was fascinated by the sight of spiders catching other creatures in the fields (laughs).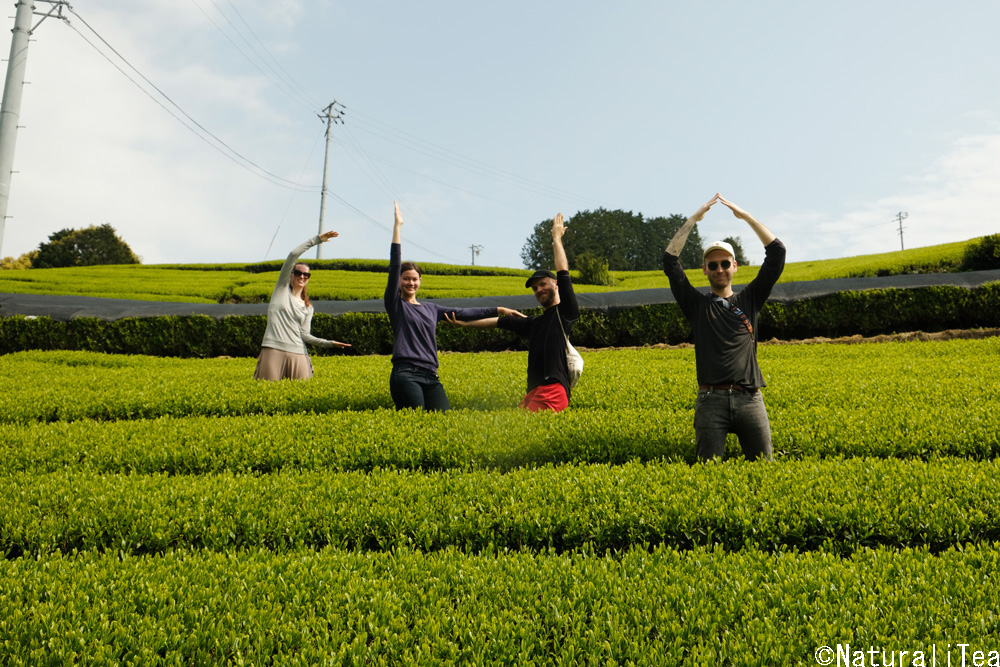 For those for whom these tours are not enough, we also accept interns for long-term stays in Japan. In this case, we have a guesthouse, Tsubaki-tei, to welcome visitors from far away.
Tsubaki-tei, a guesthouse renovated from an 100 year old traditional minka (Japanese-style folk house).
It is not only a comfortable accommodation with a uniquely Japanese flavor, but also a place to experience the charm of this region. We primarily cater to those who are staying in Japan for a short period of time, but we also accept those who wish to stay longer.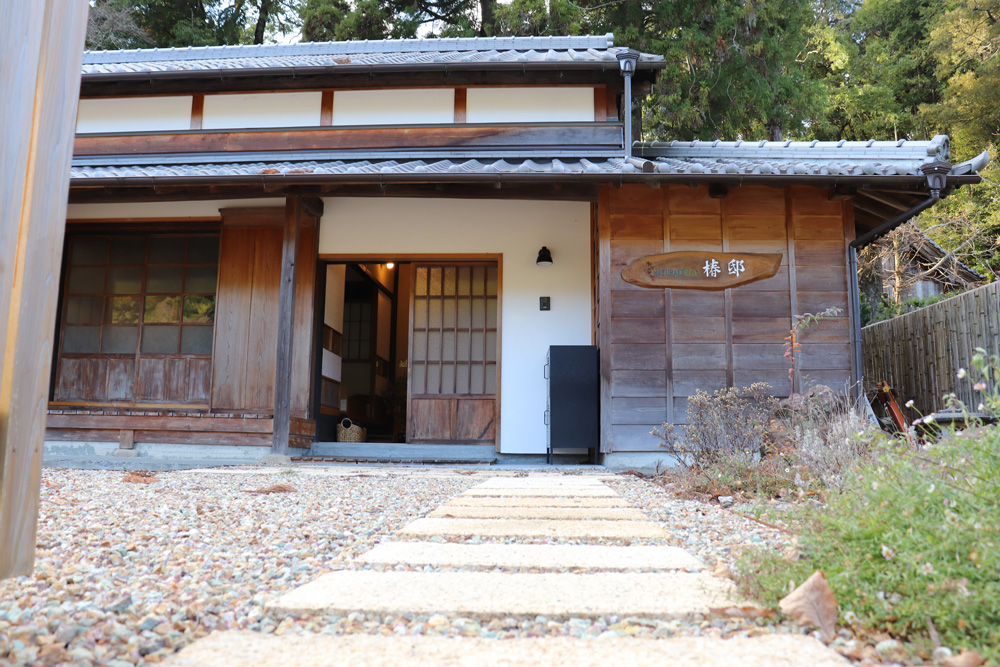 During your stay at Tsubaki-tei, you will be introduced to tea cultivation and processing, as well as seasonal vegetable and fruit harvesting, festivals in the area, and other fascinating places and people. Two road bikes are also available for those who wish to explore the area on their own.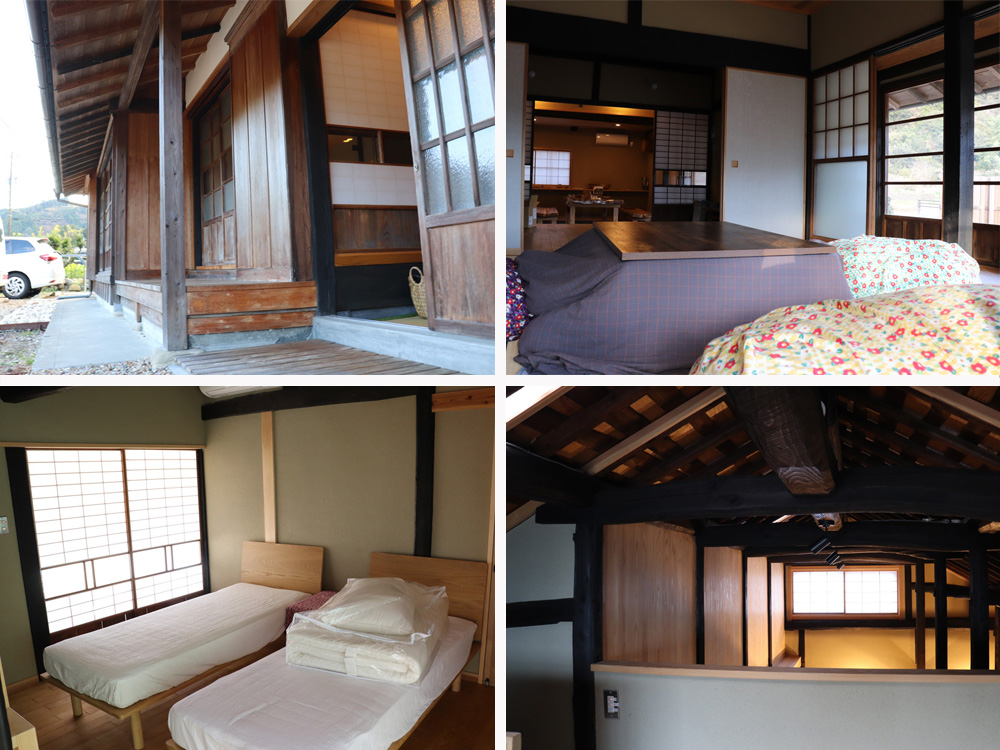 –Oh, I see, an accommodation where one can experience Japanese country life!
That's true, but just as we are sometimes surprised by different cultures and customs when we travel to foreign countries, tourists also experience culture shock. Even if they want to visit a tea-producing region in Japan, they may be at a loss for how to get there without a guide. In such cases, we feel it is necessary to provide attentive support that is in tune with the feelings of the guest. Tsubaki-tei is a place for this purpose. We speak English, Japanese, and Chinese.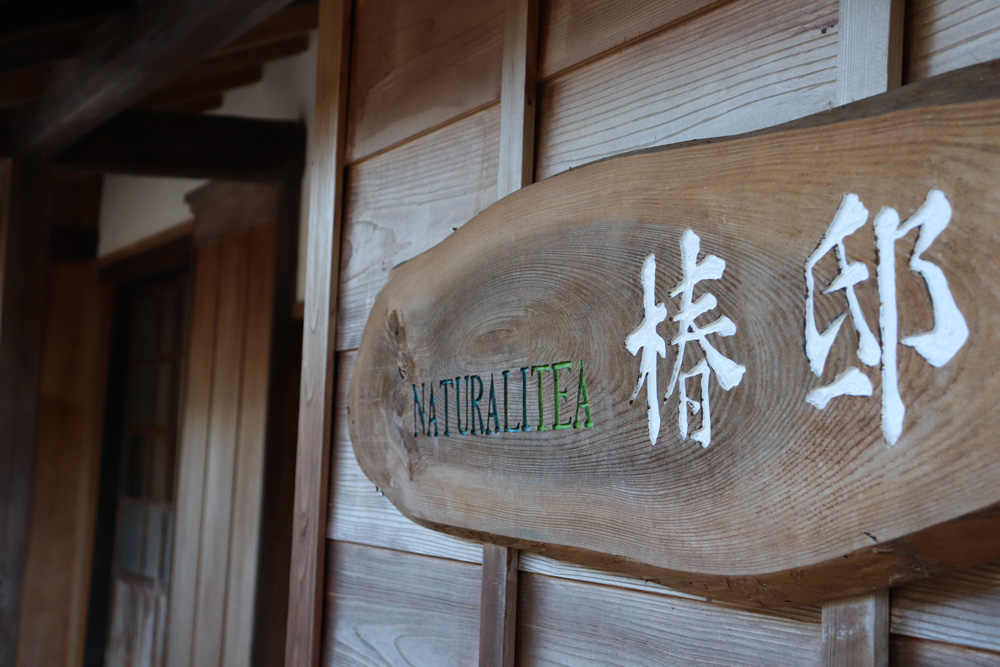 –How long do people stay here?
Those who stay for short periods of time are mostly from Europe and America, and the length of their stay is about a week. Long-term visitors are mostly Asian, and the longest stay so far has been 3 months. He came during the harvest season and stayed until his visa expired.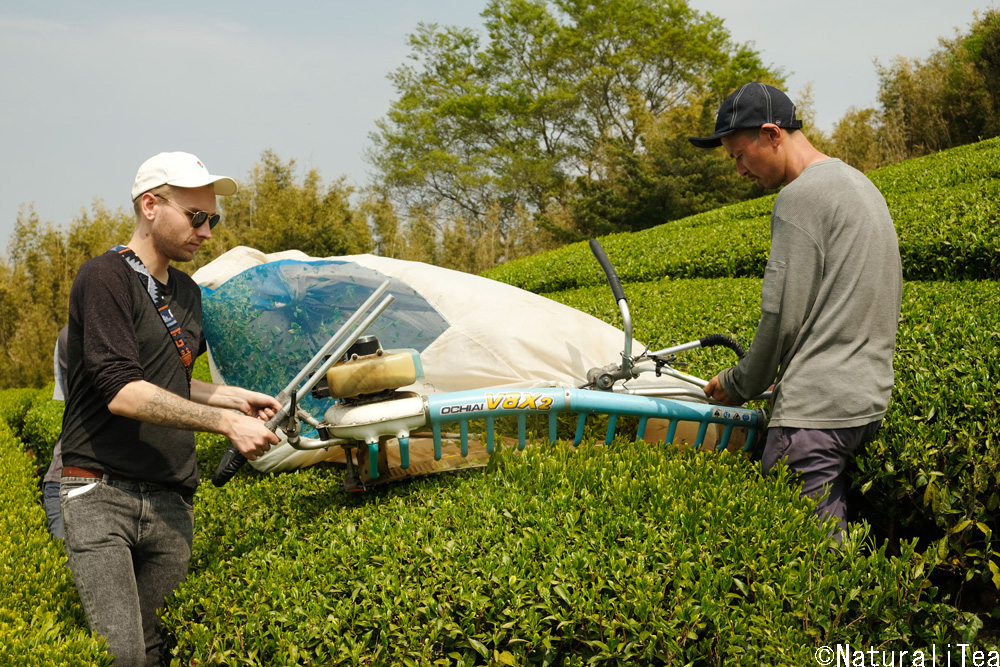 Japanese tea is popular overseas.
Through our tea plantation tours, we feel that there are many tea lovers in the West. However, there is little information about Japanese tea in English. About 50% of the foreigners who come here do not know how to brew tea. Rarely do we receive visitors who know more about tea than the average Japanese person.
Currently, organic tea is the most popular export of tea to foreign countries. Europe has particularly strict regulations regarding tea imports, but our tea meets the regulations and everyone is happy with our tea.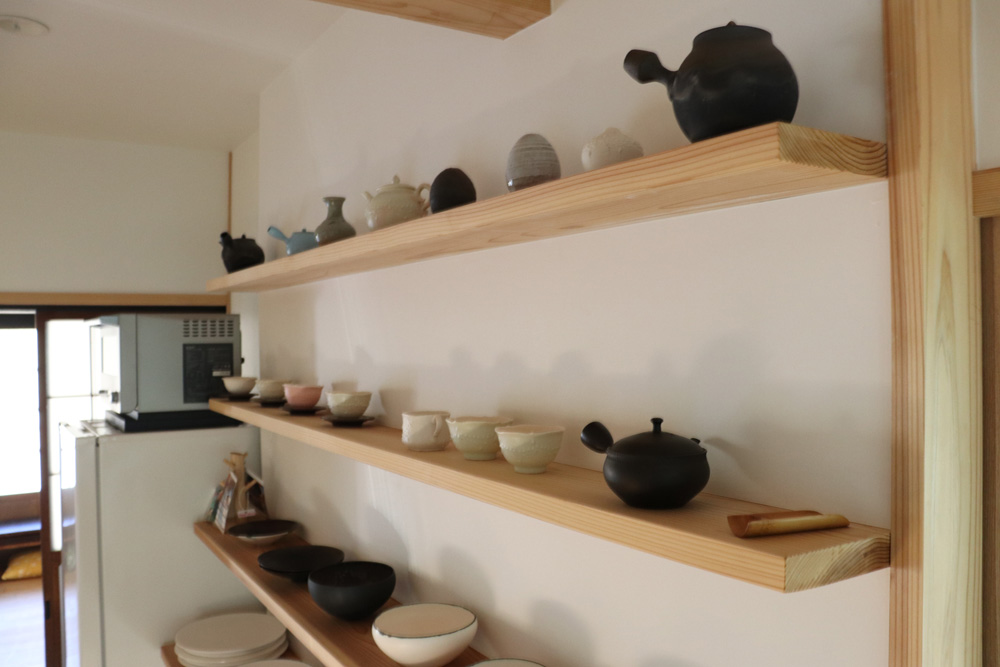 –Wow, I see. Japanese tea is very popular overseas.
The tea is well-liked, but the opportunity to interact with local people is also very popular. The experience of cooking home-cooked meals with local people using seasonal ingredients such as wild vegetables and bamboo shoots is something you can't do simply by traveling to Japan (laughs).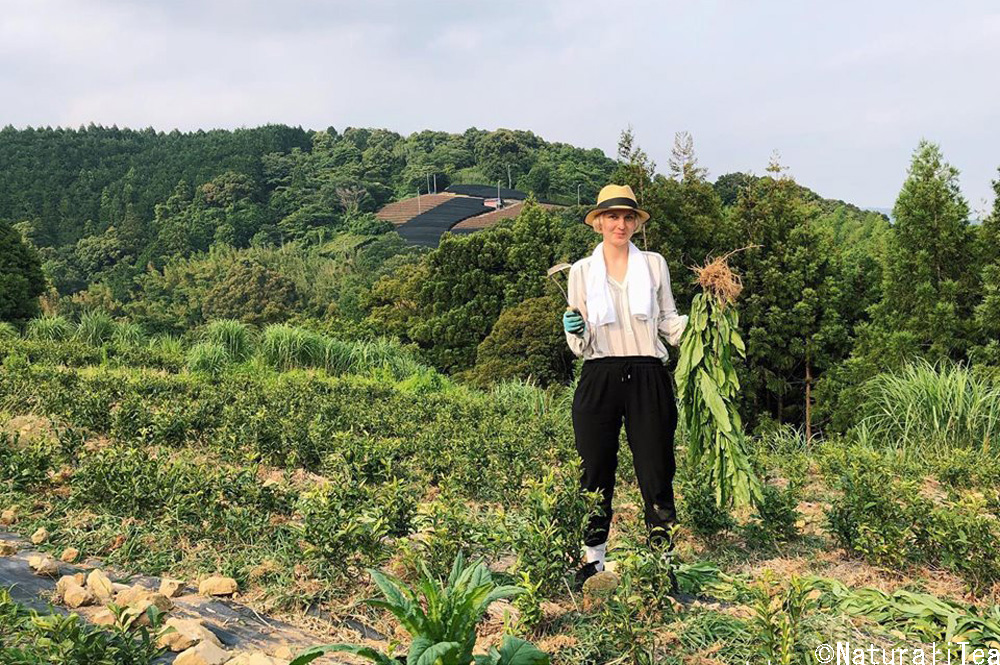 I still keep in touch with the people I who came here through social networking sites. Every year during the tea season, we have people from overseas who come to help us. We hope that we can become a second home for those who visit here, to which they want to return again and again!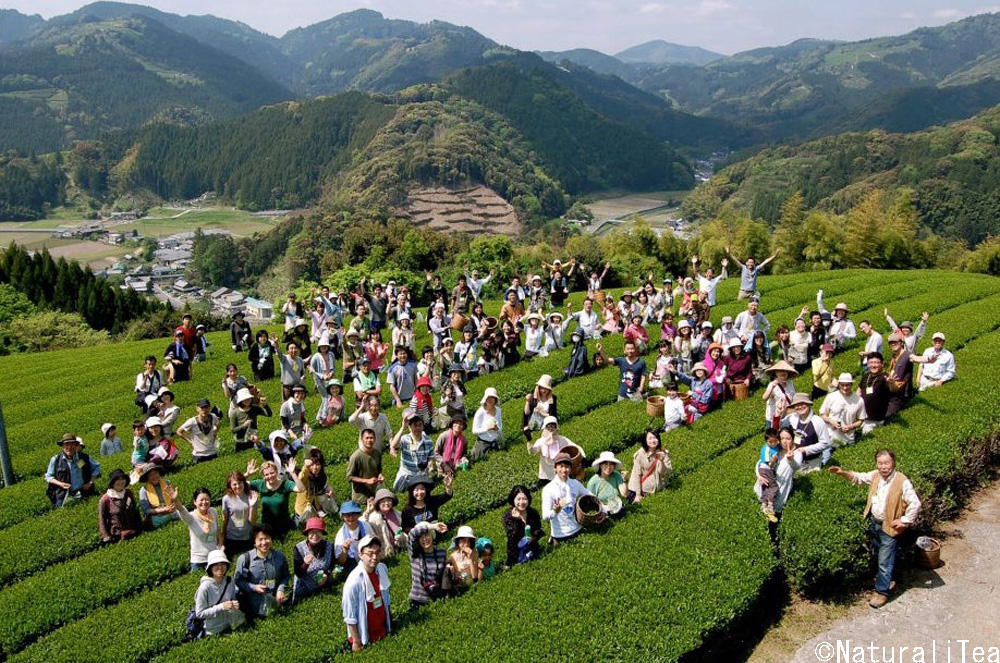 ~Information Of Naturalitea~
Address

Never visit without a prior appointment.

Website

https://naturalitea.com/

SNS

https://www.instagram.com/naturalitea_setoya/
Phone number
+81-054-639-0033
E-money and credit cards: Available
QR code payment
only web shop Available
Open
Contact Naturalitea
Closed
Contact Naturalitea
Parking lot
Available for a few cars
Access
By car
– 15-minute drive from fujieda Station
| | |
| --- | --- |
| Writer | Norikazu Iwamoto |
| Career | Ochatimes chief editer.Meeting with Vice Governor of Shizuoka prefecture. Judge of Fuji country 100 tea's award in 2021,2022.Ocha Times link introduced at website of World O-CHA(Tea) Festival 2022, Tea Science Center and Ministry of Agriculture, Forestry and Fisheries. |
| | |
| --- | --- |
| English translator | Calfo Joshua |
| Career | Born and raised in England, living in Japan since 2016. Studying arboriculture in Shizuoka Prefecture whilst operating his landscape business Calfo Forestry. Appreciating the nature of Japan and the culture that places such importance in it. |
Related articles