Leaf Paradise's Desire to Serve You the Best Taste of Green Tea 【Shizuoka City, Shizuoka Prefecture】

Go to Japanese page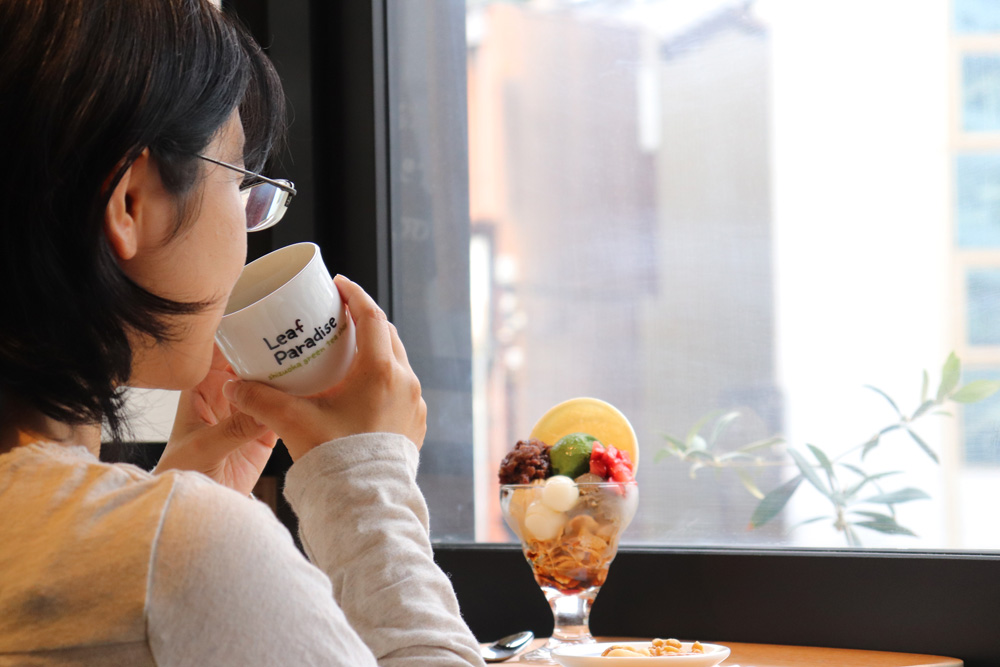 Tea is served in various forms, including tea bags, PET bottles, and even powdered tea. We would like to introduce Leaf Paradise, a Japanese tea café that specializes in green tea brewed in a kyusu (Japanese iron teapot), located on Komagata-street in Aoi Ku, Shizuoka City. Yoshihiro Katsuyama, the owner and representative director of tea wholesaler Yamaka Katsuyama Shoten, carefully brews tea in a kyusu pot and brings it to you on a tray every time you place an order. The café allows visitors to experience the heartfelt hospitality of this active tea wholesaler.
This article will include an interview with Yoshihiro Katsuyama, president of Yamaka Katsuyama Shoten, about the reasons for opening Leaf Paradise and the appeal of teapot-brewed(kyusu) tea.
About Leaf Paradise
Leaf Paradise is a Japanese green tea cafe located on Komagata-street in Aoi Ku, Shizuoka City. It is operated by Yamaka Katsuyama Shoten, a long-established tea wholesaler that has been in business for over 80 years.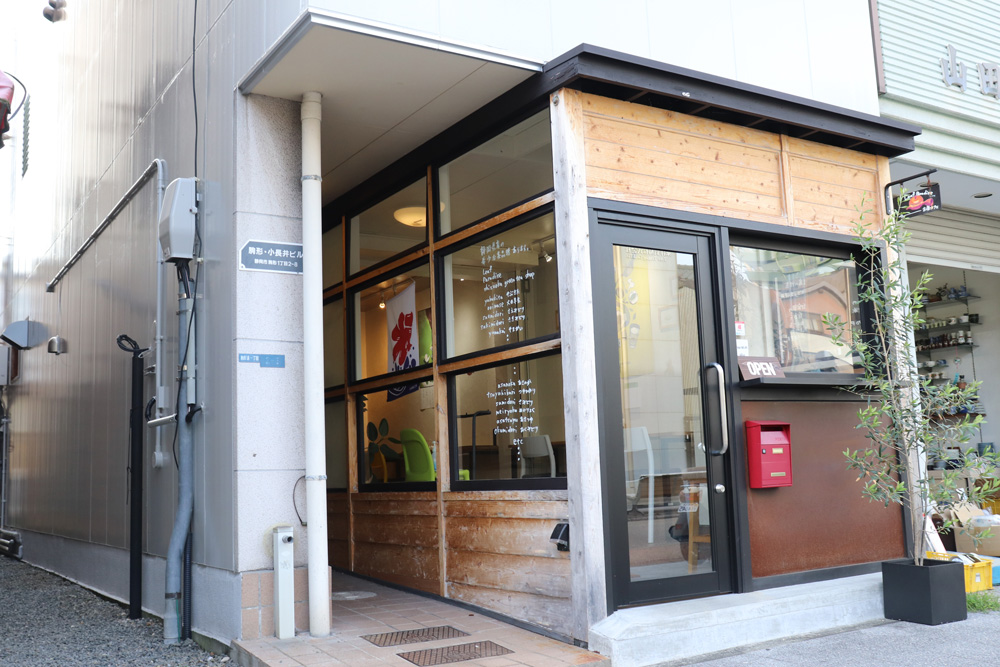 The stylish exterior of the cafe is designed to make it easy for young people to enter, with the hope of being a cafe that conveys the appeal of green tea to the younger generation. The interior is based on a white color scheme with a warm and relaxing wooden structure.
The kitchen and counter for taking orders is on the left side of the entrance. The shelves on the right display a variety of teas carefully crafted by Leaf Paradise's operator, tea wholesaler Yamaka Katsuyama Shoten.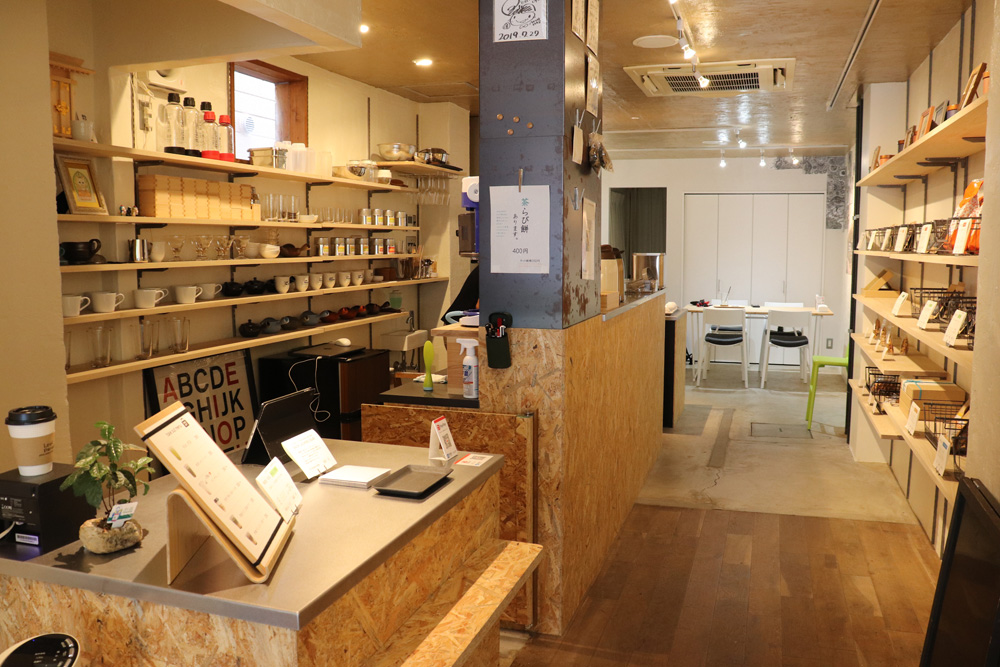 Displayed on the top shelf are Yamaka Katsuyama Shoten's best teas. Asamushicha (lightly steamed tea), fukamushicha (deep steamed tea), genmaicha, hojicha, and Japanese black tea are all sold throughout the year.
The tea on the second shelf is a little playful. Mr. Katsuyama says, "I would like to introduce tea products that most people are unaware of.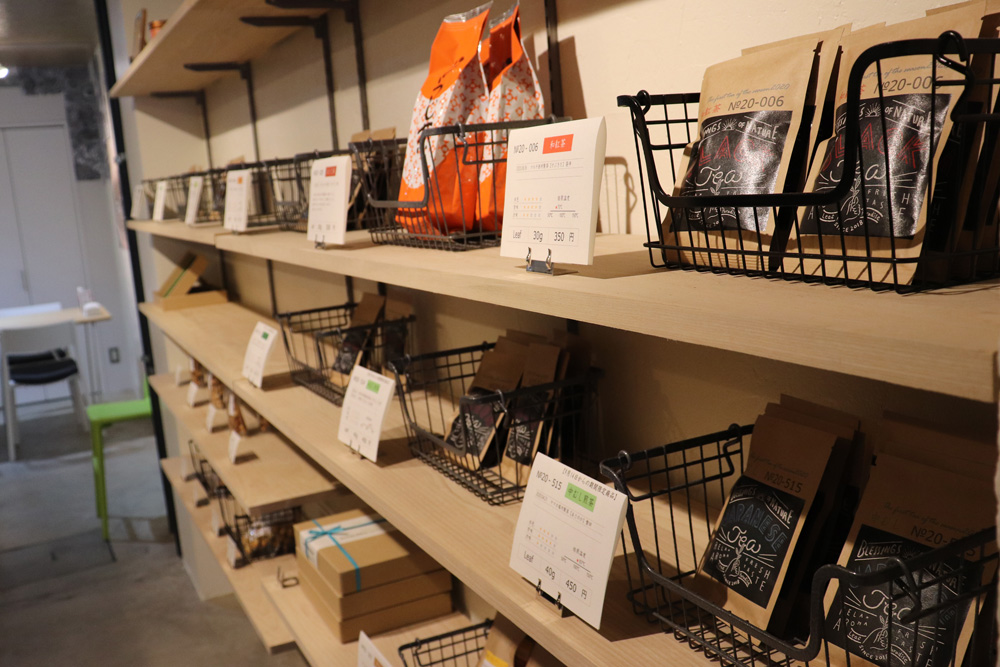 The teas are introduced with a card that provides a concise index of the tea's characteristics, making it easy to understand even for green tea beginners.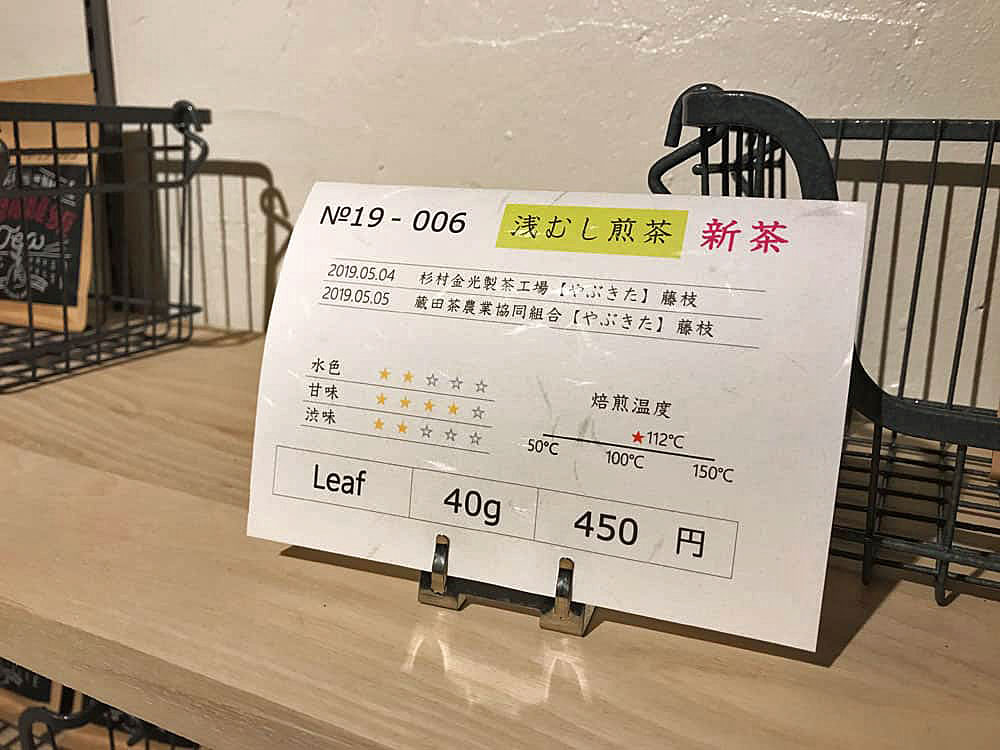 You can also purchase utensils such as teapots(kyusu), filter-in bottles, and Leaf Paradise original teacups.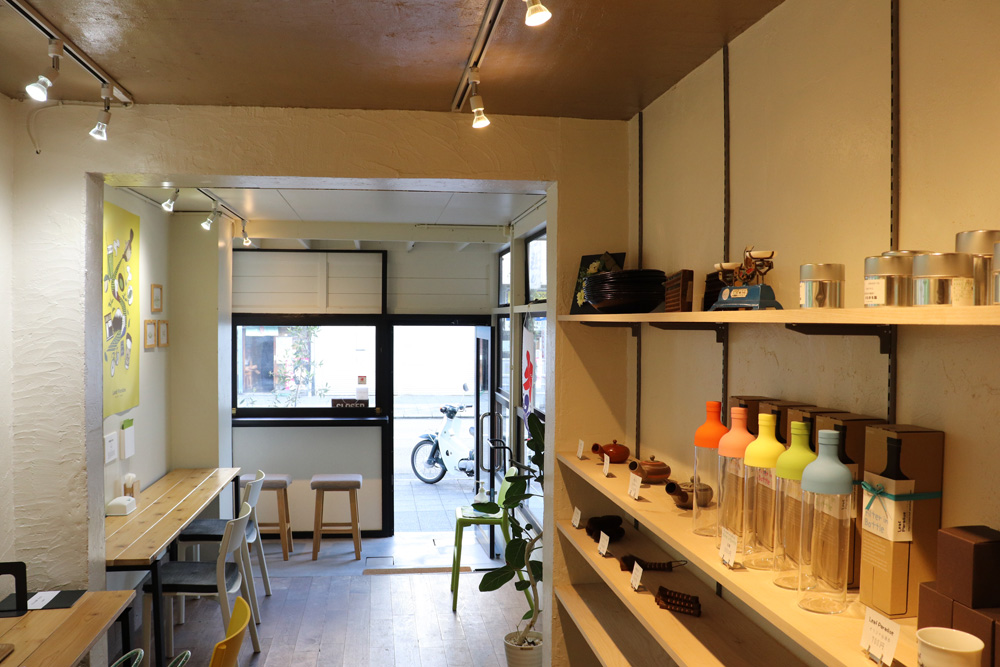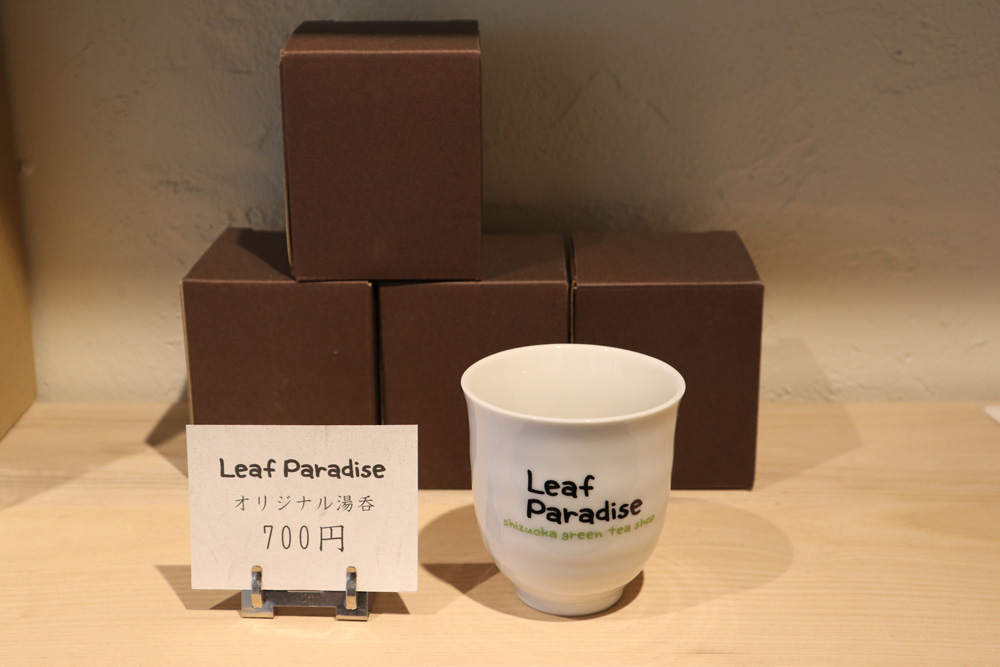 Leaf Paradise's Cafe Menu
The teas offered at Leaf Paradise are blended teas known as gougumicha (gougumi refers to a technique of blending teas from various regions to create a tea with a profound flavour), carefully crafted by the professionals at Yamaka Katsuyama Shoten.
Whenever an order is placed, Yoshihiro Katsuyama carefully brews the tea in a teapot(kyusu) and brings it to you on a tray. Here is a brief introduction of the café menu at Leaf Paradise.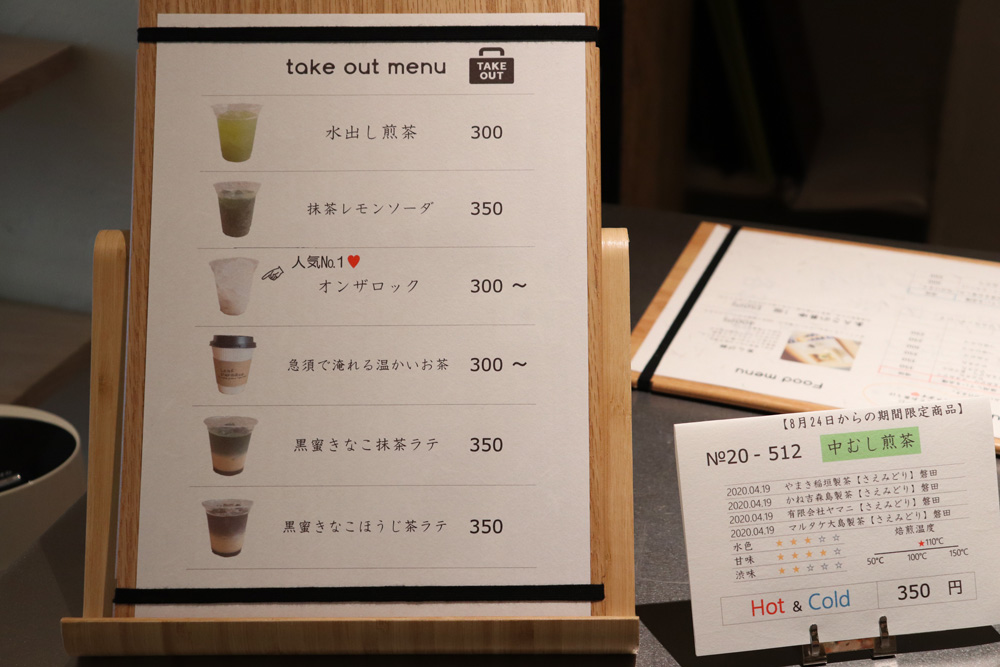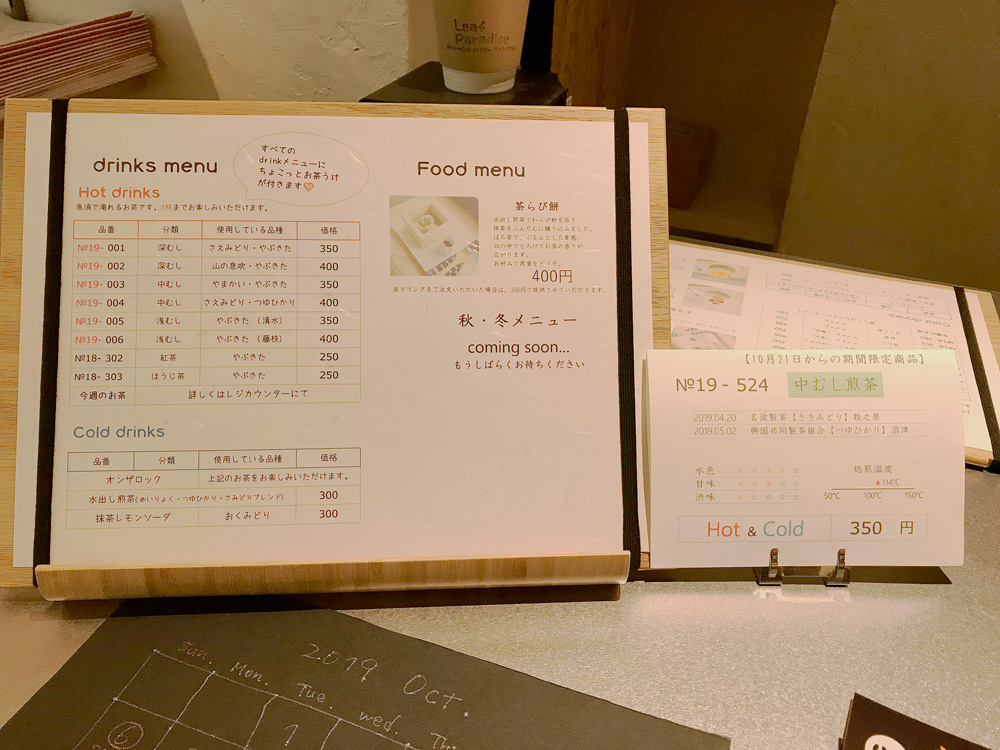 Asamushicha (lightly steamed green tea)
This tea is made by combining carefully selected leaves grown in the mountainous region of Shimizu, famous for its high quality even in Shizuoka Prefecture. A lightly steamed tea with the fresh aroma of the mountains.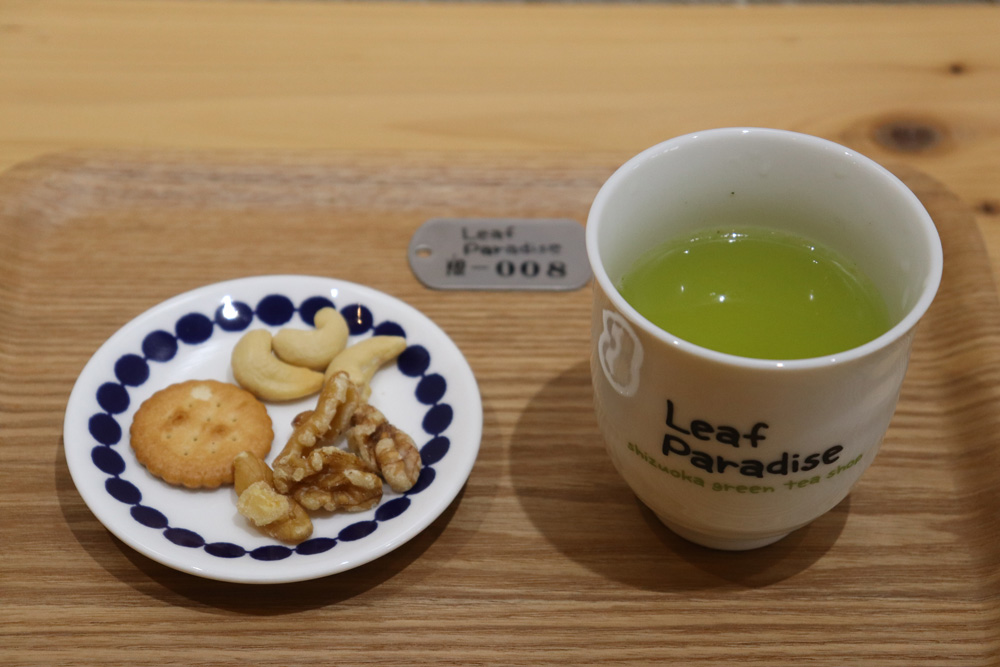 After finishing the first infusion, return your small silver plate on a tray to Mr. Katsuyama, and he will brew a second infusion and bring it to you. Cold tea is served on the rocks, so only the first brew is served.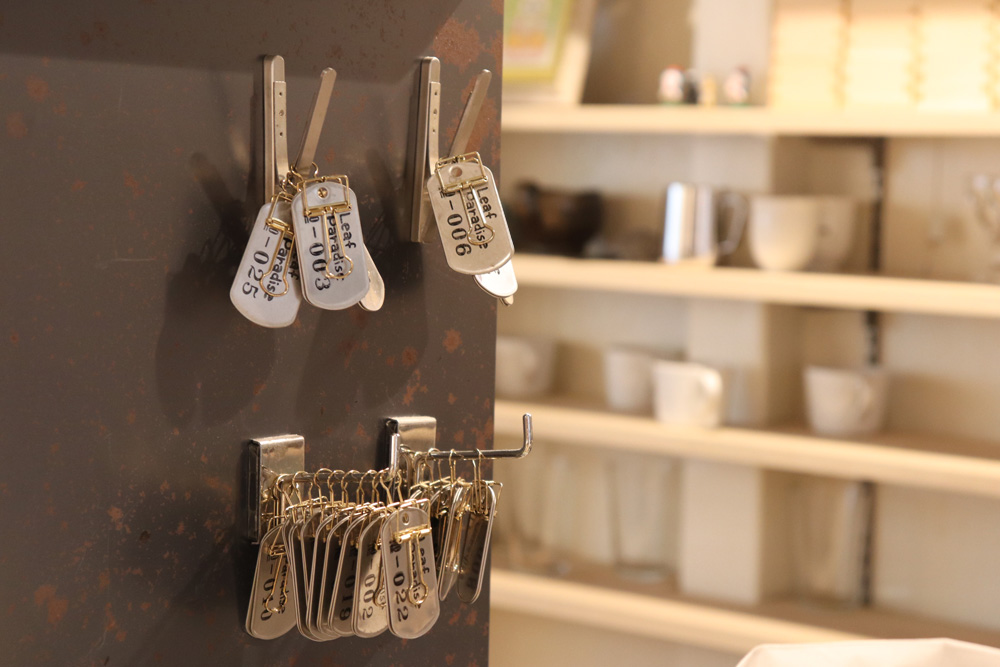 Genmaicha (brown rice tea)
The aroma of fragrant brown rice and the natural sweetness of the tea complement each other perfectly in this cup. The heavy green color of the water produced by "samidori" tea leaves of the tencha variety (used for matcha) is beautiful.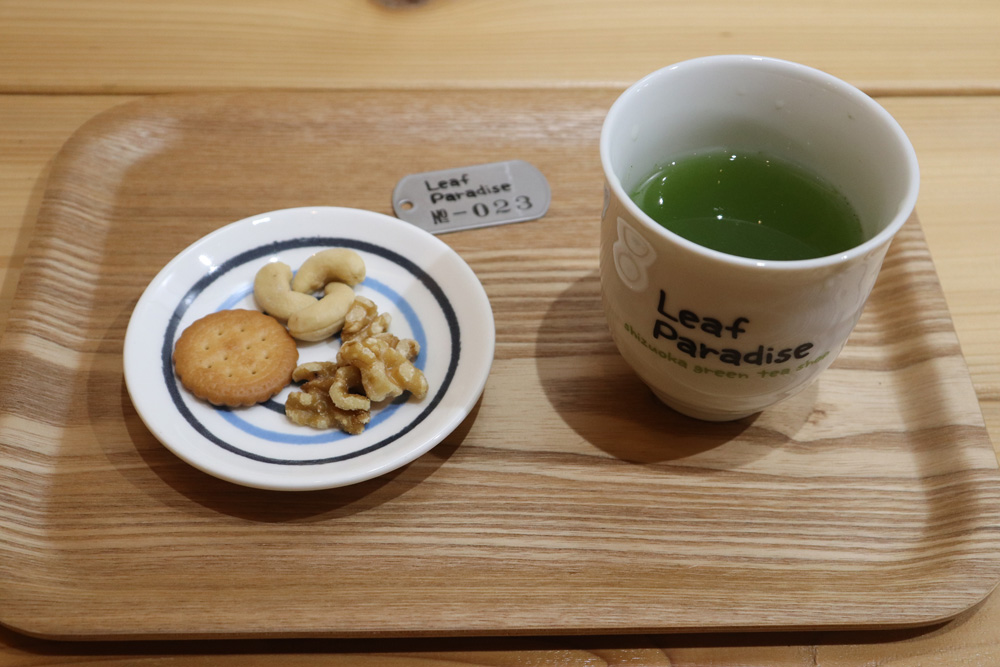 Japanese Black Tea
Japanese black tea made from the most popular tea variety "Yabukita". With little astringency, it has a gentle sweetness and a mellow aroma, giving it a gorgeous flavor.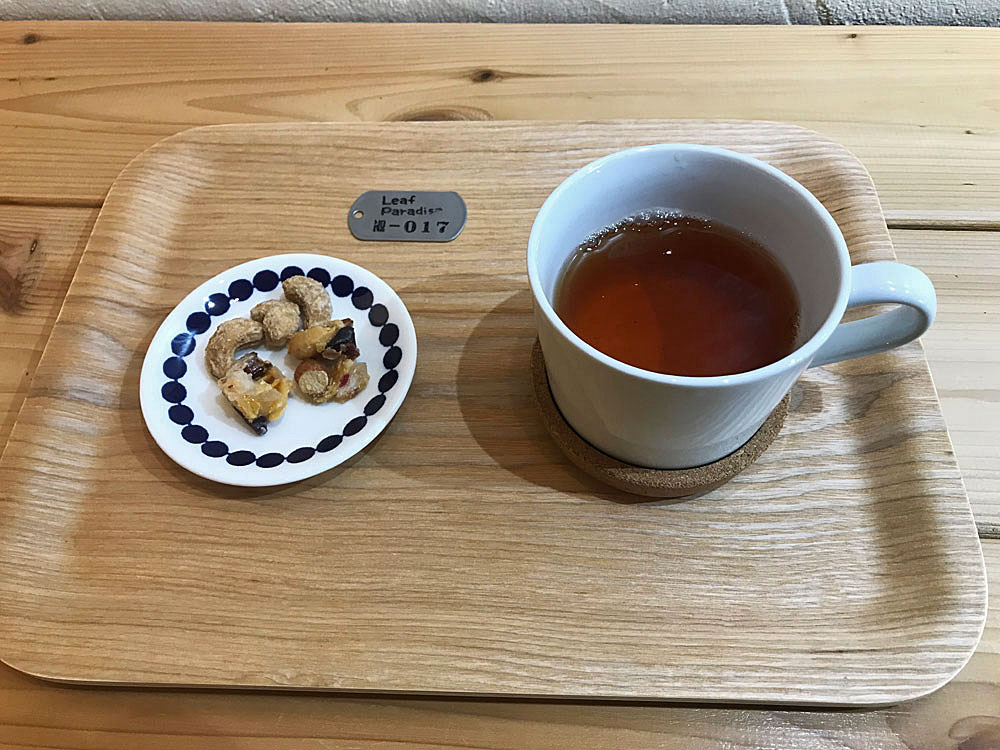 Hojicha Latte
This hojicha latte combines Shizuoka hojicha with molasses and soybean flour. This refined latte is moderately sweet with the lingering aroma of hojicha.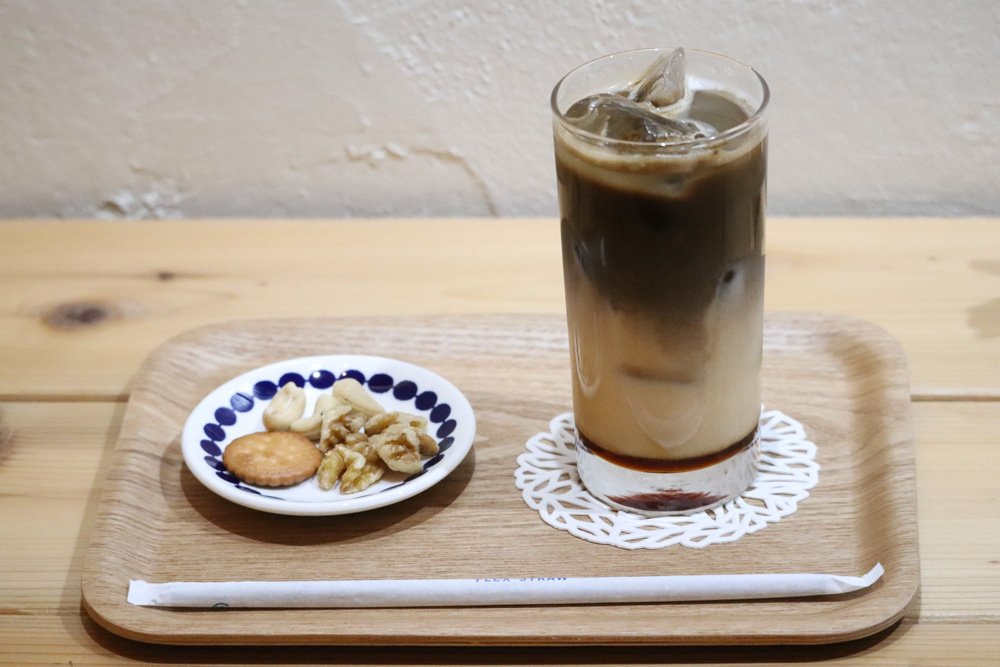 Handmade Monaka
Handmade monaka with moderate sweetness, made with Hokkaido azuki beans and millet sugar. All side dishes such as ice cream, oshiruko (sweet red bean soup), and anko (red bean paste) are handmade in order to deliver safe, delicious food. The red bean paste is handmade from the very beginning making it a hearty delight.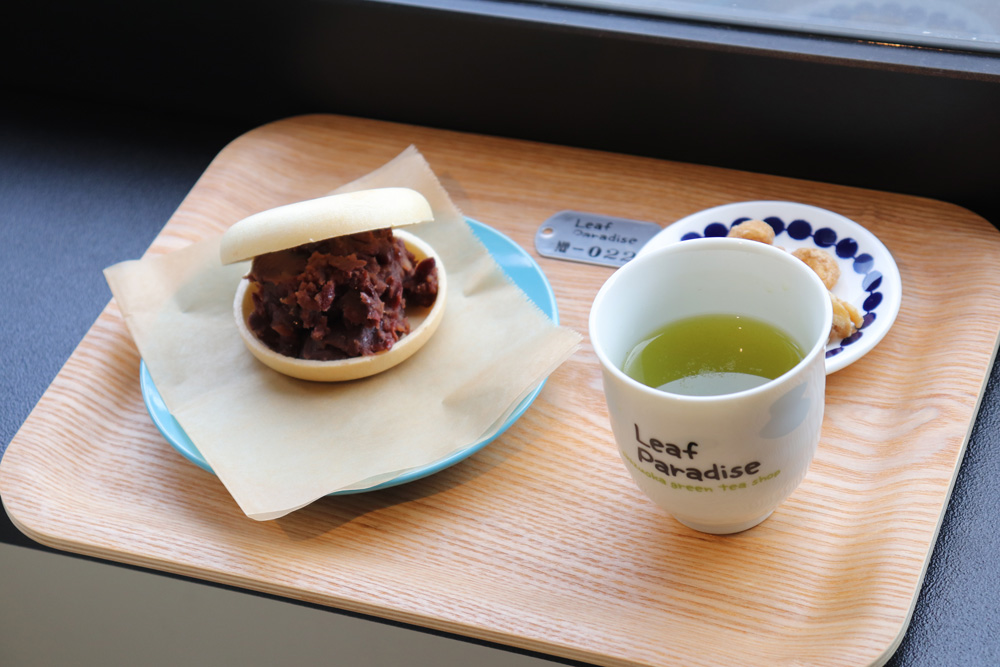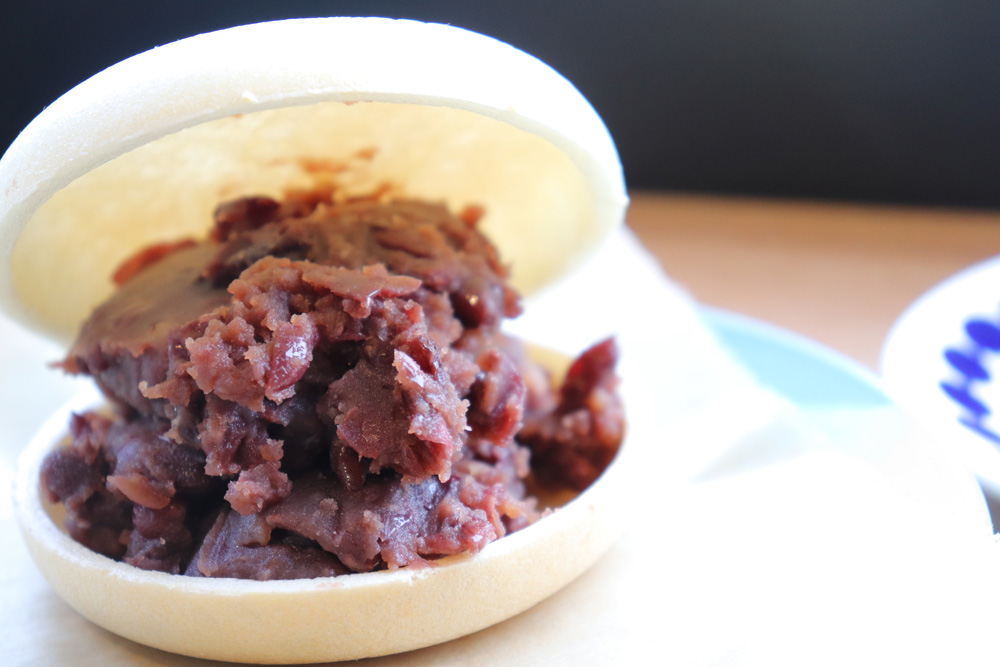 Charabimochi
Tea flavoured warabi-mochi made by dissolving warabiko (bracken powder) in watered sencha green tea and kneading matcha green tea into it. It is handmade daily and available in limited quantities. If you do not order early, it is likely to be sold out.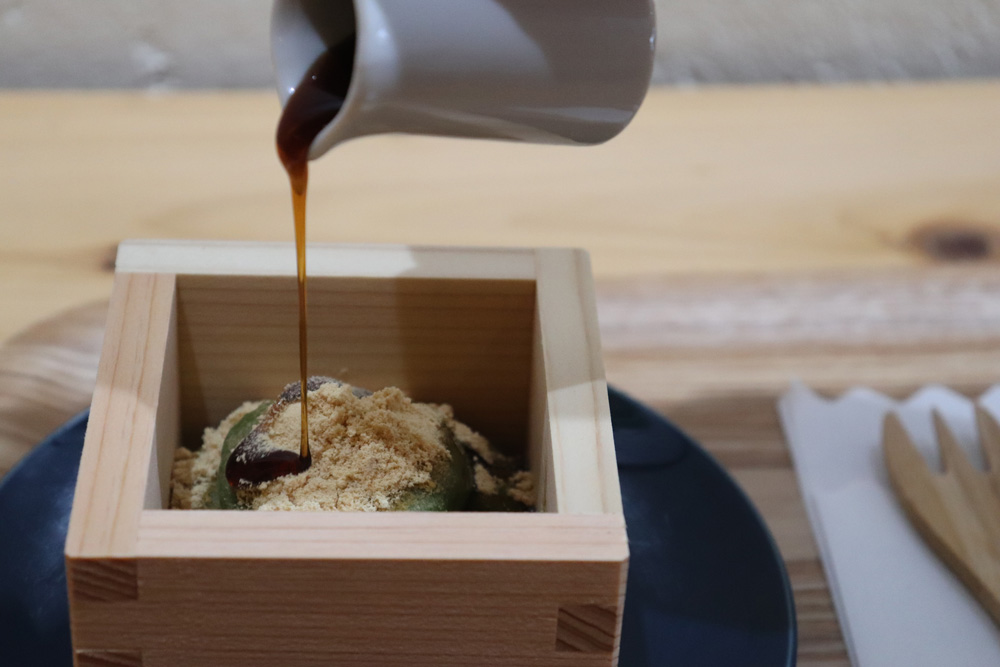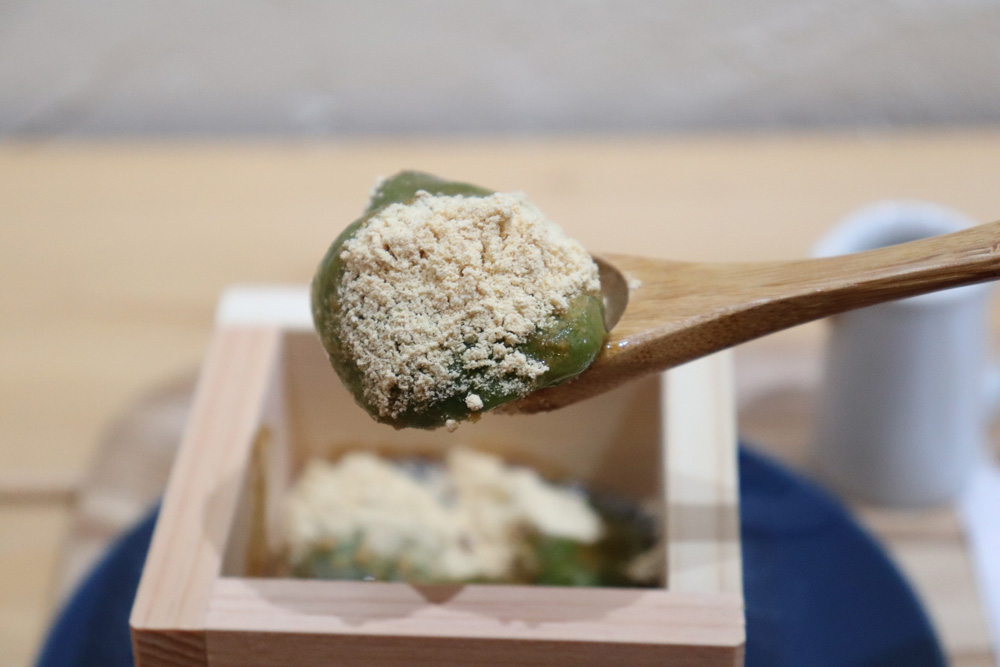 Japanese Tea Parfait
Leaf Paradise's menu is mainly cold in the hot summer and warm in winter, but this Japanese-style parfait is available all year round. Highly recommended very popular dish.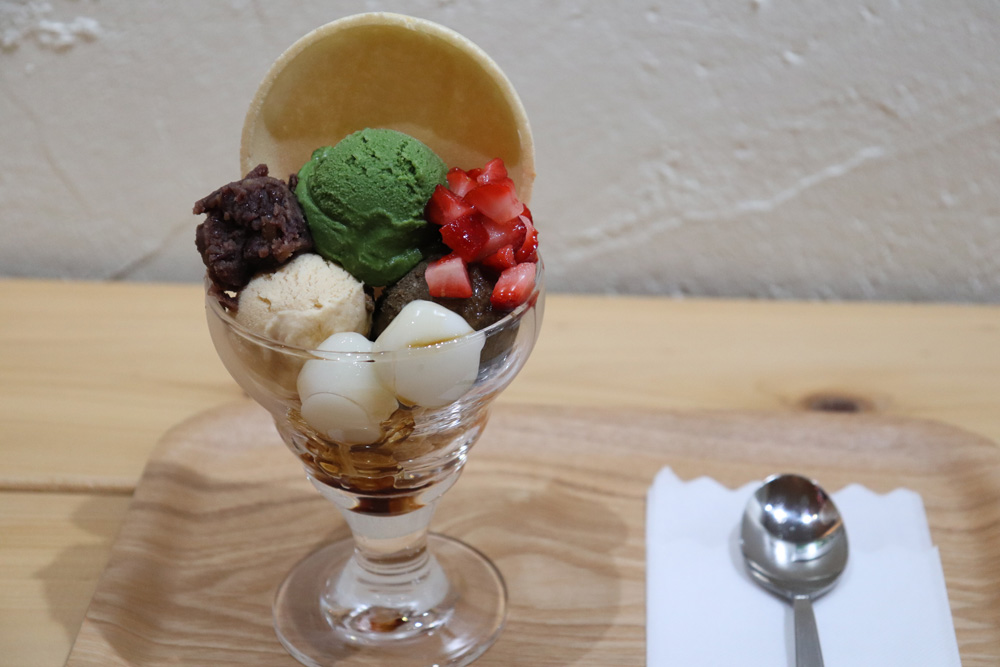 Kakigori(Shaved ice) ~Summer Only~
Shaved ice topped with green tea sauce and topped with shiratama and anko (red bean paste). A strangely satisfying dish. Available only in summer.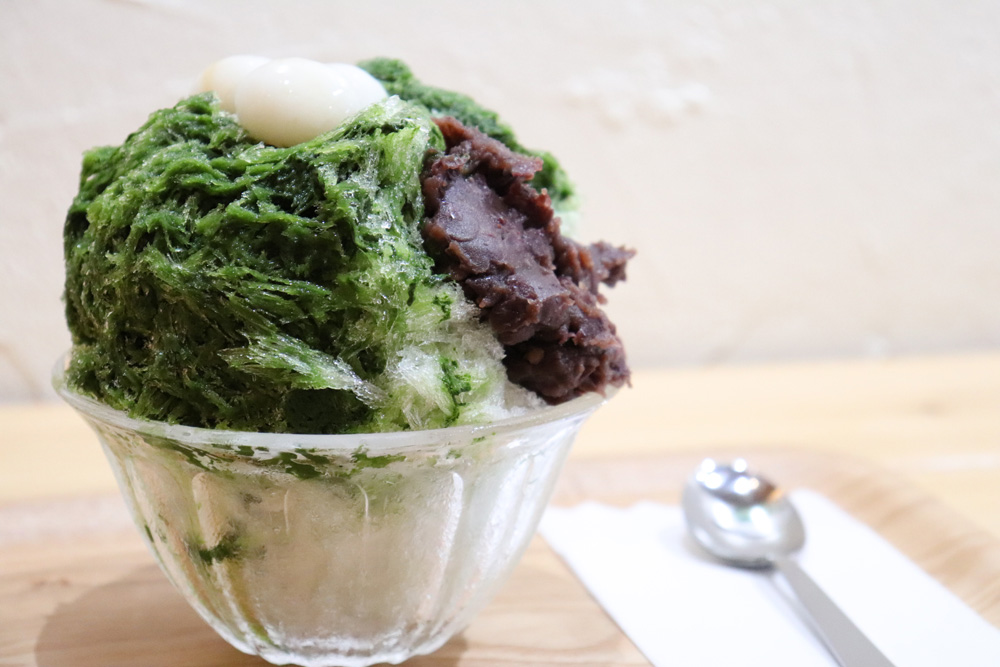 Leaf Paradise has a behind-the-scenes menu that is not listed above. It is called "Today's Me" (If I were to imagine you as a cup of tea).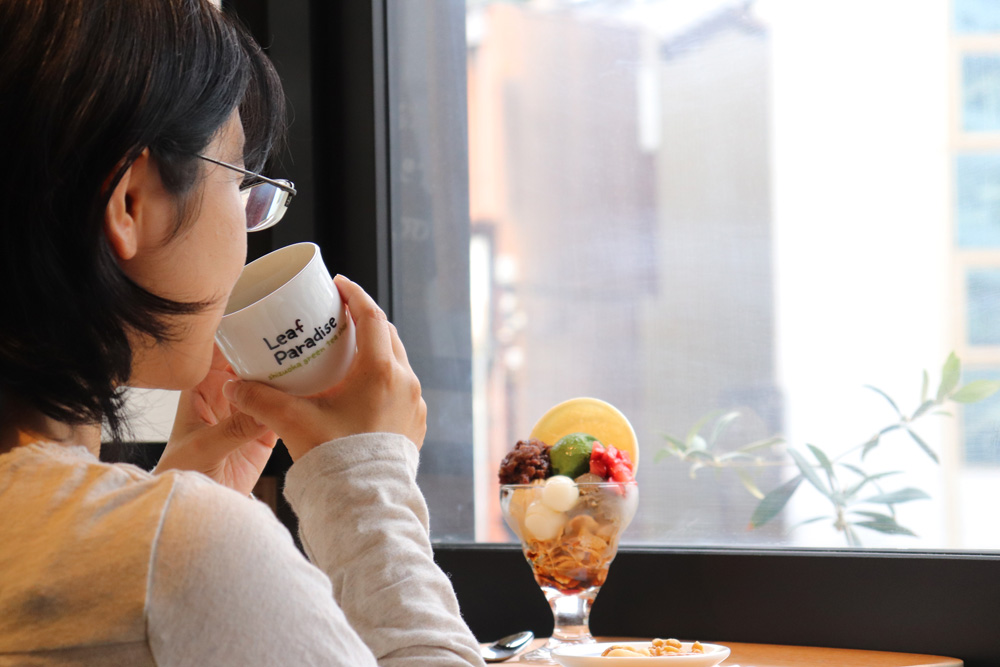 When you ask for "Today's Me" when ordering, Mr. Katsuyama uses the skills and experience he has cultivated over the years to brew a tea that he imagines the customer in front of him to be like.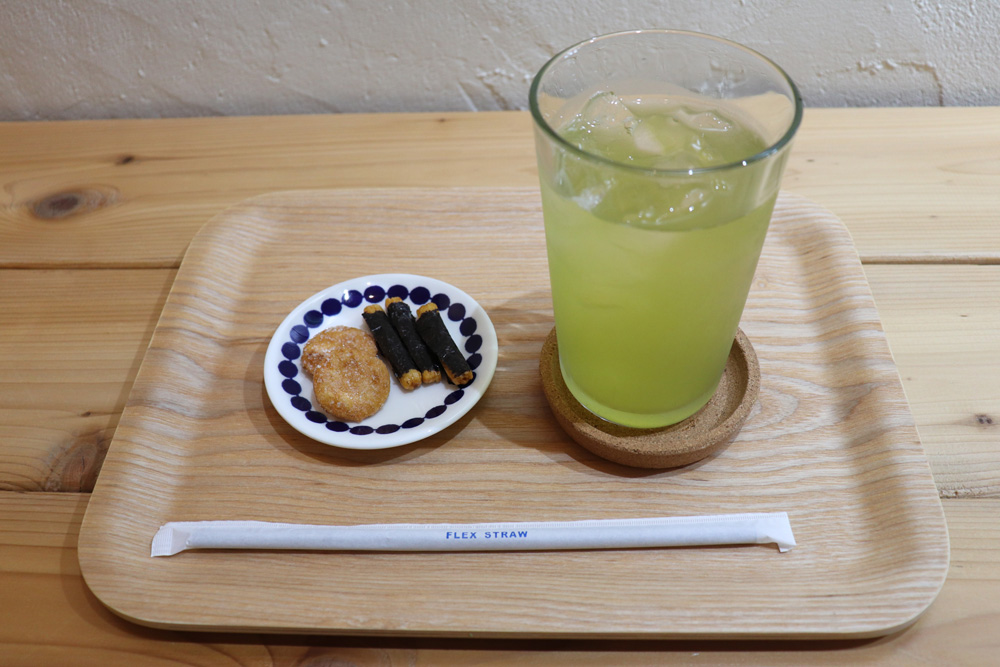 ▲The "Today's Me" ordered by the editor-in-chief of OCHATIMES was a medium-steamed cold tea made from a combination of Sae Midori, Asanoka, and Yabukita.
What kind of tea do you think you will be in Mr. Katsuyama's eyes? You may want to try it out. It is a fun item full of the playful spirit only an active professional can bring to the table.
Interview: Born from the desire to provide the delicious tea that only farmers get to drink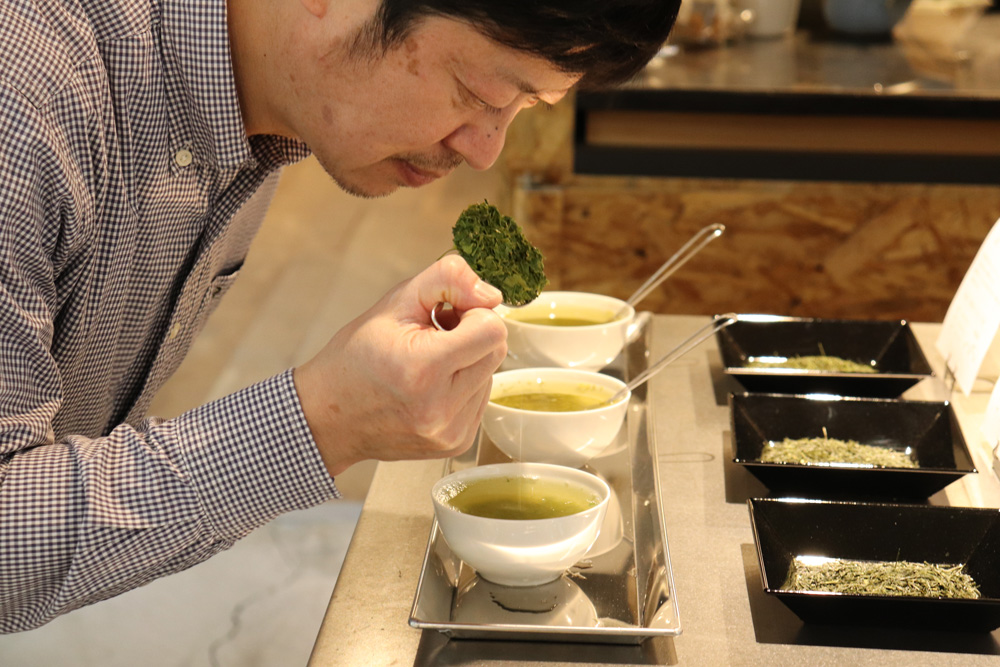 We interviewed Yoshihiro Katsuyama, president of tea wholesaler Yamaka Katsuyama Shoten.
---
–Please tell us about Leaf Paradise.
I am the president of tea wholesaler Yamaka Katsuyama Shoten. We have been engaged in tea production for more than 80 years since our establishment in 1935, and I am now the fourth generation of our family to be involved in this business.
We opened Leaf Paradise in April 2019 to provide consumers not only with the delicious taste and safety and security of our tea, but also to provide them with a better understanding of what ingredients are used and under what principles it is produced.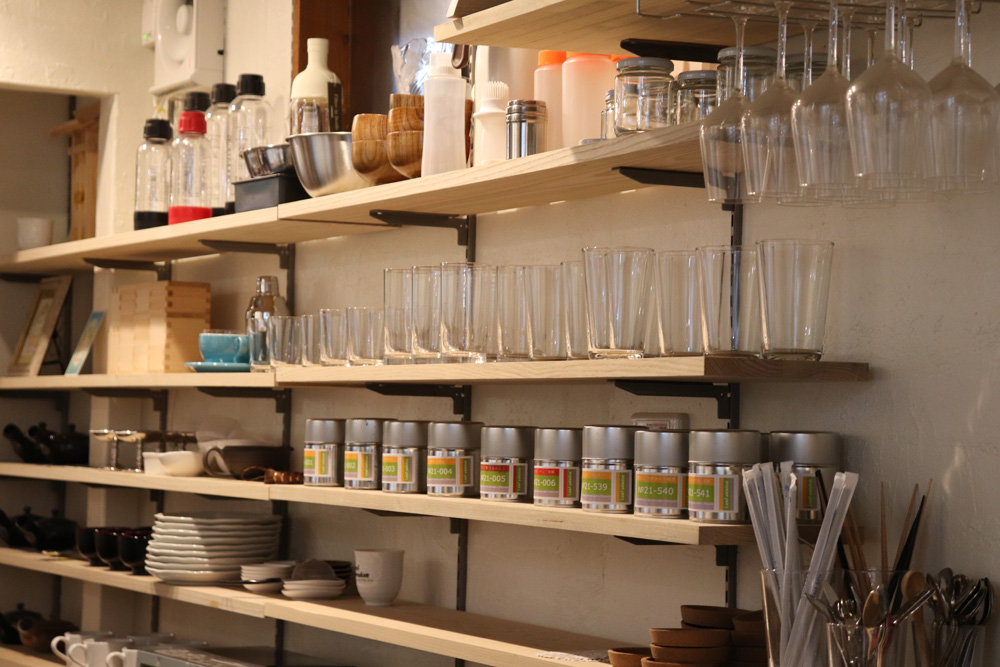 –April is the busiest time of the year for teahouses, isn't it? When you opened Leaf Paradise it must have been a tough time for you, right?
It was tough because the extra busy harvest season of the tea business coincided with the preparation period for the store, but we managed to get through it holding onto the desire to communicate the appeal of tea as soon as possible and opened the store without incident (laughs).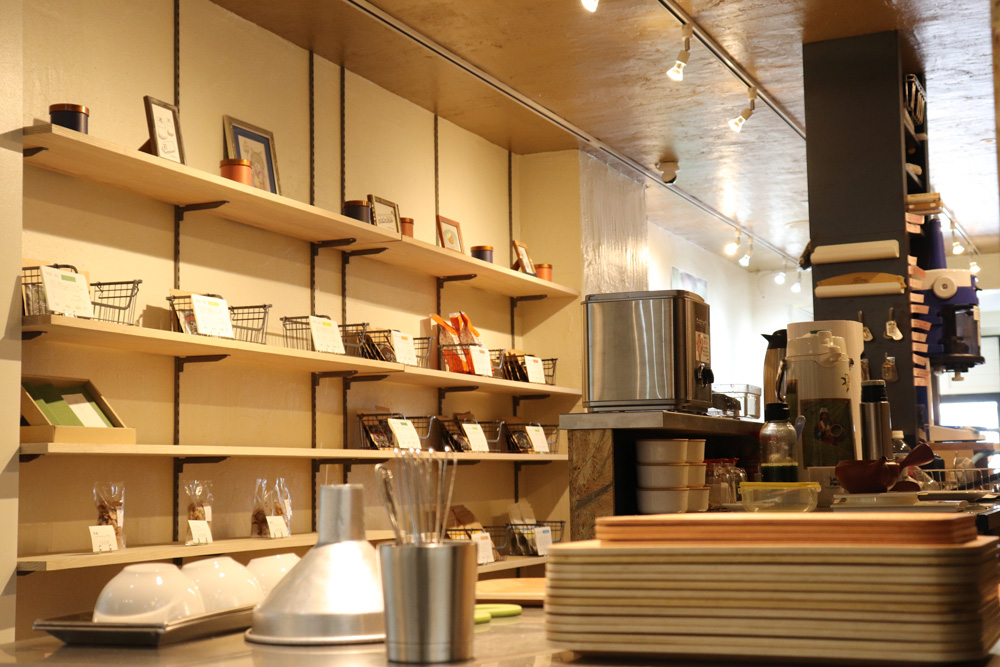 Giving appropriate credit to tea grown diligently by the farmers.
The truth about the tea market is that tea prices have been declining since around 2004. As a result, tea farmers are changing their policy to produce tea in quantity rather than in quality. Inevitably, wholesalers are faced with low unit prices for the tea they handle.
At this rate, someday we will not be able to sell the tea that we genuinely love. I opened Leaf Paradise partly because I want to remedy this situation.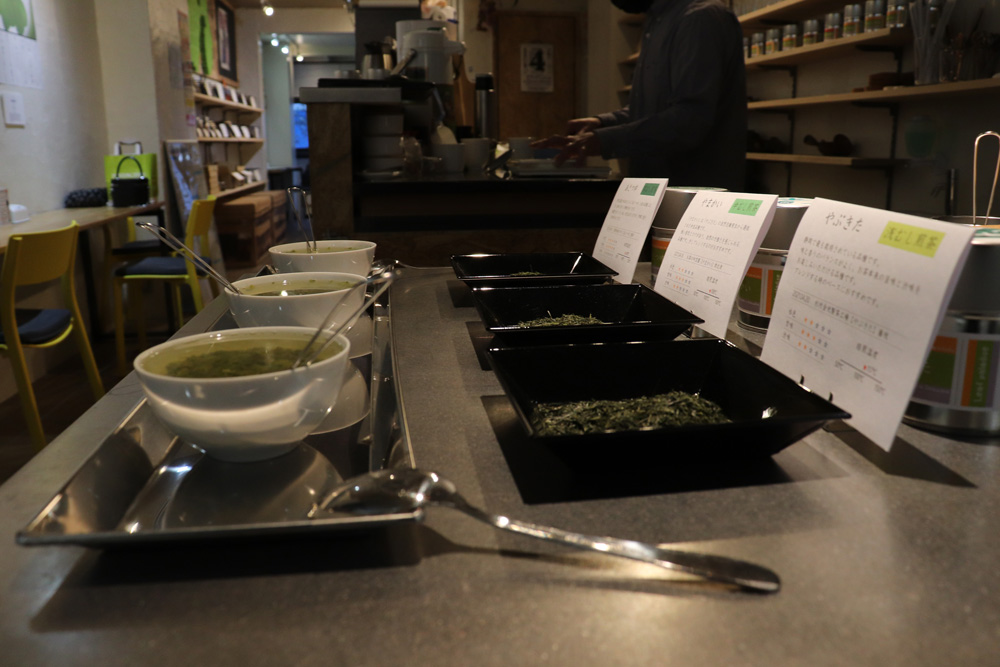 It is a painstaking process, but we believe it is our duty to provide farmers with the appropriate recognition for the wonderful teas they have carefully produced by serving customers the highest quality product possible.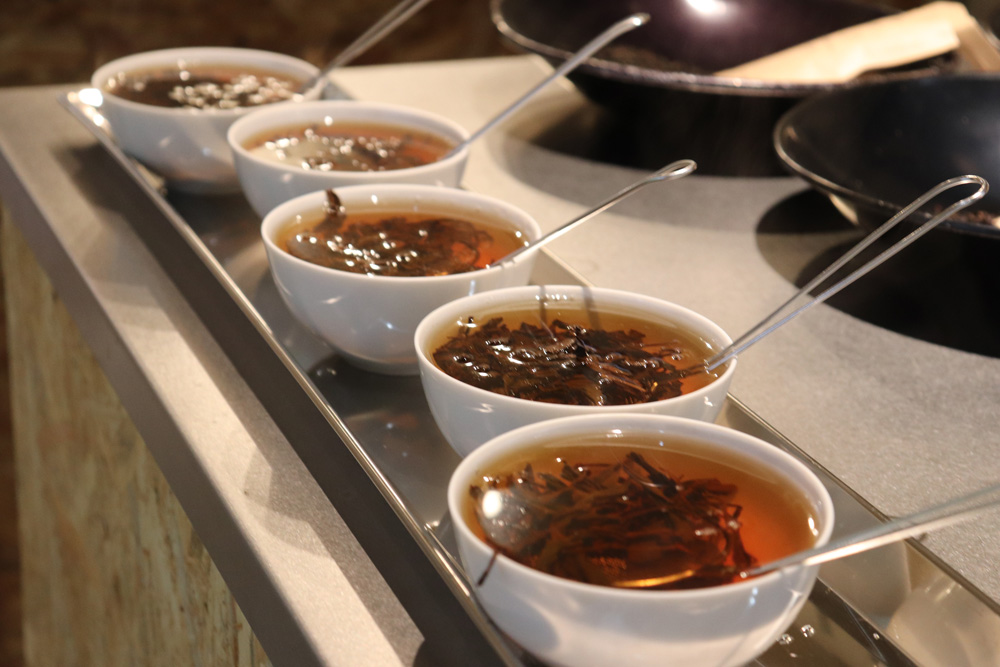 These days tea is often prepared in a quick and easy format, such as by tea bag or powder. However, tea is best brewed in a kyusu (Japanese teapot) to bring out the full flavor of the region it was produced.
We believe that it is our duty to give people the opportunity to realize how delicious tea brewed in a kyusu (Japanese teapot) really is and the many benefits of loose leaf teas.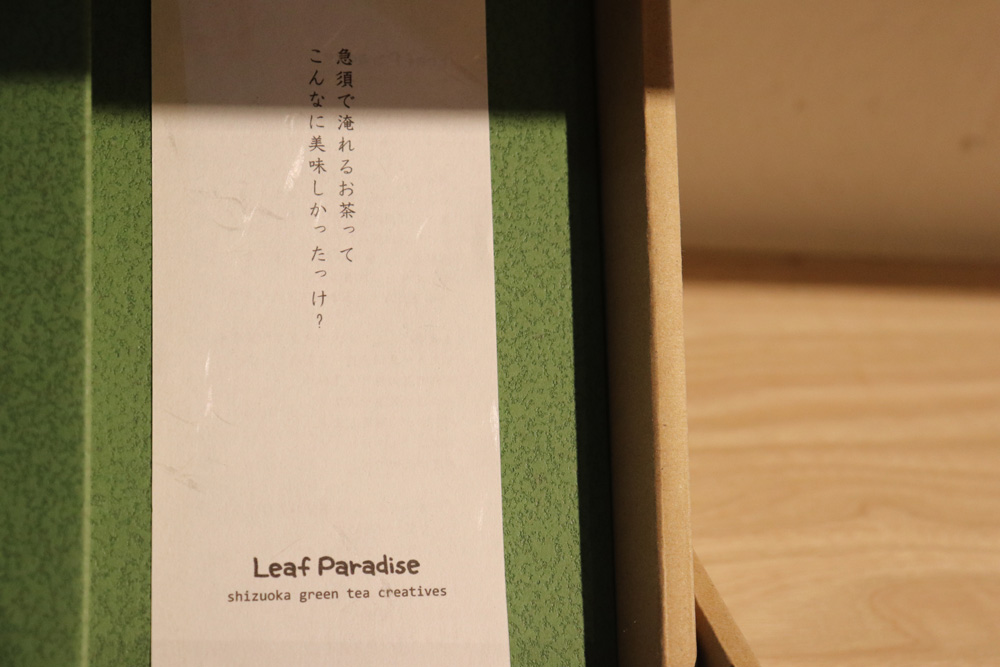 I want people to experience the miraculous taste of a cup of kyusu-brewed tea.
A kyusu is the ideal utensil for brewing tea and the infusion it allows is truly miraculous. The tea that farmers drink on a daily basis is astonishingly delicious.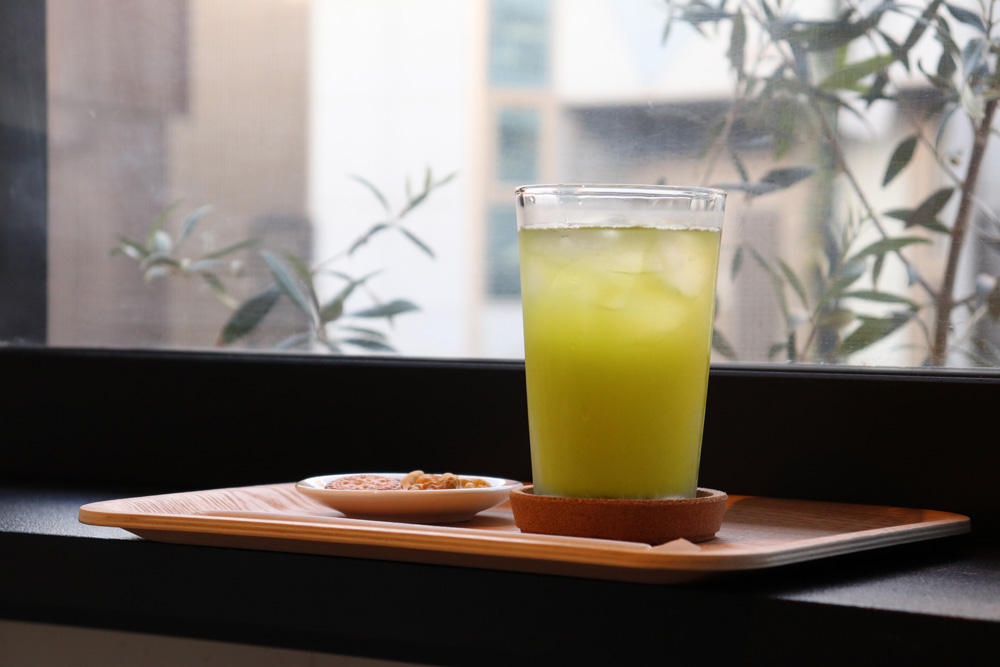 Even with the same tea leaves, the taste can vary greatly just by brewing at a slightly higher or lower temperature. That alone makes brewing tea in a kyusu interesting. My mission is to share the appeal of tea to consumers through the Leaf Paradise brand.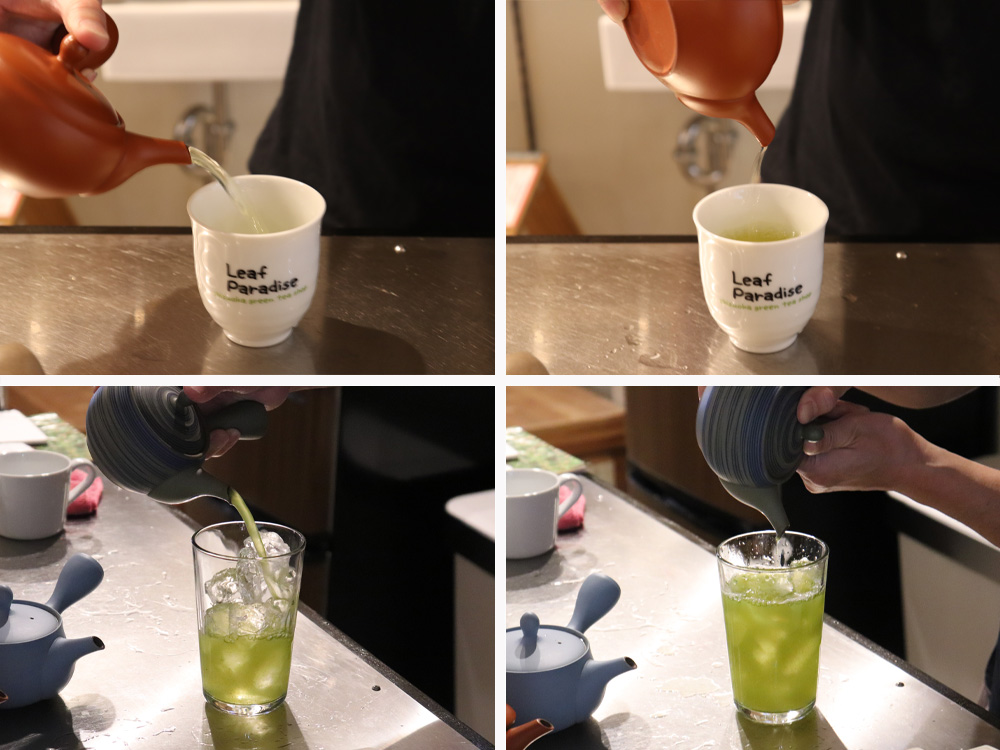 By the way, I hear that some people feel that brewing tea in a kyusu is a hassle, but personally I have never felt that way (laughs).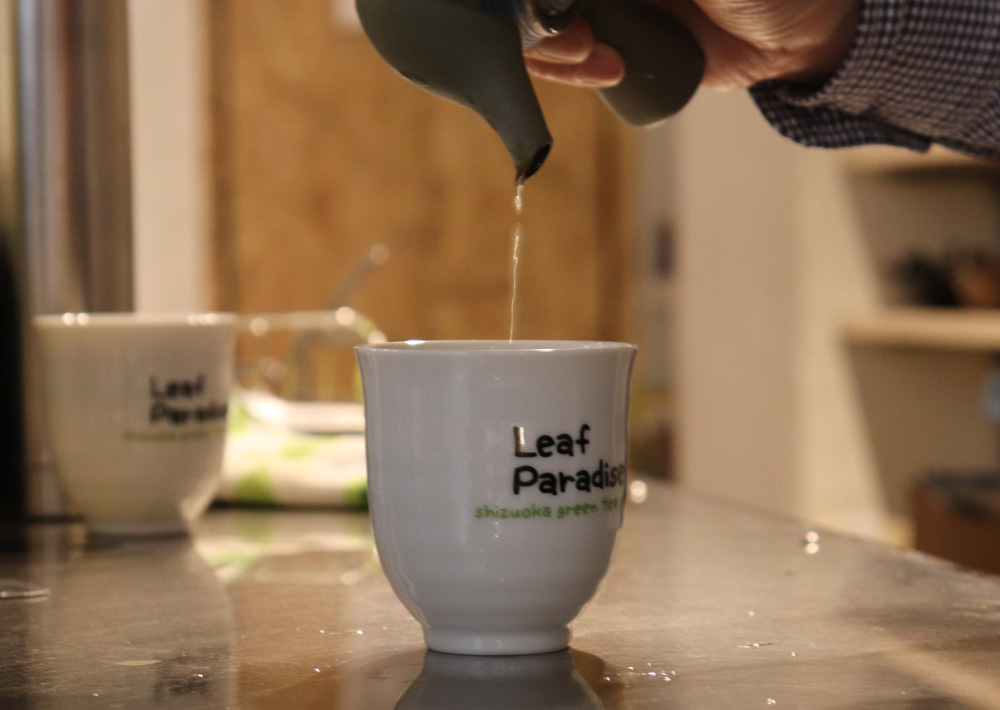 ▲According to Katsuyama, "Brewing tea in a kyusu is a beautiful Japanese custom."
I believe it is better for everyone to work together to make this tea revolution happen, rather than for one store to thrive. Single origin teas are offered by single farmers. (Single origin: Unlike gougumi teas, which are blended teas from multiple regions, single origin teas are produced in a single region.) We would like you to experience both the single origin tea (which has a more unique and distinctive flavor compared to the combined tea) and the gougumicha (blended tea) that we, as a tea wholesaler, make.
If we, the wholesalers, can grow, the tea farmers will surely grow too!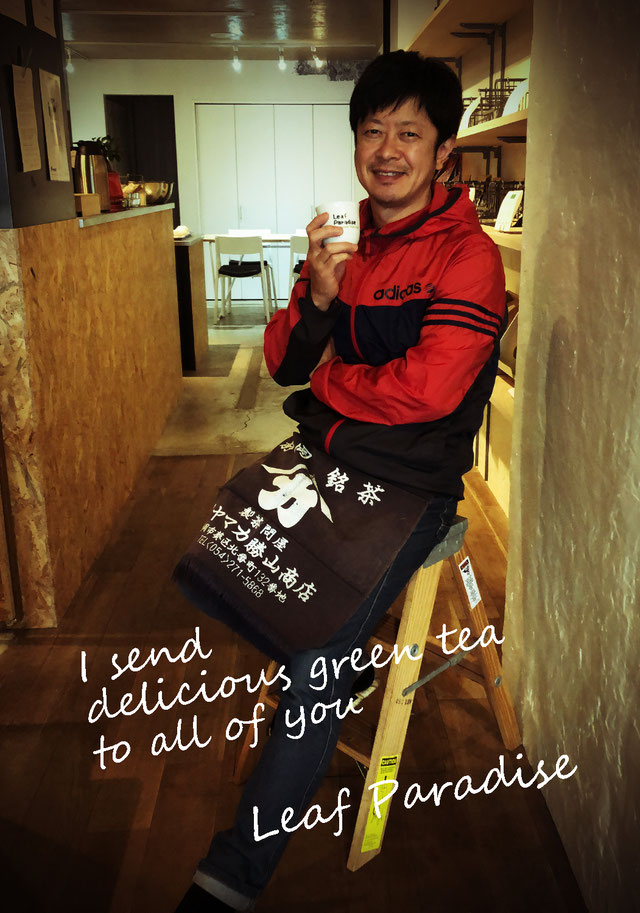 Leaf Paradise; Information, How to purchase, Hands-on experiences
| | |
| --- | --- |
| Address | The first floor, 1-2-8, Komagata street, Aoi-ku, Shizuoka City, Shizuoka Prefecture, 420-0042, Japan |
| Website | https://www.leaf-paradise2018.com/ |
| Phone number | +81 54-271-5868 |
| E-money and credit cards | Cash, PayPay |
| Open | 11:00 to 18:00 |
| Closed | No scheduled holidays, please check the website calendar |
| Parking lot | Not available (Use nearby toll parking lot) |
| Access | About 15-minute walk from Shizuoka City Hall |
| | |
| --- | --- |
| Writer | Norikazu Iwamoto |
| Career | Ochatimes chief editer.Meeting with Vice Governor of Shizuoka prefecture.Judge of Fuji country 100 tea's award in 2021.Ocha Times link introduced at website of World O-CHA(Tea) Festival 2022 and Tea Science Center. |
| | |
| --- | --- |
| English translator | Calfo Joshua |
| Career | Born and raised in England, living in Japan since 2016. Studying arboriculture in Shizuoka Prefecture whilst operating his landscape business Calfo Forestry. Appreciating the nature of Japan and the culture that places such importance in it. |
Related articles