Experience the Flavour and History of Kawane Tea at Fore Nakakawane Chameikan【Kawanehoncho, Shizuoka Prefecture】

Go to Japanese page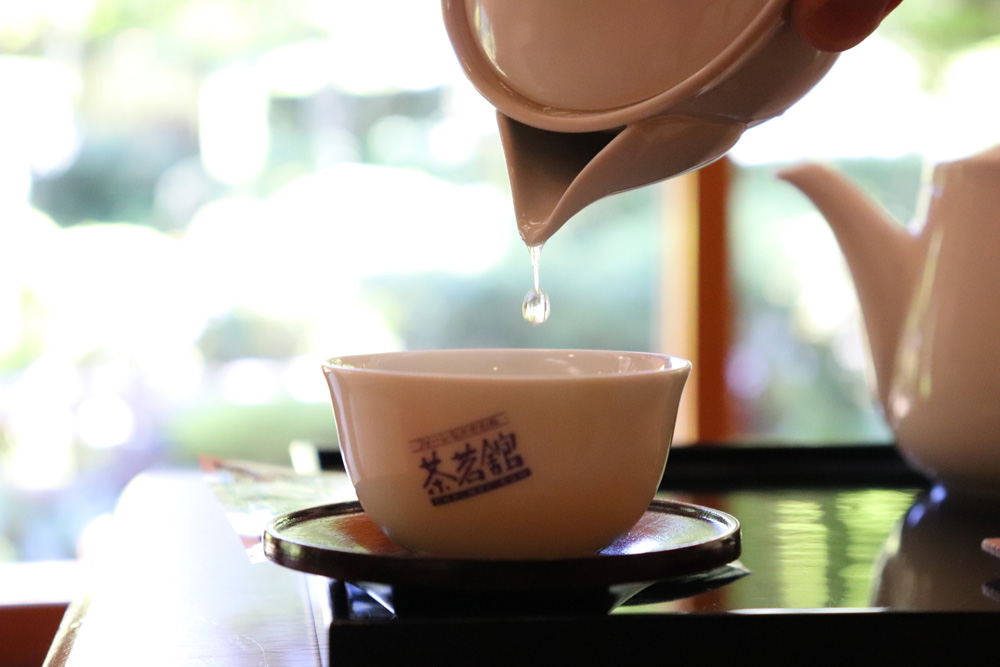 The Kawane region of Shizuoka Prefecture is a series of high-humidity mountainous areas with high average rainfall and short sunshine hours. The tea grown here is called Kawanecha, and its production area and quantity account for only about 2.5% of all tea production regions in Japan. Because of its rarity and exceptional quality, it is recorded that Kawanecha was accepted as land tax payment during the Edo period (1603-1867). We visited Foret Nakakawane Chameikan, a facility for visitors to experience delicious Kawanecha, located along the Oigawa steam engine railroad line surrounded by forests and tea fields.
In this article, we will tell you about the Foret Nakakawane Chameikan and how you can enjoy the Kawanecha experience.
About the Fore Nakakawane Chameikan
Fore Nakakawane Chameikan is a roadside station opened in the spring of 1994 by the Ministry of Land, Infrastructure, Transport and Tourism. It provides information on Kawanecha as well as the lifestyle and culture of Kawanehoncho.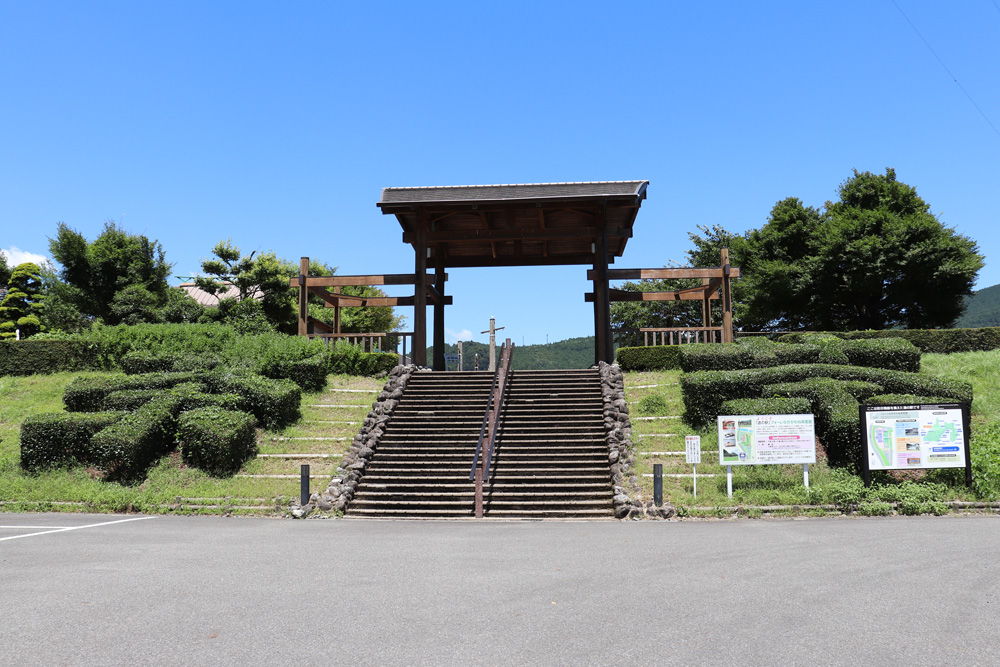 The open-air site, about the size of a school playground, is popular with families who relax while enjoying the view of the steam trains running across the Oigawa river.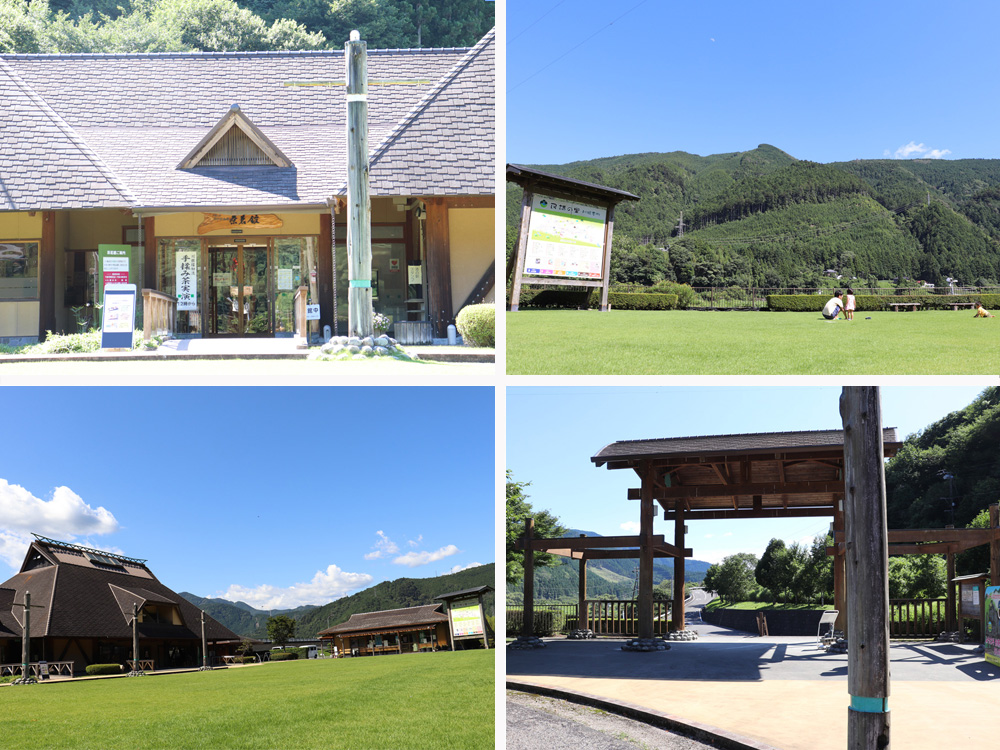 Inside the facility, visitors can learn more about Kawanehoncho's attractions, with a focus on the appeal of Kawanecha. You can also visit the Fore Nakakawane Chameikan website to learn more about the surrounding area, including recommended accommodation and dining options.
Fore Nakakawane Chameikan's message about Kawane tea
Kawanecha is a tea produced in the Kawane area of Shizuoka Prefecture. Kawanecha production area and volume is only about 2.5% of the total tea production area in Japan, making it a truly rare and valuable member of the Shizuoka tea family, one of the three famous tea regions of Japan.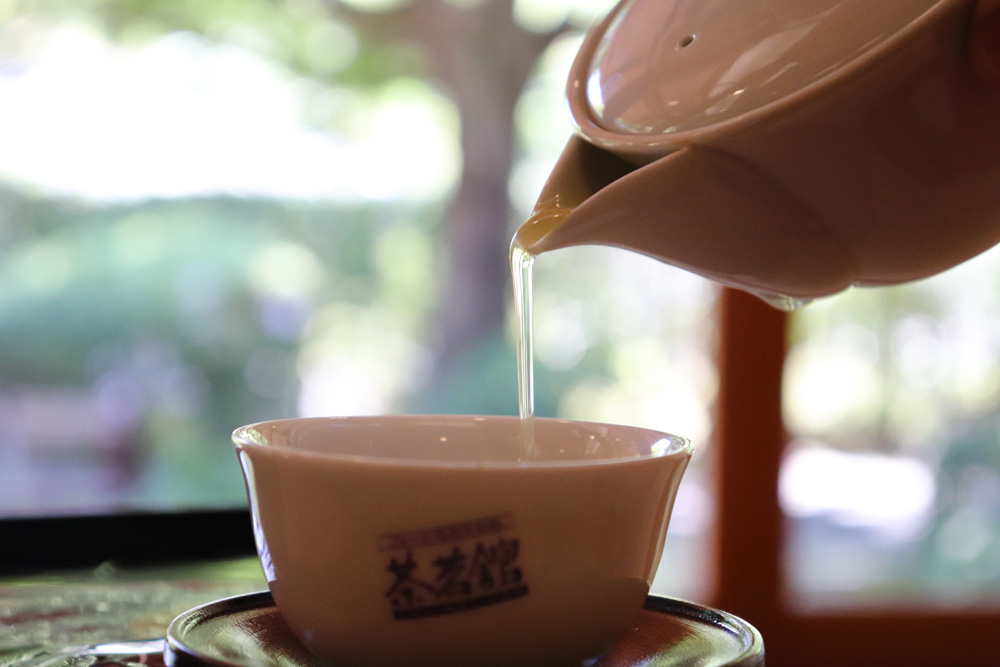 Kawanecha is grown in a high-humidity mountainous area with high average rainfall and short sunshine hours. Underground, high-quality subterranean water flows from the Southern Alps, and on the surface, the difference in temperature between day and night causes mountain fog to frequently form and cover the tea trees.
The flesh of tea leaves grown in such an environment is thin and soft, and after shallow steaming, the tea leaves are gently rolled to produce a dark green, thin needle-like tea leaf.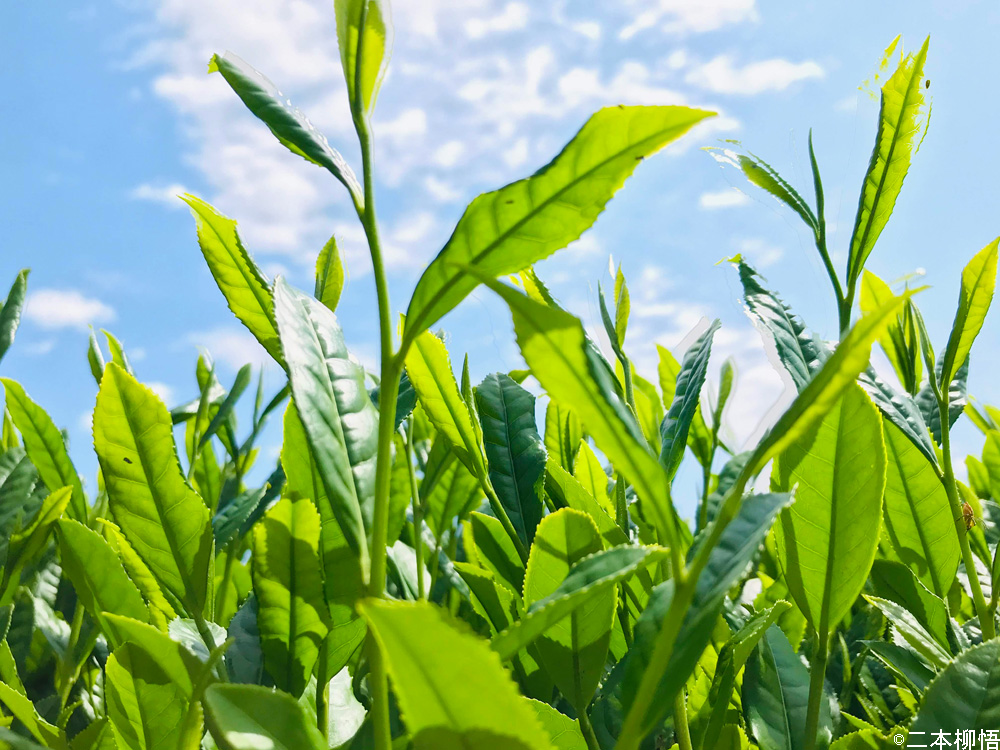 The well-defined shape of the tea leaves prevents the tea powder, which is the source of the tea's pigment, from leaking out, so the water color of Kawanecha is a clear yellow-green with little sediment.
When you take a sip of Kawanecha, a refreshing aroma reminiscent of mountain fragrance, called "Jimi," spreads through your nostrils. The sweetness of the flavor is well balanced by the astringency of the tea with a pleasantly lingering aftertaste.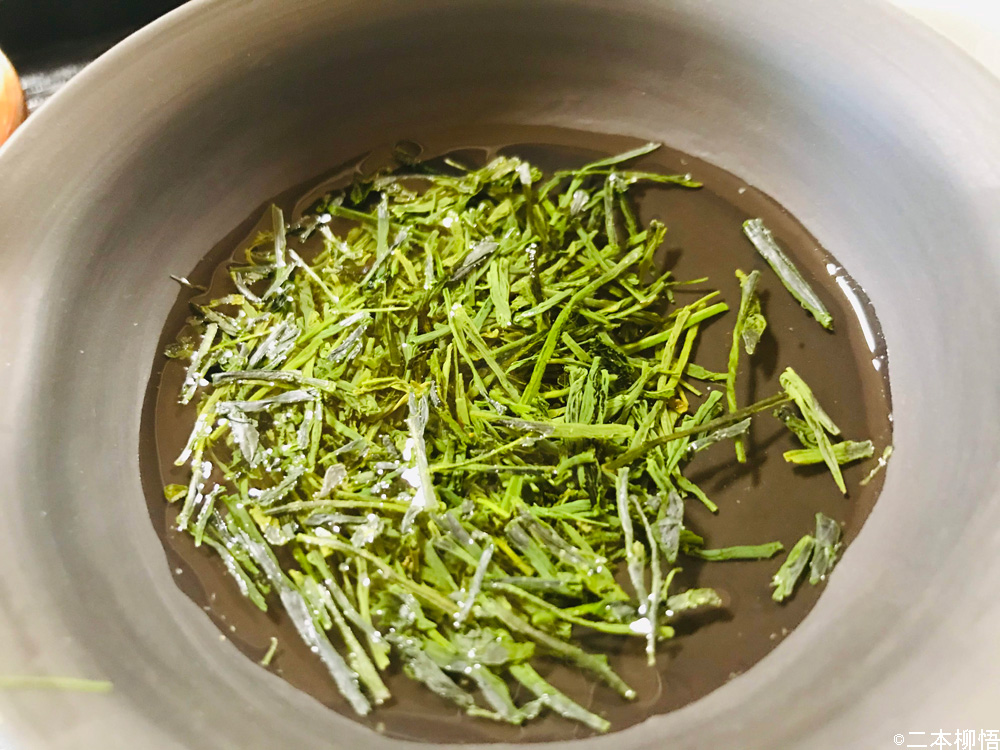 Museum of local history
On the second floor of the event hall, materials related to tea and the history of Kawanehoncho are on display. What is Kawanecha and how has it been produced? You can learn more about its origins and production process through the panels and books.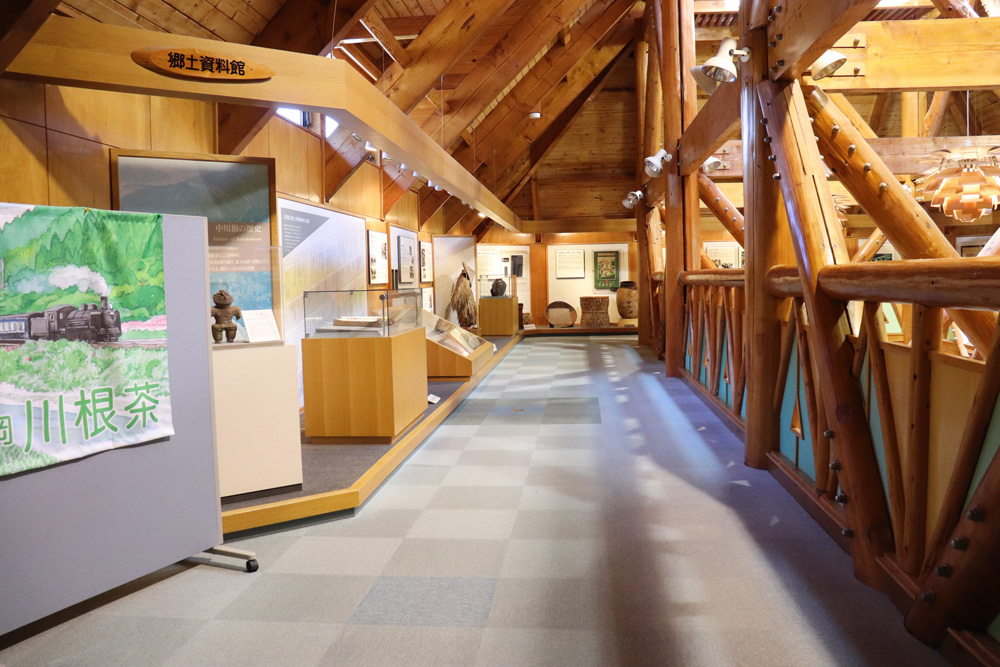 The open structure of the ceiling, when viewed up close, is overwhelmingly impressive in its magnificent construction.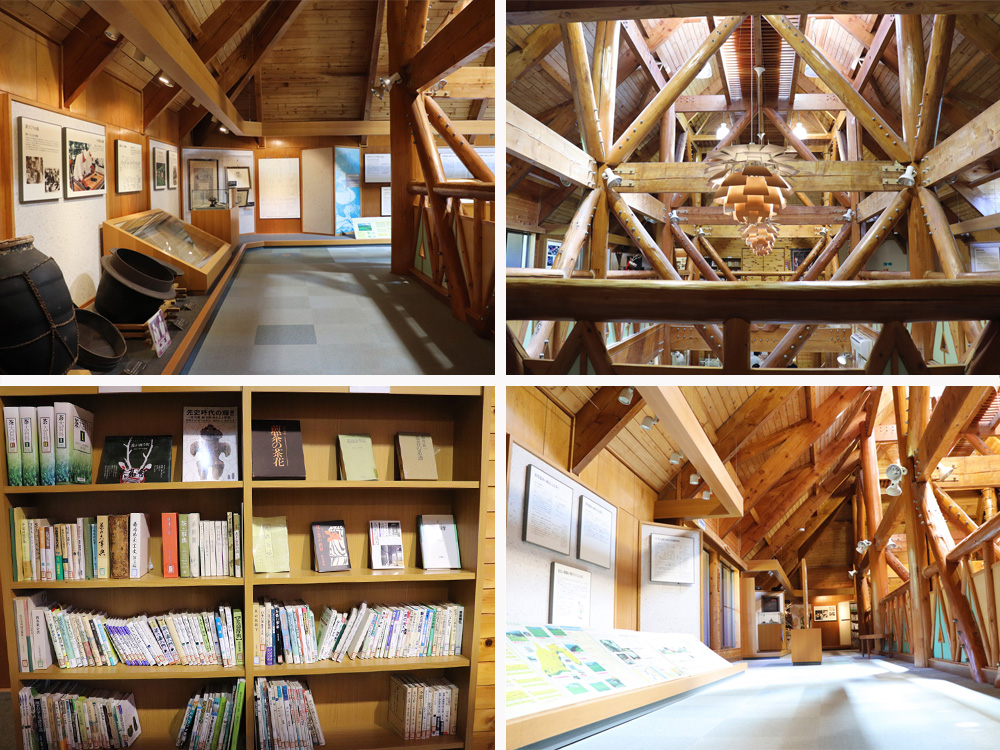 Senshinan – a tearoom to experience Kawane-tea
Enjoy authentic Kawanecha at the tearoom, Senshinan at a reasonable price. This teahouse attracts many tourists from outside the prefecture as well as foreign visitors.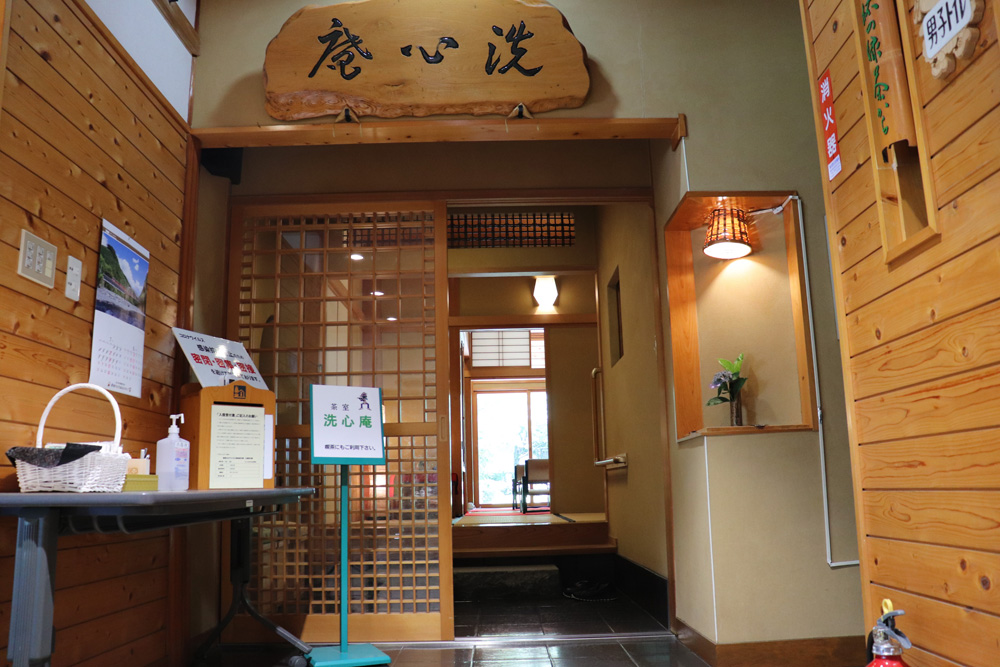 The tearoom is made of knot-free wood from Kawanehoncho, and visitors can relax in an authentic Japanese-style room with the pleasant aroma of wood.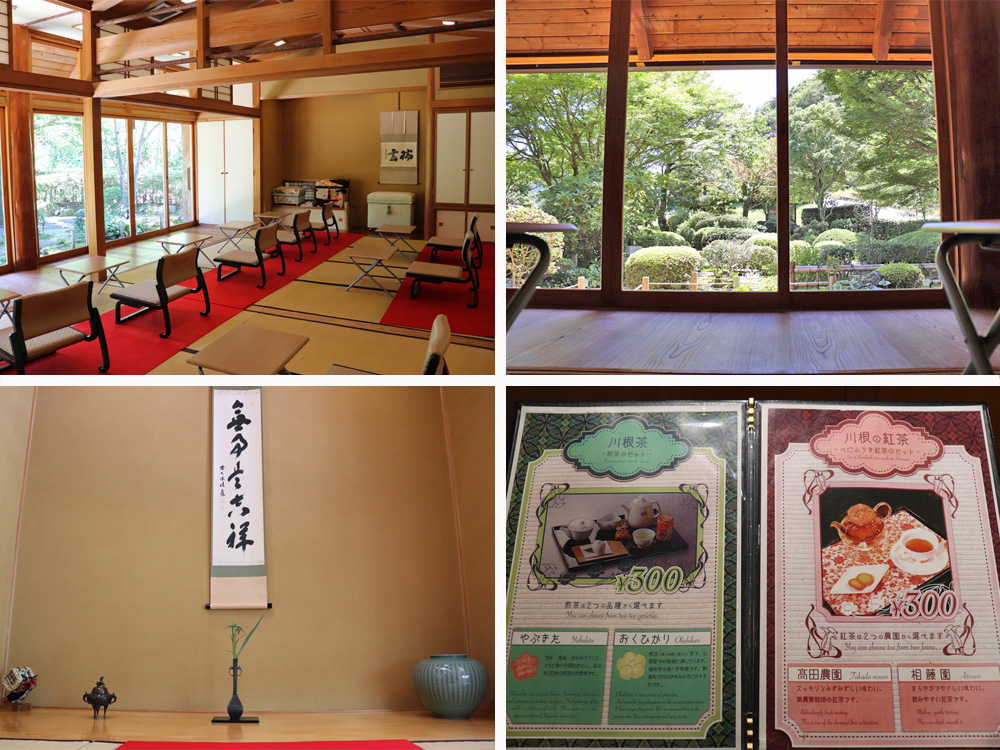 Kawane Sencha Comparison Set
On the left is Yabukita, a variety of tea that accounts for 90% of Shizuoka's tea cultivation. On the right is Okuhikari, a variety of tea with a dark green water color and characteristic aroma. Beginners can order with confidence as the staff carefully teach you how to brew your chosen tea.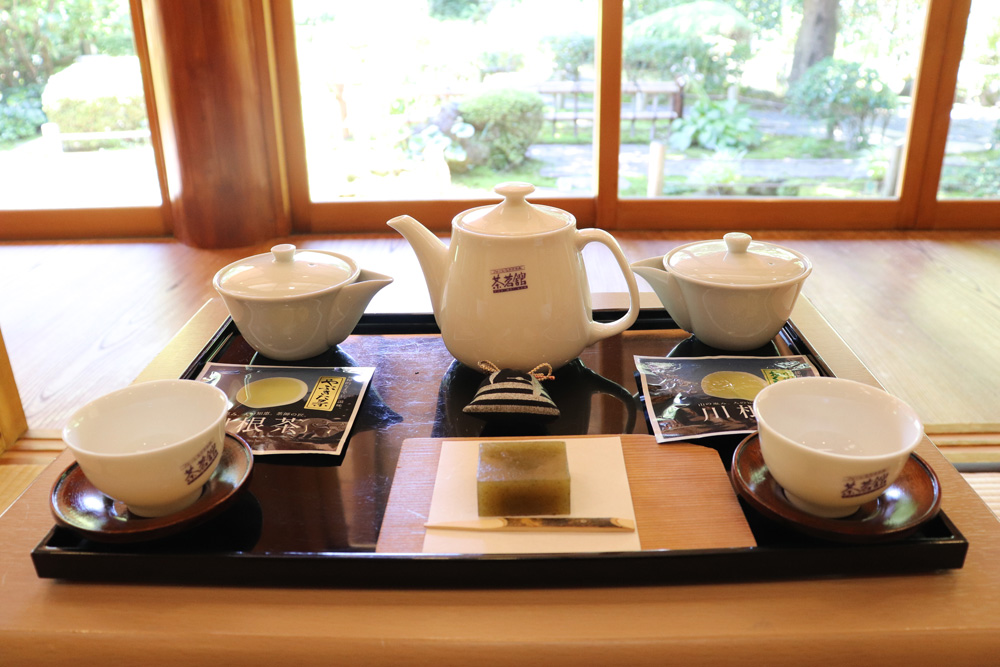 The Yabukita and Okuhikari tea set includes a sweet for ¥500. A similar set ordered at an urban tea café would be at least double or more.
The tea sweets are meicha-yokan from Korindo. The sweetness of the yokan and the flavor of the tea are perfectly balanced. The black drawstring pouch placed in the center is filled with sun-dried used tea leaves, which can be taken home as a souvenir.
It is easily noticeable that the taste of tea varies greatly depending on the temperature of the hot water and the time it is extracted.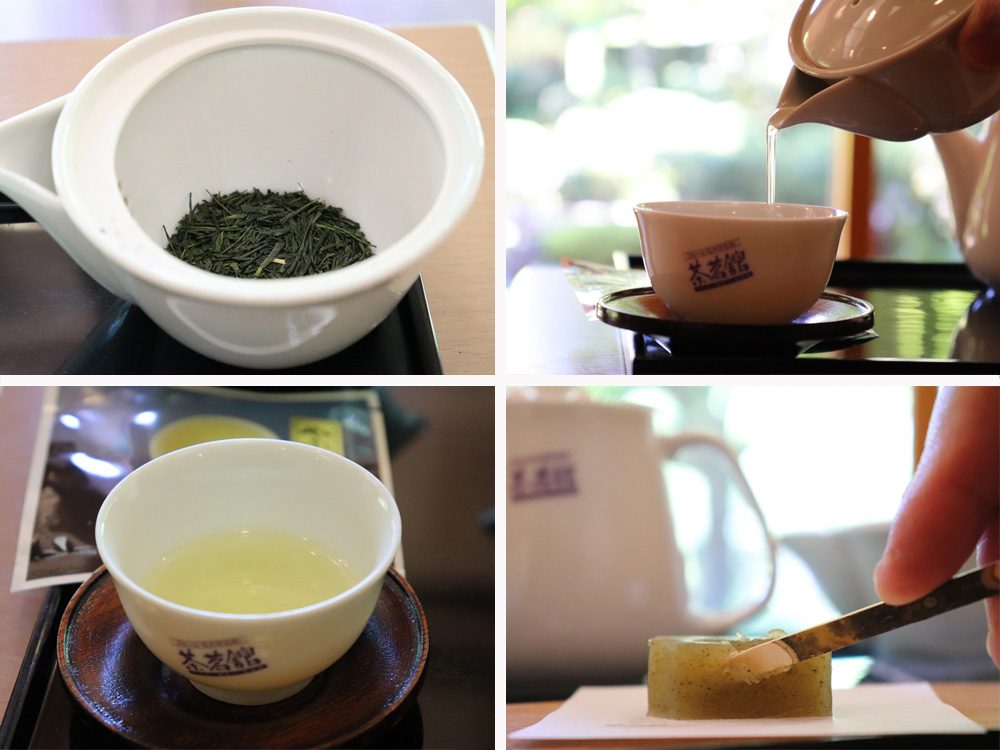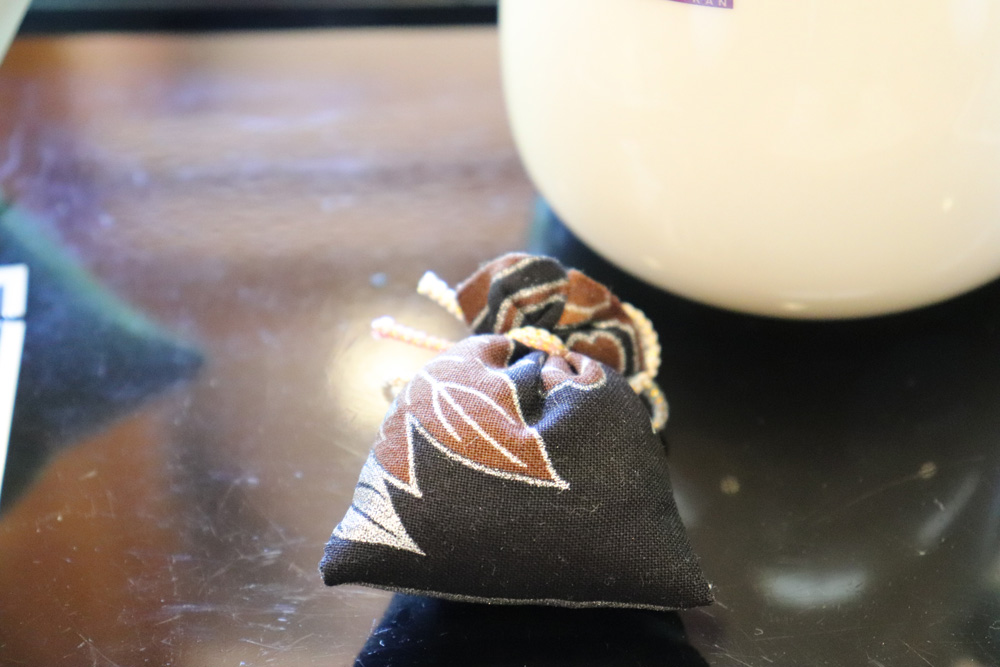 ▲ Carry the refreshing aroma of tea with you in your little drawstring pouch.
Kawane Benifuki Black Tea
You can choose between two types of black tea: Kawane black tea with a clean taste from Aitouen or Kawane black tea with a mild sweet taste from Takada Farm.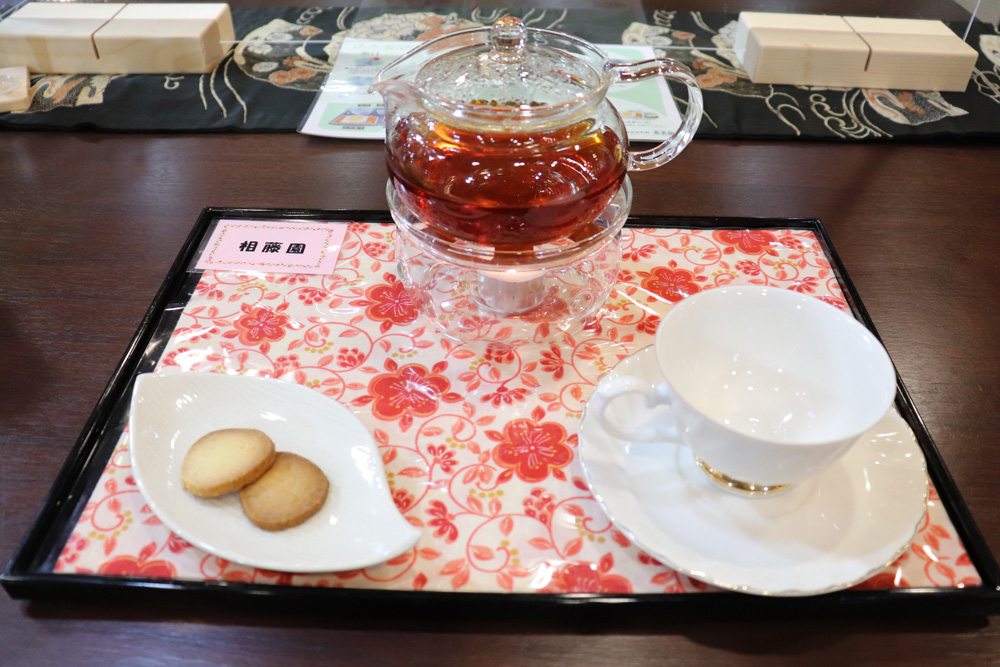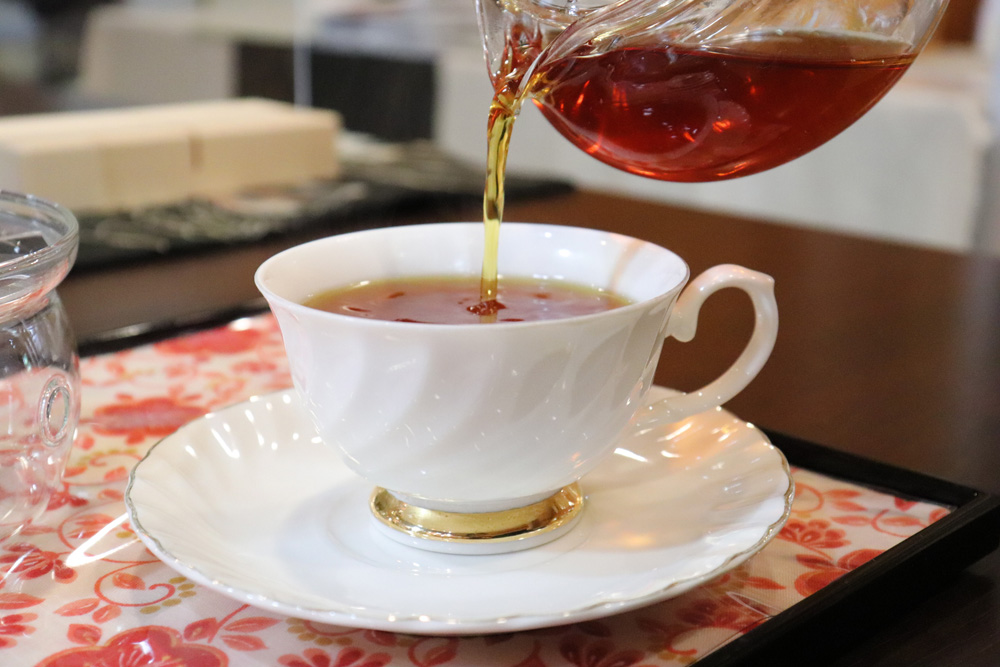 Grattacheca – Shaved ice with Kawane black tea
Grattachecca is a coarsely shaved ice derived from Rome, Italy. Kawane black tea is brewed in water for half a day and then shaved from quick-frozen ice. When the ice melts in your mouth, the natural sweetness of Kawane black tea overflows.
This grattachecca was made for female customers however male customers also tend to enjoy it. Limited to summer.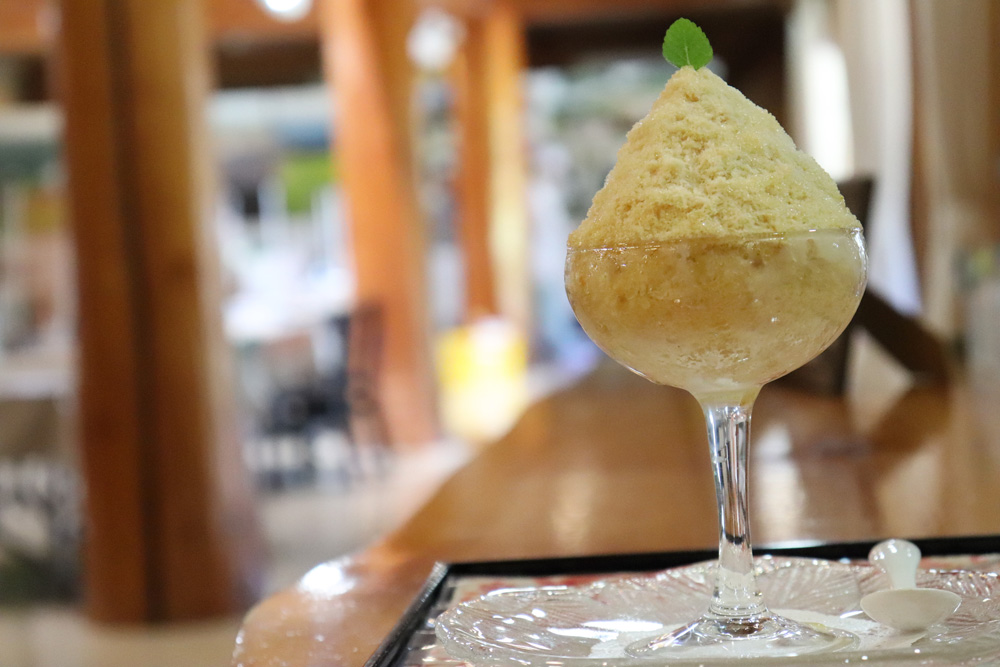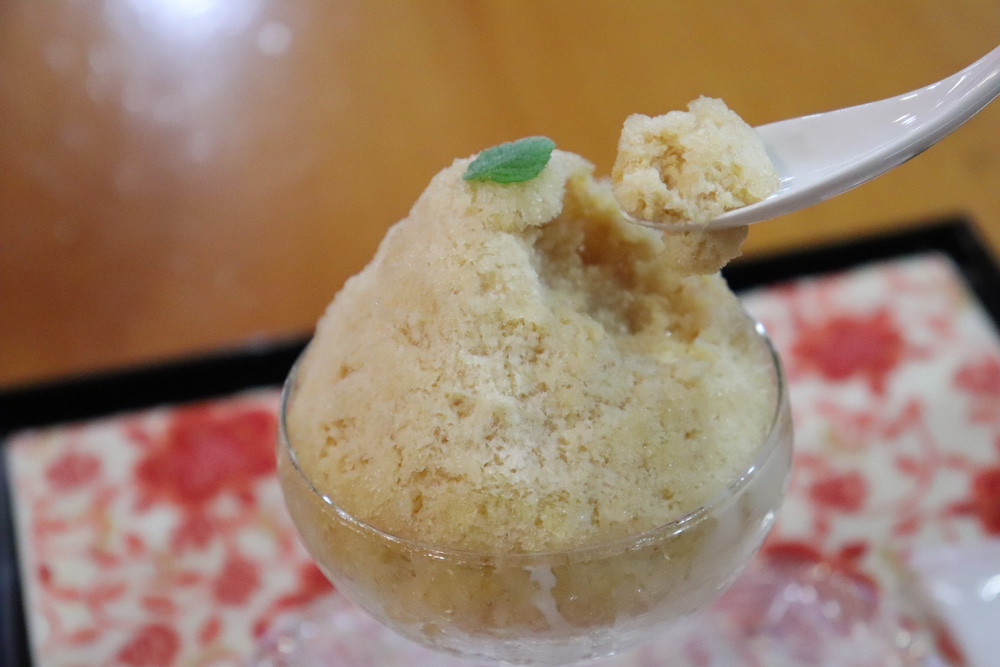 After enjoying delicious Kawanecha, take a stroll in the elegant Japanese garden opposite the tearoom.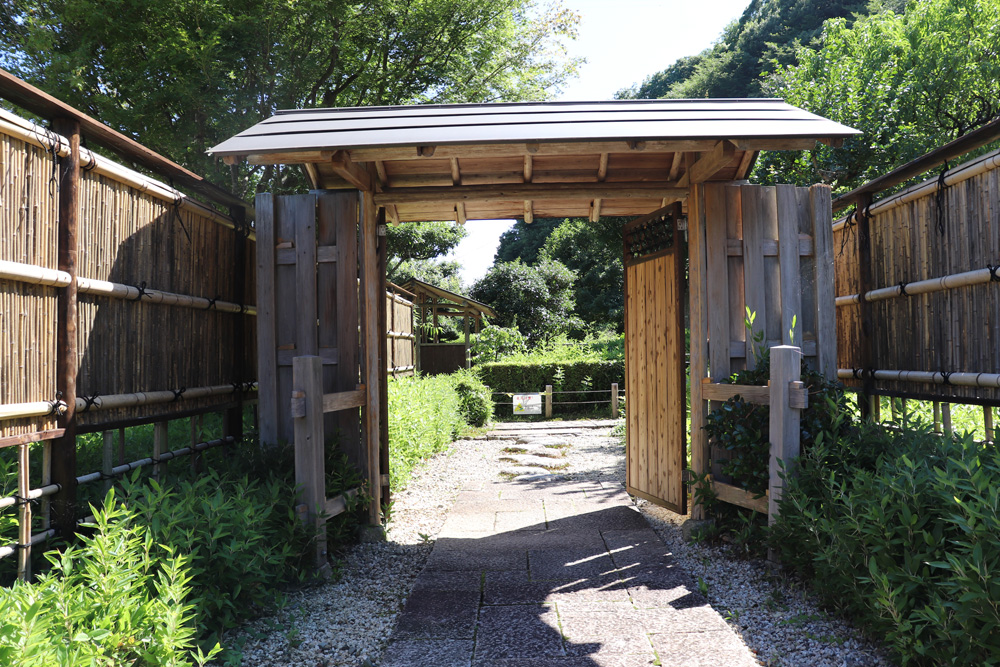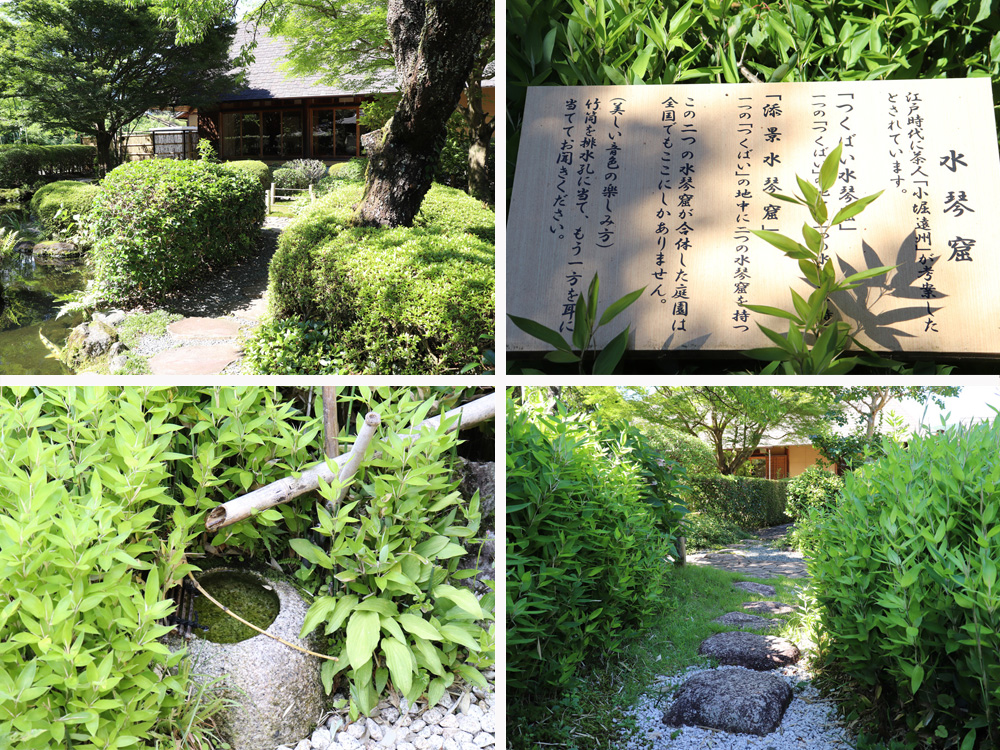 Kawane Tea Farmers' Tea Presentation Event
Kawane tea farmers such as Matsushima-en, Tsuchiya-no-en, Takahata-en, and Aitou-en regularly hold tea presentation events and hand-rolled tea experiences in the exhibition hall and event plaza on the first floor of Foret Nakakawane Chameikan.
Not only can visitors enjoy authentic Kawanecha, but they also have the rare opportunity to meet skilled tea farmers who have won numerous awards at competitions for their quality.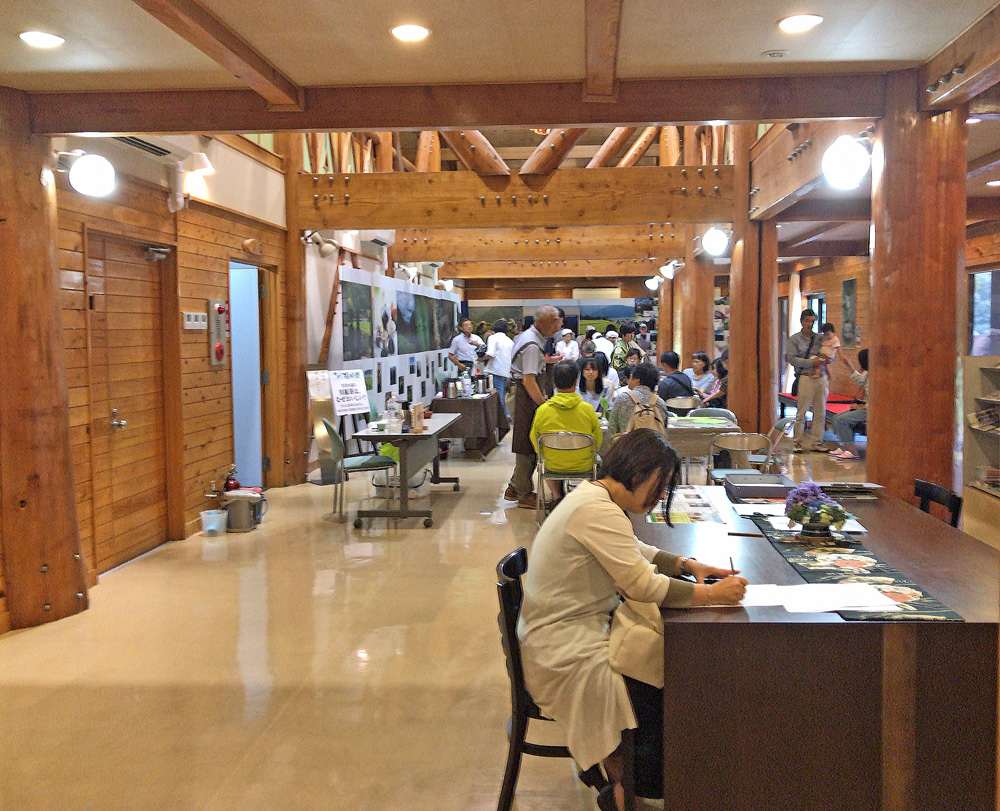 The beautiful, clear green water color is a characteristic of Kawanecha. Why not enjoy the superb taste only be produced by a tea farmer who knows his craft inside out?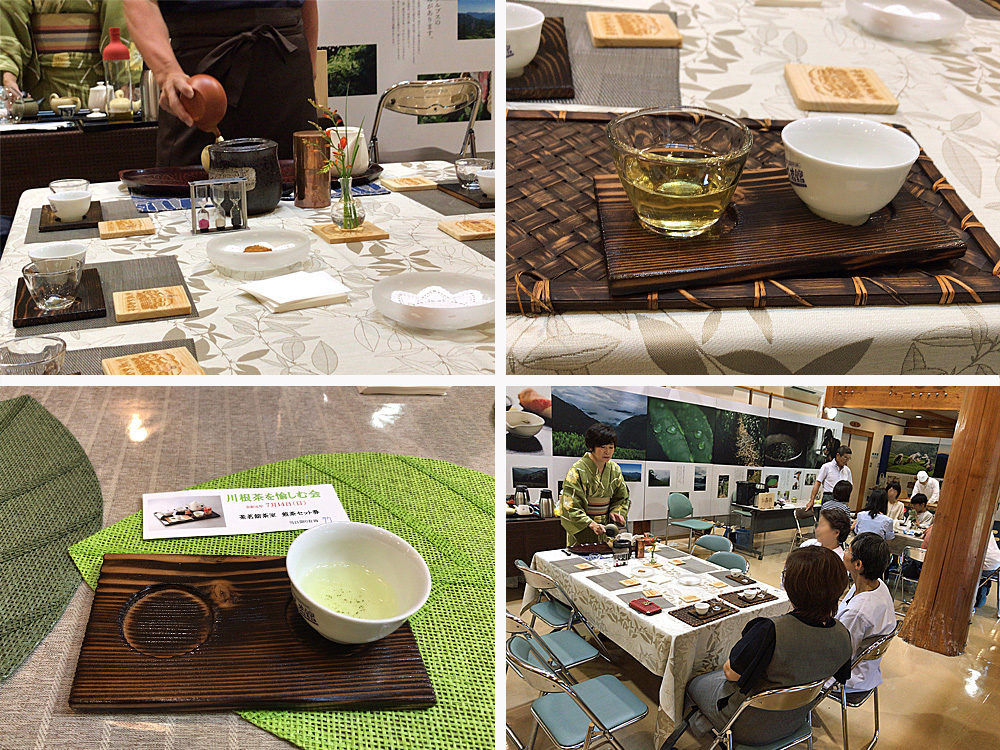 Demonstration of hand-rolling tea
Visitors can not only observe how Kawanecha is hand-rolled and finished, but also taste the delicious finished tea cold-brewed.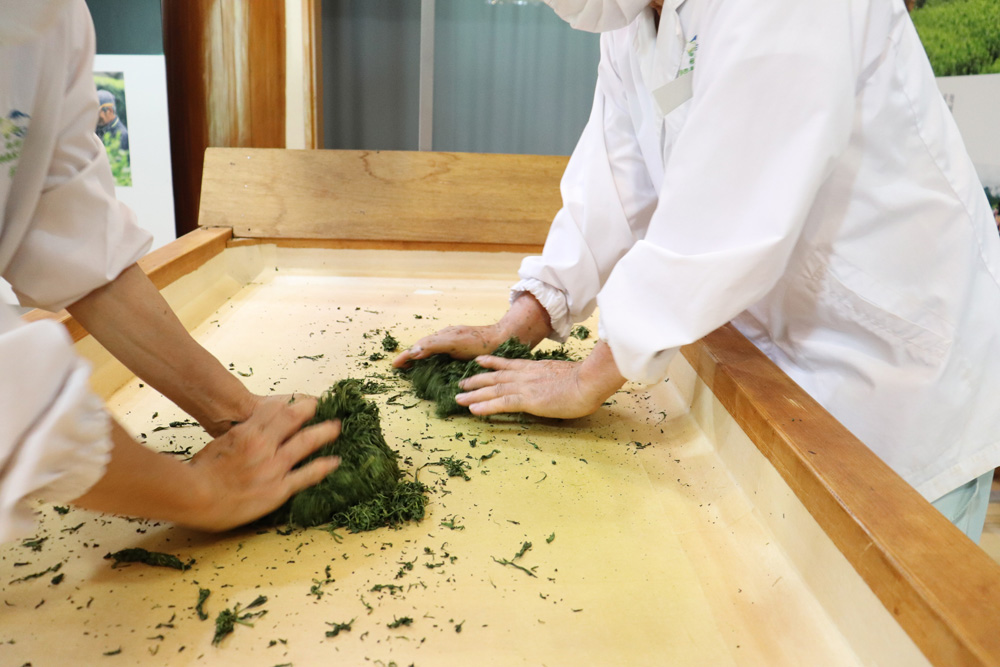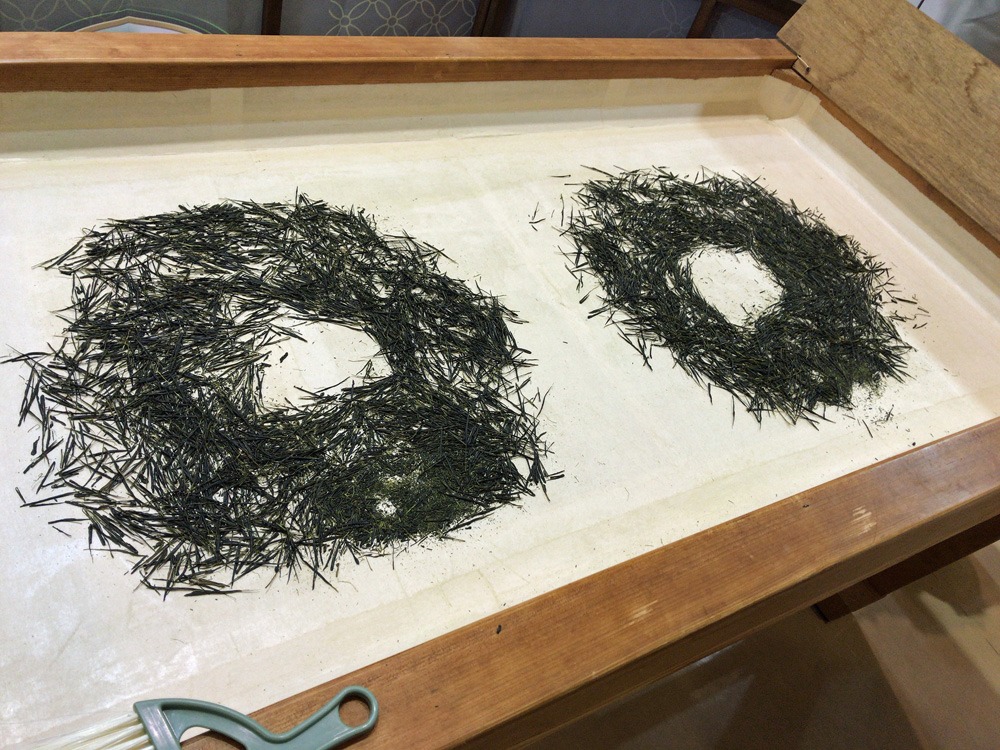 Cold-brewed hand-rolled tea
Steep 5g of tea leaves in water and wait for 5 minutes. Sipping Kawanecha, slowly extracted at a low temperature, brings a fresh aroma and intense, refreshing flavor to your tastebuds.
After the tea is extracted, the tea leaves are served with Kawane-grown yuzu ponzu (yuzu citrus vinegar). The delicately finished tea leaves are pleasantly crunchy and overflow with flavor when chewed.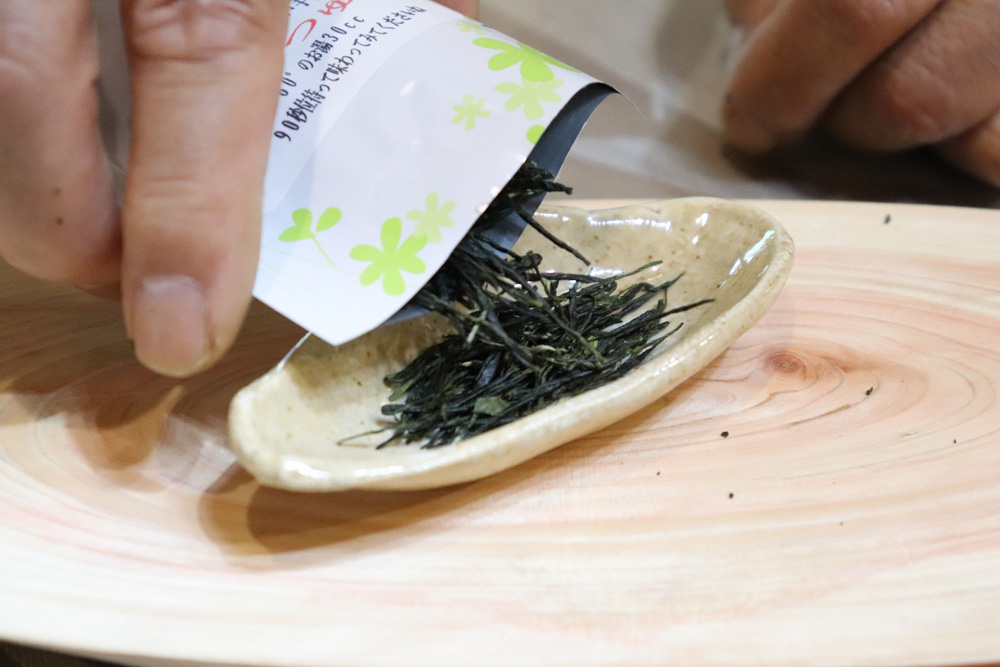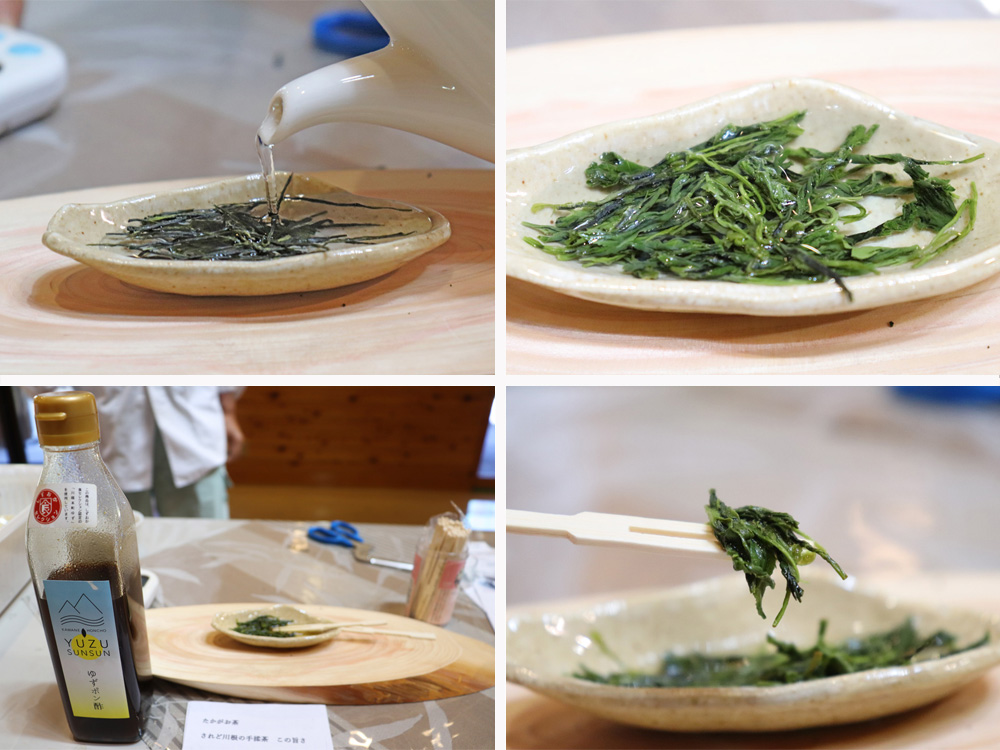 Souvenir shop – Midori-no-Tamatebako
The souvenir shop – Midori-no-Tamatebako – is run by six energetic housewives from Kawanehoncho. Purchase here tea directly from Kawane tea farmers, handmade cookies, Kawane tea ice cream, shiitake mushrooms, tea tsukudani, jam, bath salts, and more.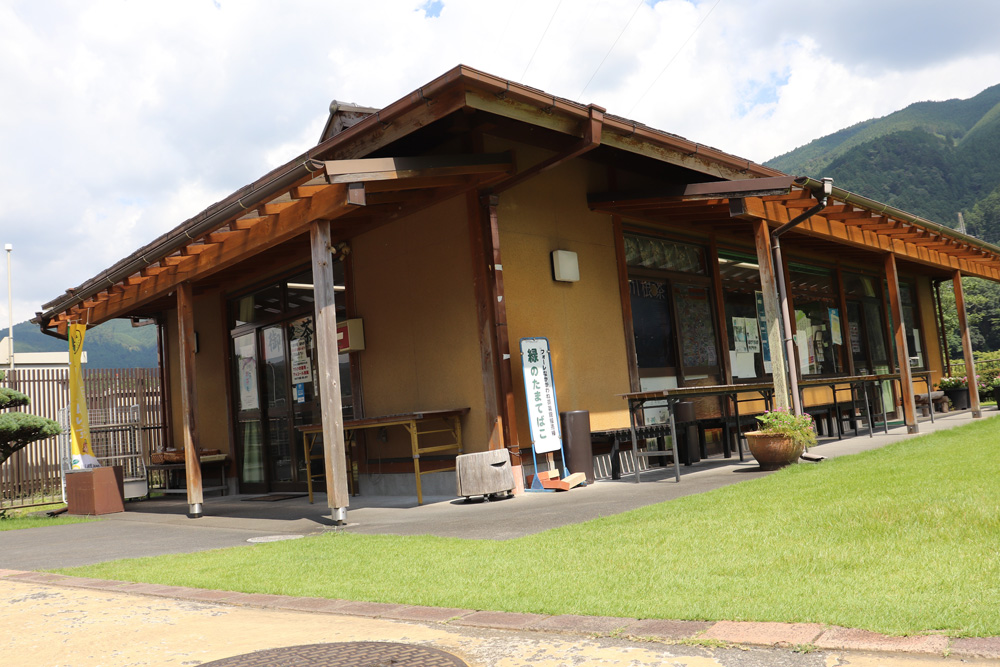 This souvenir shop is the only place where you can pick up and choose teas from the best Kawane tea farmers such as Takahataen, Matsushimaen, and Aitouen.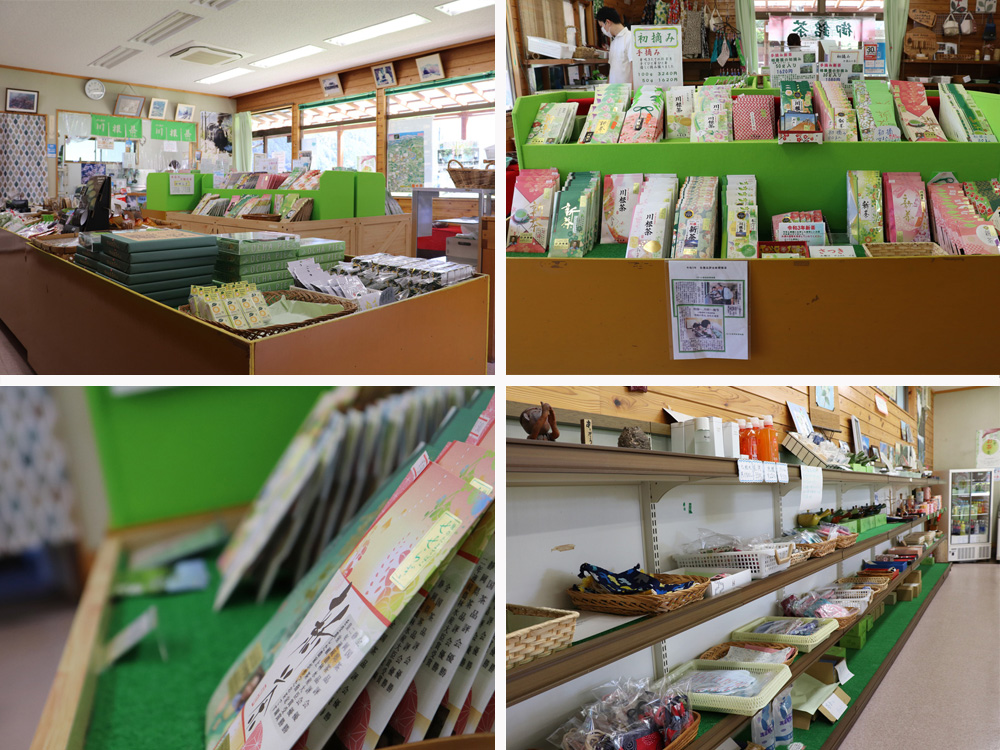 There are many things to see and do in the area surrounding Fore Nakakawane Chameikan, including restaurants that serve delicious food made with local Kawane ingredients and the famous Kawane onsen hot springs. Why not visit the area and take a walk in the rich nature that nurtures Kawanecha?
Fore Nakakawane; Information, How to purchase
Address
〒428-0312 Shizuoka Prefecture, Haibara-gun, Kawanehon-cho, Mizukawa 71-1
Website

http://www.chameikan.jp/

Phone number
0547-46-2100
E-money and credit cards: Available
QR code payment
Not Available
Open
9:30-16:30
Closed
Wednesday, the day after bank holidays, New Year's
Parking lot
Available
Access
Get off the Tokaido line at Kanaya station and change onto the Oigawa Railway. Get off at Suruga-Tokuyama station (it takes about an hour) and walk for 10 minutes.

[Access by car] Get off the Tomei Expressway at the Sagara-Makinohara IC and drive for 1 hour and 10 minutes.

On the Route 1, it takes 1 hour from Shimada.
| | |
| --- | --- |
| Writer | Norikazu Iwamoto |
| Career | Ochatimes chief editer.Meeting with Vice Governor of Shizuoka prefecture.Judge of Fuji country 100 tea's award in 2021.Ocha Times link introduced at website of World O-CHA(Tea) Festival 2022. |
| | |
| --- | --- |
| English translator | Calfo Joshua |
| Career | Born and raised in England, living in Japan since 2016. Studying arboriculture in Shizuoka Prefecture whilst operating his landscape business Calfo Forestry. Appreciating the nature of Japan and the culture that places such importance in it. |
Related articles